Pacific Yacht Charters
The Pacific Ocean, which covers nearly a third of our planet, is the world's largest and deepest ocean. Sailing the South Pacific Ocean gives you the chance to explore archipelagos, more than 20,000 islands, tiny coral reefs, secluded beaches and perfect snorkeling spots.
What's on this page
Highlights
Beautiful beaches

Diverse cruising grounds

Superb snorkelling & diving
Sailing the South Pacific Ocean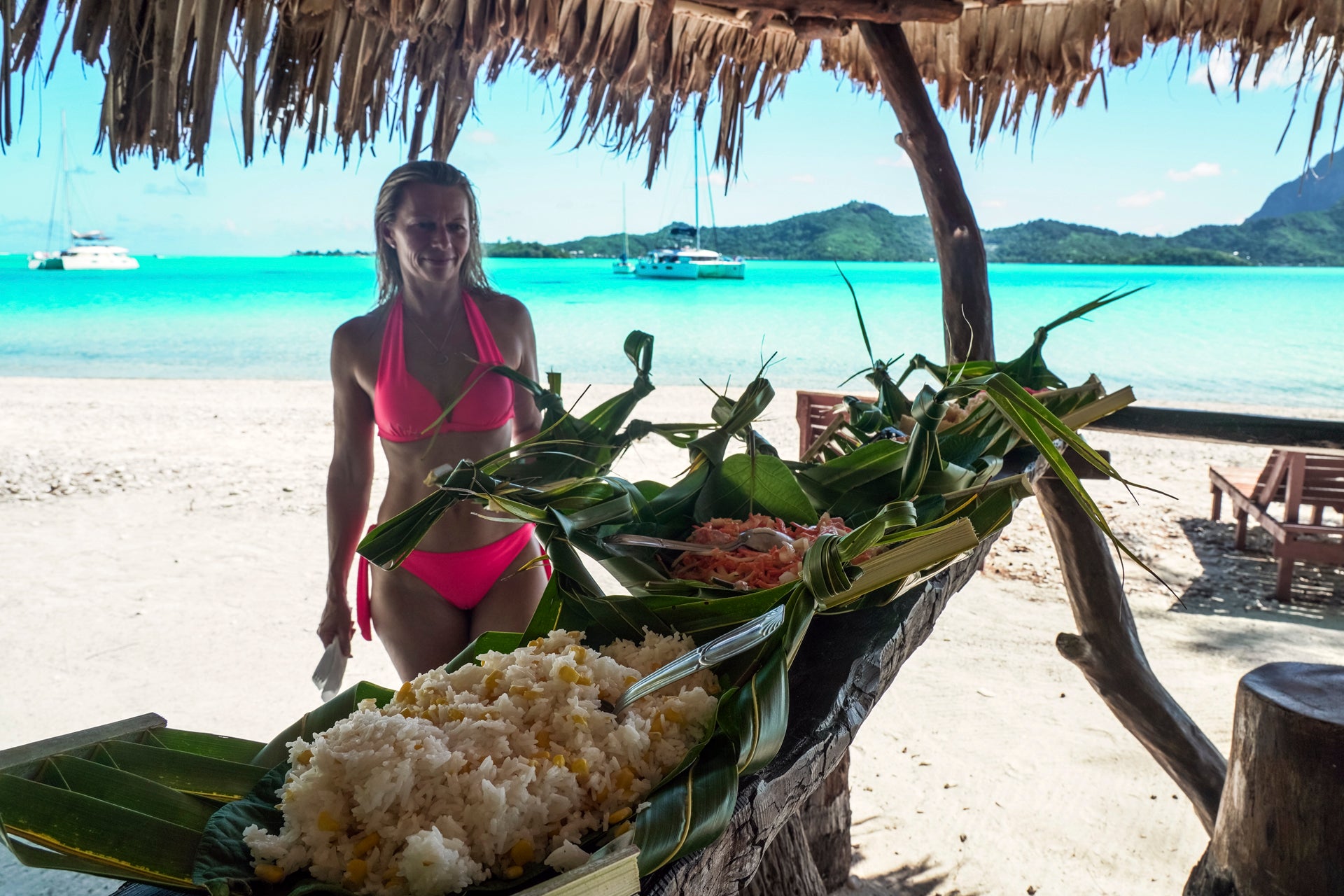 The region is characterized by its volcanoes, which form the infamous ring of fire. Tectonic activity has created islands characterized by exotic, volcanic peaks topped with lush vegetation. In contrast, other areas consist of idyllic coral atolls encompassed by shallow lagoons with clear waters.
You can sail Australia's famous Great Barrier Reef, the planet's largest coral reef with over 1,000 islands. The Pacific Ocean is also home to the world's largest lagoon, in New Caledonia. Tahiti's endless lagoon islands offer many opportunities to swim with some of our most beautiful marine life.
Visit enchanting Tahiti while sailing the Pacific islands, understand Kanak culture in New Caledonia's Loyalty Islands or learn about the Ngaro Aboriginal people of the Whitsunday Islands. If you love snorkeling and diving, then our Pacific boat rentals are perfect for you. You'll be able to get up close to manta rays, turtles, sharks and brightly colored tropical fish.
Take yourself on a Pacific Ocean adventure and sail special places that offer the holiday of a lifetime.
Pacific Yacht Charters
Explore the famous Great Barrier Reef, sail the world's largest lagoon in New Caledonia and tour the fabulous coral atolls of Tahiti on your Pacific yacht charter, taking in secluded beaches and magnificent volcanic peaks.
Top locations in the Pacific Ocean
Australia
Explore the underwater world of the Great Barrier Reef Marine Park in the Whitsunday Islands. This region's coral reefs have an ecosystem that boasts whales, turtles, crocodiles and a diverse range of aquatic marine life. Sail Hook Island's Manta Ray Bay, Langford Island's sandy strip, Hamilton Island's resort, Hayman Island and Whitehaven Beach.
New Caledonia
Sail the lagoon on our Pacific yacht charters and explore the coral with its underwater world that spans 24,000 square km. Hop Ile Kouare, Ile Mato, Uo and many more. Don't miss the capital of Nouméa, a mini French Riviera, or sail to the Loyalty Islands.
Tahiti
Explore Tahiti and the Society Islands of Bora Bora, Huahine, Tupai, Maupiti, Raiatea and Moorea. This is a picture-perfect island destination, with a vivid green mountainous landscape, startling turquoise blue ocean and soft white sands. Learn about the black pearl industry, hike on land for spectacular views or spot celebrities at famous bars.
When is the best time to visit the Pacific Ocean?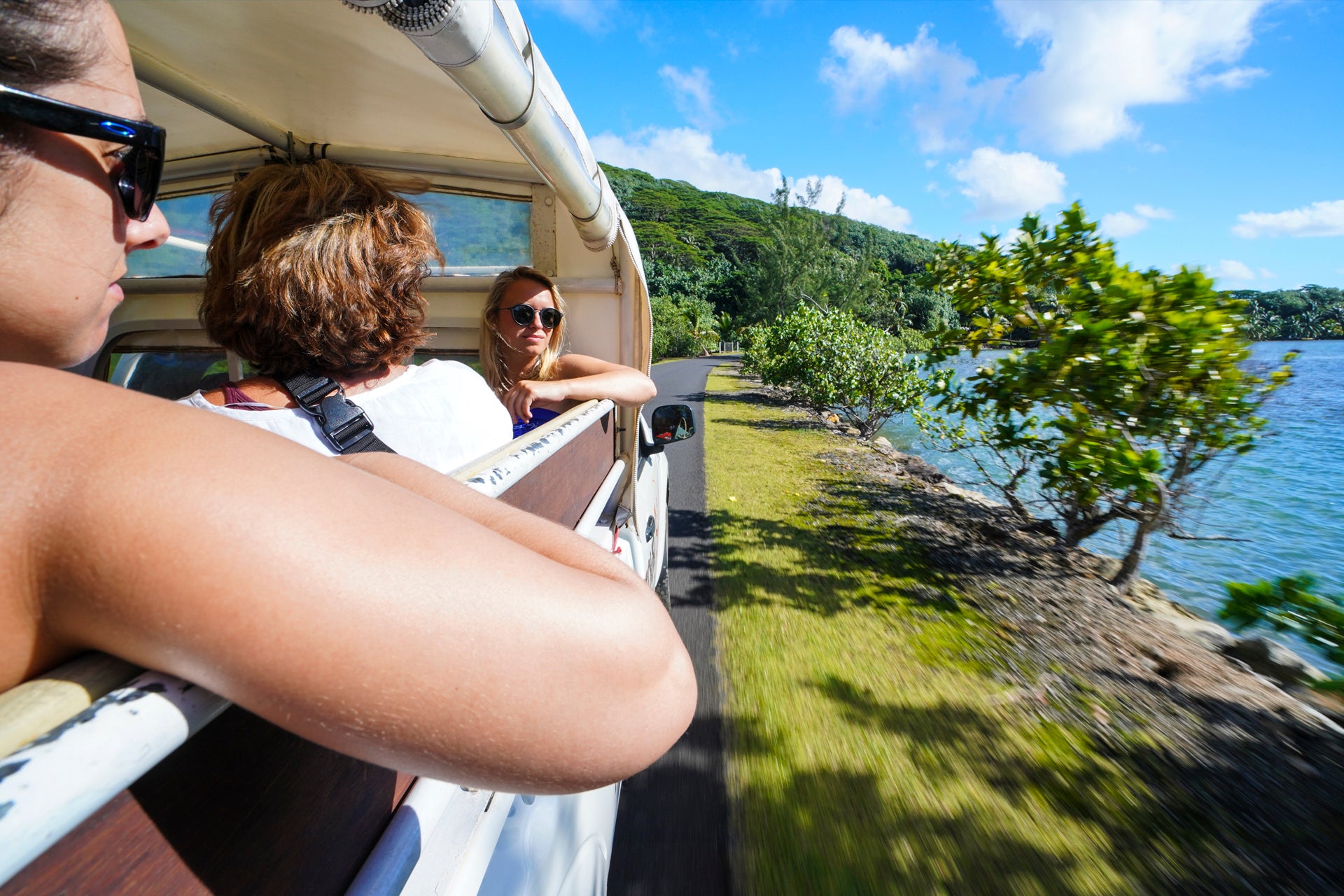 The best time to visit the Pacific Ocean varies depending on which country you are visiting.
In Australia, the best time to sail the Whitsundays is between August and early November. The high season in Tahiti is May to November, while New Caledonia has a tropical climate with less rain between September and November.
What are the sailing conditions in the Pacific Ocean?
The sailing conditions in the Pacific Ocean include the Whitsunday Islands' winds that are predominantly S to SE year-round, except in summer when they are N to NE. The peak season in Tahiti between May and November enjoys trade winds reaching 10 to 15 knots. New Caledonia has southeast trade winds year-round, blowing up to 18 knots in winter and 22 knots in summer.
What are the mooring fees in the Pacific Ocean?
Pacific Ocean mooring fees will vary depending on where you are sailing.
In the Whitsundays, there are plenty of anchorages and mooring balls, although some are time-limited. The resort islands also welcome charter boats for a fee. In Nouméa, the marinas can be busy so plan in advance if you can or arrive early. In Tahiti and the Society Islands, you'll find mooring balls, some in more protected areas than others. Make sure you research the mooring fees before you start sailing the South Pacific Ocean.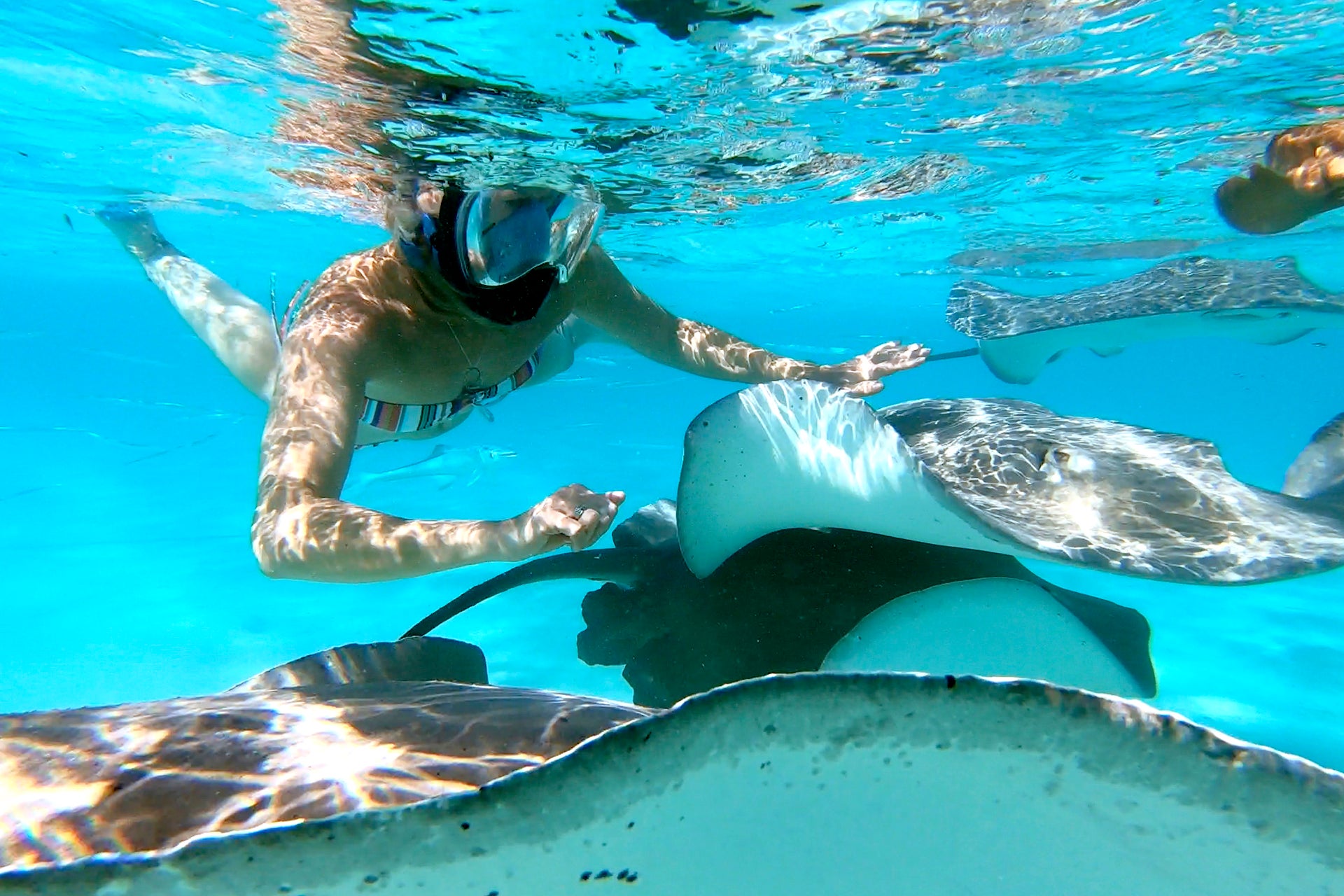 Useful information for Pacific yacht charters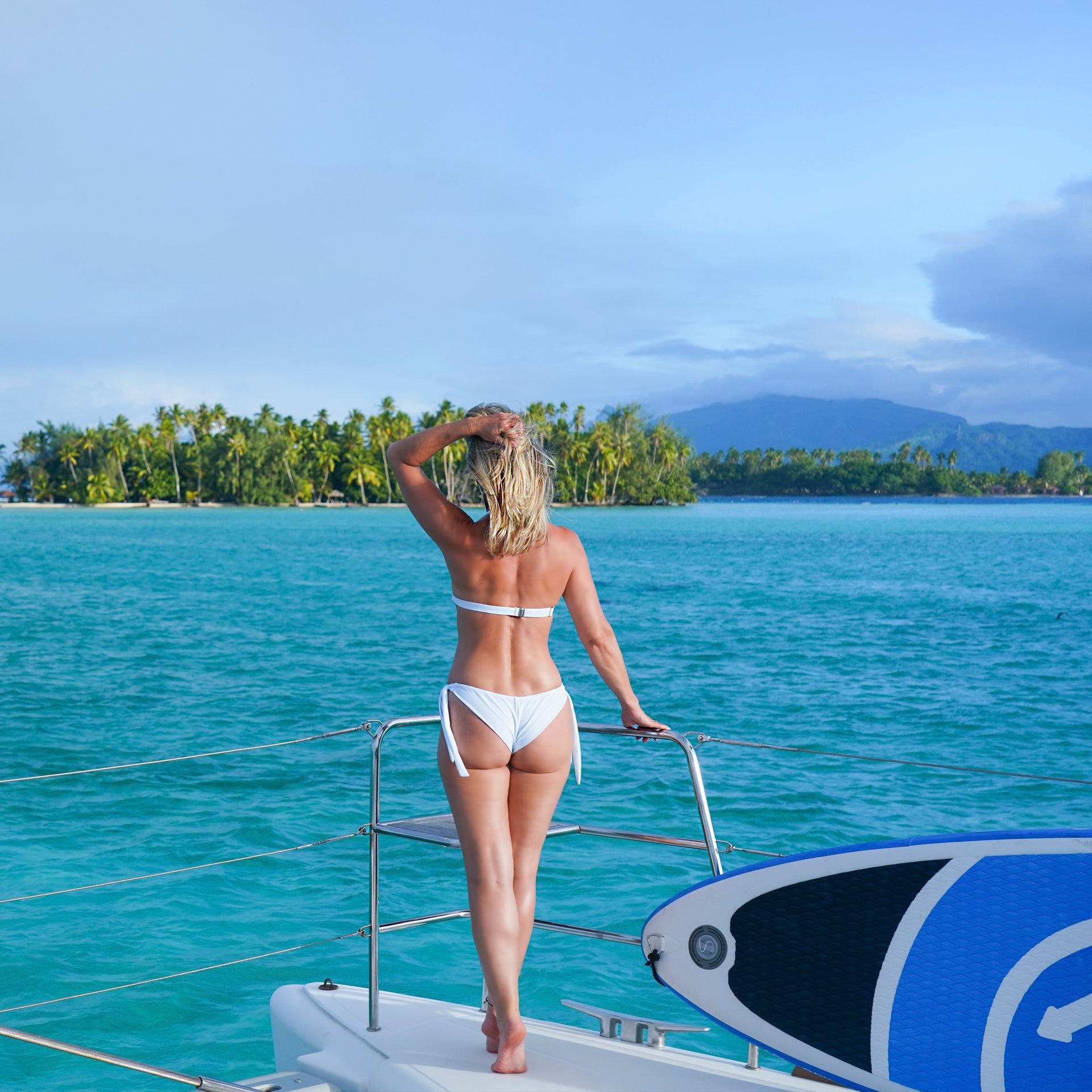 Where is the Pacific Ocean located?
The Pacific Ocean is the largest ocean on the planet and is between Asia, Australia and the Americas.
What is the currency in the Pacific Ocean?
Each country in the Pacific Ocean has its own currency. For the Whitsunday Islands, they use the Australian Dollar. In Tahiti and New Caledonia, it's the Franc Pacifique.
What is the Wi-Fi connection like in the Pacific Ocean?
The Wi-Fi connection and internet access in the Pacific Ocean varies.
In New Caledonia, there is free Wi-Fi at our marina and you can pay for Wi-Fi on your yacht. In Tahiti there are internet cafes in some towns and a few restaurants offering free Wi-Fi. You can also can buy a SIM card or order 3G connection from the base in advance. The Wi-Fi in the Whitsundays is good at resort islands.
What is the best way to get to the Pacific Ocean?
The best way to reach the Pacific Ocean from the US depends on which country you are sailing from.
For Australia, fly to the Whitsundays from Sydney, Melbourne or Brisbane. If you are sailing New Caledonia, fly to Nouméa via Sydney, Melbourne, Brisbane, Tokyo, Osaka, Auckland, Papeete or Port Vila. For Tahiti, fly to Papeete and get a local connecting flight with Air Tahiti.
Discover Pacific yacht charter holiday with Dream Yacht Charter
Pacific boat rentals
If you're planning a Pacific Ocean yacht charter, we've got catamarans and monohulls from cutting-edge manufacturers to choose from. Enjoy some of the world's finest cruising grounds.
Skippered Pacific Ocean charters
Here's the good news. You do not need to be able to sail to enjoy a sailing holiday in the South Pacific. You can hire a skipper and relax while your yacht is sailed for you and your guests.
Pacific Ocean crewed charters
Create a unique, personalized holiday for you and your guests on board your own all-inclusive, private yacht complete with professional crew. You can create your menu plan and itinerary, which is taken care of by your own captain and hostess.
Pacific Ocean cabin charters
Reserve a private stateroom with bathroom on our by the cabin cruise charters. Take in the best of Tahiti, Bora Bora, Huahine and Rangiroa as your captain sails the yacht and your hostess prepares full board meals.
Pacific Ocean sailing itinerary
Whether you are sailing Australia, New Caledonia or Tahiti, our expert teams have put together suggested itineraries for sailing the Pacific islands. Our suggestions will be useful if you are planning a South Pacific adventure.
What is the cancellation policy for Sail Share?
We highly recommend you arrange travel insurance in case you need to cancel for an unexpected reason to cover non-refundable deposits.
Our Sail Share cabin cancellation fees are:
More than 90 days before original embarkation date: 25% of the charter fee
89 – 60 days before original embarkation date: 50% of the charter fee
59 – 30 days before original embarkation date: 75% of the charter fee
Fewer than 29 days before original embarkation date: 100% of the charter fee
How flexible is the itinerary for a Sail Share charter?
Our yacht itineraries are designed by our destination experts and are set to showcase the best of the destination's highlights. They are set and not flexible, even if you book all the cabins.
What happens if the weather changes while sailing on a Sail Share charter?
The skipper may decide to change the itinerary if there is bad weather.
Can I choose which cabin I want when I book a Sail Share?
Choose a double cabin with shared bath, or private bath for an additional fee.
Are there child or age restrictions for Sail Share?
Minimum Age: 16 years old
Get inspired! #MyDreamYacht
Follow our customer's journeys & share your own amazing experiences on Instagram
Absolutely amazing! Fred + Isabelle were so accommodating and did so much for us. Isabelle's food was incredible. Thanks so much!
Laura
Exumas Cabin
Excellent. Very professional and great service!
Thomas
Antigua Bareboat
Just what we needed coming out of a year of lockdown, to see new places and connect with nature. Highly recommended for your next sailing adventure!
Johan
St. Martin Bareboat
Excellent cruise and very good stay. Skipper attentive, very pleasant and very professional.
Maxime
Guadeloupe Skippered
Just returned from another fantastic sailing week at your base in Pula and I would like to thank everyone involved for making this possible on such short notice and without any problems.
Mathias
Croatia Bareboat
The marina itself is a perfect starting point with great facilities! The Lagoon 42 was in good condition and the skipper was amazing and very knowledgeable of the area."
Jonathan
Spain Skippered
What an AMAZING experience. We've just returned from a week long skippered charter from Corfu, sailing around the beautiful islands of the Ionian. Paxos, Antipaxos and Corfu Old Town were beautiful and the secluded bays we had the pleasure of visiting thanks to our local skipper, Nicholas, were simply overwhelming. Fly and flops are no longer for us – we'll be chartering with DYC for the foreseeable future.
David
Greece Skippered
Our group of 10 had an AMAZING time in French Polynesia from May 21-28, 2022! The food was amazing, our captain and chef, husband and wife: Henry and Mehee (sp), were incredible and the whole experience on board was a dream! We can't wait to book another trip through DYC
Katie
Tahiti Crewed Premium
DYC provided a great sailing experience for my extended family on 2 monos out of Scrub Island. The boats were in great shape and preformed perfectly and the staff were friendly and helpful. Having worked for a number of charter companies over the years DYC is one of the best.
Charlie
British Virgin Islands Bareboat
I'm currently in the Maldives and having the time of my life. Captain Jack and the crew are professional, safe and FUN! The boat is immaculate and the food is delicious. He even makes CAKE! The beds are surprisingly comfortable and we are all sleeping 9 hours a night. If you like island hopping, there is no other better option than Dream Yacht Charter. We will be booking Tahiti next year.
Cynthia
Maldives Cabin
The new boat was in fabulous shape. We had the greatest possible experience exploring archipelago waterways and islands. I could never imagine this might be so much fun and joy and we are already looking forward for the another upcoming trip in Ionian.
Vyautas
Scandinavia Bareboat
Baja is my favorite place now. There was something for everyone: sailed under northerlies with mostly calm evenings, snorkeled, fished, bummed it on the sandy beaches, enchanted by pelicans feeding, greeted by the barking sea lions and explored the Ispiritu Santo island geology. DYC La Paz base provided competent professional support with a well provisioned and maintained boat. We were nourished well by an onboard cook arranged with DYC freeing us all for more play. A vacation and an adventure connected with nature.
Taiyoko
Mexico Crewed Premium
All staff were fantastic and made our trip very memorable. Incredibly friendly and welcoming, the food was amazing. The service throughout the trip was always first class!
Tommy
Thailand Cabin
Absolutely recommended. Perfect service and set up. Will charter again and will recommend Dream Yacht Charter anytime.
Zahradnik
Turkey Bareboat
I just returned from 3 weeks of amazing sailing with my family on one of your catamarans in Sardinia. I would like to express my thanks to our skipper Simone and Daniela, our hostess.
Giles
Sardinia Skippered
For a first cruise as a skipper, the Mediterranean is great. The Dream Yacht Charter service is too!
Thomas
France Bareboat
We had an incredible trip and actually got engaged on the first night of our sail! We will certainly be back one day. Thank you for getting us ready for our charter. We were definitely beginners but he gave us a very thorough but very easy to follow training and it gave us a lot of confidence.
George
Australia Bareboat
The on board experience was way beyond our expectations. Isabelle provided exceptional three course meals. We could not believe her creativity and delicious meals. Thomas was an excellent skipper. He was always on the lookout for our needs. Thanks guys!" Spira, New Caledonia bareboat with crew charter
Spira
New Caledonia Easy Crewed
Yet again another fantastic sail with another great crew. Thanks again to a great captain and cook. Was totally fantastic.
Connie
Seychelles Cabin
It's always a pleasure sailing with DYC in the UK. Great team, great boats, great sailing. Very flexible and work hard to make your trip a success. Many thanks.
Derek
Brittany Bareboat
Unforgettable spots to snorkel and beaches. Very experienced crew. Highly recommend.
Simone
Cuba Cabin
What's new?
Stay up to date with news and events or get some inspiration for your next yacht charter and pick up useful tips by reading our latest blogs.
Go to Blog