Scandinavian Yacht Charter
Our Scandinavian yacht charters offer a world-renowned cruising ground with pleasant temperatures and long nights in the summer months.
What's on this page
Highlights
Breathtaking scenery

Long summer days

Scenic villages
Scandinavia Sailing Vacations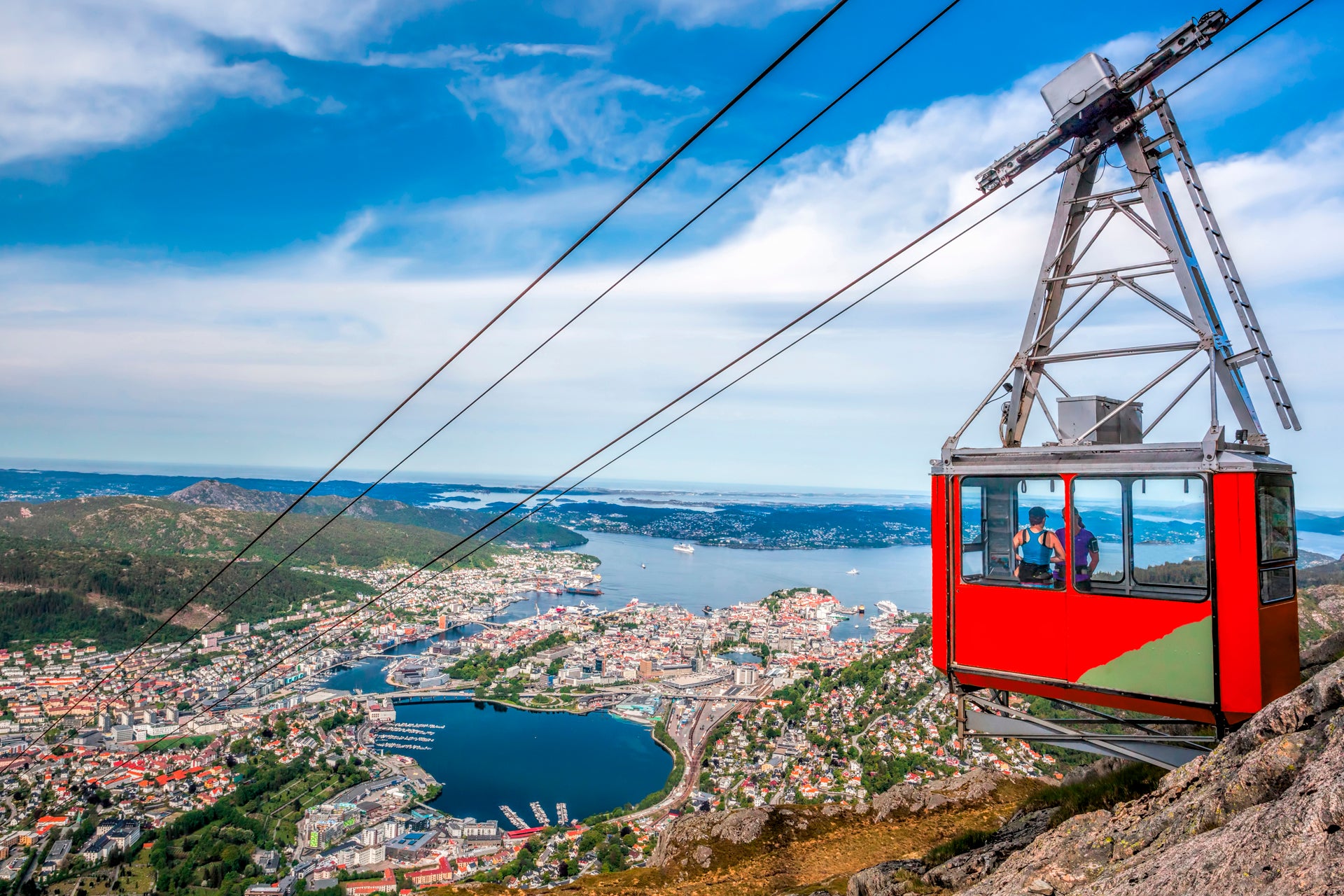 Receive a friendly welcome from the Scandinavians as you sail the shores, discovering the rocky cliffs, sandy beaches and wooded islands.
From our base in Saltsjöbaden in Sweden, you can cruise the 14 beautiful islands of Stockholm, head out to the serene Stockholm archipelago and relax on the sandy shores of Erstaviksbadet.
On a Scandinavian sailing vacation, you'll have the chance to see some of the most breathtaking scenery in the world, dine on fresh seafood and shop for the contemporary designs for which Scandinavia is renowned.
Make sure you try the traditional tipple, Aquavit, during your Scandinavian yacht charter. Distilled from grain and potatoes and flavored with herbs, you can say cheers or "skål!" to your family and friends before tucking into traditional Nordic cuisine.
When you choose a Scandinavian yacht charter, you're in for the vacation of a lifetime. With picture-perfect sailing grounds, you'll get to experience a combination of stunning scenery and cultural cities.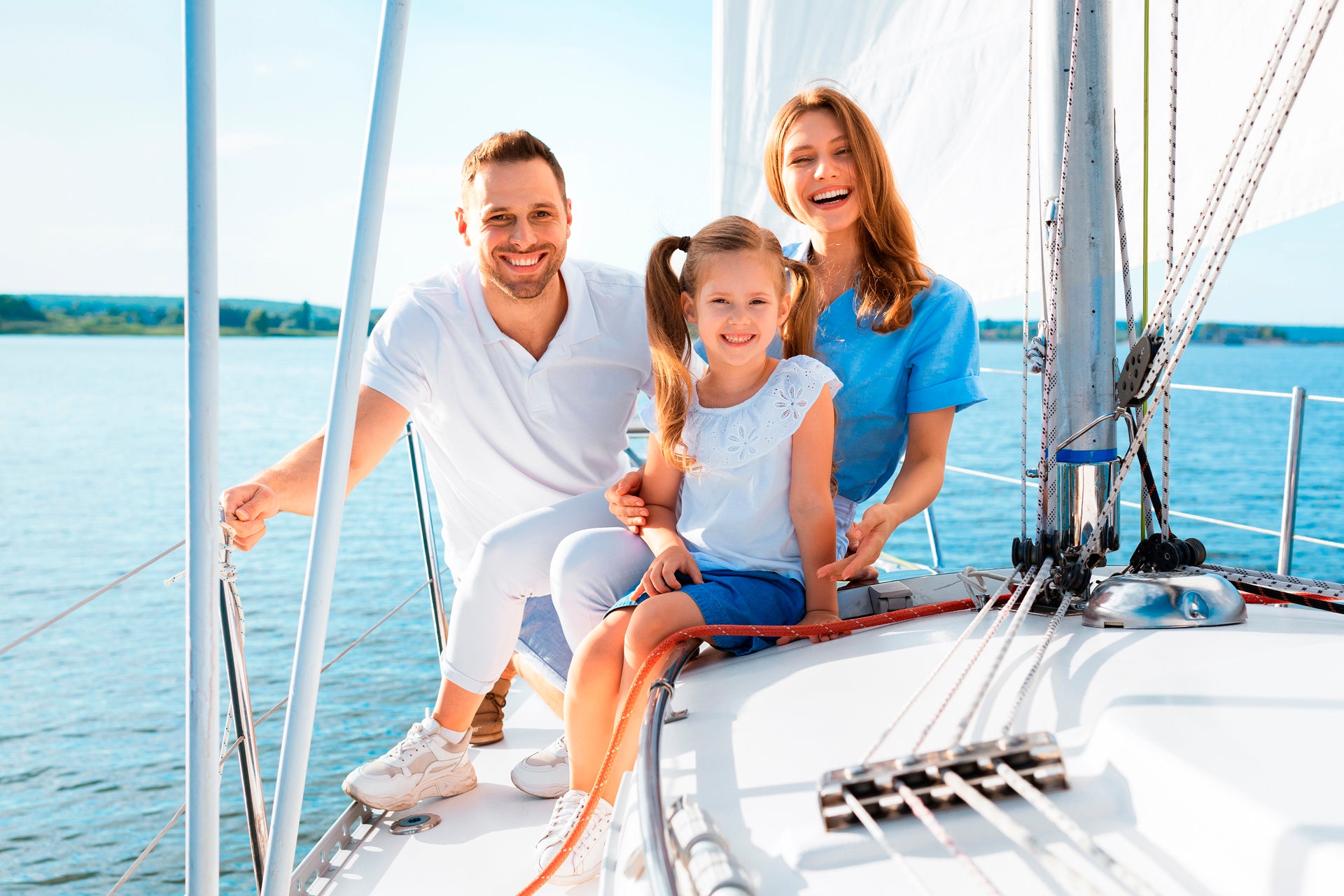 Scandinavian Yacht Charter
From our base in Sweden, head to the serene Stockholm archipelago all while enjoying long summer nights, big city culture, expansive beaches and some of the world's most breathtaking scenery.
Top things to do in Scandinavia
Visit Stockholm's Gamla Stan
Sweden's capital is spread across 14 islands and Gamla Stan (Swedish for 'Old Town') is one of the prettiest. Wander around charming cobblestoned streets, enjoy a cinnamon bun at one of the many cafes and visit the Royal Palace, the official residence of Sweden's monarchy.
Island hop Stockholm's archipelago
The second largest archipelago in the Baltic Sea is made up of almost 30,000 islets, islands and rocks, each with their own character and home to many Swedes' summer houses. We recommend paying a visit to Ljusterö for its water sport activities and the nature reserve on Kålgård island.
Celebrate Midsummer Scandinavian style
If you're visiting Scandinavia in June, then you're in for a treat. In Sweden especially, the longest day of the year is celebrated nationally. If you're in Stockholm, head over to Skansen, where you can dance around a maypole, make flower crowns and sing traditional Swedish songs.
Admire Uppsala's impressive gothic cathedral
Thirty minutes north of Stockholm lies the university city of Sweden. Perfect for a day trip while on your Scandinavian yacht charter, visit the iconic cathedral, stroll around the botanical gardens and shop on Svartbäcksgatan, which leads to Uppsala's main square, Stora Torget.
Cross the Öresund Bridge
With so many things to do in Scandinavia, it makes sense to extend your vacation and see what the other countries have to offer. The Öresund (Øresund in Danish) is the bridge that connects Malmö in Sweden to Denmark's capital. The bridge is around 10 miles long and has beautiful views of the Baltic Sea.
Relive your childhood at Tivoli Gardens
Located in central Copenhagen, Tivoli is the second oldest amusement park in the world. There are numerous rides, restaurants and shops to visit and a fireworks display in the summer. While you're in Copenhagen, we'd recommend heading to Lagkagehuset, for the best pastries you'll ever taste, and paying a visit to Nyhavn to see the backdrop of beautiful colored buildings. For the record, you can give the Little Mermaid statue a miss – there are so many better things to do in Scandinavia.
Pay a visit to Sweden's second biggest city
Stockholm is beautiful, but Gothenburg has a much more Swedish feel to it. The Haga district has many cool restaurants and bars and Slottsskogen is the perfect place to enjoy a stroll.
When is the best time to visit Scandinavia?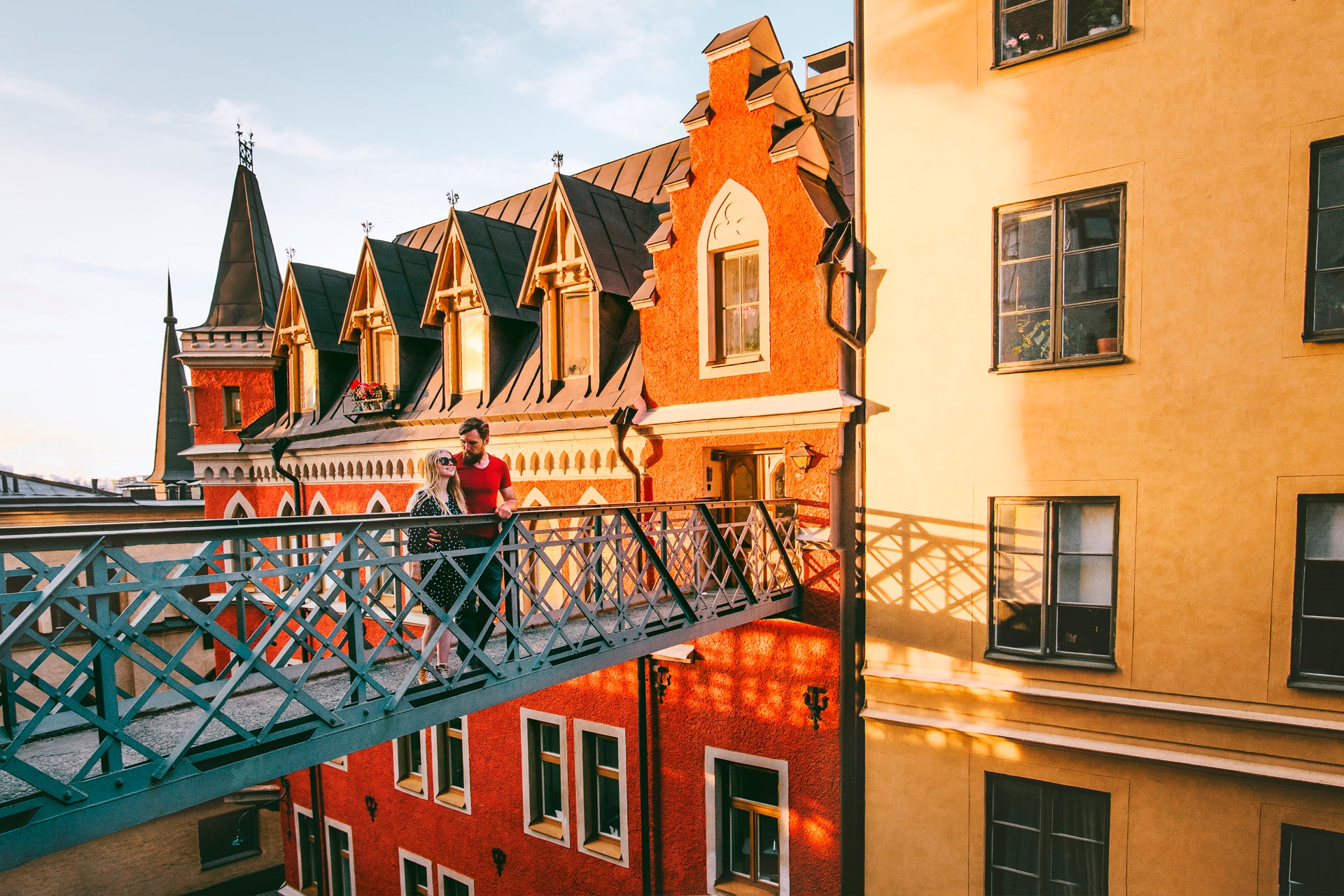 The best time to visit Scandinavia is between June and August, with long summer days. In northern Scandinavia, you'll also get to experience the midnight sun. Temperatures reach between 68 and 73°F.
Bear in mind when you're sailing around Scandinavia that, even in the height of summer, it can get cold at night, with temperatures dipping to 50°F. So make sure you bring a jacket.
September marks the start of winter and the snow can come quickly, so be prepared.
Sailing trips in Scandinavia to suit your budget
If you charter a yacht in Scandinavia in the low season, then flights are often cheaper and your choice of seat availability is wider.
However, if you sail in the high season, you will enjoy much better weather, but also more crowds as the Swedish population loves to sail.
What are the sailing conditions in Scandinavia?
The sailing conditions in Scandinavia include winds from the south from spring to autumn with calm waters, making it the ideal time for a Scandinavian yacht charter. During autumn and winter, the wind moves to the west and can be strong.
What are the mooring fees in Scandinavia?
Scandinavian mooring fees will vary depending on whether you are using marinas, where you sail and the time of year you charter.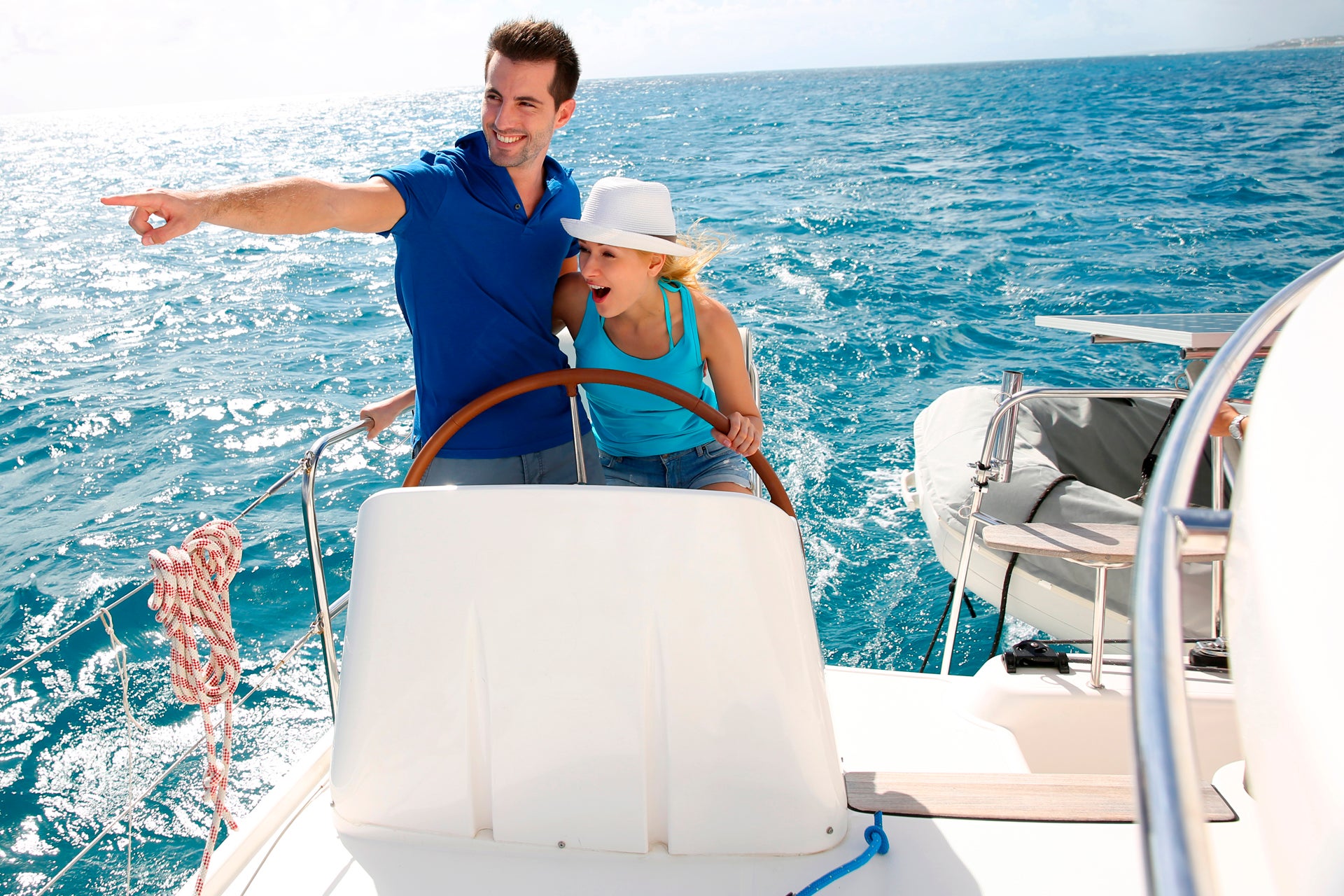 Useful information for Scandinavian yacht charters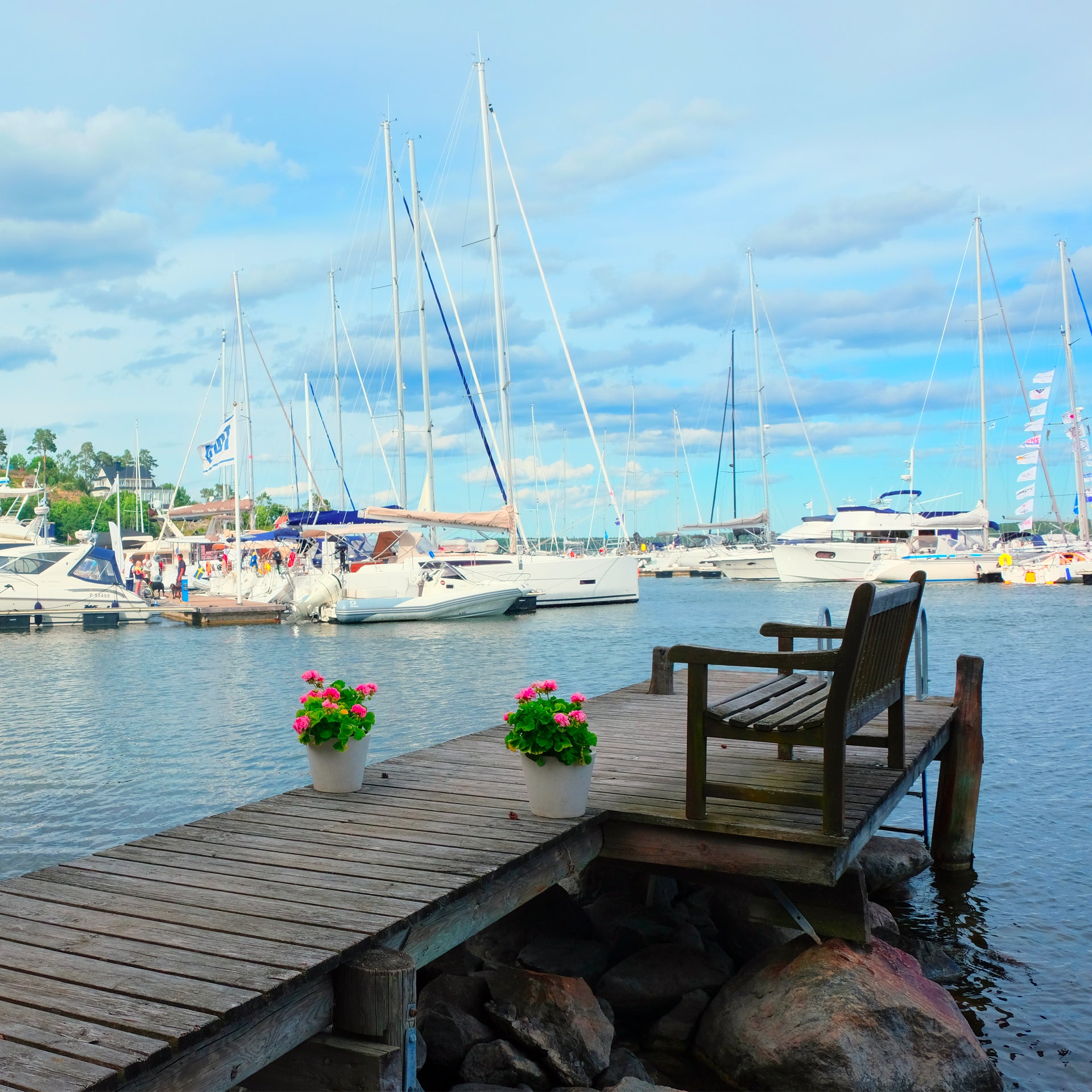 Where is Scandinavia located?
Scandinavia is located in Northern Europe and is made up of Denmark, Norway and Sweden. This is not to be confused with the Nordic countries, which includes the three Scandinavian countries, as well as Finland and Iceland.
What is the currency in Scandinavia ?
Each country in Scandinavia has its own currency. Denmark uses the Danish Kroner, Norway uses the Norwegian Kroner and Sweden uses the Swedish Kronor.
What is the Wi-Fi connection like in Scandinavia ?
The Wi-Fi connection and internet access in Scandinavia is very good, with most bars, restaurants and marinas offering free Wi-Fi.
When you're on your Scandinavian yacht charter, you'll also have Wi-Fi onboard your boat.
What is the best way to get to Scandinavia ?
Reaching Scandinavia from the Uk is easy. Norwegian Air, Icelandair and Finnair fly direct from multiple UK cities direct to the capitals of Scandinavia.
If you're heading over to our Saltsjöbaden base, then the closest airport is Stockholm Arlanda.
Discover Scandinavian charter vacations with Dream Yacht Charters
Scandinavian yacht charters for sailors
If you can sail, then you can browse our range of Scandinavian boat rentals, create your own itinerary, provision the boat and set sail at your own pace.
Captain only Scandinavian charters
If you haven't got any sailing experience, you can still sail around Scandinavia with our skippered charters. Your skipper will take control of the sailing for you, meaning you have plenty of time to relax with your guests.
Scandinavian sailing itinerary
Our local base teams are experts in helping you plan your Scandinavian sailing vacation. They have prepared suggested itineraries, to help you make the most of your yacht charter and plan.
From our base in Stockholm, you can see the beauty of Sweden's east coast.
What is the cancellation policy for Sail Share?
We highly recommend you arrange travel insurance in case you need to cancel for an unexpected reason to cover non-refundable deposits.
Our Sail Share cabin cancellation fees are:
More than 90 days before original embarkation date: 25% of the charter fee
89 – 60 days before original embarkation date: 50% of the charter fee
59 – 30 days before original embarkation date: 75% of the charter fee
Fewer than 29 days before original embarkation date: 100% of the charter fee
How flexible is the itinerary for a Sail Share charter?
Our yacht itineraries are designed by our destination experts and are set to showcase the best of the destination's highlights. They are set and not flexible, even if you book all the cabins.
What happens if the weather changes while sailing on a Sail Share charter?
The skipper may decide to change the itinerary if there is bad weather.
Can I choose which cabin I want when I book a Sail Share?
Choose a double cabin with shared bath, or private bath for an additional fee.
Are there child or age restrictions for Sail Share?
Minimum Age: 16 years old
Get inspired! #MyDreamYacht
Follow our customer's journeys & share your own amazing experiences on Instagram
Absolutely amazing! Fred + Isabelle were so accommodating and did so much for us. Isabelle's food was incredible. Thanks so much!
Laura
Exumas Cabin
Excellent. Very professional and great service!
Thomas
Antigua Bareboat
Just what we needed coming out of a year of lockdown, to see new places and connect with nature. Highly recommended for your next sailing adventure!
Johan
St. Martin Bareboat
Excellent cruise and very good stay. Skipper attentive, very pleasant and very professional.
Maxime
Guadeloupe Skippered
Just returned from another fantastic sailing week at your base in Pula and I would like to thank everyone involved for making this possible on such short notice and without any problems.
Mathias
Croatia Bareboat
The marina itself is a perfect starting point with great facilities! The Lagoon 42 was in good condition and the skipper was amazing and very knowledgeable of the area."
Jonathan
Spain Skippered
What an AMAZING experience. We've just returned from a week long skippered charter from Corfu, sailing around the beautiful islands of the Ionian. Paxos, Antipaxos and Corfu Old Town were beautiful and the secluded bays we had the pleasure of visiting thanks to our local skipper, Nicholas, were simply overwhelming. Fly and flops are no longer for us – we'll be chartering with DYC for the foreseeable future.
David
Greece Skippered
Our group of 10 had an AMAZING time in French Polynesia from May 21-28, 2022! The food was amazing, our captain and chef, husband and wife: Henry and Mehee (sp), were incredible and the whole experience on board was a dream! We can't wait to book another trip through DYC
Katie
Tahiti Crewed Premium
DYC provided a great sailing experience for my extended family on 2 monos out of Scrub Island. The boats were in great shape and preformed perfectly and the staff were friendly and helpful. Having worked for a number of charter companies over the years DYC is one of the best.
Charlie
British Virgin Islands Bareboat
I'm currently in the Maldives and having the time of my life. Captain Jack and the crew are professional, safe and FUN! The boat is immaculate and the food is delicious. He even makes CAKE! The beds are surprisingly comfortable and we are all sleeping 9 hours a night. If you like island hopping, there is no other better option than Dream Yacht Charter. We will be booking Tahiti next year.
Cynthia
Maldives Cabin
The new boat was in fabulous shape. We had the greatest possible experience exploring archipelago waterways and islands. I could never imagine this might be so much fun and joy and we are already looking forward for the another upcoming trip in Ionian.
Vyautas
Scandinavia Bareboat
Baja is my favorite place now. There was something for everyone: sailed under northerlies with mostly calm evenings, snorkeled, fished, bummed it on the sandy beaches, enchanted by pelicans feeding, greeted by the barking sea lions and explored the Ispiritu Santo island geology. DYC La Paz base provided competent professional support with a well provisioned and maintained boat. We were nourished well by an onboard cook arranged with DYC freeing us all for more play. A vacation and an adventure connected with nature.
Taiyoko
Mexico Crewed Premium
All staff were fantastic and made our trip very memorable. Incredibly friendly and welcoming, the food was amazing. The service throughout the trip was always first class!
Tommy
Thailand Cabin
Absolutely recommended. Perfect service and set up. Will charter again and will recommend Dream Yacht Charter anytime.
Zahradnik
Turkey Bareboat
I just returned from 3 weeks of amazing sailing with my family on one of your catamarans in Sardinia. I would like to express my thanks to our skipper Simone and Daniela, our hostess.
Giles
Sardinia Skippered
For a first cruise as a skipper, the Mediterranean is great. The Dream Yacht Charter service is too!
Thomas
France Bareboat
We had an incredible trip and actually got engaged on the first night of our sail! We will certainly be back one day. Thank you for getting us ready for our charter. We were definitely beginners but he gave us a very thorough but very easy to follow training and it gave us a lot of confidence.
George
Australia Bareboat
The on board experience was way beyond our expectations. Isabelle provided exceptional three course meals. We could not believe her creativity and delicious meals. Thomas was an excellent skipper. He was always on the lookout for our needs. Thanks guys!" Spira, New Caledonia bareboat with crew charter
Spira
New Caledonia Easy Crewed
Yet again another fantastic sail with another great crew. Thanks again to a great captain and cook. Was totally fantastic.
Connie
Seychelles Cabin
It's always a pleasure sailing with DYC in the UK. Great team, great boats, great sailing. Very flexible and work hard to make your trip a success. Many thanks.
Derek
Brittany Bareboat
Unforgettable spots to snorkel and beaches. Very experienced crew. Highly recommend.
Simone
Cuba Cabin
What's new?
Stay up to date with news and events or get some inspiration for your next yacht charter and pick up useful tips by reading our latest blogs.
Go to Blog