Yacht Charter Brittany
Southern Brittany is the perfect backdrop for an unforgettable sailing vacation along the northwest coast of France, with our base at La Trinité-sur-Mer providing easy access to the celebrated cruising grounds of Quiberon Bay and the Île de Groix.
What's on this page
Highlights
Charming harbours and villages

Local French wine and seafood

Quiet creeks and coves
Sailing west coast France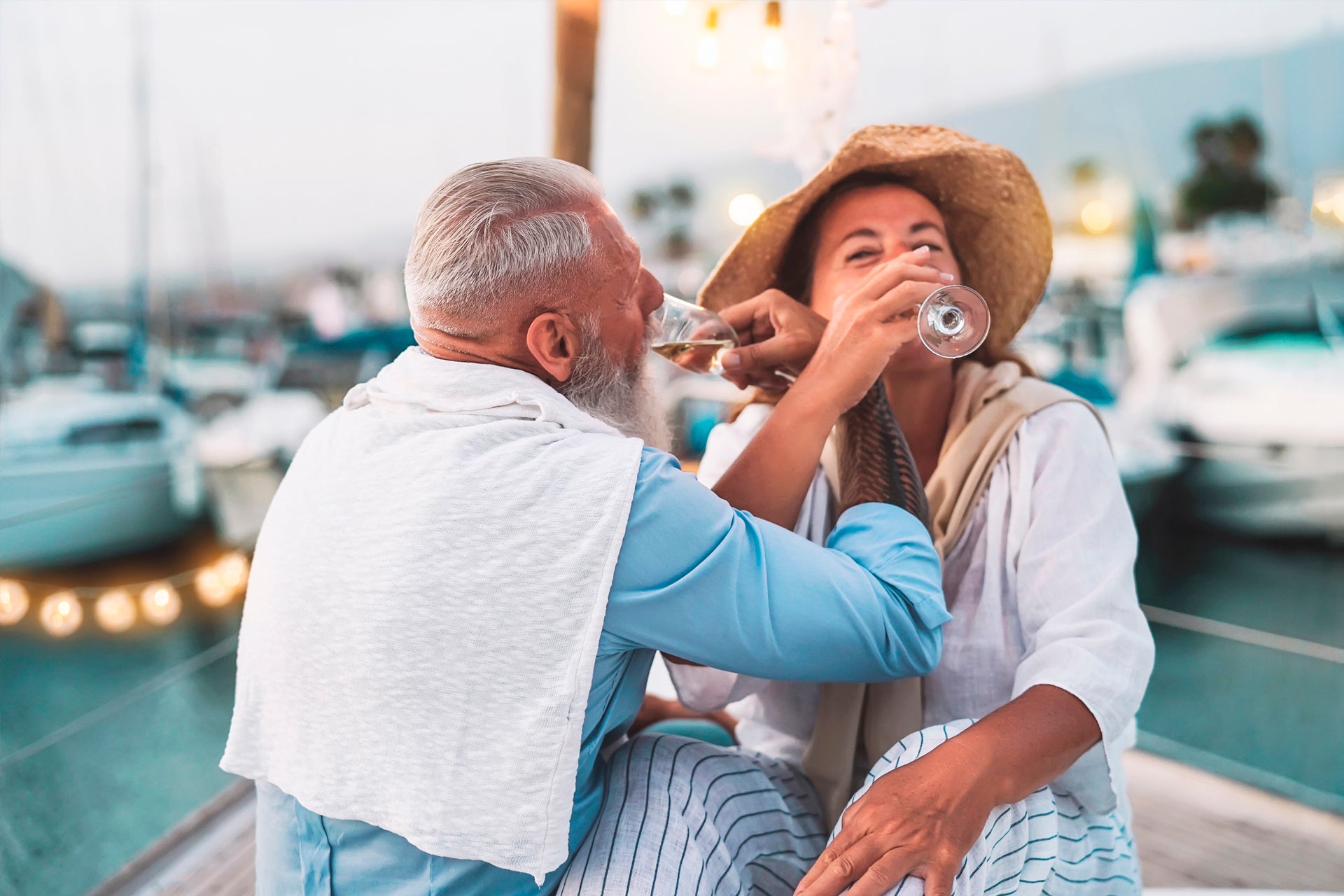 Experienced sailors will be hard-pressed to choose between Brittany's many wonderful harbors and ports, superb beaches, scenic islands and bays, quiet anchorages and quaint villages.
Highlights of your Brittany sailing vacation will include the lovely creeks and coves of the Île d'Arz's and scenic walks on the Île aux Moines, favorite destinations for those looking to unwind.
We'd also recommend taking time out to see the many prehistoric megalithic structures of the Morbihan area and Brittany's most impressive Neolithic site on the uninhabited island of Gavrinis.
When sailing along France's Atlantic coastline, be sure to sample the local cuisine, cider, crepes and wine, especially Muscadet from the Loire, which pairs perfectly with the region's abundant seafood.
The coastline of southern Brittany really is a sailor's dream, with strong currents and varying tides making it perfect for skippers with experience of tidal ranges. So, while you don't need a sailing license, we would recommend you have sound sailing experience. Alternatively, you can hire a local skipper to show you the best of Brittany's coastline.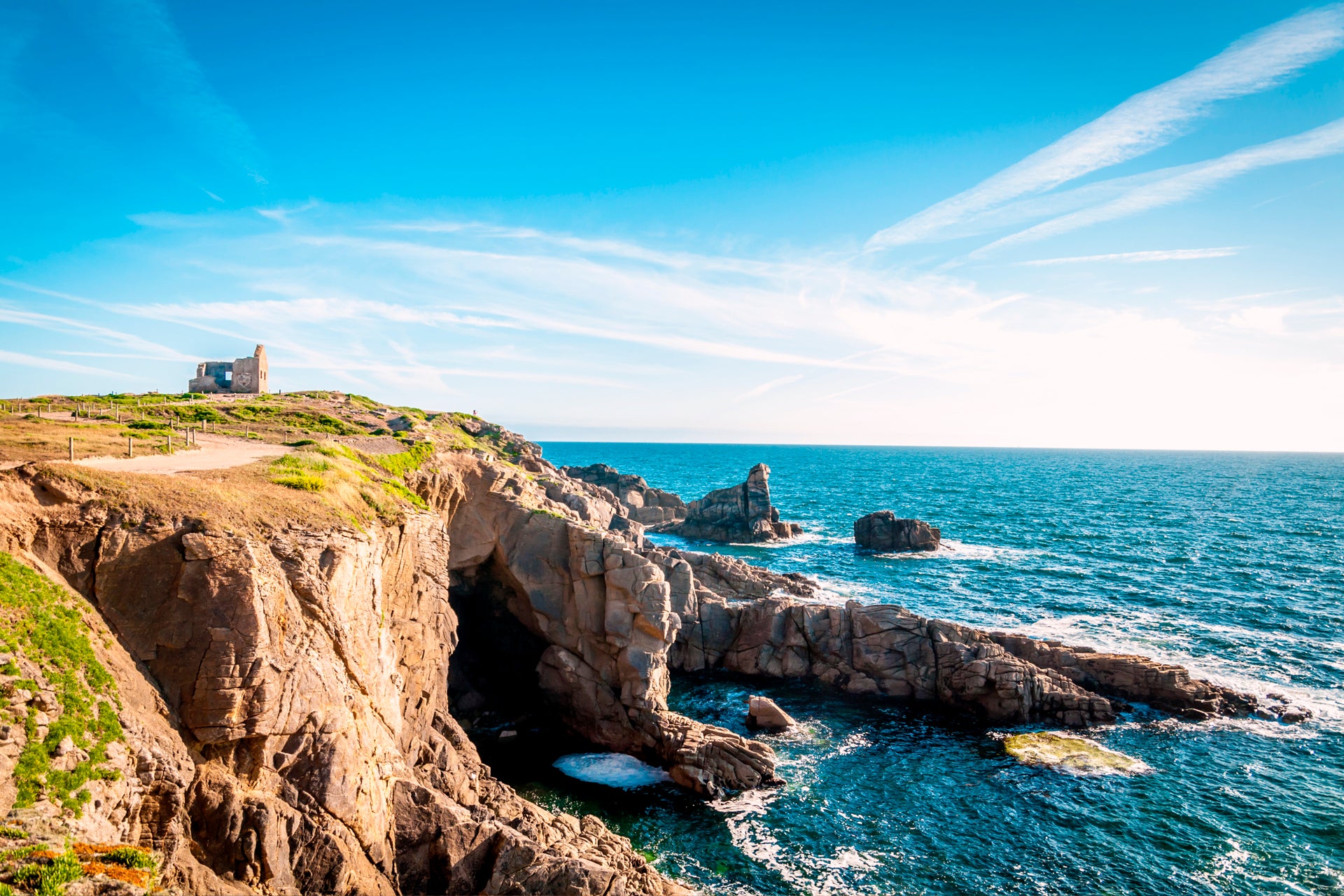 Things to do in Brittany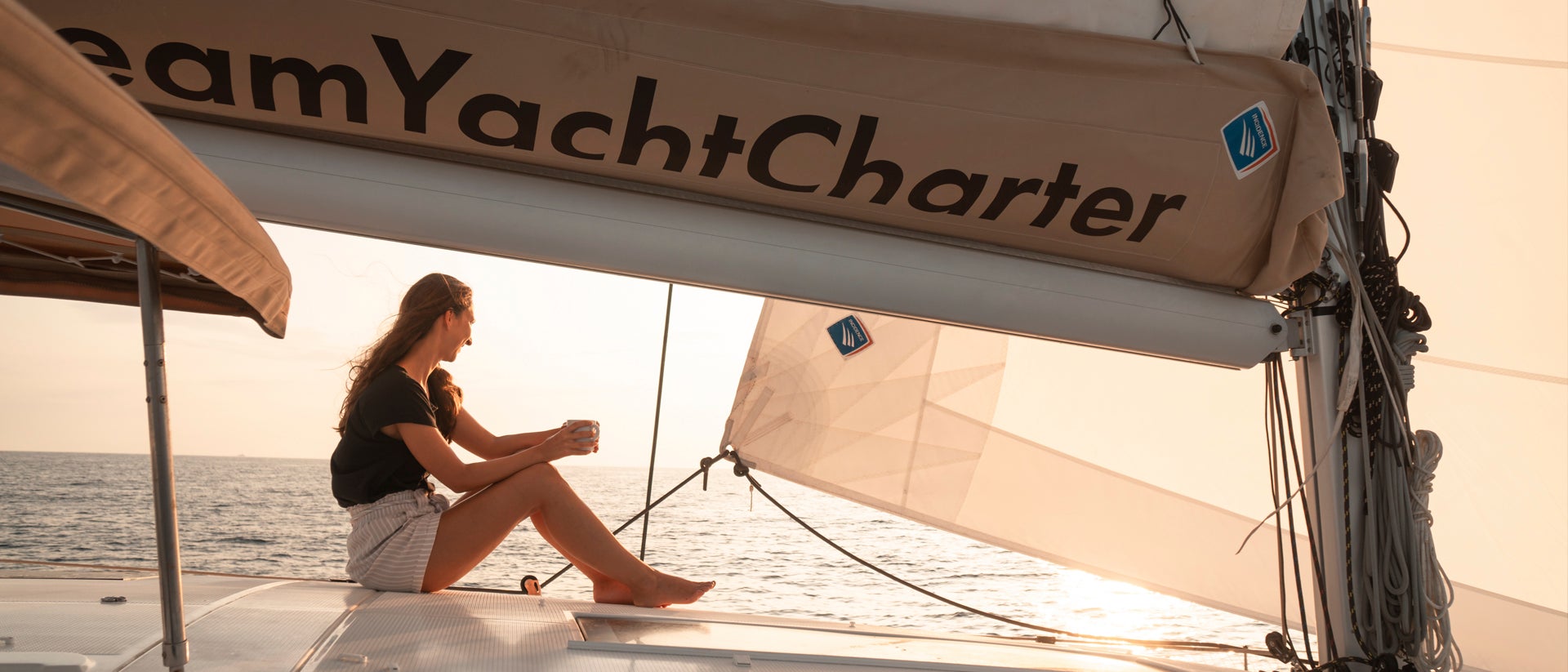 Sail to Belle-Île-en-Mer
The name means 'beautiful island in the sea', which is fitting as the island has a fine position in Quiberon Bay on Brittany's southwest coast. The island has four small villages to explore.
Morbihan Megalithic Sites
A quiet bay in southern Brittany, the Gulf of Morbihan is connected with the Atlantic Ocean by a narrow channel. Morbihan is filled with megalithic sites and fascinating stone structures, which are some of the most ancient found anywhere in the world. No wonder it's one of our favorite things to do in Brittany.
Sept-Îles (Seven Islands) archipelago
If you're on a longer charter, head around the coast off Perros-Guirec to seven peaceful, mostly-uninhabited islands attracting an unusual number of rare birds that otherwise rarely nest in France, including the beautiful puffin. The islands have been made a national reserve to ensure their protection.
Explore the harbor of Saint Goustan in Auray
Wander along the quay of this scenic port and enjoy the beautiful historic buildings along cobblestone paths, quaint cafes and waterside bars.
The megaliths of Carnac
One of the top things to do in Brittany is to visit these world famous standing stones, which are 7,000 years old and one of the most important sites of European prehistory. Their sheer size and number make them the largest group of standing stones of this type in the world.
Weather insights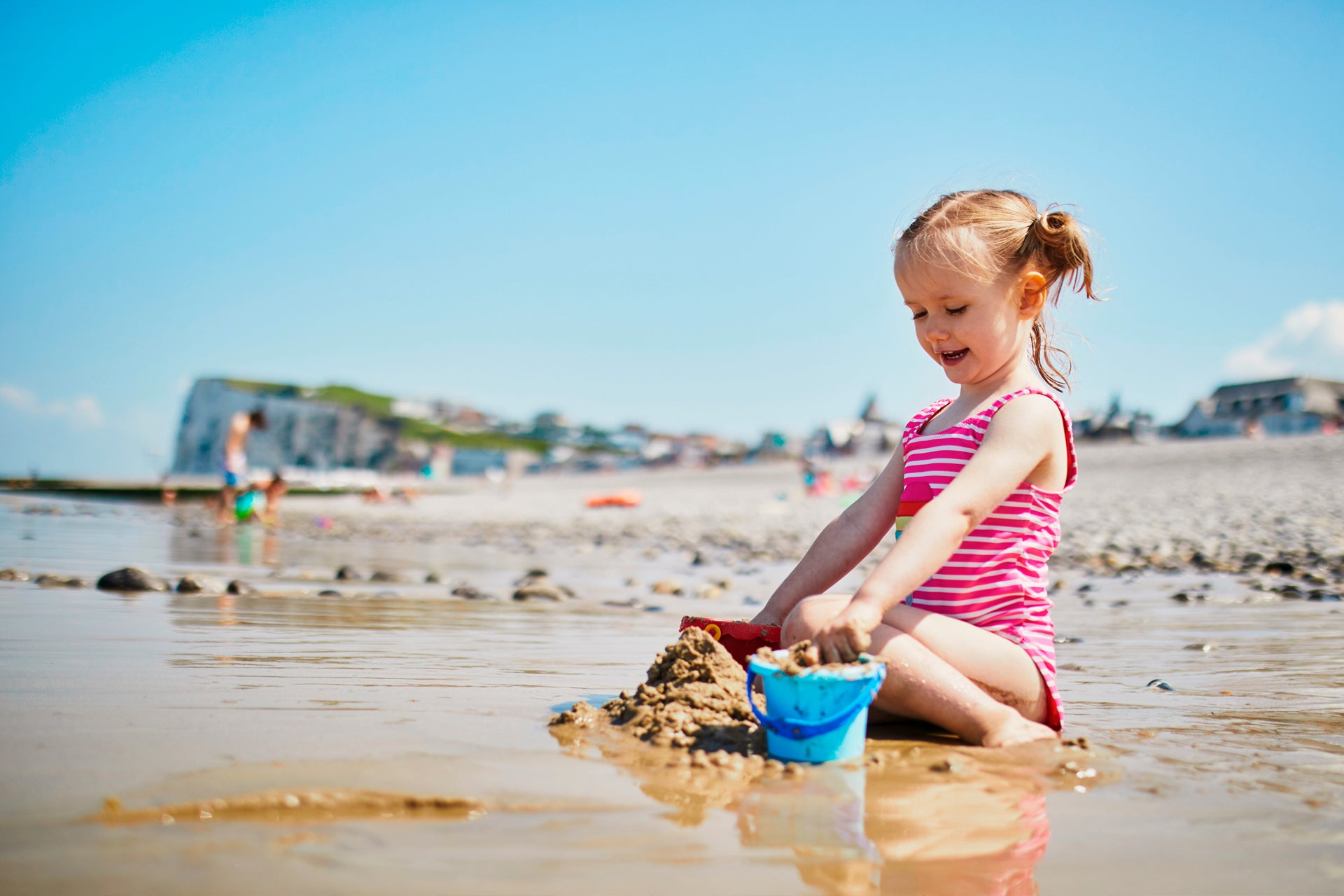 When is the best time to go to Brittany?
The best time to visit Brittany is from April to October, when the weather is warmer.
High season is in July and August. August, the hottest month, averages a daytime temperature of 78°F and an average sea temperature of 66°F, making it the best month for swimming. During the month of June, you can enjoy nearly 11 hours of sunshine on most days.
December is the wettest month with an average of 2.4 inches of rain and January is the coldest month at 46°F.
What are the sailing conditions in Brittany?
The sailing conditions in Brittany are oceanic with year-round winds. The wind mainly blows moderately from the southwest. On sunny days, it is generally quiet in the morning with winds reaching force 3-5 in the afternoon due to thermal winds. Sailors will appreciate the agreeable conditions during April, May and September, making it an ideal time for a Brittany sailing vacation.
There are special sailing considerations as Brittany has the fastest tides in Europe. The large variation in the tides creates very strong currents. Quiberon Bay is sheltered from the Atlantic Ocean swells by the Quiberon peninsula, Houat and Hoëdic islands, which makes for easier cruising conditions. The Gulf of Morbihan is also sheltered from the Atlantic but has significant tidal ebb and flow.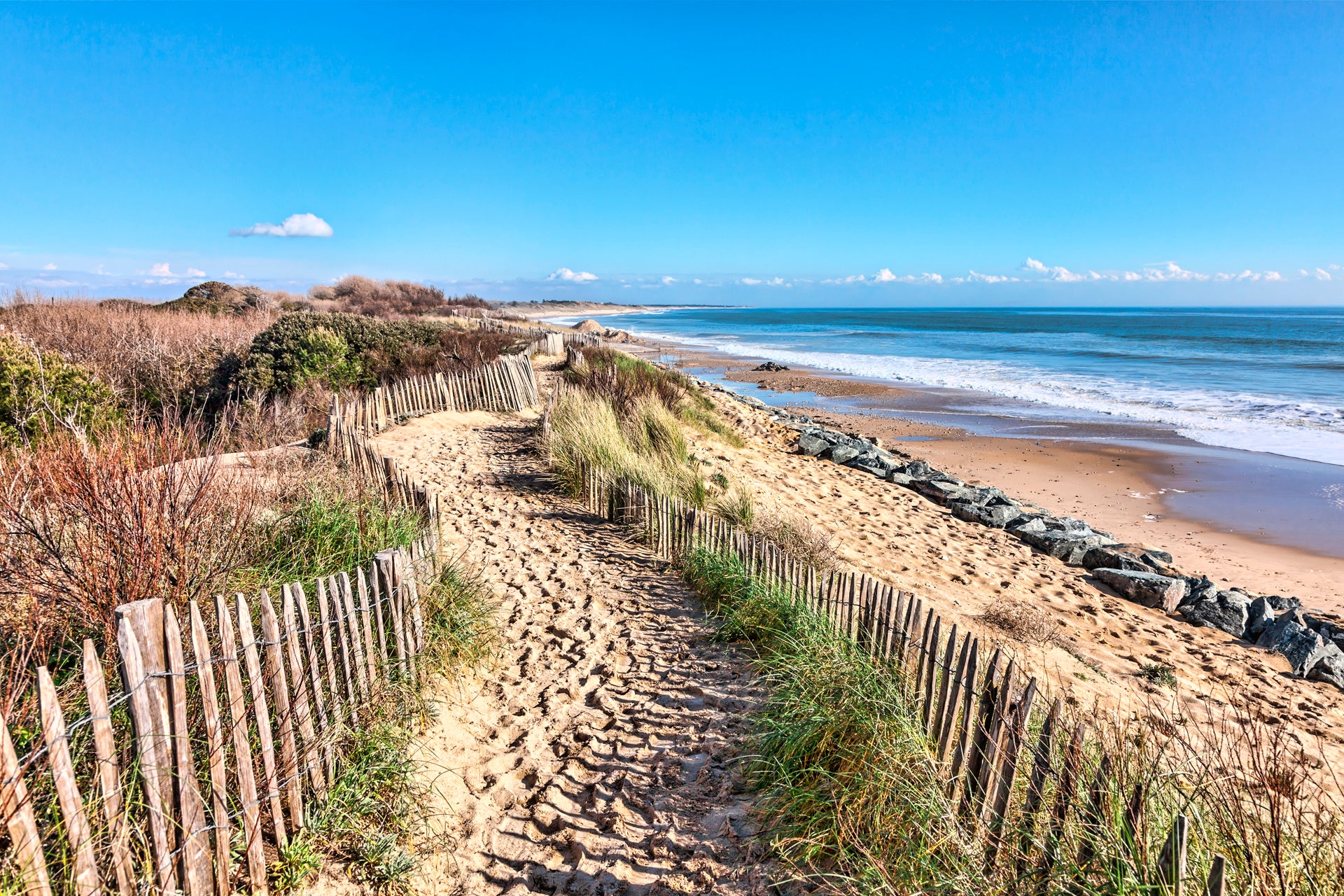 Sailing Brittany with Dream Yacht Charter
Yacht charter Brittany, France
Brittany sailing offers so much choice as you navigate the Gulf of Morbihan. Take the helm and plan your dream vacation on one of our fleet of catamarans and monohulls. Find out more about our Brittany bareboat fleet.
Skippered yacht charters Brittany, France
You can enjoy sailing Brittany even if you don't know how to sail. We can find a skipper for you to sail your yacht while you enjoy the region's highlights with your guests.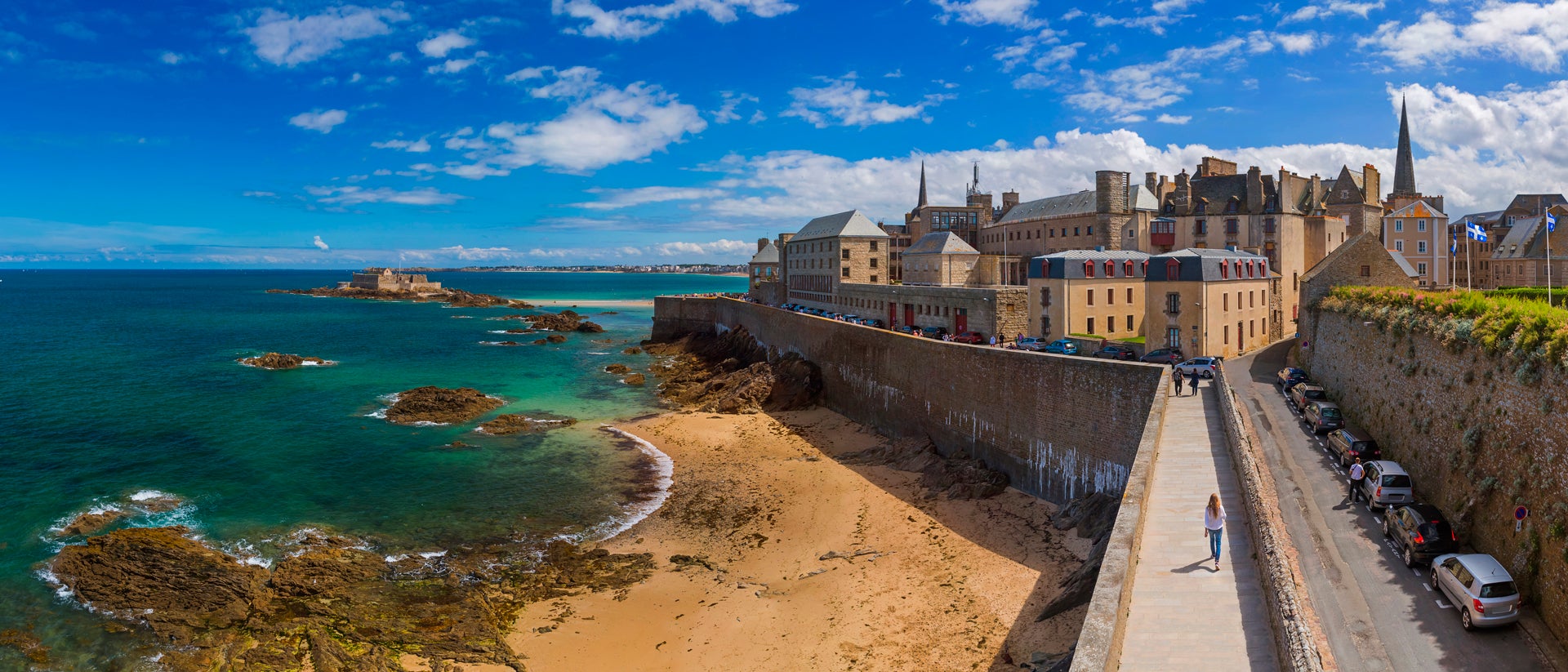 Brittany sailing itinerary
Take a look at our Brittany sailing vacation suggestions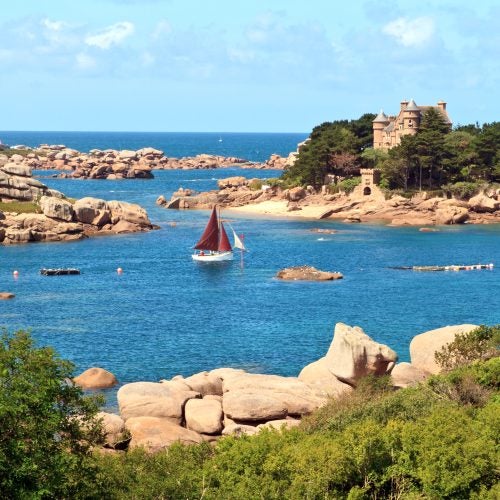 7-day itinerary Brittany: Hoëdic – Belle Ile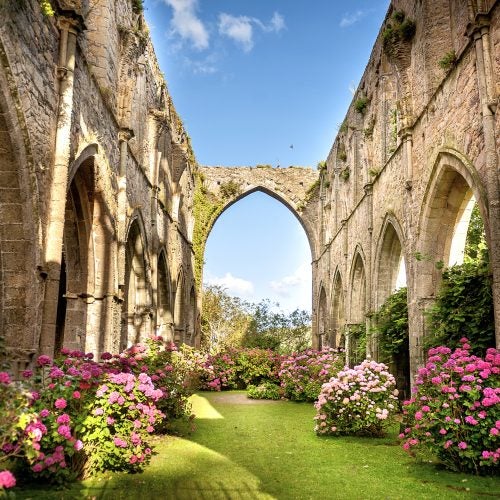 7-day itinerary Brittany: Belle-Ile (Sauzon) – Houat/ Le Crouesty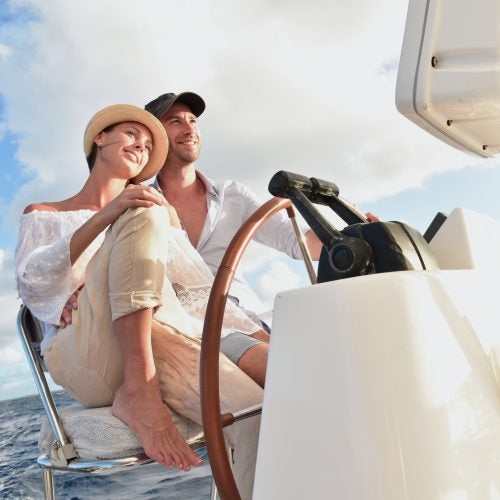 7-day itinerary Brittany: Ile au moine – Houat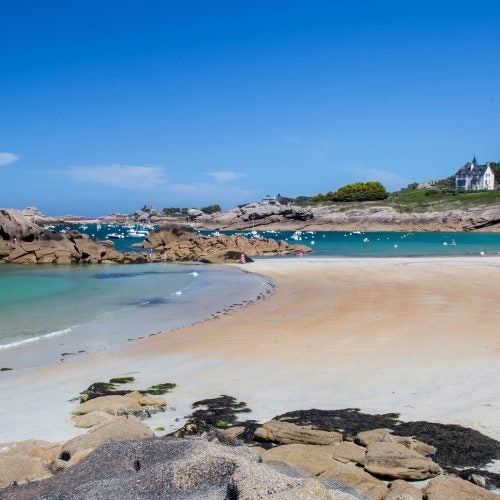 14-day itinerary Brittany
Day 4
Les sables d'Olonne
Day 5
Ile de Ré (Saint Martin de Ré)
Day 6
La Rochelle (Les Minimes)
Day 7
Oléron (Saint Denis d'Oléron)
Day 9
Saint Gilles Croix de vie
Day 10
Noirmoutier (l'Herbaudière)
Day 14
Back to the marina
Useful information for yacht charters in Brittany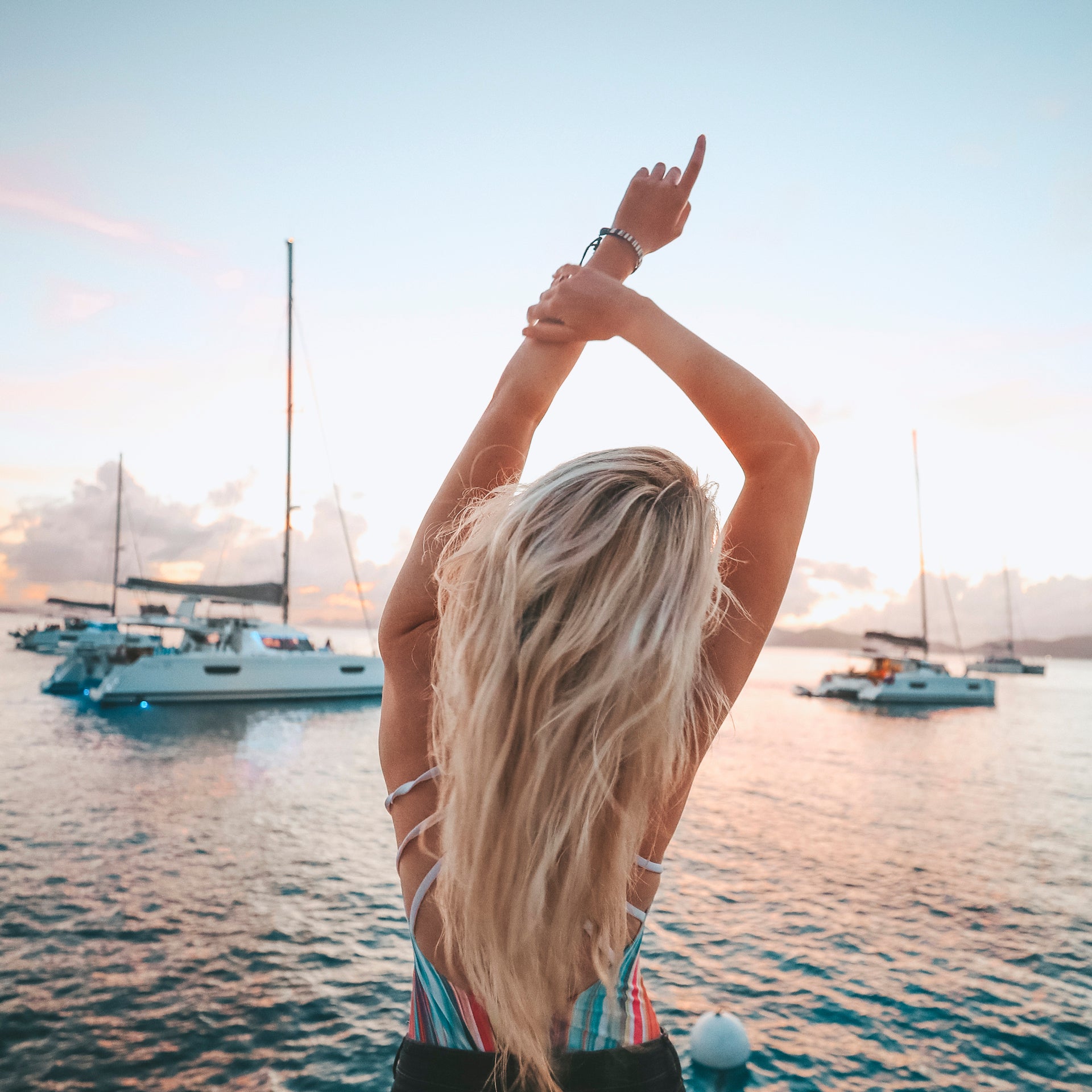 Where is Brittany?
The region of Brittany is located in northwest France, surrounded by the Atlantic Ocean, the Bay of Biscay and the English Channel.
How do I get to Brittany from the US?
For your yacht charter in Brittany, you can fly into Nantes Atlantique International Airport (NTE) or Rennes–Saint-Jacques Airport (RNS) via other European cities.
We can arrange airport transfers to our marina, which takes roughly one hour and 30-minutes from both airports by car.
What is the language spoken in Brittany?
The official language of Brittany is French.
What is the currency for Brittany?
The currency in Brittany is the Euro (EUR).
What documents do I need to sail Brittany?
US citizens must have a passport issued within the past 10 years, valid for a minimum of six months at entry and an additional three months beyond the planned date of departure. Visas are not required for stays of less than 90 days.
Talk to us to make sure you have the correct documents before you travel for your Brittany sailing vacation.
How do I get around Brittany?
You can get around Brittany by rental car, taxi, bus or train. We can arrange airport transfers, so please contact us for details.
What is the Wi-Fi like in Brittany?
There is free Wi-Fi at our marina and you can hire a 3G modem for your yacht in advance of your charter. Internet access is available via cafes and Wi-Fi hotspots, but you may need to pay. Cell phones can work depending on zones, but don't forget the roaming fees.
What regulations are there in Brittany?
Night sailing is forbidden in the Gulf of Morbihan. For night sailing in other areas, request permission from the base manager before leaving the marina.
Where can I find weather forecasts in Brittany?
You can find weather forecasts on the MeteoFrance website both before and during your Brittany yacht charter.
What provisioning is there in Brittany?
There are plenty of choices for provisioning in Brittany. Please refer to the base guide.
What baggage can I take on my Brittany sailing vacation?
Please take only soft bags and not suitcases as they are too cumbersome on board.
What is the electrical current in Brittany?
The land electrical current in Brittany is 220V.
What is the dialing code for Brittany?
The dialing code for Brittany is +33.
Why should I book with Dream Yacht Charter?
Dream Yacht Charter is now the world's leading yacht charter company and offers you:
A diverse fleet of yachts with a wide variety of models and manufacturers to suit every type of sailor.
We have +60 exciting destinations and we're a pioneer in finding new sailing grounds.
You can be assured of our commitment to customer service excellence.
You'll receive a warm and friendly welcome from our base teams who will share regional tips, recommendations and advice.
We're a trusted seller of new and used boats and an innovator in charter management options – sailing is our business.
What licenses do I need to hire a yacht and sail myself?
The skipper of a yacht has primary responsibility for the safety of the crew and yacht at all times. Many destinations require just relevant experience demonstrated by a sailing resume.
To charter in the Mediterranean, it is mandatory that you hold a sailing license recognized by the local port authorities for bareboat charters in Italy, Greece, Croatia, Spain, Malta, Montenegro and Turkey. Other destinations that require a license include Madagascar, Seychelles, Thailand, Brazil and Sweden. For Belize, the port authority will issue a certificate of competency and an application is made on arrival.
You must take your proof of competency and original certificate with you on your charter. We advise you to contact our team about your qualifications and the destination requirements before booking.
By accepting the yacht contract you are confirming that you and/or members of your crew are capable and competent to sail the yacht in the conditions and cruising area of charter. We reserve the right not to hand over the yacht if, after inspection, it is the opinion that the charterer is not, or may not be competent to be in charge of the vessel.
What is a skippered yacht charter?
A skippered yacht charter is when you rent one of our boats for you and your guests and a professional skipper sails it for you. No sailing experience is needed.
You will need to choose a yacht with a cabin for your skipper to sleep in as they are responsible for your yacht for the duration of your charter. We will find the skipper for you once you have found your perfect destination and yacht.
You will need to pay for your skipper's food. You can invite the skipper to dine with you on board or out at a local restaurant.
Get inspired! #MyDreamYacht
Follow our customer's journeys & share your own amazing experiences on Instagram
What's new?
Stay up to date with news and events or get some inspiration for your next yacht charter and pick up useful tips by reading our latest blogs.
Go to Blog