Skippered yacht charter
Ever seen people relaxing on a yacht and wished it could be you? Good news, it can be, with our skippered charters!
What's on this page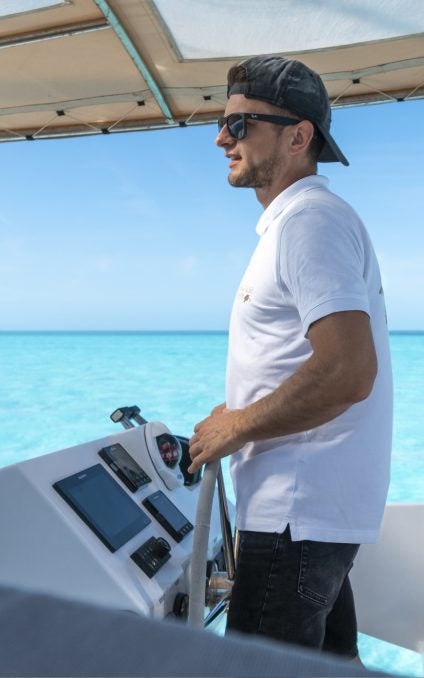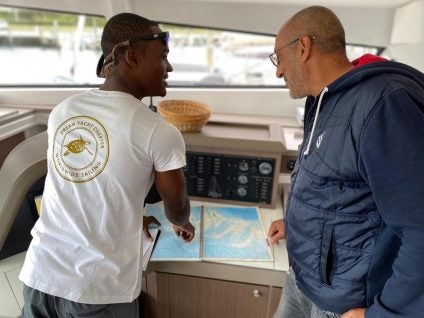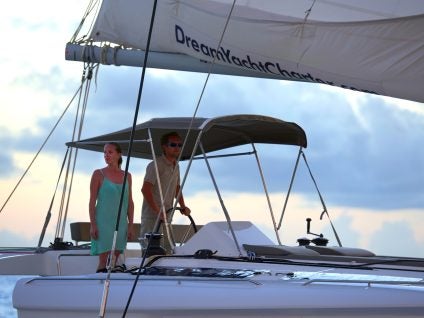 Enjoy the freedom of sailing with our skipper charters for a vacation with a difference
You do not need to be able to sail to hire a yacht and it can also be affordable. If you can't sail we can find you a professional skipper to do the sailing for you, leaving you and your guests to enjoy a relaxing, hassle-free vacation.
Read our guide to the best destinations for skippered charters.
A sailing vacation with a difference
Embrace the soothing vibes of a sailing vacation and hire a professional, friendly skipper to sail you, your family and friends. Choose where you stop for lunch, snorkel or anchor – you are in control of where you go.
We're the world's leading charter company, choose your dream yacht from our skippered charters fleet. Sailing vacations for up to 12 friends are available on our Sun Loft 47 monocat. Find out more.
Too many options to choose from? Contact our team.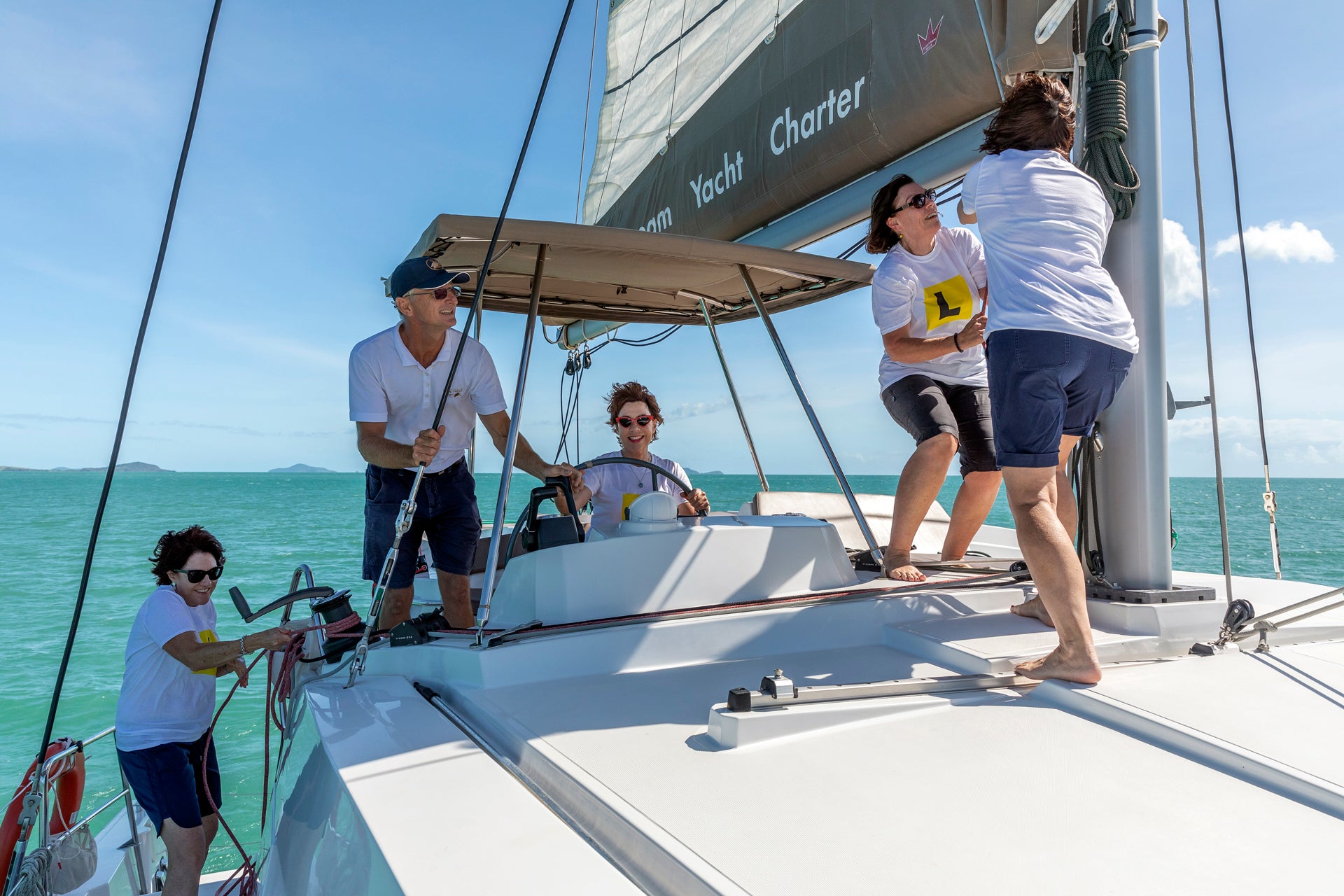 Everything you need to know
What is the difference between skippered and bareboat charters?
The difference between skippered charters and bareboat yacht charters is that a professional skipper sails the yacht for you rather than you sailing the boat yourself.
Skippered yacht charters are specifically designed for those who have no sailing experience. With a skippered charter, your professional skipper sails the yacht so you can just focus on relaxing, immersing yourself in your chosen destination and having fun with your guests.
Captain only charters are also popular with sailors who want to relax or expand their knowledge. Find out if you need a skipper for your sailing vacation with our guide to bareboat certification.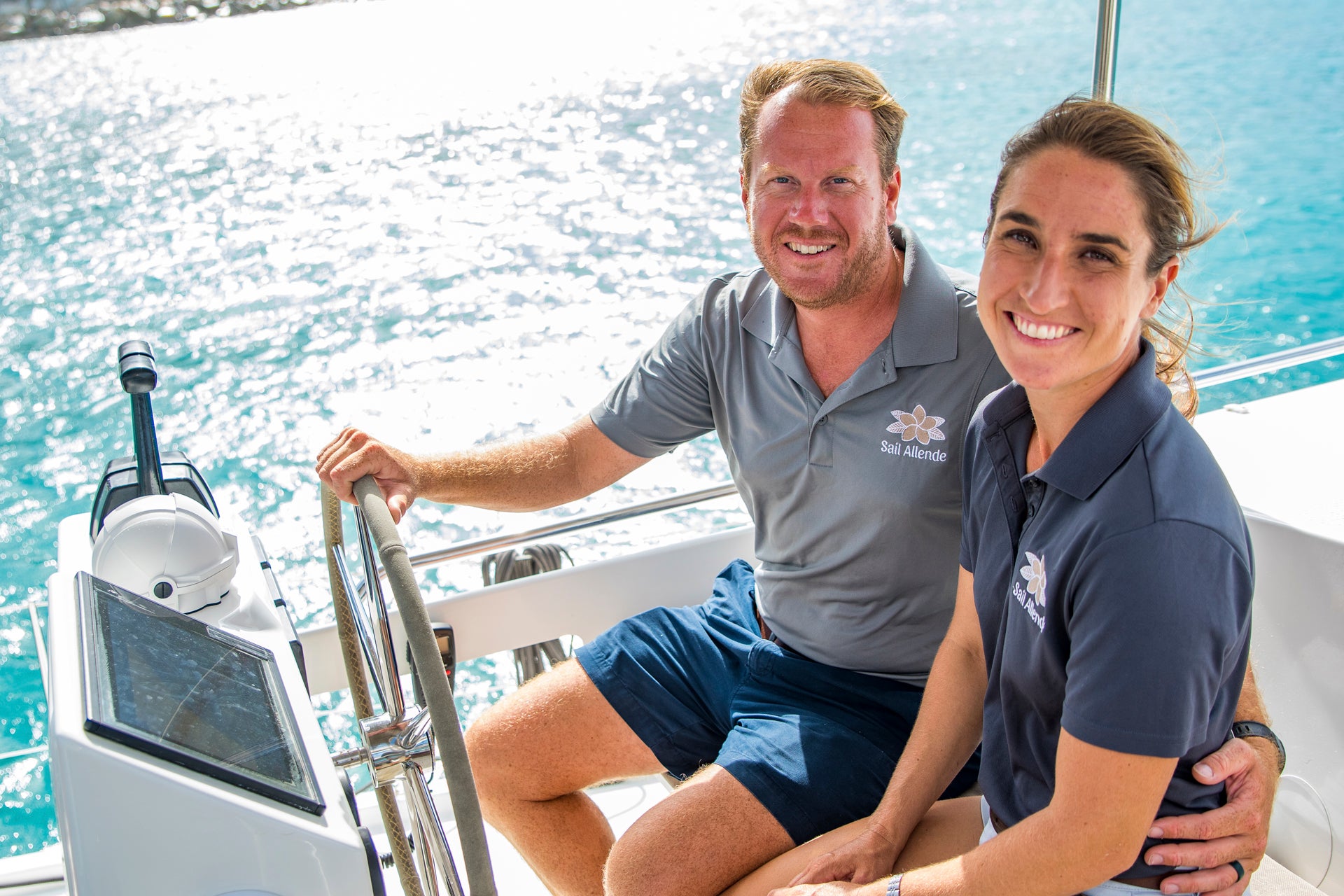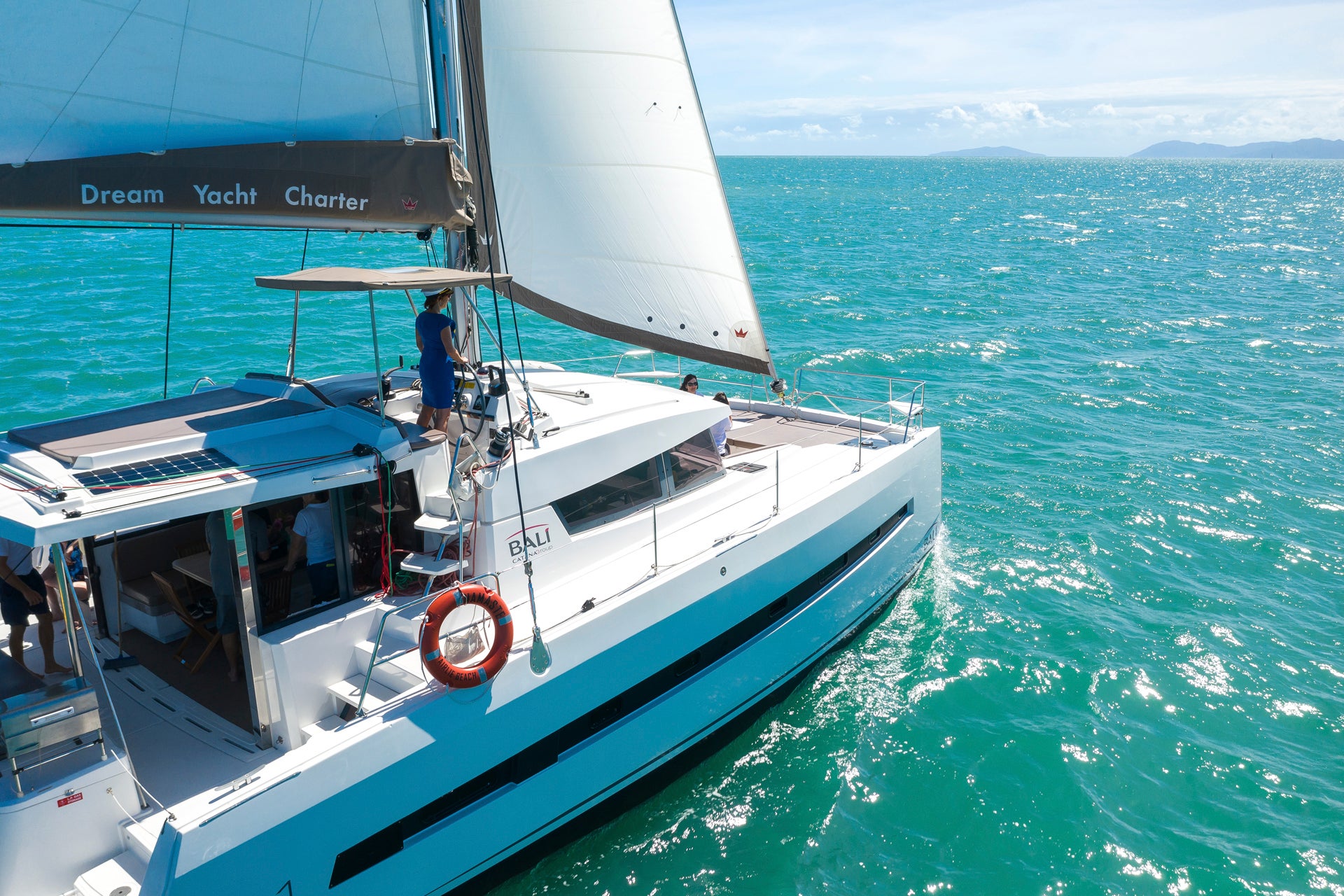 How much does a skippered charter cost?
Skippered charters are more affordable than you think, even if you don't have sailing experience. Sailing with friends or family means you can split the cost of your yacht and skipper hire. There are several ways you can keep skippered charters low in terms of cost:
● Avoid high season
● Choose an older yacht
● Skip the air-conditioning
● Combine discounts
● Sail where marina fees are low
Take a look at our skippered charters special offers.
What does a skipper do on a skippered yacht charter?
Your skipper will have all the local knowledge to make your vacation truly special. They will take care of sailing, mooring, safety, weather forecasts and navigating your route while on a skippered charter.
Your skipper is responsible for:
● Sailing
● Navigation
● Weather forecast checks
● Mooring
● Anchoring
● Boat systems
● Crew safety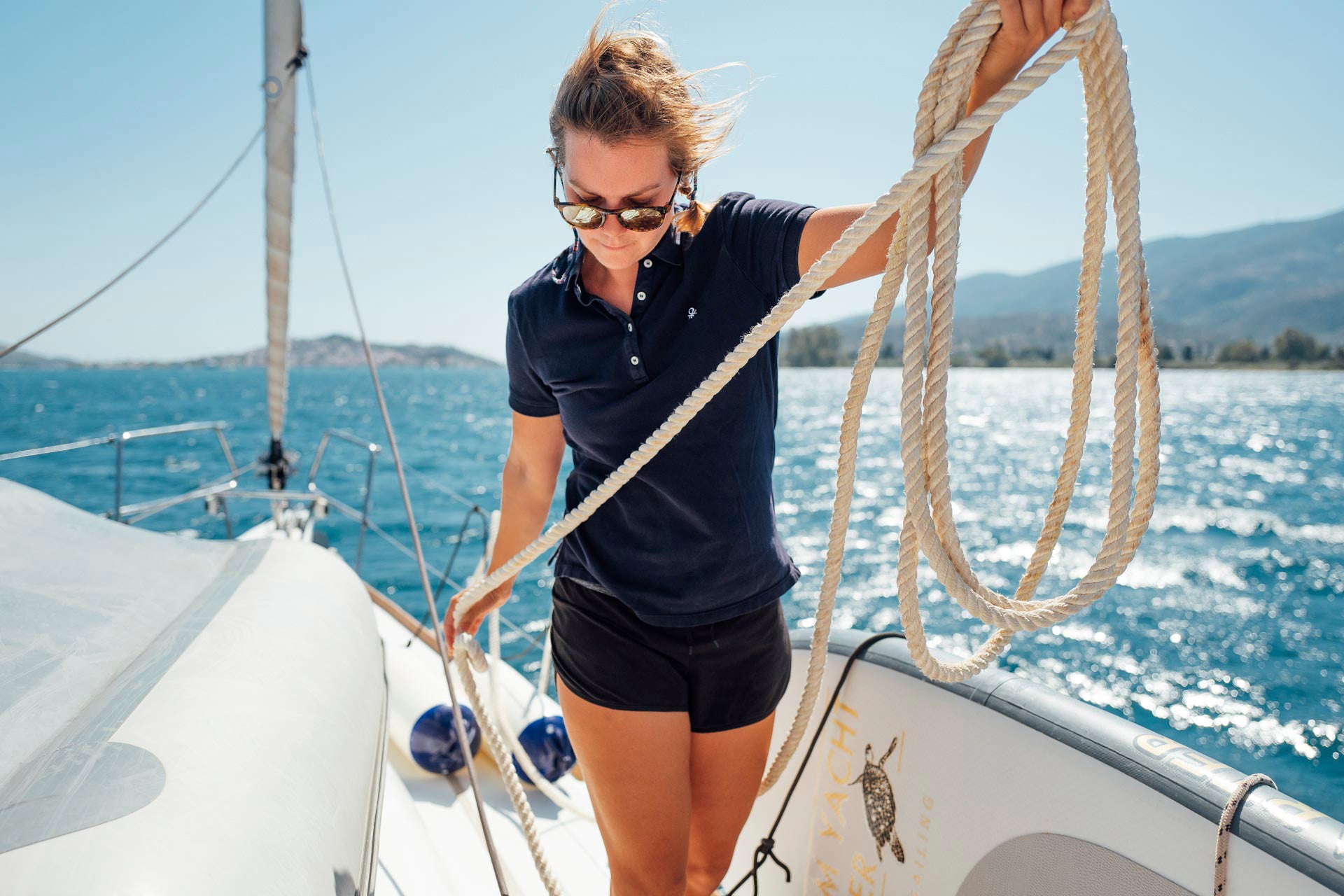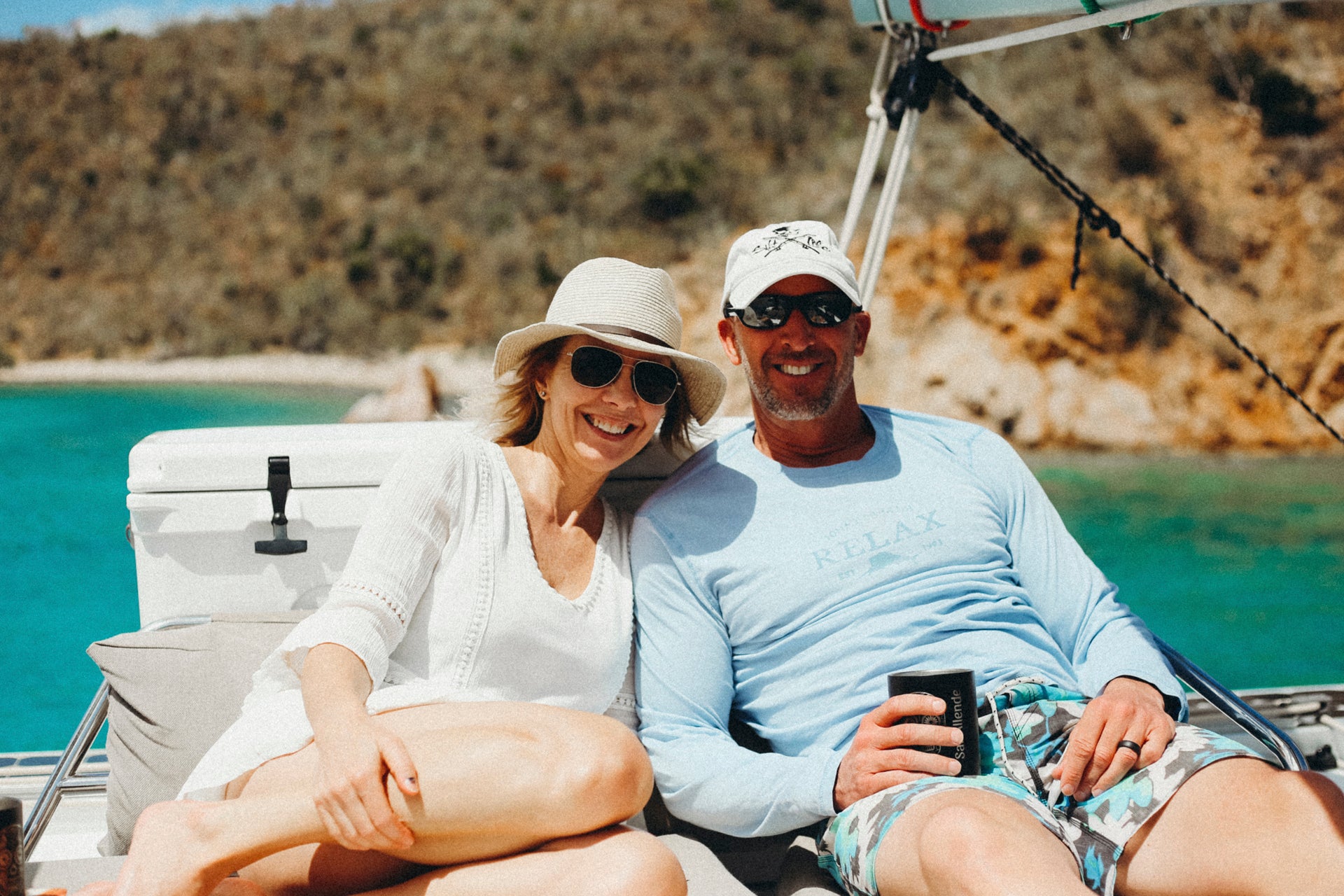 Advantages of our skippered charters
Vetted skippers: Professional sailing experience
Vast knowledge: Get the insider view on local culture
Trusted recommendations: Passion for the local area
Safety focused: Looking after you and your guests
Weather forecasting: Maximizing your vacation
How do I start planning my skippered charter?
Here's how to get started on planning your skippered charter:
Choose where you want to sail. Take a look at our wide choice of skippered yacht charter destinations
Choose your yacht. Decide if you want a catamaran, powercat or monohull from our skipper charter fleet
Set your budget. Adjust your yacht age, yacht size and time of year to suit what you want to spend. We would be happy to advise you on a choice to match your budget
Get a quote. We'll send you a full quote and explain what is included and what isn't included in your skipper charter quote.
We'll find you a skipper. Our skippers are handpicked for their expertise and friendly, easy-going personality
Pay your deposit. Once we have your deposit, your booking is confirmed and you can start planning your itinerary
Read our guide on how to charter a yacht.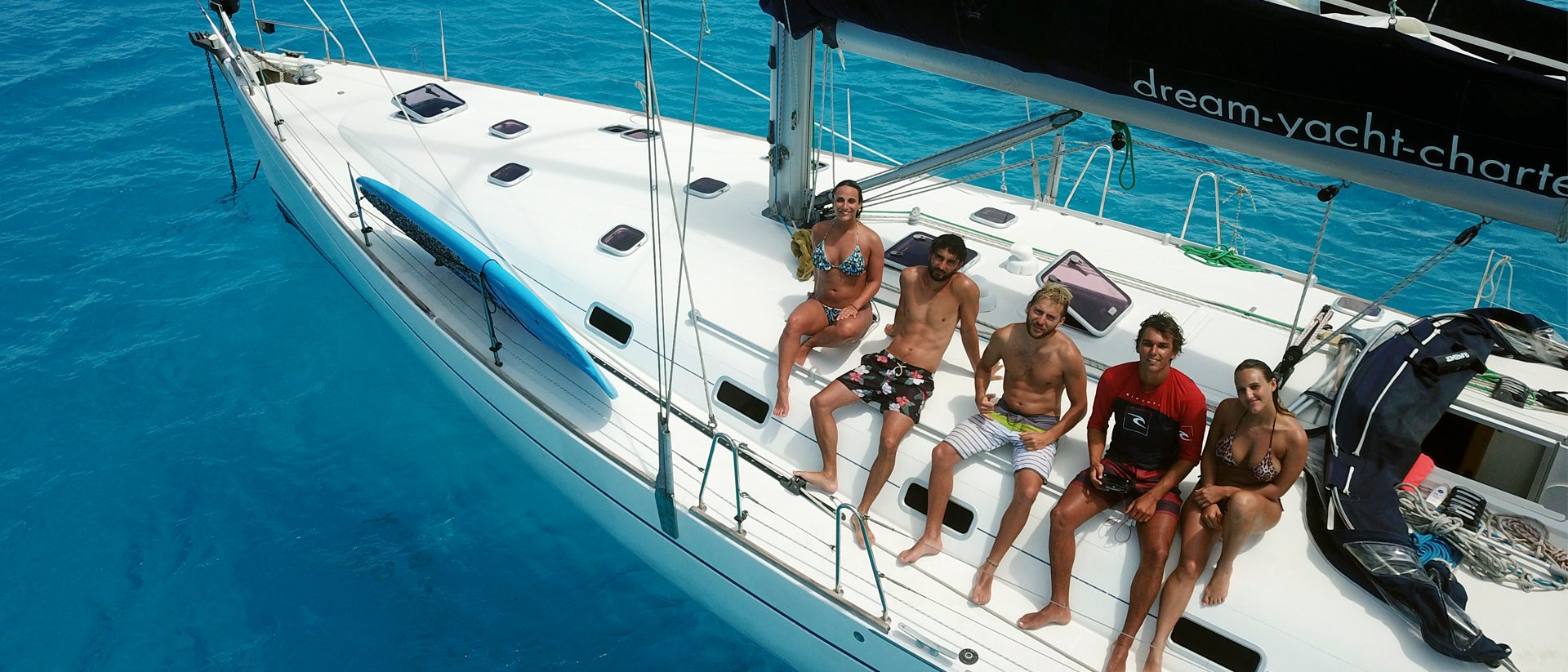 How to hire a skippered yacht
Hiring a yacht works in a similar way for skippered charters and bareboat rental. You need to take these steps to plan your skippered charter:
Choose your destination
Choose your yacht
We'll find you a skipper
Learn more about how to charter a yacht, or contact us for help.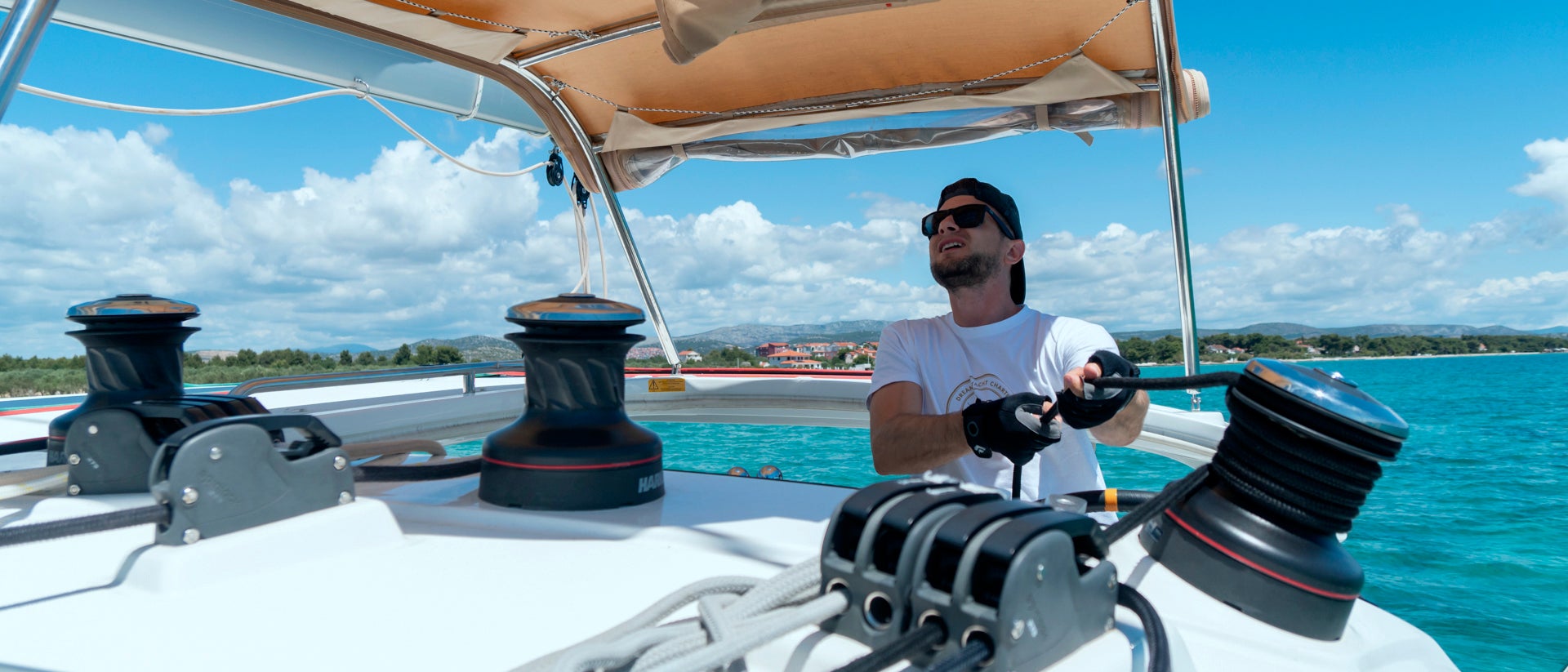 What is the difference between catamaran and monohulls?
If you're new to sailing, you can hire catamarans, power catamarans or monohulls. We also have a monocat, the Sun Loft 47.
We've many types of boat in our yacht charter fleet by cutting-edge yacht manufacturers. We constantly add to our fleet so you can hire the latest models and try out high tech features.
Catamaran rental
Our catamaran charters give flexibility and spacious common areas in the interior. Catamarans have two hulls and sit on the water. Their shallow draft means you can get up close to sandy beaches. The two-hull design gives a smooth sailing experience and their design means there is often more space, which is great for those sailing with children. The large windows let in plenty of light and you can relax on the spacious front deck and sunbathe.

Monohull vacations
You will really feel like you are sailing with a monohull charter. Feel your adrenaline pulse as you sail close to the water.
A monohull has a single hull, which offers a smoother and comfortable sail as the boat pushes through the ocean. Adventure lovers will enjoy the dynamic sail. Monohulls can turn tightly and you can feel the lean! Some layouts mean you can walk around the bed, so cabins can feel more spacious. Mooring fees can be lower for monohulls too.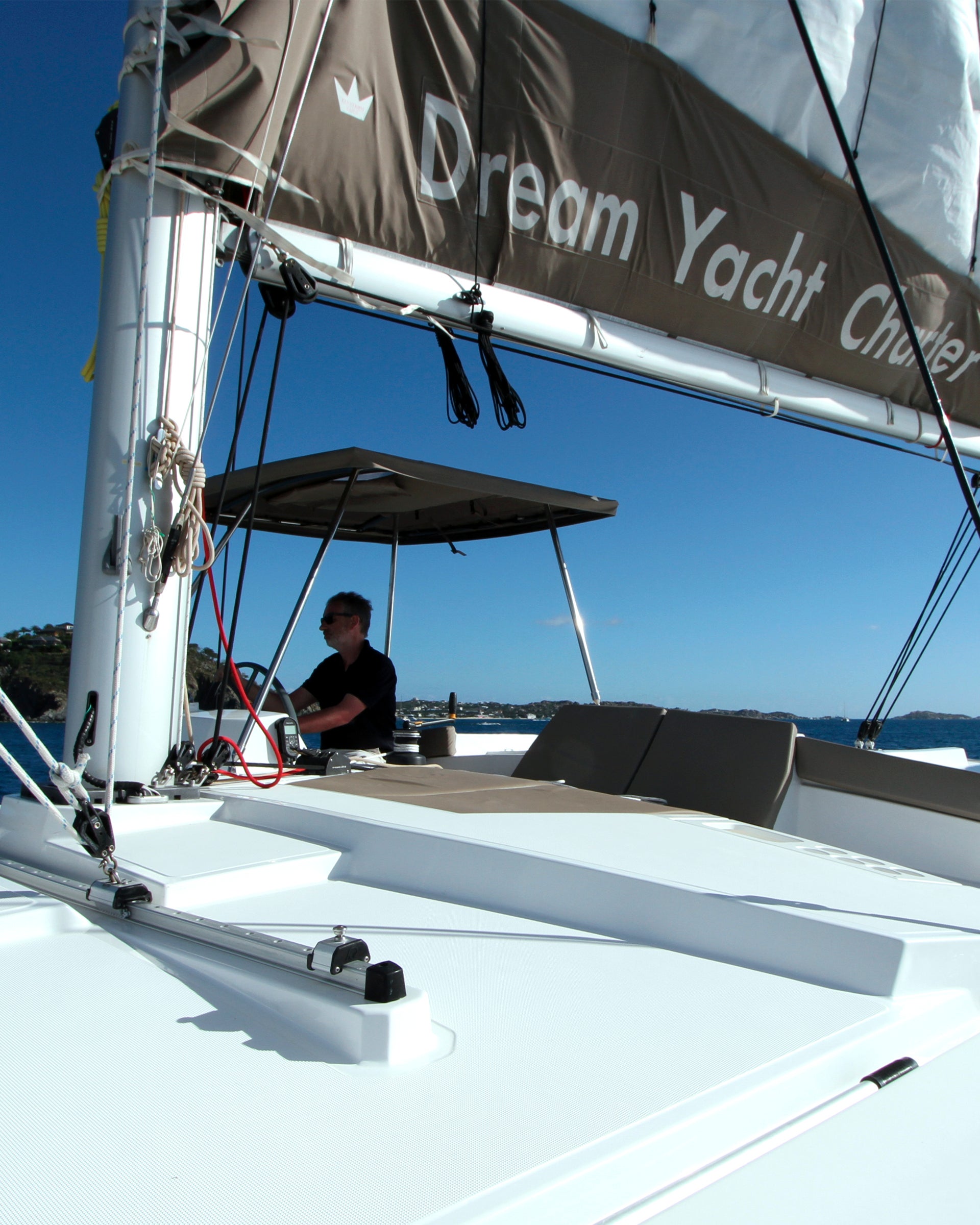 New to sailing?
Recharge, relax, remember. Embrace the flexibility of a captain only charter and explore from the water.
Being near water has a powerful impact on our brains, helping you unwind, feel happier and even more creative. For good reason, sailing has been an activity enjoyed by some of our greatest geniuses and creatives, from Einstein to Google's founders.
Choose your recharge destination from the widest choice in the world. Hop between exquisite islands, paddleboard mangrove creeks, swim remote coves and stroll deserted sandy beaches.
Sail the Caribbean in the British Virgin Islands, immerse yourself in a colorful underwater world in the Maldives or Tahiti, or meet the giant tortoises in the Seychelles.
Wherever you want to go, our skippered charters will help you make the most of your vacation time.
Sail the places you have always dreamed of with our skippered charter destinations.
New to sailing? Find out how to charter a yacht for a vacation.
What is a skippered yacht charter?
For our skippered charters, you are hiring a professional skipper to do the sailing for you, leaving you and your guests to enjoy a relaxing, hassle-free vacation. It is also known as a captain only charter.
You do not need sailing experience to hire a yacht with our skippered charters. It is easier to book and more affordable than you think. Get in touch, if there's too much choice and you need advice.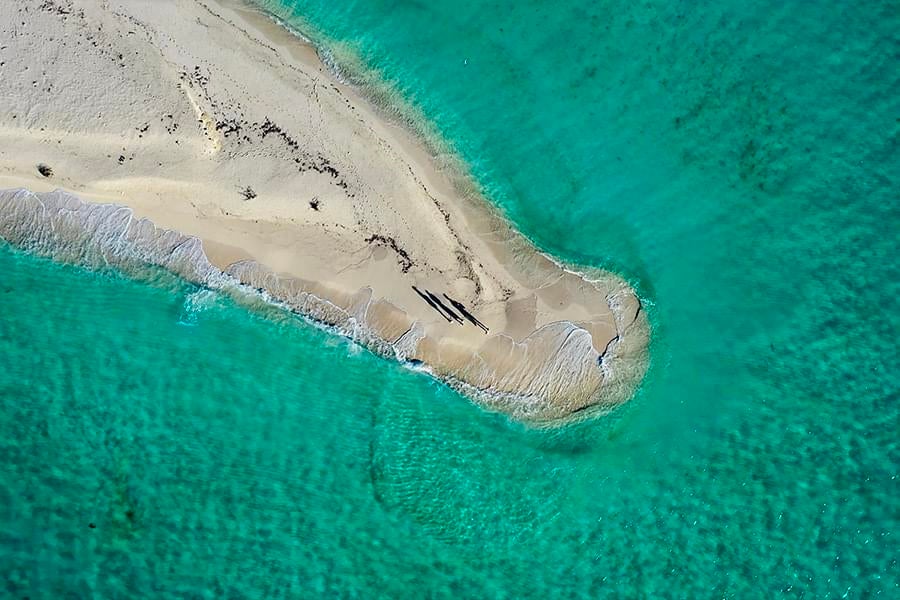 Do I need a skipper?
We aim to make sailing as inclusive as possible. Our skippered charters are perfect if you do not have sailing experience, the right bareboat certification or want to relax on holiday. Read our guide to bareboat charter certification to see if you are qualified for a bareboat charter.
Skippered charters suit many types of travelers and sailors, including:
Adventure lovers who want to explore destinations from the water but cannot sail. No longer do you have to see the same beach view from your hotel complex. We can help you find a yacht and skipper for you.
Sailors who want to relax with their friends and family rather than take the helm. Sometimes you just don't want to be in charge. While sailing is enjoyable for everyone else, it can be hard work for the skipper. A skippered charter removes this burden and gives the responsibility to an experienced professional.
Sailors who haven't the bareboat license certification for their chosen destination. Many destinations do not require a license but some do, particularly in the Mediterranean. If you do not have the right bareboat certification, you can still sail your destination with a skippered charter.
Sailors who want to explore a new destination and get comfortable with the cruising ground. Perhaps you've sailed for years and want to try a new destination that is known to have challenging wind systems or navigation. A skippered charter helps you to pick up advice and tips so you can sail next time.
New sailors who want to grow their confidence. If you've just started sailing and this is your first charter abroad, you may want to consider a skippered yacht charter. A skipper means you can relax and learn about sailing in other countries to grow your knowledge without pressure.
If you are an experienced sailor, check out our bareboat yacht charters.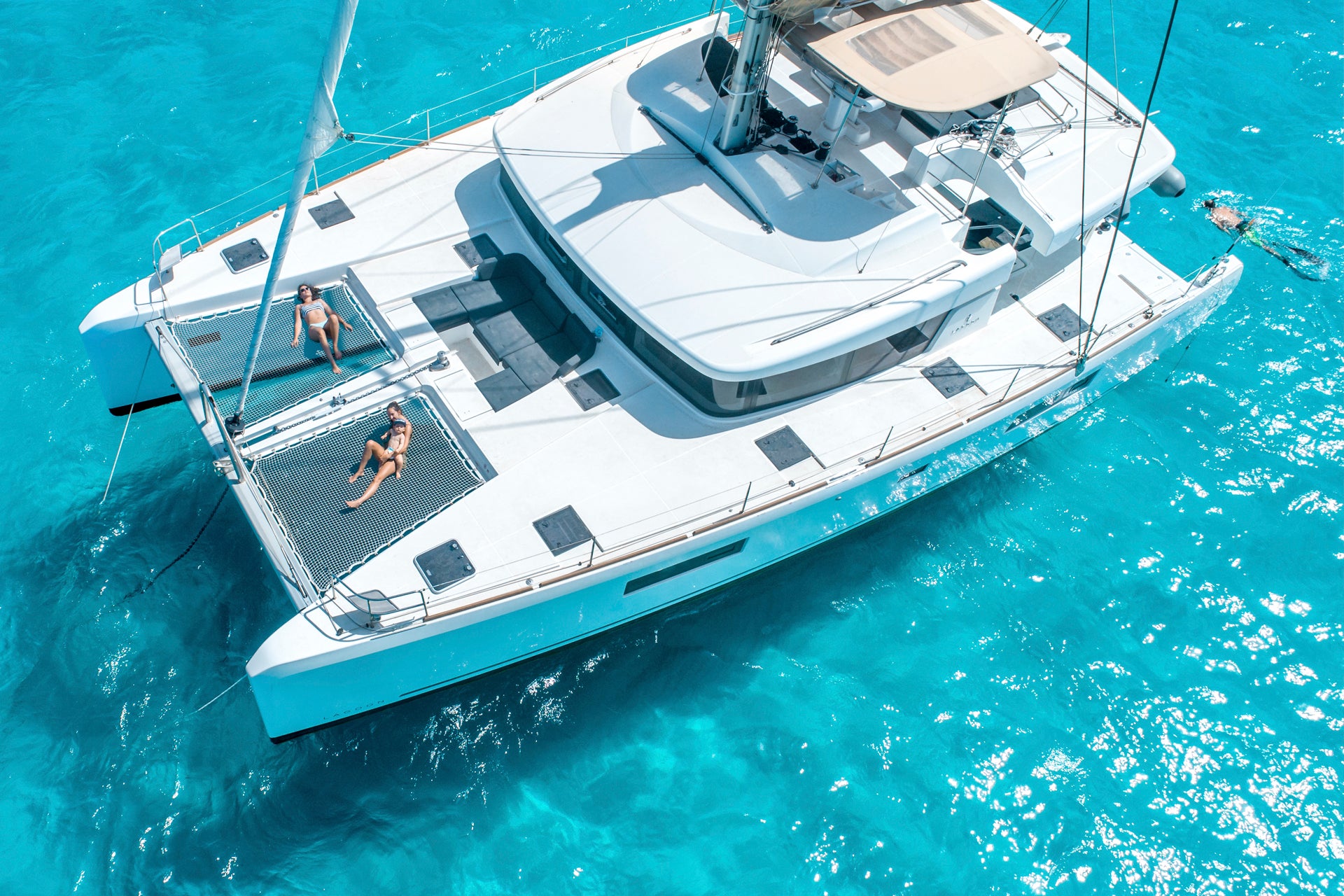 How to provision for a skippered charter?
To cater for a skippered charter, you can use our provisioning service if it is available at your destination. Check your chosen destination's base guide for more information.
You can shop yourself and fill your boat with your favorites or try local produce from nearby stores, markets and suppliers. Our destination base guides share the nearest supermarket location and opening hours.
What is the cancellation policy for Sail Share?
We highly recommend you arrange travel insurance in case you need to cancel for an unexpected reason to cover non-refundable deposits.
Our Sail Share cabin cancellation fees are:
More than 90 days before original embarkation date: 25% of the charter fee
89 – 60 days before original embarkation date: 50% of the charter fee
59 – 30 days before original embarkation date: 75% of the charter fee
Fewer than 29 days before original embarkation date: 100% of the charter fee
How flexible is the itinerary for a Sail Share charter?
Our yacht itineraries are designed by our destination experts and are set to showcase the best of the destination's highlights. They are set and not flexible, even if you book all the cabins.
What happens if the weather changes while sailing on a Sail Share charter?
The skipper may decide to change the itinerary if there is bad weather.
Can I choose which cabin I want when I book a Sail Share?
Choose a double cabin with shared bath, or private bath for an additional fee.
Are there child or age restrictions for Sail Share?
Minimum Age: 16 years old
Get inspired!
Follow our customer's journeys & share your own amazing experiences on Instagram
Absolutely amazing! Fred + Isabelle were so accommodating and did so much for us. Isabelle's food was incredible. Thanks so much!
Laura
Exumas Cabin
Excellent. Very professional and great service!
Thomas
Antigua Bareboat
Just what we needed coming out of a year of lockdown, to see new places and connect with nature. Highly recommended for your next sailing adventure!
Johan
St. Martin Bareboat
Excellent cruise and very good stay. Skipper attentive, very pleasant and very professional.
Maxime
Guadeloupe Skippered
Just returned from another fantastic sailing week at your base in Pula and I would like to thank everyone involved for making this possible on such short notice and without any problems.
Mathias
Croatia Bareboat
The marina itself is a perfect starting point with great facilities! The Lagoon 42 was in good condition and the skipper was amazing and very knowledgeable of the area."
Jonathan
Spain Skippered
What an AMAZING experience. We've just returned from a week long skippered charter from Corfu, sailing around the beautiful islands of the Ionian. Paxos, Antipaxos and Corfu Old Town were beautiful and the secluded bays we had the pleasure of visiting thanks to our local skipper, Nicholas, were simply overwhelming. Fly and flops are no longer for us – we'll be chartering with DYC for the foreseeable future.
David
Greece Skippered
Our group of 10 had an AMAZING time in French Polynesia from May 21-28, 2022! The food was amazing, our captain and chef, husband and wife: Henry and Mehee (sp), were incredible and the whole experience on board was a dream! We can't wait to book another trip through DYC
Katie
Tahiti Crewed Premium
DYC provided a great sailing experience for my extended family on 2 monos out of Scrub Island. The boats were in great shape and preformed perfectly and the staff were friendly and helpful. Having worked for a number of charter companies over the years DYC is one of the best.
Charlie
British Virgin Islands Bareboat
I'm currently in the Maldives and having the time of my life. Captain Jack and the crew are professional, safe and FUN! The boat is immaculate and the food is delicious. He even makes CAKE! The beds are surprisingly comfortable and we are all sleeping 9 hours a night. If you like island hopping, there is no other better option than Dream Yacht Charter. We will be booking Tahiti next year.
Cynthia
Maldives Cabin
The new boat was in fabulous shape. We had the greatest possible experience exploring archipelago waterways and islands. I could never imagine this might be so much fun and joy and we are already looking forward for the another upcoming trip in Ionian.
Vyautas
Scandinavia Bareboat
Baja is my favorite place now. There was something for everyone: sailed under northerlies with mostly calm evenings, snorkeled, fished, bummed it on the sandy beaches, enchanted by pelicans feeding, greeted by the barking sea lions and explored the Ispiritu Santo island geology. DYC La Paz base provided competent professional support with a well provisioned and maintained boat. We were nourished well by an onboard cook arranged with DYC freeing us all for more play. A vacation and an adventure connected with nature.
Taiyoko
Mexico Crewed Premium
All staff were fantastic and made our trip very memorable. Incredibly friendly and welcoming, the food was amazing. The service throughout the trip was always first class!
Tommy
Thailand Cabin
Absolutely recommended. Perfect service and set up. Will charter again and will recommend Dream Yacht Charter anytime.
Zahradnik
Turkey Bareboat
I just returned from 3 weeks of amazing sailing with my family on one of your catamarans in Sardinia. I would like to express my thanks to our skipper Simone and Daniela, our hostess.
Giles
Sardinia Skippered
For a first cruise as a skipper, the Mediterranean is great. The Dream Yacht Charter service is too!
Thomas
France Bareboat
We had an incredible trip and actually got engaged on the first night of our sail! We will certainly be back one day. Thank you for getting us ready for our charter. We were definitely beginners but he gave us a very thorough but very easy to follow training and it gave us a lot of confidence.
George
Australia Bareboat
The on board experience was way beyond our expectations. Isabelle provided exceptional three course meals. We could not believe her creativity and delicious meals. Thomas was an excellent skipper. He was always on the lookout for our needs. Thanks guys!" Spira, New Caledonia bareboat with crew charter
Spira
New Caledonia Easy Crewed
Yet again another fantastic sail with another great crew. Thanks again to a great captain and cook. Was totally fantastic.
Connie
Seychelles Cabin
It's always a pleasure sailing with DYC in the UK. Great team, great boats, great sailing. Very flexible and work hard to make your trip a success. Many thanks.
Derek
Brittany Bareboat
Unforgettable spots to snorkel and beaches. Very experienced crew. Highly recommend.
Simone
Cuba Cabin
What's new?
Stay up to date with news and events or get some inspiration for your next yacht charter and pick up useful tips by reading our latest blogs.
Go to Blog