Yacht Charter Corsica
With its striking volcanic terrain, unbelievable wildlife and enduring connection to Napoleon Bonaparte, there's no other sailing vacation destination in the Mediterranean quite like the French island of Corsica.
What's on this page
Highlights
Cruising area diversity

Glamorous French Riviera

Leading yachting centre
Corsica sailing charter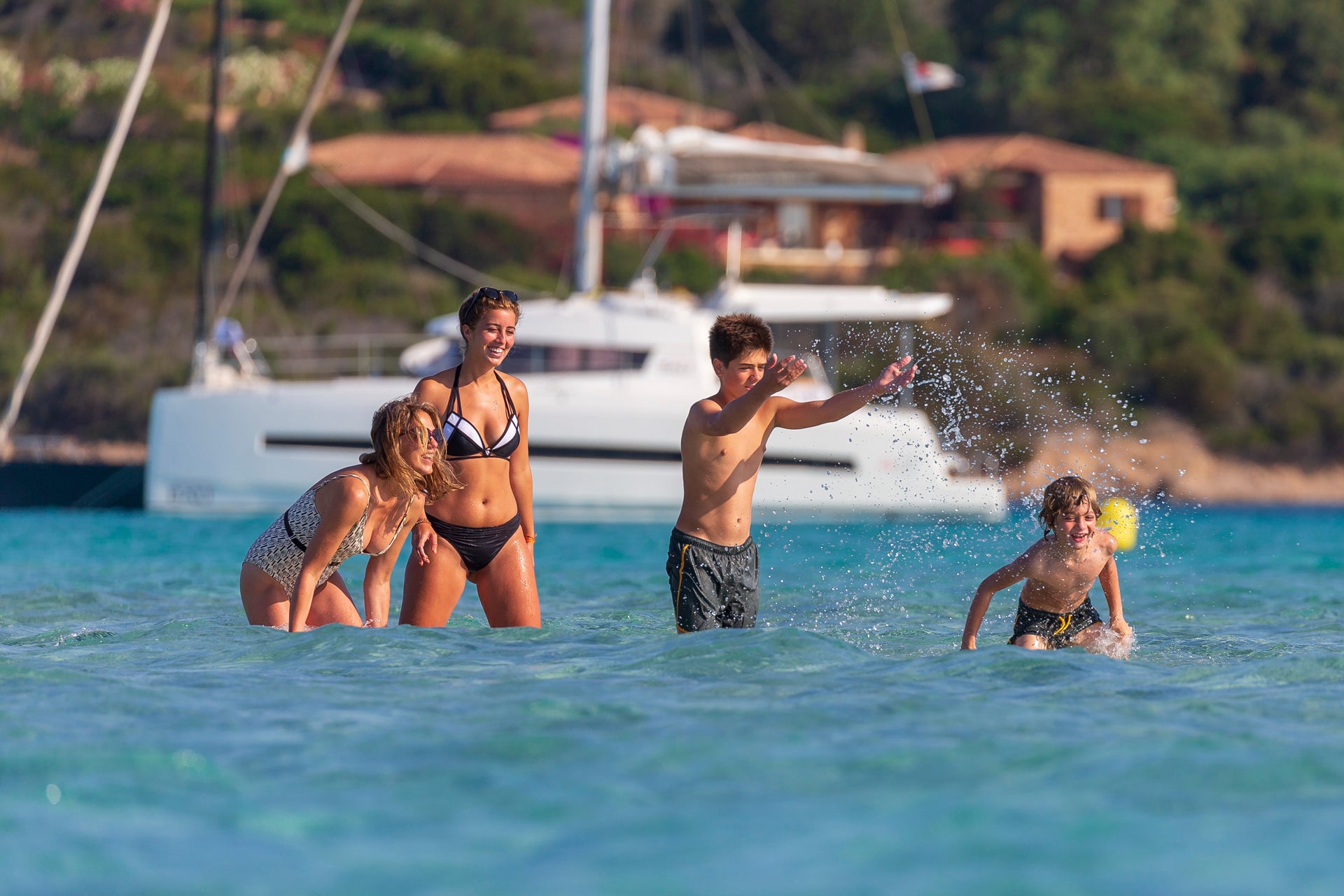 Corsica is known as the 'scented island' because of the fragrant maquis flowers that grow in abundance. With over 300 miles of spectacular jagged coastline and a gentle Mediterranean climate, a Corsica yacht charter is the best way to enjoy this unique island's sunny summer days, evergreen forests and wide variety of protected bird species.
While sailing Corsica, be sure to visit Napoleon's birthplace, now the Maison Bonaparte Museum. Or explore the wonders of the Scandola Nature Reserve, a Natural UNESCO World Heritage Site where endangered species thrive.
Red coral is recovering from overexploitation and growing in Corsica's protected, shallow waters. You can also see whale and dolphin sanctuaries, or hike in the mountains as part of your Corsica yacht charter.
Begin your charter from our bases in Propriano or the Corsican capital of Ajaccio. Both marinas give you the chance to explore the region's 200 or so sand and pebble beaches, as well as tour the impressive rocky coastlines with mountainous backdrops.
You don't need a sailing license for your Corsica yacht charter, but good sailing experience is recommended. Alternatively, you can hire a skipper.
Things to do in Corsica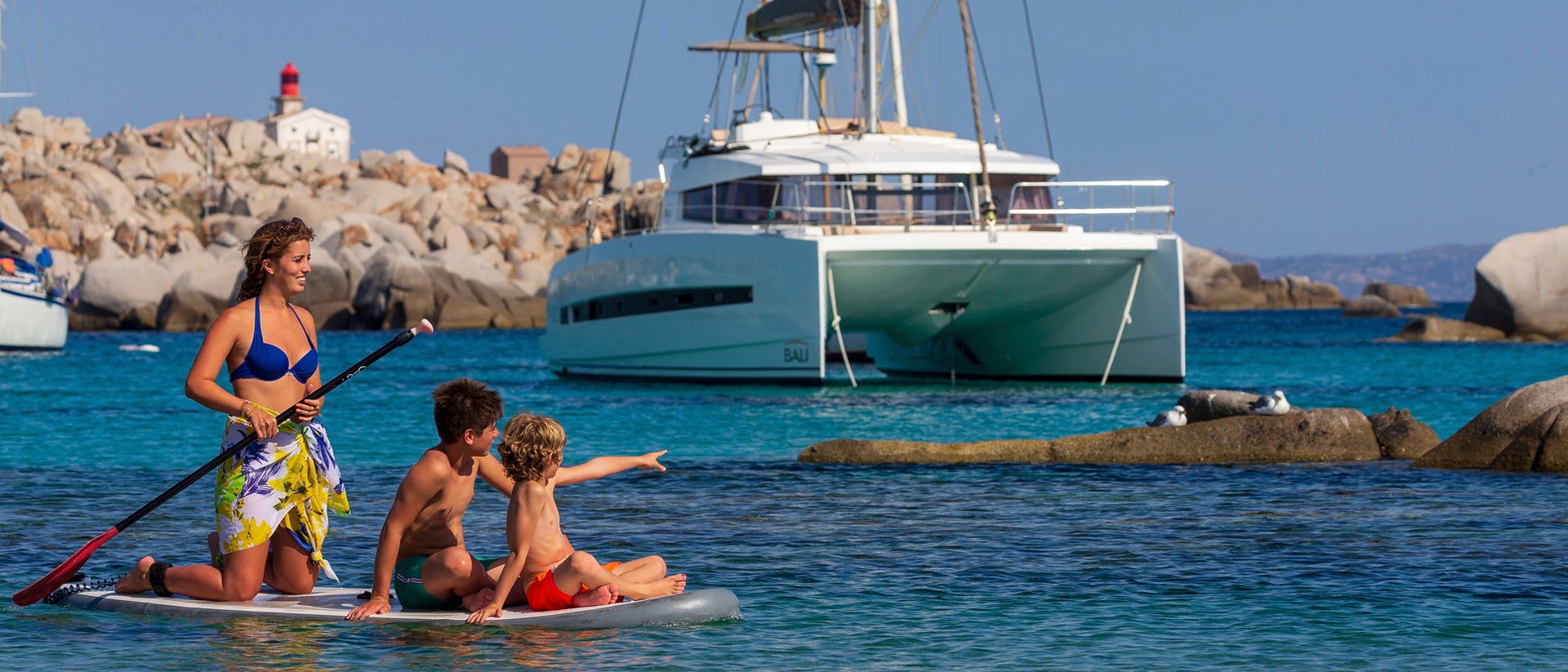 Stargaze in the peaceful anchorage off Anse de Cacalu
Settle into the relaxing rhythm of your Corsica yacht charter with a walk on shore followed by a peaceful night stargazing.
Explore the strange rock formations of Anse de Roccapina
Locals love this well-protected anchorage for its white sand beach and the famous peaks known as the "Lion de Roccapina".
Visit the medieval city of Bonifacio
Explore the southern tip of the island with its citadel that overlooks the Lavezzi islands and its UNESCO-listed cliffs. Or sail the Strait of Bonifacio, located at the intersection between Sardinia and Corsica. Its protected environment means this is one of the most beautiful places in the Mediterranean, so make sure you visit while you're sailing Corsica.
Surround yourself with unique natural beauty
Anchor in tiny Cala di Conca, where you'll be able to relax on a remote, uninhabited island with a soft, white sand beach.
See red with the Calanques de Piana
Corsica has a dramatic rocky coastline that shimmers pink to red, depending on the sunlight. These dramatic rock formations show off the best of the island and many of the shapes have earned nicknames over time.
Relax in Calvi on the northwest coast
The alleged birthplace of explorer Christopher Columbus offers city walls for strolling and a citadel with an amazing view. It also has a jazz festival in the summer if you want to soak up the local culture.
Head to the Agriate Desert
If white sand beaches are your ideal vacation choice, do not miss Saleccia, part of the Agriate Desert. With waters like those of the Caribbean, it's one of our favorite things to do in Corsica.
Sail the Lavezzi Archipelago
Discover Cavello, Lavezzu and the islets of Piana, Ratina, plus many more, in this group of eight islands that form part of a protected reserve.
Weather insights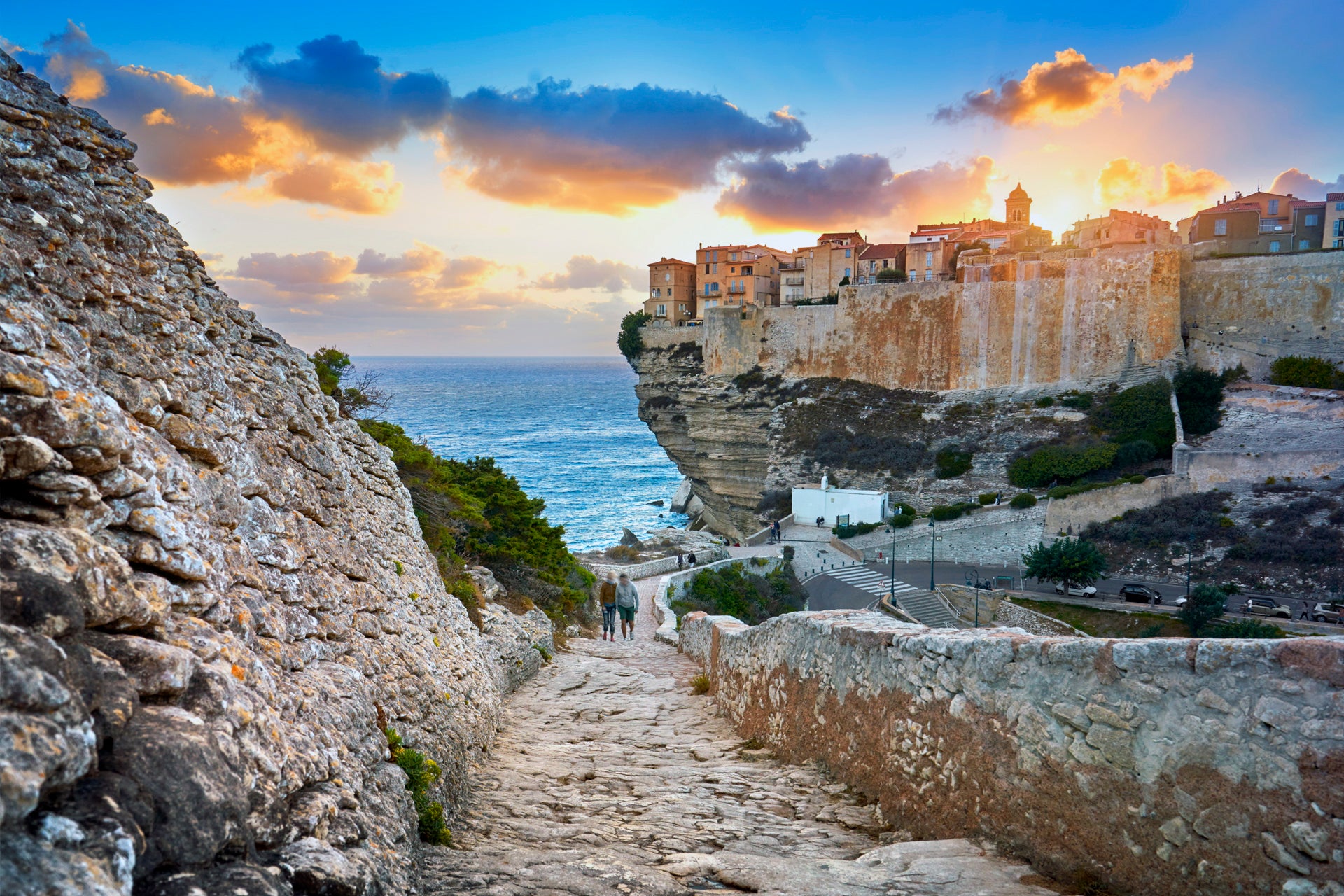 When is the best time to go to Corsica?
The best time to visit Corsica is in the summer, when you can make the most of the warm, dry Mediterranean climate. You can sail from May to September, although the summer months are the most popular.
The temperature in Corsica in summer averages 82ºF and the sea temperatures are around 75ºF in summer.
.
What are the sailing conditions in Corsica?
The sailing conditions for Corsica yacht charters vary depending on where you are sailing. On Corsica's west coast, the prevailing wind is mainly a westerly sea breeze blowing force 3 to 6. This is deflected SW along the north coast and NW along the south coast.
In the Straits of Bonifacio, westerlies are channeled in and can be stronger than winds outside.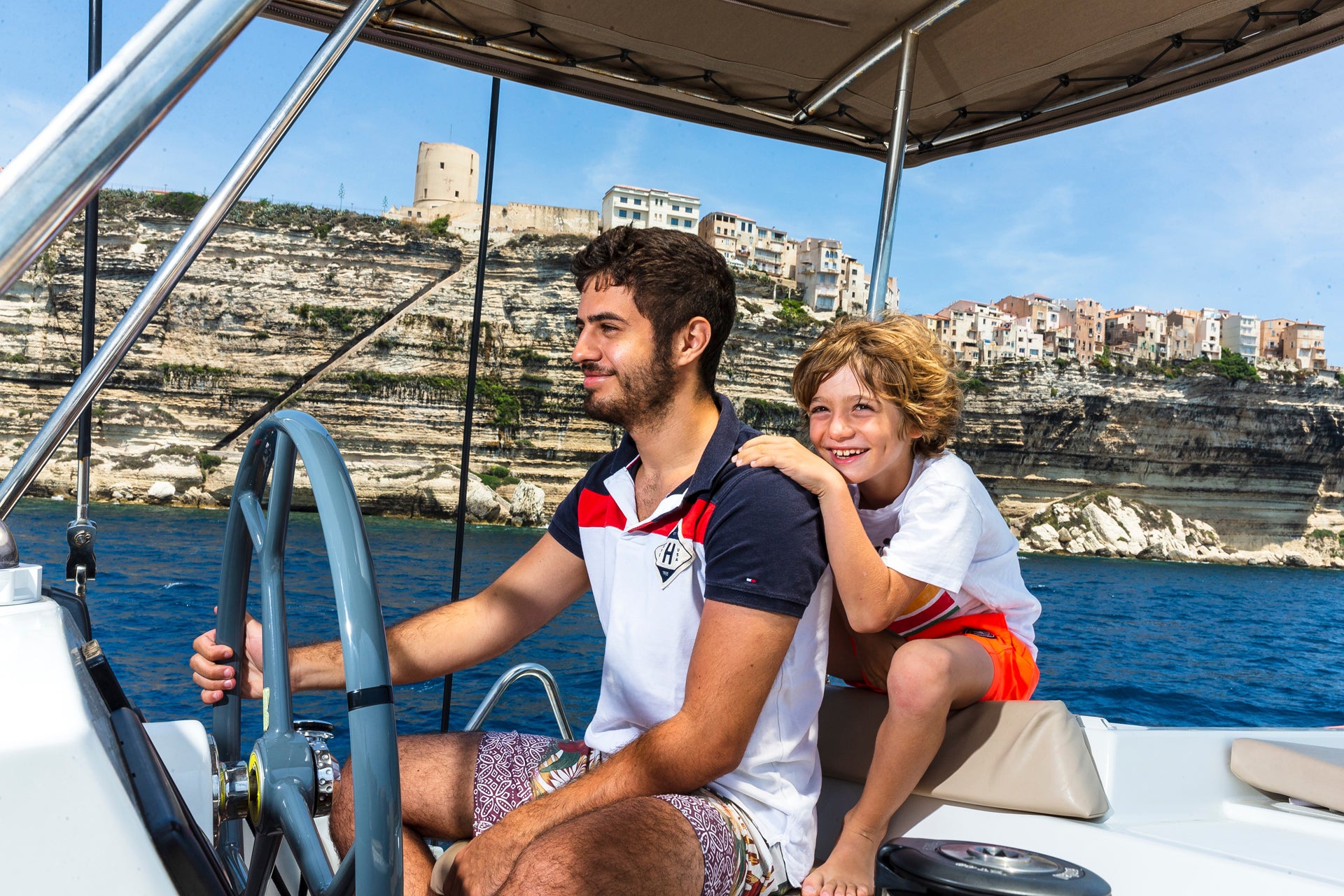 Sailing Corsica with Dream Yacht Charter
Yacht charter Corsica
Sail Corsica and get closer to nature with our bareboat yacht charters and fleet of catamarans and monohulls.
Corsica skippered charters
You can enjoy sailing Corsica even if you don't know how to sail. Just hire a skipper to sail you and your guests.
Corsica by the cabin charters
Leave the planning, sailing and cooking to us with a cabin charter. Reserve your own private cabin and bathroom while we show you the best of Corsica.
Corsica crewed charters
Personalize your Corsica sailing vacation by hiring your own private luxury yacht. Let our captain and chef look after you and your guests while you choose the itinerary and menu for an ultimate all-inclusive experience.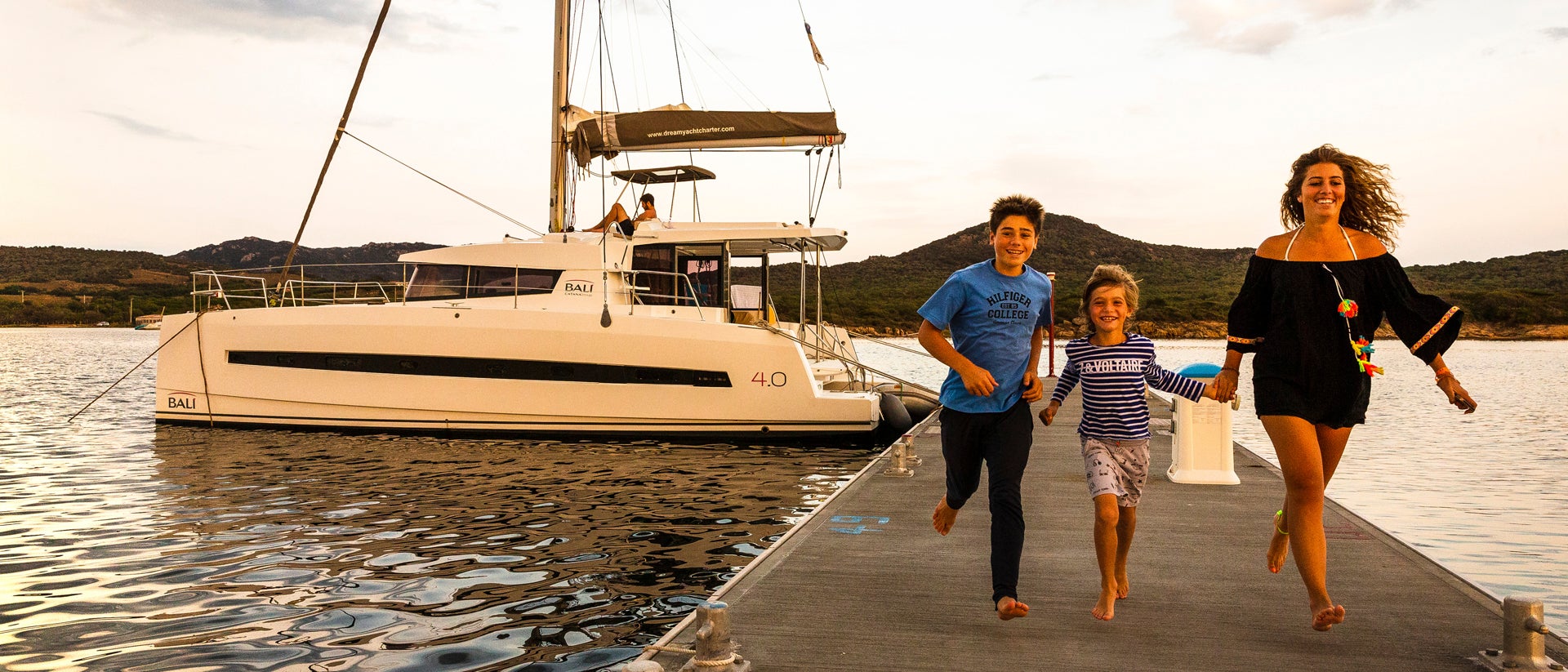 Corsica sailing itinerary
Take a look at our Corsica sailing vacation suggestions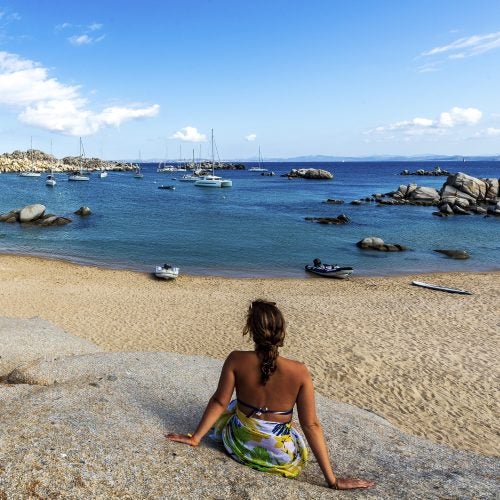 8-day itinerary Corsica
Day 3
Golfe de Porto / Girolata
Day 5
Golfe de La Revellata – Girolata
Day 6
Capo Rosso – Cala Di Palù – Sagone or Cargèse
Useful information for yacht charters in Corsica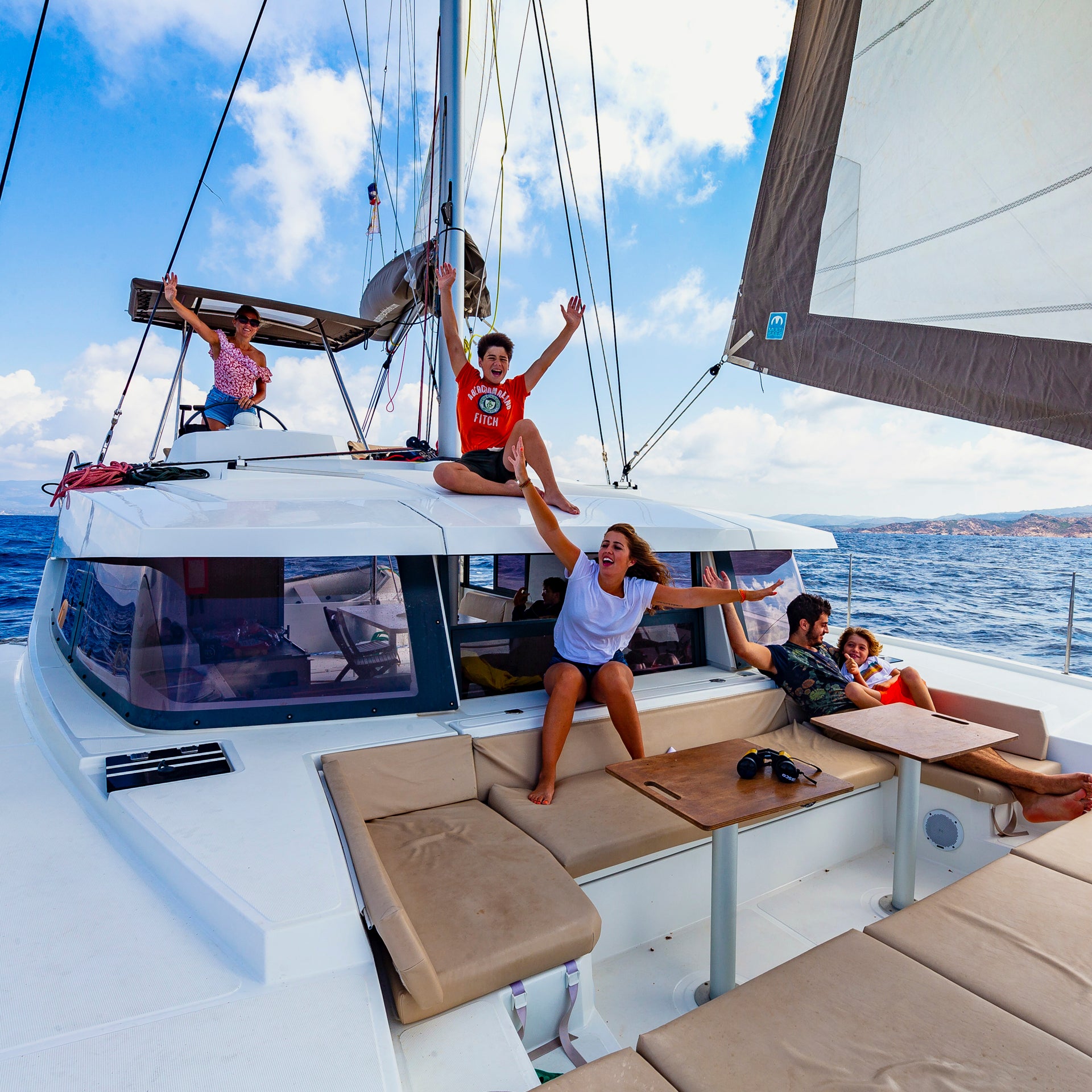 How do I get to Corsica from the US?
Fly to Corsica via European destinations, such as France, from New York with Air France. Corsica's Ajaccio Napoléon Bonaparte Airport (AJA) is only seven miles and a 30-minute transfer from our base.
Where is Corsica located?
Corsica is located in the Mediterranean off the south east coast of mainland France, just north of the Italian island of Sardinia.
What language is spoken in Corsica?
The language spoken in Corsica is French. Many Corsicans also speak Corsican, which is similar to Italian.
What is the currency for Corsica?
The currency in Corsica is the Euro.
What are the customs restrictions for Corsica?
As long as you stay in the EU during your Corsica sailing charter, you do not need customs clearance.
What documents do I need for saling Corsica?
A valid passport is the only travel document American, UK and Canadian citizens, and members of EU countries, need to sail in Corsica.
How do I get around Corsica?
You can get to our base in Corsica by taking the number 8 bus. The public transport system is good, or hiring a taxi in Corsica is another easy way to get around.
What is the Wi-Fi like in Corsica?
The Wi-Fi in Corsica is good and most cities and towns in Corsica have Wi-Fi hotspots at bars, restaurants and hotels.
What regulations are there in Corsica?
There are many restrictions covering nature reserves, such as no fishing or diving. They can be found on their official websites.
Where can I find weather forecasts in Corsica?
You can find Corsica-specific weather forecasts from Windy.com
What provisioning is there in Corsica?
There are plenty of choices for provisioning your Corsica yacht charter. Please refer to the base guide.
What baggage can I take on my yacht charter in Corsica?
Large suitcases take up too much room on board, so use soft roll bags.
What is the electrical current in Corsica?
The electrical current in Corsica is 220V.
What is the dialing code for Corsica?
The dialing code for Corsica is +33.
Why should I book with Dream Yacht Charter?
Dream Yacht Charter is now the world's leading yacht charter company and offers you:
A diverse fleet of yachts with a wide variety of models and manufacturers to suit every type of sailor.
We have +60 exciting destinations and we're a pioneer in finding new sailing grounds.
You can be assured of our commitment to customer service excellence.
You'll receive a warm and friendly welcome from our base teams who will share regional tips, recommendations and advice.
We're a trusted seller of new and used boats and an innovator in charter management options – sailing is our business.
What licenses do I need to hire a yacht and sail myself?
The skipper of a yacht has primary responsibility for the safety of the crew and yacht at all times. Many destinations require just relevant experience demonstrated by a sailing resume.
To charter in the Mediterranean, it is mandatory that you hold a sailing license recognized by the local port authorities for bareboat charters in Italy, Greece, Croatia, Spain, Malta, Montenegro and Turkey. Other destinations that require a license include Madagascar, Seychelles, Thailand, Brazil and Sweden. For Belize, the port authority will issue a certificate of competency and an application is made on arrival.
You must take your proof of competency and original certificate with you on your charter. We advise you to contact our team about your qualifications and the destination requirements before booking.
By accepting the yacht contract you are confirming that you and/or members of your crew are capable and competent to sail the yacht in the conditions and cruising area of charter. We reserve the right not to hand over the yacht if, after inspection, it is the opinion that the charterer is not, or may not be competent to be in charge of the vessel.
What is a skippered yacht charter?
A skippered yacht charter is when you rent one of our boats for you and your guests and a professional skipper sails it for you. No sailing experience is needed.
You will need to choose a yacht with a cabin for your skipper to sleep in as they are responsible for your yacht for the duration of your charter. We will find the skipper for you once you have found your perfect destination and yacht.
You will need to pay for your skipper's food. You can invite the skipper to dine with you on board or out at a local restaurant.
Get inspired! #MyDreamYacht
Follow our customer's journeys & share your own amazing experiences on Instagram
What's new?
Stay up to date with news and events or get some inspiration for your next yacht charter and pick up useful tips by reading our latest blogs.
Go to Blog