Mexico Yacht Charter
Explore the wonderful Sea of Cortez from our La Paz base in Baja California on Mexico's west coast. On your Mexico yacht charter, discover truly breathtaking natural habitats, along with historic colonial towns and ancient indigenous monuments.
What's on this page
Highlights
Abundant marine life

Dramatic scenery

Scenic villages
Mexico sailing vacations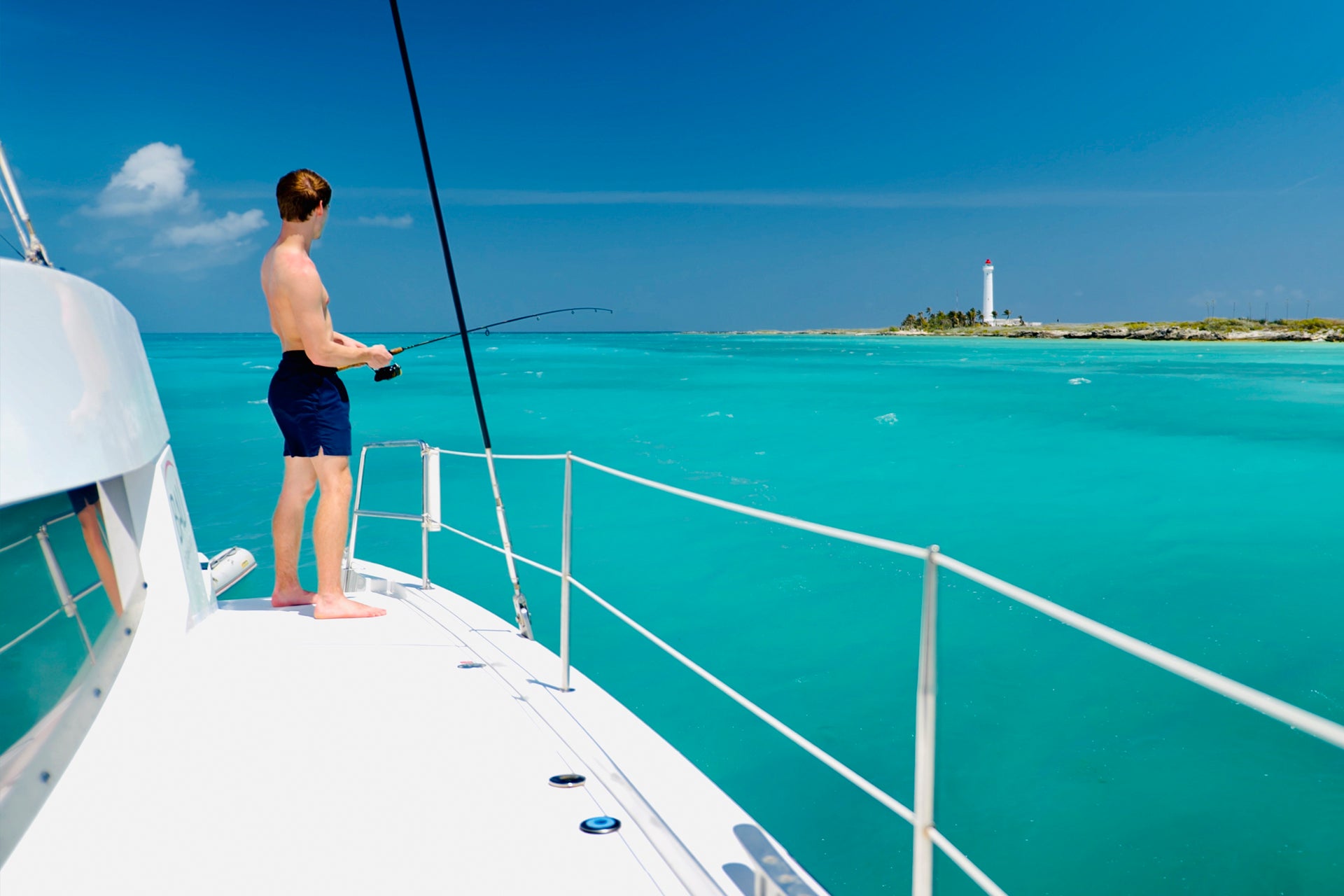 A real slice of paradise, the Sea of Cortez is highly regarded for its crystal-clear waters, unique coastal landscape and marine life which makes the region a must for wildlife lovers, who can see gray whales, sea lions, whale sharks and even humpback whales.
With years where there's no annual rainfall at all, you're guaranteed excellent weather as you relax in the sun on white sand beaches or visit chic resorts that make the area a playground for the rich and famous.
Sail to the secluded islands to be found in this beautiful corner of Mexico to experience many hidden gems. Unwind in peaceful solitude, or go snorkeling to explore a picture perfect underwater world.
Taking a trip on land during your Mexico yacht charter will give you the chance to participate in various exciting outdoor activities, from horse riding and hiking to mountain biking and zip-lining.
If you're an avid sailor with a spirit of adventure, we can promise you the waters of the Sea of Cortez will certainly not disappoint.
Mexico Yacht Charter
Choose your favorite destination in this region
Top things to do on your Mexico yacht charter
Bahia Agua Verde
This picturesque fishing village set in a secluded bay should be on any Mexico yacht charter itinerary.Although on mainland Mexico, it's not easily accessible by land, guaranteeing an unforgettable crowd-free experience.
Isla Espíritu Santo
An outcrop in the Sea of Cortez, Isla Espíritu Santo is a Unesco World Heritage Biosphere Reserve, surrounded by clear, deep waters full of shoals of the most amazing tropical fish and sea lions. Out of the sea it has wide stretches of untouched beaches.
Isla San Francisco
Known for its stunning marine life, on Isla San Francisco you can snorkel to see starfish, octopus and sea turtles. The island also has beautiful beaches and remarkable salt flats to explore.
La Ventana
Beside a beautiful bay just south of our base in La Paz, you'll find this fishing which, because of its strong winter winds, has become a haven for kite surfers. Across the water, there's Isla Cerralvo, known as Jacques Cousteau Island, who called the Sea of Cortez 'the world's aquarium'.
Guaymas
Take a trip to a pearl farm to discover how Cortez Pearls are harvested, or go diving, kayaking and snorkeling on the attractive beaches of Guaymas.
Balandra
Almost circular in shape and surrounded by sand dunes, Balandra Bay may very well be the most beautiful in Mexico, as well as being one of the calmest. In brilliant blue water, which is never more than waist deep, you can see harmless manta rays.
When is the best time to go to Mexico?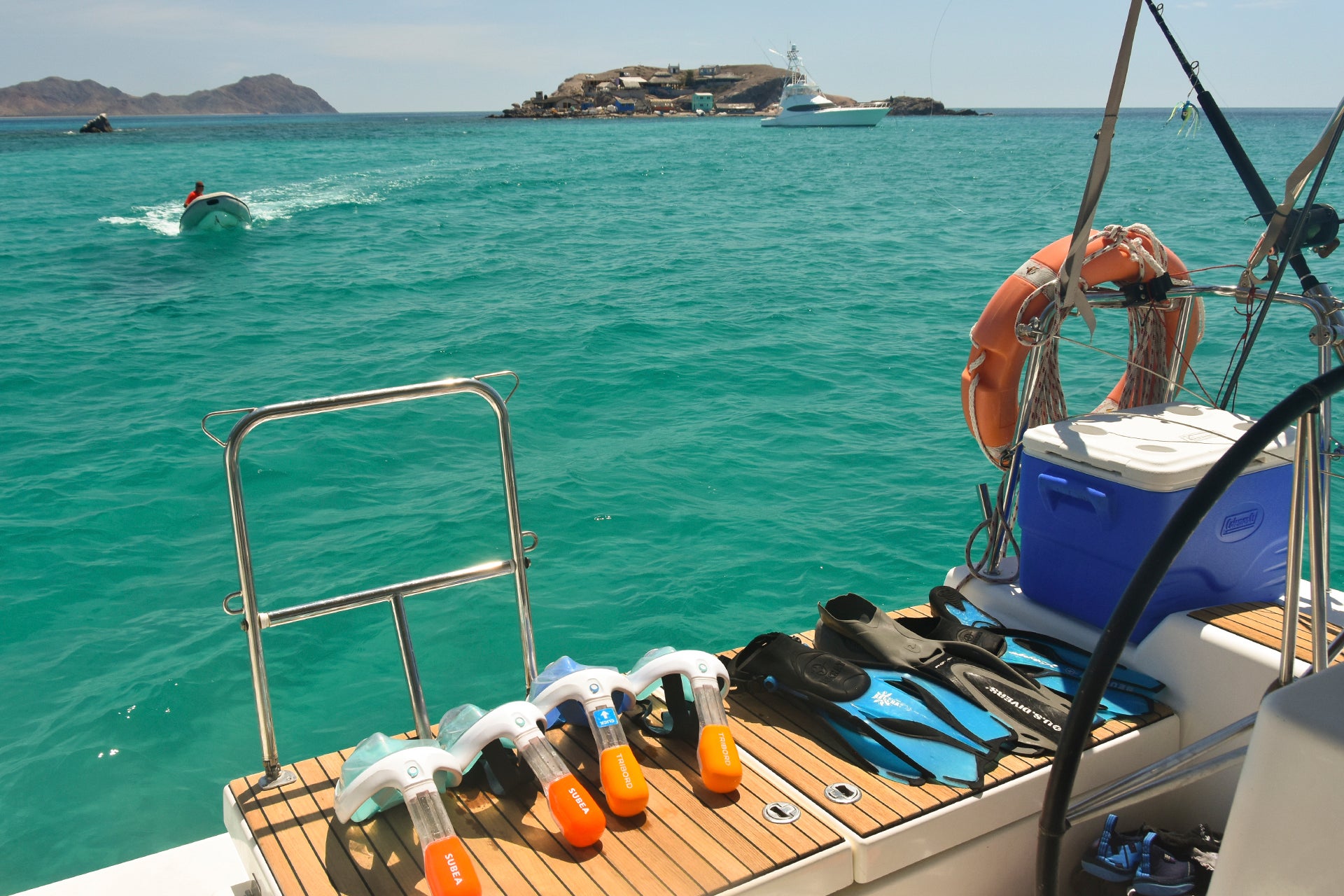 The best time of year for sailing the Gulf of California is mid-February to late June or mid-October to late December.
In Mexico, the summers are long and hot, while the winters are short, comfortable, and dry. Temperatures in Mexico during summer reach an average of 90ºF in May and October, sometimes even reaching 100ºF. You'll also enjoy fantastic sea temperatures of more than 80ºF.
It's drier in the low season between December and February, which still has comfortable temperatures averaging 79ºF. Around 90% of Mexico's rain falls between July and October.
What are the sailing conditions in Mexico?
The sailing conditions include southerly winds averaging between 10 to 15 knots. Most of the Pacific basin tropical storms during the hurricane season typically pass south of the southern tip of the Baja Peninsula. You'll need to visit the harbormaster and leave a detailed trip plan before leaving the marina, including intended destination and crew and passenger information.
Useful information for yacht charters in Mexico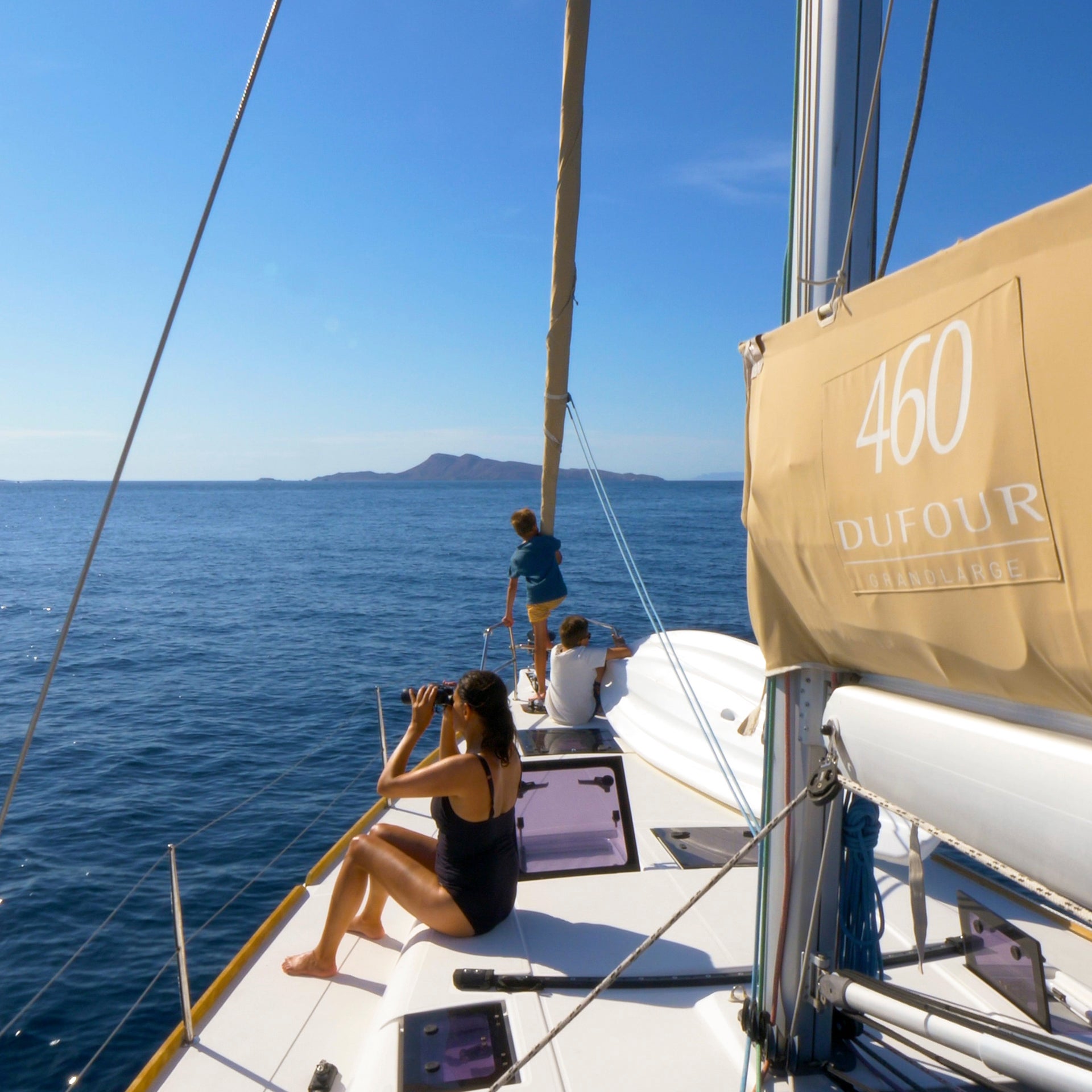 Getting to Mexico from the US
The most convenient way to reach our base and start your sailing vacation is to fly into La Paz International Airport (LAP). AeroMexico has the most daily flights and there are several other domestic airlines via Los Angeles (LAX) or Mexico City.
La Paz Airport is a 30-minute taxi ride away. We can arrange airport transfers on request.
You can also reach La Paz via Los Cabos International Airport (SJD), but the transfer takes between 2.5 and 3 hours, via a shuttle van or private taxi.
What language is spoken in Mexico?
The language spoken in Mexico is Spanish.
What is the currency in Mexico?
The currency in Mexico is the Mexican peso (MXN) but US dollars are accepted in the main tourist areas.
What are the customs restrictions for Mexico?
You can view customs information on the gob.mx website.
What documents do I need to sail Mexico?
US citizens must have a passport and either a Forma Migratoria Multiple, temporary or permanent resident card or tourist visa.
There are special documents requirements for dual Mexican/American citizens, particularly minors. We advise you to speak to the Mexican Consulate General's office in Los Angeles, CA, or visit your nearest Mexican embassy or consulate.
Mexican citizens will need a sailing license to sail in Mexico.
Talk to us to make sure you have the correct documents before you travel.
How do I get around Mexico?
You can easily hail a collectivo bus-style taxi with its destination displayed in the front window. If you're taking a cab, be sure to negotiate the price before you get in. It's a good idea to ask restaurants and bars to call you a cab home if you're out late during your yacht charter in Mexico.
You can also rent a car but make your reservation in advance using the company website to get the best price.
What is the Wi-Fi like in Mexico?
Our La Paz marina has free Wi-Fi. The Wi-Fi in Mexico is good, and most cities and towns have Wi-Fi hotspots at bars and restaurants. There's no phone coverage in about 70% of our sailing area.
What regulations are there in Mexico?
Night sailing is forbidden. We will provide you with the required park permits to visit Espiritu Santo Island. Anyone fishing from a boat in Mexico will need a fishing license issued by the Mexican government. Fishing licenses can be ordered online..
Where can I find weather forecasts for Mexico?
You can find weather forecasts at the weather.com website, both before and during your Mexico boat rental.
What provisioning is there in Mexico?
There are plenty of choices for provisioning in Mexico, including the local Chedraui supermarkets and Walmart. Our La Paz base can also provide a provisioning service if you'd like your groceries to be ready for your arrival.
What baggage can I take on my Mexico sailing vacation?
Please take only soft bags and not suitcases as they are too cumbersome on board.
What is the electrical current in Mexico?
The land electrical current in Mexico is 110V.
What is the dialing code for Mexico?
The dialing code for Mexico is +52.
Sailing Mexico with Dream Yacht Charter
Mexico yachts
Yacht rental Mexico, means you can enjoy the best of the Sea of Cortez and sail its islands. Choose from our catamarans and monohulls.
Skippered Mexico boat rentals
You don't need sailing experience to enjoy a vacation sailing Mexico. Hire a skipper with your yacht and they will sail you around the highlights of the region, while you relax.
Mexico sailing itinerary
Take a look at our Mexico sailing vacation suggestions
What is the cancellation policy for Sail Share?
We highly recommend you arrange travel insurance in case you need to cancel for an unexpected reason to cover non-refundable deposits.
Our Sail Share cabin cancellation fees are:
More than 90 days before original embarkation date: 25% of the charter fee
89 – 60 days before original embarkation date: 50% of the charter fee
59 – 30 days before original embarkation date: 75% of the charter fee
Fewer than 29 days before original embarkation date: 100% of the charter fee
How flexible is the itinerary for a Sail Share charter?
Our yacht itineraries are designed by our destination experts and are set to showcase the best of the destination's highlights. They are set and not flexible, even if you book all the cabins.
What happens if the weather changes while sailing on a Sail Share charter?
The skipper may decide to change the itinerary if there is bad weather.
Can I choose which cabin I want when I book a Sail Share?
Choose a double cabin with shared bath, or private bath for an additional fee.
Are there child or age restrictions for Sail Share?
Minimum Age: 16 years old
Get inspired! #MyDreamYacht
Follow our customer's journeys & share your own amazing experiences on Instagram
Absolutely amazing! Fred + Isabelle were so accommodating and did so much for us. Isabelle's food was incredible. Thanks so much!
Laura
Exumas Cabin
Excellent. Very professional and great service!
Thomas
Antigua Bareboat
Just what we needed coming out of a year of lockdown, to see new places and connect with nature. Highly recommended for your next sailing adventure!
Johan
St. Martin Bareboat
Excellent cruise and very good stay. Skipper attentive, very pleasant and very professional.
Maxime
Guadeloupe Skippered
Just returned from another fantastic sailing week at your base in Pula and I would like to thank everyone involved for making this possible on such short notice and without any problems.
Mathias
Croatia Bareboat
The marina itself is a perfect starting point with great facilities! The Lagoon 42 was in good condition and the skipper was amazing and very knowledgeable of the area."
Jonathan
Spain Skippered
What an AMAZING experience. We've just returned from a week long skippered charter from Corfu, sailing around the beautiful islands of the Ionian. Paxos, Antipaxos and Corfu Old Town were beautiful and the secluded bays we had the pleasure of visiting thanks to our local skipper, Nicholas, were simply overwhelming. Fly and flops are no longer for us – we'll be chartering with DYC for the foreseeable future.
David
Greece Skippered
Our group of 10 had an AMAZING time in French Polynesia from May 21-28, 2022! The food was amazing, our captain and chef, husband and wife: Henry and Mehee (sp), were incredible and the whole experience on board was a dream! We can't wait to book another trip through DYC
Katie
Tahiti Crewed Premium
DYC provided a great sailing experience for my extended family on 2 monos out of Scrub Island. The boats were in great shape and preformed perfectly and the staff were friendly and helpful. Having worked for a number of charter companies over the years DYC is one of the best.
Charlie
British Virgin Islands Bareboat
I'm currently in the Maldives and having the time of my life. Captain Jack and the crew are professional, safe and FUN! The boat is immaculate and the food is delicious. He even makes CAKE! The beds are surprisingly comfortable and we are all sleeping 9 hours a night. If you like island hopping, there is no other better option than Dream Yacht Charter. We will be booking Tahiti next year.
Cynthia
Maldives Cabin
The new boat was in fabulous shape. We had the greatest possible experience exploring archipelago waterways and islands. I could never imagine this might be so much fun and joy and we are already looking forward for the another upcoming trip in Ionian.
Vyautas
Scandinavia Bareboat
Baja is my favorite place now. There was something for everyone: sailed under northerlies with mostly calm evenings, snorkeled, fished, bummed it on the sandy beaches, enchanted by pelicans feeding, greeted by the barking sea lions and explored the Ispiritu Santo island geology. DYC La Paz base provided competent professional support with a well provisioned and maintained boat. We were nourished well by an onboard cook arranged with DYC freeing us all for more play. A vacation and an adventure connected with nature.
Taiyoko
Mexico Crewed Premium
All staff were fantastic and made our trip very memorable. Incredibly friendly and welcoming, the food was amazing. The service throughout the trip was always first class!
Tommy
Thailand Cabin
Absolutely recommended. Perfect service and set up. Will charter again and will recommend Dream Yacht Charter anytime.
Zahradnik
Turkey Bareboat
I just returned from 3 weeks of amazing sailing with my family on one of your catamarans in Sardinia. I would like to express my thanks to our skipper Simone and Daniela, our hostess.
Giles
Sardinia Skippered
For a first cruise as a skipper, the Mediterranean is great. The Dream Yacht Charter service is too!
Thomas
France Bareboat
We had an incredible trip and actually got engaged on the first night of our sail! We will certainly be back one day. Thank you for getting us ready for our charter. We were definitely beginners but he gave us a very thorough but very easy to follow training and it gave us a lot of confidence.
George
Australia Bareboat
The on board experience was way beyond our expectations. Isabelle provided exceptional three course meals. We could not believe her creativity and delicious meals. Thomas was an excellent skipper. He was always on the lookout for our needs. Thanks guys!" Spira, New Caledonia bareboat with crew charter
Spira
New Caledonia Easy Crewed
Yet again another fantastic sail with another great crew. Thanks again to a great captain and cook. Was totally fantastic.
Connie
Seychelles Cabin
It's always a pleasure sailing with DYC in the UK. Great team, great boats, great sailing. Very flexible and work hard to make your trip a success. Many thanks.
Derek
Brittany Bareboat
Unforgettable spots to snorkel and beaches. Very experienced crew. Highly recommend.
Simone
Cuba Cabin
What's new?
Stay up to date with news and events or get some inspiration for your next yacht charter and pick up useful tips by reading our latest blogs.
Go to Blog