Atlantic Yacht Charters
Our Atlantic yacht charters are a rewarding challenge for sailors, with sea breezes and fast tides. However, the scenic cruising ground and sheer volume of things to see makes it a great part of the world to explore.
What's on this page
Highlights
Lively sailing

Rich maritime history

Scenic port towns
Sailing the Atlantic Ocean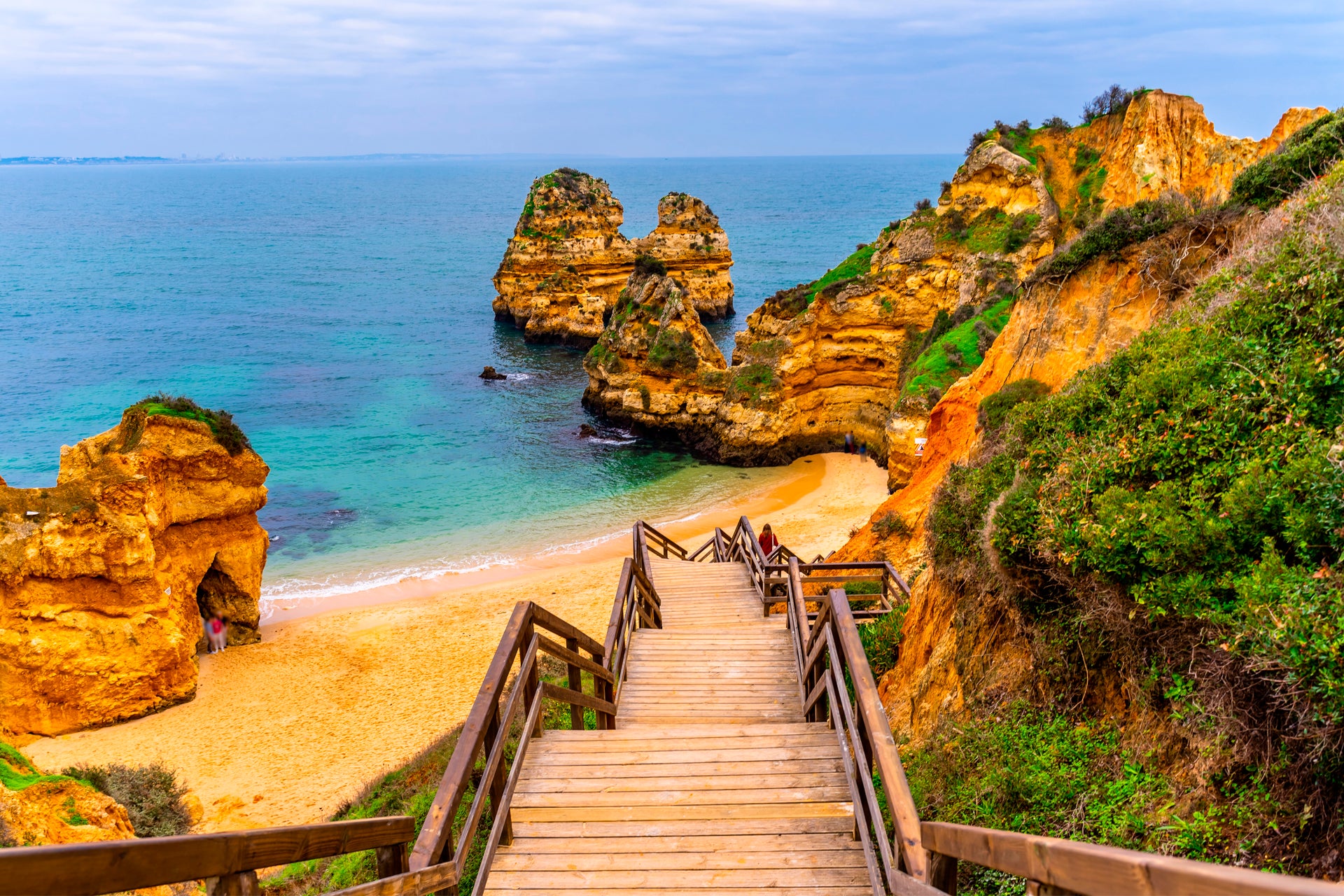 Visit charming British seaside resorts, the coastal towns of Brittany and La Rochelle in France, or head to the warm Spanish archipelago of the Canary Islands. From sandy beaches to vast forests and bustling cities, you won't be short of places to explore while sailing the Atlantic Ocean.
Dine on delicious cuisine, which you can wash down with regional wine and cider. Discover the history of the Atlantic coast and enjoy the company of the friendly locals.
When you choose an Atlantic yacht charter, be prepared for an unforgettable sailing vacation. It's one of the most diverse sailing areas, combining rugged scenery with charming towns.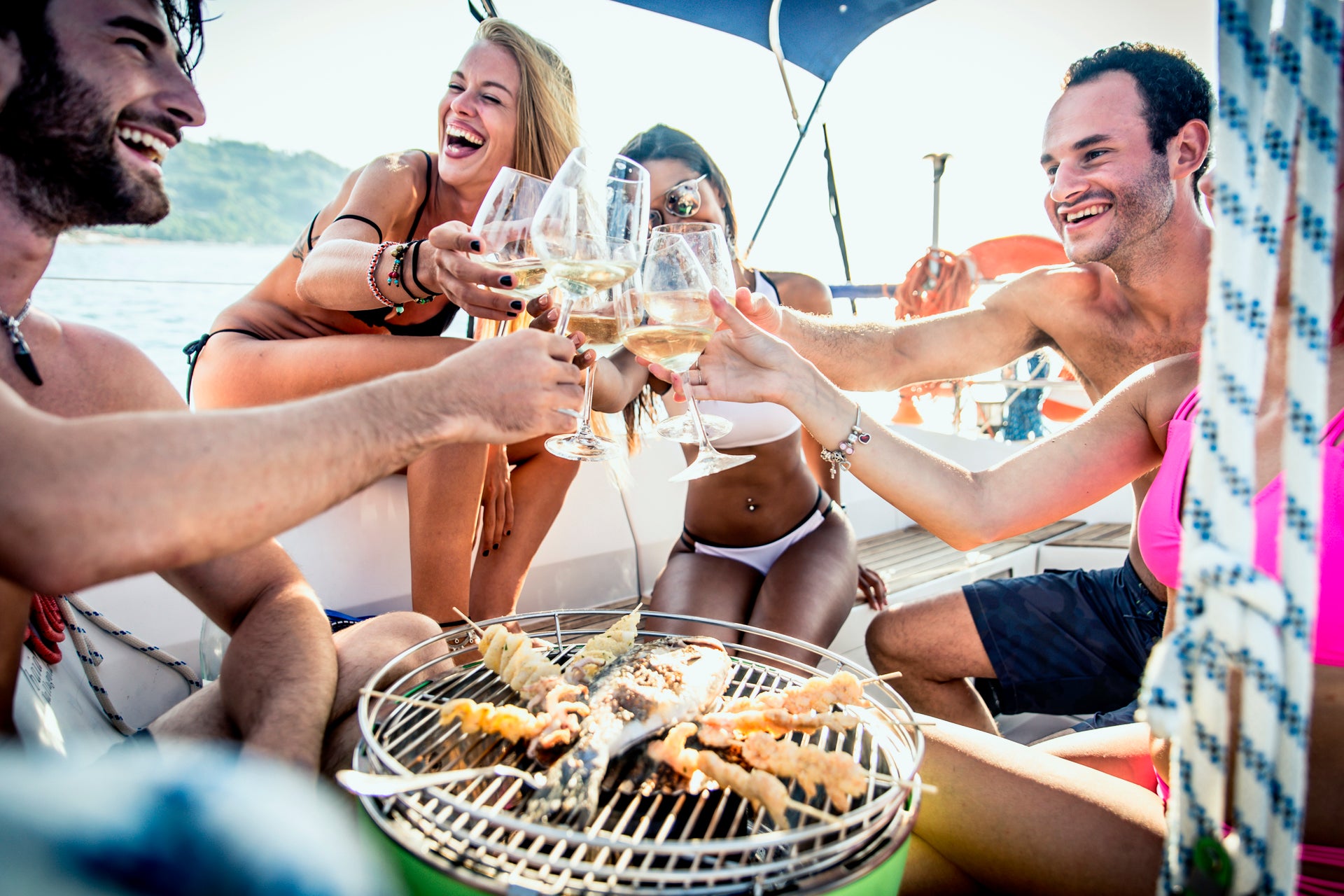 Atlantic Yacht Charters
From the sunny Canary Islands and the historic coastal towns of France to charming British seaside resorts, explore many scenic cruising grounds and experience challenging sailing conditions on one of our Atlantic yacht charters.
Top things to do in the Atlantic
Visit the Isle of Wight's Classic Boat Museum
Sail over to the Isle of Wight during your Hamble Atlantic yacht charter and see the Classic Boat Museum, where you can see over 50 different types of yachts. It's also the perfect place to pick up any sailing gear, as Cowes is home to several small yacht merchandise boutiques.
Spend the day in Portsmouth
One of the top things we'd recommend doing in the Atlantic is sailing over to Portsmouth. Visit its famous historic dockyard, home to Nelson's flagship HMS Victory. When you've finished soaking up the history, head to Gunwharf Quays for a couple of cocktails.
Explore the New Forest National Park
If you enjoy long walks, then take some time out of your Atlantic yacht charter to visit the New Forest National Park on the south coast of England. It's home to a variety of wildlife, including deer, butterflies and wading birds. There are over 1,000 ancient trees and 26 miles of coast to explore, as well as the most extensive area of heathland in Europe.
Enjoy a classic British day out in Brighton
Make like the Brits while on your Atlantic yacht charter and head over to Brighton for a classic day at the seaside. Walk along the pier, which hosts several rides and attractions that are great if you're on vacation with children. Don't forget to head to the Royal Pavilion and browse the independent boutiques on The Lanes too.
Marvel at the creeks and coves of the Île d'Arz
Enjoy a dip in the many coves of Île d'Arz on a charter in Brittany, or head over to Île aux Moines – also on the Morbihan Gulf – which has beautiful scenic walks around the coast, stretching for four miles.
Sip on a glass of Muscadet
Order a glass of this fruity French wine that's made in the Loire Valley, and pair it with some delicious fresh seafood. Make sure to set some time aside to feast on crepes and the classic British fare of fish and chips.
Hike in Huelgoat Forest
This charming lakeside village in Brittany is covered in woodland that is just waiting to be discovered. From hour-long circular routes to hikes that stretch for miles, you can pick up a route map from the village's tourist office. See if you can find the Grotte du Diable, a cave located 10 metres below the lake.
Discover the oldest city in Brittany
Located to the southwest of Finistère lies Quimper, with its impressive gothic cathedral and large art museum. Stretching along the river Odet, there are lots of pretty footbridges to cross over. If you're lucky enough to be sailing the Atlantic in July, head over to Quimper for the Festival de Cornouaille, a celebration of Breton traditions.
Enjoy Île de Ré
Spend the day on this special island connected to the mainland by a bridge. Hire bikes and cycle between coastal resorts, strolling on wide stretches of golden sand and dunes. Head to St-Martin-de-Ré and climb the church tower for a view of the fortified town.
Head to the Canary Islands
Hike volcanoes, visit subtropical forests, watch the sunsets from huge sand dunes, stroll pretty towns and relax on black or white sand beaches. The Canaries archipelago has seven main islands to discover and many smaller islets.
When is the best time for sailing the Atlantic?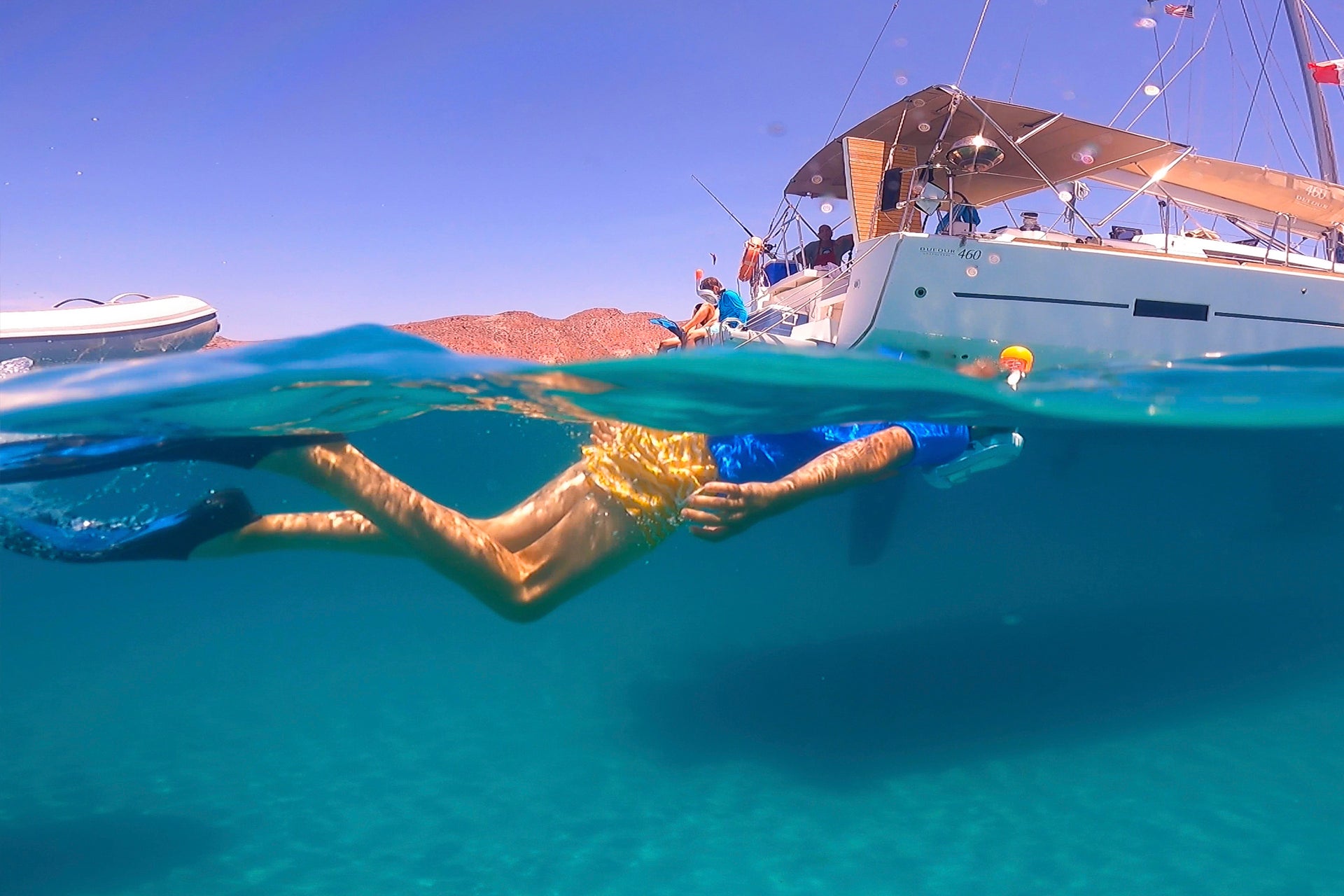 Temperatures are similar at our UK and French Atlantic bases. The summer season typically runs from May to September, where temperatures can reach anywhere between 52-86°F. During June you can enjoy almost 11 hours of sunshine.
December is the wettest month, with winter temperatures dropping as low as 32°F November to March.
In the Canary Islands the temperatures are warm year-round, peaking in the summer months around 82ºF.
Sailing trips in the Atlantic to suit your budget
If you don't mind the lower temperatures, then your Atlantic yacht charter can be cheaper in the low season, with flights often a lot lower in price too. Unless you head to the Canaries, which are warm in fall.
However, sailing in high season means better weather but that comes at the price of busier cruising grounds.
What are the sailing conditions in the Atlantic?
The sailing conditions can be challenging, as it can get very breezy. Brittany especially, has one of the fastest tides in Europe and the variation of tides results in very strong currents and a wide tidal range, which requires good sailing experience.
Atlantic Ocean wind systems
In the summer, our Atlantic yacht charter bases are susceptible to sea breezes from the southwest and sometimes the southeast too. This can rise to 20-25 knots in the afternoon. The Canaries' trade winds peak in July.
Sailing the Atlantic can be challenging, especially if you choose to tackle Brittany due to its fast tide. However, it can be an extremely rewarding vacation for the seasoned sailor.
What are the mooring fees in the Atlantic?
Atlantic Ocean mooring fees depend on when you decide to sail, as peak times are more expensive if you want to use marinas. Marina fees vary depending on the destination.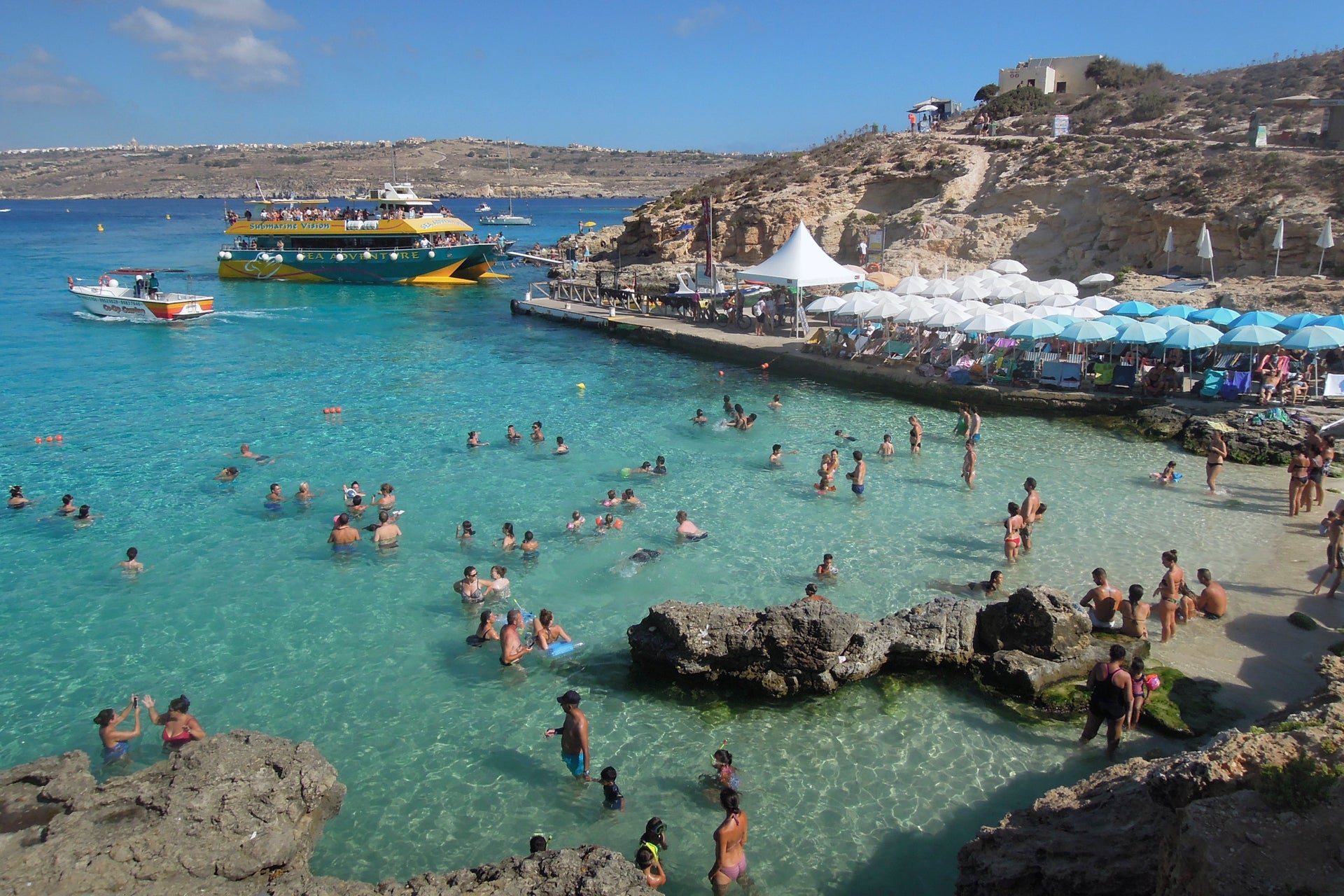 Useful information for sailing the Atlantic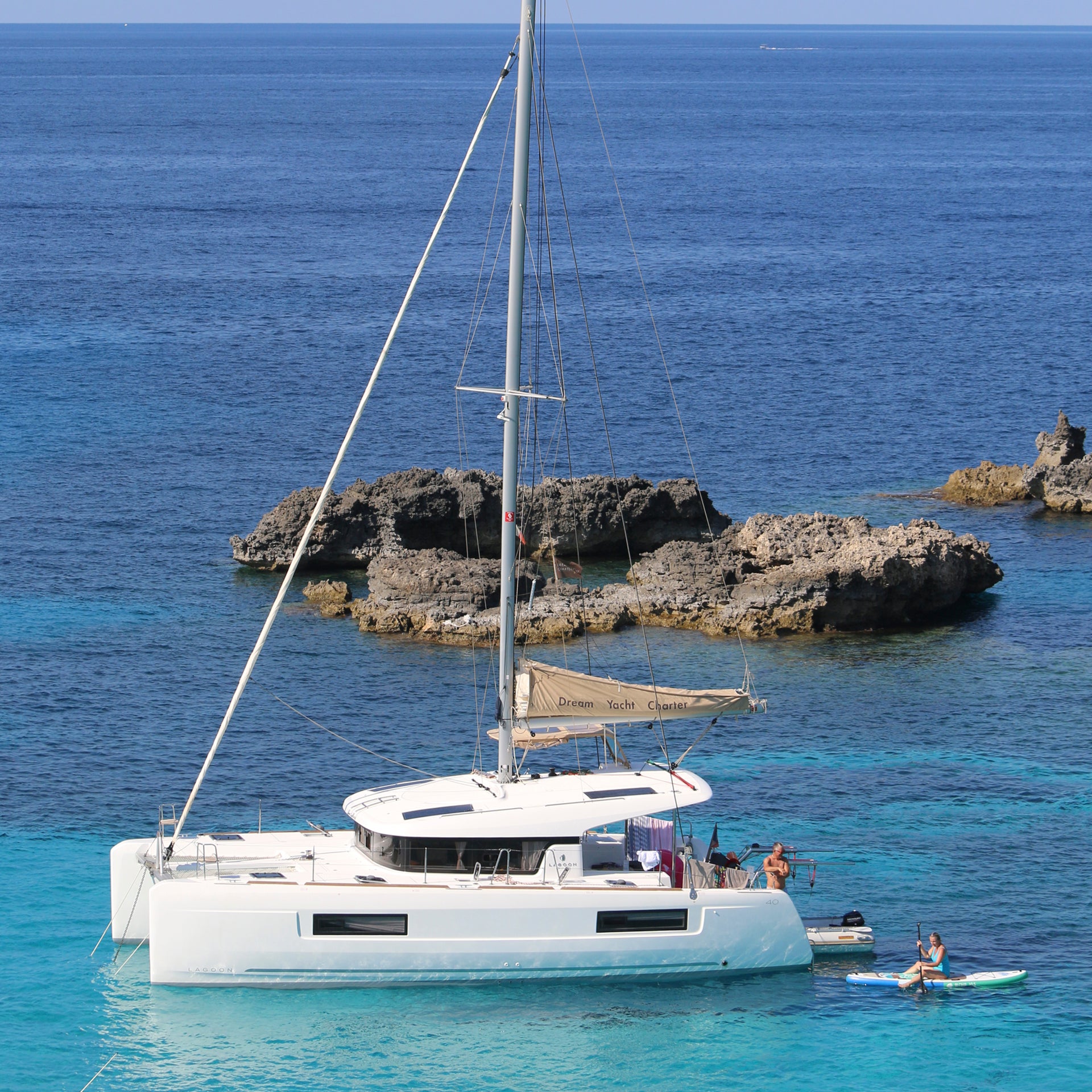 What is the currency in the Atlantic area?
In the UK, the currency used is the British Pound. In Brittany, La Rochelle, as well as the Canaries, the currency is the Euro.
What is the Wi-Fi connection like in the Atlantic?
In Hamble, Brittany, La Rochelle and the Canaries, the Wi-Fi connection and internet access is very good. You'll find that most bars, restaurants and even marinas offer Wi-Fi free of charge.
What is the best way to get to the Atlantic?
It depends on which of our bases you want to start your Atlantic yacht charter from. The closest airport to our Hamble base is Southampton. There are direct flights from the US to major UK airports, such as Manchester and Edinburgh, where you can get a train or connecting flight to Southampton. You could also fly into Dublin in Ireland.
For Brittany and La Rochelle you can fly to Paris and get connecting flights to local airports. For the Canary Islands, fly to Spain, UK and Portugal and get a connecting flight to Tenerife.
Discover Atlantic yacht charter vacations with Dream Yacht Charters
Sailing the Atlantic
If you can sail, then you can browse our destinations for a range of bareboat Atlantic rentals. Enjoy complete freedom, as you can create your own itinerary and provision the boat yourself.
Captain only Atlantic charters
Even if you haven't got any sailing experience, you can still sail around the Atlantic by adding a skipper to your yacht charter. Your skipper will manage the sailing for you, letting you spend your vacation relaxing with guests.
Atlantic sailing itinerary
Our local base teams are experts in helping you plan your Atlantic sailing vacation. Whether you want to charter a yacht in Hamble, Brittany, La Rochelle or the Canary Islands, they've prepared a range of suggested itineraries, which you can view on our destination pages.
What is the cancellation policy for Sail Share?
We highly recommend you arrange travel insurance in case you need to cancel for an unexpected reason to cover non-refundable deposits.
Our Sail Share cabin cancellation fees are:
More than 90 days before original embarkation date: 25% of the charter fee
89 – 60 days before original embarkation date: 50% of the charter fee
59 – 30 days before original embarkation date: 75% of the charter fee
Fewer than 29 days before original embarkation date: 100% of the charter fee
How flexible is the itinerary for a Sail Share charter?
Our yacht itineraries are designed by our destination experts and are set to showcase the best of the destination's highlights. They are set and not flexible, even if you book all the cabins.
What happens if the weather changes while sailing on a Sail Share charter?
The skipper may decide to change the itinerary if there is bad weather.
Can I choose which cabin I want when I book a Sail Share?
Choose a double cabin with shared bath, or private bath for an additional fee.
Are there child or age restrictions for Sail Share?
Minimum Age: 16 years old
Get inspired! #MyDreamYacht
Follow our customer's journeys & share your own amazing experiences on Instagram
Absolutely amazing! Fred + Isabelle were so accommodating and did so much for us. Isabelle's food was incredible. Thanks so much!
Laura
Exumas Cabin
Excellent. Very professional and great service!
Thomas
Antigua Bareboat
Just what we needed coming out of a year of lockdown, to see new places and connect with nature. Highly recommended for your next sailing adventure!
Johan
St. Martin Bareboat
Excellent cruise and very good stay. Skipper attentive, very pleasant and very professional.
Maxime
Guadeloupe Skippered
Just returned from another fantastic sailing week at your base in Pula and I would like to thank everyone involved for making this possible on such short notice and without any problems.
Mathias
Croatia Bareboat
The marina itself is a perfect starting point with great facilities! The Lagoon 42 was in good condition and the skipper was amazing and very knowledgeable of the area."
Jonathan
Spain Skippered
What an AMAZING experience. We've just returned from a week long skippered charter from Corfu, sailing around the beautiful islands of the Ionian. Paxos, Antipaxos and Corfu Old Town were beautiful and the secluded bays we had the pleasure of visiting thanks to our local skipper, Nicholas, were simply overwhelming. Fly and flops are no longer for us – we'll be chartering with DYC for the foreseeable future.
David
Greece Skippered
Our group of 10 had an AMAZING time in French Polynesia from May 21-28, 2022! The food was amazing, our captain and chef, husband and wife: Henry and Mehee (sp), were incredible and the whole experience on board was a dream! We can't wait to book another trip through DYC
Katie
Tahiti Crewed Premium
DYC provided a great sailing experience for my extended family on 2 monos out of Scrub Island. The boats were in great shape and preformed perfectly and the staff were friendly and helpful. Having worked for a number of charter companies over the years DYC is one of the best.
Charlie
British Virgin Islands Bareboat
I'm currently in the Maldives and having the time of my life. Captain Jack and the crew are professional, safe and FUN! The boat is immaculate and the food is delicious. He even makes CAKE! The beds are surprisingly comfortable and we are all sleeping 9 hours a night. If you like island hopping, there is no other better option than Dream Yacht Charter. We will be booking Tahiti next year.
Cynthia
Maldives Cabin
The new boat was in fabulous shape. We had the greatest possible experience exploring archipelago waterways and islands. I could never imagine this might be so much fun and joy and we are already looking forward for the another upcoming trip in Ionian.
Vyautas
Scandinavia Bareboat
Baja is my favorite place now. There was something for everyone: sailed under northerlies with mostly calm evenings, snorkeled, fished, bummed it on the sandy beaches, enchanted by pelicans feeding, greeted by the barking sea lions and explored the Ispiritu Santo island geology. DYC La Paz base provided competent professional support with a well provisioned and maintained boat. We were nourished well by an onboard cook arranged with DYC freeing us all for more play. A vacation and an adventure connected with nature.
Taiyoko
Mexico Crewed Premium
All staff were fantastic and made our trip very memorable. Incredibly friendly and welcoming, the food was amazing. The service throughout the trip was always first class!
Tommy
Thailand Cabin
Absolutely recommended. Perfect service and set up. Will charter again and will recommend Dream Yacht Charter anytime.
Zahradnik
Turkey Bareboat
I just returned from 3 weeks of amazing sailing with my family on one of your catamarans in Sardinia. I would like to express my thanks to our skipper Simone and Daniela, our hostess.
Giles
Sardinia Skippered
For a first cruise as a skipper, the Mediterranean is great. The Dream Yacht Charter service is too!
Thomas
France Bareboat
We had an incredible trip and actually got engaged on the first night of our sail! We will certainly be back one day. Thank you for getting us ready for our charter. We were definitely beginners but he gave us a very thorough but very easy to follow training and it gave us a lot of confidence.
George
Australia Bareboat
The on board experience was way beyond our expectations. Isabelle provided exceptional three course meals. We could not believe her creativity and delicious meals. Thomas was an excellent skipper. He was always on the lookout for our needs. Thanks guys!" Spira, New Caledonia bareboat with crew charter
Spira
New Caledonia Easy Crewed
Yet again another fantastic sail with another great crew. Thanks again to a great captain and cook. Was totally fantastic.
Connie
Seychelles Cabin
It's always a pleasure sailing with DYC in the UK. Great team, great boats, great sailing. Very flexible and work hard to make your trip a success. Many thanks.
Derek
Brittany Bareboat
Unforgettable spots to snorkel and beaches. Very experienced crew. Highly recommend.
Simone
Cuba Cabin
What's new?
Stay up to date with news and events or get some inspiration for your next yacht charter and pick up useful tips by reading our latest blogs.
Go to Blog