Exumas Yacht Charters
An Exumas yacht charter is the ideal sailing vacation for those who enjoy solitude, unspoiled natural beauty and quaint, low-key beach settlements.
What's on this page
Highlights
Famous swimming pigs

Pristine coves

Swimming with sharks
Bahamas yacht charter, the Exumas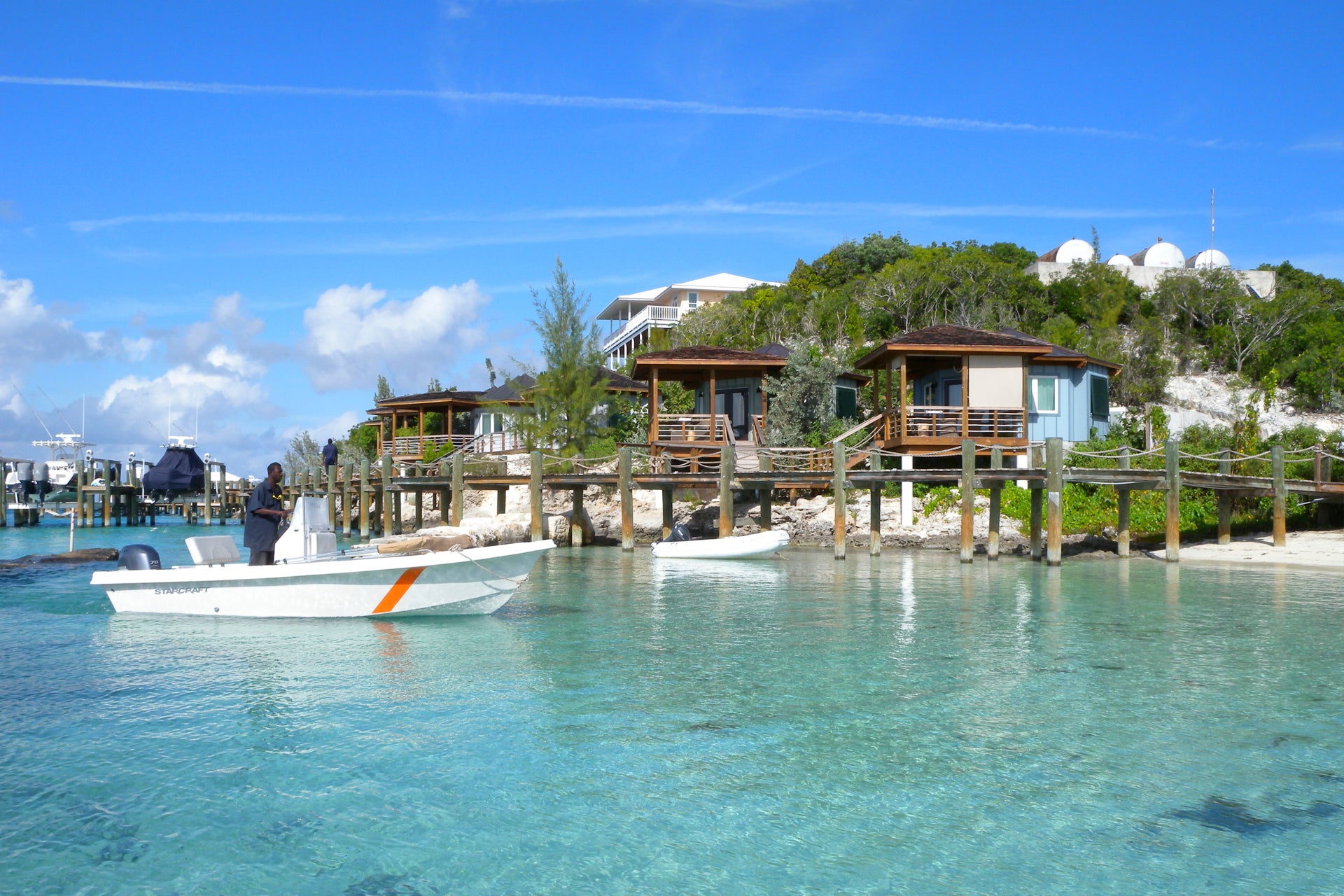 Our base is located at Palm Cay Marina in Nassau, the capital of the Bahamas on the island of New Providence. Less than 30 miles south-east of here, you can discover the Exumas island chain with its 365 cays.
The cays of the Exumas in the Out Islands of the Bahamas offer amazing diving, and snorkeling. Visit Highbourne Cay to snorkel the Octopus Garden reef at Horseshoe Bay, or dive the 3.5 billion year old stromatolite reefs on the east coast.
Any animal lovers on your Exuma yacht charter can swim with nurse sharks at Compass Cay, encounter swimming with pigs at Big Major Cay and feed the iguanas at Allen Cays.
When sailing the Exumas, we'd recommend anchoring at Highbourne Cay Marina, from where you can relax on the beach, hike the island trails and unwind during happy hour at the marina restaurant overlooking the gorgeous bay.
Staniel Cay, where you'll find the beautiful grotto seen in the James Bond movie Thunderball, is another highlight of any Exuma yacht charter. Or why not visit Warderick Wells Cay, the perfect jumping off point for exploring the area of outstanding natural beauty that is the Exuma Cays Land and Sea Park.
Things to do in the Exumas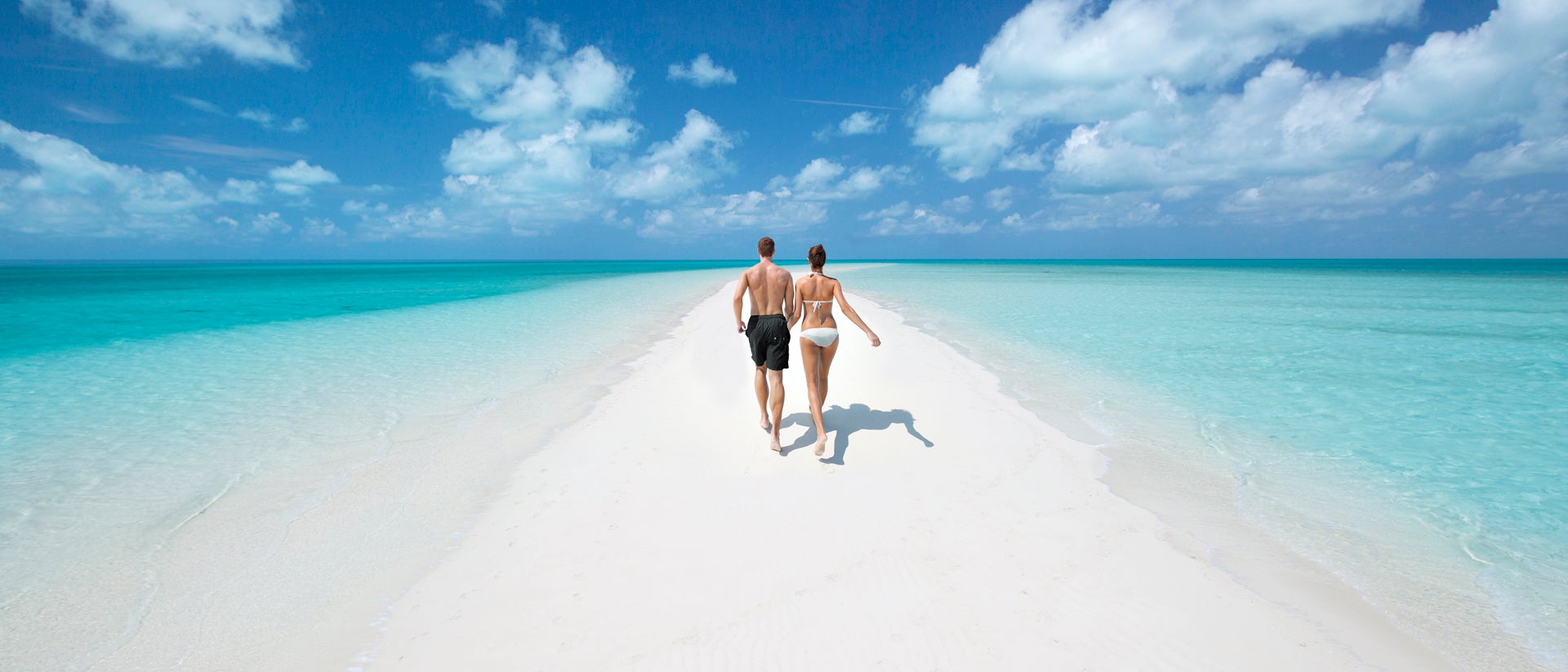 Head to Exuma Cays Land and Sea Park
This 176 square-mile park can only be reached by boat or seaplane. The park is a great find for divers, with its underwater world of limestone, reefs and caves. Animal lovers will marvel at the numerous tropical birds, iguanas and hawksbill turtles.
See the famous swimming pigs
Vacationers from around the world have flocked to Big Major Cay to see the famous Bahamas swimming pigs. It's one of the most popular things to do in the Exumas. Wade into the clear waters and feed these friendly hogs pitted fruits and vegetables.
Swim with nurse sharks
Make for Compass Cay during your Exuma yacht charter and swim with friendly nurse sharks. You can also feed the sharks fish, if you have any to spare.
Snorkel at Thunderball Grotto
Head to Staniel Cay and, just across the water from the yacht club, you'll find the amazing Thunderball Grotto where the James Bond movie Thunderball was filmed. Snorkel this marine cave at low tide and marvel at the shafts of sunlight that illuminate the cavern.
See the rare Northern Bahamian Rock Iguanas
Sail to Allen's Cays to see the rare Northern Bahamian Rock Iguanas, which are only found in the Exumas. You can feed these gentle creatures with grapes, but beware because these iguanas can grow quite big and jump pretty high.
Weather insights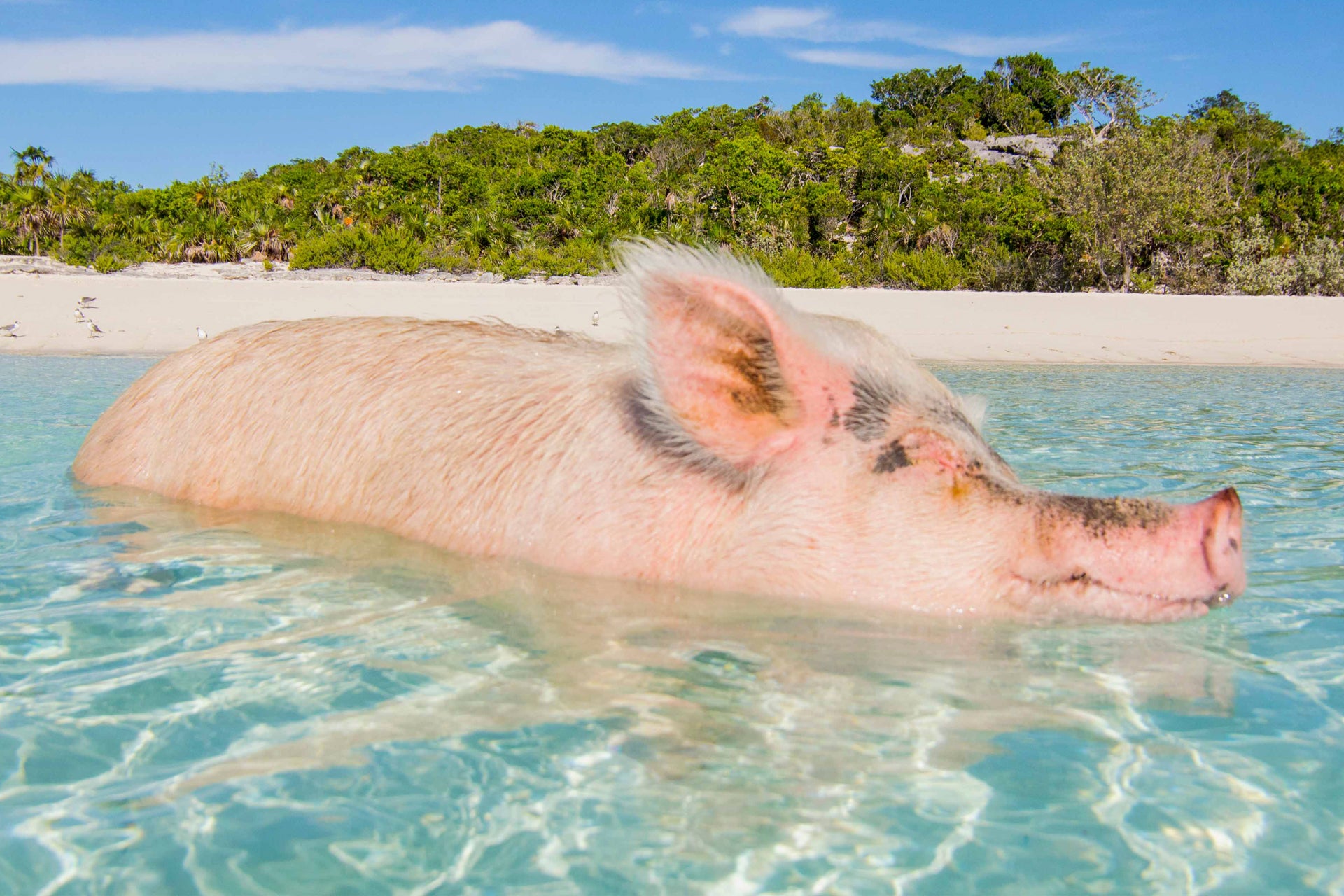 When is the best time to go to the Exumas?
Temperatures in the Exumas cool very slightly to between 82-88ºF in the high season between December and April, which is the best time to visit. The hottest months in the Bahamas are July and August and the wettest months are May and June.
What are the sailing conditions in the Exumas?
Sailing conditions in the Bahamas include easterly winds between 10-15 knots and care is needed as the water can have very shallow depths. The tidal range is up to 3.5ft.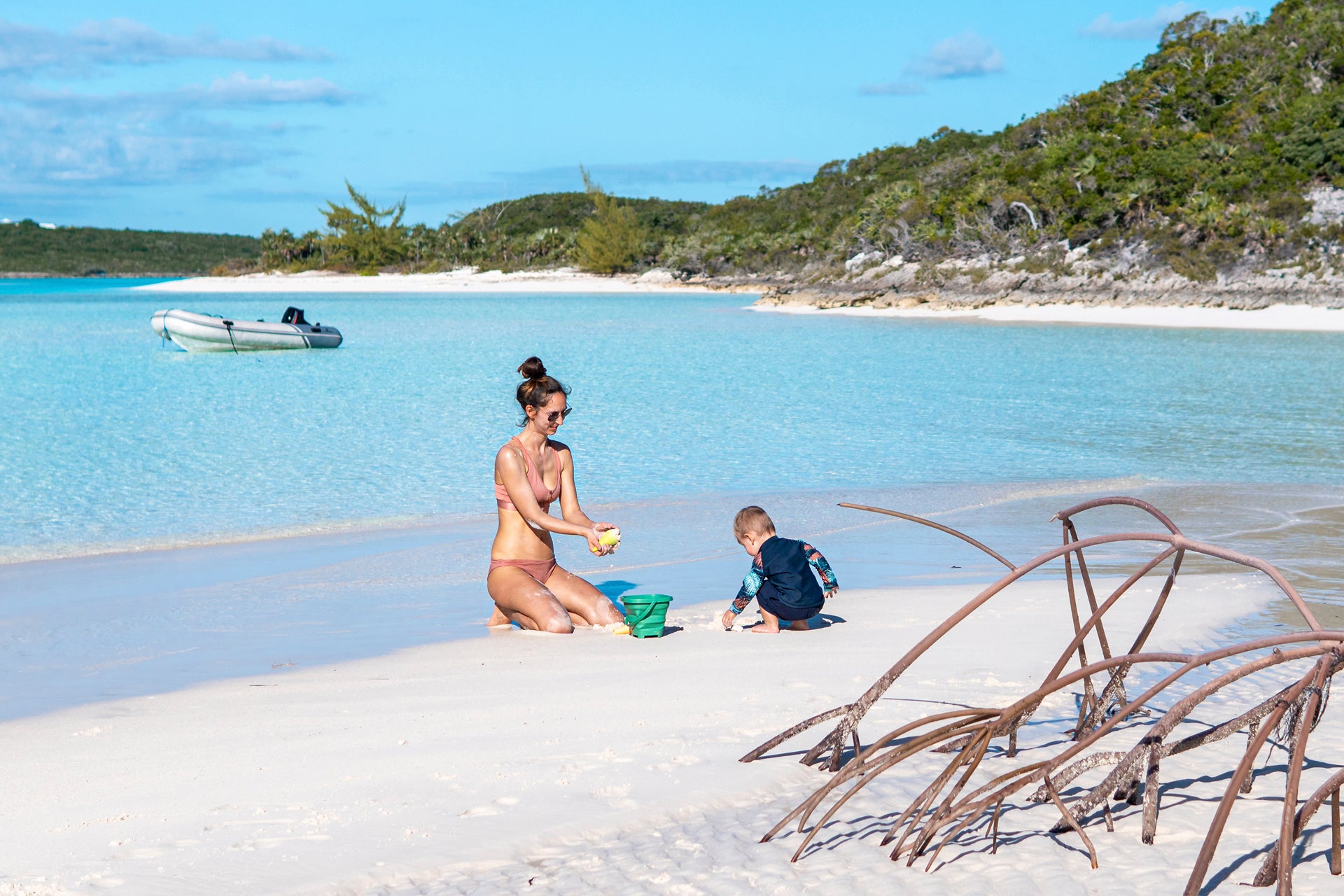 Sailing the Exumas with Dream Yacht Charter
Exumas yacht charter
Sail the Exumas and enjoy one of the world's most unspoiled sailing destinations. Choose from our bareboat yacht charters and cutting-edge catamarans and monohulls.
Exumas skippered charters
Can't sail? Hire a skipper and make the most of your vacation by sailing the islands of the Exumas. Your skipper will sail you and your guests while you relax.
Exumas by the cabin charters
Enjoy the Exumas without any planning, sailing or cooking with our by the cabin charters. We do everything, so you don't have to. Just reserve your own private cabin and bathroom.
Exumas crewed charters
Take your vacation to a new level of luxury with our personalized Exumas crewed charters. Hire your own private luxury yacht and relax while our captain and chef look after you and your guests.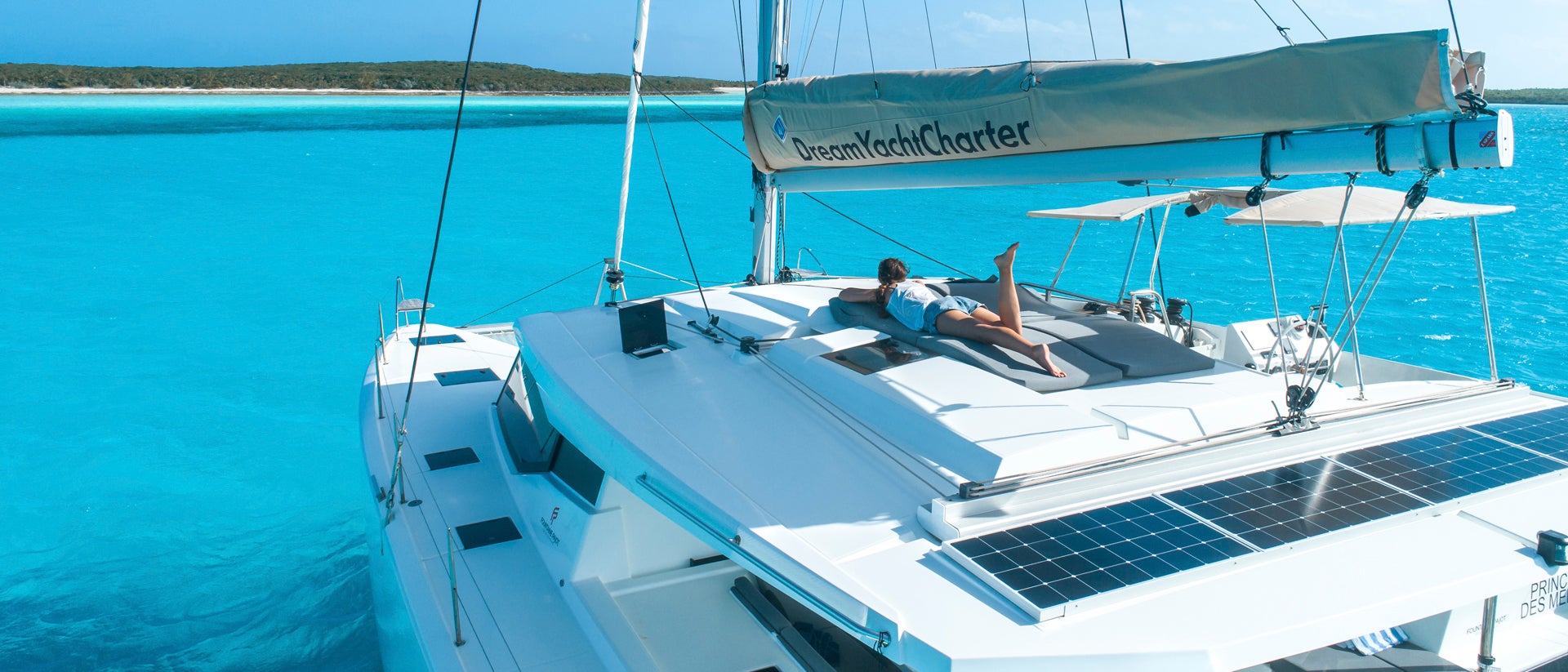 Exumas sailing itinerary
Take a look at our Bahamas sailing vacation suggestions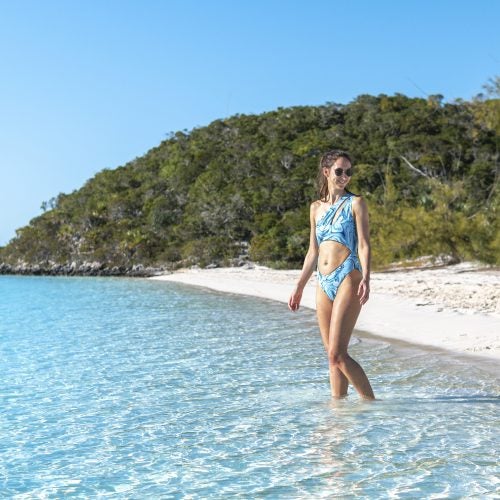 8-day itinerary Exumas
Day 1
Arrive at Nassau and head to Palm Cay Marina in the afternoon to provision and acquaint yourself with the boat. The marina has five-star facilities and is a great base to start your charter.
Day 2
Sail to Allen Cays to see the rare Northern Bahamian Rock Iguanas, which are only found in the Exumas. You can feed these gentle creatures with grapes but beware that the iguanas can grow to a large size and can jump! Sail onwards to Highbourne Cay to snorkel the Octopus Garden reef at Horseshoe Bay. You can see stromatolite reefs on the east coast, dating back 3.5 billion years, and if the weather is calm, you can also snorkel the Elkhorn and Staghorn reefs. Also spend the night at the Highborne Cay Marina, where you can enjoy the beach, hike the island path and trails and relax during happy hour at the marina restaurant overlooking the gorgeous bay
Day 3
Explore the Exuma Cays Land & Sea Park at Warderick Wells Cay, an area of outstanding beauty with sand dunes, mangroves and wonderful beaches. Hike the seven miles of trails ashore, wander among the remains of 18th-century loyalist settlements and enjoy bird watching. Walk up Boo Boo Hill and leave your boat's name on a piece of driftwood at the top as an offering to Neptune, taking care to avoid the blowholes. Or you can relax on white-sand beaches, snorkel the coral reefs and spot hawksbill turtles, lemon sharks and vibrant fish. There's even a sperm whale skeleton to examine on Powerful Beach and stromatolites to the south-west of the island, the world's oldest living reefs. There are three mooring fields, which can be found at the natural harbor, Emerald Rock south of the visitor center and Hog Cay in the south-west. Tune to VHF Channel 16 at 9am for updates and to request a mooring. For mooring fees, take a look at the guide. Please respect that the park forbids removal of any coral, shells or plants.
Day 4
Make for Compass Cay, where you can get into the water with friendly nurse sharks and swim with them. You can also feed the sharks with fish if you have any to spare. On the north coast you'll find the famous natural whirlpool called "Rachel's Bubble Bath", which is at its best at high tide. Take care of the sea urchins nearby and wear good quality sea shoes. Or, you can head to Staniel Cay and provision from the local grocery stores. Near the yacht club, you'll find the amazing Thunderball Grotto on a nearby outcrop, where the James Bond film Thunderball was filmed. Snorkel this marine cave at low tide and marvel at the shafts of sunlight that illuminate the cavern. Opposite is Big Major Cay, where you can swim with the Exumas pigs on Pig Beach.
Day 5
Sail onwards towards Shroud Cay, which is part of the Exuma Cays Land and Sea Park. Don't forget your paddleboard or kayaks so you can explore the shallow mangroves and creeks that meander across the island. You'll be able to spot turtles, rays and nurse sharks. Once you reach the east side of the island, you will enter a vibrant blue lagoon and set foot on one of the most beautiful beaches in the Bahamas. If you want to stroll Driftwood Beach and take the steep walk to Camp Driftwood, be aware that you can no longer leave mementos, only rocks. It was from this lookout point that the US authorities spied on Norman's Cay and its drug trafficking activities.
Day 6
Norman's Cay is an abandoned former drug trafficking island run by Carlos Lehder, which explains its runway. You can snorkel the smuggler's plane wreck, which rests in just 10ft of water on the south-west coast of the island. Or how about a barefoot walk on Twinkie Beach to forage among the seashells and then dine at Norman's Cay Beach Club to watch the sunset.
Day 7
Snorkel around Wax Cay and bring your Hawaiian sling to catch lobsters or Nassau groupers. Late in the morning, head back to Nassau and enjoy the pool, beach and restaurants on the marina site.
Day 8
Check out of the boat. Depending on your return flight, you are welcome to leave your luggage at our welcome center and enjoy the site all day. Don't forget to get back in touch to book your next Dream Yacht Charter.
Useful information for an Exumas boat charter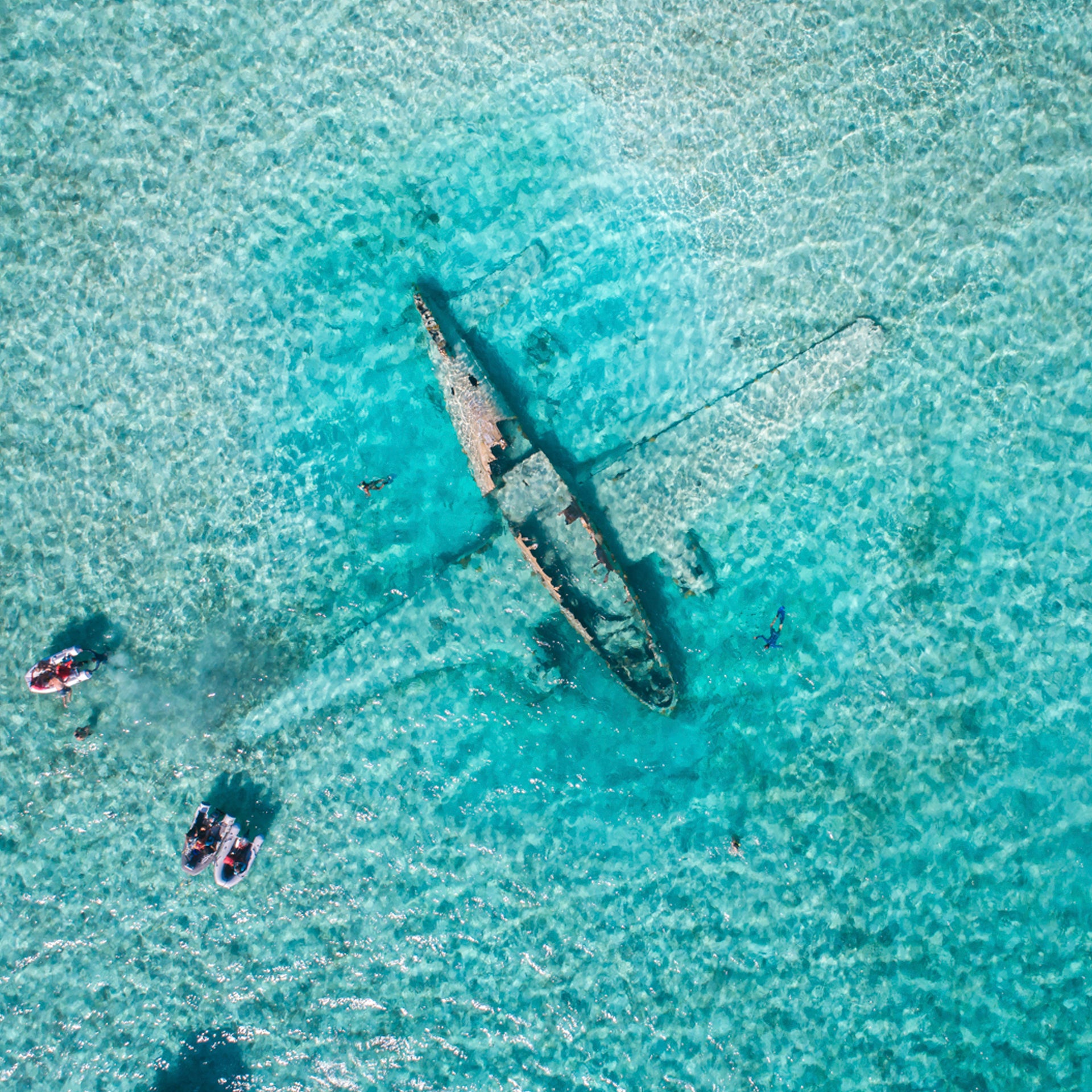 Where are the Exumas located?
The Exumas is an archipelago that is part of the Bahamas and starts southwest of Nassau.
How to get to the Exumas from the US?
To get to the Exumas you can fly direct to Lynden Pindling International Airport (NAS) in Nassau with Delta, United, American and Air Canada airlines.
We can arrange airport transfers on request and the airport is a 30-minute taxi ride away from our base.
What is the language spoken in the Exumas?
The language spoken in the Exumas is English.
What is the currency for the Exumas?
The currency in the Exumas is the Bahamian dollar (BSD). US dollars (USD) are also widely accepted.
What documents do I need to sail the Exumas?
To enter the Bahamas you will need a US passport valid for the duration of stay.
Talk to us to make sure you have the correct documents before you travel for your Exuma yacht charter.
How do I get around the Exumas?
Major car rental companies operate their offices at all airports, so please refer to airport websites for working hours and contact details. We can arrange airport transfers on your behalf.
Taxis are regularly available in front of the airport buildings and at most marinas, but make sure you have some cash as they don't take credit cards. On the Out Islands, taxis aren't metered and fares should be agreed in advance. They can also be shared with residents in carpool arrangements.
What is the Wi-Fi like in the Exumas?
There is free Wi-Fi in our marina to use on your Exuma yacht charter. You'll also find free Wi-Fi in downtown Nassau and Freeport if you visit cafes and restaurants. The access is intermittent in the Exuma Park.
What regulations are there in the Exumas?
Spearfishing is illegal in the Bahamas.
Where can I find weather forecasts in the Exumas?
You can find Exumas weather forecasts on WindGuru.com website. The Cruisers Net broadcasts weather forecasts and tides each day on VHF channel 68 at 8.15am.
What provisioning is there in the Exumas?
There is plenty of choice and you can stock up at the local supermarkets. Please refer to the base guide.
You can also arrange provisioning in advance by ordering from Nassau Grocery online.
What baggage can I take on my Exumas sailing vacation?
Please only take soft bags and not suitcases as they are too cumbersome on board.
What is the electrical current in the Exumas?
The electrical current in the Exumas is 110V.
What is the dialing code for the Exumas?
The dialing code for the Exumas is +1 242.
What is the cancellation policy for Sail Share?
We highly recommend you arrange travel insurance in case you need to cancel for an unexpected reason to cover non-refundable deposits.
Our Sail Share cabin cancellation fees are:
More than 90 days before original embarkation date: 25% of the charter fee
89 – 60 days before original embarkation date: 50% of the charter fee
59 – 30 days before original embarkation date: 75% of the charter fee
Fewer than 29 days before original embarkation date: 100% of the charter fee
How flexible is the itinerary for a Sail Share charter?
Our yacht itineraries are designed by our destination experts and are set to showcase the best of the destination's highlights. They are set and not flexible, even if you book all the cabins.
What happens if the weather changes while sailing on a Sail Share charter?
The skipper may decide to change the itinerary if there is bad weather.
Can I choose which cabin I want when I book a Sail Share?
Choose a double cabin with shared bath, or private bath for an additional fee.
Are there child or age restrictions for Sail Share?
Minimum Age: 16 years old
Get inspired! #MyDreamYacht
Follow our customer's journeys & share your own amazing experiences on Instagram
Absolutely amazing! Fred + Isabelle were so accommodating and did so much for us. Isabelle's food was incredible. Thanks so much!
Laura
Exumas Cabin
Excellent. Very professional and great service!
Thomas
Antigua Bareboat
Just what we needed coming out of a year of lockdown, to see new places and connect with nature. Highly recommended for your next sailing adventure!
Johan
St. Martin Bareboat
Excellent cruise and very good stay. Skipper attentive, very pleasant and very professional.
Maxime
Guadeloupe Skippered
Just returned from another fantastic sailing week at your base in Pula and I would like to thank everyone involved for making this possible on such short notice and without any problems.
Mathias
Croatia Bareboat
The marina itself is a perfect starting point with great facilities! The Lagoon 42 was in good condition and the skipper was amazing and very knowledgeable of the area."
Jonathan
Spain Skippered
What an AMAZING experience. We've just returned from a week long skippered charter from Corfu, sailing around the beautiful islands of the Ionian. Paxos, Antipaxos and Corfu Old Town were beautiful and the secluded bays we had the pleasure of visiting thanks to our local skipper, Nicholas, were simply overwhelming. Fly and flops are no longer for us – we'll be chartering with DYC for the foreseeable future.
David
Greece Skippered
Our group of 10 had an AMAZING time in French Polynesia from May 21-28, 2022! The food was amazing, our captain and chef, husband and wife: Henry and Mehee (sp), were incredible and the whole experience on board was a dream! We can't wait to book another trip through DYC
Katie
Tahiti Crewed Premium
DYC provided a great sailing experience for my extended family on 2 monos out of Scrub Island. The boats were in great shape and preformed perfectly and the staff were friendly and helpful. Having worked for a number of charter companies over the years DYC is one of the best.
Charlie
British Virgin Islands Bareboat
I'm currently in the Maldives and having the time of my life. Captain Jack and the crew are professional, safe and FUN! The boat is immaculate and the food is delicious. He even makes CAKE! The beds are surprisingly comfortable and we are all sleeping 9 hours a night. If you like island hopping, there is no other better option than Dream Yacht Charter. We will be booking Tahiti next year.
Cynthia
Maldives Cabin
The new boat was in fabulous shape. We had the greatest possible experience exploring archipelago waterways and islands. I could never imagine this might be so much fun and joy and we are already looking forward for the another upcoming trip in Ionian.
Vyautas
Scandinavia Bareboat
Baja is my favorite place now. There was something for everyone: sailed under northerlies with mostly calm evenings, snorkeled, fished, bummed it on the sandy beaches, enchanted by pelicans feeding, greeted by the barking sea lions and explored the Ispiritu Santo island geology. DYC La Paz base provided competent professional support with a well provisioned and maintained boat. We were nourished well by an onboard cook arranged with DYC freeing us all for more play. A vacation and an adventure connected with nature.
Taiyoko
Mexico Crewed Premium
All staff were fantastic and made our trip very memorable. Incredibly friendly and welcoming, the food was amazing. The service throughout the trip was always first class!
Tommy
Thailand Cabin
Absolutely recommended. Perfect service and set up. Will charter again and will recommend Dream Yacht Charter anytime.
Zahradnik
Turkey Bareboat
I just returned from 3 weeks of amazing sailing with my family on one of your catamarans in Sardinia. I would like to express my thanks to our skipper Simone and Daniela, our hostess.
Giles
Sardinia Skippered
For a first cruise as a skipper, the Mediterranean is great. The Dream Yacht Charter service is too!
Thomas
France Bareboat
We had an incredible trip and actually got engaged on the first night of our sail! We will certainly be back one day. Thank you for getting us ready for our charter. We were definitely beginners but he gave us a very thorough but very easy to follow training and it gave us a lot of confidence.
George
Australia Bareboat
The on board experience was way beyond our expectations. Isabelle provided exceptional three course meals. We could not believe her creativity and delicious meals. Thomas was an excellent skipper. He was always on the lookout for our needs. Thanks guys!" Spira, New Caledonia bareboat with crew charter
Spira
New Caledonia Easy Crewed
Yet again another fantastic sail with another great crew. Thanks again to a great captain and cook. Was totally fantastic.
Connie
Seychelles Cabin
It's always a pleasure sailing with DYC in the UK. Great team, great boats, great sailing. Very flexible and work hard to make your trip a success. Many thanks.
Derek
Brittany Bareboat
Unforgettable spots to snorkel and beaches. Very experienced crew. Highly recommend.
Simone
Cuba Cabin
What's new?
Stay up to date with news and events or get some inspiration for your next yacht charter and pick up useful tips by reading our latest blogs.
Go to Blog