Have you been longing for a tropical island holiday complete with long, uncrowded stretches of beach, gentle sea breezes, near-empty anchorages, rare flora and fauna, and world-class snorkelling? It might sound like a dream, but it's all waiting for you in the "secret" Spanish Virgin Islands.
Even among salty sailors the Spanish Virgin Islands are relatively unknown. And as lovely as the other Virgin Islands are, they can't touch the Spanish Virgin Islands for pure unspoiled natural beauty, lack of crowds and ease of travel. For the nature-lovers, solitude-seekers and budding explorers among you, consider adding the SVI to your bucket list.
So exactly where is this elusive paradise? The Spanish Virgin Islands are Puerto Rico's island paradise and located not too far from the US Virgin Islands, making a charter from our base in St. Thomas a great travel gateway to explore the SVI.
A Spanish Virgin Islands sailing itinerary focuses on the offshore island chain that includes visits to the 2 larger main islands of Culebra and Vieques, as well as smaller islets and cays including Culebrita, Cayo Luis Pena and Palomino Island. And, a sailing adventure is the perfect platform for island-hopping in this little-known sailor's slice of heaven.
While sailing the Spanish Virgin Islands keep your fishing poles and snorkel gear close at hand. The SVI is known for some of the most extraordinary snorkelling, diving and fishing to be had in all of the Caribbean. And, if you fancy a lobster dinner it's good to know that lobster season lasts year around.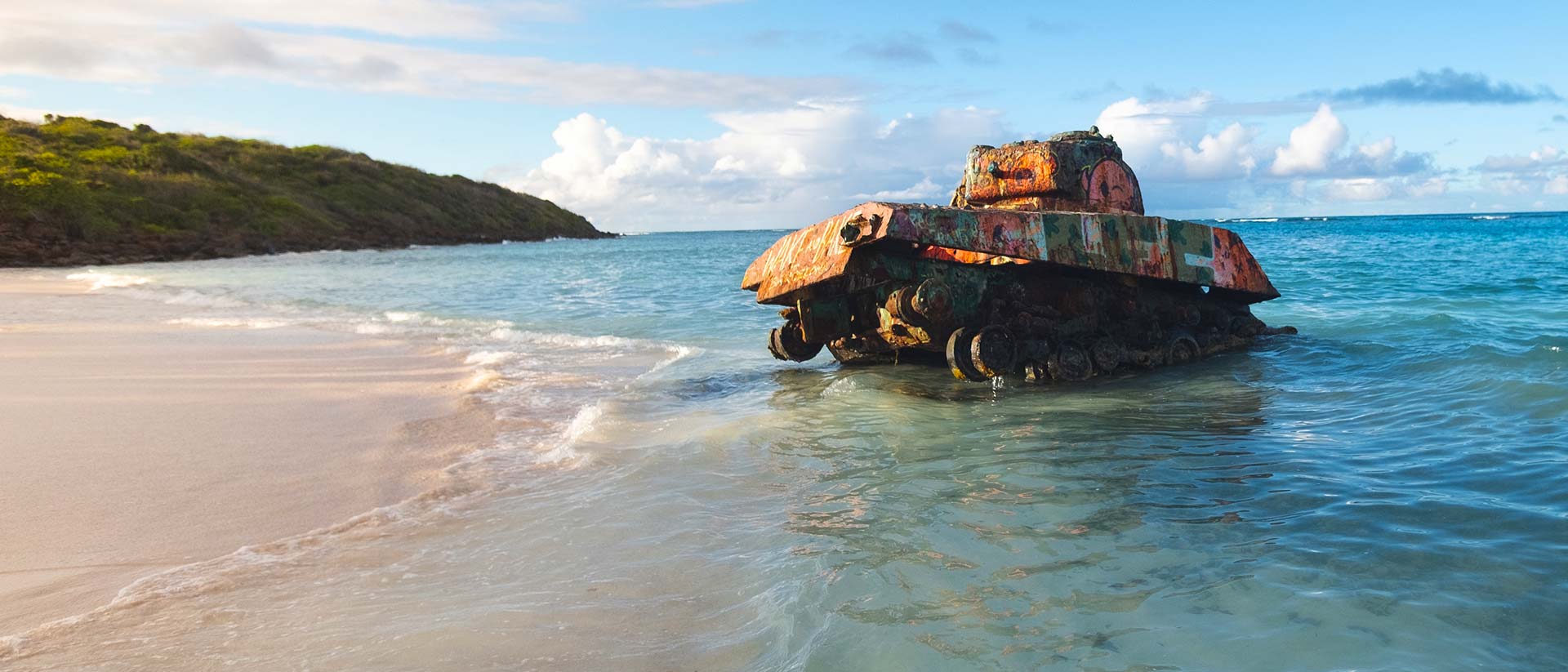 Culebra – Sailing the Spanish Virgin Islands
The quiet island of Culebra, is roughly 22 miles due east of Puerto Rico, and exploring from a yacht is best done from Ensenada Honda – a sleepy harbor that could be considered the unofficial sailing center of the SVI.
Culebra is a mere 7 miles long and 3 miles wide, with only about 2,000 residents. Here, you can truly get away from it all, unplug and reconnect with nature. There are no resorts, developments, shopping malls or cruise ships. What you can find are stunning natural settings, miles of pristine beaches, hiking trails, snorkelling sites, friendly locals and a taste of the "real" island life.
The only town on Culebra is called Dewey – a quirky, ramshackle collection of two-story wooden structures, where you can find a handful of bars and restaurants. Try the aptly-named Dinghy Dock restaurant, a local favorite where large circling tarpons keep watch for leftover nibbles to hit the water. There isn't much nightlife on Culebra, but Mamacita's may be the closest thing to it. Classic Puerto Rican food and frosty cocktails are accompanied by live music on the weekends.
Culebra is probably most famous for its beaches, with Playa Flamenco being a standout. The powdery sands here make the top ten best beaches lists quite regularly – even at the international level! You can comfortably spend time here, lazing the day away with a good book. Start early with a coffee and empanada from the food kiosks, and finish the day with an ice cold Medalla (Puerto Rican beer), fresh grilled fish and spectacular sunset.
If you've ever wanted to snorkel with sea turtles – and who wouldn't – the beautiful and secluded beach called Playa Tamarindo is a good bet. Here, the waters are shallow and rays and turtles can be seen feeding and frolicing in the sea grass. Most Spanish Virgin Islands cruising guides neglect to mention this favorite local spot!
Culebrita Wildlife Refuge
The small uninhabited island of Culebrita sits just to the east of her big sister Culebra, and is one of the most beautiful in the SVIs. The island is encircled in lovely beaches and the whole island has been set aside as a wildlife refuge.
Visit Playa Tortuga, or Turtle Beach, where sea turtle sightings are common – four different species of sea turtles are known to nest here. It's beautiful stretch of beach to enjoy lunch, and the snorkelling on either side of the harbour is top notch and teeming with tropical fish.
A trail leads from Playa Tortuga to the 19th-century Culebrita Lighthouse. This National Historic Monument is crumbling and abandoned, yet adds to the remote feel of the island and makes for an interesting exploration.
Cayo Luis Pena Nature Reserve
Cayo Luis Pena is a tiny island and nature reserve found just east of Culebra. You can't spend the night here, but it's a great place for lunch, hiking and snorkelling. Start on the east side and follow the trail to the top of the hill and over to the west side – quite possibly meeting up with a few of the resident goats on your way!
Wear your sturdy shoes and bring a packed lunch because the west side of the island is where you'll find an amazingly beautiful beach that you'll most likely have to yourself for the day.
Vieques – Spanish Culture and Culinary Delights
At 20 miles long and 4.5 miles wide, Vieques is the largest island in the SVI and is distinctly different than its neighboring island of Culebra. The larger land mass and larger population make Vieques the place to be for the culinary and culturally-minded visitor.
The beachside town of Esperanza is perfect for enjoying local cuisine, cocktails and shopping. Try the open-air El Quenepo restaurant for traditional Puerto Rican food including Mofongo, made from green plantain and often topped with pork or seafood. Those seeking the hip crowd will enjoy El Blok on Esperanza's main drag – the rooftop bar here is popular for its breathtaking 360-degree views.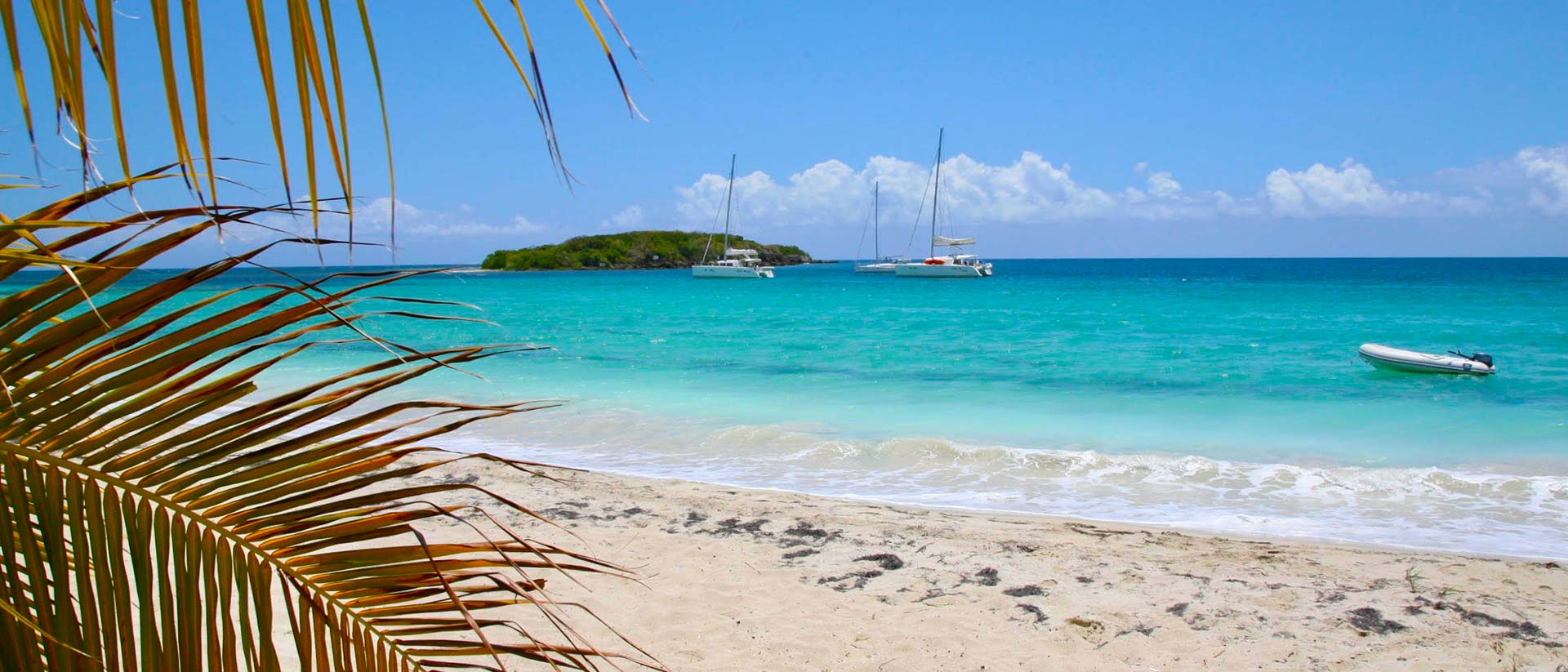 While ashore, hail a taxi for a ride inland for sightings of the wild horses known as "Paso Fino" ponies. These beautiful descendants of horses used by Spanish Conquistadors can be found roaming the beaches and roadsides and have free reign of the island.
No Spanish Virgin Islands cruising guide would be complete without mentioning Mosquito Bay – the famous bioluminescent bay's microorganisms emit a neon underwater glow when agitated. Reserve a nighttime kayaking tour to best experience this world-famous phenomena.
Mainland Puerto Rico
After sailing the Spanish Virgin Islands, and should your time and flight schedule allow, you'll want to plan a few days for exploring the mainland of Puerto Rico before you head for home.
The lush towering expanse known as the El Yunque National Rainforest is a must-see while in Puerto Rico. It's a particular favorite of those that like to hike. Entering the forest is free of charge, and there are several well-marked trails that range in difficulty.
Finally, enjoy the local cuisine and shopping in colourful Old San Juan, with a stop at Barrachina restaurant to try their famous Piña Colada cocktail. Nearby, the historic El Morro fortress towers over San Juan harbor. Built in the 1500's to deter sea attacks, the six-story fortress is now a top tourist attraction taking visitors through a maze of tunnels and barracks.
Start planning your yacht charter in the USVI and Spanish Virgin Islands, and experience the Caribbean as it was meant to be. Take the helm for the ultimate adventure, or hire a skipper and sit back and relax. For a more luxurious experience, an all-inclusive Crewed yacht charter with professional captain and hostess is an excellent option for exploring the Virgin Islands with ease.
Get more yacht charter information and inspiration on our blog page!