Yacht Charter Sardinia
Sardinia is the ultimate dream cruise destination, where you'll encounter secluded beaches, sparkling turquoise-emerald waters, chic ports and lively nightlife.
What's on this page
Highlights
Excellent food & wine

Picturesque villages

Stunningly scenic anchorages
Sail the Island of Sardinia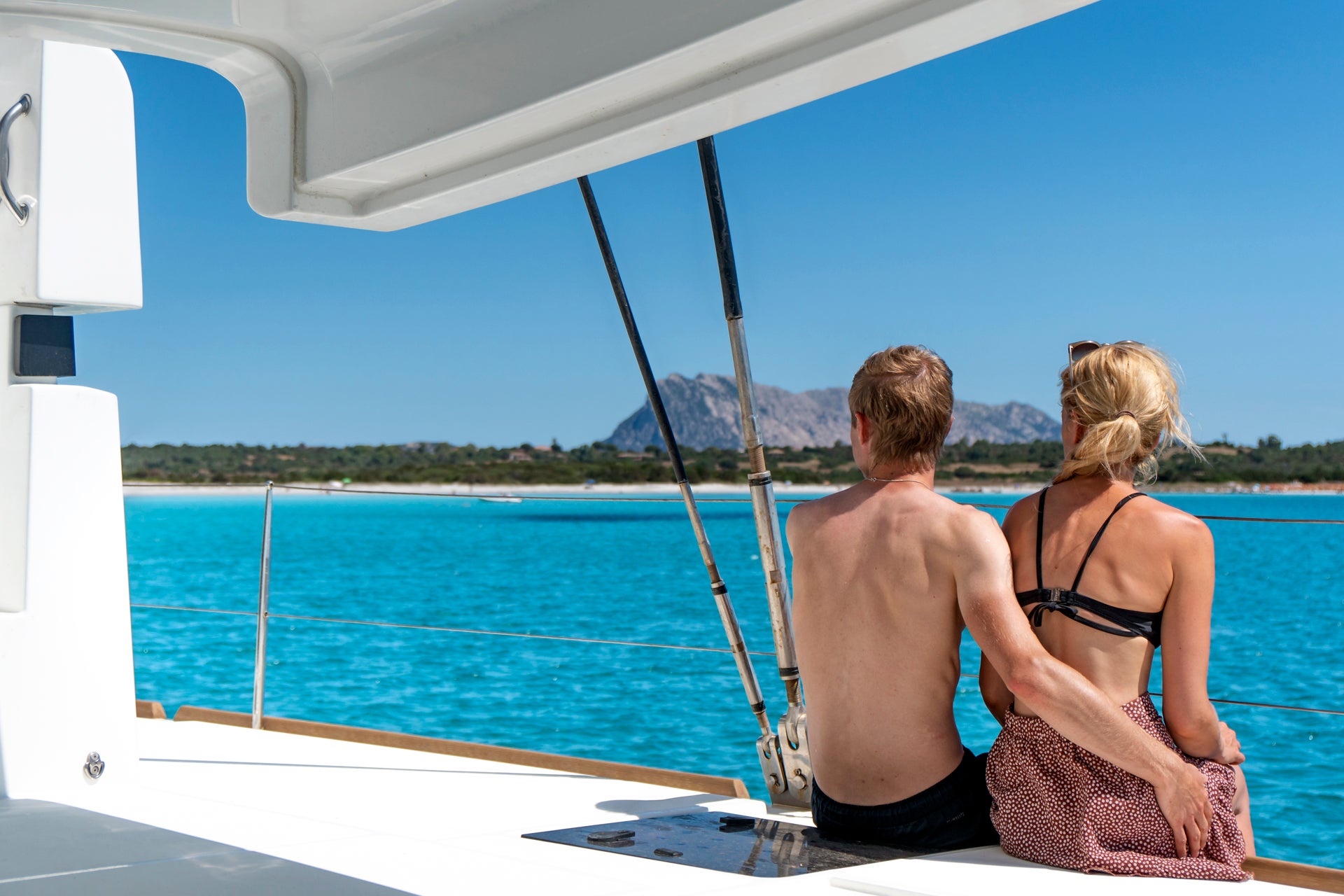 The island of Sardinia is off Italy's west coast in the Tyrrhenian Sea. Your Sardinia sailing adventure can begin from our base in Olbia on the northeast coast. From here, it's an easy sail to the Maddalena Archipelago and the glamorous Costa Smeralda – Sardinia's most coveted sailing areas.
Well known for their miles of craggy coastline, the world-famous Emerald Coast and the Maddalena Archipelago National Park and Marine Reserve are the places to find superb beaches and scenic coves. Here, you can swim, snorkel and take in stunning sunsets in the solitude of these largely uninhabited islands.
Enjoy boutique shopping in the super-exclusive ports of Porto Cervo and Porto Rotondo, where you can mix with the international jet set. With a wide choice of dining options, from local trattoria to fine dining, be sure to sample the local cuisine during your boat charter in Sardinia, especially the amazing fresh seafood found on the coast.
There's no better way to discover the islands and coast than with a Sardinia yacht charter. But to sail in Sardinia you will need a sailing license recognized by the local port authorities. Or you can hire a skipper. Read our guide to sailing qualifications for more information.
Things to do in Sardinia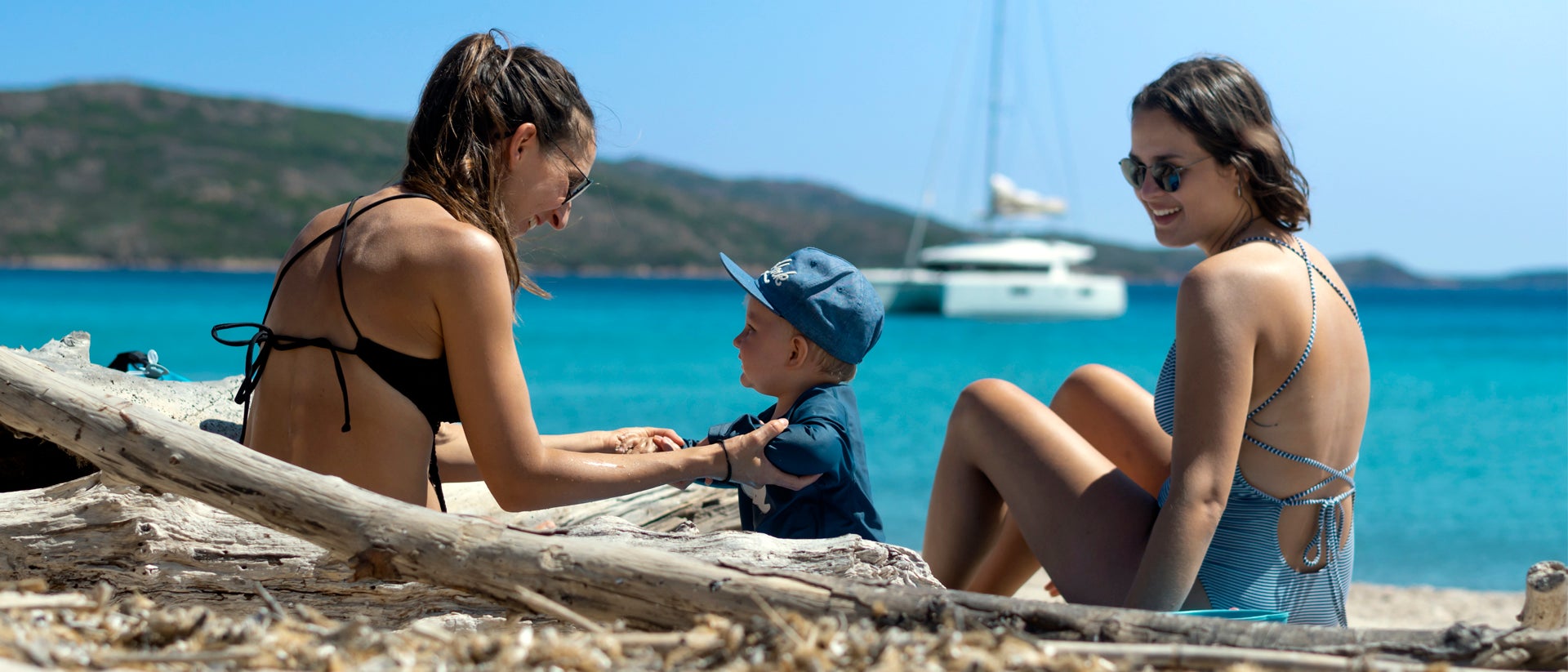 Snorkel the Tavolara Marine Protected Area
The islands of Tavolara and Cala Brandinchi are part of the Marine Protected Area of Tavolara, located on Sardinia's northeastern coast. One of the most scenic areas of the Mediterranean, it's also one of the most popular things to do in Sardinia due to its snorkeling opportunities, with many coves and inlets to explore.
Sail to Caprera
Caprera is known for its pink granite rocks, as well as being the place where Italian freedom fighter Giuseppe Garibaldi lived out his final days. His white house is a popular attraction. Part of a nature reserve, the island is calm, peaceful and scenic – ideal for a quiet evening at anchor.
Visit Cala Spalmatore beach
Stretched between two rocky headlands and embellished with pink rocks, Cala Spalmatore is among the best-known beaches of La Maddalena. Its translucent, shallow waters are ideal for families or for snorkeling. From the lookout point above the beach, you can enjoy a panoramic view of the western coast of Caprera.
Visit glamorous Porto Cervo
This beautiful and well-equipped port is worth a visit while on your Sardinia yacht charter. During the summer it comes alive with superyachts and famous personalities. It's the perfect place for shopping, dining and people watching.
Explore Cannigione
In contrast to Porto Cervo, Cannigione, with its pastel-colored buildings, has a perfectly laid back atmosphere, making it one of our top things to do in Sardinia. Stroll the pretty streets and sample local specialities at one of the many cafes and restaurants. There are also interesting archaeological sites to visit, including the giant tombs in Li Lolghi.
Weather insights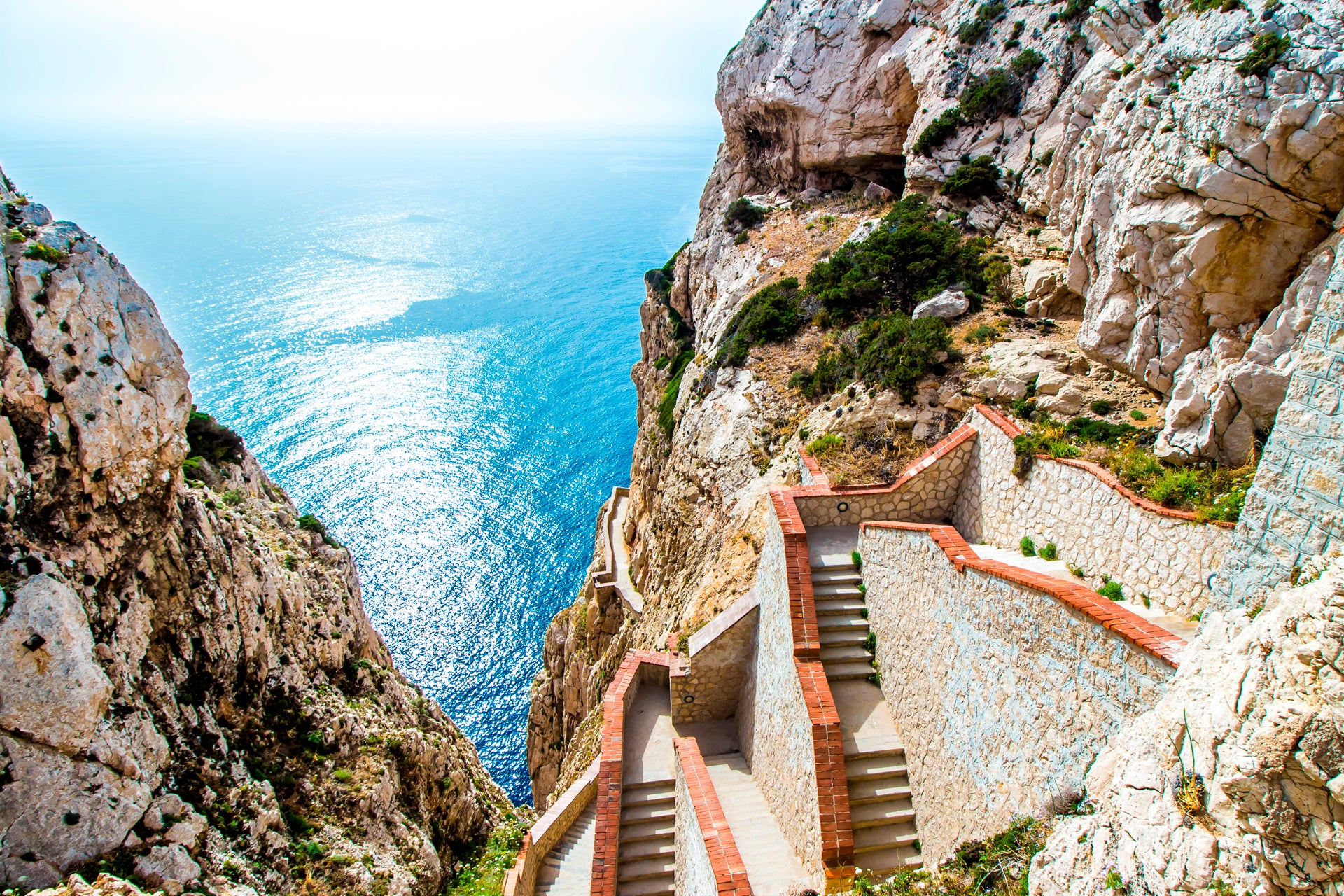 When is the best time to visit Sardinia?
Sardinia enjoys a Mediterranean climate with long, dry and hot summers, making it the perfect setting for outdoor fun. Winters are short and relatively warm. The shoulder seasons of mid-spring and early fall also offer pleasant weather and sailing.
What are the sailing conditions in Sardinia?
The prevailing wind is from the west all-year round. During the summer, the wind is normally present due to the thermic breeze, which makes for excellent sailing conditions.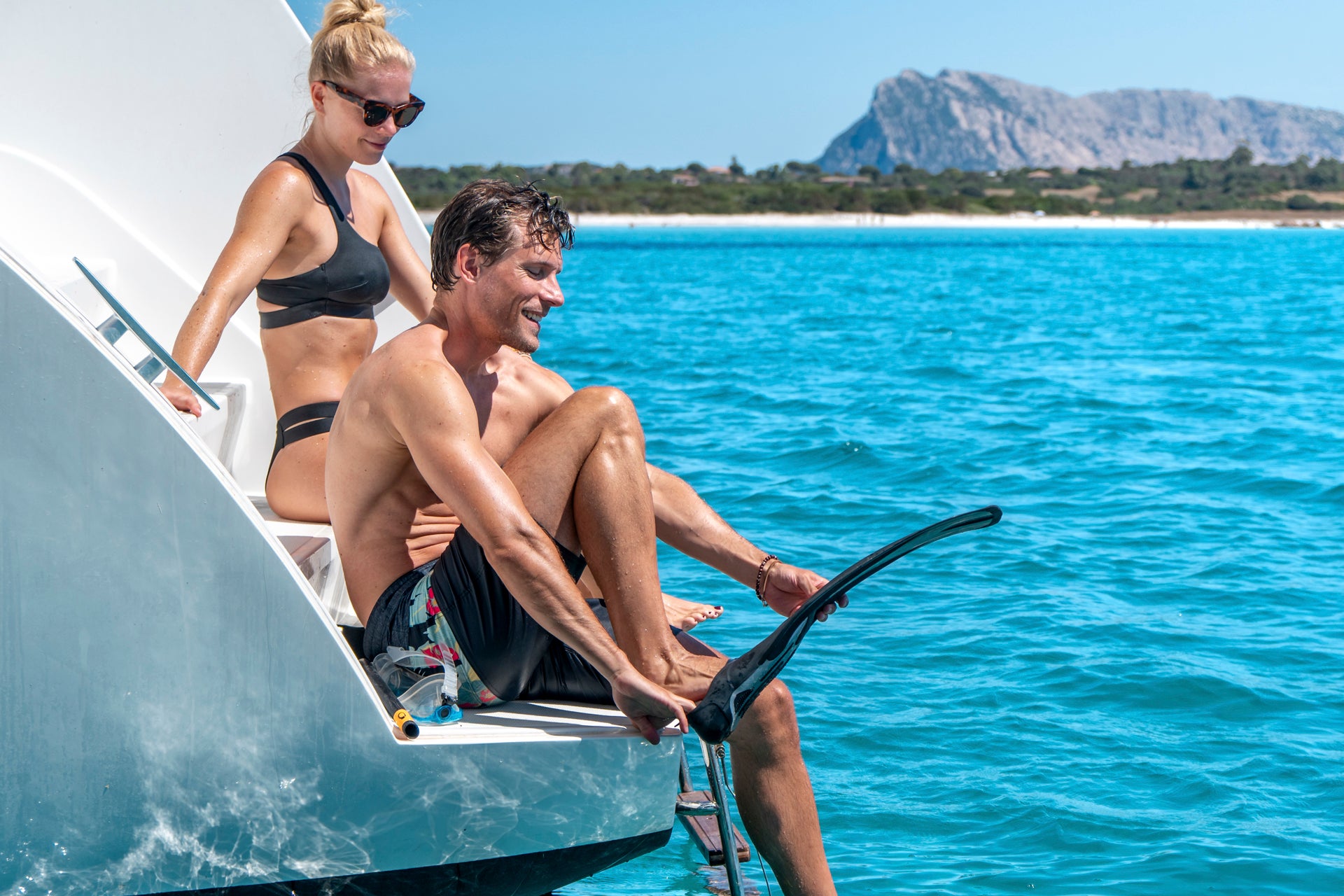 Yacht rental, Sardinia with Dream Yacht Charter
Boat charter Sardinia
Sail Sardinia and see the exquisite Maddalena Islands. Take the helm on one of our catamarans or monohulls and design your perfect itinerary for this part of Italy.
Skippered boat charter Sardinia
Not being able to sail doesn't stop you from enjoying a sailing holiday in Sardinia. Hire a skipper to sail the yacht for you and your guests while you relax.
Sardinia by the cabin charters
Enjoy Sardinia without any planning, sailing or cooking with a cabin charter. Just reserve your own private cabin and bathroom and we'll do everything for you.
Sardinia crewed charters
Take your holiday to a new level of luxury with our personalized Sardinia crewed charters. Hire your own private luxury yacht and relax while our captain and chef look after you and your guests.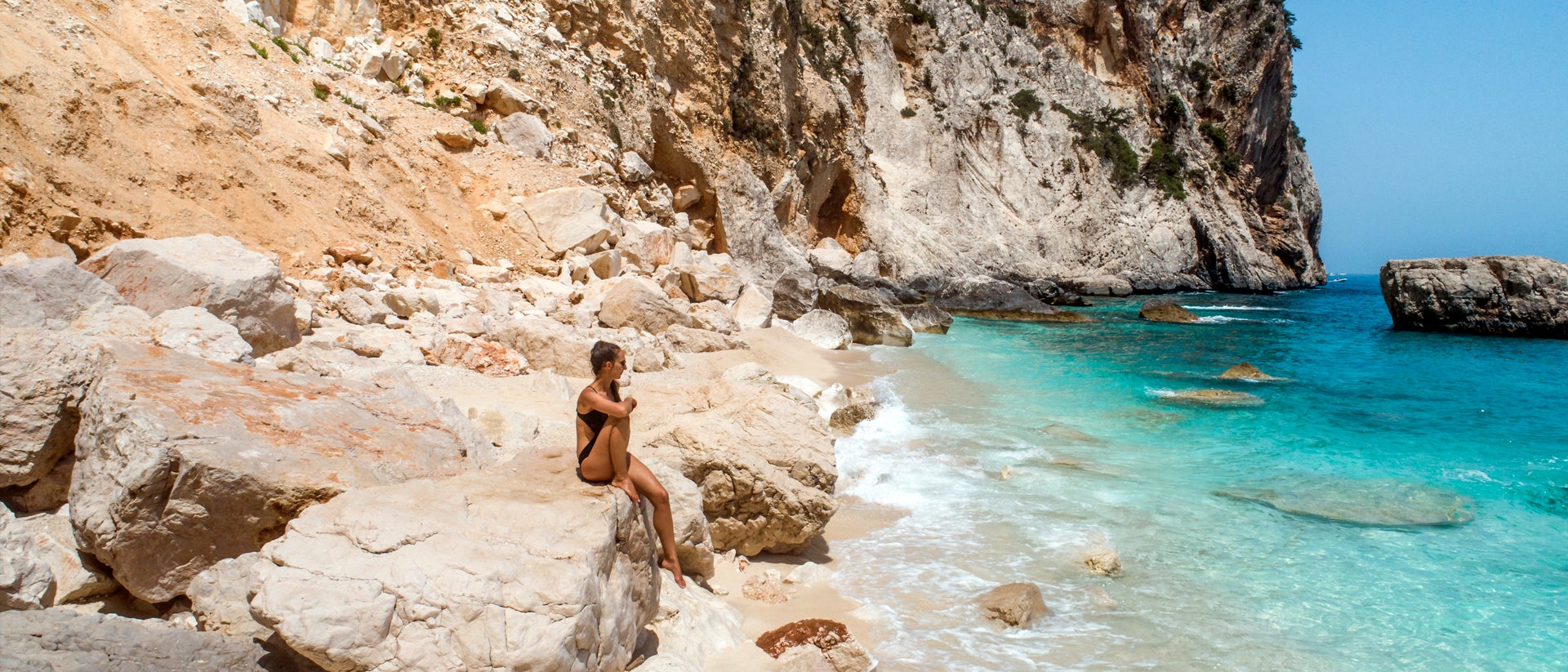 Sardinia sailing itinerary
Take a look at our Sardinia sailing holiday suggestions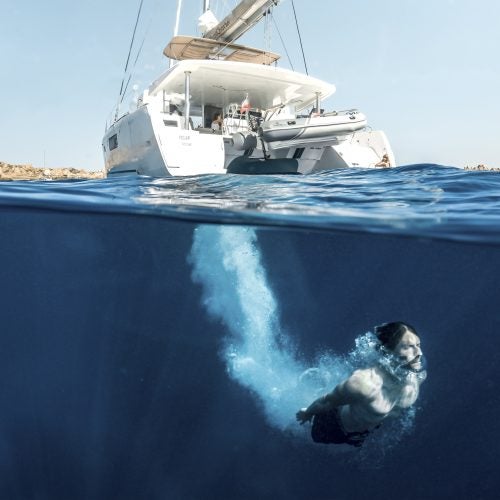 8-day itinerary Sardinia north
Day 1
Overnight in the harbor or nearby anchorages, including Liscia delle Salina in the south of the Gulf of Olbia, or Isolotto Porri in the north.
Day 2
In the morning head north to Capo Figari 5nm away, Spend the night in the anchorage of Liscia di Vacca, 17nm away from Olbia. On the way, many anchorages are accessible for a day stop.
Day 3
Enter the Maddalena archipelago, which is protected so you will need to follow the rules for access, fishing and navigation. Sail towards the east coast of Caprera island with the wonderful anchorages of Cala Portese or Cala Coticcio. Overnight on Caprera west coast or northeast of Maddalena island (Cala Spalmatore, Porto Massimo or Cala Garibaldi).
Day 4
In the morning, discover the group of islands that is the jewel of the Maddalena archipelago, including Santa Maria, Budelli and Razzoli. Enjoy the idyllic anchorages of Cala Santa Maria & Cala Giorgio. Depending on weather conditions, you can spend the night in the vast & well-protected anchorage of Porto Liscia on the north coast of Sardinia (6nm away).
Day 5
Sail between the Maddalena islands and Sardinia, in front of Palau, then towards Cannigione in the Gulf of Archazena (about 12nm). You'll find provisioning and/or restaurants in this authentic and peaceful village. If you like to party, you can head instead to Porto Cervo, 15nm from Santa Maria.
Day 6
Do not miss Costa Smeralda and Cala di Volpe (12nm from Cannigione or 6nm from Porto Cervo) on your way with its tropical look. Further south, you'll find many anchorages close to Portisco or Porto Rotondo, choose one of them for the night.
Day 7
Head to Cala Moresca or Golfo Aranci just after Capo Figari (8nm away from Portisco). Enjoy a last swim before steering back to Olbia (5nm away) for 5pm. Night on board.
Useful information for yacht charters in Sardinia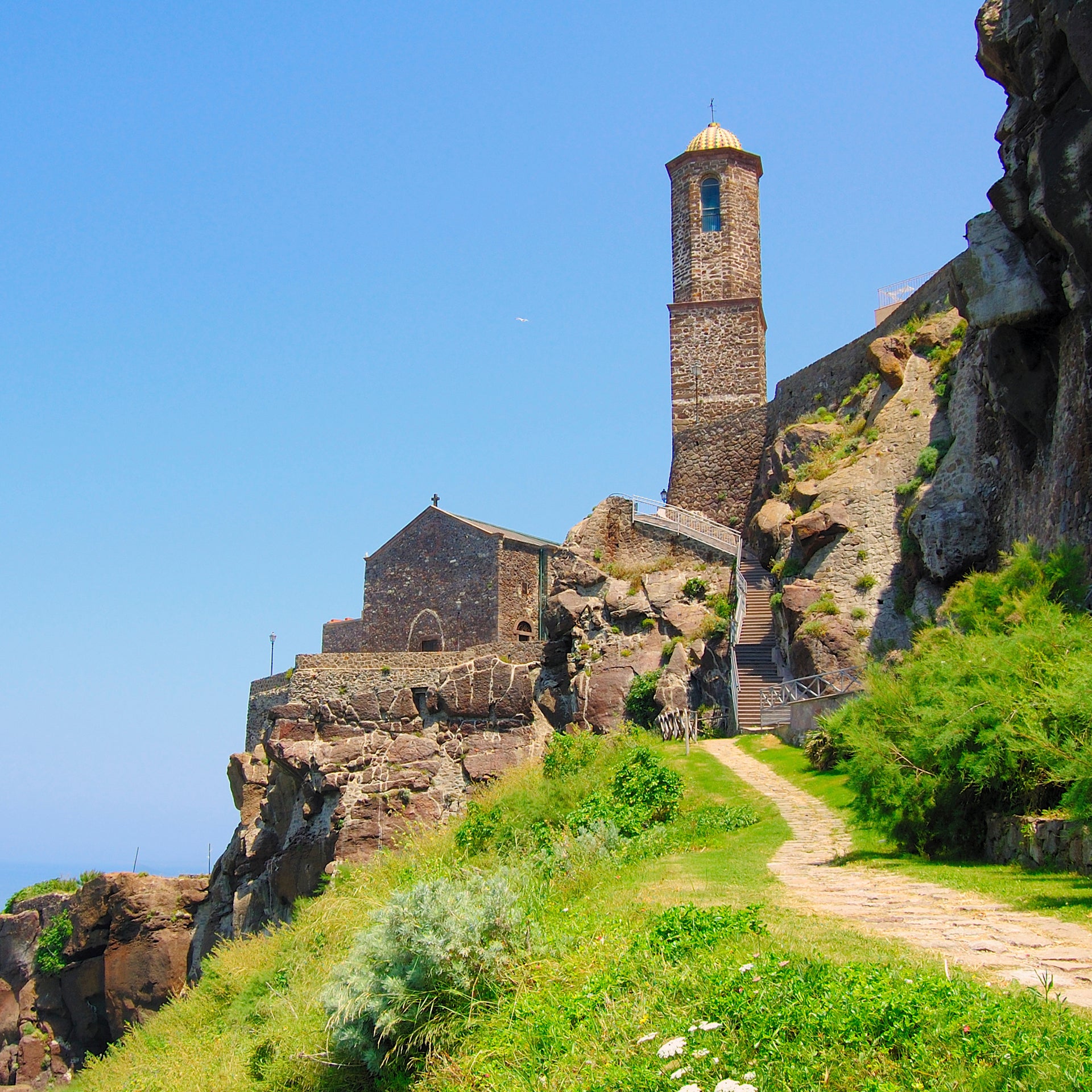 How do I get to Sardinia from the US?
To reach our Sardinia base, fly into Olbia Costa Smeralda Airport (OLB) via major Italian or European cities.
We can arrange taxi transfers to our marina where your Sardinia yacht charter begins, which takes about 15 minutes.
What language is spoken in Sardinia?
The first language of Sardinia is Italian, although the Sardinian language of Sardo is still spoken.
What is the currency for Sardinia?
The currency in Sardinia is the Euro.
What are the customs restrictions for Sardinia?
As long as you stay in the EU during your Naples yacht charter, you do not need customs clearance.
What documents do I need to sail Sardinia?
US citizens required a passport valid for at least three months beyond the intended stay in Italy.
You will also need a sailing license recognized by local port authorities.
Talk to us to make sure you have the correct documents before you travel.
How do I get around Sardinia?
The main car rental companies are located in the airport. Please visit the airport websites for more information. Taxis are also regularly available in front of the airport. In the high season, it is strongly recommended to book in advance.
What is the Wi-Fi like in Sardinia?
You can request a router with sim data for your charter in advance. Phones work in most places, but don't forget roaming charges!
What regulations are there in Sardinia?
Night sailing is not permitted. Visit Natural Park of Maddalena (daily fee required) and Protected Area of Tavolara (no fee required) to find the rules covering nature reserves.
Where can I find weather forecasts in Sardinia?
You can find weather forecasts ahead of and during your yacht rental in Sardinia on the Meteoblue website.
What provisioning is there in Sardinia?
There are plenty of choices for provisioning in Sardinia. Please refer to the base guide.
What baggage can I take on my boat charter, Sardinia?
Please only take soft bags and not suitcases as they are too cumbersome on board.
What is the electrical current in Sardinia?
The land electrical current in Sardinia is 220V.
What is the dialing code for Sardinia?
The dialing code for Sardinia is +39.
Why should I book with Dream Yacht Charter?
Dream Yacht Charter is now the world's leading yacht charter company and offers you:
A diverse fleet of yachts with a wide variety of models and manufacturers to suit every type of sailor.
We have +60 exciting destinations and we're a pioneer in finding new sailing grounds.
You can be assured of our commitment to customer service excellence.
You'll receive a warm and friendly welcome from our base teams who will share regional tips, recommendations and advice.
We're a trusted seller of new and used boats and an innovator in charter management options – sailing is our business.
What licenses do I need to hire a yacht and sail myself?
The skipper of a yacht has primary responsibility for the safety of the crew and yacht at all times. Many destinations require just relevant experience demonstrated by a sailing resume.
To charter in the Mediterranean, it is mandatory that you hold a sailing license recognized by the local port authorities for bareboat charters in Italy, Greece, Croatia, Spain, Malta, Montenegro and Turkey. Other destinations that require a license include Madagascar, Seychelles, Thailand, Brazil and Sweden. For Belize, the port authority will issue a certificate of competency and an application is made on arrival.
You must take your proof of competency and original certificate with you on your charter. We advise you to contact our team about your qualifications and the destination requirements before booking.
By accepting the yacht contract you are confirming that you and/or members of your crew are capable and competent to sail the yacht in the conditions and cruising area of charter. We reserve the right not to hand over the yacht if, after inspection, it is the opinion that the charterer is not, or may not be competent to be in charge of the vessel.
What is a skippered yacht charter?
A skippered yacht charter is when you rent one of our boats for you and your guests and a professional skipper sails it for you. No sailing experience is needed.
You will need to choose a yacht with a cabin for your skipper to sleep in as they are responsible for your yacht for the duration of your charter. We will find the skipper for you once you have found your perfect destination and yacht.
You will need to pay for your skipper's food. You can invite the skipper to dine with you on board or out at a local restaurant.
Get inspired! #MyDreamYacht
Follow our customer's journeys & share your own amazing experiences on Instagram
What's new?
Stay up to date with news and events or get some inspiration for your next yacht charter and pick up useful tips by reading our latest blogs.
Go to Blog