Yacht Charter Corfu
A yacht charter Corfu is the gateway to the Ionian Islands on the western side of mainland Greece. Sail the archipelago and enjoy fertile landscapes, clear blue waters and a unique mix of civilizations and cultures.
What's on this page
Highlights
Ancient ruins

Delectable seafood

Scenic fishing villages
Corfu sailing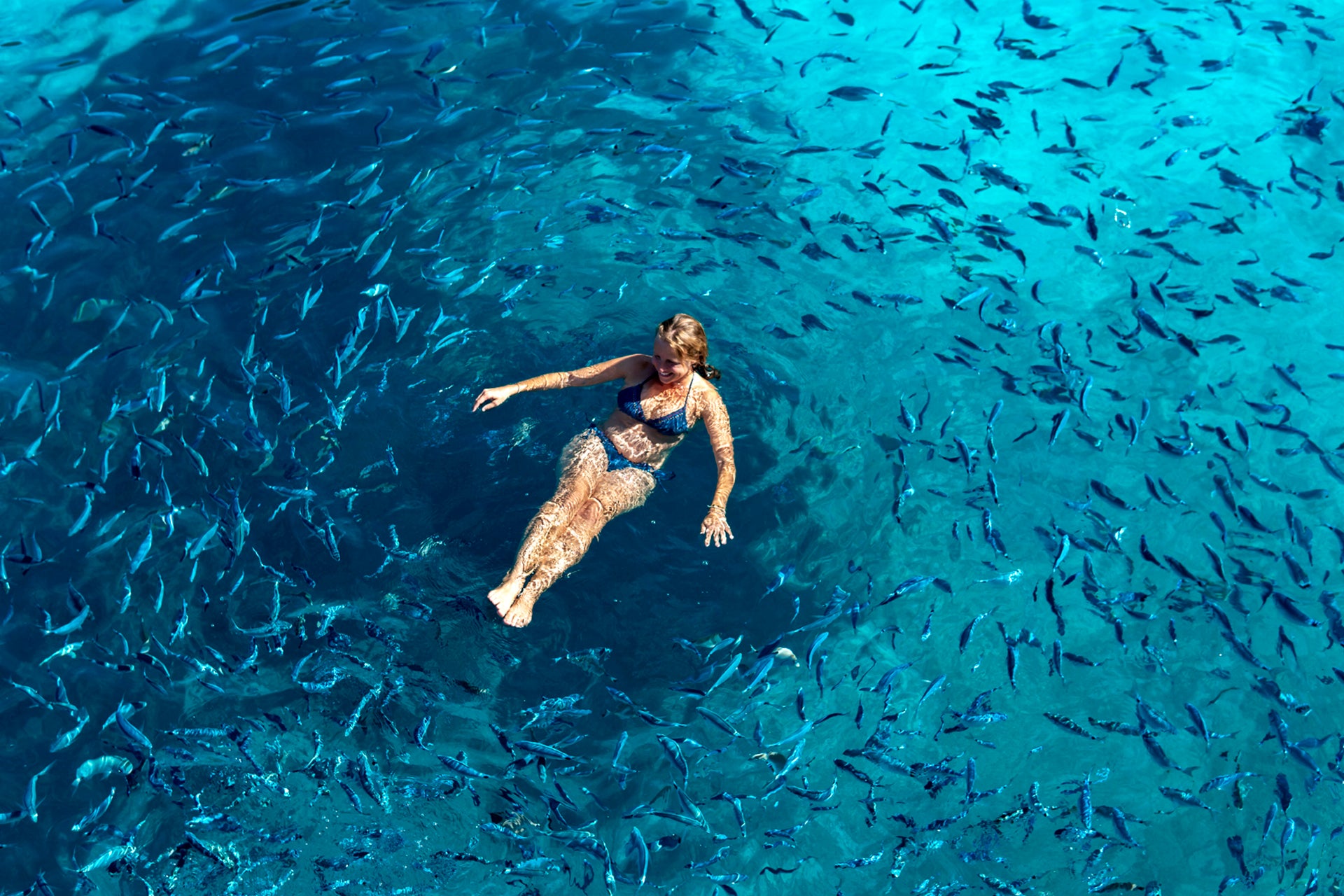 Our base at Gouvia Marina is on Corfu, the most popular of the Ionian islands due to its stunning beaches, rugged mountains and intriguing archaeological sites.
Start your Corfu sailing vacation with a short trip to the small island of Paxos. Anchor in the quaint village of Lakka and relax on a scenic pebble beach, visit the charming port town of Gaiosor or enjoy a coffee at a seafront cafe watching the fisherman bring in their catch.
Nearby, Sivota Mourtos on mainland Greece is the perfect place for an afternoon swim in a calm, crystal lagoon. The village promenade is bustling with inviting tavernas with sea views and delicious local cuisine.
Other highlights to take in on your yacht hire in Corfu include the ancient city of Nikopoli on the Preveza peninsula, the colorful village of Parga on the tiny natural island of Antipaxos. So be sure to add these to your itinerary for the perfect Corfu yacht charter.
For Corfu sailing, you'll need a sailing license recognized by the local port authorities, or you can hire a skipper. Read our guide to sailing qualifications for more information.
Things to do in Corfu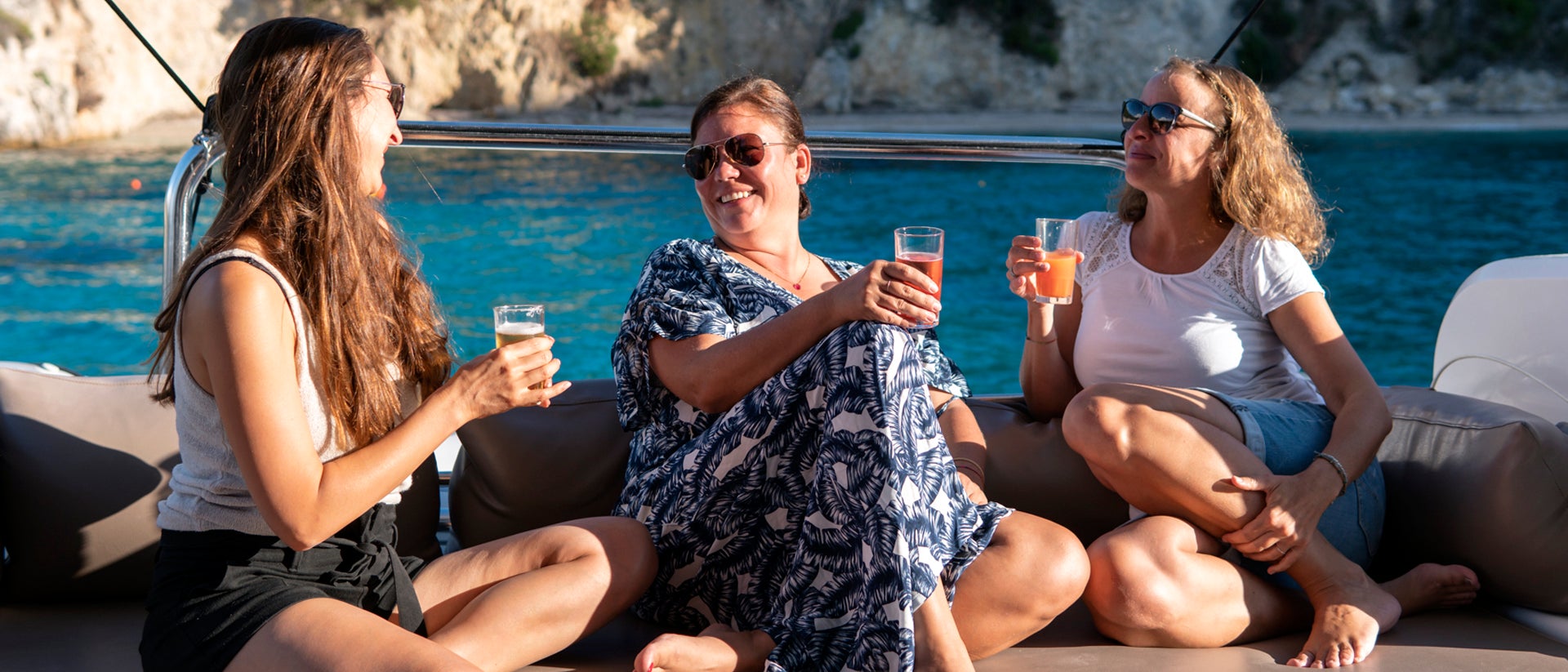 The old fortress of Corfu
The fortress towers over the eastern side of the town on a rocky peninsula jutting into the sea. Two stone stairs lead to the highest point, where the views of the Ionian sea and Corfu are incredible.
Stroll around Achilleon Palace on Corfu
The impressive Achilleon Palace of Sissi was built in 1890 by Empress Elizabeth of Austria. While on your sailing charter in the Ionian islands, take a tour of the palace and grounds to learn about its celebrated past.
The Venetian Castle of Parga
The Castle of Parga overlooks the town and was built by 11th-century residents to protect them from pirates and the Turks. Enjoy a peaceful walk up the steep street to the castle from the center of town to admire the architecture.
Take a dip in the Acheron River at Parga
According to Greek mythology, the river is a door to the underworld and the realm of Hades. We'd definitely recommend adding this trip to your list of things to do in Corfu. Refresh yourself in the river on a hot day, go rafting or go for a horse ride. Nearby you can also see the ruins of the Necromanteion of Acheron, an ancient Greek temple.
Visit Santa Maura fortress at Lefkas
Head to the lagoons of Lefkas, known for its wildlife, and marvel at a well-preserved castle from the 13th century and a 15th-century church. The fortress is surrounded by water so you get a great sea view. Bring a picnic as there are no facilities.
Weather insights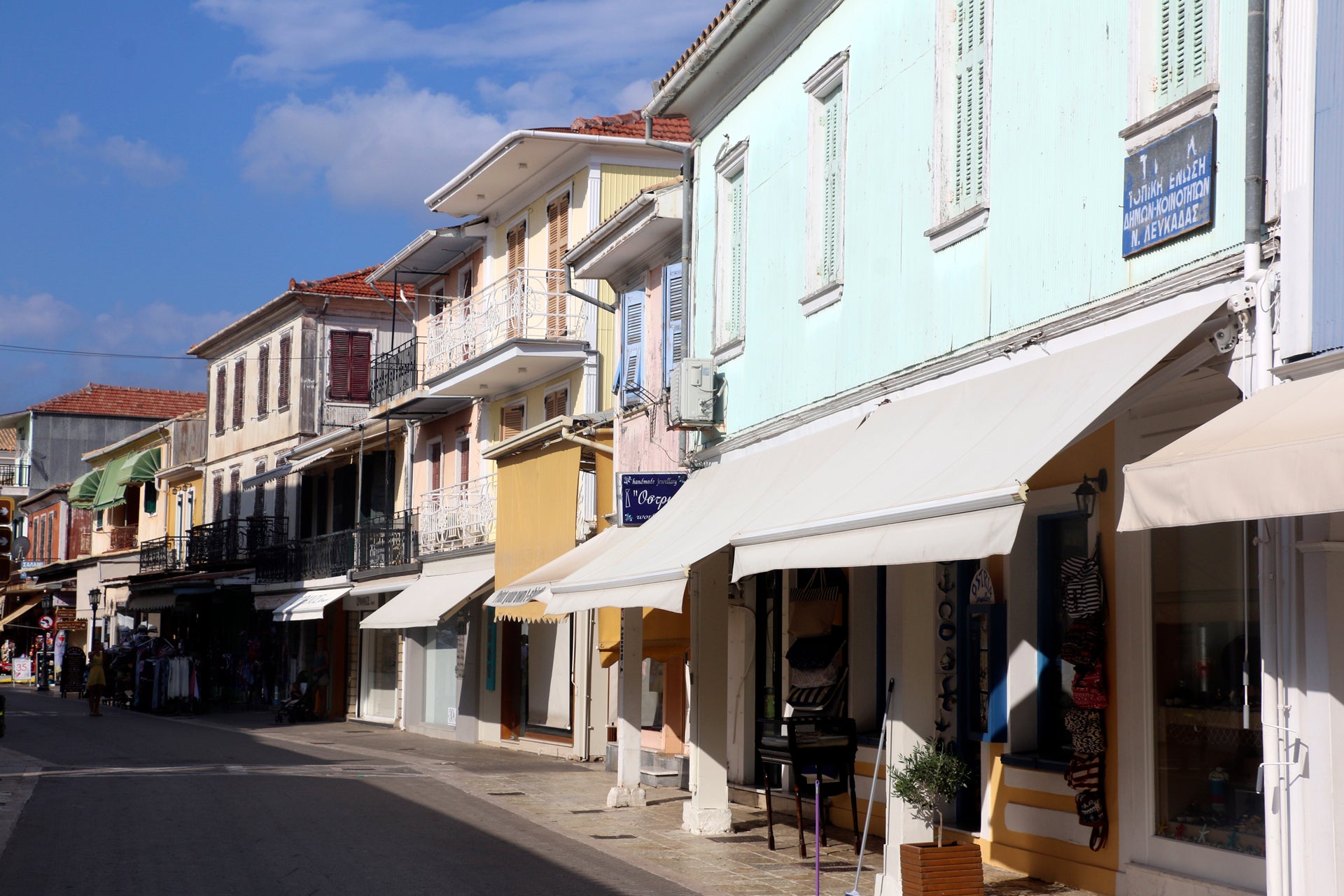 When is the best time to visit Corfu?
The best months for a Corfu sailing vacation is in the summer, when the weather is hot, sunny and dry. July and August are the hottest months in Corfu, with an average high of 88°F and a sea temperature of 75-77ºF. June is a good month to visit as there are fewer crowds and the weather is warm.
Spring sailing is pleasant with temperatures reaching 75-82ºF in April and May, although the sea doesn't start to heat up until June with 72ºF. During the fall, temperatures are still good averaging 82-73ºF (September/October) and the sea temperatures are still around 75ºF.
What are the sailing conditions in Corfu?
The sailing conditions for Corfu include a light to medium north westerly Ionian wind blowing in summer. This maistros wind (also known as the mistral) appears in the early afternoon and usually dies down during sundown.
When entering the bay of Gouvia, avoid the shallows by keeping to the north side and stay in the separation system (marked by buoys).
When returning to base on your yacht charter of the Ionian islands, go stern to or bows to and use the mooring lines, not your anchor.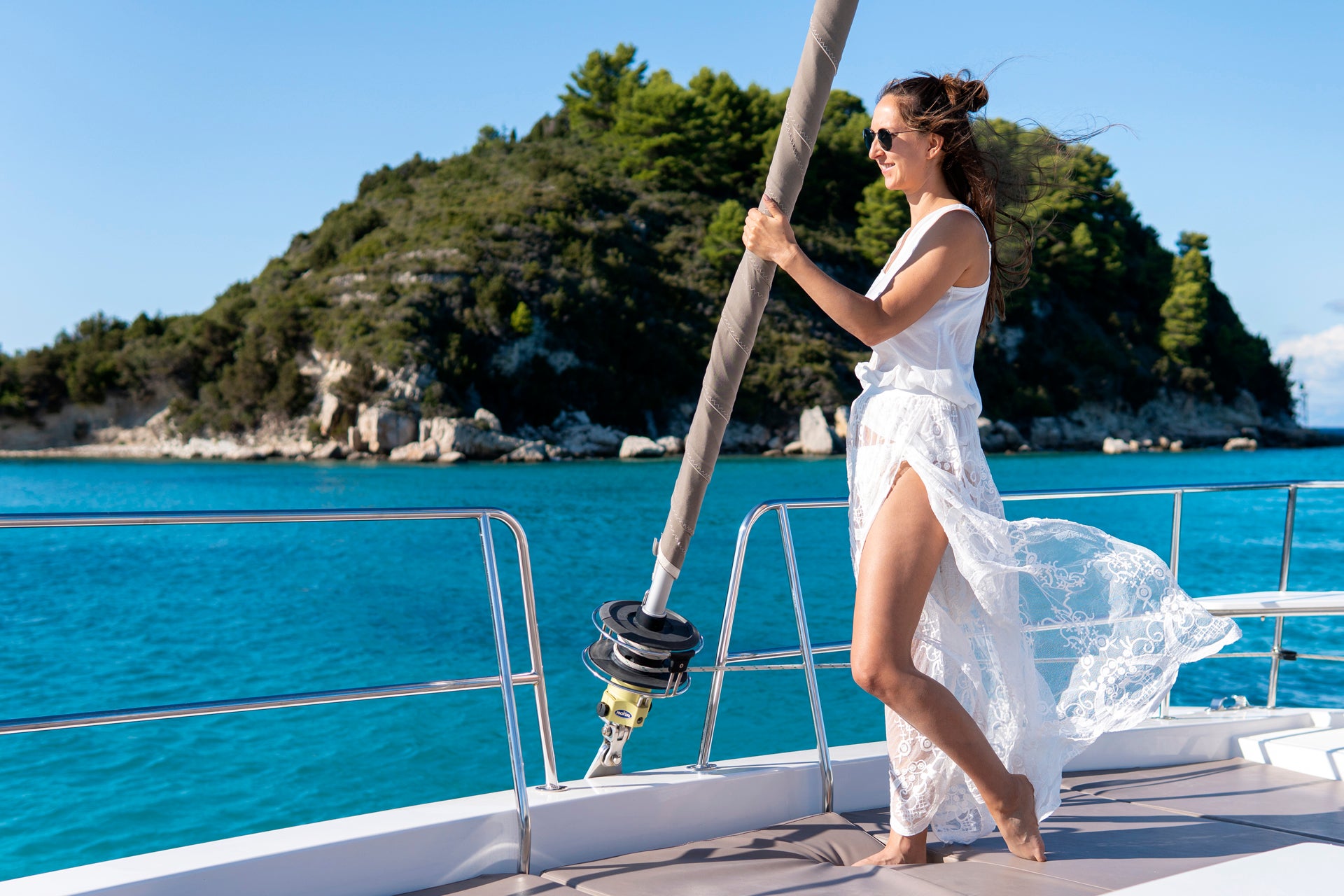 Sailing Corfu with Dream Yacht Charter
Yacht charter Corfu
Sail the Ionian islands with a Corfu yacht charter. Plan an itinerary that takes in cultural treasures, wonderful beaches and relaxed sailing on our catamarans and monohulls.
Skippered yacht hired Corfu
If you're not a sailor, you can still enjoy a dream sailing vacation in Corfu. Sail the islands of the Ionian and see Greece from the water while your skipper sails you and your guests.
Discover social sailing & island-hopping in Greece
Meet new friends and sail Greece from the beautiful island of Corfu with this sailing adventure including a skipper, hostess, and half-board meals. Low package rates and no sailing experience required!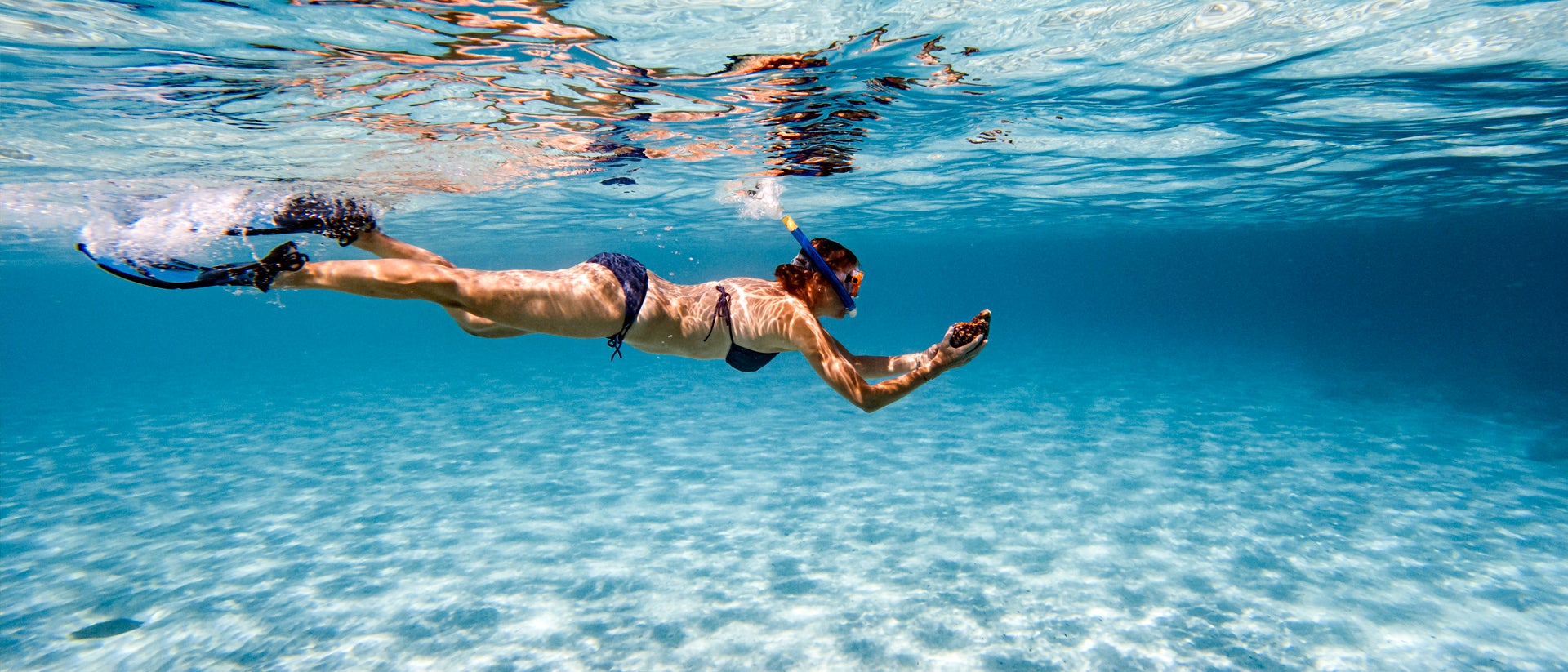 Corfu sailing itinerary
Take a look at our Corfu sailing vacation suggestions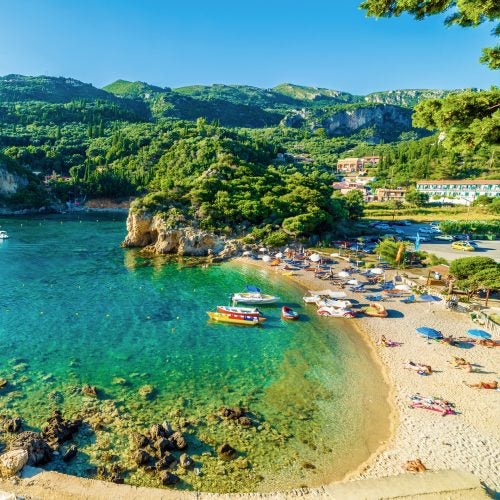 7-day itinerary Corfu (Ionian Islands)
Day 1
Board at Marina Gouvia, Corfu, the perfect place to start your adventure of the Ionians with its seven main islands. Visit Kérkyra old town and get acquainted with its Venetian influence or Kanóni for its beautiful views.
Day 2
Head to Gaios on Paxos Island and onto Erimitis beach on the west coast, where you can explore fantastic blue caves nearby. Head to Antipaxos to swim turquoise waters that wouldn't look out of place in the Caribbean.
Day 3
A highlight is the busy town of Nidri on Lefkas Island, where you can find traditional dining at Fistaria grill houses, or relax with a 40-minute hike to the Rahi Waterfall. You can take in the great view of the bay from Nidri and gaze at the Ionians standing proud in the Ionian Sea.
Day 4
Hop over to Vathi at Meganisi and you will find beaches that are only accessible by boat too, which means they are less crowded. Try Fanari, a pebbled beach with clear waters, or Megalo Limonari.
Day 5
Swim at Lefkas Island's fantastic beaches. To the west, you'll find a long sandy stretch at Agios Ioannis that is popular with windsurfers. Other notable beaches include Porto Katsiki, with its dramatic cliffs, and sandy Pefkoulia.
Day 6
Explore the uninhabited isles of Sivota and Agios Nikolaos and the fishing village at Mourtos Marina on the mainland. If the marina is busy, try the anchorages at Monastery Bay and Sandbar Bay.
Day 7
Head back to Marina Gouvia.
Useful information for yacht charters in Corfu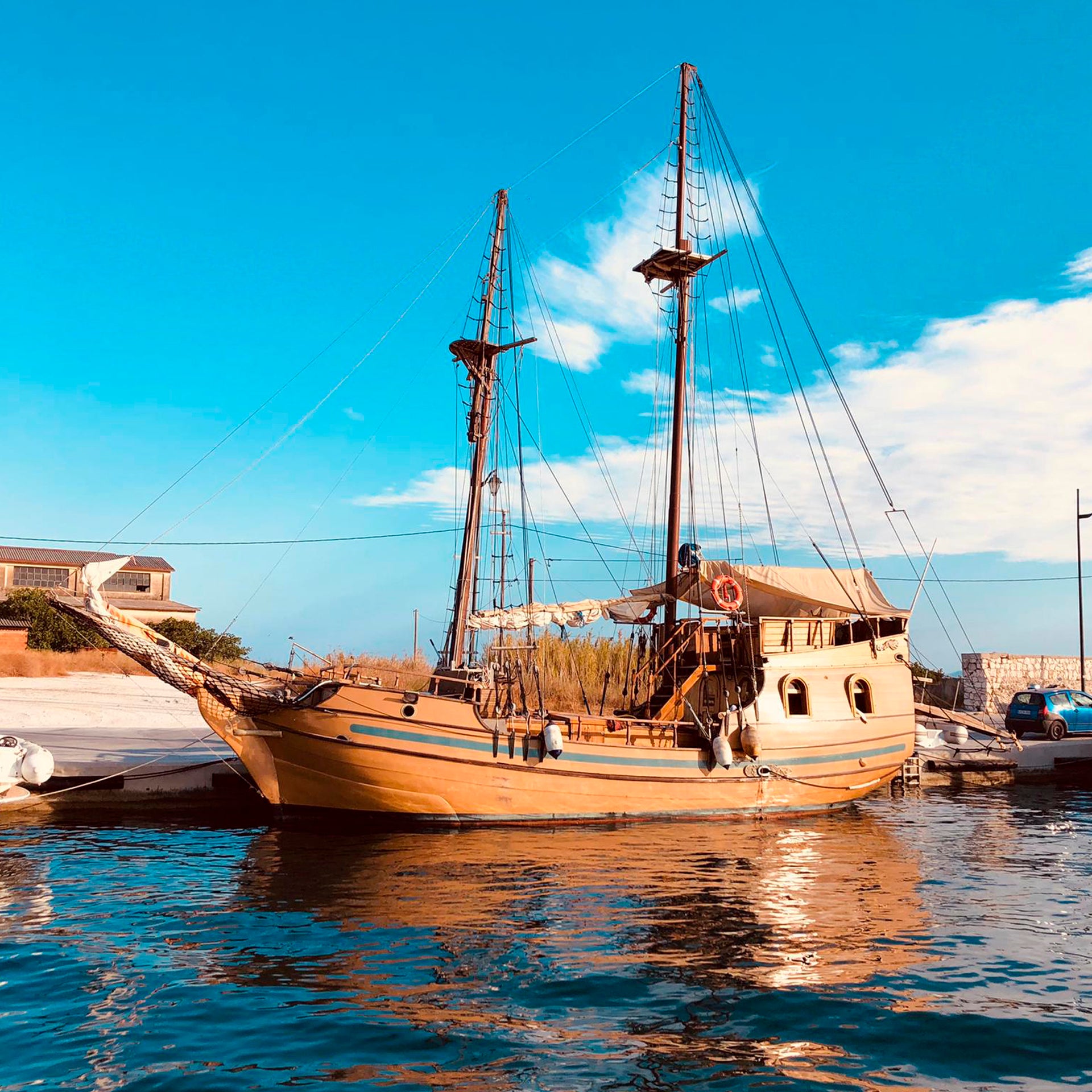 How do I get to Corfu from the US?
Fly into Corfu International Airport (CFU) via a one-hour connecting flight from Athens International Airport Eleftherios Venizelos (ATH). There are also connecting flights available from other European cities.
The airport is a 20-minute taxi ride away from our base for Corfu sailing vacations.
What language is spoken in Corfu?
The language spoken in Corfu is Greek.
What is the currency for Corfu?
The currency in Corfu is the Euro (EUR).
What documents do I need to sail Corfu?
To visit Corfu you will need a valid US passport. US citizens do not need a visa for visits to Greece for up to 90 days.
To sail Corfu, you will require a sailing license that is recognized by the local port authorities.
Talk to us to make sure you have the correct documents before you travel.
How do I get around Corfu?
While on your yacht charter Corfu, you can get the bus from the airport to downtown, where you can connect with the no.7 bus that stops outside of our base in Marina Gouvia, half a mile from the bus stop.
Taxis are available at the airport.
What is the Wi-Fi like in Corfu?
You'll find free Wi-Fi at our marina, and Wi-Fi on your yacht is available upon request at an additional cost. You can find free Wi-Fi in many town squares, shopping malls, restaurants and cafes, but you may find that speeds vary.
What regulations are there in Corfu?
Night sailing is advised only for experienced sailors. Generally, there are no restrictions for mooring, except those included in Greek waters pilot and nautical charts.
A fishing license is no longer required for amateur and recreational fishing by boat in Greece. However, you must comply with the minimum size requirement for some fish and octopus. Check with the port authorities for information.
Fishing with a net is forbidden, as is spearfishing in Greece during the month of May. You cannot use spears with any kind of compressed gas, including air and CO2, or any kind of explosive charge. It is illegal to spearfish with any kind of underwater light source, such as a flashlight, at any time. Fishing with explosives is illegal, as is fishing with compressed gas.
Certain smaller islands may be protected or have restrictions in place regarding fishing. Check for signs or with the port authority about local regulations. There are port authority or coast guard offices at virtually every port in Greece.
Where can I find weather forecasts in Corfu?
You can find Corfu weather forecasts on the Meteo website. Local forecasts are also broadcasted on VHF channel 02. You can keep up to date before and during your yacht hire in Corfu.
What provisioning is there in Corfu?
There is plenty of choice for provisioning in Corfu. Please refer to the base guide.
What baggage can I take on my yacht charter?
Please take soft bags only and not suitcases on your yacht charter of the Ionian islands, as they are too cumbersome on board.
What is the electrical current in Corfu?
The electrical current in Corfu is 220V (power sockets are F type).
What is the dialing code for Corfu?
The dialing code for Greece is +30, and the Corfu area code is 2661.
What is the cancellation policy for Sail Share?
We highly recommend you arrange travel insurance in case you need to cancel for an unexpected reason to cover non-refundable deposits.
Our Sail Share cabin cancellation fees are:
More than 90 days before original embarkation date: 25% of the charter fee
89 – 60 days before original embarkation date: 50% of the charter fee
59 – 30 days before original embarkation date: 75% of the charter fee
Fewer than 29 days before original embarkation date: 100% of the charter fee
How flexible is the itinerary for a Sail Share charter?
Our yacht itineraries are designed by our destination experts and are set to showcase the best of the destination's highlights. They are set and not flexible, even if you book all the cabins.
What happens if the weather changes while sailing on a Sail Share charter?
The skipper may decide to change the itinerary if there is bad weather.
Can I choose which cabin I want when I book a Sail Share?
Choose a double cabin with shared bath, or private bath for an additional fee.
Are there child or age restrictions for Sail Share?
Minimum Age: 16 years old
Get inspired! #MyDreamYacht
Follow our customer's journeys & share your own amazing experiences on Instagram
Absolutely amazing! Fred + Isabelle were so accommodating and did so much for us. Isabelle's food was incredible. Thanks so much!
Laura
Exumas Cabin
Excellent. Very professional and great service!
Thomas
Antigua Bareboat
Just what we needed coming out of a year of lockdown, to see new places and connect with nature. Highly recommended for your next sailing adventure!
Johan
St. Martin Bareboat
Excellent cruise and very good stay. Skipper attentive, very pleasant and very professional.
Maxime
Guadeloupe Skippered
Just returned from another fantastic sailing week at your base in Pula and I would like to thank everyone involved for making this possible on such short notice and without any problems.
Mathias
Croatia Bareboat
The marina itself is a perfect starting point with great facilities! The Lagoon 42 was in good condition and the skipper was amazing and very knowledgeable of the area."
Jonathan
Spain Skippered
What an AMAZING experience. We've just returned from a week long skippered charter from Corfu, sailing around the beautiful islands of the Ionian. Paxos, Antipaxos and Corfu Old Town were beautiful and the secluded bays we had the pleasure of visiting thanks to our local skipper, Nicholas, were simply overwhelming. Fly and flops are no longer for us – we'll be chartering with DYC for the foreseeable future.
David
Greece Skippered
Our group of 10 had an AMAZING time in French Polynesia from May 21-28, 2022! The food was amazing, our captain and chef, husband and wife: Henry and Mehee (sp), were incredible and the whole experience on board was a dream! We can't wait to book another trip through DYC
Katie
Tahiti Crewed Premium
DYC provided a great sailing experience for my extended family on 2 monos out of Scrub Island. The boats were in great shape and preformed perfectly and the staff were friendly and helpful. Having worked for a number of charter companies over the years DYC is one of the best.
Charlie
British Virgin Islands Bareboat
I'm currently in the Maldives and having the time of my life. Captain Jack and the crew are professional, safe and FUN! The boat is immaculate and the food is delicious. He even makes CAKE! The beds are surprisingly comfortable and we are all sleeping 9 hours a night. If you like island hopping, there is no other better option than Dream Yacht Charter. We will be booking Tahiti next year.
Cynthia
Maldives Cabin
The new boat was in fabulous shape. We had the greatest possible experience exploring archipelago waterways and islands. I could never imagine this might be so much fun and joy and we are already looking forward for the another upcoming trip in Ionian.
Vyautas
Scandinavia Bareboat
Baja is my favorite place now. There was something for everyone: sailed under northerlies with mostly calm evenings, snorkeled, fished, bummed it on the sandy beaches, enchanted by pelicans feeding, greeted by the barking sea lions and explored the Ispiritu Santo island geology. DYC La Paz base provided competent professional support with a well provisioned and maintained boat. We were nourished well by an onboard cook arranged with DYC freeing us all for more play. A vacation and an adventure connected with nature.
Taiyoko
Mexico Crewed Premium
All staff were fantastic and made our trip very memorable. Incredibly friendly and welcoming, the food was amazing. The service throughout the trip was always first class!
Tommy
Thailand Cabin
Absolutely recommended. Perfect service and set up. Will charter again and will recommend Dream Yacht Charter anytime.
Zahradnik
Turkey Bareboat
I just returned from 3 weeks of amazing sailing with my family on one of your catamarans in Sardinia. I would like to express my thanks to our skipper Simone and Daniela, our hostess.
Giles
Sardinia Skippered
For a first cruise as a skipper, the Mediterranean is great. The Dream Yacht Charter service is too!
Thomas
France Bareboat
We had an incredible trip and actually got engaged on the first night of our sail! We will certainly be back one day. Thank you for getting us ready for our charter. We were definitely beginners but he gave us a very thorough but very easy to follow training and it gave us a lot of confidence.
George
Australia Bareboat
The on board experience was way beyond our expectations. Isabelle provided exceptional three course meals. We could not believe her creativity and delicious meals. Thomas was an excellent skipper. He was always on the lookout for our needs. Thanks guys!" Spira, New Caledonia bareboat with crew charter
Spira
New Caledonia Easy Crewed
Yet again another fantastic sail with another great crew. Thanks again to a great captain and cook. Was totally fantastic.
Connie
Seychelles Cabin
It's always a pleasure sailing with DYC in the UK. Great team, great boats, great sailing. Very flexible and work hard to make your trip a success. Many thanks.
Derek
Brittany Bareboat
Unforgettable spots to snorkel and beaches. Very experienced crew. Highly recommend.
Simone
Cuba Cabin
What's new?
Stay up to date with news and events or get some inspiration for your next yacht charter and pick up useful tips by reading our latest blogs.
Go to Blog