Lefkas Yacht Charter
Stroll sun-dappled olive groves, snorkel in clear sapphire waters from fantastic beaches and immerse yourself in ancient civilizations as you sail the spectacular Ionian Sea on a Lefkas yacht charter.
What's on this page
Highlights
Ancient ruins

Delectable seafood

Scenic fishing villages
Island Sailing Lefkas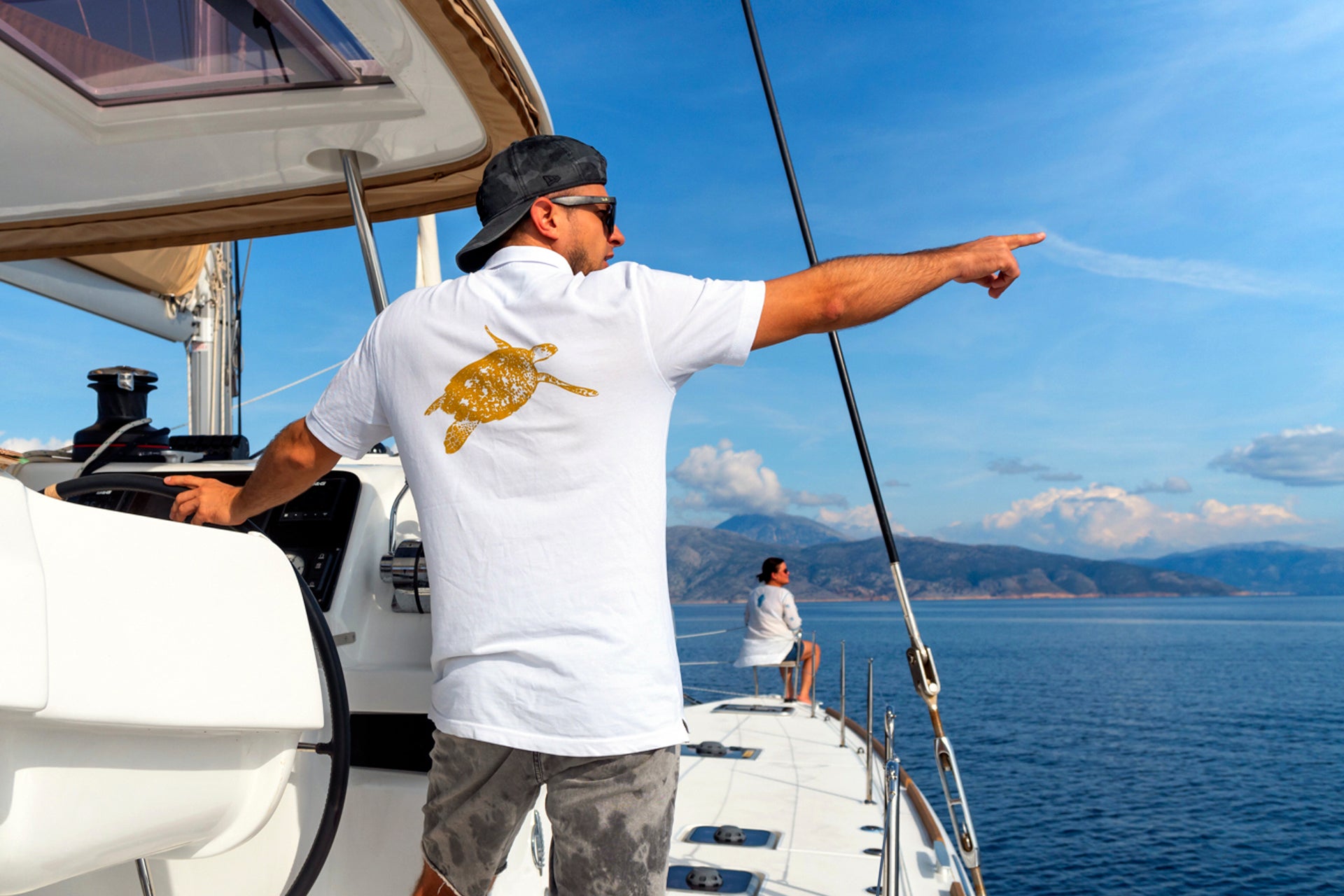 Our base at Lefkas Marina is the perfect starting point to discover the special islands of the Ionian Archipelago, just to the west of mainland Greece. From there, you can sail to the island's popular anchorages of Nidri and Sivota, marveling at the coast's azure water and spectacular cliffs.
Before departing Lefkas, take a swim at one of the island's many fantastic beaches, especially the long sandy stretch at Agios Ioannis, popular with windsurfers. Other notable beaches include Pefkoulia, Egremni and Porto Katsiki, with its dramatic cliffs.
Beach lovers sailing further afield are sure to enjoy the golden sands at nearby Meganisi and the clear waters and pebbled shoreline at Fanari. Or journey to Vathi and relax on peaceful beaches only accessible by boat.
While island sailing in Lefkas, you can easily reach Mytikas, Kalamos, Paxos, Antipaxos and Palairos. Or, for a tranquil anchorage, sail south to Kastos, a low-lying narrow island dotted with olive trees.
To sail in Lefkas you'll need a sailing license recognized by the local port authorities. Or you can hire a skipper. Read our guide to sailing qualifications for more information.
Things to do in Lefkas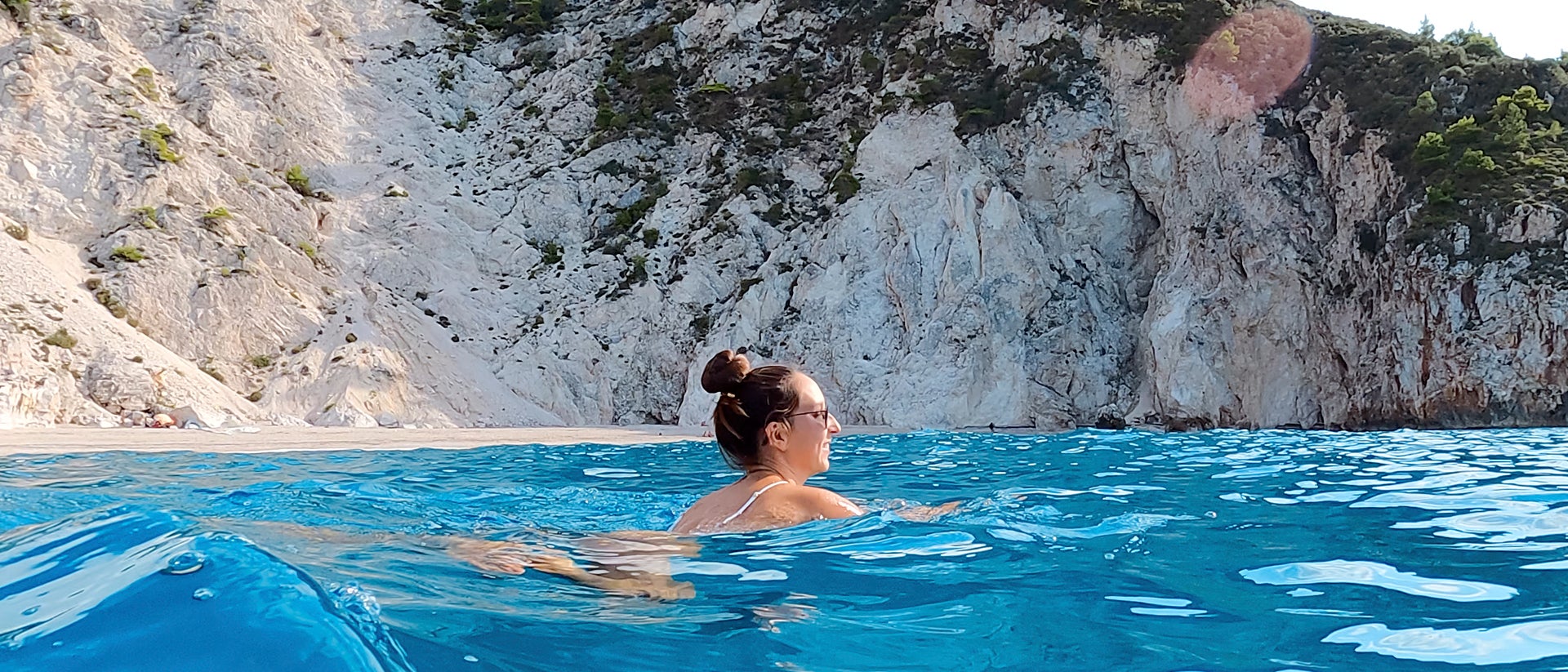 Relax on Milos Beach
One of the first things to do in Lefkas is to walk through the forest from Agios Nikitas to this popular yet serene beach ideal for sunbathing and swimming. There are no facilities here, so be sure to bring along your own refreshments.
Visit the Frangoulis Distillery on Lefkas
The Frangoulis family business, in the center of Lefkada Town, is well-known for its traditional Greek ouzo liqueur. Stop by and enjoy a taste before purchasing some for as gifts and souvenirs.
Explore Fiscardo on Kefalonia
Once a quiet fishing village, beautiful Fiscardo on the northern tip of Kefalonia is now a cosmopolitan haven for boaters, surrounded by lush forests reaching down to the coastline and a promenade brimming with cafes and shops. So make sure you don't miss it while on your Lefkas yacht charter.
Dine on seafood at Sivota
A quiet little village by day, Sivota gets more lively as sailboats arrive in the evening to enjoy the famed seafood at the many family-run tavernas. This is one of the largest natural coves in the Ionian island chain and gives great shelter.
Hike to the Nidri Waterfalls
From the middle of the village, a road takes you through beautiful olive groves to a footpath leading to the sparkling falls. Be sure to bring your hiking shoes for the 40-minute walk and a swimsuit for a refreshing dip after your trek. It is, without a doubt, one of the best things to do in Lefkas.
Weather insights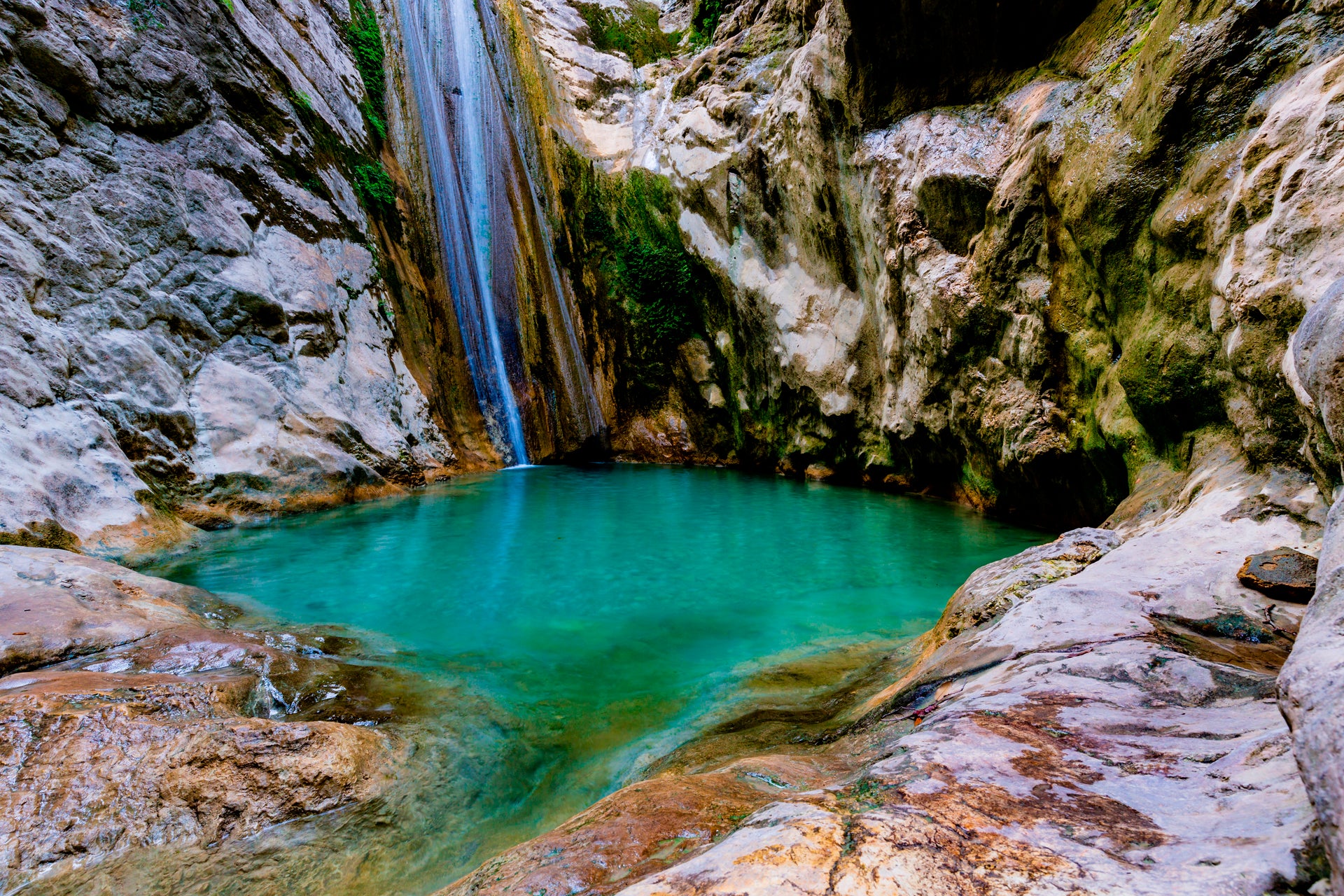 When is the best time to visit Lefkas?
The best time of year to sail Lefkas is in the summer, when you can make the most of the Mediterranean climate and hot, dry, sunny weather. The best month is June, when there are fewer crowds and warmer weather.
Temperatures in summer can reach 88ºF and the sea is warm for swimming at 77ºF. Lefkas has a long sailing season and, with good weather, the spring and fall are also perfect for sailing.
What are the sailing conditions in Lefkas?
The sailing conditions for Lefkas include winds that blow northwestly between force 3 and 5.
During your approach to the marina of the main port, stay within the separation system (marked by buoys) to avoid the shallows. When returning to the base of your Lefkas yacht charter, go stern to or bows to and use the mooring lines, not your anchor.
Sailing Lefkas with Dream Yacht Charter
Lefkas yacht charter
Discover the wonders of the Ionian islands and sail from Lefkas on your own yacht charter. Design your dream itinerary and take the helm on one of our catamarans or monohulls.
Skippered island Lefkas charters
You can enjoy sailing Lefkas even if you don't know how to sail. Hire a skipper for your yacht while you explore the best of the Ionian islands.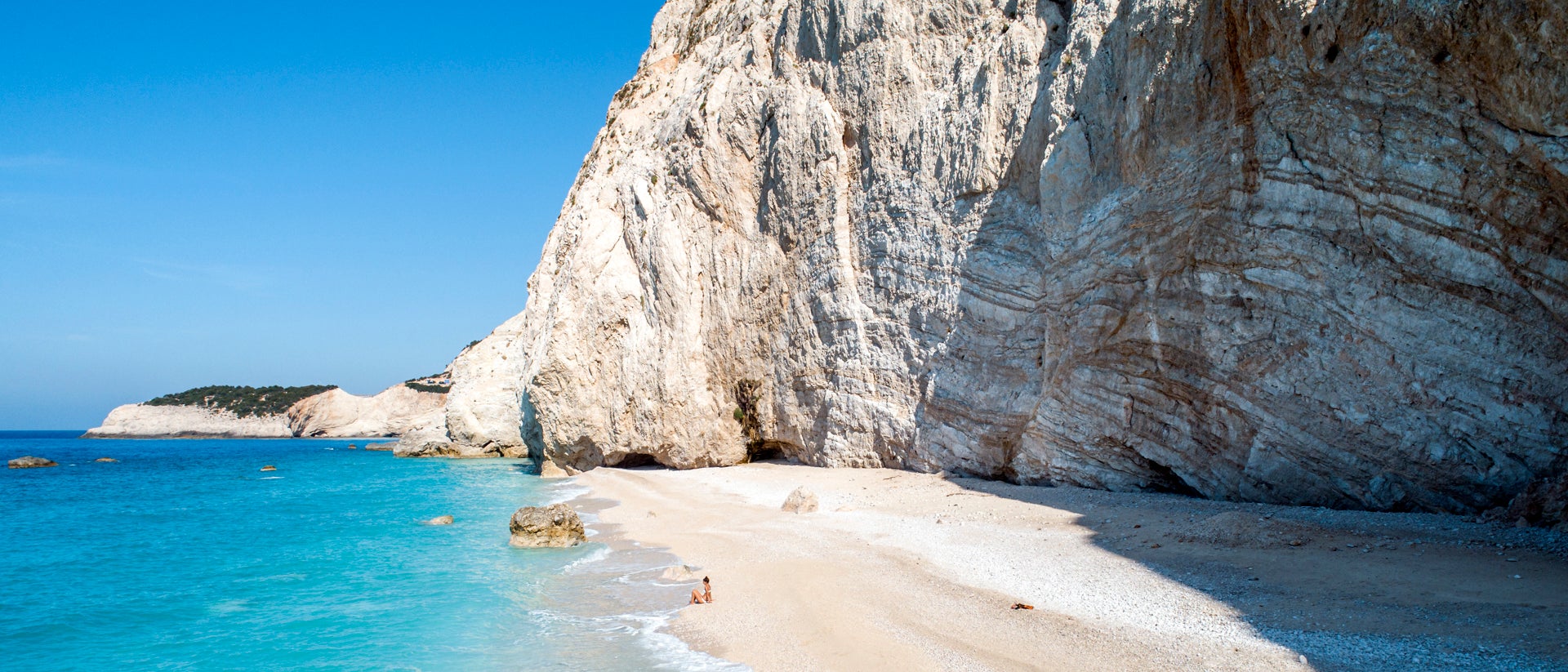 Lefkas sailing itinerary
Take a look at our Lefkas sailing vacation suggestions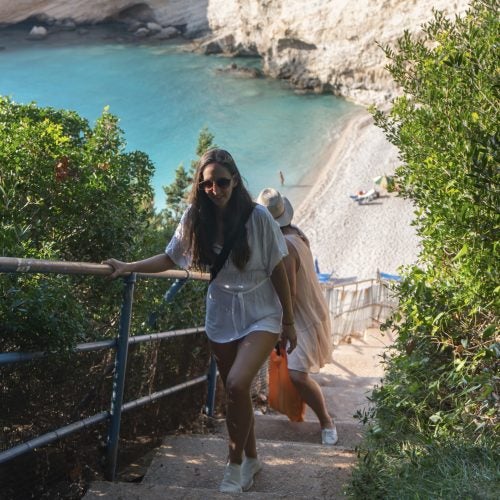 7-day itinerary Ionian Islands
Day 1
Sail to Vathy, Meganisi, and have a bite to eat at the port. This is a beautiful sailing area with much to explore. You can pop over the water and sail around the private Skorpios Island, once owned by the Onassis family.
Day 2
Make your way over to Vathi, Ithaca, an island of two halves joined by a narrow stretch of land. The home of Ulysses, this is the place to enjoy clear jade waters and peaceful beaches. Nearby are the Echinades islands, including the uninhabited Atokos Island.
Day 3
Enjoy visiting car-free Kastos Island, one of the less-visited Ionians. A small, peaceful island, you can spend your time snorkeling in clear, vivid blue water from many beaches, including Limni, Fiki, Agios Aimilianos and Vrisidi to name a few.
Day 4
Enjoy visiting car-free Kastos Island, one of the less-visited Ionians. A small, peaceful island, you can spend your time snorkeling in clear, vivid blue water from many beaches, including Limni, Fiki, Agios Aimilianos and Vrisidi to name a few.
Day 5
Sivota, Lefkas, is where you can find one of the most photographed harbors in the Ionian Islands. With its lushly topped hills, pastel-coloured waterfront and boats bobbing up and down on clear water, it's a traveler's dream.
Day 6
Don't miss Porto Spilia, Meganisi, where you can discover Spartochori's family-owned tavernas and feast on olives and feta to your heart's content. Or you can head down to Papanikolis Cave in the south.
Day 7
Depart for Lefkas and stop by some of the island's renowned beaches, including Aghios Ioannis, Faros, Limonari and Bereta. The bay of Varko is also worth a stop by before returning to base.
Useful information for yacht charters in Lekfas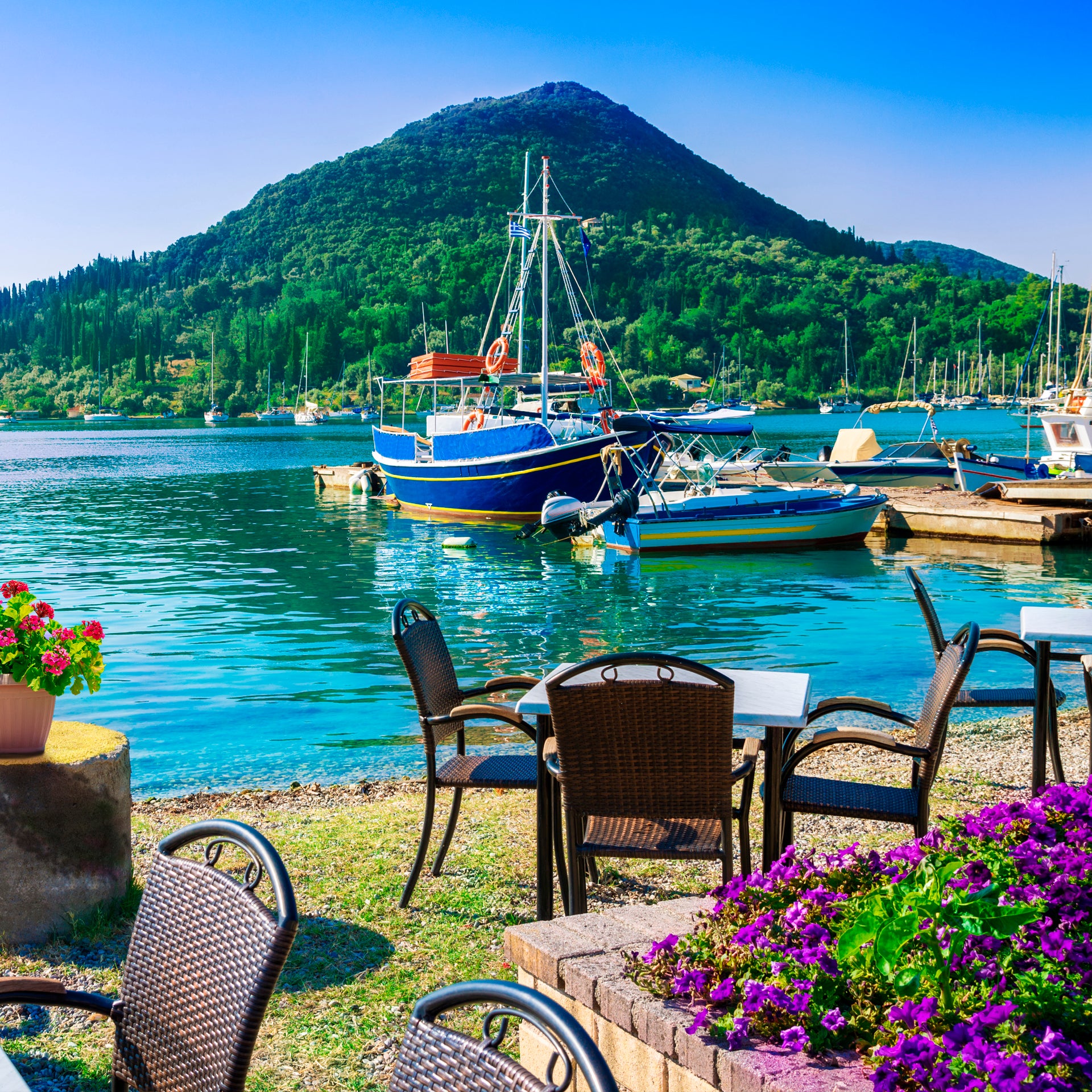 How do I get to Lefkas from the US?
To begin your Lefkas island sailing vacation, fly into Aktion Airport (PVK) via a charter flight from Athens International Airport Eleftherios Venizelos (ATH). There are also connecting flights available from other European cities, such as London and Amsterdam.
The airport is a 30-minute taxi ride away.
What language is spoken in Lefkas?
The language spoken in Lefkas is Greek.
What is the currency for Lefkas?
The currency in Lefkas is the Euro (EUR).
What documents do I need to sail Lefkas?
To visit Lefkas you will need a valid US passport. US citizens do not need a visa for visits to Greece for up to 90 days.
To sail Lefkas, a sailing license recognized by the local port authorities will be required.
Talk to us to make sure you have the correct documents before you travel.
How do I get around Lefkas?
You can get the bus from the airport to Preveza, Lefkada, Vonitsa and other destinations. Tickets can be purchased from the bus driver.
What is the Wi-Fi like in Lefkas?
There is internet access at our marina and via cafes and Wi-Fi hotspots that you can use during your Lefkas yacht charter.
Cell phones with sim cards from European Union countries (except Switzerland) operate without roaming fees. For other countries, please contact your provider. You can buy a local sim card at telecommunication shops.
What regulations are there in Lefkas?
There are no restrictions, although this can change depending on the weather when you sail and the type of fishing you want to do. Please check with port authorities before you set off on your Lefkas yacht charter.
Where can I find weather forecasts in Lefkas?
You can find Lefkas weather forecasts on the Meteo.gr website.
What provisioning is there in Lefkas?
There is plenty of choice for provisioning your Lefkas yacht charter. Please refer to the base guide.
What baggage can I take on my Lefkas sailing vacation?
Please take only soft bags and not suitcases as they are too cumbersome on board.
What is the electrical current in Lefkas?
The electrical current in Lefkas is 220V (power sockets are F type).
What is the dialing code for Lefkas?
The dialing code for Greece is +30, and the Lefkas area code is 2645.
What is the cancellation policy for Sail Share?
We highly recommend you arrange travel insurance in case you need to cancel for an unexpected reason to cover non-refundable deposits.
Our Sail Share cabin cancellation fees are:
More than 90 days before original embarkation date: 25% of the charter fee
89 – 60 days before original embarkation date: 50% of the charter fee
59 – 30 days before original embarkation date: 75% of the charter fee
Fewer than 29 days before original embarkation date: 100% of the charter fee
How flexible is the itinerary for a Sail Share charter?
Our yacht itineraries are designed by our destination experts and are set to showcase the best of the destination's highlights. They are set and not flexible, even if you book all the cabins.
What happens if the weather changes while sailing on a Sail Share charter?
The skipper may decide to change the itinerary if there is bad weather.
Can I choose which cabin I want when I book a Sail Share?
Choose a double cabin with shared bath, or private bath for an additional fee.
Are there child or age restrictions for Sail Share?
Minimum Age: 16 years old
Get inspired! #MyDreamYacht
Follow our customer's journeys & share your own amazing experiences on Instagram
Absolutely amazing! Fred + Isabelle were so accommodating and did so much for us. Isabelle's food was incredible. Thanks so much!
Laura
Exumas Cabin
Excellent. Very professional and great service!
Thomas
Antigua Bareboat
Just what we needed coming out of a year of lockdown, to see new places and connect with nature. Highly recommended for your next sailing adventure!
Johan
St. Martin Bareboat
Excellent cruise and very good stay. Skipper attentive, very pleasant and very professional.
Maxime
Guadeloupe Skippered
Just returned from another fantastic sailing week at your base in Pula and I would like to thank everyone involved for making this possible on such short notice and without any problems.
Mathias
Croatia Bareboat
The marina itself is a perfect starting point with great facilities! The Lagoon 42 was in good condition and the skipper was amazing and very knowledgeable of the area."
Jonathan
Spain Skippered
What an AMAZING experience. We've just returned from a week long skippered charter from Corfu, sailing around the beautiful islands of the Ionian. Paxos, Antipaxos and Corfu Old Town were beautiful and the secluded bays we had the pleasure of visiting thanks to our local skipper, Nicholas, were simply overwhelming. Fly and flops are no longer for us – we'll be chartering with DYC for the foreseeable future.
David
Greece Skippered
Our group of 10 had an AMAZING time in French Polynesia from May 21-28, 2022! The food was amazing, our captain and chef, husband and wife: Henry and Mehee (sp), were incredible and the whole experience on board was a dream! We can't wait to book another trip through DYC
Katie
Tahiti Crewed Premium
DYC provided a great sailing experience for my extended family on 2 monos out of Scrub Island. The boats were in great shape and preformed perfectly and the staff were friendly and helpful. Having worked for a number of charter companies over the years DYC is one of the best.
Charlie
British Virgin Islands Bareboat
I'm currently in the Maldives and having the time of my life. Captain Jack and the crew are professional, safe and FUN! The boat is immaculate and the food is delicious. He even makes CAKE! The beds are surprisingly comfortable and we are all sleeping 9 hours a night. If you like island hopping, there is no other better option than Dream Yacht Charter. We will be booking Tahiti next year.
Cynthia
Maldives Cabin
The new boat was in fabulous shape. We had the greatest possible experience exploring archipelago waterways and islands. I could never imagine this might be so much fun and joy and we are already looking forward for the another upcoming trip in Ionian.
Vyautas
Scandinavia Bareboat
Baja is my favorite place now. There was something for everyone: sailed under northerlies with mostly calm evenings, snorkeled, fished, bummed it on the sandy beaches, enchanted by pelicans feeding, greeted by the barking sea lions and explored the Ispiritu Santo island geology. DYC La Paz base provided competent professional support with a well provisioned and maintained boat. We were nourished well by an onboard cook arranged with DYC freeing us all for more play. A vacation and an adventure connected with nature.
Taiyoko
Mexico Crewed Premium
All staff were fantastic and made our trip very memorable. Incredibly friendly and welcoming, the food was amazing. The service throughout the trip was always first class!
Tommy
Thailand Cabin
Absolutely recommended. Perfect service and set up. Will charter again and will recommend Dream Yacht Charter anytime.
Zahradnik
Turkey Bareboat
I just returned from 3 weeks of amazing sailing with my family on one of your catamarans in Sardinia. I would like to express my thanks to our skipper Simone and Daniela, our hostess.
Giles
Sardinia Skippered
For a first cruise as a skipper, the Mediterranean is great. The Dream Yacht Charter service is too!
Thomas
France Bareboat
We had an incredible trip and actually got engaged on the first night of our sail! We will certainly be back one day. Thank you for getting us ready for our charter. We were definitely beginners but he gave us a very thorough but very easy to follow training and it gave us a lot of confidence.
George
Australia Bareboat
The on board experience was way beyond our expectations. Isabelle provided exceptional three course meals. We could not believe her creativity and delicious meals. Thomas was an excellent skipper. He was always on the lookout for our needs. Thanks guys!" Spira, New Caledonia bareboat with crew charter
Spira
New Caledonia Easy Crewed
Yet again another fantastic sail with another great crew. Thanks again to a great captain and cook. Was totally fantastic.
Connie
Seychelles Cabin
It's always a pleasure sailing with DYC in the UK. Great team, great boats, great sailing. Very flexible and work hard to make your trip a success. Many thanks.
Derek
Brittany Bareboat
Unforgettable spots to snorkel and beaches. Very experienced crew. Highly recommend.
Simone
Cuba Cabin
What's new?
Stay up to date with news and events or get some inspiration for your next yacht charter and pick up useful tips by reading our latest blogs.
Go to Blog