In part one of our complete guide to sailing in Antigua, we looked at the basics you'll need to know before you charter around one of the Caribbeans's most iconic sailing grounds, including what the weather is like, how to get there and the best anchorages (according to us!). In part two, we take a look at the top places to visit in Antigua while on a yacht charter holiday, with the help of our friend Rana, from Antigua Sailing Week.
Top places to visit in Antigua
Marvel at the views over English Harbour from Shirley Heights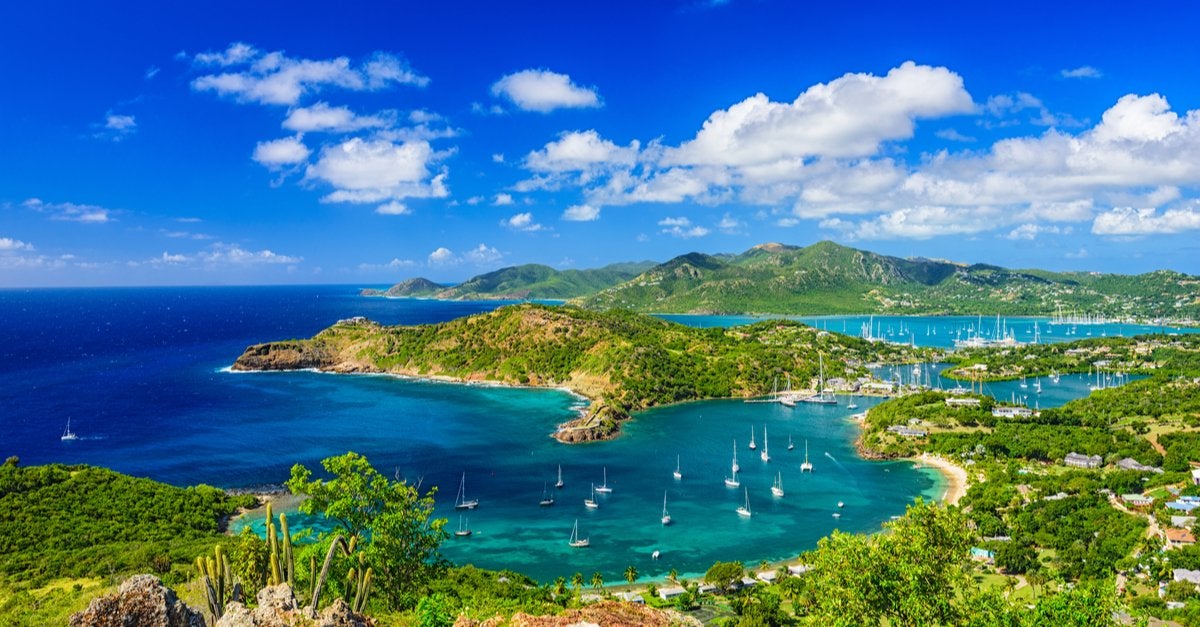 If you are looking for the best view in Antigua, a visit to Shirley Heights is a must! The restored military look out once played an integral part in the security of Antigua, providing long views out over English and Falmouth Harbours and any approaching enemy, with its highest point reaching an impressive 490ft!
Rana recommends – "After a day out on your boat, come ashore and make your way up to Shirley Heights to sip on English Harbour rum punch while watching the sunset – an idyllic way to wind down after a perfect day in Antigua."
The postcard ready views out of the bays beneath are truly spectacular, both during the day and at sunset, where a romantic stroll around the old military fortifications and a spot of dining in the restaurant that resides there are the perfect way to spend an evening. If you're feeling in the mood for a party, our friends at the Antigua and Barbuda Tourist Board recommends heading to Shirley Heights on a Sunday afternoon from 4pm – 10pm, where you'll be greeted by fellow visitors and locals, all enjoying a tasty cocktail and dancing to local reggae bands as the sun sets on another week.
Go back in time at Fort Berkeley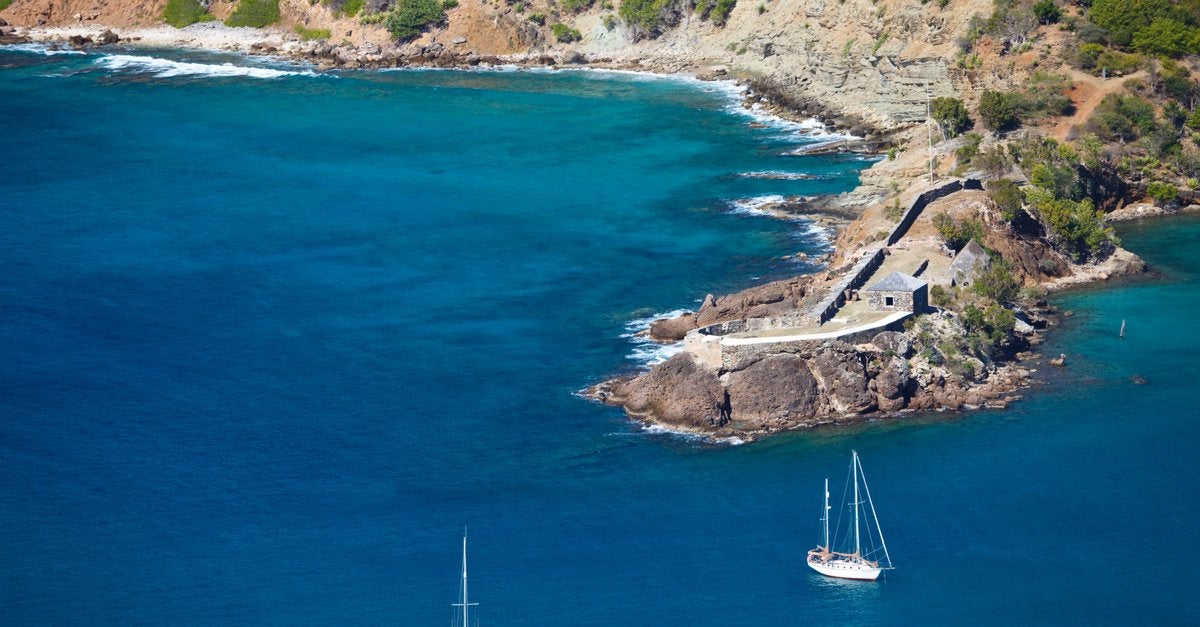 A short distance from Shirley heights, head over to Fort Berkeley, one of our top places to visit in Antigua, where you'll be transported back in time at this historical monument. Predominantly used to protect English Harbour and the island of Antigua, Fort Berkeley was built in 1704 and was the first of many built in the area surrounding English Harbour. It created a strategic defence network that ensured the safety of this beautiful island, housing an impressive 25 large cannon guns and a bomb proof magazine capable of holding 300 barrels of gunpowder.
Set off from the superyacht dock and head up towards Fort Berkeley, where your journey will afford you breathtaking views of some of Antigua's most popular attractions and monuments, including the Pillars of Hercules, Freeman's Bay and Antigua's Slipway.
Stand next to the pillars of Hercules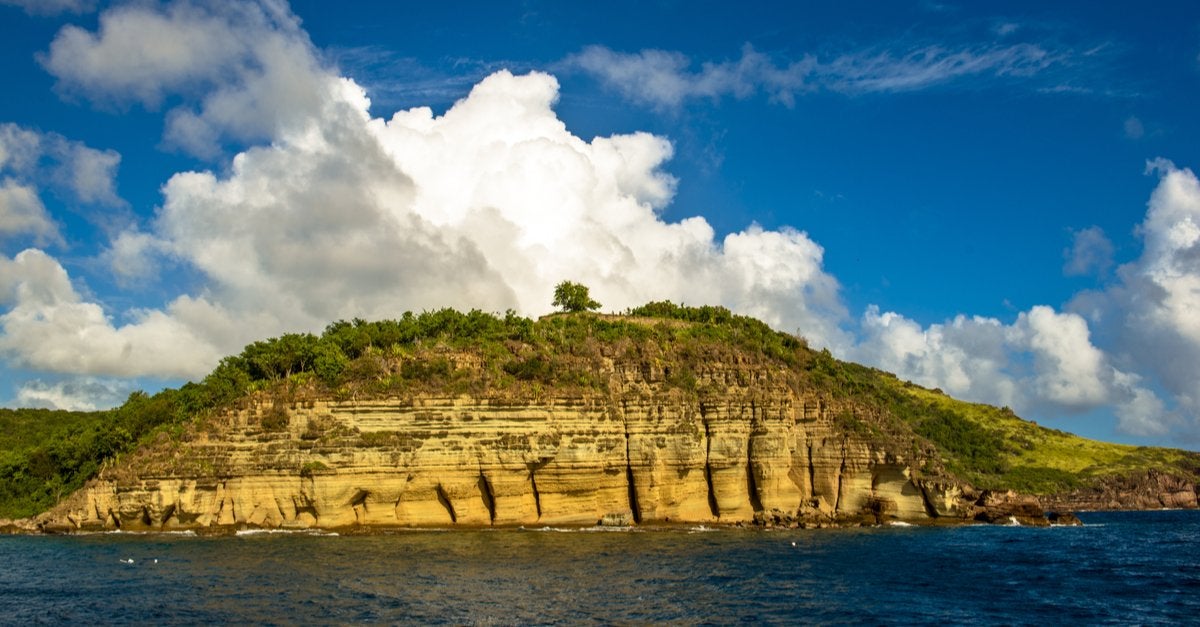 Across from Fort Berkeley and guarding the entrance to Freeman's Bay at Charlotte Point, spend some time marvelling at the Pillars of Hercules. These natural geological wonders stand majestically at the water's edge and have been created from years of mother weapons, wind, rain and sea, crashing angrily against them, creating giant natural sandstone pillars.
The area beneath the pillars is a great spot from some snorkelling and scuba diving and houses a rich and diverse marine life including turtles, moray eels, rays and if you're lucky, reef sharks and dolphins.The view of the pillars themselves is its best from the deck of your yacht, so we recommend anchoring close by and marvelling at this natural structure at the sun goes down.
Visit Nelson's Dockyard National Park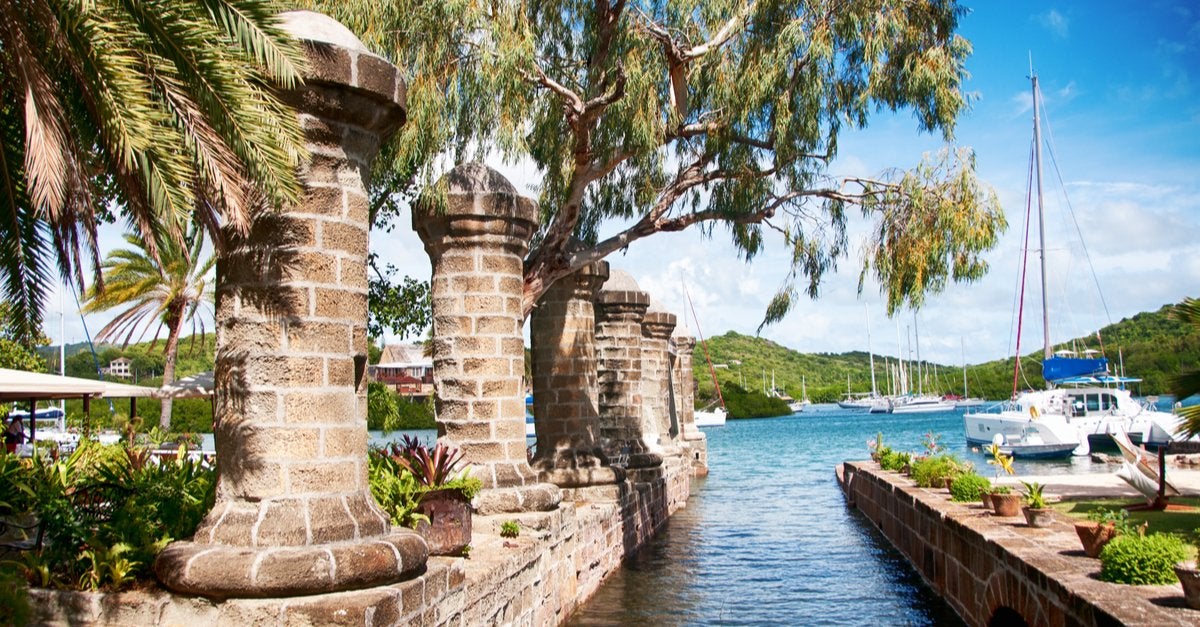 Named after British naval hero, Admiral Horatio Nelson, who spent time here from 1784 until 1787, Nelson's Dockyard has long been regarded as playing a pivotal role in Antigua's security, providing a perfect point at the south of the island to monitor approaching naval activity. In addition, it was also a safe haven for passing vessels who needed shelter from the turbulent winds that are prevalent in this area of the Caribbean between July and October.
As well as historic boat yards and lavish quarters, Nelson's Dockyard is still a working marina and houses some delightful restaurants and bars, perfect for a spot of lunch before embarking on a trail hike around the dock itself. The Dockyard's position within a National Park allows visitors the opportunity to explore some of the stunning wildlife and natural beauty that Antigua has to offer, along with other historic forts that dot the coastline and of course, the Dockyard Museum.
Stand on the natural wonder of Devil's Bridge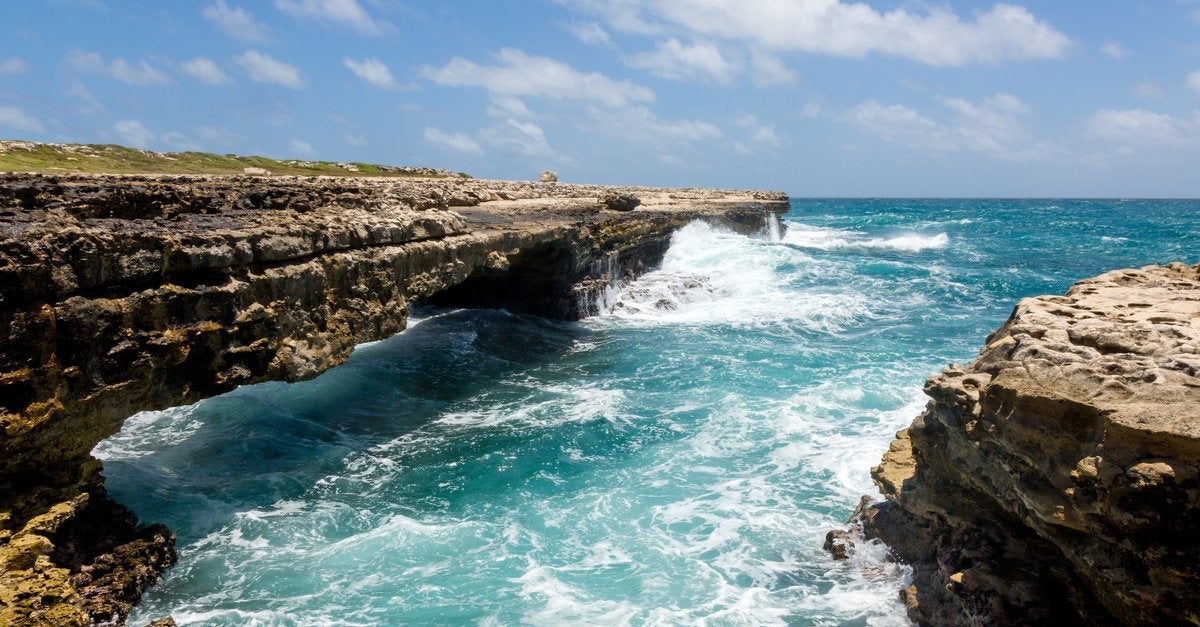 For our final top place to visit in Antigua, head north east from English Harbour towards the breathtaking views of Devil's Bridge, located on the Atlantic coastline near to Indian Town Point. The bridge itself is another of nature's most spectacular creations over in Antigua, where years of violent Atlantic waves have battered the coastline to such an extent that a natural bridge of sandstone rock has been created. Between the crevices of this bridge are powerful geysers that frequently expel shoots of water and spray powered by the Atlantic Ocean.
The area is fairly remote but there are a few small eateries located slightly further inland. When visiting Devil's Bridge, we recommend heading ashore from one of the bays north of the bridge and marvelling at the view from the land, standing on the area furthest away from the ocean, so that you don't get too wet when one of the holes blow!
Top things to do in Antigua
Swim in the warm turquoise sea
The glistening waters that surround the island of Antigua are one of the main draws for sailors. Offering exhilarating sailing conditions and sea temperatures that never drop below 26°C, Antigua offers some of the best waters the Caribbean has to offer. While on the water, make sure you take some time to swim in the warm turquoise coloured sea, diving from the back of your yacht and embracing nature in all of its wonderful glory.
While there, pop your head underwater and explore the rich marine life that awaits you. Beautifully coloured coral, majestic turtles, enormous rays and the occasional dolphin swim beneath the surface and provide visitors with a breathtaking experience that'll be hard pushed to match anywhere else in the world.
Visit the museum of Antigua and Barbuda
Situated on the north west of the island in St. John's, a visit to the Museum of Antigua and Barbuda is a must when on a yacht charter to Antigua. Founded in 1985, the museum is housed in the old colonial court house, built in the mid 1700s, and is home to an array of important historical artefacts that played a pivotal role in the island's rich history.
Exhibits include geological pieces and archaic age tools, historical pottery and basketry displays and Arawak artefacts, an indigenous group of people from South America and the Caribbean, who resided on the island long before it was discovered by the west.
Discover the underwater wildlife on a scuba diving trip
Antigua's exciting underwater carnival makes for the perfect place to enjoy a thrilling dive. Whether you are PADI qualified or new to scuba diving, there are a number of locations you can visit to spend the day marvelling at Antigua's varied marine life.
For beginners, head to the north of the island, where the waters are calmer and shallow, perfect for learning the basics and still home to some tremendous sea creatures. For the advanced divers out there, we recommend Nanton Point, where the vast number of boulders that have fallen into the sea create a great home for lots of underwater creatures, including turtles. For night dives, Black's Point is a good option, with sheltered areas that make great hideouts for plenty of fish, lobsters and eels. For the super advanced and inquisitive divers out there, Monserrat Wreck is a must. With eerie surroundings, the wreck is fully intact and offers some truly mesmerising views for visitors to the sea floor.
Enjoy an early morning hike
Antigua is rich in verdant flora and fauna, and a hike along some of the designated trails is a welcome alternative to sailing. There are plenty to choose from, some more challenging than others, but all with the same beautiful scenery that the island is famous for.
Rana recommends – "To stretch your limbs and get those endorphins flowing, start your day with a morning hike that ends with a swim. Start at Galleon or Pigeon Point Beach and follow the well maintained trails that are marked with white pigment. My favourites are Jone's Valley Trail or Goat Track Trail."
Enjoy a BBQ on Prickly Pear Island
Prickly Pear Island is located approximately 650m off the northerly tip of the island is one of our top places to visit in Antigua. Its proximity to the main island lends itself perfectly for a day trip, where sailors can moor off the coastline and head ashore for a day of R&R on an idyllic beach with white sand and shimmering sea. The island has some quaint eateries, serving up local West Indian cuisine such as conch and a selection of seafood and salads.
As the island only measures 50m from one side to the other, there isn't a great deal of distance to travel to take in all its splendour, but that's OK, because once you've explored, relax, take a swim or enjoy a spot of snorkelling before watching the sun go down from your deckchair. Our favourite thing to do on Prickly Pear Island is to have an evening BBQ on the beach with your fellow crew, sipping cocktails or a cold beer as the orange hue lowers itself down below the horizon. Perfect!
Find out more about yacht charters to Antigua
To find out more about bareboat or skippered charters with us to Antigua, contact our team of specialists today on 02380 455 527 or email [email protected].
Read previous article – Part one – All things sailing
Read next article: Part three – The best beaches to visit in Antigua