Stunning beaches, gorgeous sunshine, a vast array of activities to enjoy both on land and on the water and some of the world's greatest sailing – if you're looking for an exciting holiday, then a yacht charter in Antigua is just for you.
If you are looking for a destination that offers it all, a sailing holiday in Antigua will satisfy your desire and leave you wanting to go back time and again. As one of our favourite Caribbean Islands, our team have a vast knowledge of the things you simply shouldn't miss while visiting this stunning location, and to help you plan your next adventure holiday, we have put together our guide to sailing in Antigua with the help of our dear friend Rana from Antigua Sailing Week.
In part one, we talk about the basics – what's the weather like? What makes the sailing exceptional? How do you get there? In following articles we'll share our recommendations on the top places to visit and things to do while visiting this amazing Caribbean gem…happy reading!
Why choose Antigua for a sailing holiday?
One of the Leeward Islands, Antigua offers the opportunity to experience the world famous trade winds, providing hours of sailing suitable for both experienced and novice sailors alike.
The long coastline is home to an abundance of beautiful secluded coves and small bays, each with powdery white sand that is lapped by stunningly clear turquoise water, perfect for exploring the underwater kingdom of exotic marine life and natural coral that the Caribbean is famous for.
"Excellent charter and top notch team at Dream with the best captain, Kevin." – John, skippered charter customer, Antigua
In addition to the welcomingly warm 'swimming pool' that surrounds the island, Antigua has an incredible history that will transport visitors back in time, with ancient forts and monuments that tell a story of the island's rise to importance during some of maritime's most significant periods.
What is the weather like in Antigua?
Due to Antigua's proximity to the Equator, it doesn't have seasons like we do in the UK. Instead, the weather is warm all year round, with the high season between October and April offering temperatures of up to 31°C. Average temperatures during the low season (May-September) remain warm at around 23°C.
Unlike some of the other Caribbean islands, Antigua has low humidity thanks to the cooler trade winds that blow in from the east. Sea temperatures remain fairly consistent throughout the year, averaging at around 23°C.
What are the sailing conditions like in Antigua?
The exhilarating sailing conditions in Antigua are what make it a popular choice with us here at Dream Yacht Charter. Trade winds between December and May bring stable weather conditions with easterly winds reaching speeds of around 18 to 20 knots. These winds allow for exceptional sailing and are why Antigua Sailing Week runs during the last section of April.
"Sailing in Antigua is one of the best experiences you will ever have. Aside from the obvious delightful sunshine and beautiful beaches, the well-known trade winds provide some of the most exhilarating sailing available." – Martin, Dream Yacht Charter skipper
The north of the island offers more stable, calm conditions, while southerly sailing is more thrilling. While no particular qualifications are required to sail in Antigua, you will be asked to provide a sailing resume, and we recommend that you are RYA coastal skipper qualified to take full advantage of the amazing sailing that Antigua has to offer.
Antigua Sailing Week
Dream Yacht Charter are proud sponsors of Antigua Sailing Week. Arguably one of the best regattas in the world, Antigua Sailing Week welcomes sailors from around the globe to enjoy a week of exciting racing in one of the Caribbean's best sailing locations.
The 53rd instalment of this exciting event will run from 25 April – 1 May 2020 and offer a range of exciting events to take part in both on and off land, including 'Reggae in the Park' and the 'Lay Day' party.
The best Anchorages in Antigua
Nonsuch Bay
There are a selection of amazing anchorages available when mooring in Nonsuch Bay on the east of the island, including Rickett Harbour and Brown's Bay.
Each of the anchorages situated in Nonsuch Bay allow for easy access to the island where you will be able to enjoy fine dining in high end restaurants or dance the night away at one of the discos that line the main street.
Carlisle Bay
Lined by palm trees with clear and calm water (if the wind isn't coming in from the east), Carlisle Bay is located on the south west of the Island and is an ideal place to anchor overnight.
Rana recommends…"Sail to the south west coast of the island and drop anchor in emerald blue waters at Carlisle Bay. SUP with the turtles or swim ashore to bask on the beach. And if you're up for it, treat yourself to a scrumptious lunch on the beach."
Cades Reef
Head to the south coast of the island and enjoy a comfortable, sheltered mooring inside the stunning location of Cades Reef. The area has two reefs – the larger aforenamed Cades Reef and Middle Reef. Due to the vast area of coral that the reef offers, this is a great place to explore the underwater wildlife.
The Antigua Marine Guide suggests lining up Goat Head Channel with Johnson's Point and Old Road Bluff for a clear run into the reef.
Dickenson Bay
A popular anchorage, Dickenson Bay offers a range of benefits to those mooring there. Approach from Weatherill's Point for a steady arrival and head ashore to enjoy both day and night time activities.
During the day, the bay offers a range of watersport activities including jet skiing and windsurfing and further ashore, horseback riding and hiking are available. At night, there are a number of bars, restaurants and clubs close to the beach, perfect for letting your hair down and enjoying the Antiguan culture.
For a full list of moorings and anchorages in Antigua, take a look at the Antigua Marine Guide.
What yacht charters are available in Antigua?
Dream Yacht Charter offer a large fleet of 35 yachts in Antigua, all available for bareboat charter. Choose from smaller monohull yachts, such as the Dufour 385, perfect for smaller parties of up to six or for larger parties of up to 12, opt for a catamaran such as the Lagoon 52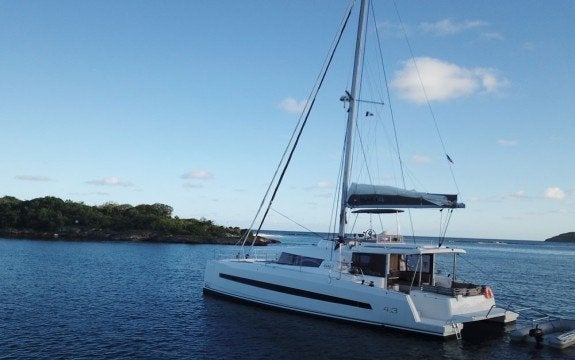 All of our yachts in Antigua are also available on a skippered charter basis, so even if you can't sail yourself, you can still experience this wonderful location with the help of a professional skipper, who will work with you to arrange the perfect itinerary.
How do I get to Antigua?
Flights to V.C Bird International Airport (ANU) are available daily from London Gatwick Airport (LGW) with British Airways and Virgin Atlantic. You can also choose to fly from regional UK airports such as Manchester and Glasgow. Flights are around eight hours long (depending on where in the UK you are flying from).
Once in Antigua, our base at Jolly Harbour Marina is a 45-minute taxi ride away. Our dedicated sales team will be happy to help you arrange transfers should you require – let them know when you're confirming your booking with us.
Find out more about yacht charters to Antigua
To find out more about bareboat or skippered charters with us to Antigua, contact our team of specialists today on 02380 455 527 or email [email protected].
Read next article: Part two – The top places to visit in Antigua