Lisa Rolland is one of our professional skippers and is based at Scrub Island Resort & Spa in the British Virgin Islands. As part of our #MoreWomenatSea series, Lisa told us how she got into sailing, her career so far and what her typical day as a Dream Yacht Charter skipper looks like…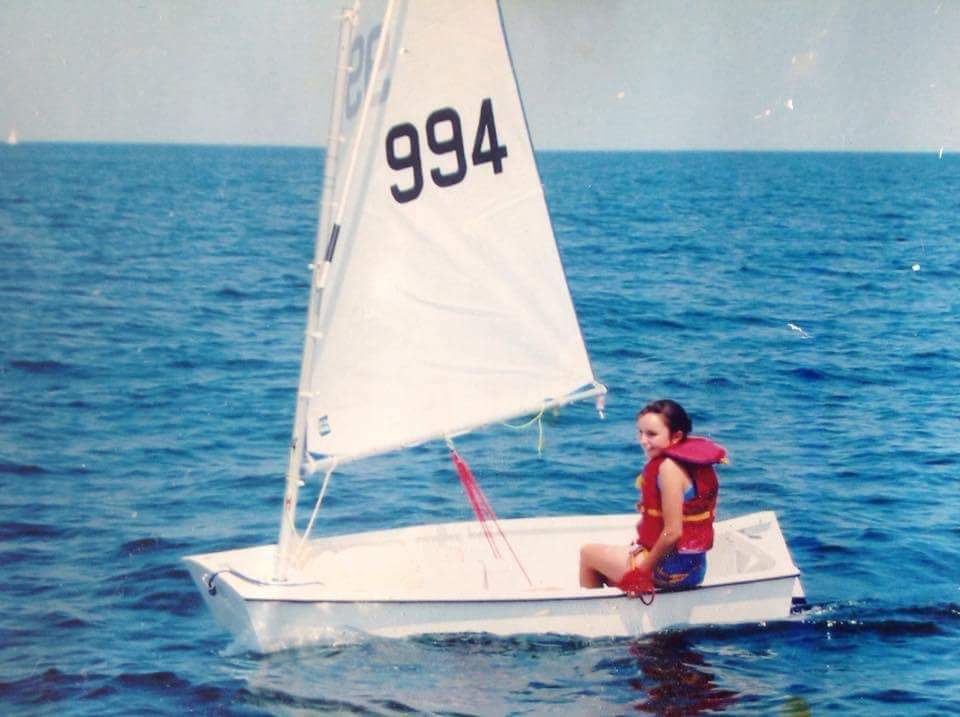 How often did you go sailing as a child?
Growing up in Canada, we had a relatively short season, so sailing time was pretty limited to summer weekends on my parents' sailboat, as well as summer racing camps. When I was young, if I was naughty, my punishments were often doing boat chores, which I never minded, and it rather set me up well for my future career.
What boats did you sail when you were starting out?
Just about anything I could! The first boat I sailed was a 13ft Sunfish, and then Optimists, 420s, Lasers and the boat my family owned, a 1976, 26 ft Canadian-built Tanzer called Unplugged. My parents had that boat until just two years ago and it was really a part of the family. They would pack up their two kids and two dogs and head to the shore of Lake Ontario most summer weekends. That really solidified my love of sailing.
What made you want to get a job on a tall ship?
I started in this industry wanting to be a tall ship sailor. When I was a teenager, I read a book, called Pirates by Celia Rees. It is set in the 1700s and tells the story of two girls who run away and pretend to be men so they can sail aboard a pirate ship. It definitely planted the seed for me to be a woman in sailing. I always imagined a life at sea to be so romantic, challenging and fulfilling.
I landed my first job on a stunning 75ft wooden ketch, the Mar II, as a day sailor out of Halifax, Canada. I had my eye on her for some time, though the captain didn't seem so keen to have women deckside. I took a job as one of the girls on the dock promoting the day sails, just to have a foot in the door, and my persistence was rewarded. Shortly after, a new, young South African captain took over. I handed him my CV and my heart leapt when he told me, "Well if you can sail, why are you standing on the dock then, little one?" That day was the start of my career. He was and still is an incredible mentor to me.
Where did you go after the Mar?
After my time on the Mar, I was a professional sailor and decided to take my act international. In August 2012, I found myself on a mad dash to Vibo Valencia in the south of Italy after I landed a short notice deckhand position aboard the incredibly beautiful 145ft brigantine, Florette. I had six hours between my Skype interview and my flight. Adrenaline pounded through me while I was still packing my bag in the car on the way to the airport, but I knew my life was about to change. I jumped aboard after a 20-hour round of travel, had a sleep and got to work.
It wasn't easy. It was physically demanding work, a new country, environment and a type of sailing I had never encountered. I was tested physically, mentally and emotionally, and there are few experiences that I value more in my life. It was a family run vessel and the crew were treated as if part of the family. The growth and knowledge I experienced onboard changed me as a person, and as a sailor.
Duties included everything! We were sailing, deck swabbing, varnishing, sanding, laundry, dishes (no one tells you how many dishes it takes to sail!) teaching the guests some sailing bits, keeping watch and so much more. Florette is where I learned what hard work is. One of my favourite parts of the job was climbing high into the rigging on foot rope to release the huge canvas sails. Packing them back in, however, is a whole different story!
What's been the highlight of your sailing career to date?
The highlight of my career has undoubtedly having been blessed to have my tenure during a time which women behind the helm are finally being uplifted, supported and encouraged. My highlight occurs every day when I am successful in my dream, and I get to introduce myself as captain, breaking down stigma and helping to normalize women in sailing. This incredible world is no longer an "old boys club", and I am so thankful to the strong women who came before me to pave the way.
When did you start working as a Dream Yacht Charter skipper?
I started working with the company in 2016. I had finished my Yachtmaster Offshore License in Antigua and began the hunt for gainful employment behind the throttles. The base manager, Thierry, gave me my first opportunity as a young captain, and for that I will forever be grateful.
What's your typical day as a skipper look like?
I'm not sure if I could nail down what a "typical" day would be! In my career, I can't say I've ever had two days just alike. Whether it be the weather, the boat, an event, a client, every day is a fresh new day and that is definitely what keeps me constantly invigorated.
What is your responsibility on the boat?
My responsibility on the boat is effectively being captain, nurse, bartender, deck schwab, dishwasher, sous chef, engineer, waitress, diver, tour guide, logistician, accountant, maid, entertainer, and everything in between, It is such an all-encompassing job and I wouldn't have it any other way.
What's your biggest challenge being a skipper?
My biggest challenge as a skipper would be trying to manage some big personalities some times. I am a physically small woman, so there are definitely times when some people may make some incorrect assumptions regarding my abilities. As my career progresses, and I work on developing my leadership style, it is really rewarding when it's clear that I am able to impact someone's preconceived notions.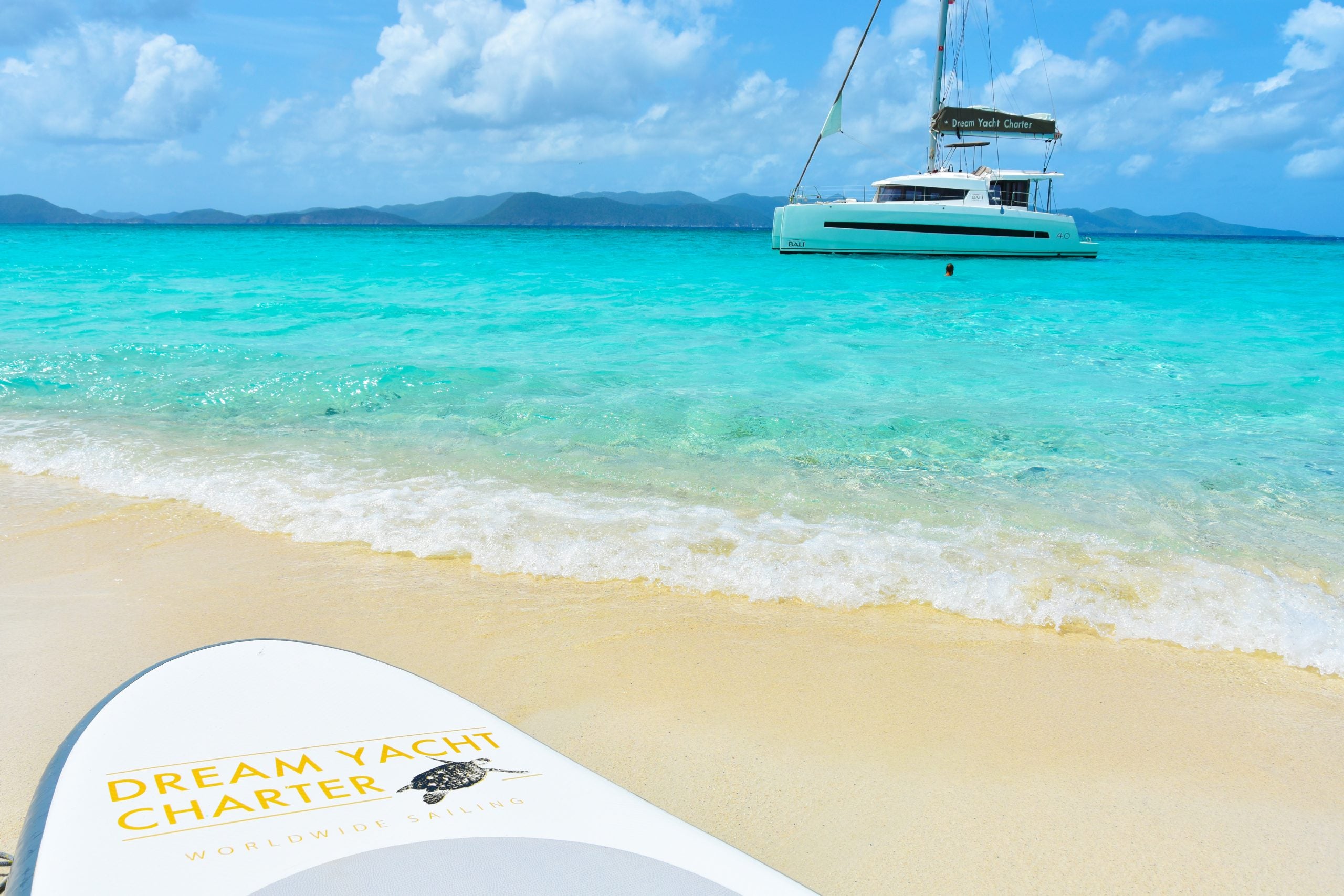 What's so special about the BVIs?
BVI is a cruisers paradise. With over 60 islands, every sailor can bring home a personalized and special experience. We have clients that want to enjoy the lively, party-oriented aspects of the islands and some that want to spend their time soaking in the incredible natural beauty in the stunning silence. There really is something for everyone. Working for Dream Yacht Charter out of the BVIs, I absolutely adore the camaraderie and relationships built between other crews, locals, vendors and everyone that keeps that special BVI spirit alive.
What local insider secrets do you share with customers?
Mix things up. It is always fun to dance the night away at Foxy's, or devour a lobster at the Wonky Dog, but I think the real beauty of the BVI is in the spots a little less sailed. One of my favourite beaches to anchor at is Savannah Bay on Virgin Gorda. It has that perfect sand and water colour, and with the sun rising over the beach in the morning it is absolutely breathtaking.
What's your top recommendation for the BVIs?
Pour a drink, take a dip and soak up the sun. Let the day take you where it may, and we will take care of the rest.
How do you put guests at ease?
I've found that keeping an open and honest dialogue with guests is extremely important. Many of the people that we host are not familiar with a marine environment and often quite conscious of that. I think it's really important to let guests know that this is their home for the week and that myself and the crew are there to assist them in whatever way we can to have a safe and successful charter. When it comes to matters of safety, every captain has their own style of managing.
During my career, my safety briefing has definitely evolved into my own style. It is a lot of really important information that you need to effectively convey to a group of excited people who just don't want to hear about a muster station. I'm convinced that all of my fun anecdotes and witty puns keep it fresh, but the groans would indicate otherwise.
What do guests always want to know?
Where we are going? But seriously, a question I get every single charter is about how I ended up in the sailing industry, but it is a story that I never mind sharing.
What feedback do customers give about a skippered charter?
The most common feedback that I get is that my clients feel as though they were in good hands, which is amazing. Whether you are stepping on board a yacht for the first time, or are an old hand, the value of having local knowledge aboard and a lessened burden of responsibility on holiday ensures everyone can enjoy themselves in a fun, and safe way.
What's your favorite place in the world to sail?
Antigua, without a doubt. The sailing culture, community, stunning beaches, marine life and history make it such an incredible place to be as a mariner. The Cyclades in Greece would follow as a close second. It is an amazing place with enough challenges to keep a sailor on their toes.
When did you become a divemaster and where have you dived?
I was awarded my Divemaster in January 2018 after studying in Bocas Del Toro, a super cool set of islands on the Caribbean coast of Panama. I have been really fortunate, being able to dive all over the world in Asia, Europe, North and Central America. I really can't tell you what I love more, being on top of the water or under it. My partner and I have a long-running joke about diving – that we are going downstairs to hang out with our friends.
What does sailing give you that other careers can't?
Sailing as a career really ties in such a vast collection of skills. Knowledge regarding sailing, engineering, firefighting, medicine, astrology, meteorology and marine biology are just the beginning. There is also a huge degree of networking, accounting, public relations, ecology and every skill on the service spectrum. The willpower, perseverance and dedication learned as you progress in this industry are incredibly valuable lessons.
Would you ever go on a long voyage or solo?
I am still undecided. I am a really social person so the thought of only having myself to talk to would be a real challenge and I would be talking to myself a lot. On the other hand, I think that the level of personal advancement would be really remarkable. I am actually heavily considering taking on the Talisker Rowing Challenge, rowing double-handed across the Atlantic.
Find out more
Visit our blog for more inspiration on sailing vacations. Alternatively, for more information on our skippered charters, get in touch with our team on 1-855-650-8902 or email [email protected].