While Thailand may be best known for its tropical climate, white sand beaches, rich culture and delicious cuisine, scuba divers know it as a world-class diving and snorkeling destination. The stunning waters of Thailand are home to over 300 islands, 1200 miles of coastline and hundreds of incredibly diverse dive sites. From impressive wrecks to pristine reefs to colorful coral-encrusted walls, scuba diving in Thailand will delight every diver from novice to expert.
One of the most exciting ways to experience diving in Thailand is from aboard a private sailing charter, where you can avoid the crowded day charter boats and dive directly from your liveaboard yacht. The Dream Yacht Charter base is located in Yacht Haven Marina on the island of Phuket that extends down into southeast Thailand's Andaman Sea – where most of Thailand's top dive and snorkeling spots can be found.
Scuba diving in Thailand is known and loved for exceptional underwater visibility, varied marine life and some of the best coral to be found anywhere in the world. And if you're anything like the many divers looking to experience a thrilling dive with whale sharks and manta rays, the Andaman Sea can provide the dive experience of a lifetime.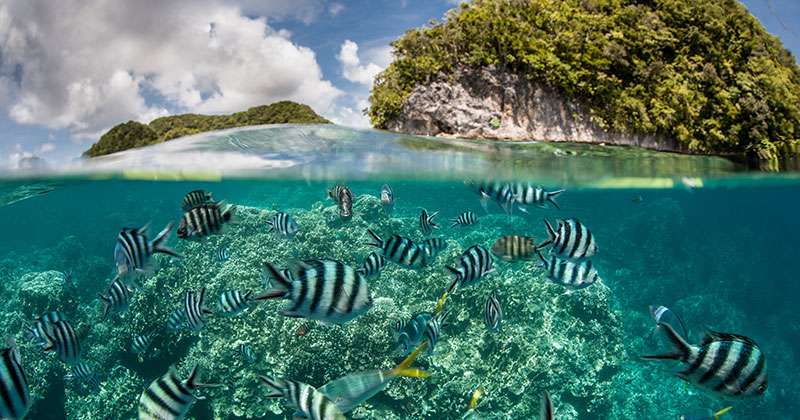 When putting together your itinerary for scuba diving in Thailand, consider the time of year, your dive experience, and the types of activities you enjoy most – whether you want to swim with tiger sharks, snorkel along scenic beaches, or macro dive and linger among rare tiny sea critters. When diving the Andaman Sea, visiting between October and April is ideal, when seas are calmer and visibility is at its best.
To help you plan, we've put together our list of favorite hotspots for scuba diving in Thailand. Read on to find your diving bliss!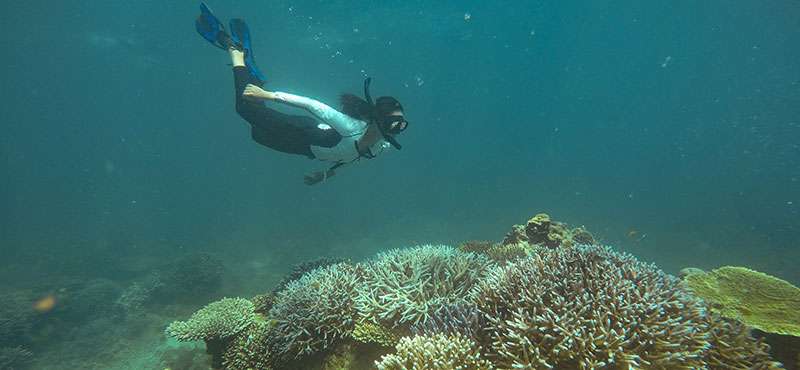 Phi Phi Islands
A NOVICE DIVERS PLAYGROUND
The Phi Phi Islands are stunningly beautiful both above and below the surface. With its sparkling bays and crescent beaches surrounded by stunning rock formations, it's one of the most photographed areas of Thailand. It's worth a visit for the above-water scenery alone, but for divers the underwater experience is a must. With striking coral gardens, caverns, and swim-throughs, along with calm novice-friendly bays, it offers some of the most thrilling diving for beginners. Keep an eye out for leopard sharks that are often seen here.
Koh Phi Phi is also a great option for those interested in snorkeling in Thailand. Check out the main island of Koh Phi Phi Don for amazing snorkeling at both Nui Beach and Long Beach.
Phuket
CONVENIENT GATEWAY TO THAILAND DIVING
Phuket is often overlooked when considering the many options for scuba diving in Thailand. But Phuket's coastline offers a surprising variety of dives with dramatic underwater landscapes, excellent visibility and easy conditions. And it's one of the best places in Thailand for those interested in shore diving for beginners.
Visit the popular Koh Dok Mai dive site to see extraordinary yellow tube corals and numerous eels. More experienced divers will enjoy Shark Point, known for beautiful leopard shark sightings.
Richelieu Rock
AN ADVANCED DIVER'S PARADISE
Some say the Richelieu Rock dive site offers the best scuba diving in Thailand. This pinnacle site is located north of the Similan Islands, and is fairly remote, taking a bit longer to reach. But it's well known for whale shark sightings, with the best time of year to spot them being between February and May. And even if you don't spot the whale sharks, Richelieu Rock has much more to offer, including manta rays, walls of yellow anemones, and macro critters like sea horses, and porcelain crabs. Keep in mind that Richelieu Rock is best for advanced divers, due to the open water swells and strong currents.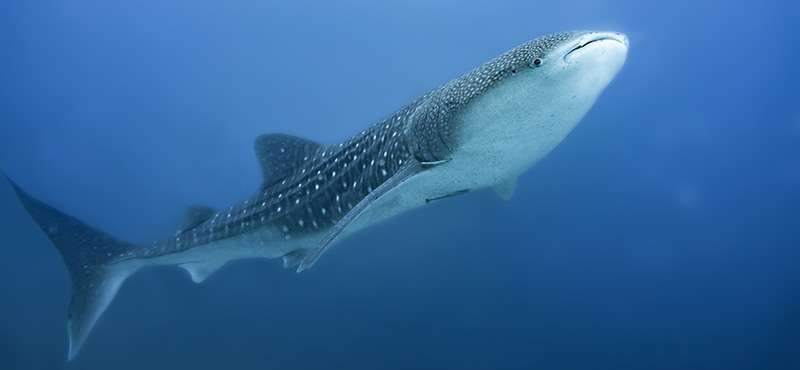 Similan Islands
BEST FOR SPOTTING WHALE SHARKS & MANTA RAYS
The Similan Islands are an eleven island archipelago of natural wonders with low-lying natural formations and lush forests – all surrounded by the clearest of waters. Here, diving is rated as some of the best in the world, offering various areas that are suitable for all levels of diver. The islands are pristine, partly due to the remote location and limited lodging options – which also makes diving from aboard a liveaboard yacht charter an ideal option.
Enjoy crystal clear waters, teeming with sea life, unique underwater formations, giant granite boulders, swim-throughs and huge colorful fan corals – and of course, the opportunity to spot whale sharks and giant manta rays!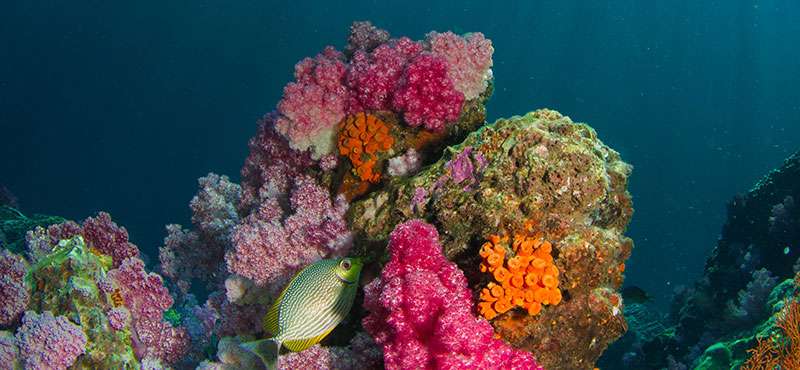 Koh Lanta, Hin Daeng & Hin Muang
A DIVER FAVORITE FOR VARIETY
Koh Lanta is a tourist favorite island on Thailand's Andaman coast, known for long uncrowded coral-fringed beaches, jungled-covered mountains along with plenty of places to eat and purchase fresh local fruits. For those seeking the best scuba diving in Thailand, Koh Lanta is a must-dive destination. The crystal-clear, warm waters surrounding Koh Lanta offer great visibility, vivid colors, and abundant marine life.
Kon Lanta's two most famous dive sites are Hin Muang and Hin Daeng, with some divers claiming these sites are their favorite of all scuba diving in Thailand. Hin Muang (meaning purple rock) hosts a submerged pinnacle that boasts Thailand's highest vertical wall, descending to over 197 feet, and covered in soft purple corals and large sea fans. Large fish abound here with reef sharks, barracuda and jackfish, while smaller creatures can be found among the anemone carpets in the shallows. Keep an eye out in the deeper waters where manta rays frequently glide by.
Find out more
Find out more about sailing charters in Thailand. Escape the crowded tourist boats, and experience diving and snorkeling directly from your liveaboard yacht charter. No experience required! Hire a local skipper to take the helm and show you all the secret anchorages and dive spots.
Learn more about yacht charters in Thailand, or one of our many other destinations on our blog. Get in touch with our team today on 855.650.8902 or email [email protected] for more information.