Aqualodge
If you've booked a bareboat yacht charter, by the cabin vacation or crewed charter, an Aqualodge is a great way to extend your trip and keep a close connection to the sea while you roam ashore.
What's on this page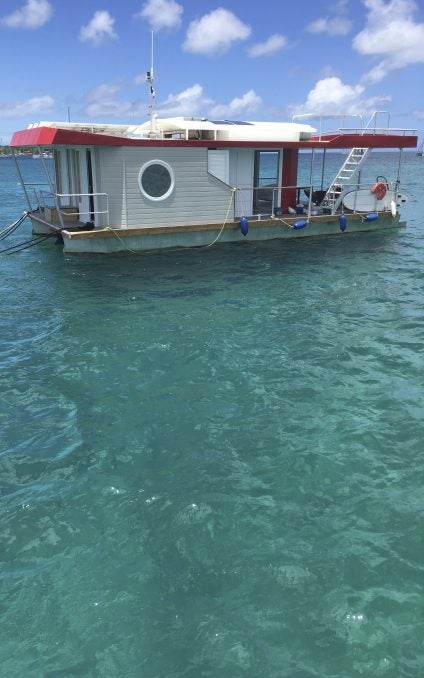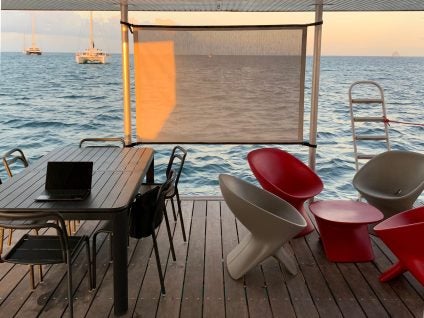 Why Aqualodge?
Original Accommodation

Private

Waterfront
What is an Aqualodge?
Our innovative, comfortable and environmentally friendly accommodation offers plenty of space and everything you need to enjoy exploring the beautiful surroundings with friends and family.
Book an Aqualodge if you want to relax near the water but aren't ready for a sailing vacation.
Our Aqualodges offer modern, comfortable facilities and the wonder of being able to easily take a dip or snorkel with tropical fish from your deck. You do not need any sailing experience as our Aqualodges are moored and do not sail.
From the comfort of the sofa or while you cook, watch the fish swim below you through the glass floor section. Take in the impressive view with rooftop sunbathing, or enjoy swimming and snorkeling.
Up to four people can be accommodated in two double bedrooms and you can prepare your own meals from a fully equipped kitchen. If you want to hop ashore, then you can use the included dinghy.
Aqualodge destinations
Our Aqualodges are based in Martinique and Guadeloupe, a sophisticated destination which showcases the best of French heritage with fine dining and bustling cultural activities across the arts. From Martinique, you can explore many other nearby Caribbean islands, including Bequia, Moustique, Union and the famed Tobago Cays.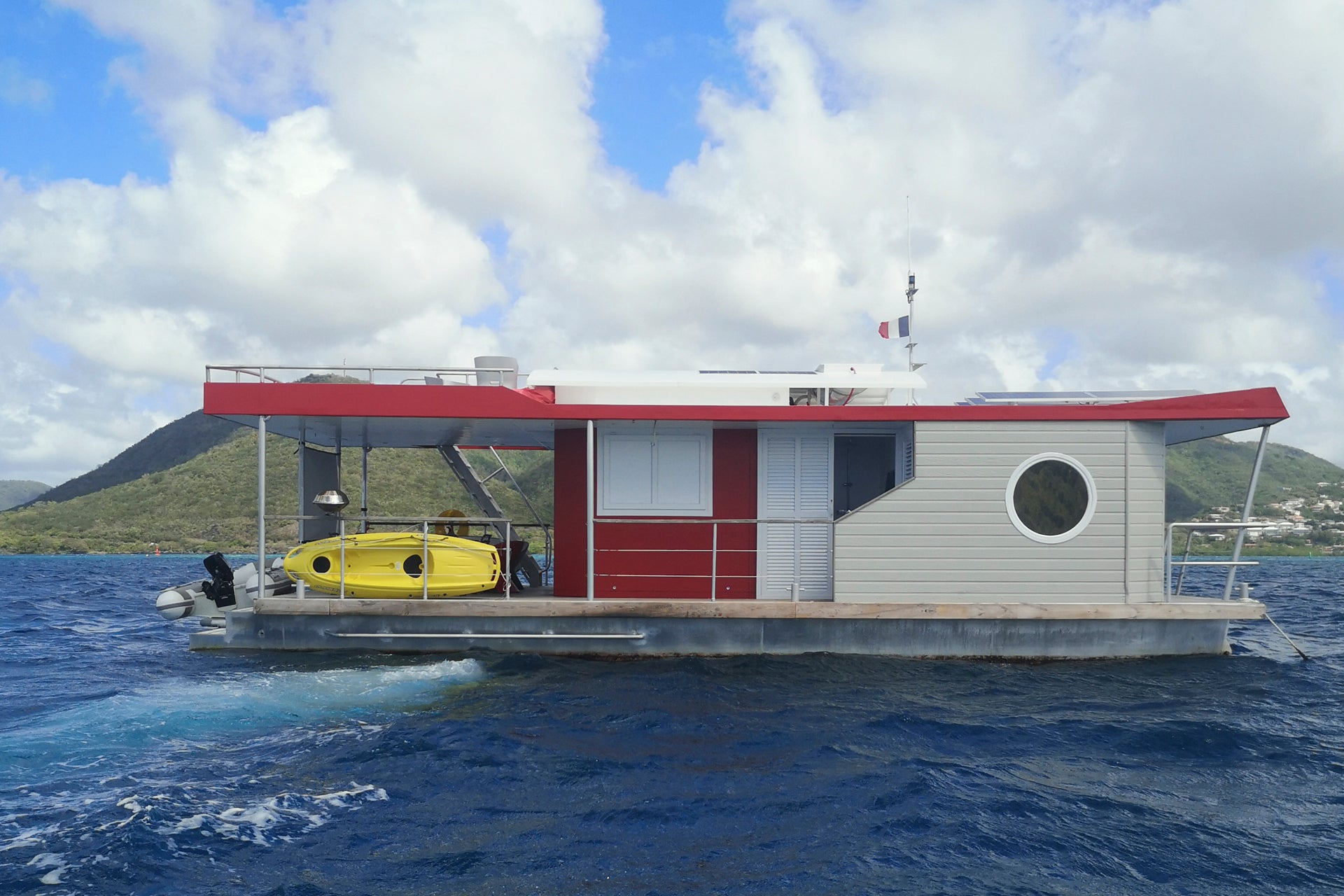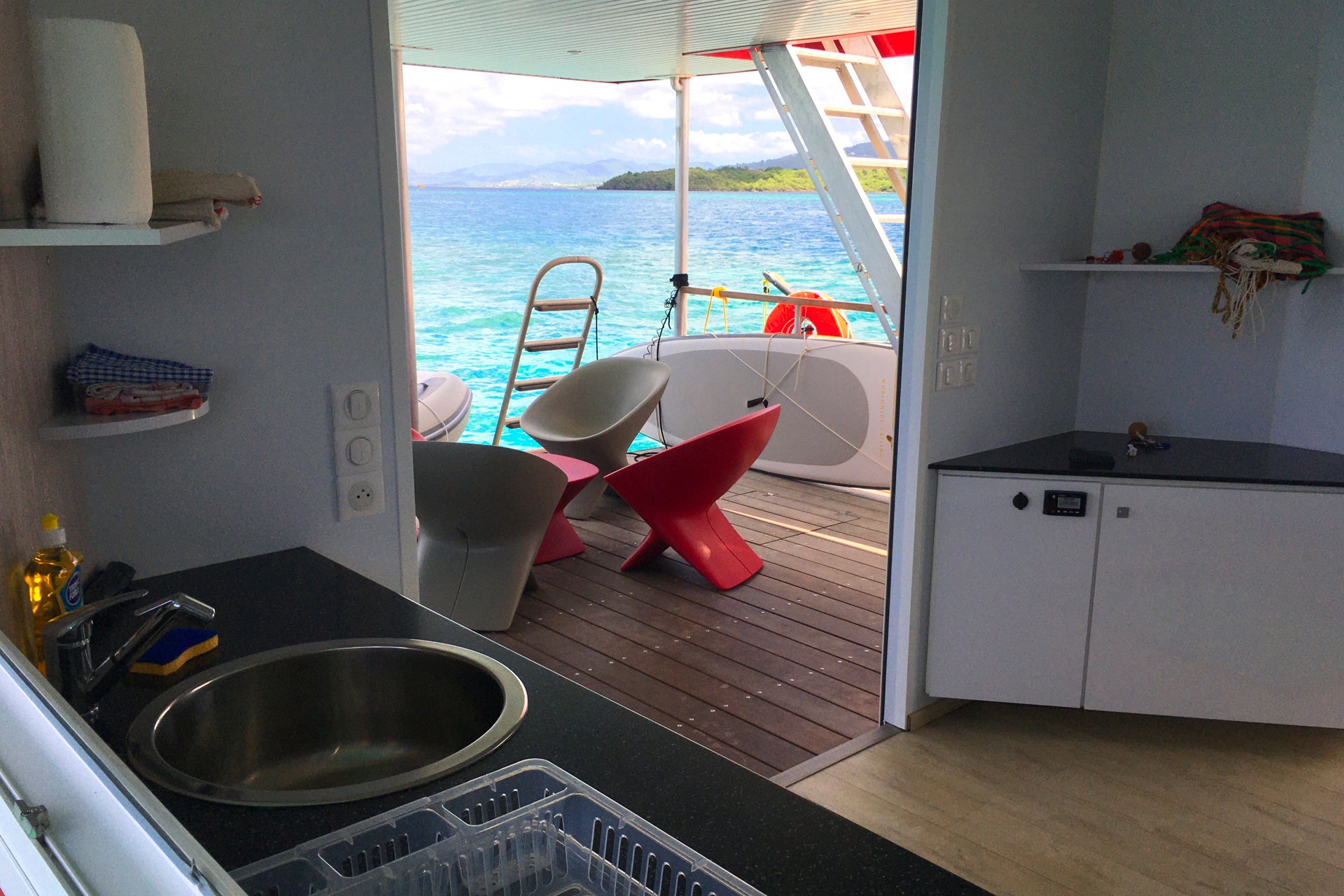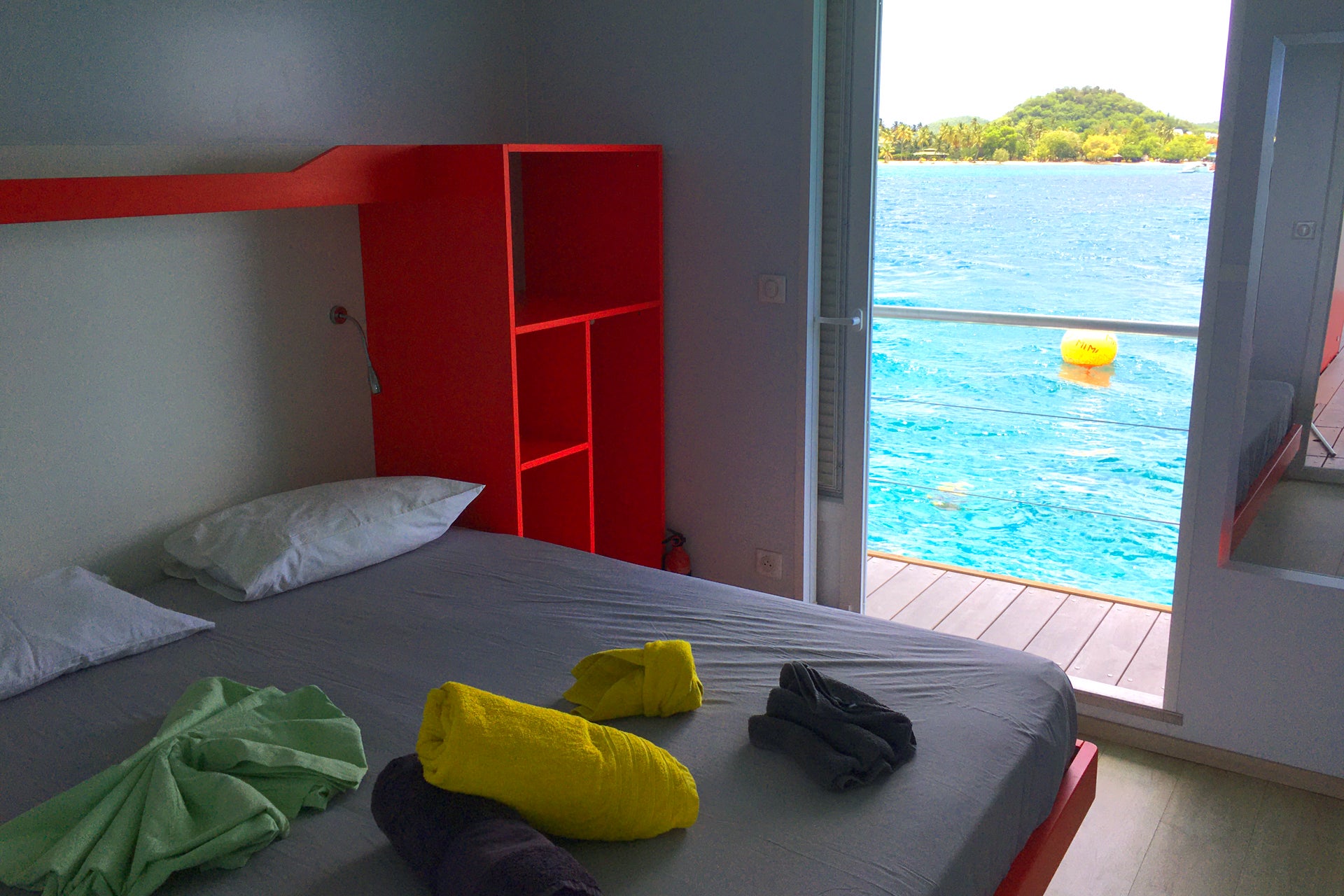 Available destinations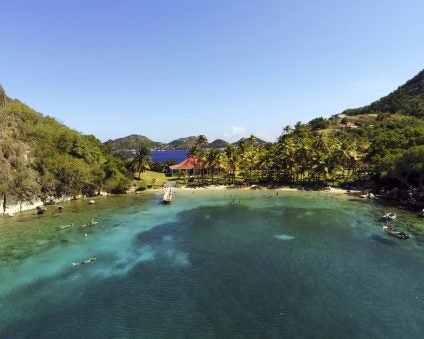 Guadeloupe
Escape to a more authentic, less-traveled and stunningly beautiful Caribbean.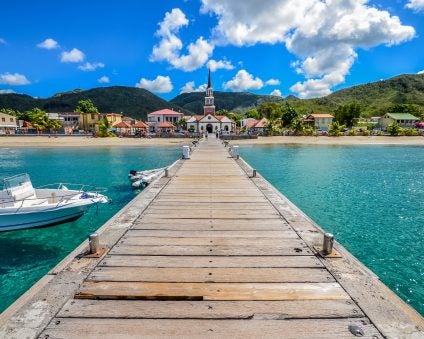 Martinique
Explore flawless beaches, pretty villages, lush rainforests and rugged peaks.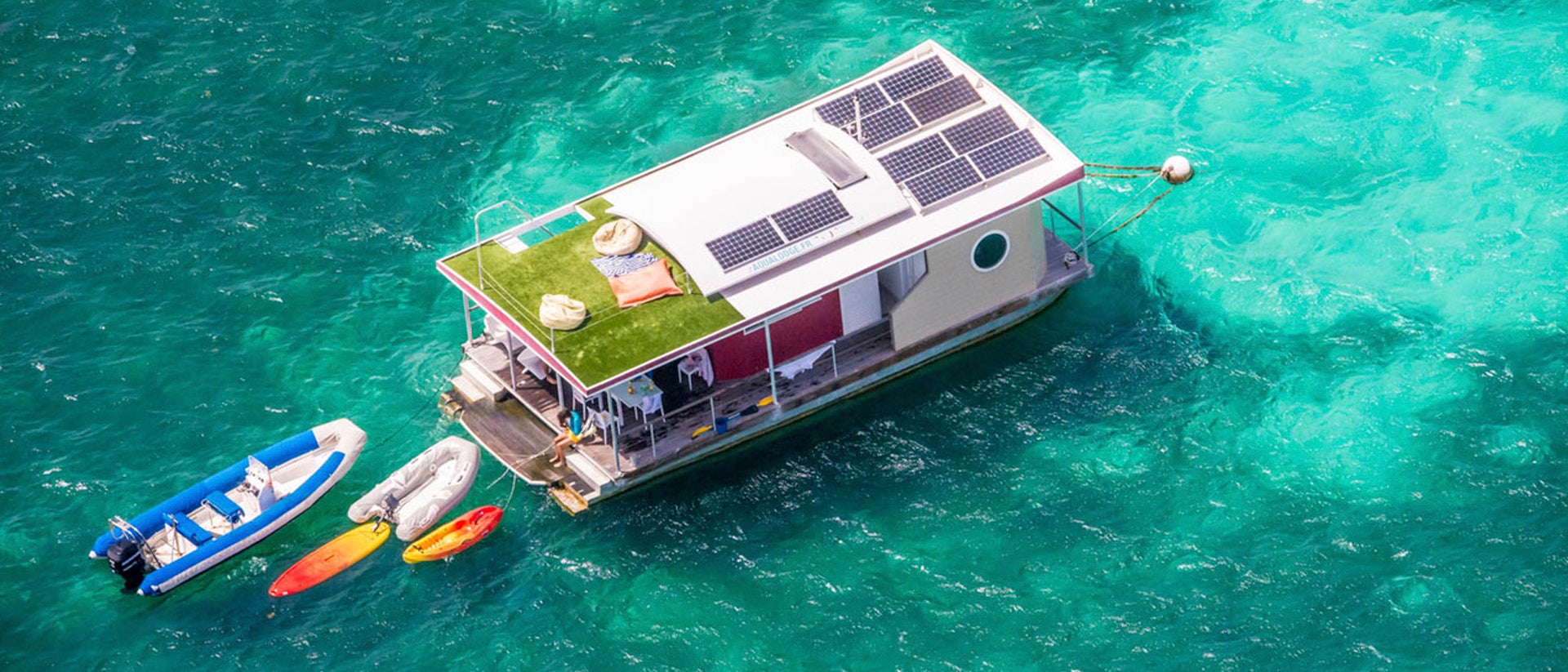 Aqualodge facilities
Accommodation for four people
Two double bedrooms
One bathroom and one toilet
Fully equipped kitchen with:

Fridge and freezer
Oven
Dishwasher
Lounge area
Glass floor

Watermaker
Outside dining table and chairs
Outside lounging chairs and bean bags
Watertoys

Snorkel
Fins
Kayak (additional fee)
Paddleboard (additional fee)
Fishing equipment (additional fee)
Dinghy with outboard engine
Lodge Length: 42.5-ft
Lodge Width: 19.5-ft
Lodge Area: 840 sq. ft.
Eco-friendly vacations
If you want to minimize your impact on the environment while on vacation, an Aqualodge reservation has significant benefits when it comes to ecology.
Our floating accommodation is equipped with:
Solar panels for power generation
Watermaker for your water supply
Dry toilets to avoid wasted water
Waste water treatment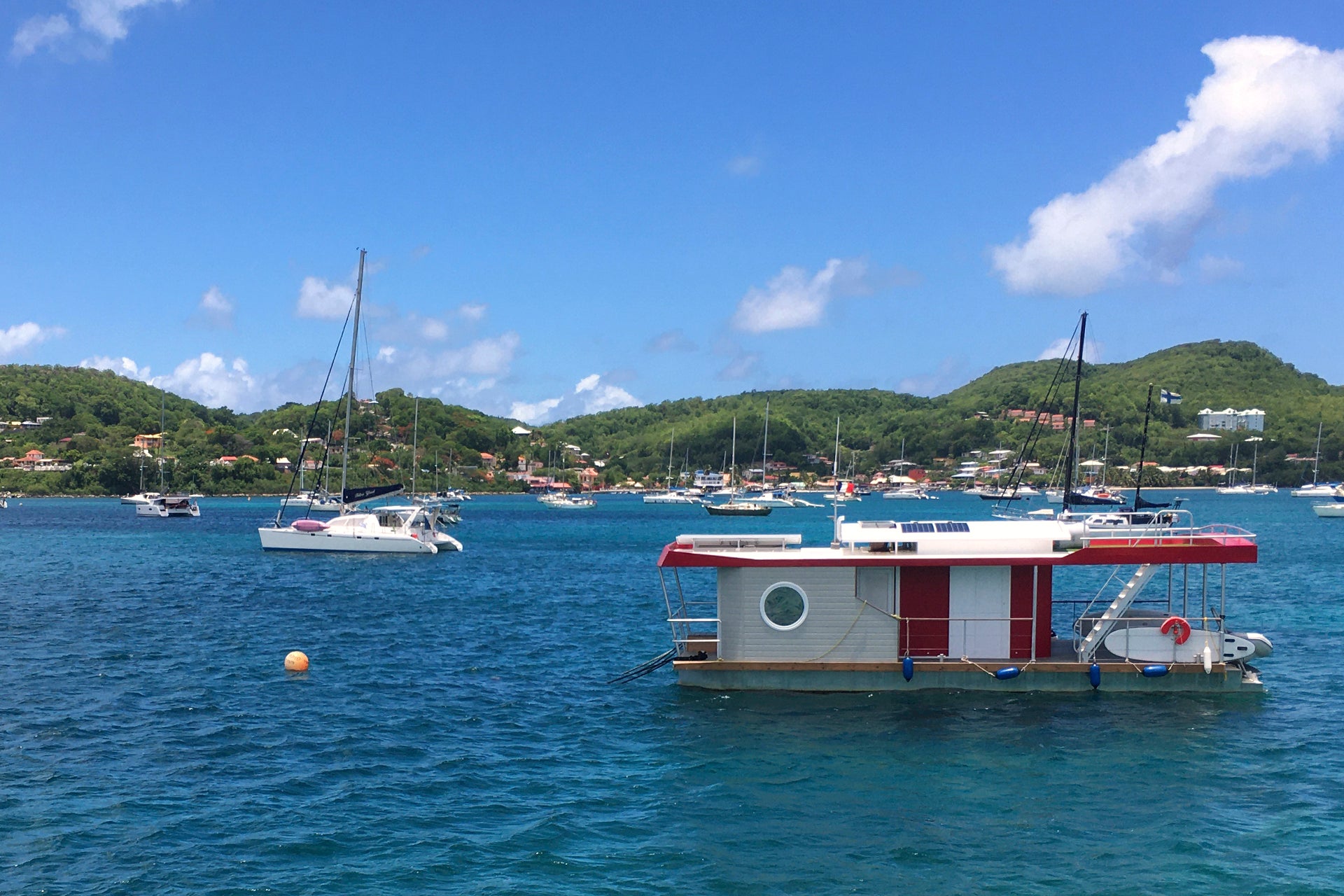 Do I need navigation skills to rent an aqualodge?
No, our aqualodges are not boats, they are anchored in the bay so no nautical skills are necessary.
How long can we rent an aqualodge?
Are children accepted on board or is there an age limit?
There are no age restrictions and children are welcome. However, it is up to you to ensure their safety on board.
Can we go ashore once we are settled on board?
A tender (small semi-rigid boat with a motor) is provided with your Aqualodge, you can use it to go ashore and discover Sainte Anne.
Get inspired!
Follow our customer's journeys & share your own amazing experiences on Instagram
What's new?
Stay up to date with news and events or get some inspiration for your next yacht charter and pick up useful tips by reading our latest blogs.
Go to Blog