Yacht Charter Antigua
Come join us in exploring Antigua's winding coastline which, with its abundance of safe harbors, protective coral reef and steady trade winds, is one of the world's most desirable sailing destinations.
What's on this page
Highlights
Historic Nelson's Dockyard

Hundreds of spectacular beaches

Wreck scuba diving
Antigua boat charter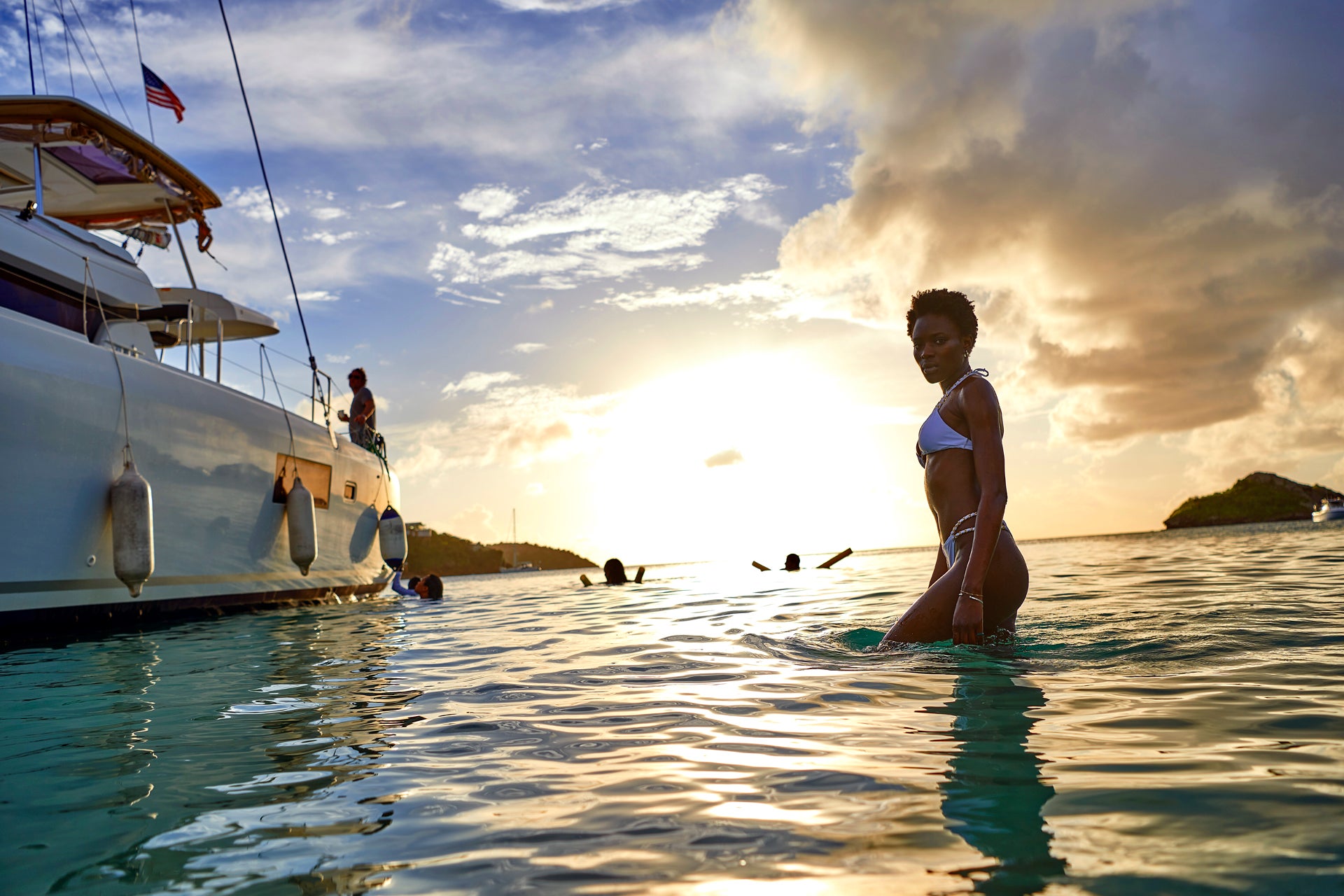 Our base is at the full-service Jolly Harbour Marina on the western coast of Antigua which, at 14 miles long and 11 miles wide, is the largest of the English-speaking Leeward Islands, also known as the Lesser Antilles. From here, you can sail to the region's many hidden coves and historic ports.
Like most other islands in the Caribbean, Antigua benefits from a warm climate. When sailing in Antigua, you take advantage of this great weather on one of the island's 365 beaches. On your Antigua yacht charter, you should also schedule a trip to the nearby sister island of Barbuda to discover 123 miles of wonderful beaches, including its famous pink sands.
Ashore in Antigua's bustling capital of St. John's, a lively hub for shopping and dining, you'll find the island's impressive cathedral, perched on a hilltop with its baroque towers dominating the skyline.
During your Antigua boat charter you can also sail south to visit the mountainous island of Montserrat, while to the north and west you can call in at Nevis, St. Kitts, St. Barts or St. Martin.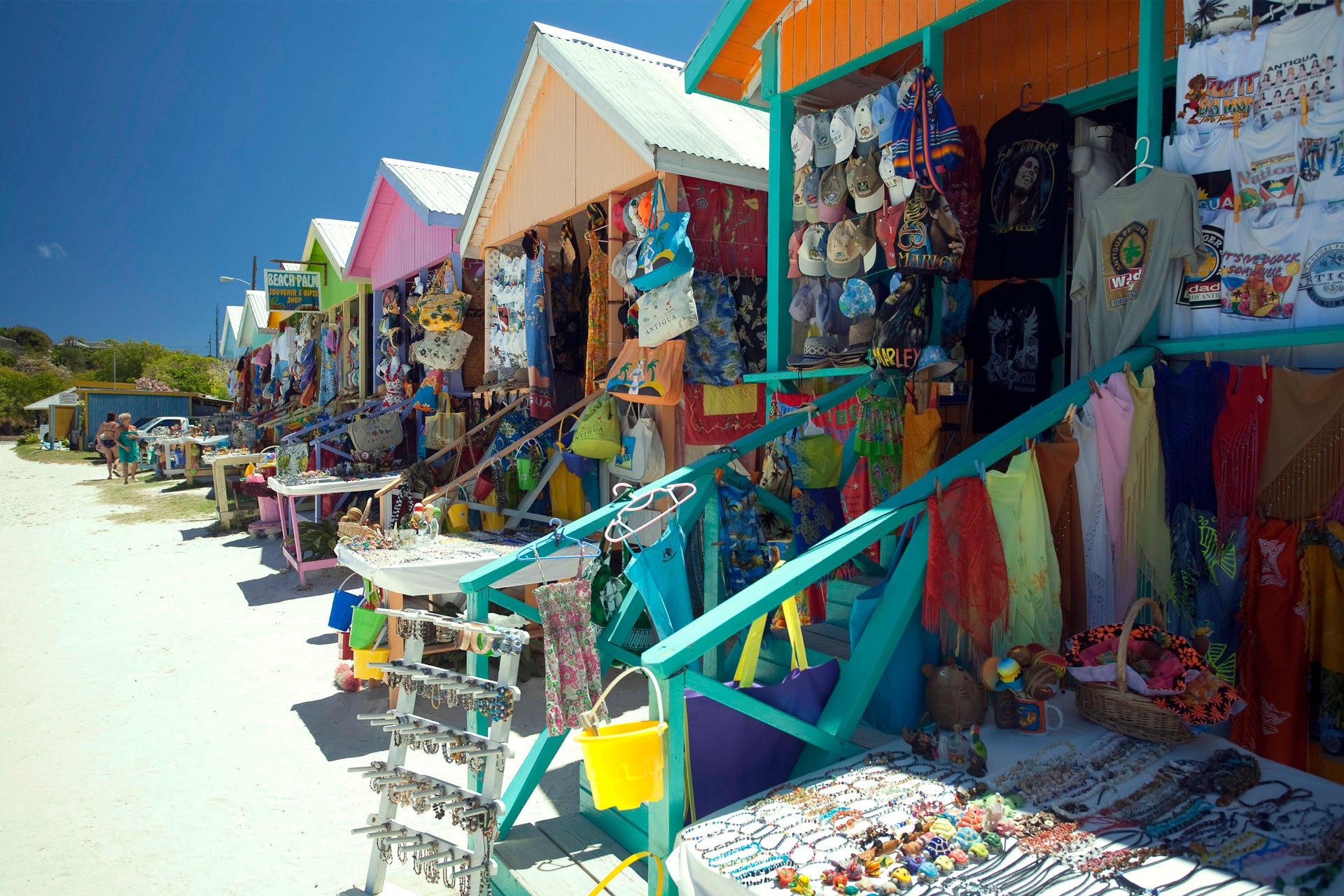 Things to do in Antigua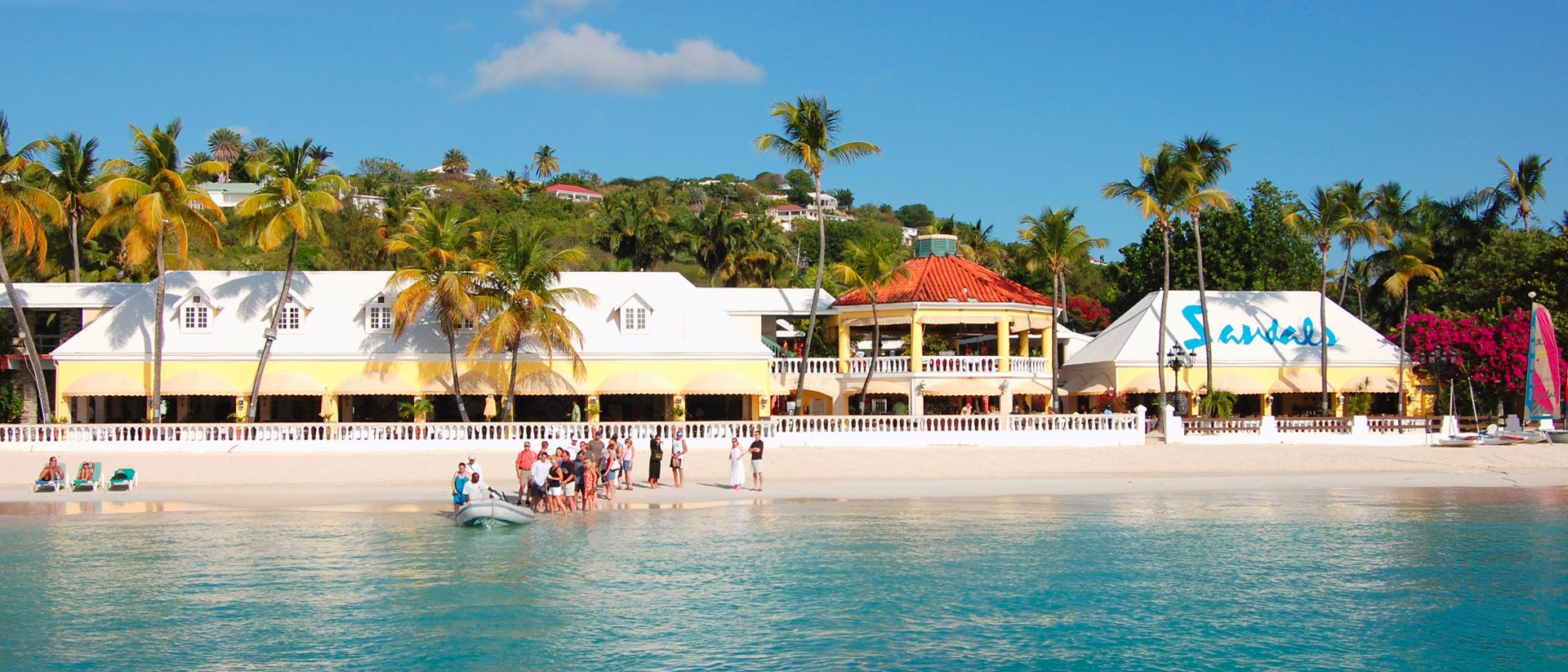 Visit Nelson's Dockyard National Park
Remarkably rich in history, this national treasure is a fully restored and working marina with modern shops and restaurants housed in 18th and 19th-century buildings. It's one of our top things to do in Antigua.
Swim with stingrays
The Southern Stingrays of Antigua are gentle and friendly. Snorkel and swim among them and delight in the unique experience of touching and feeding these curious creatures.
Sunday night at Shirley Heights
Ideally located on the hills overlooking Nelson's Dockyard, Sunday at Shirley Heights is a long-standing island tradition complete with sunset, steel drums, festive drinks and delicious food.
Snorkel at the Pillars of Hercules
This towering limestone rock formation guards the entrance to English Harbour, and it can only be fully viewed from over the water by boat. So do stop by during your Antigua sailing charter. The area below the structure is well-known as an excellent snorkeling spot..
Antigua Sailing Week
This yacht regatta is one of Antigua's most popular events, attracting as many as 200 yachts and 5000 spectators each year. Come to race or enjoy the competitive action from a distance And be sure to join in the afterparties.
Weather insights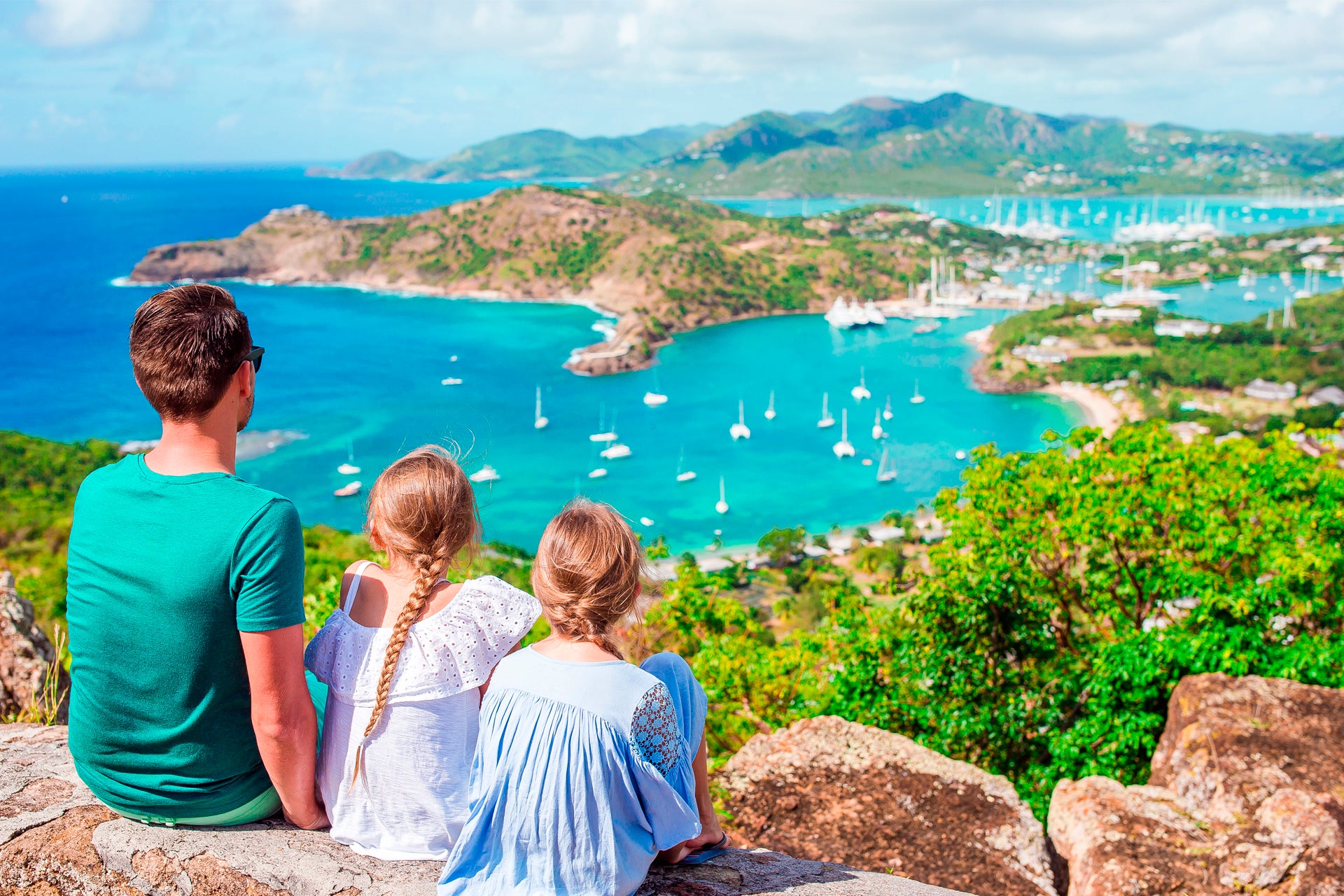 When is the best time to visit Antigua?
The best time to visit Antigua is between January and May, when the weather and trade winds are more stable, and temperatures are comfortable.
The average temperature in Antigua between December and May (the winter months) can reach 86ºF with cooler nights around 68ºF and a water temperature of 78ºF. Between June and November, the weather is warmer and less stable with temperatures around 89ºF and a water temperature of 82ºF.
What are the sailing conditions in Antigua?
The sailing conditions for Antigua yacht charters during the winter months are stable, with trade winds generally blowing from the east or north-east around 18 to 20 knots, with occasional higher speeds during gusts or squalls.
During winter, there can sometimes be northerly ground swells that affect some anchorages – especially Barbuda. Talk to the base about your itinerary before you set off.
In the summer, winds blow from the east to south-east between 10 and 25 knots.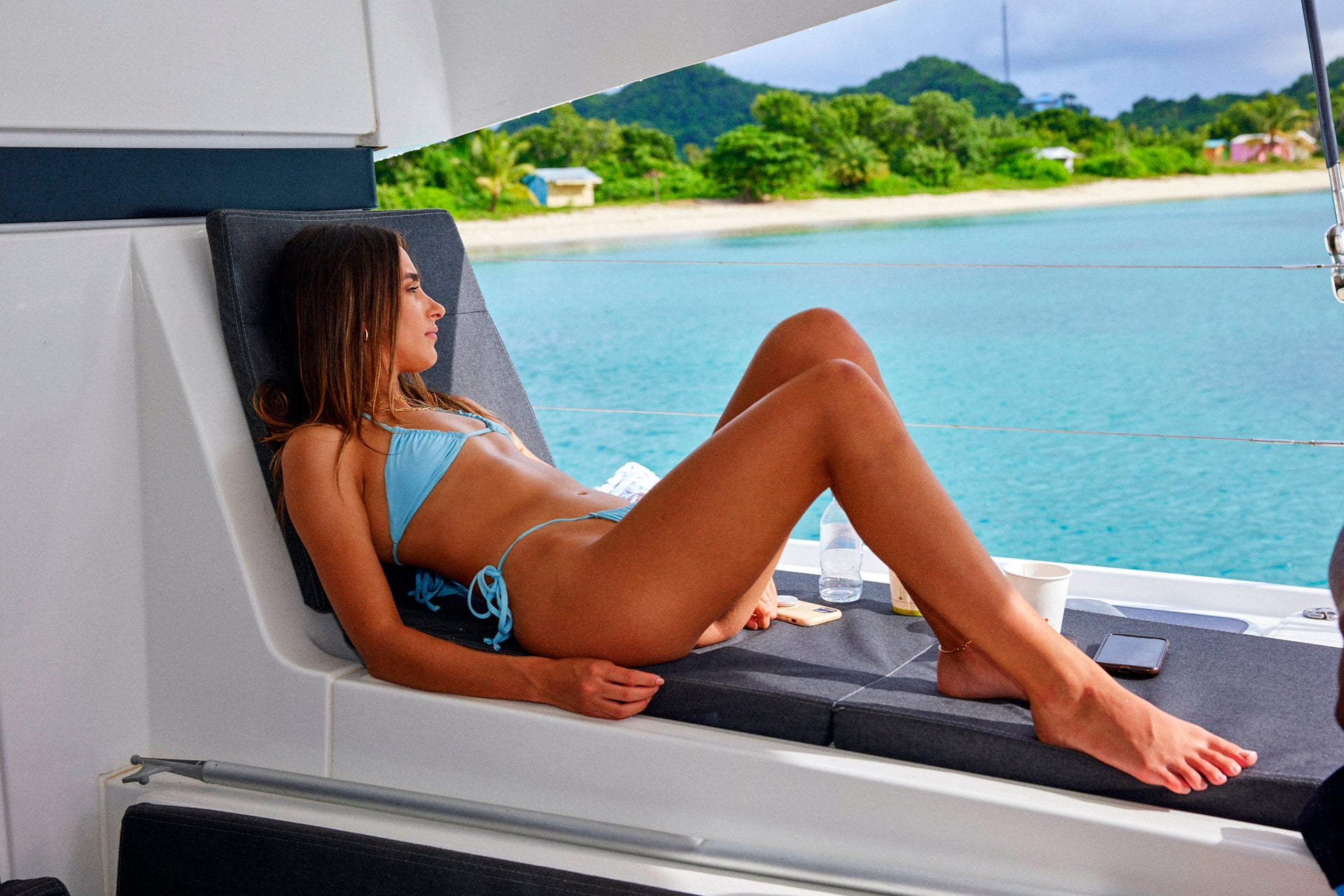 Sailing Antigua with Dream Yacht Charter
Yacht charter Antigua
Take the helm and design an Antigua yacht charter that takes in the best sights and sounds of the Caribbean. Provision your yacht and have fun with friends and family..
Antigua skippered charters
Hire a skipper and enjoy Antigua from the water's edge, with no sailing experience needed. Your skipper will sail your yacht for you so you can relax.
Antigua crewed charters
Personalize your Antigua sailing vacation and hire your own private luxury yacht. Let your captain sail you around your wishlist of destinations, while your hostess serves you a dream menu for the ultimate all-inclusive experience..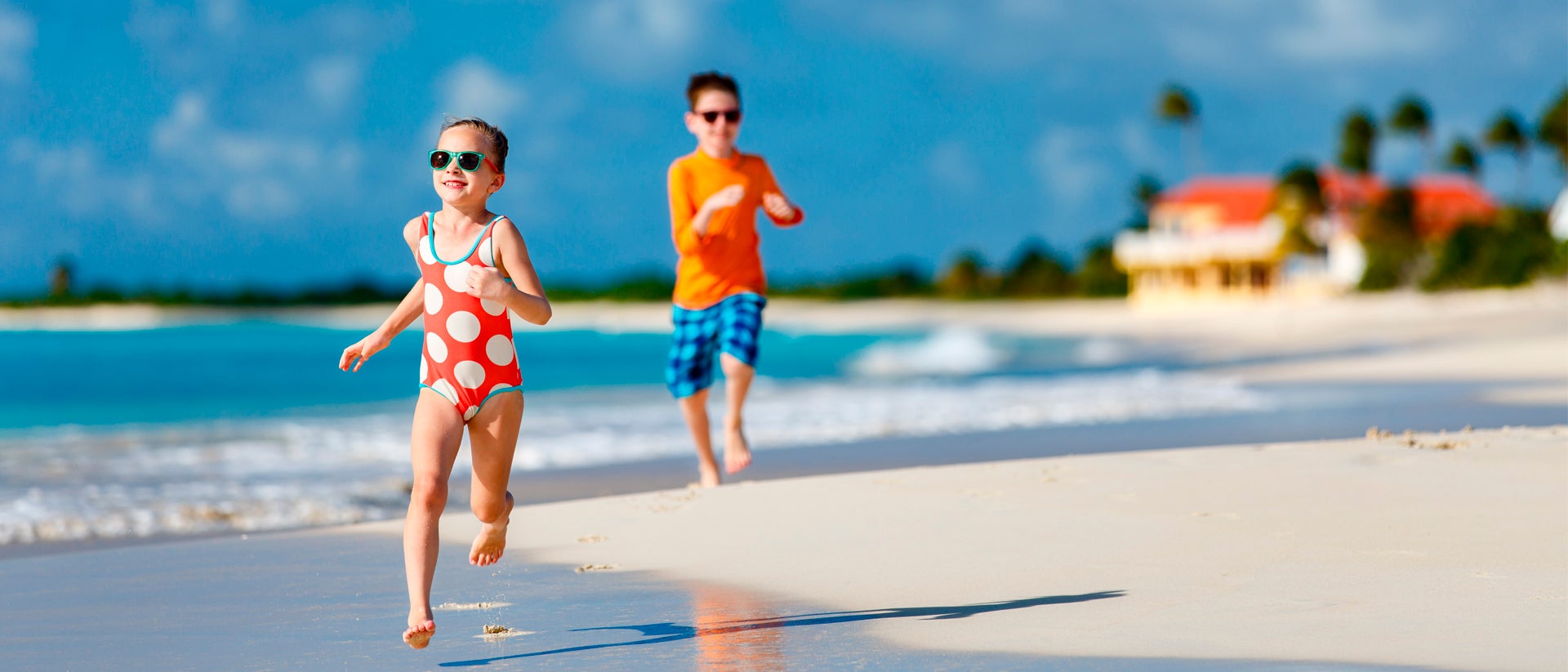 Antigua sailing itinerary
Take a look at our Antigua sailing vacation suggestions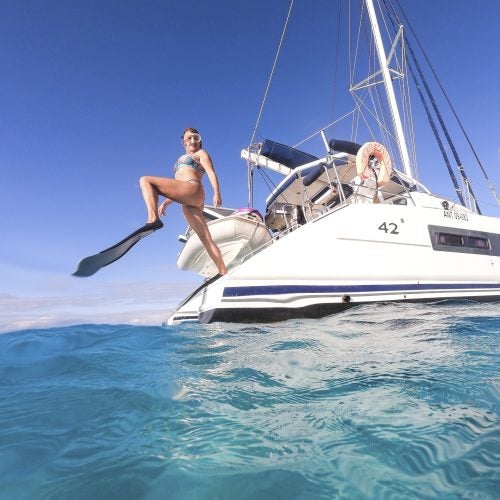 7-day itinerary Antigua
Day 1
Arrive at the base, Jolly Harbour, a relaxed Caribbean town with open air bars on the waterfront – perfect for atmospheric cocktails as the sun sets. Greencastle Hill Park is one of Antigua's highest points and popular for its views and megaliths.
Day 2
Head to Five Islands Harbour and the boat accessible Pinching Bay, where you can enjoy a peaceful, undeveloped beach – something that's becoming rare on Antigua. Snorkeling and beachcombing are good here but take your own provisions for lunch and dine on board. If you want amenities, try the neighboring Hawksbill Bay with its resort.
Day 3
Sail north to Deep Bay, which is renowned for great snorkeling thanks to a 100-year old shipwreck in the bay. You'll be able to see a lot underwater here as the water is so clear and calm. If you are feeling energetic you can hike for 10 minutes and explore Fort Barrington, which was built in 1780.
Day 4
Head south to English Harbour, which is also known as Nelson's dockyard due to its heritage as an important former British military base. Horatio Nelson lived in the dockyard in the late 1700s. This is the last working Georgian-era dockyard in the world and it's recently undergone a major transformation and restoration. Get a fantastic view of the area on the hills overlooking the dockyard at Shirley Heights, which is also an old military position and gun battery sitting 490ft above sea level. It's the place to be on a Sunday afternoon and evening, when a local steel band plays and you can enjoy delicious local BBQ while watching the sunset.
Day 5
Head to Green Island, an uninhabited isle which is privately owned by the Mill Reef Club. The western part of the island is just the spot for snorkeling and spotting colorful fish, even turtles, as well as exploring quiet, sandy beaches. It's often described as a charter highlight. You can also stop by Willikies and the rock formation Devil's Bridge.
Day 6
Make for Carlisle Bay, known for its luxury resort where you can enjoy the fine dining ashore or stop at the wonderful anchorages to explore beautiful scenery. It's a great place to kayak and explore the mangroves.
Useful information for yacht charters in Antigua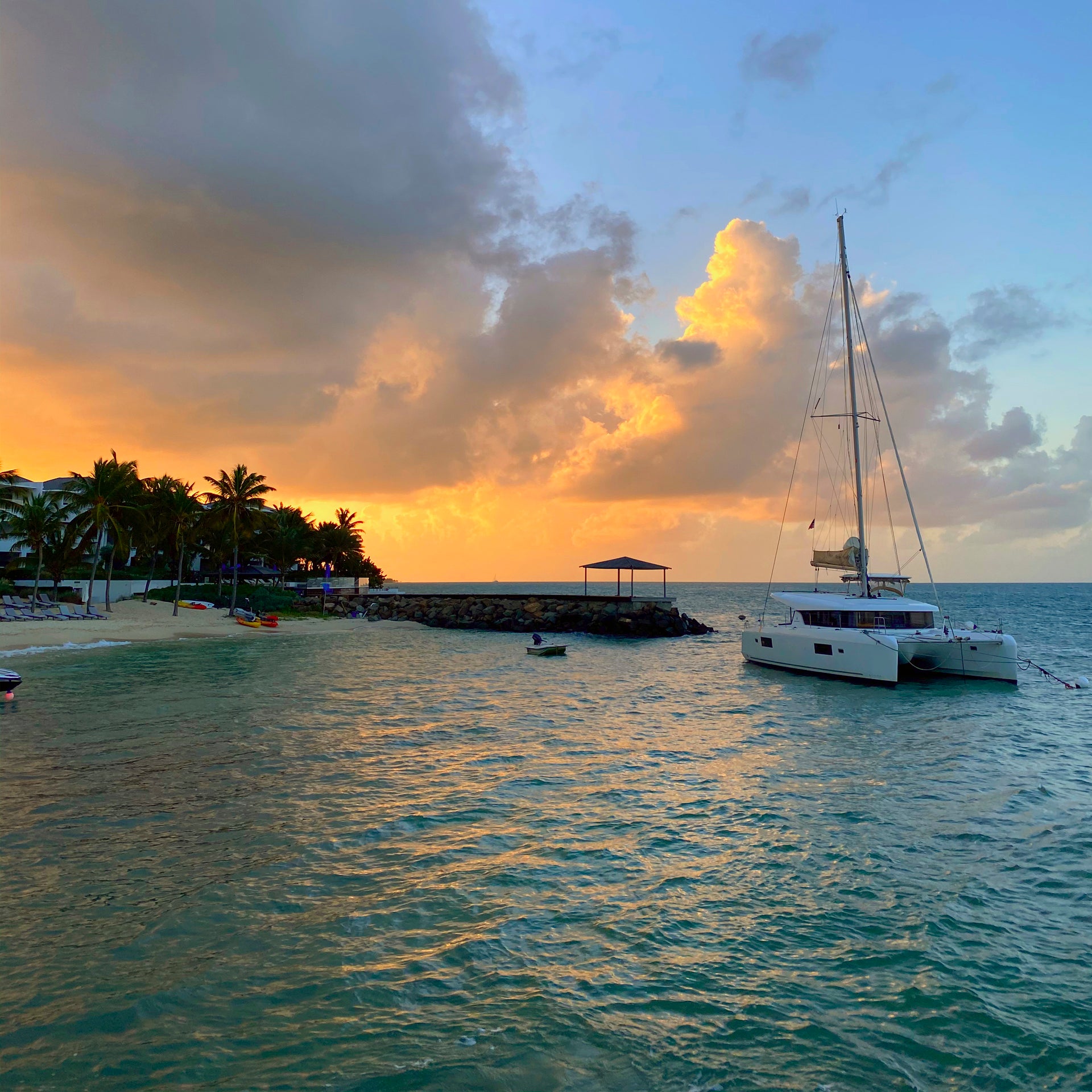 How do I get to Antigua from the US?
For your Antigua charter you can get to VC Bird International Airport (ANU) via several daily direct or connecting flights from the US. Most direct flights are from the eastern US.
We can arrange airport transfers on request and the airport is a 35 to 45-minute taxi ride away.
What language is spoken in Antigua?
The language spoken in Antigua is English.
What is the currency for Antigua?
The currency in Antigua is Eastern Caribbean Dollar (XCD).
What are the customs restrictions for Antigua?
If you plan to leave Antigua and/or Barbuda, it is mandatory to check in and out and be crossed off the crew list by the customs officer before you leave the marina for the airport. Plan to allow sufficient time for this process as it can be a little time-consuming.
Importantly, there will be a fine of $10,000 USD (but not limited to) by the Antigua and Barbuda Customs and Excise Division if these procedures are not followed.
What documents do I need to sail Antigua?
Talk to us to make sure you have the correct documents before you travel.
How do I get around Antigua?
You can get around Antigua easily by taxi or rental car. At the arrival hall at the airport, the taxi dispatch desk can assist with your transfer.
You may also use the local bus system. Bus number 20 and 22 from the west bus station terminal will provide transfer to and from St John's. Bus airport transfers are not available.
What is the Wi-Fi like in Antigua?
You can rent Wi-Fi for $75 USD per week. While you're sailing in Antigua, free Wi-Fi is available at the marina.
What regulations are there in Antigua?
Please keep Antigua clean and dispose of trash responsibly.
There is a 5-knot speed limit in English Harbour, Falmouth and Jolly Harbour. This applies to yachts, dinghies, tenders and inflatables.
Where can I find weather forecasts in Antigua?
You can find Antigua weather forecasts on the AccuWeather website and WeatherCarib ahead of your vacation sailing in Antigua. Hourly weather updates are provided on the local station FM 95.50.
What provisioning is there in Antigua?
There are plenty of provisioning options and within the Antigua Slipway you'll find fuel, water, ice, restaurants and shops, as well as money exchanges nearby. Please refer to the base guide.
What baggage can I take on my sailing vacation?
Please only take soft bags and not suitcases as they are too cumbersome on board.
What is the electrical current in Antigua?
The electrical current in Antigua is 220V.
What is the dialing code for Antigua?
The dialing code for Antigua is +1 268.
Why should I book with Dream Yacht?
Dream Yacht Worldwide is now the world's leading yacht charter company and offers you:
A diverse fleet of yachts with a wide variety of models and manufacturers to suit every type of sailor.
We have +60 exciting destinations and we're a pioneer in finding new sailing grounds.
You can be assured of our commitment to customer service excellence.
You'll receive a warm and friendly welcome from our base teams who will share regional tips, recommendations and advice.
We're also a trusted seller of new and used boats and an innovator in charter management options – sailing is our business.
What licenses do I need to hire a yacht and sail myself?
The skipper of a yacht has primary responsibility for the safety of the crew and yacht at all times. Many destinations require just relevant experience demonstrated by a sailing resume.
To charter in the Mediterranean, it is mandatory that you hold a sailing license recognized by the local port authorities for bareboat charters in Italy, Greece, Croatia, Spain, Malta, Montenegro and Turkey. Other destinations that require a license include Madagascar, Seychelles, Thailand, Brazil and Sweden. For Belize, the port authority will issue a certificate of competency and an application is made on arrival.
You must take your proof of competency and original certificate with you on your charter. We advise you to contact our team about your qualifications and destination requirements before booking.
By accepting the yacht contract you are confirming that you and/or members of your crew are capable and competent to sail the yacht in the conditions and cruising area of the charter. We reserve the right not to hand over the yacht if, after inspection, it is the opinion that the charterer is not, or may not be competent to be in charge of the vessel.
What is a skippered yacht charter?
A skippered yacht charter is when you rent one of our boats for you and your guests and a professional skipper sails it for you. No sailing experience is needed.
You will need to choose a yacht with a cabin for your skipper to sleep in as they are responsible for your yacht for the duration of your charter. We will find the skipper for you once you have found your perfect destination and yacht.
You will need to pay for your skipper's food. You can invite the skipper to dine with you on board or out at a local restaurant.
What is the difference between crewed and by the cabin charters?
Our by the cabin charter charters offer exciting destination tours on a set itinerary crafted by our destination experts. You can book a double cabin and private bathroom and will share the boat with other guests who have booked the other available cabins. You will be looked after by a professional skipper and hostess with itineraries ranging from three to 11 nights. There is a set menu and included meals and drinks vary depending on location.
Can you tell me about your yachts?
Our super premier yachts are less than 12 months old from their first charter date, while premier yachts are less than three years old from their first charter date. Our yachts are well maintained and undergo regular, scheduled technical inspection.
In case of emergency, you can rely on our hotline, at any time, seven days a week. If you experience a technical failure affecting major and important parts of the yacht, we will repair the failure within four hours of receiving your call during working hours (8am to 5pm). If you lose more than four hours (during working hours), we will compensate you for one full day. If the repair takes more than one day, we will provide you with a similar boat or compensate you on a pro-rata basis. If restrictions to this guarantee apply in specific areas, this will be detailed during the charter check-in at the base.
We highly recommend you arrange travel insurance in case you need to cancel for an unexpected reason to cover non-refundable deposits. Please make sure you have personal travel insurance that covers sailing.
We will insure the vessel throughout the charter with first-class insurers against all risks, to provide permission to charter as under contract terms and to cover third-party liability.
The following options are available in limited locations:
Security Deposit: This varies on the size of the boat and when the boat is returned without damage it is refunded.
Damage Waiver: The charterer agrees to pay a non-refundable damage waiver at the time of booking, as well as a reduced damage deposit on embarkation that is refundable upon completion of the charter should no damage occur.
Get inspired! #MyDreamYacht
Follow our customer's journeys & then get ready to share your own amazing experiences on Instagram
Simply wonderful! Fred + Isabelle were so accommodating and did so much for us. Isabelle's food was incredible. Thank you so much!
Laura
Exumas Cabin
Great class. Very professional and great service!
Thomas
Antigua Bareboat
Just what we needed to get out of a year of lockdown, see new places and connect with nature. Highly recommended for your next sailing adventure!
Johan
St. Martin Bareboat
Excellent cruise and wonderful stay on board. Skipper attentive, very pleasant and very professional.
Maxime
Guadeloupe Skippered
I have just returned from another fantastic week of sailing at your base in Pula and would like to thank everyone involved for making this possible at such short notice and without any problems.
Mathias
Guadeloupe Bareboat
The marina itself is a perfect base with super facilities! The Lagoon 42 was in good condition and the skipper was fantastic and knew the area very well.
Jonathan
Croatia Skippered
What an EXCELLENT experience. We just returned from a week long charter with skipper from Corfu, sailing around the beautiful islands of the Ionian Sea. Paxos, Antipaxos and the old town of Corfu were beautiful and the secluded bays we got to visit thanks to our local skipper Nicholas were simply stunning. Fly and Flops was yesterday – we will only charter with Dream Yacht for the foreseeable future.
David
Greece Skippered
Our group of 10 had a WONDERFUL time in French Polynesia from May 21-28, 2022! The food was fantastic: captain and cook, husband and wife: Henry and Mehee (sp) were amazing and the whole experience on board was a dream! We can't wait to book another trip through Dream Yacht
Katie
Tahiti Crewed Premium
Dream Yacht provided a great sailing experience for my extended family on 2 monohulls from Scrub Island. The boats were in very good condition and perfectly prepared, the staff friendly and helpful. I had worked for a number of charter companies over the years but Dream Yacht is one of the
Charlie
British Virgin Islands Bareboat
I am in the Maldives right now and having the time of my life. Captain Jack and the crew are professional, safe and fun! The boat is optimal and the food is delicious. The chef even bakes CAKE! The beds are surprisingly comfortable and we sleep 9 hours every night. If you like island hopping, there is no better option than Dream Yacht. We will be booking Tahiti next year.
Cynthia
Maldives Cabin
The new boat was in perfect condition and best condition for exploring bays and islands. I could never have imagined that this could be so much fun and enjoyable and we are already looking forward to the next upcoming trip in the Ionian Sea.er.
Vytautas
Scandinavia Bareboat
Baja is now my favorite place. There was something for everyone: sailing under northerly winds with mostly calm evenings, snorkeling, fishing, secluded sandy beaches, pelican feedings, being greeted by barking sea lions, and exploring the geology of Ispiritu Santo Island. Dream Yacht Base La Paz provided competent professional support with a well-equipped and maintained boat. We were wonderfully cooked by an on-board chef arranged with Dream Yacht, which meant more free time for all of us. An unforgettable vacation and adventure connected with nature.
Taiyoko
Mexico Crewed Premium
All the staff were fantastic and made our trip a memorable one. Incredibly friendly and welcoming, the food was fantastic. The service throughout the trip was always top notch!
Tommy
Thailand Cabin
Absolutely recommendable. Perfect service. Will charter again and recommend Dream Yacht Charter anytime.
Zahradnik
Turkey Bareboat
I just returned from 3 weeks of fantastic sailing with my family on one of your catamarans in Sardinia. My thanks to our skipper Simone and Daniela, our cook.
Giles
Sardinia Skippered
For a first cruise as a skipper, the Mediterranean is perfect. The service of Dream Yacht is too!
Thomas
France Bareboat
We had an incredible trip and got engaged on our very first night of sailing! We will surely come back one day. We were beginners, we were guided very well and that gave us a lot of confidence.
George
Australia Bareboat
The experience on board far exceeded our expectations. Isabelle provided exceptional three course meals. Her creativity and delicious meals were incredible. Thomas was an excellent skipper, he "felt" our needs. Thanks guys!" Spira, bareboat with crew in New Caledonia.
Spira
New Caledonia Crewed Premium
Once again a fantastic sail with a great crew. Thanks again to a great captain and cook. Was totally fantastic.
Connie
Seychelles Cabin
A very excellent sailing vacation – especially the crew was fantastic. I would sail with Dream Yacht again and highly recommend them.
Mark
Guadeloupe Bareboat
I loved the vacation and am not sure this trip can ever be topped. Everything about it was incredible. The captain and crew were great, helpful, friendly, attentive and knowledgeable. We loved it.
Trina
Greece Crewed Premium
We just returned from one of your Lagoon 52F's last week in St. Thomas! We had the trip of a lifetime sailing around St. Thomas and St. John!
Megan
US Virgin Islands Bareboat
What's new?
Stay up to date with news and events or get some inspiration for your next yacht charter and pick up useful tips by reading our latest blogs.
Go to Blog