Yacht Charter Greece
Book a yacht charter in Greece and explore a land of sumptuous olive groves and the beautiful islands of the Aegean and Ionian seas, each with its own distinct traditions, culture and landscapes.
What's on this page
Highlights
Ancient ruins

Delectable seafood

Scenic fishing villages
Yacht Charter Greek Islands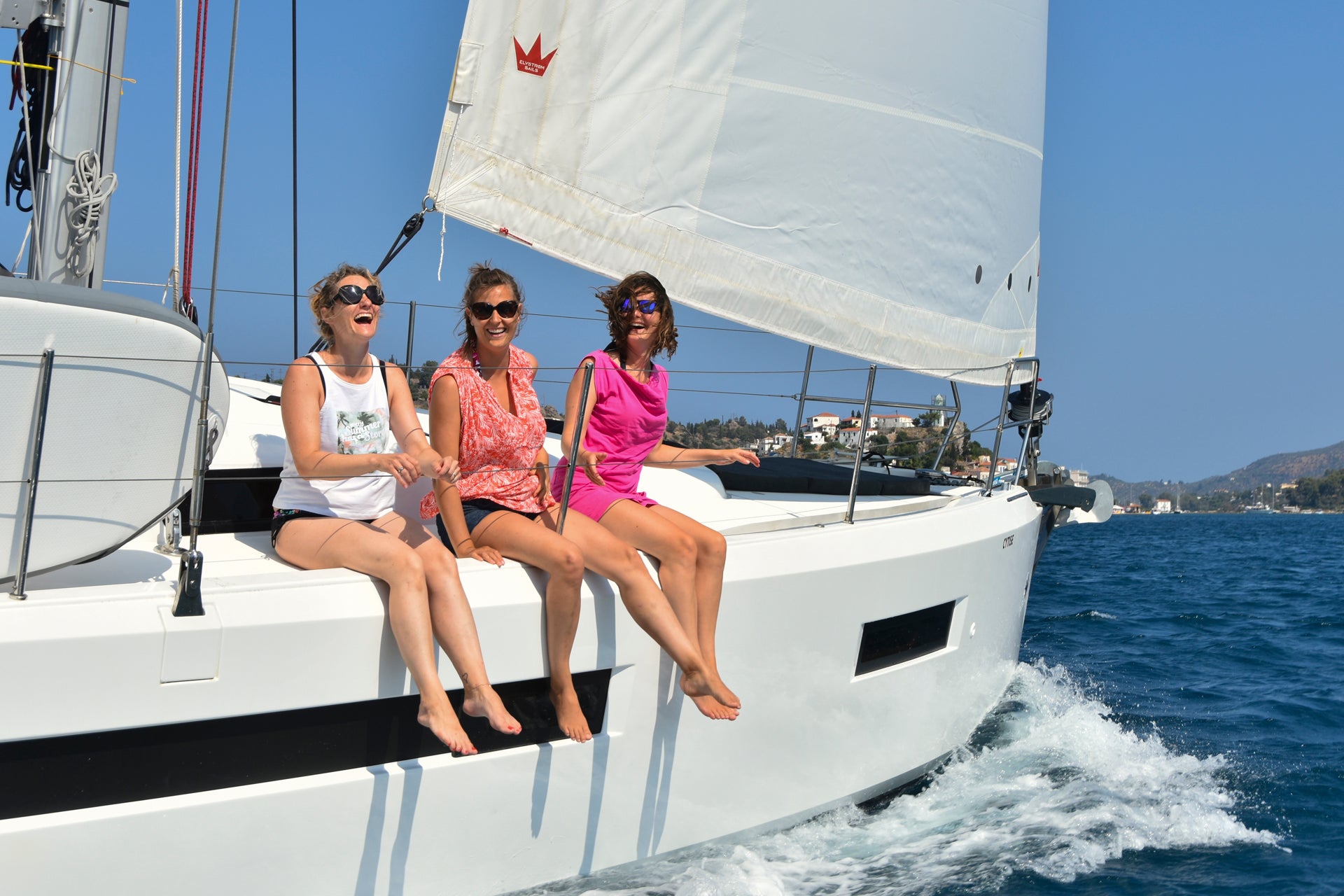 As we've bases throughout the region, you'll have plenty of exciting options when planning your sailing trip in the Greek islands. You can explore thousands of idyllic islands, embrace the laid-back culture, sample delicious Greek food and relax on some of the Mediterranean's most beautiful beaches.
Lovers of history and archaeology will find plenty to see and do in Greece. It is, after all, the birthplace of Western civilization, playing a leading role in the development of politics, philosophy, history, the arts and medicine.
During a long sailing season, with a warm, dry Mediterranean climate and pleasant summer sea temperatures, you can discover attractive villages with white houses against turquoise waters. Enjoy an unforgettable Greece bareboat boat rental or skippered yacht charter, packed with fantastic sailing, natural beauty, culture and history.
To sail Greece, you'll need a sailing license recognized by the local port authorities. Alternatively, you also have the option of hiring a skipper. Read our guide to sailing qualifications for more information.
Top things to do in Greece
Ionian Islands
Sail the seven major Ionian islands on a Greece sailing vacation from our bases at Lefkas Marina and Marina Gouvia in Corfu. Head to Paxos, Antipaxos, Zakynthos, Kefalonia and Meganisi, just a few of the many islands with lush, mountainous landscapes and attractive golden beaches.
Saronic and Argolic Gulf
Sail Greece's romantic Saronic Islands from our base at Alimos Marina. Tour Spetses, known for its running races in spring and autumn, relax on car-free Hydra and swim on Aegina's fine beaches.
Cyclades
The whitewashed houses with ultramarine domes are typical of the Cyclades. Sail from Tourlos Marina, Mykonos, Parikia Port, Paros and Lavrion Port, Lavrion to discover the wonders of these islands, as well as Santorini, Ios and Serifos.
Dodecanese Islands
When you're on a chartered sailing vacation in Greece, make sure you island hop between the eastern Aegean's 12 islands, including Kalymnos with its sea sponge harvesters, or walk the unspoiled pine forests of Leros, see rare birds on Tilos, climb to Astypalea's imposing castle and visit the monastery on Symi. Enjoy these islands from our base Kos Marina.
When is the best time to visit Greece?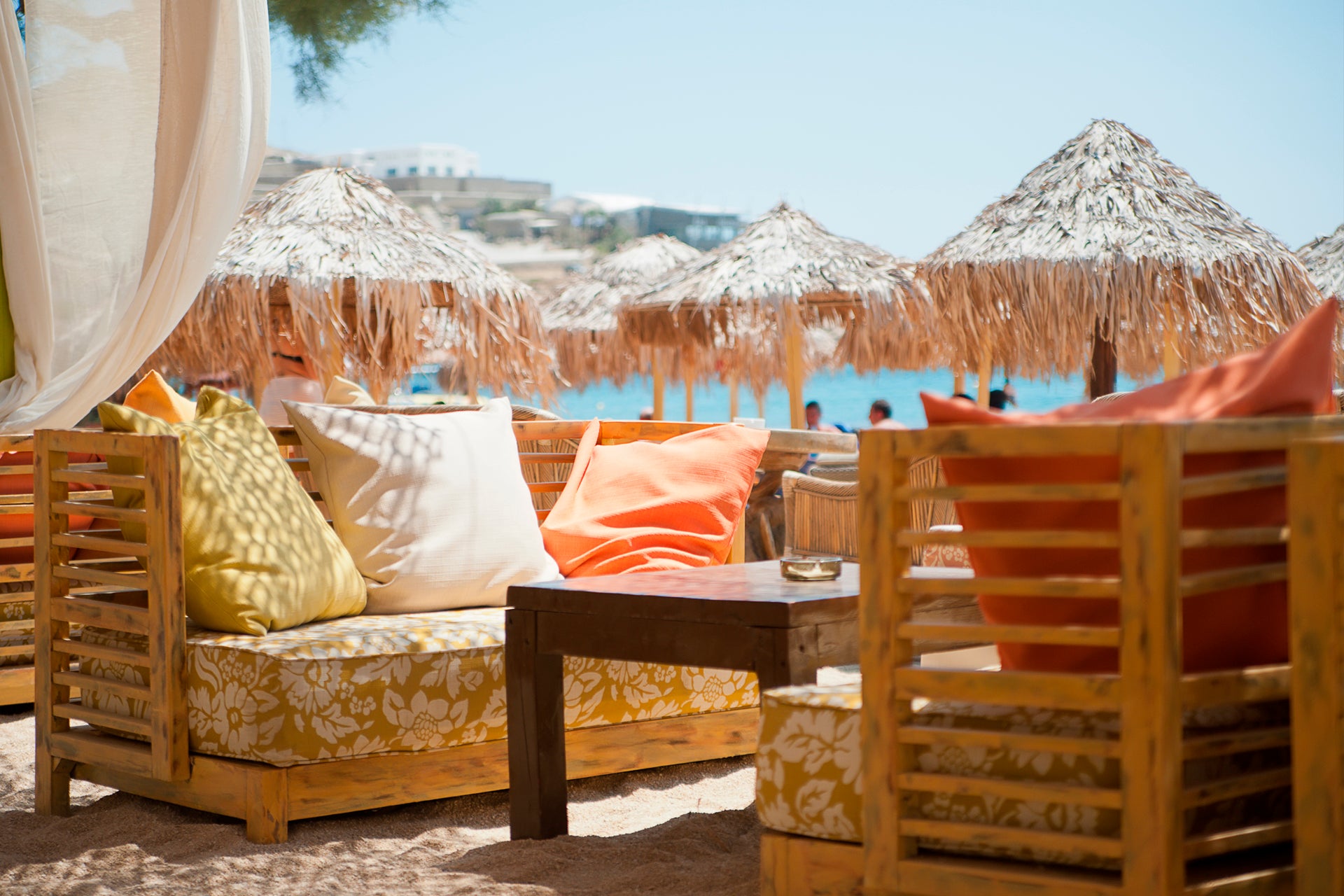 The best time to visit Greece is between May and October. The summer months of June, July and August have the hottest, sunniest days and warmest sea temperatures.
The climate in Greece is hot, dry and Mediterranean, with temperatures reaching as high as 90ºF in July, while the average is around 81ºF.
Sailing conditions for a Greece yacht charter
Sailing conditions in Greece include the westerly mistral, a pleasant summer wind that blows in from the sea, reaching its peak force in early afternoon. It refreshes the air and chases away any mugginess.
The wind systems in Greece have different characteristics between the distinct island groups.
Ionian Islands: The wind and sailing conditions in the Ionian Sea are ideal and predictable, blowing NW at Force 3 to 5 between May and September. In spring and autumn, the wind is less strong and blows usually SW.
Saronic and Argolic Gulfs: The Saronic and Argolic Gulfs are generally a protected cruising area, with north to NNE winds averaging Force 3 to 4. In the Argolic Gulf during summer, the wind is mostly from the SE and averages Force 3 to 5. During spring and autumn, the winds are normally weaker and blow from the south.
Cyclades: The prevailing wind meltemi blows from the north during summer, peaking in July and August at 10-45 knots, occasionally reaching Force 9. During spring and autumn, winds can also blow from the south. Experience is needed to sail the Cyclades.
Dodecanese: The prevailing wind meltemi blows from the north-east during summer, peaking in July and August at Force 4 to 6. During spring and autumn, winds are calmer and blow SE.
Greece winds and weather system
Sailing conditions in Greece vary depending on the weather systems. Here's some advice about sailing near our bases.
Athens: The reef of Agios Cosmas, SE of the entrance of Alimos Marina, is difficult to spot at night although there is a light on it. Stay clear of the Mermingia rocks, 4.5 miles SE of Alimos Marina in the direction of Cape Sounio.
Lavrion: Keep clear of Makronisi Island's reefs at the north, middle and south, as well as the reefs close to the mainland at Cape Sounio and Ali Pasas. There is heavy traffic in this area from steamers, fishing and sailing yachts.
Paros: Take care of the rocks (Ag.Spyridonos, Vouves, Kaki Skala and Peponas) on the NNW of the port entrance. Beware of the shallows at Ak. Fokas (port side of the entrance) and keep in the separation lanes as you enter Parikia Port.
Kos: Keep your distance from the shoals extending from Akrotiri Ammoglossa and be aware of the Meltemi and its strong gusts into the bay.
Lefkas: During your approach to the marina of the main port, stay within the separation system (buoys) to avoid the shallows.
Corfu: When entering the bay of Gouvia, avoid the shallows by keeping to the north side and stay in the separation system (marked by buoys).
What are the mooring fees in Greece?
Mooring fees in Greece are generally low in the public ports on the islands. These cannot be pre booked, so arrive before 3pm as berths are limited. The port officers will come to your boat and ask you to pay at the port office. Mooring fees in Greece range from €5 to €15, depending on the island and boat size.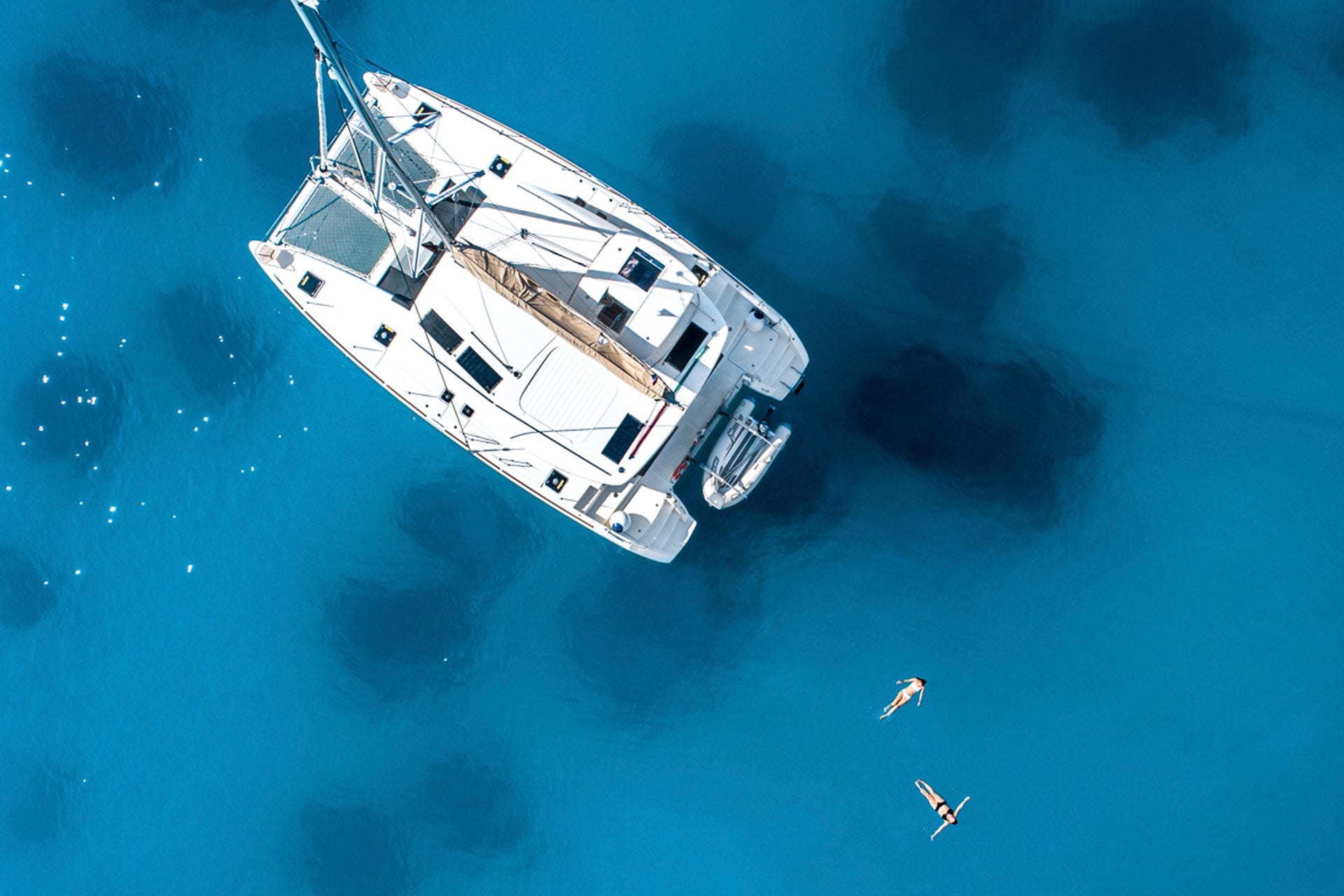 Useful information for yacht charters in Greece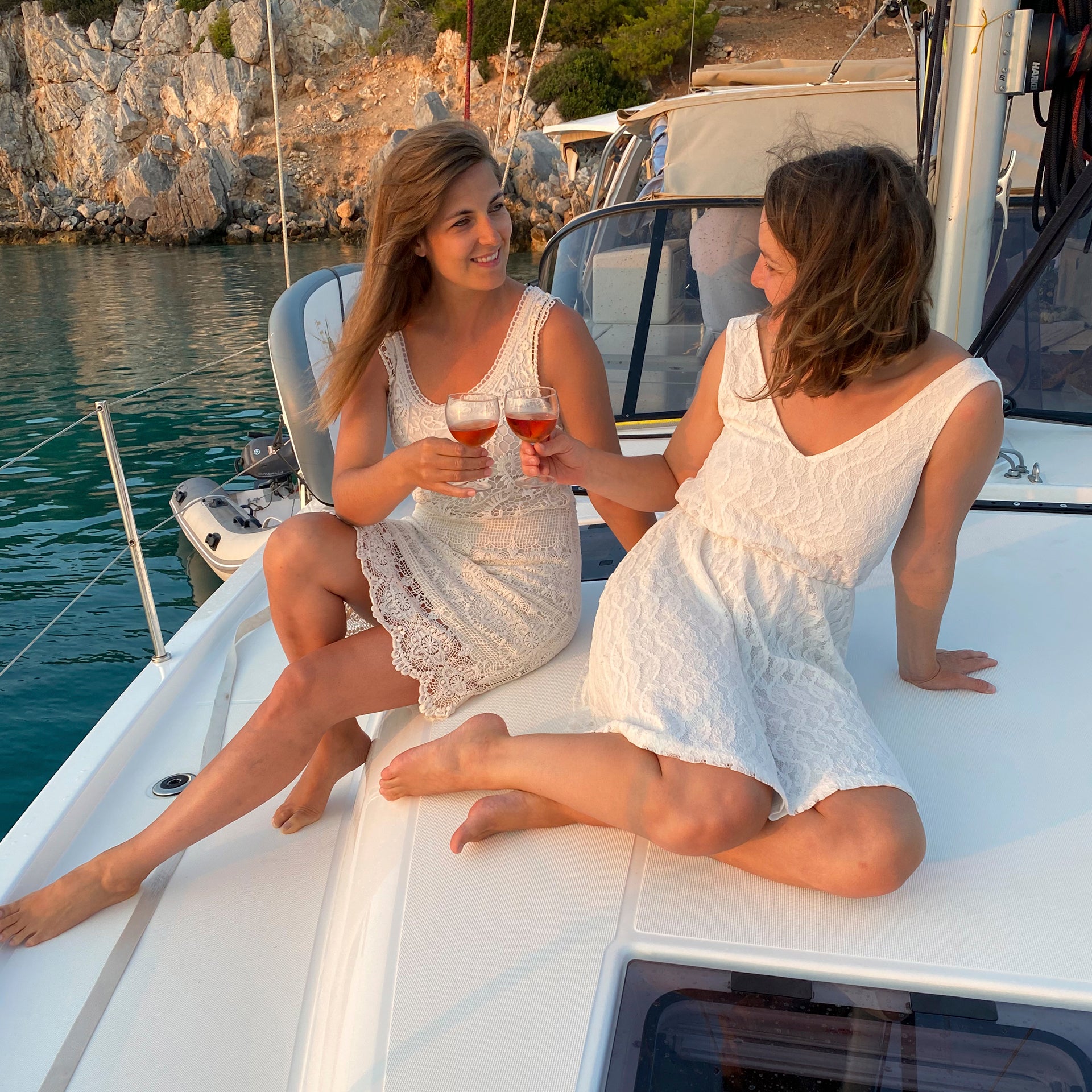 What language is spoken in Greece?
The official language of Greece is Greek, although many locals can speak English, French and Italian.
What is the currency in Greece?
The currency in Greece is the Euro.
How do I get to Greece?
You can get to Greece by flying to Athens International Airport Eleftherios Venizelos (ATH) direct from New York with Emirates, or with scheduled stops from San Francisco, Los Angeles and Chicago with American Airlines.
You can take connecting flights to the islands or take the ferry. Airports include Aktion Airport (PVK) for Lefkas, Corfu Airport (CFU), Mykonos Airport (JMK), New Paros Airport (PAS) and Kos International Airport (KGS).
What is the Wi-Fi like in Greece?
Wi-Fi in Greece is accessible in many restaurants, bars and town squares. On the islands, you may find speeds vary depending on the signal. You can buy a Wi-Fi dongle at our bases.
Charter a sailing yacht in Greece with Dream Yacht Charter
Yacht charter Greece
You'll find your perfect yacht with us for your sailing trip in the Greek Islands.
Greece skippered charters
We can find a skipper to sail for you if you haven't sailing experience.
Sailing itinerary Greece
Our knowledgeable teams have put together suggested itinerary ideas for the Ionian Islands, Cyclades, Dodecanese and Saronic Islands to help you plan your Greece sailing vacation.
Whether you want a one-week Greece itinerary, or you plan to sail Greece for two weeks, we've got all the advice you need.
Why should I book with Dream Yacht?
Dream Yacht Worldwide is now the world's leading yacht charter company and offers you:
A diverse fleet of yachts with a wide variety of models and manufacturers to suit every type of sailor.
We have +60 exciting destinations and we're a pioneer in finding new sailing grounds.
You can be assured of our commitment to customer service excellence.
You'll receive a warm and friendly welcome from our base teams who will share regional tips, recommendations and advice.
We're also a trusted seller of new and used boats and an innovator in charter management options – sailing is our business.
What licenses do I need to hire a yacht and sail myself?
The skipper of a yacht has primary responsibility for the safety of the crew and yacht at all times. Many destinations require just relevant experience demonstrated by a sailing resume.
To charter in the Mediterranean, it is mandatory that you hold a sailing license recognized by the local port authorities for bareboat charters in Italy, Greece, Croatia, Spain, Malta, Montenegro and Turkey. Other destinations that require a license include Madagascar, Seychelles, Thailand, Brazil and Sweden. For Belize, the port authority will issue a certificate of competency and an application is made on arrival.
You must take your proof of competency and original certificate with you on your charter. We advise you to contact our team about your qualifications and destination requirements before booking.
By accepting the yacht contract you are confirming that you and/or members of your crew are capable and competent to sail the yacht in the conditions and cruising area of the charter. We reserve the right not to hand over the yacht if, after inspection, it is the opinion that the charterer is not, or may not be competent to be in charge of the vessel.
What is a skippered yacht charter?
A skippered yacht charter is when you rent one of our boats for you and your guests and a professional skipper sails it for you. No sailing experience is needed.
You will need to choose a yacht with a cabin for your skipper to sleep in as they are responsible for your yacht for the duration of your charter. We will find the skipper for you once you have found your perfect destination and yacht.
You will need to pay for your skipper's food. You can invite the skipper to dine with you on board or out at a local restaurant.
What is the difference between crewed and by the cabin charters?
Our by the cabin charter charters offer exciting destination tours on a set itinerary crafted by our destination experts. You can book a double cabin and private bathroom and will share the boat with other guests who have booked the other available cabins. You will be looked after by a professional skipper and hostess with itineraries ranging from three to 11 nights. There is a set menu and included meals and drinks vary depending on location.
Can you tell me about your yachts?
Our super premier yachts are less than 12 months old from their first charter date, while premier yachts are less than three years old from their first charter date. Our yachts are well maintained and undergo regular, scheduled technical inspection.
In case of emergency, you can rely on our hotline, at any time, seven days a week. If you experience a technical failure affecting major and important parts of the yacht, we will repair the failure within four hours of receiving your call during working hours (8am to 5pm). If you lose more than four hours (during working hours), we will compensate you for one full day. If the repair takes more than one day, we will provide you with a similar boat or compensate you on a pro-rata basis. If restrictions to this guarantee apply in specific areas, this will be detailed during the charter check-in at the base.
We highly recommend you arrange travel insurance in case you need to cancel for an unexpected reason to cover non-refundable deposits. Please make sure you have personal travel insurance that covers sailing.
We will insure the vessel throughout the charter with first-class insurers against all risks, to provide permission to charter as under contract terms and to cover third-party liability.
The following options are available in limited locations:
Security Deposit: This varies on the size of the boat and when the boat is returned without damage it is refunded.
Damage Waiver: The charterer agrees to pay a non-refundable damage waiver at the time of booking, as well as a reduced damage deposit on embarkation that is refundable upon completion of the charter should no damage occur.
Get inspired! #MyDreamYacht
Follow our customer's journeys & then get ready to share your own amazing experiences on Instagram
What's new?
Stay up to date with news and events or get some inspiration for your next yacht charter and pick up useful tips by reading our latest blogs.
Go to Blog