Bareboat yacht charters
Whether you're new to chartering or have sailed a million times, you can sail the places you've always dreamed of on your perfect boat with our bareboat yacht charters.
What's on this page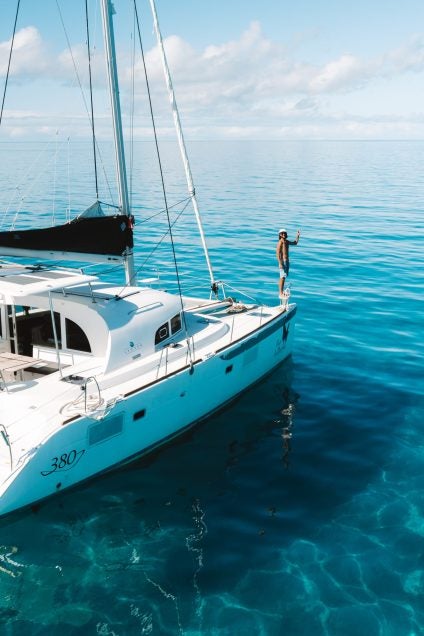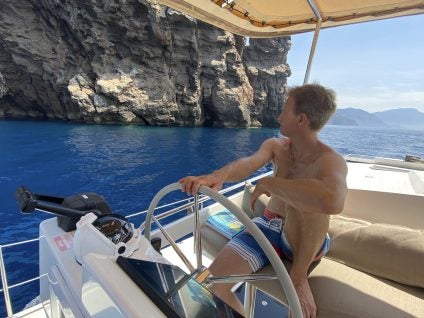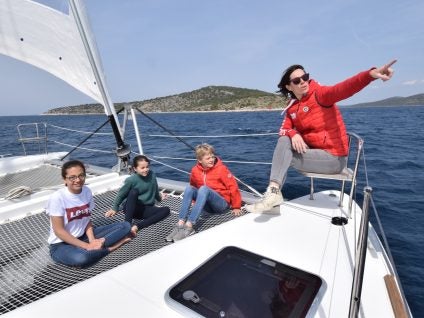 Your vacation dreams aren't ordinary, so sail with an extraordinary charter company.
All you need is sailing experience, an adventurous spirit, and the yearn for that live-aboard lifestyle. Bareboating provides the utmost in freedom and privacy – do whatever you want, whenever you want!
Hire a boat from our bareboat yacht charter fleet. Explore azure lagoons, island-hop archipelagos, experience bucket list sailing grounds and create memories with family and friends on a bareboat sailing vacation that will last a lifetime. We have 40+ destinations to choose from.
Everything you need to know about sailing
What is a bareboat charter?
A bareboat yacht charter enables you to rent a catamaran or monohull from our fleet, sail it yourself and be in control of your bareboat charter. You are responsible for planning your itinerary and your provisioning.
Sail your way and plan a bareboat sailing vacation to suit you and your guests. Our bareboat yacht charters offer you the flexibility to sail at your own pace and enjoy newly discovered snorkeling spots, authentic local bars or spectacular sunsets.
Find out if you are qualified to bareboat. Learn more with our bareboat yacht charter frequently asked questions.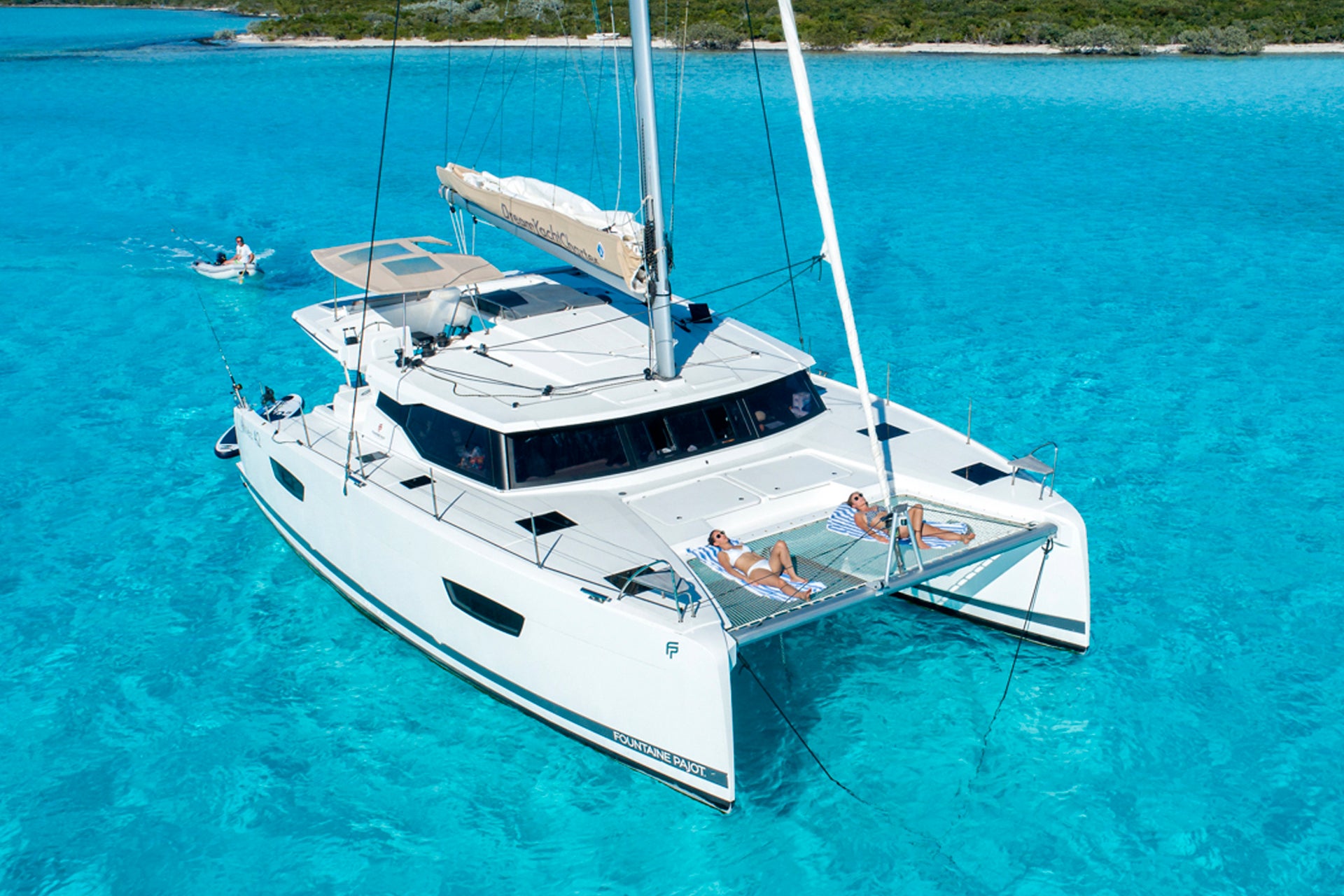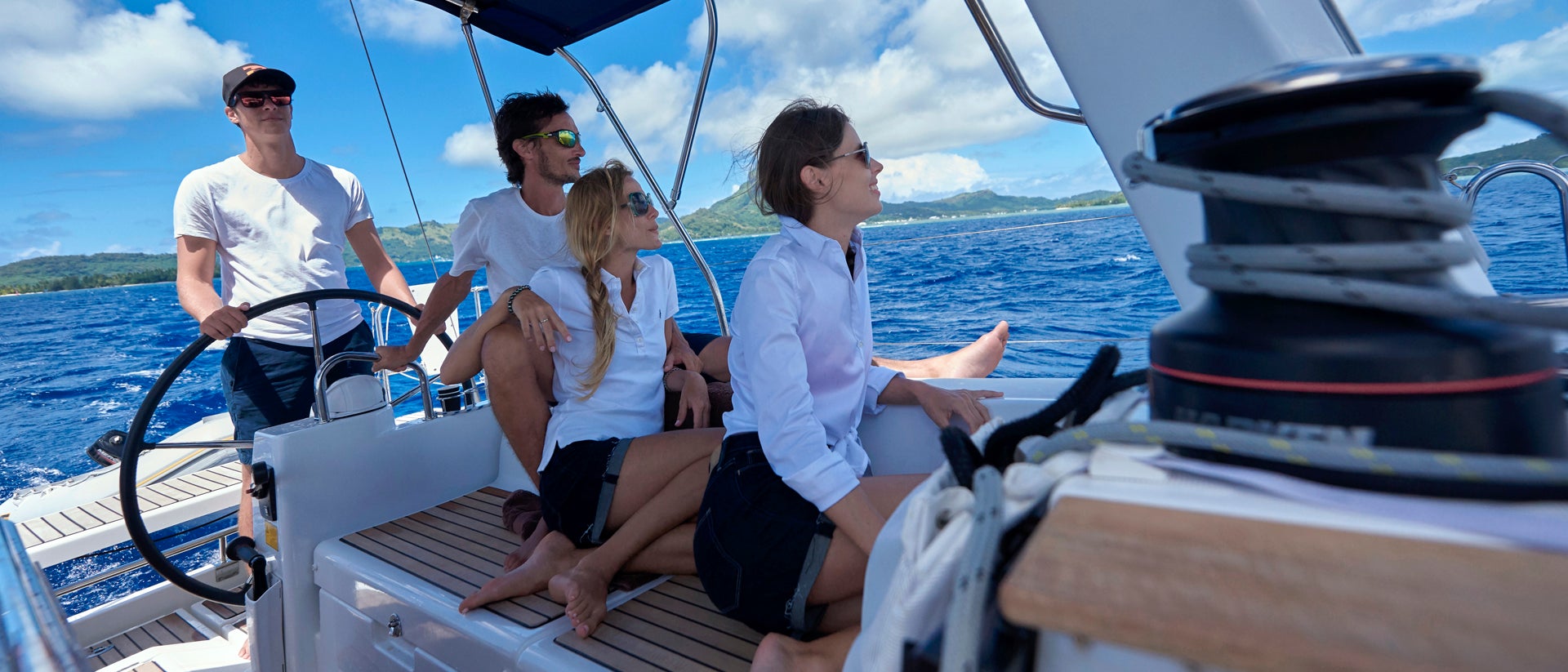 Am I qualified to sail?
We usually ask that you have sailing experience on a boat of similar size for our bareboat yacht charters. It's also helpful to have at least one crew member of similar experience. If you are unsure whether you are qualified for a bareboat yacht charter, take a look at our guide. You can also hire a local skipper at a daily rate, and then continue on your own when you feel comfortable. If you'd rather not cook, hire a cook and have all of your meals prepared for you.
Our incomparable bareboat fleet across unrivaled destinations
We're the world's leading charter company with bareboat catamaran charters and monohulls in exciting destinations worldwide.

We are always adding new yachts to our bareboat yacht charter fleet so you can try the latest models and newest features. Our fleet diversity means you can try different manufacturers too.
Choose from the world's largest, most diverse fleet.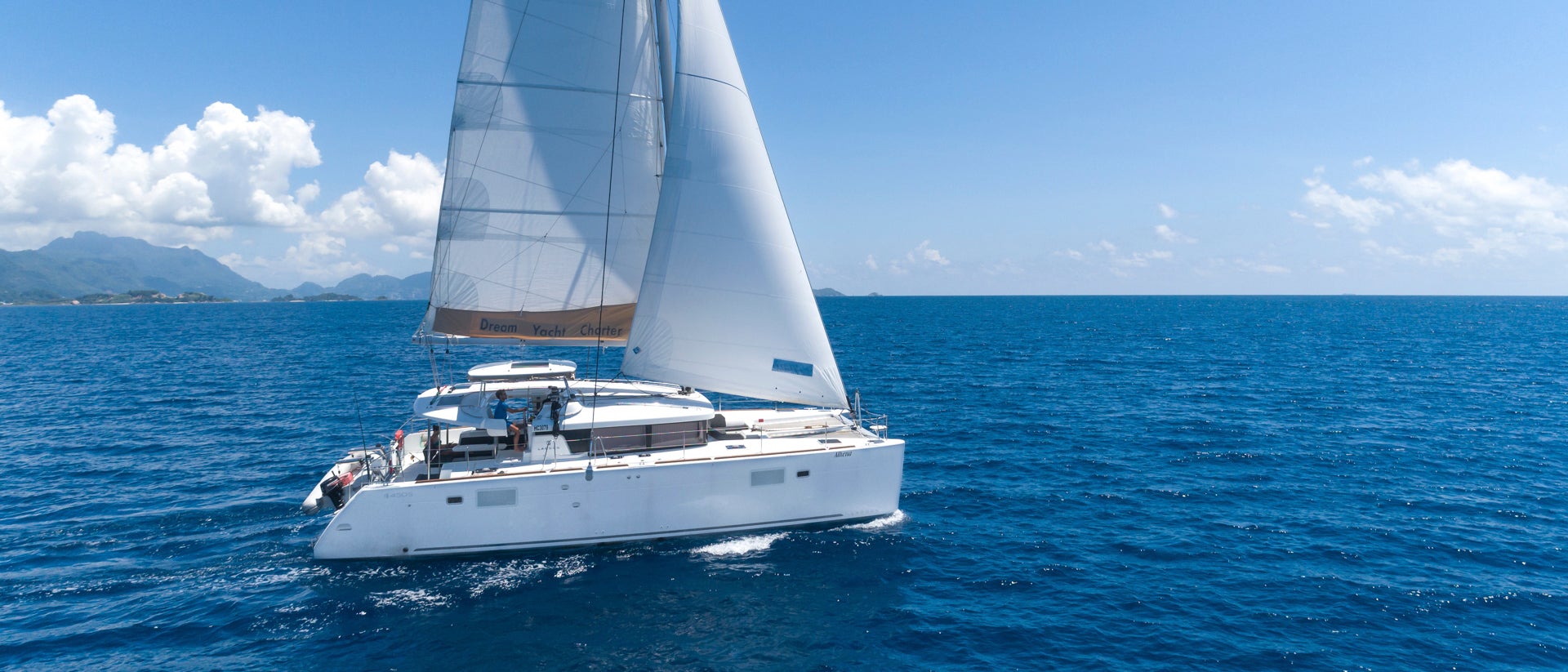 How do I provision for a bareboat yacht charter?
One thing you are going to need to do on your yacht charter is eat and drink! Maybe you are going to dine on local lobster, visit renowned local restaurants, prepare your favorites in the galley or hire a professional cook.
An important part of your charter preparation is thinking about provisioning your boat. You can sort out your yacht provisioning in three main ways:
Use our provisioning service
Many of our bases offer a yacht charter provisioning service so that all of your goods are ready for your arrival. Contact our team for more information.
This removes the hassle of shopping after your travel. If you are sailing a remote destination, advance provisioning could be essential.
Try not to order too much, as you can replenish at local markets as you sail in most destinations.
We'll send you preference sheets and you can make your selections. Check your destination's base guide to see if this service is available for your charter.
Provision when you arrive
The base guides on our destination pages have information about nearby supermarket locations and hours.
Most of our bases are near a large supermarket where you can get a range of goods and stock up on yacht supplies.
Keep in mind that after a long flight and with all your luggage this may not be a convenient or desirable way to start your vacation. You may also find that produce options are limited depending on your location and time of year.
Buying local brands will help keep your yacht provisioning costs down, as will buying from local markets and suppliers.
Order your provisions in advance
Many of the supermarkets in our destinations offer online ordering and will deliver directly to your boat so that your order is waiting for your upon your arrival.
You can check your destination's base guide to see what what markets are available locally.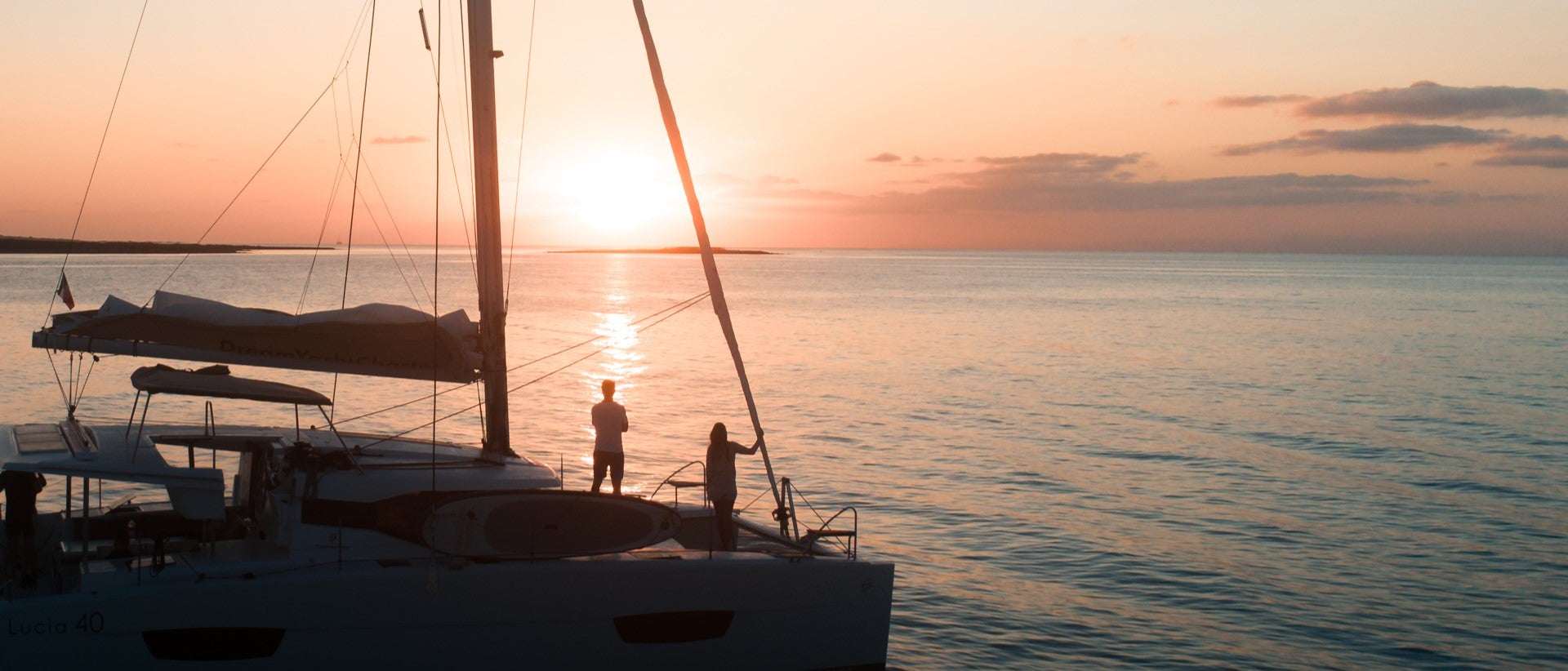 Provisioning basics checklist
Treat your yacht provisioning list like your clothes packing list. Write down everything you need and then cross off half of it. Stick to what you know you need. It might be that you plan to eat out nearly every day of your charter. Even so, here are some essentials you can't do without on board your boat:
Water: Don't underestimate how much you will need
Sun protection: Make it environmentally friendly
Insect repellent: Avoid the bug bites during vacation
Toilet paper: Don't get caught short, so buy extra
Trash bags: Don't let trash blow into the ocean
Seasoning and spices: Can jazz up a simple meal
Matches: Will always be needed
Dishwashing soap: Don't forget it!
Hand sanitizer
Practical information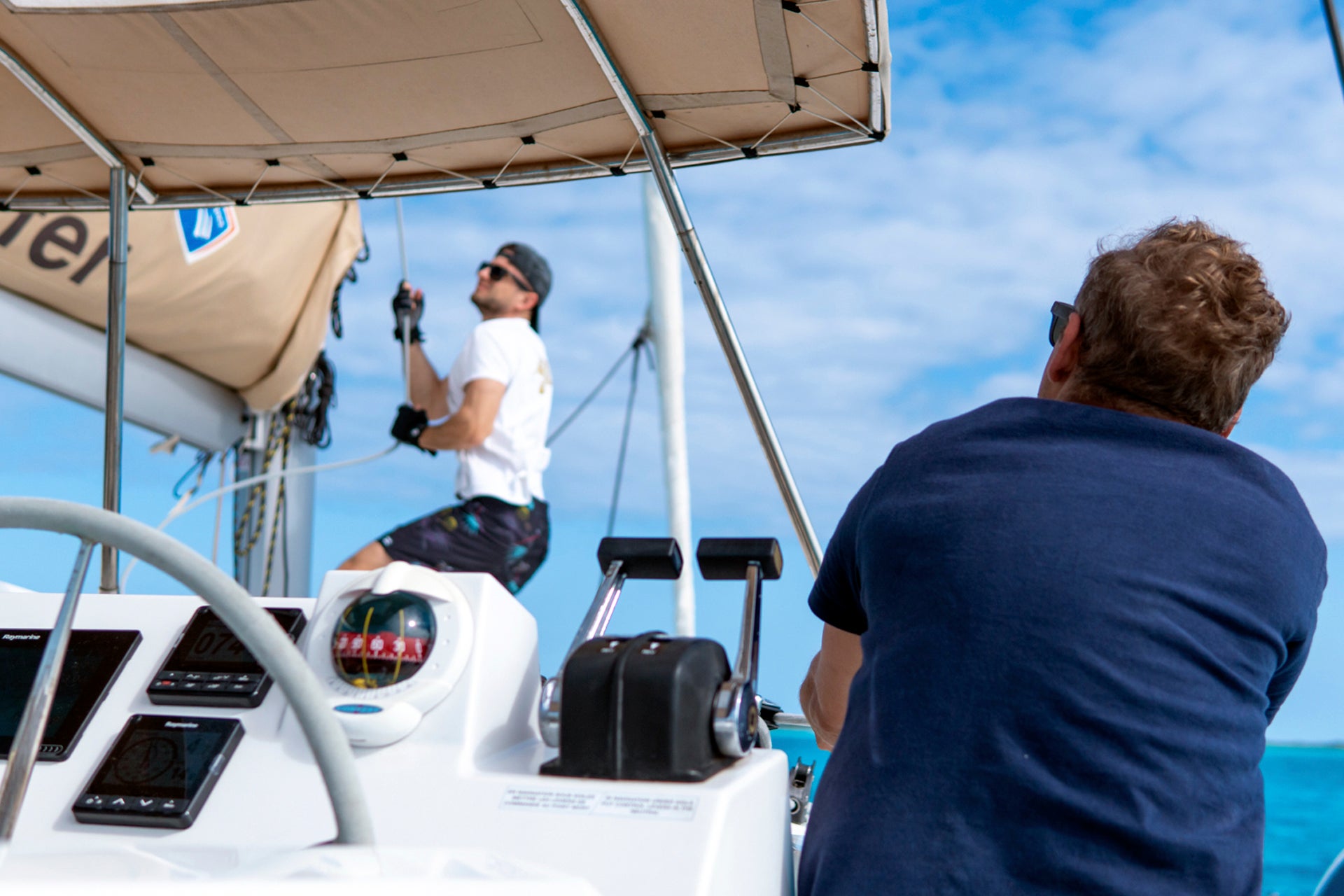 Meet our yacht manufacturers
Our large fleet offers the highest quality catamarans and monohulls from the industry's most innovative yacht builders, including Aquila, Bali, Beneteau, Dufour, Fountaine Pajot, Jeanneau, Lagoon, Nautitech and Waquiez.
Cutting edge yacht design
We've partnered with the best shipyards in the world. The yacht building sector is always progressing and we are at the forefront of cutting-edge yacht design. We take great care to choose yachts for our bareboat charter fleet that give excellent sailing performance, comfort and space.
You are never far from one of our bases
We're sailors at heart and our vast network of destinations means you can explore nearly every corner of the world while on a bareboat yacht charter.
Find out where we offer bareboat sailing vacations.
Our base team is ready to welcome you
Our base teams are small and handpicked to offer a highly professional service where you receive personal attention while on your bareboat yacht charter.
They are responsible for maintaining and inspecting the yachts and familiarizing you with the local cruising area and your yacht's operation, above and below the waterline.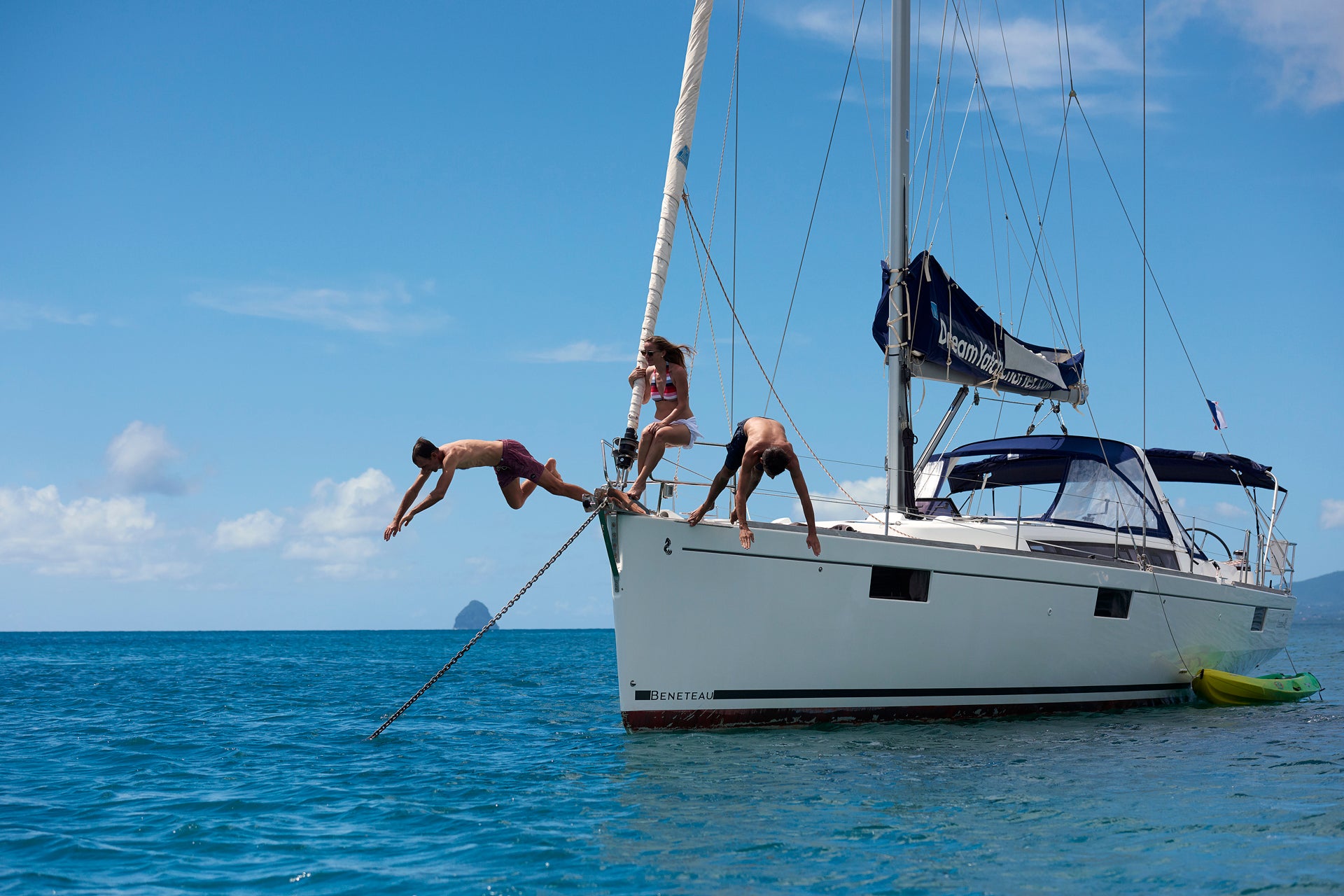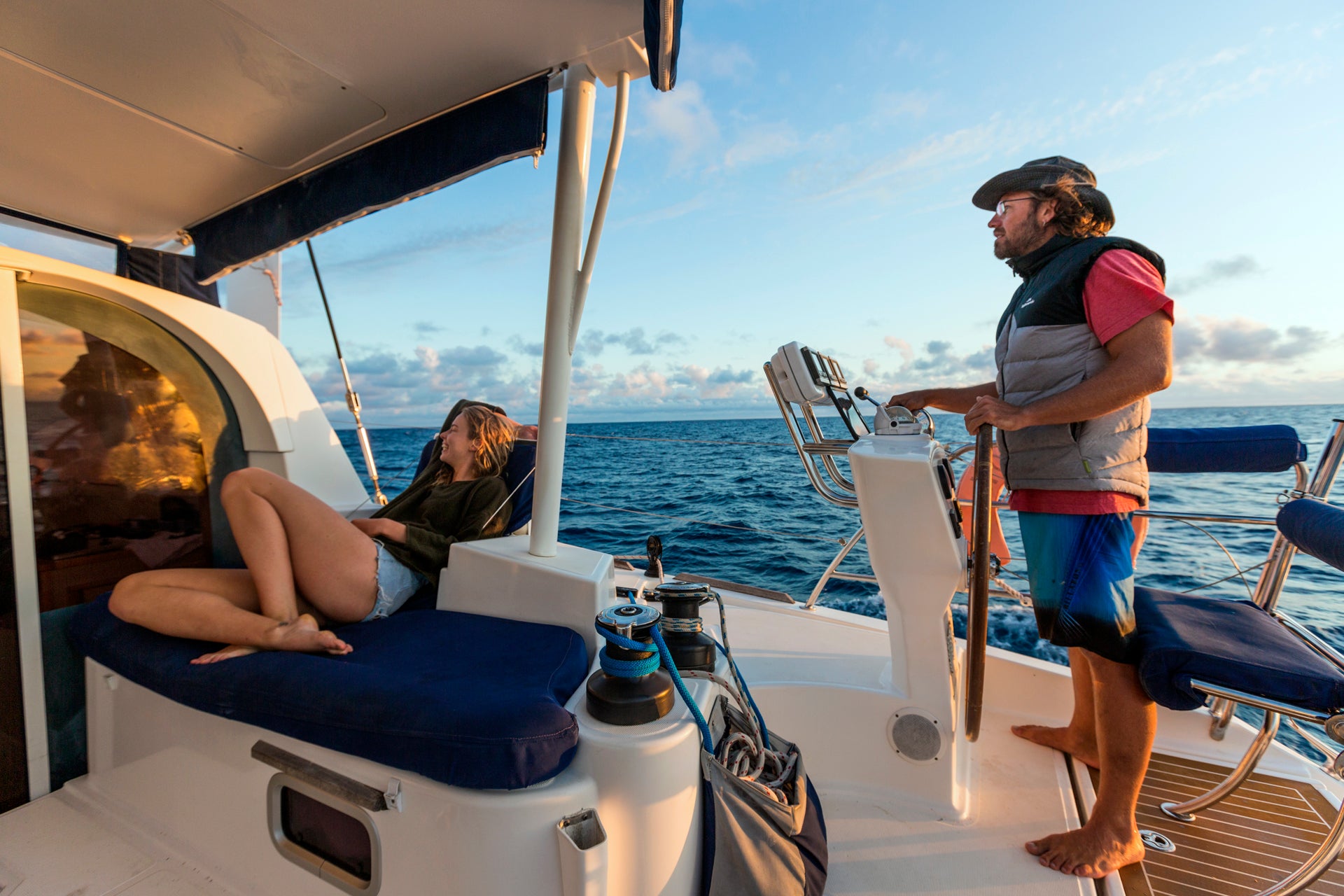 Do I need insurance?
We always recommend that customers have travel insurance and strongly advise coverage for sailing as an activity. Read about our booking policy.
How does the chart and technical briefing work?
Getting to know your yacht is a key part of the Dream Yacht bareboat charter experience.
Our base teams are welcoming and will introduce you to the boat's systems and make sure you see the best of the destination you are sailing.
The base team will personally show you:
Yacht safety equipment (fire extinguishers, lifejackets and first aid kits)
Engine and regular check procedures
Cooking and refrigeration systems
Heads and showers
VHF radio system and mayday instructions
Instruments, including GPS
Charts and pilot books
Halyards, winches, reefing lines, rigging and controls
Anchoring system
Dinghy and engine
All other systems particular to that vessel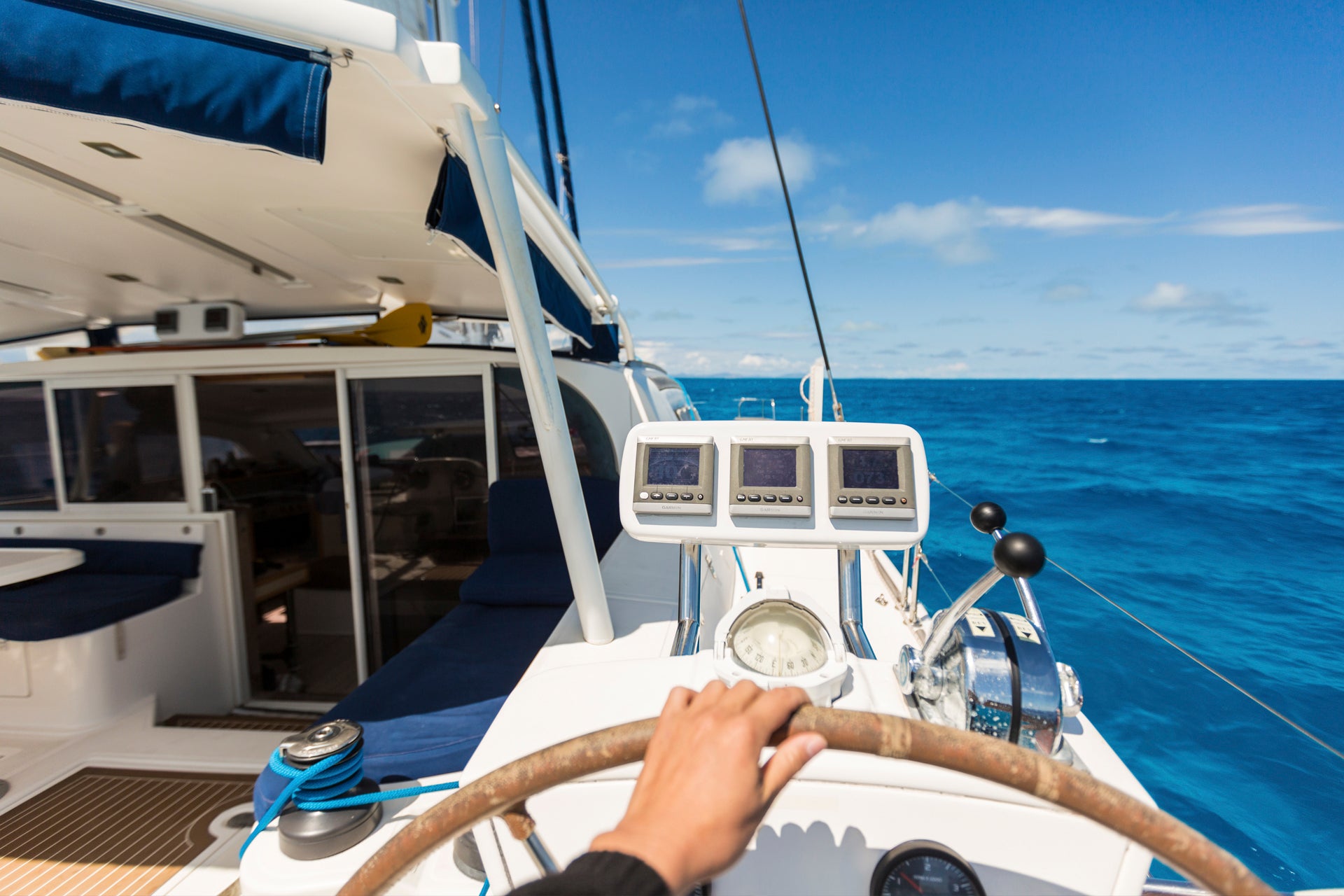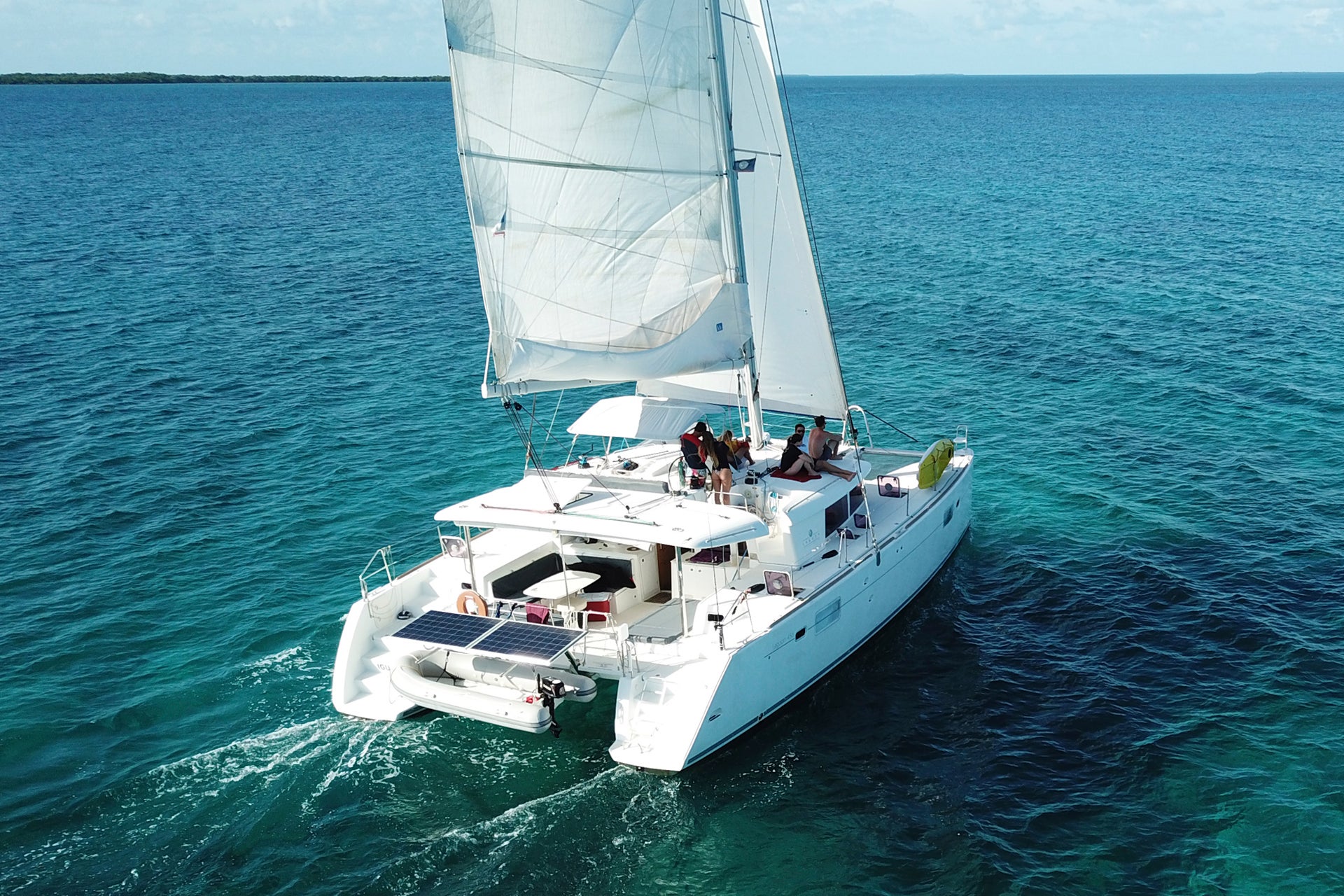 Fleet maintenance
Our bareboat yacht charter fleet meets the highest safety requirements, are well maintained and undergo regular technical checks.
Should a technical failure happen despite our highly professional maintenance, we will repair the failure within four hours following your call to the base during working hours (8am to 5pm). If you lose more than four hours during working hours, we will refund you one full day. If the repair takes more than one day, we will provide you with a similar boat or refund you on a pro-rata basis. Our guarantee applies to essential equipment only and not the repair of ancillary equipment, including but not limited to genset, air conditioning or watermaker.
Dealing with emergencies
In case of emergency during your bareboat sailing vacation, you can rely on our hotline, at any time, seven days a week. The hotline number is provided to you after your booking is confirmed.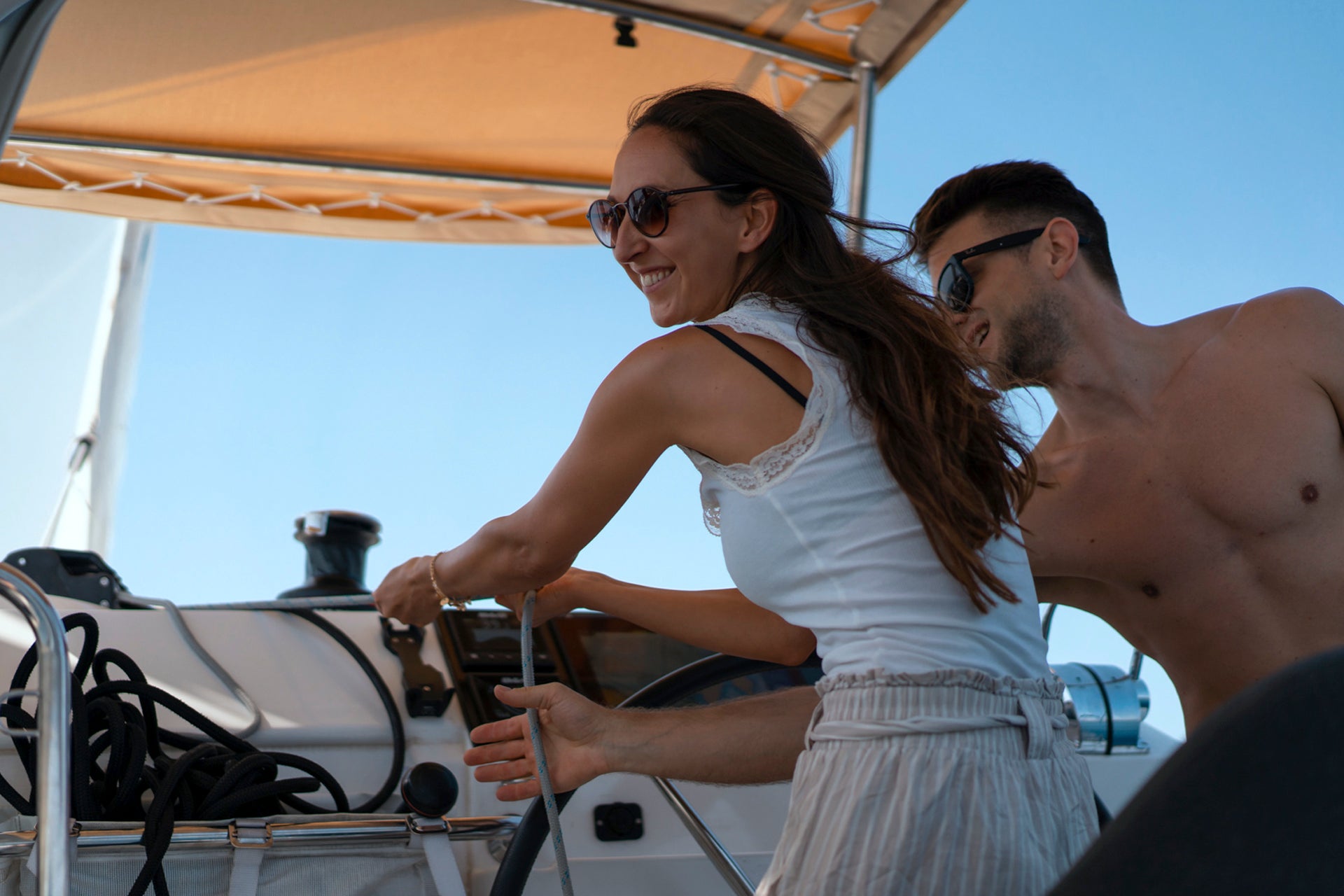 How much does a bareboat charter cost?
You can tailor your yacht charter to make the most of your budget. We've listed some considerations that will make a difference to your bareboat charter cost.
Choose an older yacht – Our newest yachts are more expensive to charter than others in our fleet. As yachts get older they move to our economy fleet and offer the best value. You can sail wonderful older yachts and that will lower your charter price.
Sail in low season – Peak seasons are popular for good reason, yet the shoulder seasons can also provide pleasant climates and fewer crowds. Low season also has the advantage of being less expensive with more yachts available and cheaper flights.
Charter for longer – Most charters are for one or two weeks, but it is possible to secure additional discounts if you sail for more than three weeks.
Combine discounts – You can combine discounts to get up to 20% off if you book 180 days before departure, have booked with us before and book during a boat show. Take a look at our bareboat yacht charter special offers.
Mooring and marina fees – Your choice of destination makes a big difference to your overall bareboat charter cost. Some locations offer free or very low mooring fees if you buy a meal at the local restaurant. In others, you may need to pay marina fees, as well as fees for landing on islands, entering national parks or marine reserves.
Add-ons for your charter – Water toys enable you to explore mangrove creeks, blue caves and lagoons, or to simply exercise and have fun. It is easy to add kayaks or paddle boards to your charter.
Early boarding – Check in and depart on the same day.
Delivery sailing – Experienced sailors can help us get our fleet ready for the season by sailing boats to our network of bases. If you're flexible and have the right resume, this could suit you.
What is included in a bareboat charter?
Yacht, dinghy & outboard
Marina mooring: First and last night at our base
Fuel and water: All of our yachts are delivered to you with full tanks of fuel (yacht & dinghy), full tank of water, one bottle of cooking gas + one spare. You have to return the yacht with full tanks of fuel and water
Watersports: snorkeling equipment
Mandatory extras: End cleaning and starter pack, which includes four 1.5L bottles of water, one small bottle of dish-washing liquid, one dishcloth, one sponge, trash bags, one roll of paper towels, one box of matches and one roll of toilet paper in each head. Please note that contents vary by destination
Essentials pack: What is the Essentials pack? Designed for our bareboat charters, it includes our previous damage waiver extra, end cleaning & starter pack which will not be shown in new quotes & bookings. Only handling fees will remain as other mandatory extra (+ taxes in some destinations).
All bookings with the Essentials charter pack will have 0 € security deposit.
Essential pack is mandatory in most destinations with few exceptions. Contact us for more details.
Linen and towels: 1 set per person per charter. Extras can be requested at a cost.
What licenses do I need to hire a yacht and sail myself?
The skipper of a yacht has primary responsibility for the safety of the crew and yacht at all times. Many destinations require just relevant experience demonstrated by a sailing resume.
To charter in the Mediterranean, it is mandatory that you hold a sailing license recognized by the local port authorities for bareboat charters in Italy, Greece, Croatia, Spain, Malta, Montenegro and Turkey. Other destinations that require a license include Madagascar, Seychelles, Thailand, Brazil and Sweden. For Belize, the port authority will issue a certificate of competency and an application is made on arrival.
You must take your proof of competency and original certificate with you on your charter. We advise you to contact our team about your qualifications and destination requirements before booking.
By accepting the yacht contract you are confirming that you and/or members of your crew are capable and competent to sail the yacht in the conditions and cruising area of the charter. We reserve the right not to hand over the yacht if, after inspection, it is the opinion that the charterer is not, or may not be competent to be in charge of the vessel.
What briefing do you give at base?
Before you leave base you will have an overview of the cruising area, safety inspection on board and yacht familiarization briefing from our base team, including:
All of the safety equipment
Cooking and refrigeration systems
Heads and showers
Engine and check in procedures
VHF radio and mayday instructions
All instruments including GPS
Charts and pilot books
Halyards, winches, reefing lines, rigging and controls
Anchor system
Dinghy and engine
Other systems
We highly recommend you arrange travel insurance in case you need to cancel for an unexpected reason to cover non-refundable deposits. Please make sure you have personal travel insurance that covers sailing.
We will insure the vessel throughout the charter with first-class insurers against all risks, to provide permission to charter as under contract terms and to cover third-party liability.
The following options are available in limited locations:
Security Deposit: This varies on the size of the boat and when the boat is returned without damage it is refunded.
Damage Waiver: The charterer agrees to pay a non-refundable damage waiver at the time of booking, as well as a reduced damage deposit on embarkation that is refundable upon completion of the charter should no damage occur.
Are their child or age restrictions?
There are no restrictions.
What is the cancellation policy – Bareboat charters?
If you cancel your charter, cancellation fees will apply:
If the Charterer cancels more than 60 days before the original charter start, Charterer will lose their 30% deposit. If Charterer has already paid for add-on options, DYC will reimburse Charterer for these expenses.
If Charterer cancels 59 days or less before the original charter start, Charterer will lose the entire charter fee paid to date. If Charterer has already paid for add-on options, DYC will reimburse Charterer for these expenses, unless cancellation occurs within seven days of departure. If within seven days, payment for add-on options will not be refunded.
Get inspired! #mydreamyacht
Follow our customer's journeys & then share your own amazing experiences on Instagram
Simply wonderful! Fred + Isabelle were so accommodating and did so much for us. Isabelle's food was incredible. Thank you so much!
Laura
Exumas Cabin
Great class. Very professional and great service!
Thomas
Antigua Bareboat
Just what we needed to get out of a year of lockdown, see new places and connect with nature. Highly recommended for your next sailing adventure!
Johan
St. Martin Bareboat
Excellent cruise and wonderful stay on board. Skipper attentive, very pleasant and very professional.
Maxime
Guadeloupe Skippered
I have just returned from another fantastic week of sailing at your base in Pula and would like to thank everyone involved for making this possible at such short notice and without any problems.
Mathias
Guadeloupe Bareboat
The marina itself is a perfect base with super facilities! The Lagoon 42 was in good condition and the skipper was fantastic and knew the area very well.
Jonathan
Croatia Skippered
What an EXCELLENT experience. We just returned from a week long charter with skipper from Corfu, sailing around the beautiful islands of the Ionian Sea. Paxos, Antipaxos and the old town of Corfu were beautiful and the secluded bays we got to visit thanks to our local skipper Nicholas were simply stunning. Fly and Flops was yesterday – we will only charter with Dream Yacht for the foreseeable future.
David
Greece Skippered
Our group of 10 had a WONDERFUL time in French Polynesia from May 21-28, 2022! The food was fantastic: captain and cook, husband and wife: Henry and Mehee (sp) were amazing and the whole experience on board was a dream! We can't wait to book another trip through Dream Yacht
Katie
Tahiti Crewed Premium
Dream Yacht provided a great sailing experience for my extended family on 2 monohulls from Scrub Island. The boats were in very good condition and perfectly prepared, the staff friendly and helpful. I had worked for a number of charter companies over the years but Dream Yacht is one of the
Charlie
British Virgin Islands Bareboat
I am in the Maldives right now and having the time of my life. Captain Jack and the crew are professional, safe and fun! The boat is optimal and the food is delicious. The chef even bakes CAKE! The beds are surprisingly comfortable and we sleep 9 hours every night. If you like island hopping, there is no better option than Dream Yacht. We will be booking Tahiti next year.
Cynthia
Maldives Cabin
The new boat was in perfect condition and best condition for exploring bays and islands. I could never have imagined that this could be so much fun and enjoyable and we are already looking forward to the next upcoming trip in the Ionian Sea.er.
Vytautas
Scandinavia Bareboat
Baja is now my favorite place. There was something for everyone: sailing under northerly winds with mostly calm evenings, snorkeling, fishing, secluded sandy beaches, pelican feedings, being greeted by barking sea lions, and exploring the geology of Ispiritu Santo Island. Dream Yacht Base La Paz provided competent professional support with a well-equipped and maintained boat. We were wonderfully cooked by an on-board chef arranged with Dream Yacht, which meant more free time for all of us. An unforgettable vacation and adventure connected with nature.
Taiyoko
Mexico Crewed Premium
All the staff were fantastic and made our trip a memorable one. Incredibly friendly and welcoming, the food was fantastic. The service throughout the trip was always top notch!
Tommy
Thailand Cabin
Absolutely recommendable. Perfect service. Will charter again and recommend Dream Yacht Charter anytime.
Zahradnik
Turkey Bareboat
I just returned from 3 weeks of fantastic sailing with my family on one of your catamarans in Sardinia. My thanks to our skipper Simone and Daniela, our cook.
Giles
Sardinia Skippered
For a first cruise as a skipper, the Mediterranean is perfect. The service of Dream Yacht is too!
Thomas
France Bareboat
We had an incredible trip and got engaged on our very first night of sailing! We will surely come back one day. We were beginners, we were guided very well and that gave us a lot of confidence.
George
Australia Bareboat
The experience on board far exceeded our expectations. Isabelle provided exceptional three course meals. Her creativity and delicious meals were incredible. Thomas was an excellent skipper, he "felt" our needs. Thanks guys!" Spira, bareboat with crew in New Caledonia.
Spira
New Caledonia Crewed Premium
Once again a fantastic sail with a great crew. Thanks again to a great captain and cook. Was totally fantastic.
Connie
Seychelles Cabin
A very excellent sailing vacation – especially the crew was fantastic. I would sail with Dream Yacht again and highly recommend them.
Mark
Guadeloupe Bareboat
I loved the vacation and am not sure this trip can ever be topped. Everything about it was incredible. The captain and crew were great, helpful, friendly, attentive and knowledgeable. We loved it.
Trina
Greece Crewed Premium
We just returned from one of your Lagoon 52F's last week in St. Thomas! We had the trip of a lifetime sailing around St. Thomas and St. John!
Megan
US Virgin Islands Bareboat
What's new?
Stay up to date with news and events or get some inspiration for your next yacht charter and pick up useful tips by reading our latest blogs.
Go to Blog