Cabin charters
No need to know how to sail with our by the cabin charters. Reserve a double cabin and private bathroom and let us take care of the sailing and the meal preparation. All you need to do is pack your bags and relax…
What's on this page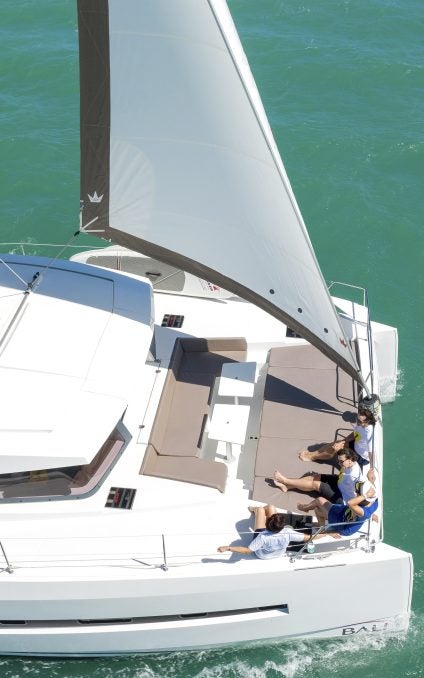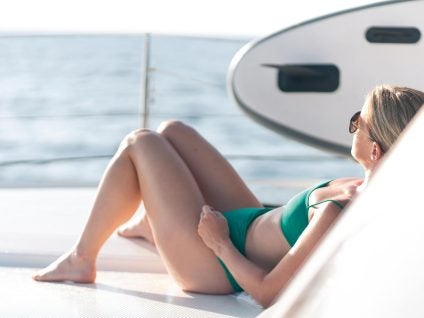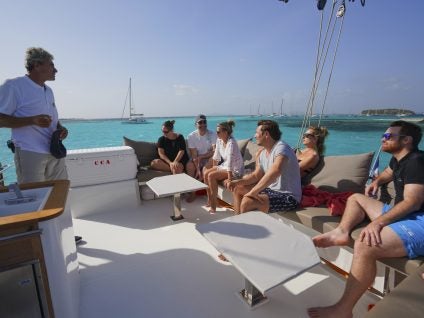 Relaxed adventure, amazing destinations and social fun – in comfort at sea
Vacation planning just got easier with our hassle-free, relaxing by the cabin catamaran charters. No sailing experience is needed, just a love of travel and exploring.
Step aboard and let our professional crew take you on a memorable sailing adventure, discovering destination highlights on an exciting, organized mini cruise. Enjoy delicious full board meals and snacks carefully prepared and served by our crew each day.
Reserve your private ensuite cabin on a modern, comfortable catamaran. Enter an intimate setting with a difference, which is perfect for couples, friends or solo travelers. You also get the chance to take a dip in the world's largest swimming pool, the ocean!
Take a look at our cabin cruises or contact us for advice.
See the world from the water's edge
Exotic locations and authentic local experiences
A cabin charter gives you the chance to explore where cruise ships cannot go, which means you can get away from the crowds.
Our catamarans can get right up close to impressive beaches so you can explore straight from the boat. It's the ultimate in relaxing vacations, yet brings the exciting possibility of adventure.
Choose a slower pace and enjoy the serenity of the ocean. Spend the night at anchor with just the sunset and marine life for company.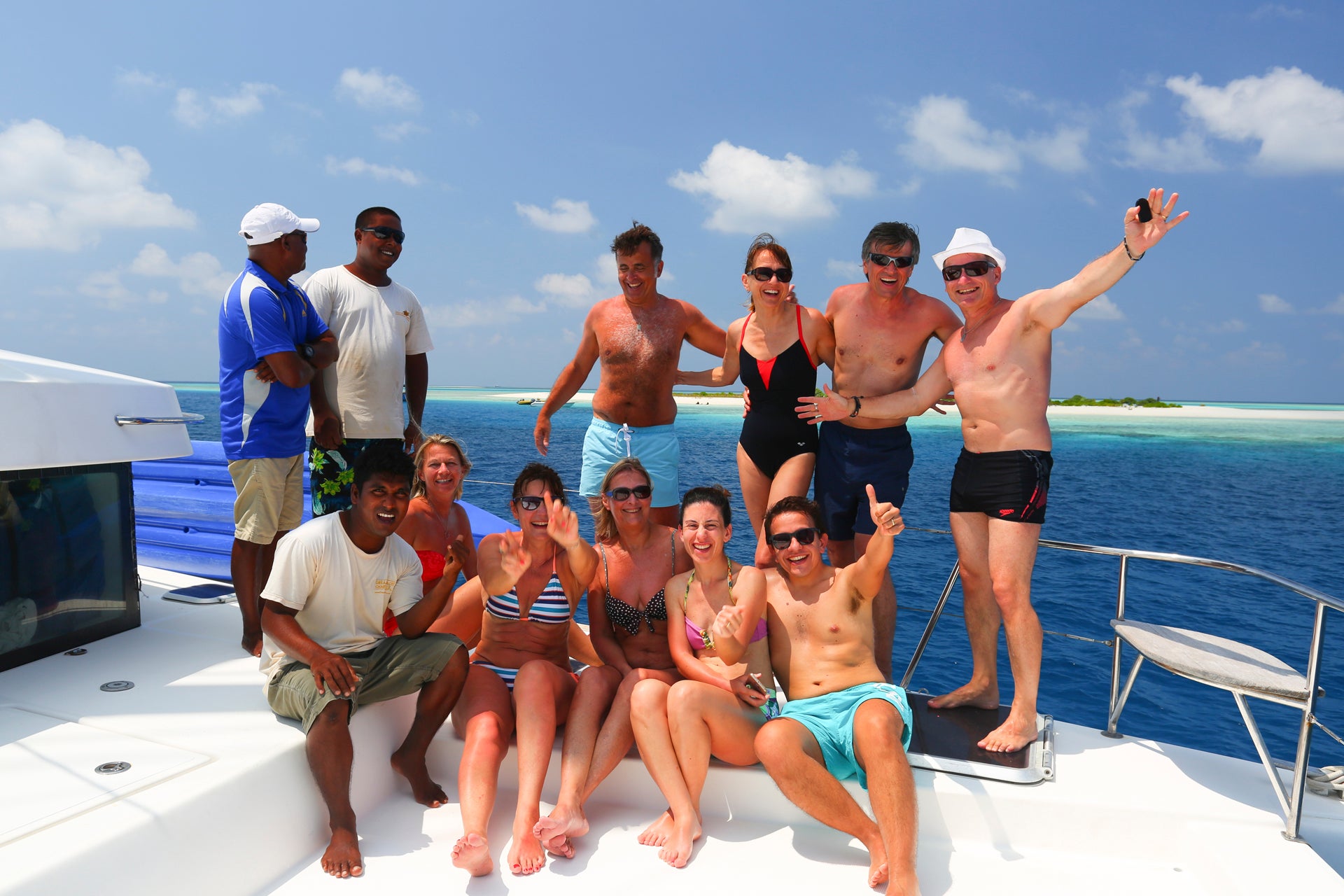 Our handpicked, exquisite destinations
See our portfolio of the world's most beautiful places. Choose from lagoons teeming with marine life, exotic paradise islands, soft, sandy beaches and charming fishing villages across our wide range of beautiful destinations.
Our by the cabin charter destinations have been selected for their tried and tested sailing grounds. Make the most of your vacation with expertly curated itineraries of must-see highlights.
Whether you want a short sailing adventure trip or a longer voyage, we have cabin charter vacation packages ranging up to 11 days.
What is a cabin charter?
Our by the cabin charters are organized sailing vacation packages with set itineraries, full board meals and optional excursions. You relax while our professional crew take care of the sailing and meal preparation.
Take a look at our special offers.
Our spacious yachts
Reserve a double cabin with private bathroom on our modern catamarans. We constantly add new boats to our cabin charter fleet, including Lagoon 620s, Fountaine Pajot Ipanema 58s, plus many more.
Our cabin charter yachts typically have four to six cabins in the two hulls for up to 12 like-minded travelers.
Our large catamarans have generous communal and dining areas, both outside and inside, so you can relax with ease and can enjoy plenty of space.
All you need to do is book your flights, pack a bag and check in.
How to book a cabin cruise vacation
We're an industry innovator and strive to make the wonderful feeling of sailing available to all. Our by the cabin charters are hassle-free and it's easy to find your dream destination and reserve your own cabin with private bathroom on a comfortable yacht. You are one step closer to your dream vacation.
STEP 1
Find your dream destination
First, you need to choose where you want to go. This could be the most challenging part of your entire adventure sailing vacation! With our wide range of exciting destinations, our cabin charters have carefully curated itineraries of the finest sailing grounds on the planet. Take a look at our cabin cruise destinations.
STEP 2
Narrow down your choice
The time of year you want to travel may help you choose your cabin charter based on the destination's weather patterns. The number of days you want to sail may also help narrow down your search. Get inspired with our top cabin cruise destinations guide.
STEP 3
Reserve online
Once you've chosen your destination, duration and cabin type, you can book conveniently online. You can add on desired excursions, if available for your destination, and let us know if you need us to organize a transfer from the airport. Don't forget to book your flights and travel insurance.
STEP 4
Time to pack
For a successful adventure sailing vacation, make sure you take the essentials and leave everything else behind. From what shoes to take to whether you need a hairdryer, find out what to pack in our handy guide.
STEP 5
Check in
When you arrive, our team will welcome you at our base and settle you onto your yacht. It's time to leave your worries on shore and enjoy the vacation of a lifetime.
Your professional cabin charter crew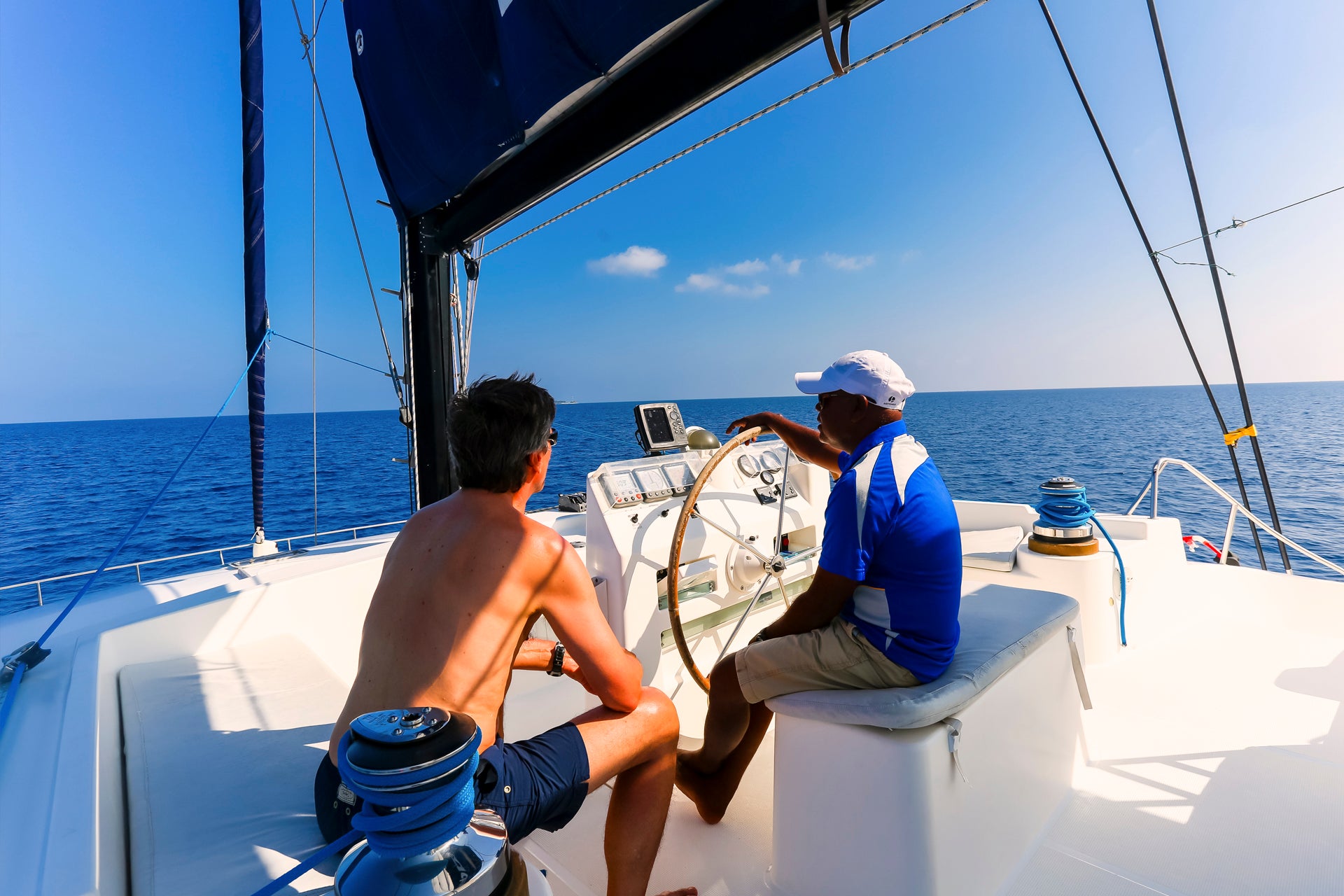 We handpick our crew for their expertise, attention to detail and extensive knowledge of the local area.
Our captains are experienced sailors who can't wait to be your personal tour guide, sharing an insider's view on history and culture. Wake up to the smell of fresh coffee and fresh bread in the morning as your hostess gets breakfast ready on your sailing charter. Enjoy delicious cuisine that will delight your taste buds and the crew will try and catch fresh fish for dinner.
Read a customer review of their British Virgin Islands cabin charter.
Life on board our adventure sailing trips
Once you've checked in, your friendly crew will show you to your cabin, familiarize you with your yacht and be on hand to answer any questions.
When you've settled into your cabin, you can meet your fellow travelers for welcome drinks.
Guests will dine together and there are plenty of opportunities to find quiet time alone for a walk on the beach, swimming or snorkeling if that's how you want to vacation.
Adventure sailing charters are relaxed and informal so pack light with plenty of beach wear.
Find out what to pack for a sailing vacation.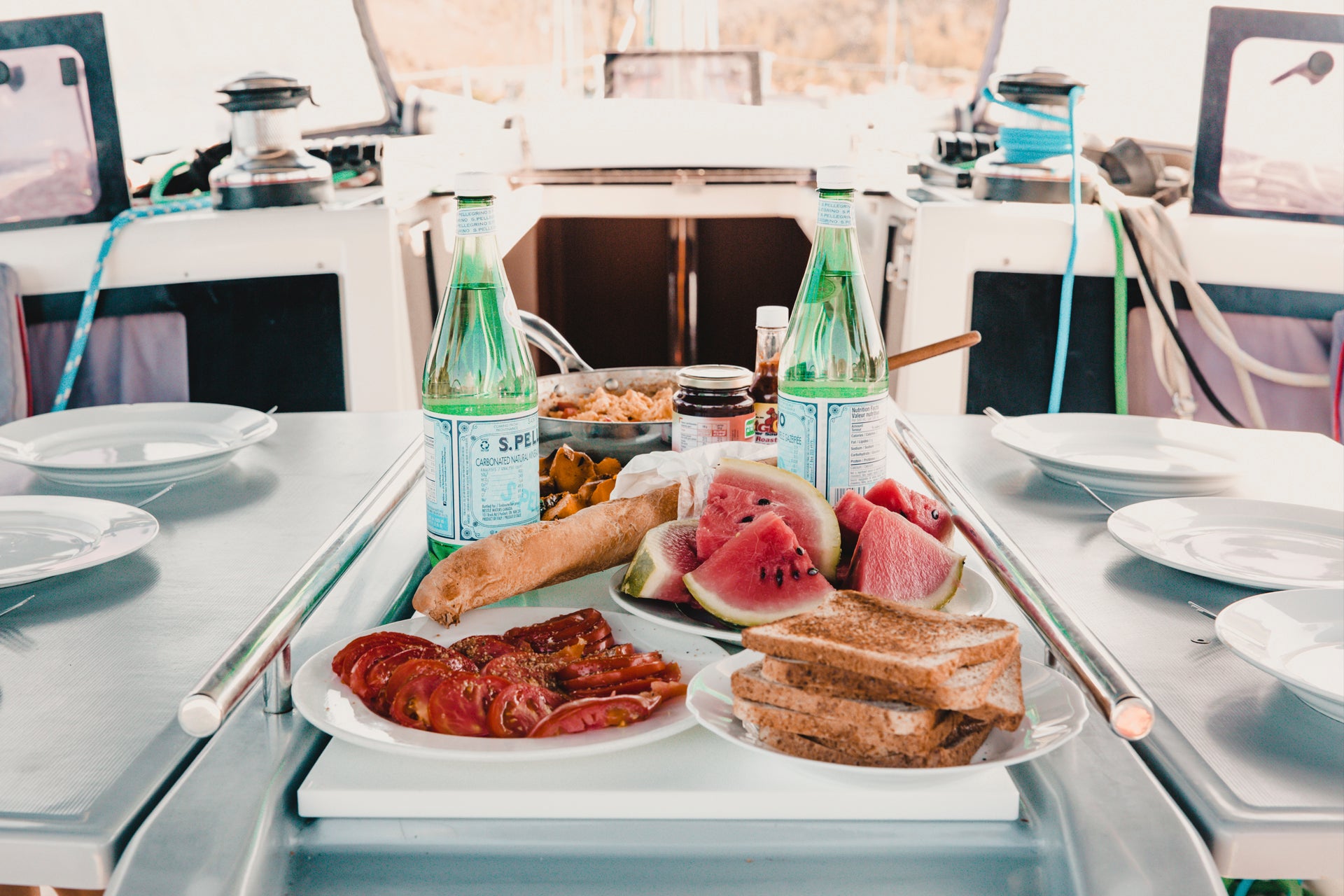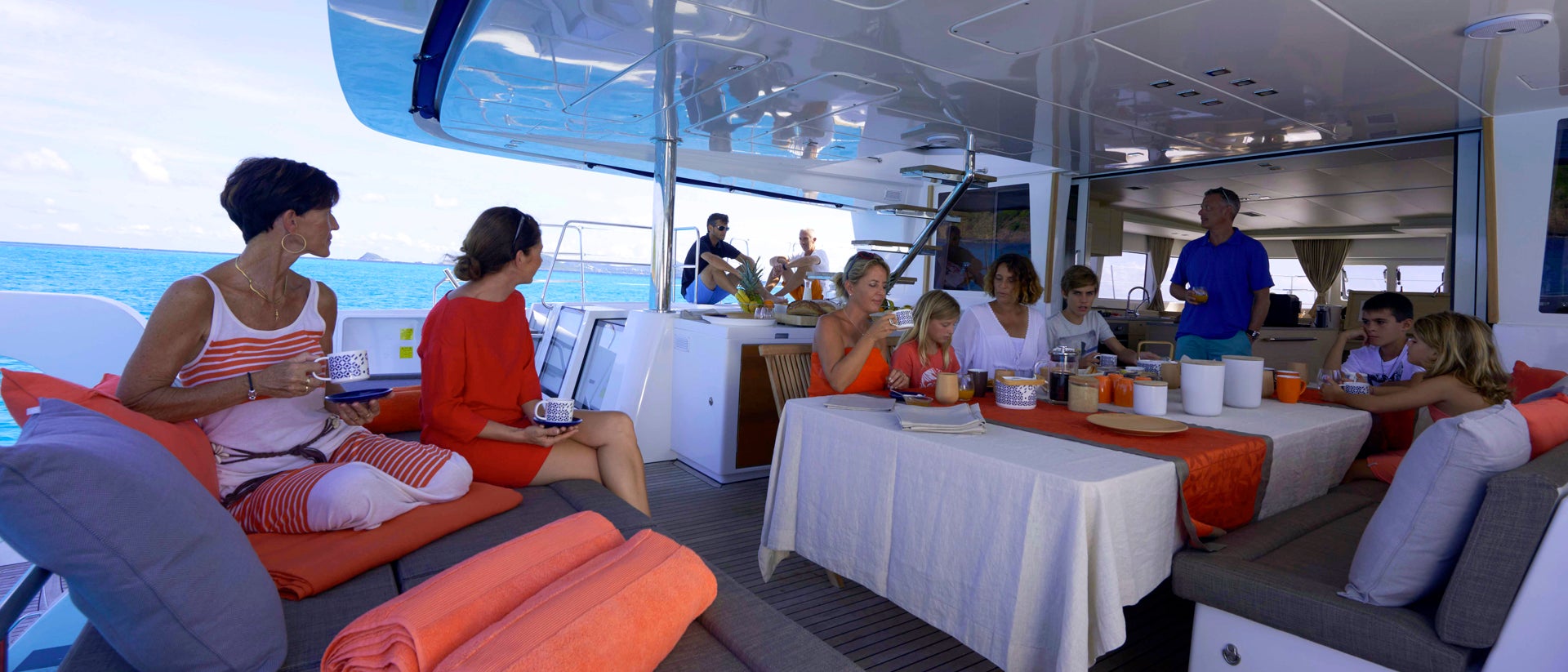 What is the difference between cabin cruise and crewed charters?
There are several differences between our by the cabin and crewed yacht charters. What do our by the cabin charters include? They include:
Reservation for one double cabin
Fixed itinerary
Set menu for your vacation
Sharing the yacht with other travelers
As you only need to reserve just one double cabin rather than an entire yacht, it is an affordable sailing vacation.
Organized tours
Our cabin charters come with fixed itineraries so you don't have to do the research before you set sail on your sailing adventure. Our destination experts have planned the route to maximize your vacation time and see as much as possible.
Full board meals
All your meals are included, served by our crew and the menu is fixed. You don't have to plan menus and think about sourcing groceries in an unfamiliar location. A cabin charter is an easy-to-book, relaxed sailing vacation for those who want to focus on having a wonderful time with none of the hassles.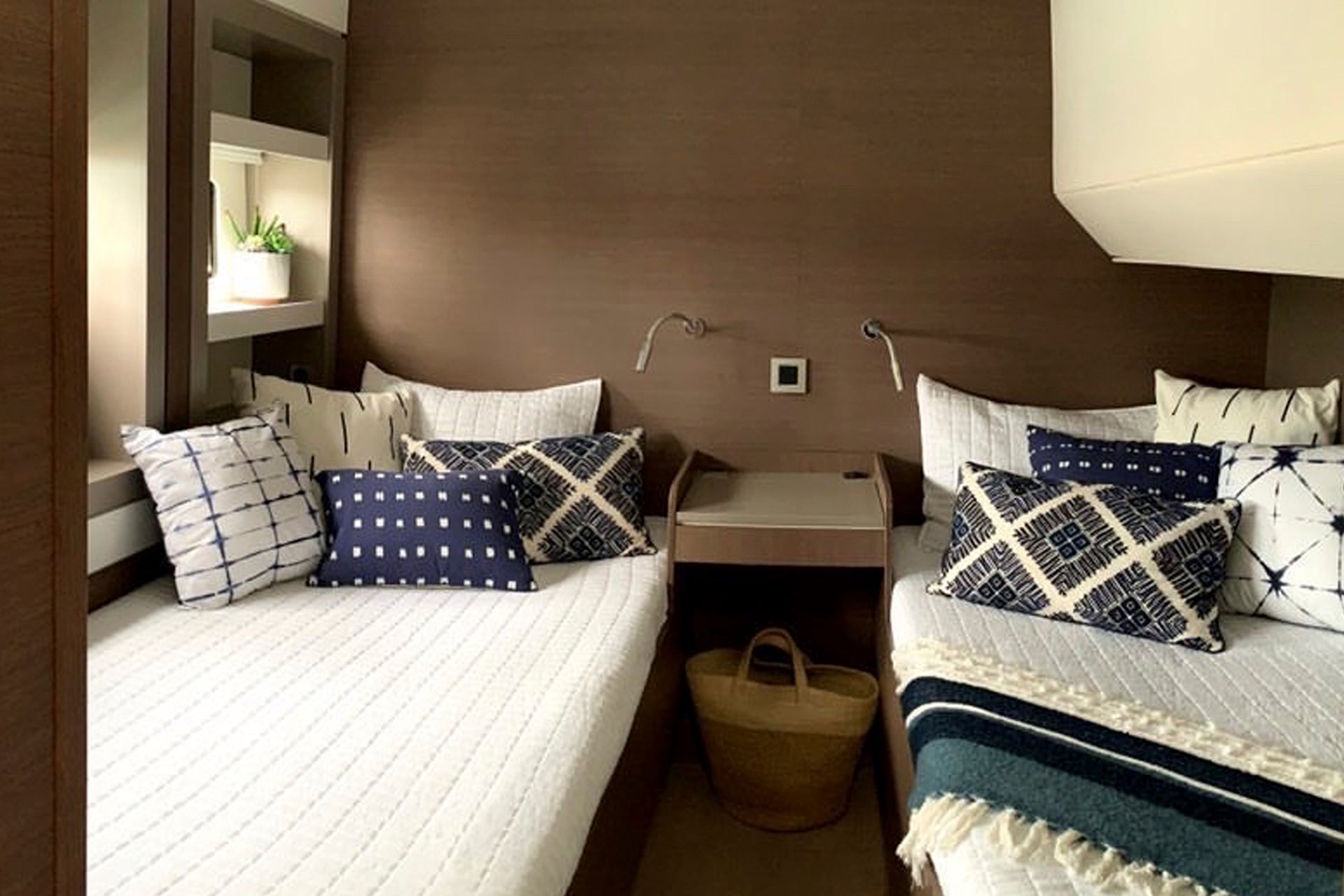 What's included with a cabin cruise?
The following will be included in your cabin charter:
Full board meals – crew will always try and catch fresh fish to serve
Drinks with meals
Snacks
Bed linens
Towels
Air-conditioning
You can include excursions at some destinations for an additional fee. Read our cabin cruise FAQs for more details.
Meals and drinks: Meals are always full board and served morning, midday, and evening, although times may vary according to itinerary and arrival time at anchorage. The drinks package can vary depending on the destination. Information is available on our website and detailed in every quote provided.
Drinks: Water, tea, and coffee are included at every meal time. Soft drinks and alcoholic beverages, including table wine and local aperitifs (punch, rum, and fruit juice) may be included as part of your charter, depending on location. Otherwise, drinks can be paid for in cash on board. Information is available on the website and detailed in every quote provided.
Snacks: In the afternoon, tea and cake/biscuits are served
Linen: Two sets of linen, towels, and beach towels per cabin per week are provided.
Water sports: You will have access to snorkeling equipment, a sea kayak, and paddleboards
Cleaning: The public areas are cleaned by the crew while on charter, but not the private cabins
Air-conditioning: The cabins have air conditioning between 8am and 10pm each day. They are turned off at night to avoid noise disturbance. The cabins stay cool, hatches can be opened and there are small fans in the cabin
Are there child or age restrictions?
Can I choose which cabin I want when I book?
You can request your preferred cabin. While we cannot guarantee your preference, we will do our best on a first-come, first-served basis.
What happens if the weather changes?
The captain may decide to change the itinerary if there is bad weather.
How flexible is the itinerary for an all-inclusive by the cabin cruise/charter?
Our yacht itineraries are designed by our destination experts and are set to showcase the best of the destination's highlights. They are set and not flexible, even if you book all the cabins.
What is the cancellation policy for cabin cruises?
We highly recommend you arrange travel insurance in case you need to cancel for an unexpected reason to cover non-refundable deposits. Our by the cabin cancellation fees are:
More than 90 days before original embarkation date: 30% of the charter fee
89 – 60 days before original embarkation date: 50% of the charter fee
59 – 30 days before original embarkation date: 75% of the charter fee
Fewer than 29 days before original embarkation date: 100% of the charter fee
Get inspired!
Follow our customer's journeys & share your own amazing experiences on Instagram
Simply wonderful! Fred + Isabelle were so accommodating and did so much for us. Isabelle's food was incredible. Thank you so much!
Laura
Exumas Cabin
Great class. Very professional and great service!
Thomas
Antigua Bareboat
Just what we needed to get out of a year of lockdown, see new places and connect with nature. Highly recommended for your next sailing adventure!
Johan
St. Martin Bareboat
Excellent cruise and wonderful stay on board. Skipper attentive, very pleasant and very professional.
Maxime
Guadeloupe Skippered
I have just returned from another fantastic week of sailing at your base in Pula and would like to thank everyone involved for making this possible at such short notice and without any problems.
Mathias
Guadeloupe Bareboat
The marina itself is a perfect base with super facilities! The Lagoon 42 was in good condition and the skipper was fantastic and knew the area very well.
Jonathan
Croatia Skippered
What an EXCELLENT experience. We just returned from a week long charter with skipper from Corfu, sailing around the beautiful islands of the Ionian Sea. Paxos, Antipaxos and the old town of Corfu were beautiful and the secluded bays we got to visit thanks to our local skipper Nicholas were simply stunning. Fly and Flops was yesterday – we will only charter with Dream Yacht for the foreseeable future.
David
Greece Skippered
Our group of 10 had a WONDERFUL time in French Polynesia from May 21-28, 2022! The food was fantastic: captain and cook, husband and wife: Henry and Mehee (sp) were amazing and the whole experience on board was a dream! We can't wait to book another trip through Dream Yacht
Katie
Tahiti Crewed Premium
Dream Yacht provided a great sailing experience for my extended family on 2 monohulls from Scrub Island. The boats were in very good condition and perfectly prepared, the staff friendly and helpful. I had worked for a number of charter companies over the years but Dream Yacht is one of the
Charlie
British Virgin Islands Bareboat
I am in the Maldives right now and having the time of my life. Captain Jack and the crew are professional, safe and fun! The boat is optimal and the food is delicious. The chef even bakes CAKE! The beds are surprisingly comfortable and we sleep 9 hours every night. If you like island hopping, there is no better option than Dream Yacht. We will be booking Tahiti next year.
Cynthia
Maldives Cabin
The new boat was in perfect condition and best condition for exploring bays and islands. I could never have imagined that this could be so much fun and enjoyable and we are already looking forward to the next upcoming trip in the Ionian Sea.er.
Vytautas
Scandinavia Bareboat
Baja is now my favorite place. There was something for everyone: sailing under northerly winds with mostly calm evenings, snorkeling, fishing, secluded sandy beaches, pelican feedings, being greeted by barking sea lions, and exploring the geology of Ispiritu Santo Island. Dream Yacht Base La Paz provided competent professional support with a well-equipped and maintained boat. We were wonderfully cooked by an on-board chef arranged with Dream Yacht, which meant more free time for all of us. An unforgettable vacation and adventure connected with nature.
Taiyoko
Mexico Crewed Premium
All the staff were fantastic and made our trip a memorable one. Incredibly friendly and welcoming, the food was fantastic. The service throughout the trip was always top notch!
Tommy
Thailand Cabin
Absolutely recommendable. Perfect service. Will charter again and recommend Dream Yacht Charter anytime.
Zahradnik
Turkey Bareboat
I just returned from 3 weeks of fantastic sailing with my family on one of your catamarans in Sardinia. My thanks to our skipper Simone and Daniela, our cook.
Giles
Sardinia Skippered
For a first cruise as a skipper, the Mediterranean is perfect. The service of Dream Yacht is too!
Thomas
France Bareboat
We had an incredible trip and got engaged on our very first night of sailing! We will surely come back one day. We were beginners, we were guided very well and that gave us a lot of confidence.
George
Australia Bareboat
The experience on board far exceeded our expectations. Isabelle provided exceptional three course meals. Her creativity and delicious meals were incredible. Thomas was an excellent skipper, he "felt" our needs. Thanks guys!" Spira, bareboat with crew in New Caledonia.
Spira
New Caledonia Crewed Premium
Once again a fantastic sail with a great crew. Thanks again to a great captain and cook. Was totally fantastic.
Connie
Seychelles Cabin
A very excellent sailing vacation – especially the crew was fantastic. I would sail with Dream Yacht again and highly recommend them.
Mark
Guadeloupe Bareboat
I loved the vacation and am not sure this trip can ever be topped. Everything about it was incredible. The captain and crew were great, helpful, friendly, attentive and knowledgeable. We loved it.
Trina
Greece Crewed Premium
We just returned from one of your Lagoon 52F's last week in St. Thomas! We had the trip of a lifetime sailing around St. Thomas and St. John!
Megan
US Virgin Islands Bareboat
What's new?
Stay up to date with news and events or get some inspiration for your next yacht charter and pick up useful tips by reading our latest blogs.
Go to Blog