Liz Wardley is an offshore sailor, three times Volvo Ocean Race competitor, motivational and public speaker, personal trainer, boat re-fitter and an ocean ambassador who SUPs, surfs and kiteboards in her spare time. As part of our #MoreWomenAtSea campaign, find out how Liz Wardley operates in the extreme sport of offshore sailing.
How did you get into sailing?
The first time I went sailing was in a race when I was 13. I just went out, gave it a go and loved it. We were sailing on a Hobie Cat and the person I was sailing with thought it was worth investing a bit more time in me. He took me under his wing and started teaching me about racing and sailing. I didn't even know where the wind was coming from at first. But I found that I had quite a competitive spirit and it went from there.
You started your career off winning numerous titles in the Hobie Cat 16 class in your teens before progressing to the One Design Volvo Ocean 65 monohulls. Can you tell us about that transition?
Sailing multihulls was something I did growing up. The racing is entirely different. You go out, have a blast, hopefully do well and then you go back to the beach and have a beer before going to your hotel to get a good night's sleep. Once I got onto yachts, it was more offshore sailing that I was really attracted to. After I went around the world in my twenties, I got the bug for offshore sailing and I have now been around the world three times.
Your first and second Volvo Ocean Races were with all-women teams. The third was with a mixed team. What would your dream team be?
Mixed. I found that the dynamic within the mixed group was very positive. Everyone supported each other and accepted each other for what they were. There was no politics, as everyone accepted the role that they, and everyone else, had. It is important everyone sticks to their role. Every single manoeuvre, all the way around the world, has one person who will go to the same position to do the same job unless they are incapacitated. It is like doing a fire drill. You practice till everyone knows exactly what to do and it makes the boat go so much faster.
Because we operate in a male dominated sport, women sailors feel they have to do more and be more in order to compete. With the all-female teams I sailed with, there was always a bit more striving to prove and striving to be a little bit further up the ladder. There is no real place for that once the race has started. Everyone has to accept where they are and what they are doing.
You worked as part of the Volvo Ocean Race boatyard team in Lisbon as the facility completed a comprehensive refit of the whole fleet. What role did you play there?
I was part of the engineering team doing the plumbing, hydraulics and keel system and those fun technical things. I was also one of the refit boat captains so I was in charge of two of the eight boats and, as they came through the refit, I had to make sure that everything was on schedule. I also took them sailing with the teams to sign off on the boat.
It is said that you know the Volvo Ocean 65 inside out having spent more time around these boats than any other sailor in the world – male or female. What kind of an edge does this experience give you?
After being boat captain for team SCA, I wanted to join a mixed team. In order to give myself a leg up I asked for the job at the boatyard so I could refit and get to know the boats even better than before. The boat captain is in charge of the functioning of the boat, including maintenance and repairs to ensure it keeps going.
On Turn the Tide on Plastic I was also boat captain, my experience in the boatyard definitely helped. I was more confident in my decision making about what should and shouldn't be fixed and what spares to take on the boat. I knew how long things could take to repair, where to look when we had problems and could come up with solutions quickly.
You sailed with Turn the Tide on Plastic in 2017-18. In this race you were also watch captain. Can you tell us about that role?
I was both boat and watch captain. The watch captain is generally second in command, the reserve person in charge of the boat. If something happened to the skipper then I would step into their shoes and hopefully get the boat back safely. Also our skipper wasn't in our watch rotation so it was up to the watch captains to take on everything that happens on deck, we would liaise with the skipper and navigator to find out what the objective was in the near and distant future and make sure that we were getting the boat to where they wanted it to go as fast as possible. I would also make sure the boat was ready for potential manoeuvres and then drive through the manoeuvres.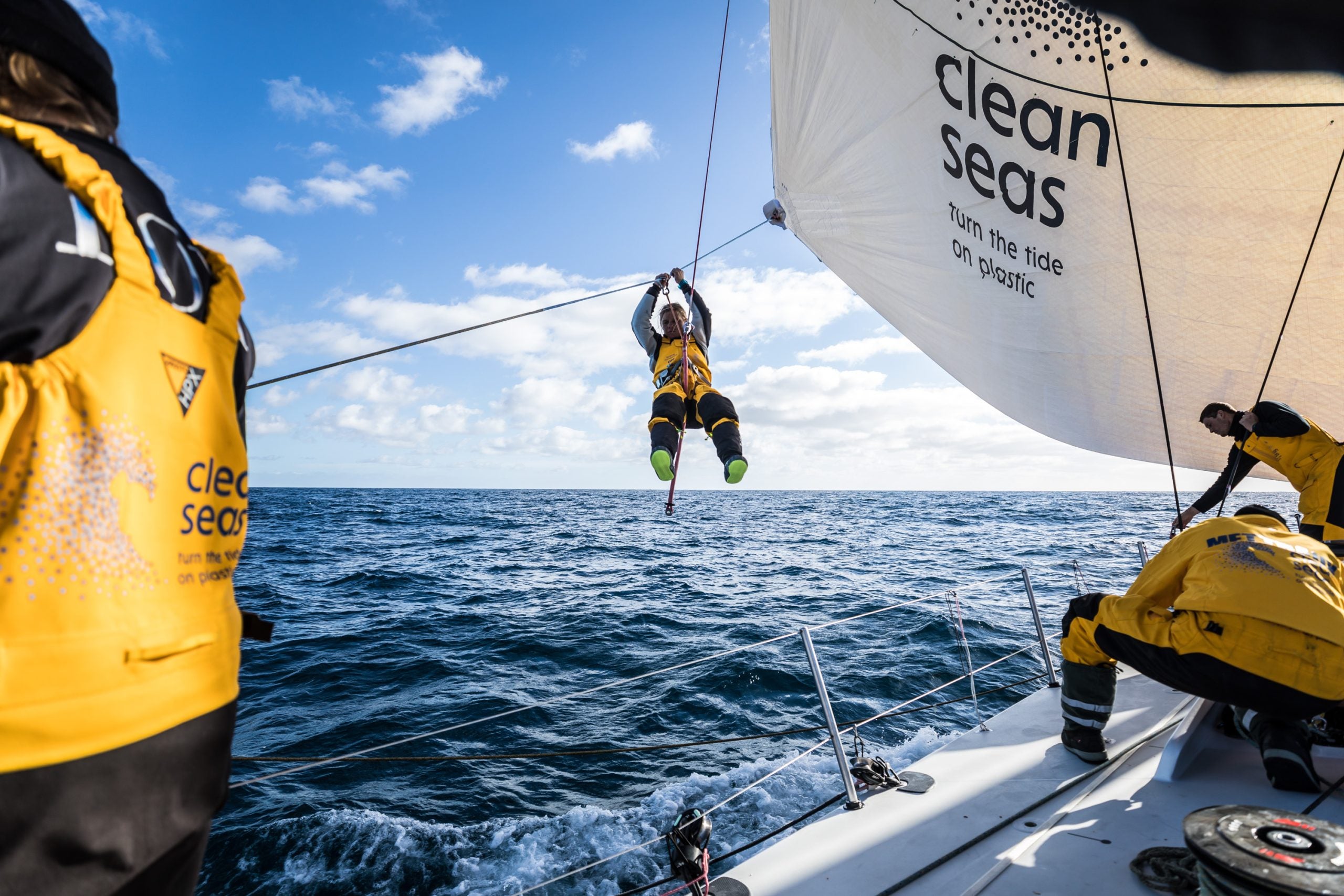 Sponsored by the Mirpuri Foundation and skippered by Dee Caffari, this boat amplified the United Nations' 'Clean Seas: Turn the Tide on Plastic' message. How was this race different to your previous two?
It was very different because as well as racing, we were physically running the machinery which measured co2, salinity and pH levels in the water. We also had a microplastic filtration system and actually changed the filters every day, labelling, storing them and handing them over to the scientists when we got to shore. It was a massive addition to the duties that I had because I was physically running the on board science experiment.
The public awareness around our team and the image that we willingly and happily had to portray at the stopovers was also an added element to consider. We would go to a press conference and they would put a plastic water bottle in front of everyone. You don't want to preach to other people about the plastic bottle, but it really can't be there. I saw so many people around me, my friends and family, being influenced by my actions, changing their ways and making an effort. As a team we just tried to lead by example.
What was the outcome of the experiment?
The first thing they wanted to establish was the extent of the microplastic problem. It was the first time that a yacht, which could move beyond the shipping routes, had been equipped with the microplastic filter and co2 sensors and we proved that plastic is indeed everywhere. The whole way around the world there were only two filters that came back clear of plastic.
Do you have plans for another Volvo Ocean race?
I am currently in Lisbon recommissioning one of the 65s that has been bought by a team. I'll be spending the rest of the summer up here on a corporate tour of Europe on one of the other 65s promoting the race and sailing with potential sponsors. I definitely want to be racing in 2020, though I am not sure with who.
From a young age you have competed in a male dominated environment. Has that shaped who you are?
It has definitely shaped who I am, although I suppose I have always been a tomboy. Life events have kept me around males a bit more than girls even though I come from a family of four sisters. I was doing competitive game fishing from a very young age, that is pretty male dominated too.
Do you have any message for aspiring young girls out there?
Go out and do it and don't take no for an answer.
Find out more
Discover your own adventure with our bareboat, skippered, by the cabin, crewed or sabbatical charters. For more information, contact our team or read more inspiring stories on our blog.