Crewed yacht charters
Discover our exciting, personalized all-inclusive sailing vacations and leave the traditional, static resort behind for the ultimate experience.
What's on this page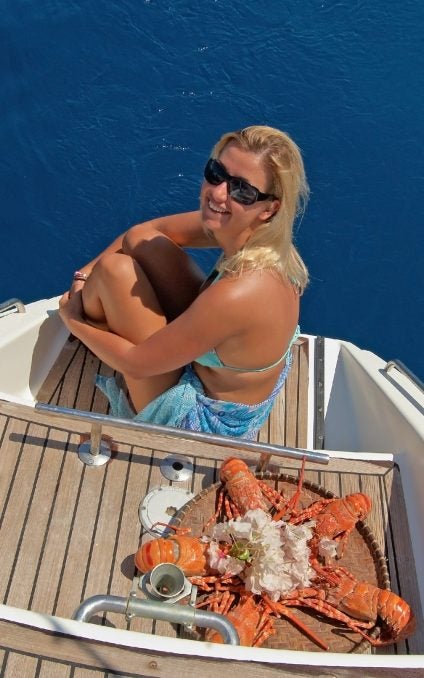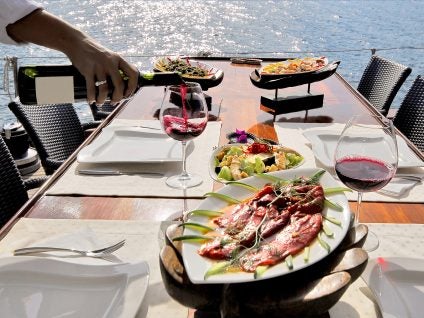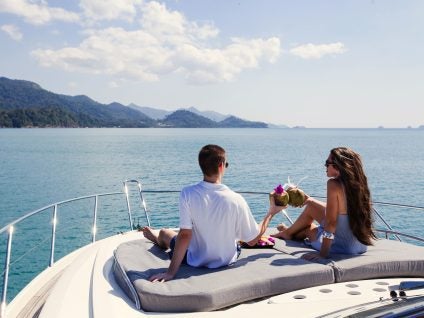 The ultimate bespoke vacation on the water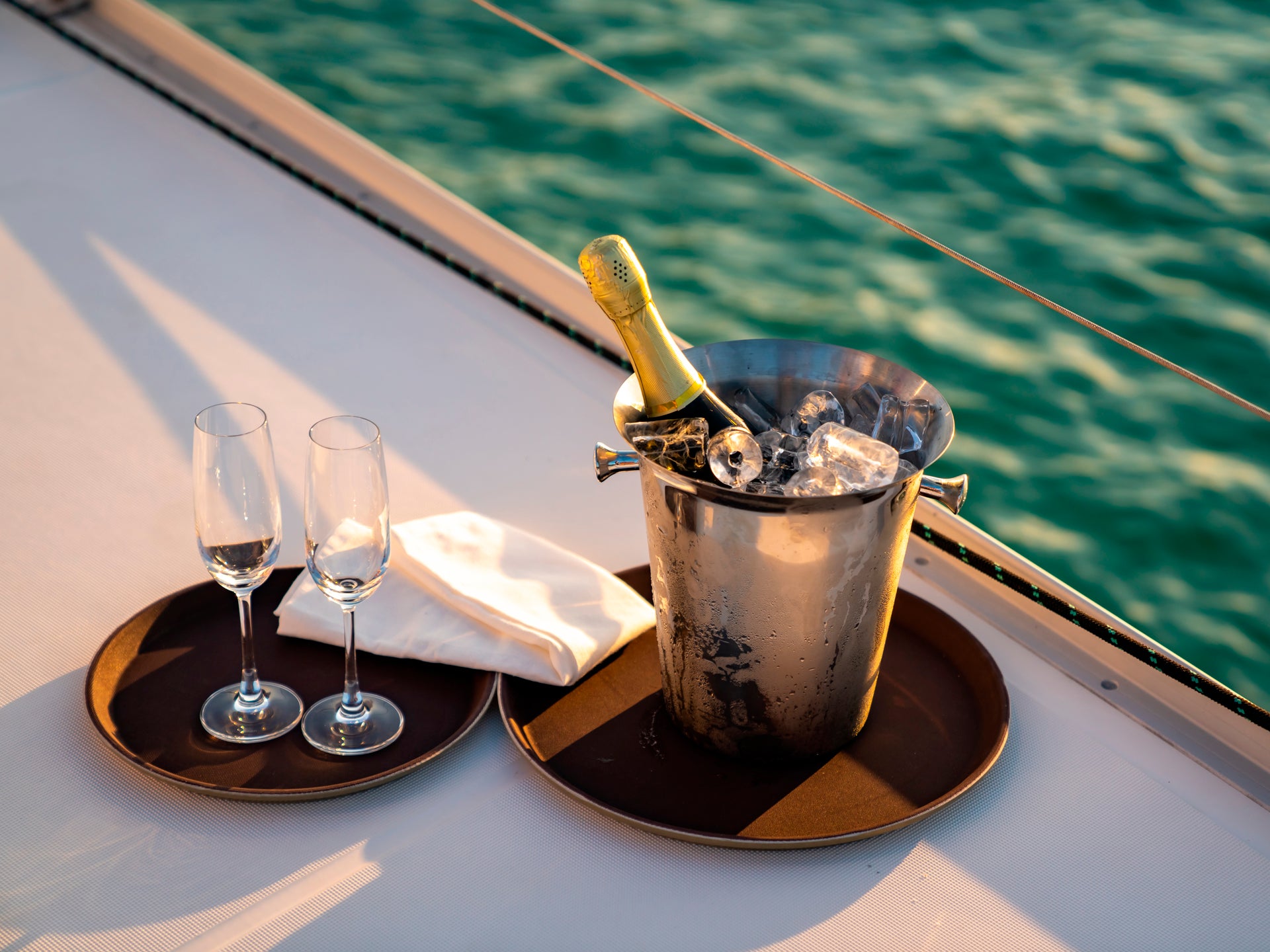 Our fully crewed yacht charters are designed for those seeking an exclusive, exceptional and remarkable vacation of a lifetime. Step aboard our premium, fully crewed private yachts, where your every desire is catered for.
Immerse yourself in your destination and enjoy a different view every day. Relax on a spacious deck with a cocktail while our professional crew takes care of every detail for you and your guests.
Our expert team is on hand to guide you through every planning step so your vacation goes smoothly from the start.
Contact our experienced team, who can make your dream vacation a reality.
Life onboard with our crews
You will enjoy a relaxed experience on board our crewed yacht charters. You can make yourself at home as much as you want. Our crew will provide discrete, five-star service that respects your privacy, while attending to your needs.
It's your vacation and our crew blend into the background so you can enjoy time with your guests.
Find out what to pack for a sailing vacation.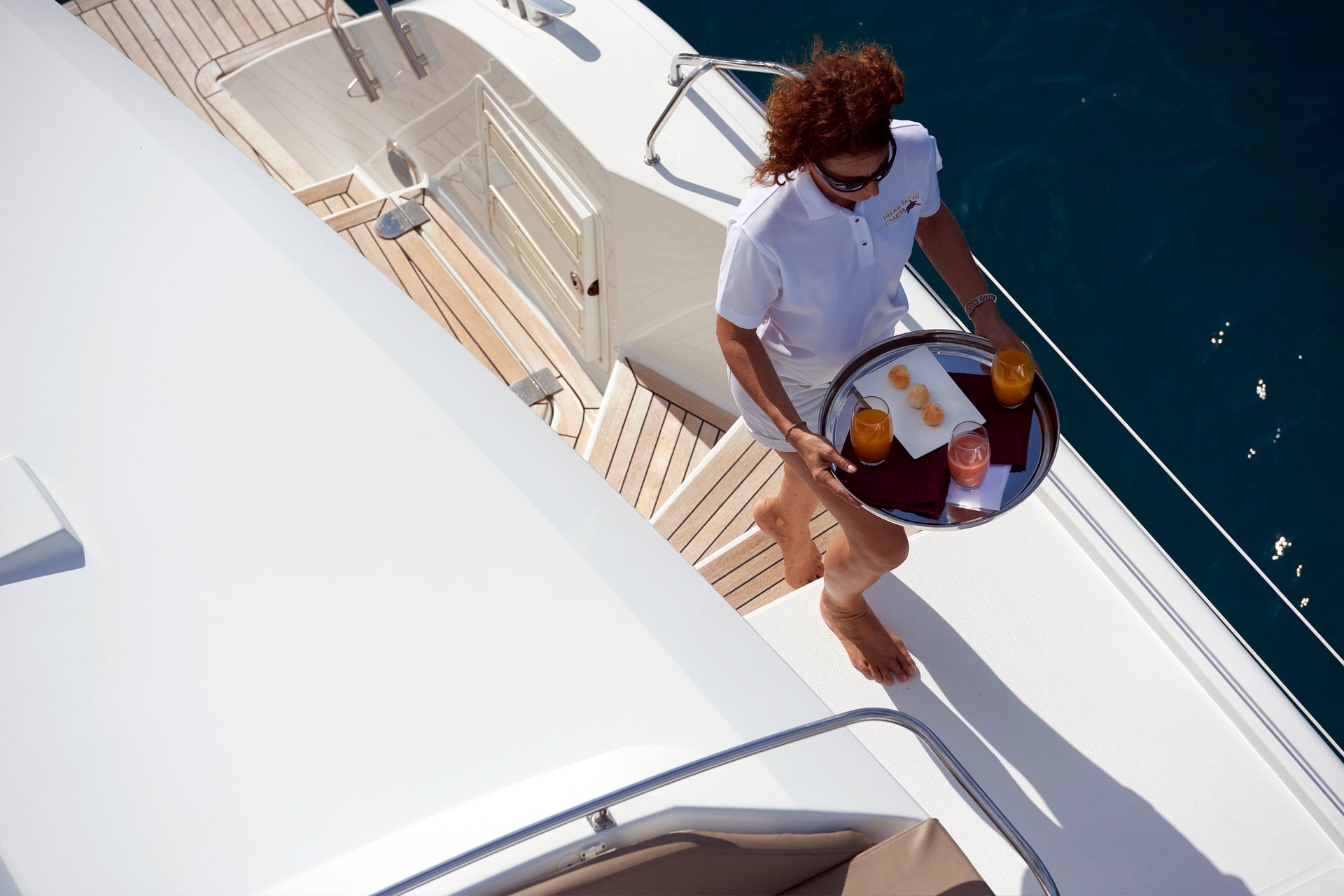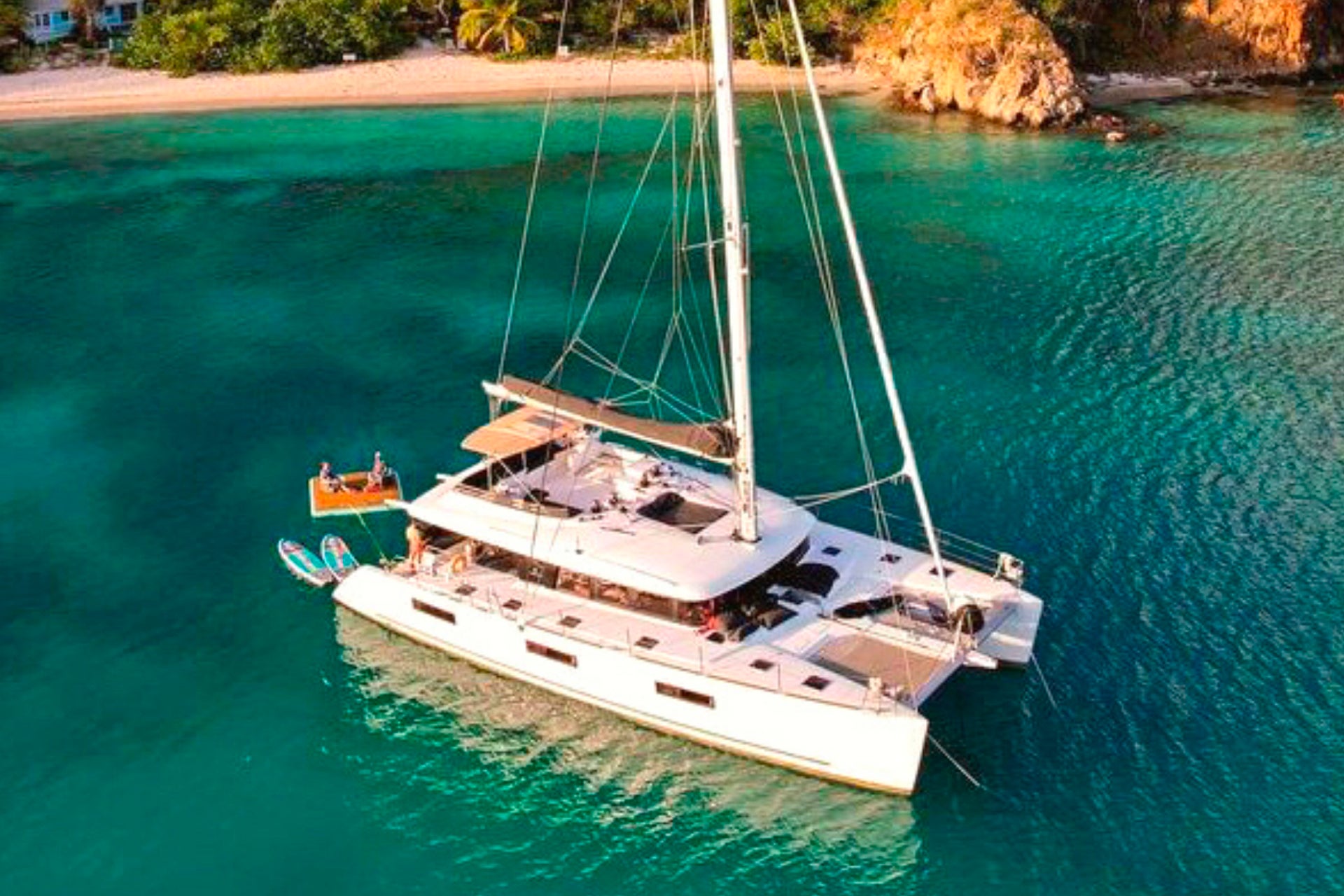 Our crewed fleet
We have a yacht to suit everyone:

Plus many more!
Design your unique vacation
With our crewed sailboat charters, you can design a vacation that no one else can replicate. This is personalization at its best. Make every part of your crewed sailing experience unique, from the itinerary to creating a mouth-watering gourmet menu. We tailor to your preferences.
We have hand-selected the world's finest destinations and experts in arranging sailing vacations. Our dedicated crewed charter team can create your dream vacation wherever you want to sail, including the Caribbean, Bahamas, Central America, Mediterranean, Indian Ocean, Pacific and Asia.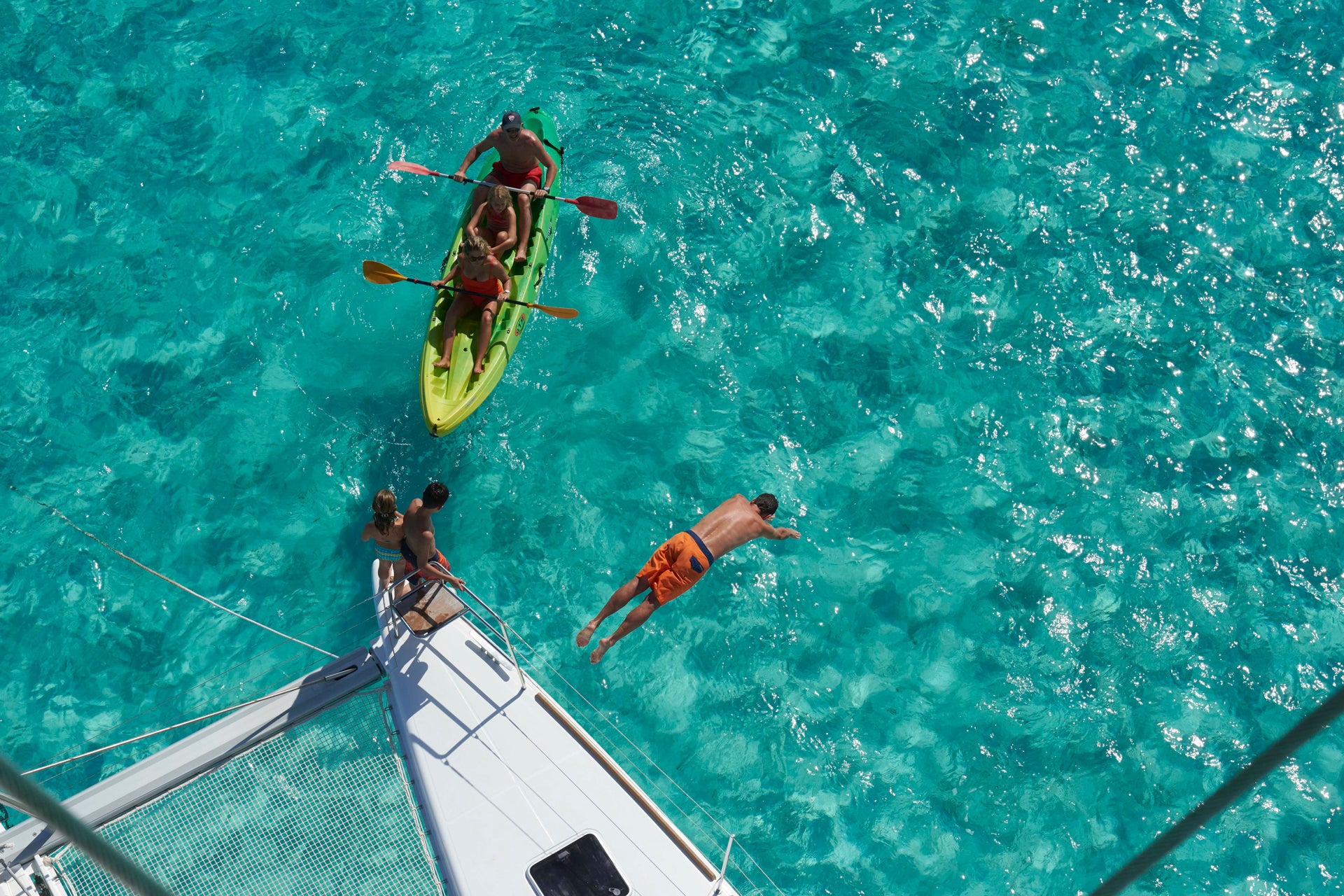 What is a crewed yacht charter?
A crewed yacht charter involves reserving a high specification, well-equipped, premium catamaran or monohull yacht for private use by you and your guests.
Your yacht comes with its own highly experienced captain and hostess, who will take you on an exclusive tour of your destination. Your professional crew will prepare and serve delicious cuisine and make sure your cabins are spotless every day.
Our crewed yacht charters give you the opportunity to tailor your route, fine dining, drinks menu and water toys, where you can add the latest hi-tech gadgets.
We can accommodate up to 12 guests comfortably – you and your guests can retire to modern, double cabins, each with their own bathroom. You can relax together in spacious dining and lounge areas, as well as find plenty of room to sunbathe on deck.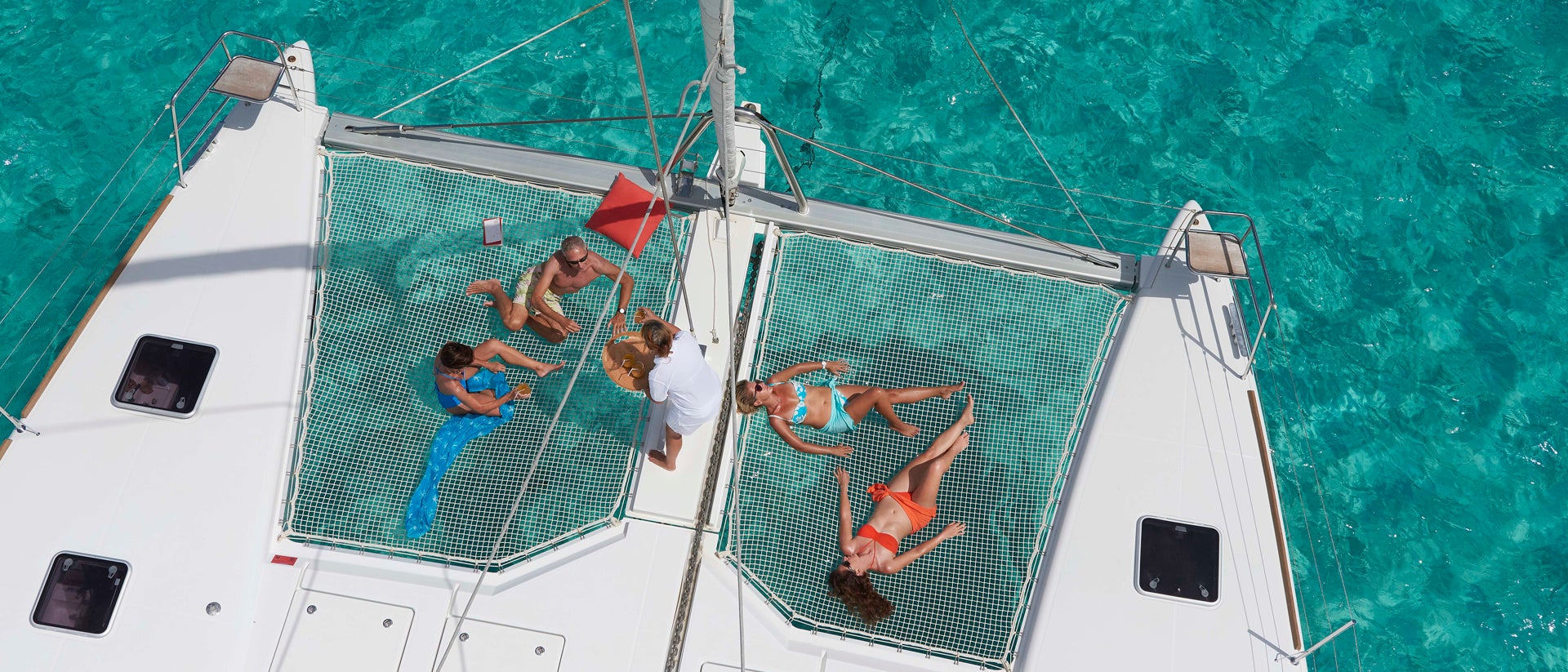 Our professional crews
We handpick the crew for our crewed sailboat charters, selecting those with the best sailing experience and hospitality skills. Destination expertise and a passion for the region is also important.
Before you depart, you will have a chance to meet your crew and talk to them about your vacation. Our captains are experienced sailors who specialize in their destination and put your safety first. Our hostess team are experienced chefs who are used to dealing with guests used to high service standards.
Our crews are your personal tour guides and they can't wait to share their knowledge on where to visit, what restaurants to try and where to see the best marine life.
Let us help you plan your crewed vacation. Contact our crewed experts.
How we pick our crews
Our crews are passionate about delivering five-star hospitality. Your vacation is your time to relax and get away from it all. We carefully handpick our crews for their excellent customer service to make this a reality. While you have fun with your friends and family, they will be quietly in the background making sure the details are looked after on your crewed sailboat charter.
Your experienced captain
Our captains are friendly, welcoming and highly experienced sailors with professional accreditations and certifications. They have extensive knowledge of the local destination and focus on your safety. They are responsible for sailing, mooring, checking the weather forecasts and plotting the route.
Think of our captains as personal tour guides with a deep love of their destination, which they can't wait to share with you on board your crewed yacht charter. They can tell you where to watch the sunsets, enjoy a beach picnic away from the crowds, the best coral reefs and the finest local dining spots, making it the perfect customized vacation.
Your skilled hostess
Our hostesses are from around the world and have often lived and sailed in many countries, giving them endless inspiration and ideas. Their cuisine qualifications and life experiences mean they have a wide repertoire of dishes, including Caribbean and Mediterranean favorites, as well as high-end cuisine using local ingredients where possible.
Our hostesses can prepare a delicious world for your palate, including cooked or continental breakfasts, carefully crafted appetizers, fresh seafood lunches and fine dining with fabulous desserts. Fresh fruit is on hand throughout the day, while snacks are served at regular intervals. You certainly will not go hungry on our crewed yacht charters! Your vacation dining will look out of this world and taste delicious.
Get to know some of our crews
Our crews have joined our crewed yacht fleet from different backgrounds, bringing with them interesting stories and skills from their corporate lives:
● Meet the crew of Luna and read about their authentic connection to the BVIs and their love of Mediterranean, Caribbean and Spanish-influenced cuisine.
● Meet Kate and Cyrus and learn how their thirst of adventure led them to becoming part of our crew and about their Lagoon 42, CruiseNautic.
● Meet the couple behind our BVI crewed yacht Allende and hear why they adore their full-time sailing jobs.
Read a customer review of a crewed charter in Tahiti.
Fine dining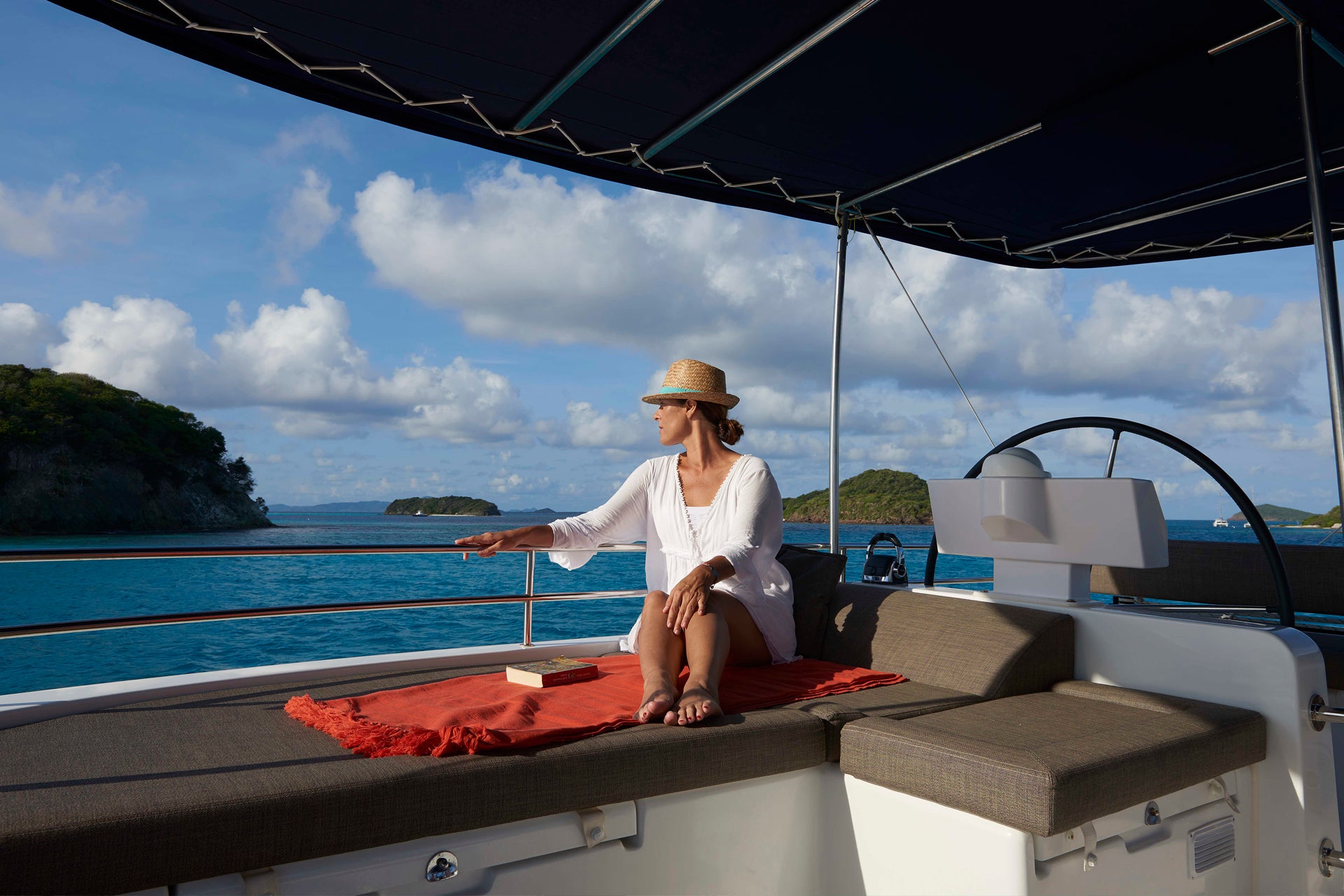 Your dining experience forms a large part of your vacation enjoyment. When you book, you will be asked to list your dining, snack and beverage preferences. You can still try local specialties, while also enjoying home comforts on your premium yacht charter.
A crewed sailing vacation set in an exquisite destination deserves a menu to match. Read a customer review of a crewed charter in Tahiti.
You may want a creole experience if you're in the Caribbean, BBQ lobster if in the British Virgin Islands, delicious olives and pasta in the Mediterranean and pho if in Asia. Whether you want to try new dishes or book a favorite local chef for a special occasion, we can arrange whatever you wish to share with your guests.
Relax on board and enjoy tasty delights on your private yacht, or dine in some of the destination's finest restaurants. Let us help you plan your crewed, personalized vacation.
Designing your dining experience
When your booking is confirmed, we will start working with you to create meal plans tailored to your tastes for your crewed yacht charter.
To help you tailor your menu, you will receive preference lists for food, snacks and drinks so we can stock up on your favorites. You can talk to the crew about your ideas for breakfast, lunch and dinner before you depart.
If you want to celebrate something special, invite a local chef on board or want to try a specific style of cuisine, we can do the research and book for you.
If you want to dine out at the finest local restaurants, our crew can advise on the best and make bookings for you.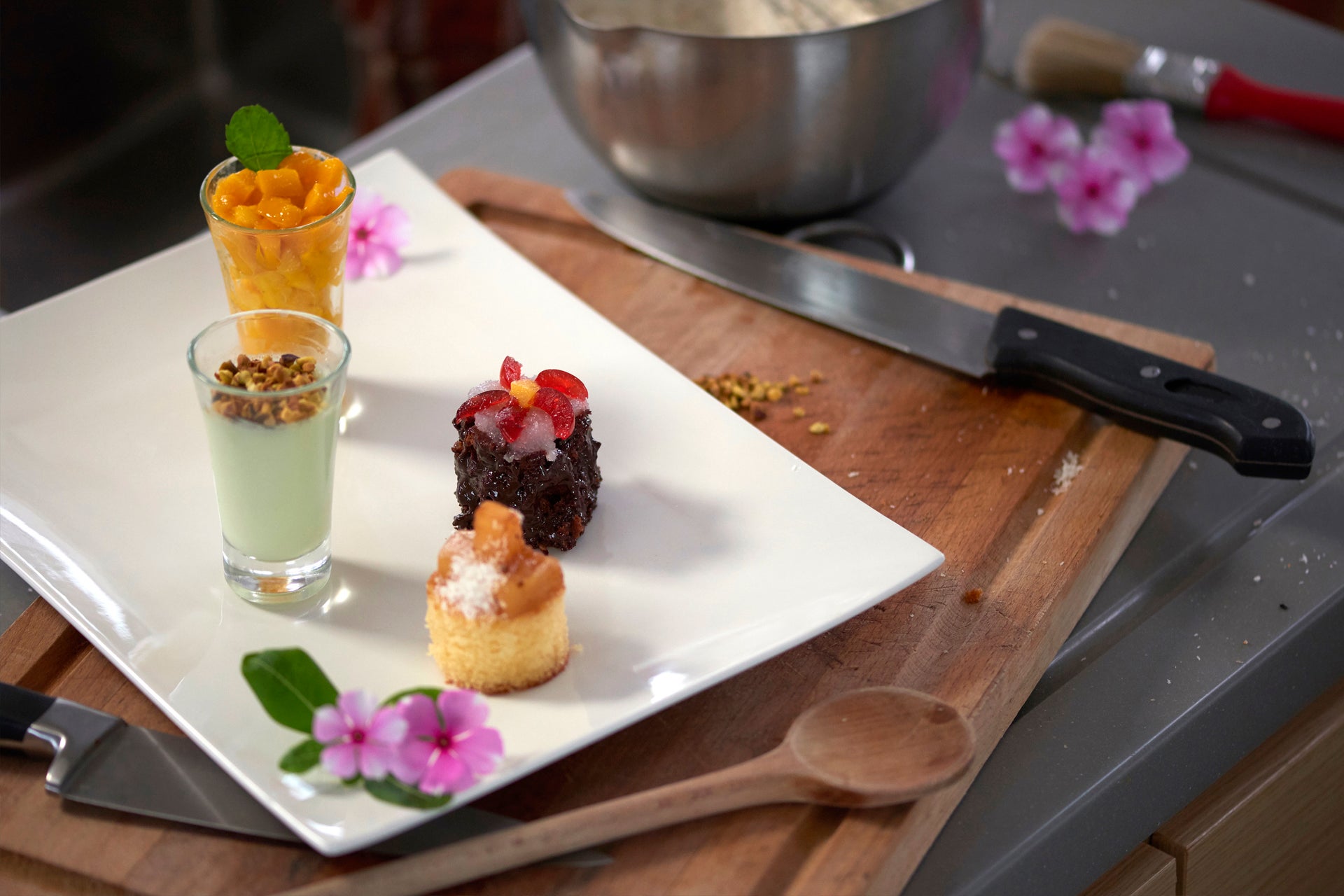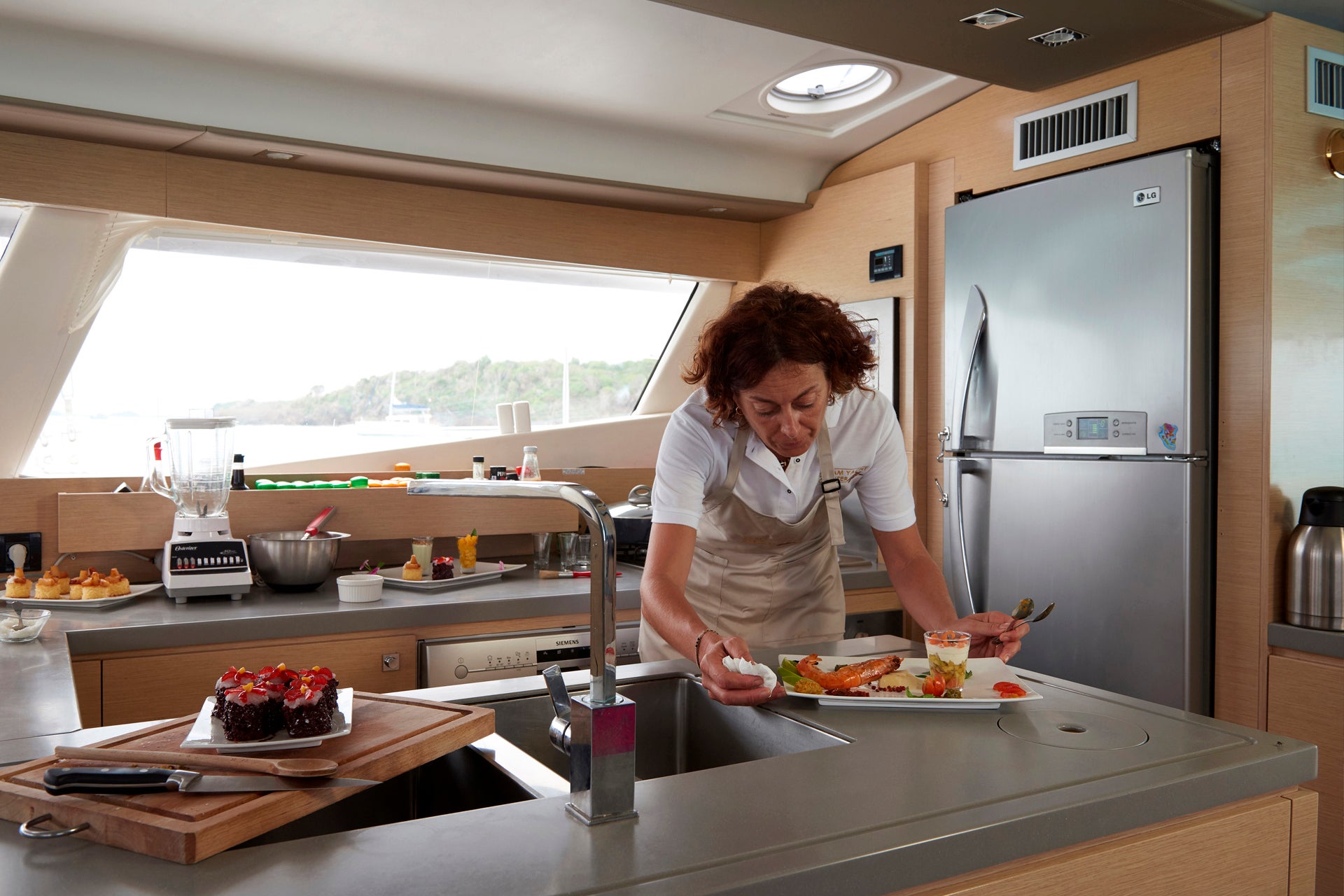 Our crews' specialties
Our crews come from all over the world and have amassed their skills with many chefs and kitchens. Get to know some of our hostesses and meet the crews on our crewed yacht charters.
We have so many destinations for a crewed sailing charter, here are some of our favorites when it comes to thinking about the local restaurants:
Italy's endless cuisine delights. You don't have to stick to pasta and pizza in Italy. Try the fresh Caprese salad, seafood, fragrant limoncello liqueur and roasted pork to name but a few dishes. Taste the amazing flavors of Naples
Lobster in the BVIs. Tour the lobster festival in November in Anegada, enjoy conch fritters on Tortola, taste pulled pork on Jost Van Dyke or dine on steak in Virgin Gorda. Explore the British Virgin Islands' best restaurants
Asian fusion delicacies. From dim sum to massaman curries, this is the region where the streets are heaving with tasty foods wherever you turn. Try noodle dishes, green Thai curries or chicken with rice. Take a look at our guide to Thai street food
What is the difference between a crewed yacht charter and a bareboat charter a hired crew?
A fully crewed yacht charter is a custom package featuring a premium yacht from our crewed fleet with a dedicated crew or crew on rota. The crew works with you to provide a personalized vacation in terms of itinerary and menu, taking care of the sailing and meal preparation.
A bareboat charter with crew is a different experience from our bespoke crewed charters. You are responsible for your yacht and hire a captain to sail for you and a hostess to serve meals.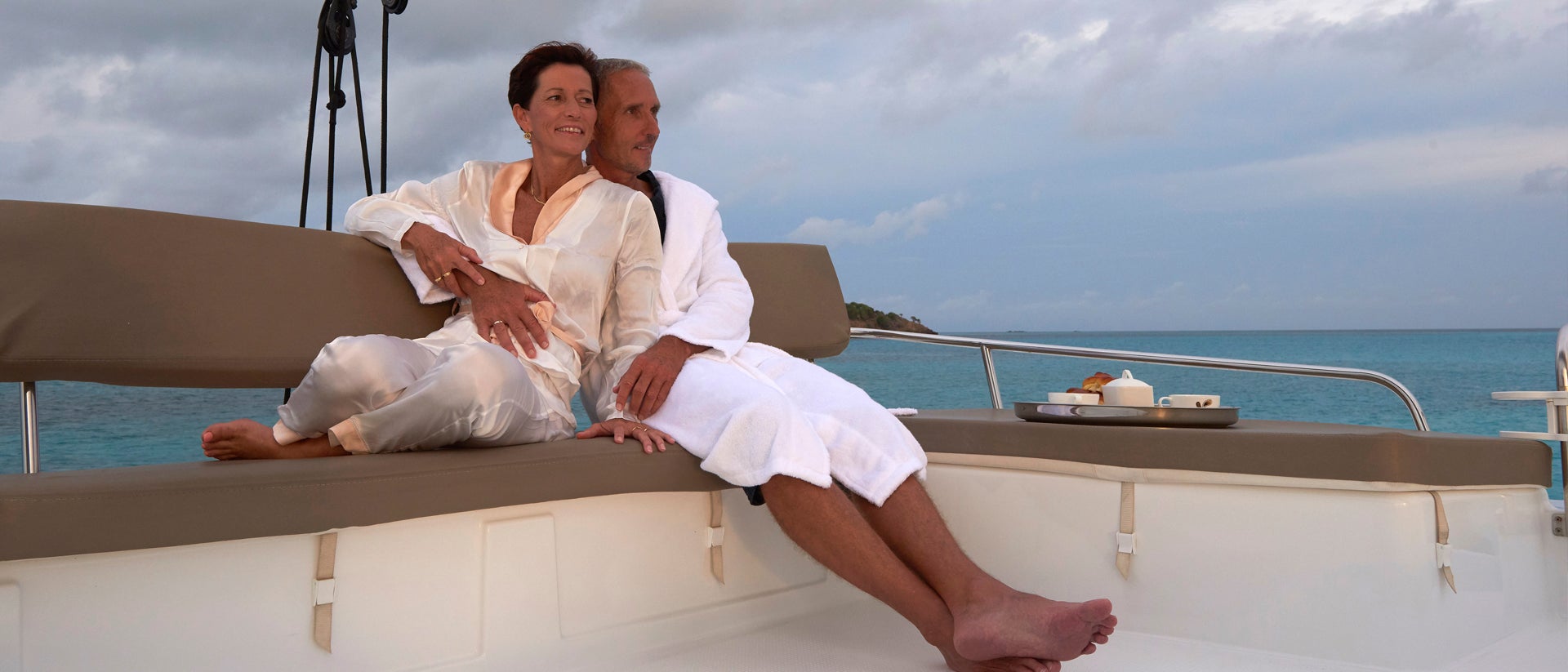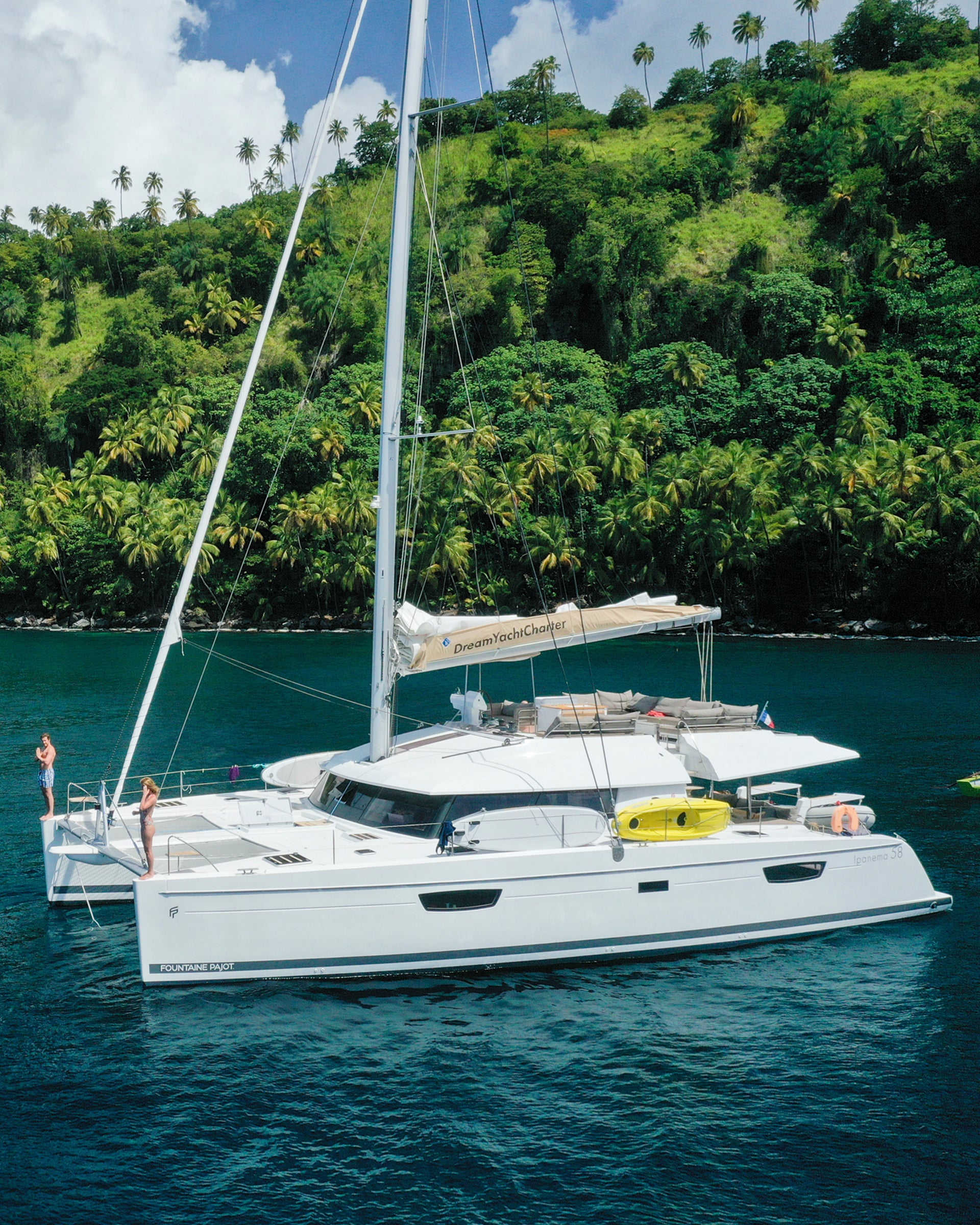 What's included in a private yacht charter?
Ship's bar: Our bar is stocked with house spirits, wines and beers and we can stock the bar to include your preferred brands of champagne, spirits and wine so your guests have their favorites to hand
Personalized menu: Our food is of exceptional quality with local, fresh produce. We can assist with specific requests, such as customizing the menu
Tailored itinerary: Tell us what you want to see in your chosen destination and we can suggest an optimal route, or ask our professionals for insider knowledge and advice
Daily cleaning: Your crew will make up your bed and clean your cabin each day
Onboard: You'll be served with quality dishes and glassware
Water toys: Your yacht will be equipped with two paddleboards and a kayak
Air-conditioning: Enjoy airy main saloons and cabins when the heat gets too much on deck
Entertainment centers: Flat-screen TV and DVD player (on some boats/destinations)
Wi-Fi (on some boats/destinations)
Every private yacht charter is different, from snorkeling hotspot tours or special occasion celebrations. Whatever your needs, we've got the hottest contacts book in the sailing vacation world.
What our customers say
"Sailing with Kate and Cyrus was an incredibly memorable experience. Every night we enjoyed another bay to snorkel or kayak and a wonderful sunset, eating wholesome, freshly made delicious dinners. Everything was fabulous. Would I do this again? Absolutely."
"The food, the cocktails and the company were 5-star. This trip was like sailing with friends. Thank you from the bottom of our hearts."
"We'd dreamed of our sailing vacation on LUNA for months. When the adventure started, it was clear it would be better than we ever dreamed. Fabiola and Nim are incredible hosts. Fabiola is a thoughtful and skilled chef. Every meal is beautiful, fresh, and perfectly planned and presented."
"Thank you all for the best vacation ever! You are all so nice and easy! The settings were all great, food was fantastic, you all said "yes sure" to every request. Thank you."
"Our deepest thanks for making our week so special. The service, fun and experiences were unparalleled and you managed to make an incredible week among close friends even better."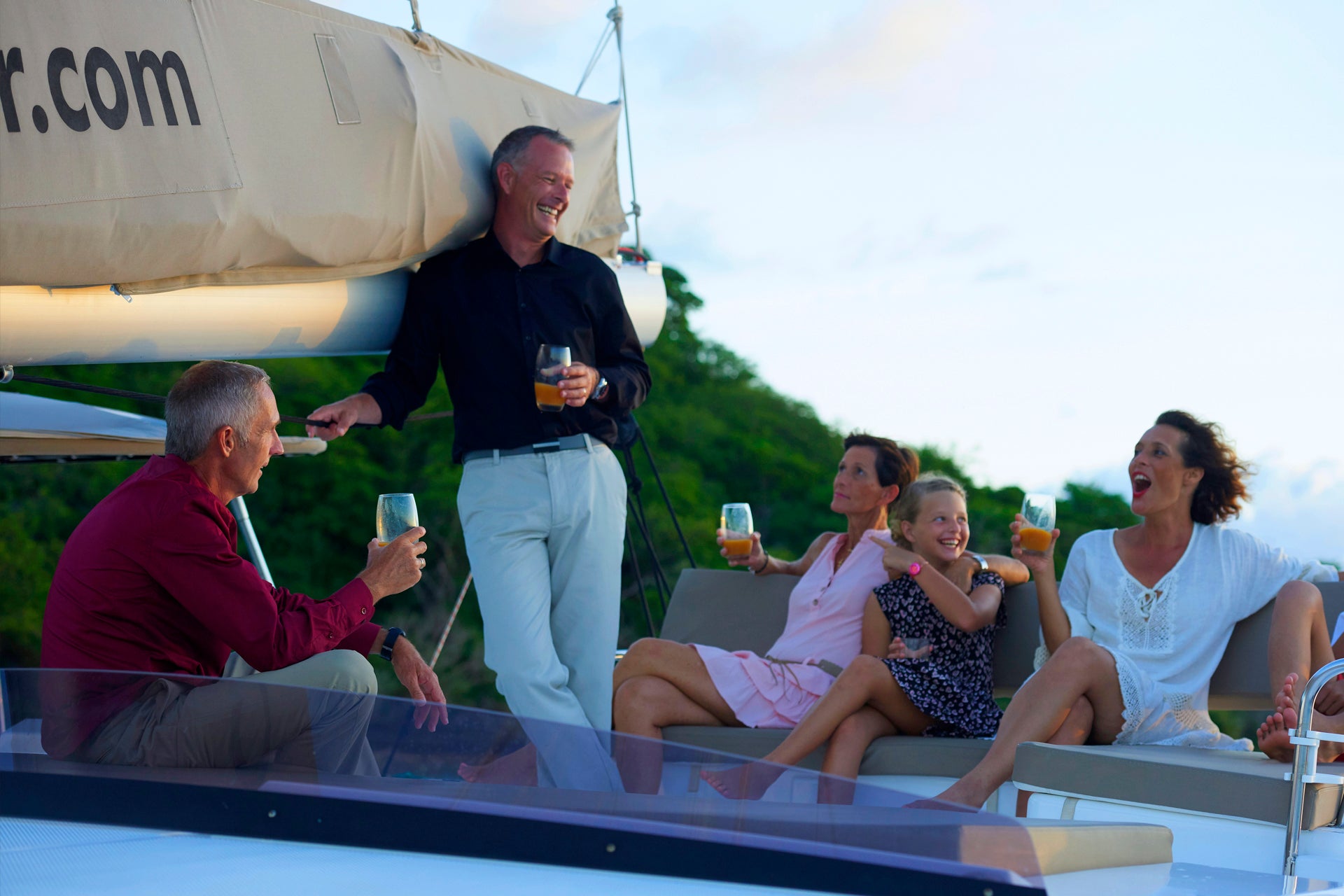 What is the difference between crewed and by the cabin charters?
Our by the cabin charter charters offer exciting destination tours on a set itinerary crafted by our destination experts. You can book a double cabin and private bathroom and will share the boat with other guests who have booked the other available cabins. You will be looked after by a professional skipper and hostess with itineraries ranging from three to 11 nights. There is a set menu and included meals and drinks vary depending on location.
Who makes up the crew on a crewed yacht charter?
Your crew includes a skipper to sail the boat for you and a personal chef. If your chosen yacht is over a certain length, there may be an additional hostess in the crew. All our crews are handpicked for their expertise in sailing, cuisine and customer service, as well as destination knowledge.
Yacht and dinghy
Crew: Skipper and on board chef
Meals and drinks: Full board with all meals, snacks and drinks included depending on the boat and destination. Particular drinks and brands can be sourced on request
Watersports: Snorkeling equipment, sea kayak and paddleboard
Entertainment: Flat-screen TV/DVD player entertainment centres and Wi-Fi (on some boats/destinations)
Air conditioning
Linen: Two sets of linen, towels and beach towels per cabin per week are provided. If you wish for more, we can talk to your about your preferences and advise
Cleaning: Housekeeping services for communal areas and cabins
Fees: mooring ball fees, depending on itinerary
When will the meals be served?
Meals will be served to suit your needs, although times may vary according to your preferred itinerary. Snacks are also served and available on board.
Can I book a special cuisine for one night?
We will do our best to source a specialist chef to make your dreams come true whether that is local or international cuisine. If you are celebrating a special milestone, such as a birthday or anniversary, let us know on your preference list pre-charter and we can arrange cakes, champagne and many other items that help you mark the occasion.
What is the cancellation policy?
We highly recommend you arrange travel insurance in case you need to cancel for an unexpected reason to cover non-refundable deposits. Our cancellation policy is:
You are liable for all payments due and unpaid at the date of cancellation. Should you give notice of cancellation or fail to pay the balance, Dream Yacht Charter will retain the full amount of all payments made. If the yacht is re-let, then you may receive a refund that takes into account monies paid or due and any incurring fees.
a) Should the Charterer give notice of cancellation of this Agreement on or at any time before commencement of the Charter Period the Charterer shall remain liable for all payments due prior to and unpaid at the date of cancellation. Should notice of cancellation be given by the Charterer or should the Charterer fail after having been given notice to pay any amount payable under this Agreement the Owner shall be entitled to treat this Agreement as having been repudiated by the Charterer and to retain the full amount of all payments made by the Charterer.
RE-LET
b) Without prejudice to the Owner's remedies in (a) above, if the Owner is able to re-let the Yacht to another Charterer for all or part of the Charter period then the Owner or the Broker/Stakeholder on his behalf shall refund to the Charterer such net balance as is due to the Charterer after re-letting which is to be calculated upon the following basis:
The original Charter Fee, net of commissions, shall be deducted from the net hire for the Charter Period due to the Owner from the re-letting. To this figure is to be added all reasonable additional expenses, including commissions, incurred by the Owner on re-letting. The figure as calculated will be deducted from the monies actually received from the Charterer and any remaining credit balance due to the Charterer will be repaid. The intention is that the Owner shall not receive less in net proceeds from any re-letting than would have been received if the original Agreement had been fulfilled. The Owner shall use his best endeavors to re-let the yacht and shall not unreasonably withhold his agreement to re-let, although charters which may reasonably be considered detrimental to the yacht, its reputation, its crew or its schedule may be refused.
Get inspired!
Follow our customer's journeys & share your own amazing experiences on Instagram
Simply wonderful! Fred + Isabelle were so accommodating and did so much for us. Isabelle's food was incredible. Thank you so much!
Laura
Exumas Cabin
Great class. Very professional and great service!
Thomas
Antigua Bareboat
Just what we needed to get out of a year of lockdown, see new places and connect with nature. Highly recommended for your next sailing adventure!
Johan
St. Martin Bareboat
Excellent cruise and wonderful stay on board. Skipper attentive, very pleasant and very professional.
Maxime
Guadeloupe Skippered
I have just returned from another fantastic week of sailing at your base in Pula and would like to thank everyone involved for making this possible at such short notice and without any problems.
Mathias
Guadeloupe Bareboat
The marina itself is a perfect base with super facilities! The Lagoon 42 was in good condition and the skipper was fantastic and knew the area very well.
Jonathan
Croatia Skippered
What an EXCELLENT experience. We just returned from a week long charter with skipper from Corfu, sailing around the beautiful islands of the Ionian Sea. Paxos, Antipaxos and the old town of Corfu were beautiful and the secluded bays we got to visit thanks to our local skipper Nicholas were simply stunning. Fly and Flops was yesterday – we will only charter with Dream Yacht for the foreseeable future.
David
Greece Skippered
Our group of 10 had a WONDERFUL time in French Polynesia from May 21-28, 2022! The food was fantastic: captain and cook, husband and wife: Henry and Mehee (sp) were amazing and the whole experience on board was a dream! We can't wait to book another trip through Dream Yacht
Katie
Tahiti Crewed Premium
Dream Yacht provided a great sailing experience for my extended family on 2 monohulls from Scrub Island. The boats were in very good condition and perfectly prepared, the staff friendly and helpful. I had worked for a number of charter companies over the years but Dream Yacht is one of the
Charlie
British Virgin Islands Bareboat
I am in the Maldives right now and having the time of my life. Captain Jack and the crew are professional, safe and fun! The boat is optimal and the food is delicious. The chef even bakes CAKE! The beds are surprisingly comfortable and we sleep 9 hours every night. If you like island hopping, there is no better option than Dream Yacht. We will be booking Tahiti next year.
Cynthia
Maldives Cabin
The new boat was in perfect condition and best condition for exploring bays and islands. I could never have imagined that this could be so much fun and enjoyable and we are already looking forward to the next upcoming trip in the Ionian Sea.er.
Vytautas
Scandinavia Bareboat
Baja is now my favorite place. There was something for everyone: sailing under northerly winds with mostly calm evenings, snorkeling, fishing, secluded sandy beaches, pelican feedings, being greeted by barking sea lions, and exploring the geology of Ispiritu Santo Island. Dream Yacht Base La Paz provided competent professional support with a well-equipped and maintained boat. We were wonderfully cooked by an on-board chef arranged with Dream Yacht, which meant more free time for all of us. An unforgettable vacation and adventure connected with nature.
Taiyoko
Mexico Crewed Premium
All the staff were fantastic and made our trip a memorable one. Incredibly friendly and welcoming, the food was fantastic. The service throughout the trip was always top notch!
Tommy
Thailand Cabin
Absolutely recommendable. Perfect service. Will charter again and recommend Dream Yacht Charter anytime.
Zahradnik
Turkey Bareboat
I just returned from 3 weeks of fantastic sailing with my family on one of your catamarans in Sardinia. My thanks to our skipper Simone and Daniela, our cook.
Giles
Sardinia Skippered
For a first cruise as a skipper, the Mediterranean is perfect. The service of Dream Yacht is too!
Thomas
France Bareboat
We had an incredible trip and got engaged on our very first night of sailing! We will surely come back one day. We were beginners, we were guided very well and that gave us a lot of confidence.
George
Australia Bareboat
The experience on board far exceeded our expectations. Isabelle provided exceptional three course meals. Her creativity and delicious meals were incredible. Thomas was an excellent skipper, he "felt" our needs. Thanks guys!" Spira, bareboat with crew in New Caledonia.
Spira
New Caledonia Crewed Premium
Once again a fantastic sail with a great crew. Thanks again to a great captain and cook. Was totally fantastic.
Connie
Seychelles Cabin
A very excellent sailing vacation – especially the crew was fantastic. I would sail with Dream Yacht again and highly recommend them.
Mark
Guadeloupe Bareboat
I loved the vacation and am not sure this trip can ever be topped. Everything about it was incredible. The captain and crew were great, helpful, friendly, attentive and knowledgeable. We loved it.
Trina
Greece Crewed Premium
We just returned from one of your Lagoon 52F's last week in St. Thomas! We had the trip of a lifetime sailing around St. Thomas and St. John!
Megan
US Virgin Islands Bareboat
What's new?
Stay up to date with news and events or get some inspiration for your next yacht charter and pick up useful tips by reading our latest blogs.
Go to Blog