One of the things that make our team special is the sailing experience they have. Christine Buttigieg is one of our yacht brokers based in Fort Lauderdale and a life-long sailor. She shared with us how she got into sailing as a young child and her 30+ year career experience in the marine industry as part of our More Women At Sea series.
Tell us about yourself
I was raised in Brittany, west of France. My father was in the Marine Corps, loved sailing and shared his passion with me. He took me sailing at a very early age and that truly helped me develop a passion for being on the water. As a teenager, I spent all my days off, including weekends, at sailing school exploring the surrounding islands with friends. All my friends went to the same sailing school, as it was the main activity in the area.
Which boats did you sail at first?
In my 20s I sailed Jeanneau – a Folie Douce in particular – and also a Beneteau Muscadet.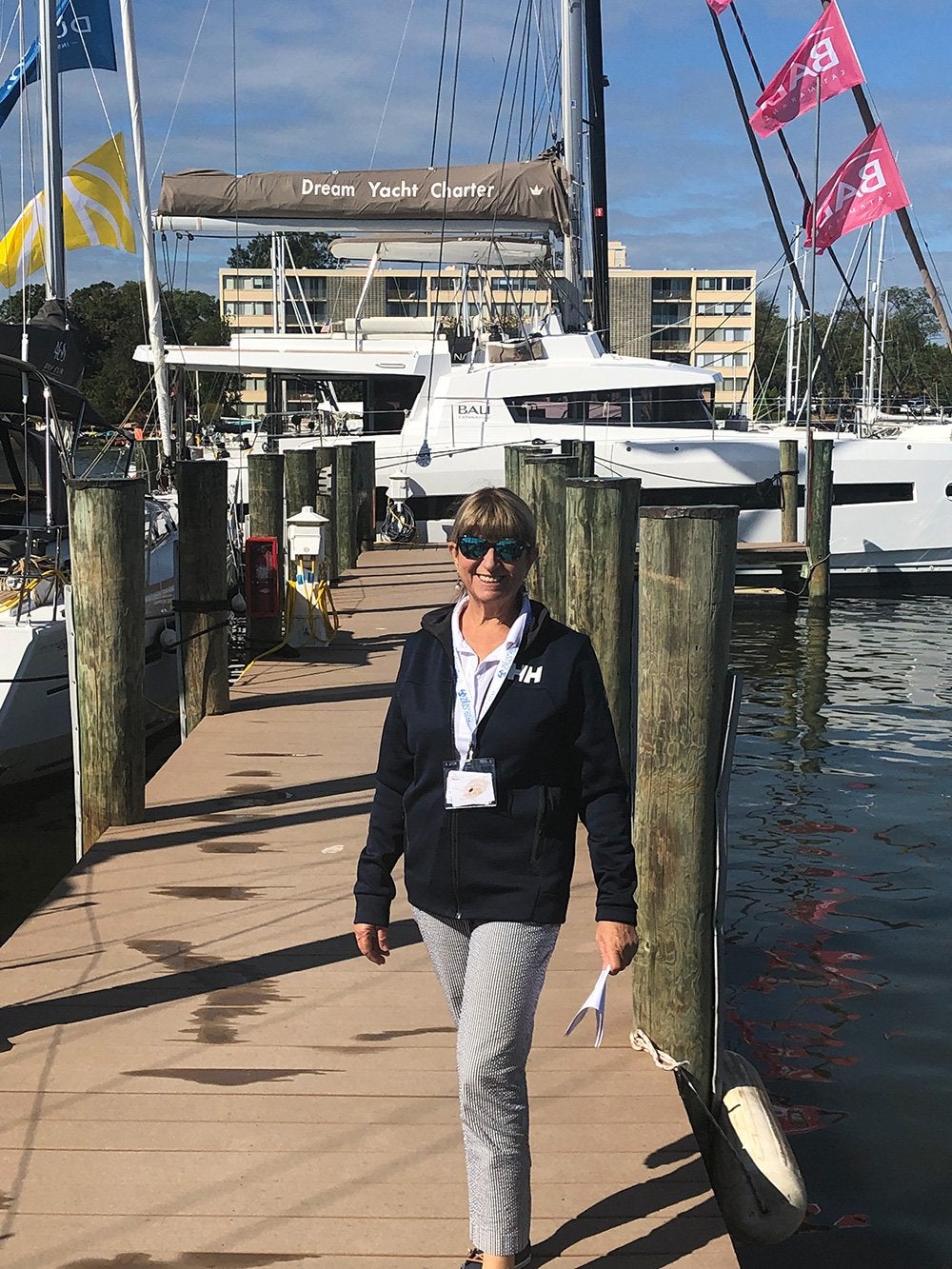 How did you get into the marine industry?
After coming to the United States, I met my husband, who is a French captain and I began a career in the marine industry. I followed him around the oceans, starting as his first mate/cook on private boats like a 70ft ketch. Our sailing adventures took us all over the North Sea, including Holland, Norway, Scotland, Ireland and England.
Since then, I have been closely involved in many aspects of the marine industry, including working ashore in a boat maintenance/refit company in Florida and working the boat show circuit for Perini Navi, then back to sailing again. My experience helped me continue a career with a crewed yacht charter company in St. Lucia, exploring the Grenadines and Martinique as a first mate/hostess on an 80ft Dynamic.
Back to Florida, we started a new venture aboard a 100ft, 3-masted schooner. We sailed to the Caribbean where we provided day charters for up to 90 passengers exploring the islands near St. Martin. Later on, we became seduced by sailing catamarans and decided to buy a Privilège 48. We operated her as a deluxe crewed yacht sailing between Grenada and St. Martin. I also worked for another charter company, running their office in St. Martin.
Moving back to Florida in the late 1990s, I began working as a yacht broker. In 2015, I chose to move to Dream Yacht Charter because of the number of bases around the world, the range of boats and its international community.
What do you love most about sailing?
The lifestyle! The sailing community is very social and most of my friends are in the sailing industry. I love the social life at anchorage and ports where you get to meet new people from all over, developing life-long friendships. It's a simple, easy-going life on the water, waking up on the boat on a new island and then exploring the local culture.
What's been the highlight of your sailing career to date?
The best time was in Norway – living in Bergen and exploring the fjords where we were on the only boat around. The peacefulness and depth of the sea were mesmerizing. We couldn't anchor because the water was so deep, so we had to use a line and tie to a tree. Crossing the Caledonian canal, going down Neptune's Staircase, crossing from the Scottish Islands to Ireland and being surrounded by dolphins was another highlight.
Which destinations have you sailed? What's your favorite?
I have sailed many places including, Brittany (France), Norway, Scotland, Ireland, England, US East Coast, the Caribbean, and Hawaii. The Grenadines is my favorite place in the Caribbean (Martinique to Trinidad).
What is the hardest thing about sailing?
There can be some challenges and you must be alert for changes in weather, winds and tides. You must always make sure your anchor is secured and you are not drifting. Safety is my main concern.
Any challenges you have faced while sailing as a woman?
One day while aboard a 100ft boat I drifted due to heavy winds, and found it very hard to handle the anchor because the boat was too big and heavy for me. It's always better when you feel in control and can handle your boat by yourself.
What is your favorite sailboat?
I like cruising catamarans for the stability and spaciousness, and I like day sailing on small fast catamarans or trimarans. But I also like sailing monohulls, as they are more comfortable when in choppy seas.
Where is the one place you haven't sailed that you definitely want to?
I have sailed the Seychelles but would love to go to the Maldives, Indonesia or Malaysia. Tahiti is on my bucket list of sailing destinations for the beauty of the islands, lagoons, colors, the food and the people.
What advice would you give someone who is interested in getting into sailing?
Rent a boat with a captain or go on a crewed charter – rent, rent, rent! Go to boat shows to get excited. Just start experiencing the sailing community as much as you can. Find a boat you like, get an instructor or go to sailing school and start. Don't be scared.
Find out more
Choose a bareboat charter to try your hand at the helm, or relax on a skippered charter vacation and let a knowledgeable local show you the area's best-kept secrets.
Learn more about yacht charters and our many other destinations on our blog. Get in touch with our team today on 855.650.8902 or email [email protected] for more information.