Family holidays are special occasions that make foundational memories in the constantly changing landscape of a child's mental and emotional development. What better place to do that than on a chartered yacht, sailing between islands in the sparkling blue ocean so close to nature. If you are planning a family sailing holiday, here are our tips to help make life a little easier on board and help you all have an amazing time.
1 Rent a catamaran and go sailing with friends
These two things go hand-in-hand. Whether you are chartering bareboat or hiring a professional skipper, life is always better with friends. Although boats are confined spaces, a catamaran offers a feeling of privacy and personal space as each family can inhabit a separate hull, making it the perfect option for sailing with children. Even a small 38ft catamaran sleeps 10, so two families of four fit really nicely on either side of the yacht with the skipper and the empty bags in the single forepeak cabins. 
Catamarans are wonderful for family cruising. They are steady in the water and don't heel over, which can be alarming for children. They have loads of inside space and the galley is at the same level as the cockpit, which means the kids can be inside or outside and you will still be able to see them. Cats are also easy to get in and out of and the trampoline up front is a great safe place for kids to chill and relax.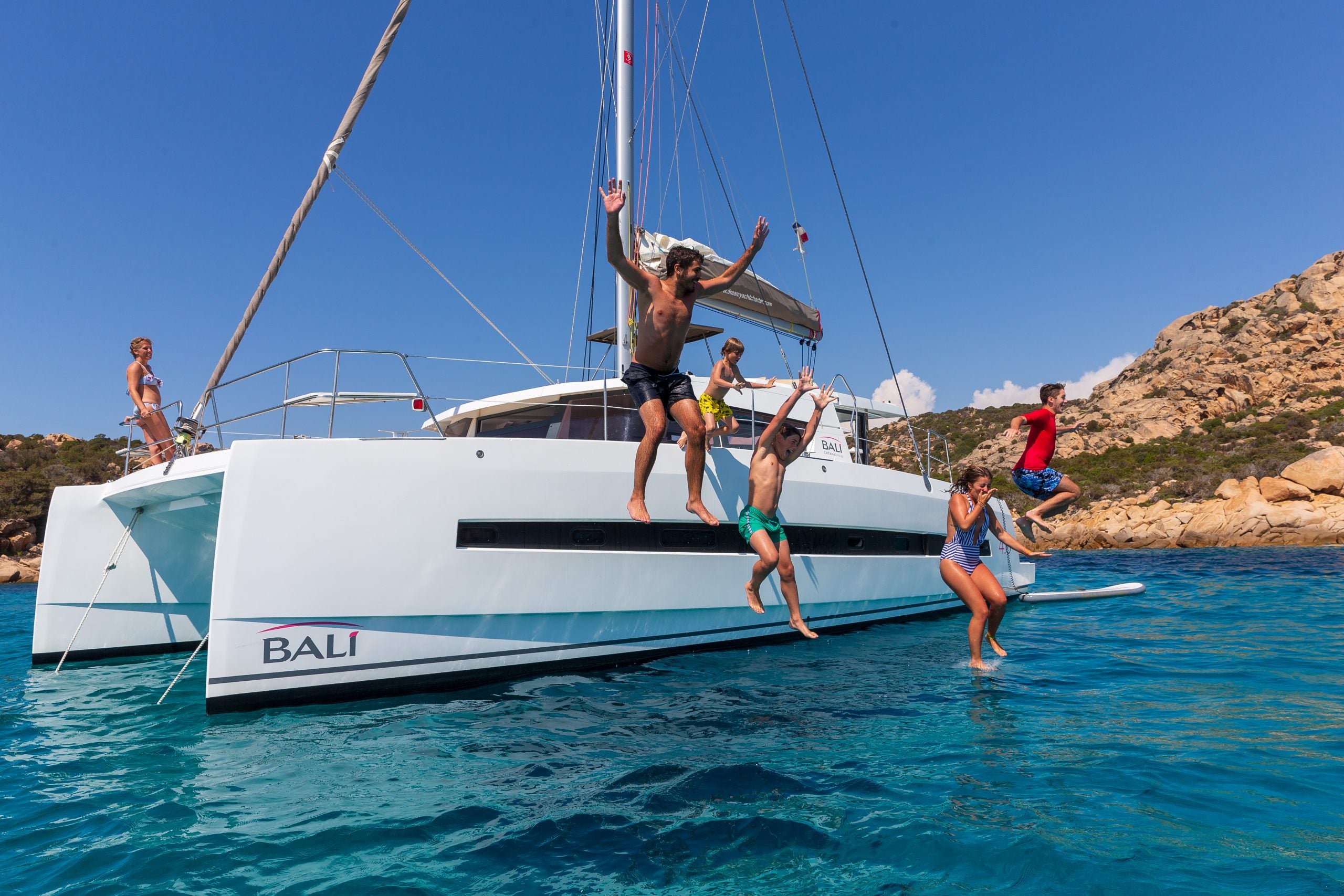 2 Arrange a safety net 
It's a good idea to only go sailing with your children when they are able to swim, but if you want to go sailing with really small-fry, you should speak to your Charter Planning Specialist about getting a safety net installed. A safety net is attached to the stanchions of the boat and is designed to prevent knee-high sized humans from going overboard. A harness is also something which you could consider. 
3 Wear life jackets
While underway, all children must wear life jackets if they are outside. When sailing with children, either bring your own or let your agent know the size, weight and age of your children so they can have the correct size life jackets for them on board. 
4 Stick to the rules
Establish simple safety rules and ensure the children learn them and stick to them. If you have chartered a crewed yacht, the captain will give a short safety briefing, but this important job really does rest with you. 
Briefing begins before you depart, so talk to your children about staying safe on board before the trip starts and reinforce once you have boarded the boat. Give them a guided tour and include things like how the head works, how to avoid the boom, how to move around the boat and where the handgrips and handrails are. Here are some useful rules to include:
When underway, all children are to wear life jackets when on deck

Never run on the boat

Always hold on to the boat with at least one hand

No children allowed at the front of the boat alone

No children allowed on fore deck while sailing

If the weather is too rough all children must go inside

Never leave the boat without permission from an adult

Do not go swimming alone
5 Seasickness cures
Be prepared for seasickness on your family sailing holiday, as it can happen to even experienced sailors. When sailing, the kids may well feel queasy. Have pills or bracelets on hand and easy snacks. It is usually better to sit in the cockpit in the fresh air where you can watch the horizon, rather than down below in the cabins. 
6 Health and medical supplies 
Pack your usual medical kit for your family, including all medicines you need on a regular basis. Remember you are on a boat, more than likely in a remote location, and it could take time to get ashore. If your child has any allergies, ensure the crew are aware and that you have packed all required medication. A few basics to include in your luggage:
Pain and fever relief

Insect repellent 

Plasters that stick well in a wet environment

Plenty of sunscreen – you will need to apply it several times a day
7 The perfect provisioning
If you have rented a crewed yacht, let the chef know if there are any particular requirements or allergies he or she should know about in advance. Sailing is hard work for small bodies and regular snacks will keep everyone even-keeling. Stock the galley with treats that you can produce quickly so you can avoid "hangry" children. Here are a few dependable staples:
Water! Encourage the kids to drink lots of fluid

Boiled eggs with salt for an easy to manage, fuss-free protein bomb

Crackers or rice cakes with their favorite topping

Popcorn

Cereal bars

Fruit

Carrots or any vegetable sticks

Crisps

Cookies

Chocolates

Sweets
8 Cool clothes
Pack appropriate clothing for your children on a sailing holiday. If you are going on holiday to a warm or humid place, light cotton clothes are best. Pack all the swimming costumes and sunhats you have and that's the basics covered. Other good to have items are: 
Hats and rash vests for all water based excursions

Watershoes

Sandals/flip flops

Trainers

Water-proof jacket or windbreaker

A pair of long trousers
9 Engaging entertainment
It is nice to think of your sailing holiday as the perfect break from digital devices, but they are useful for downtime during sails, early mornings or to get out of the sun for a while. A movie on a laptop, a game on an iPad or a good audio book may work wonders. 
For more traditional entertainment, card games are very versatile and take up no space. Don't forget to pack drawing or colouring books for a great creative outlet, age appropriate books to read, Lego sets and any number of great travel-sized games such as UNO or Bananagrams. 
On board you can make the kids part of the crew by giving them jobs to do on the boat. They can coil ropes, learn to tie knots, help hoist and drop the sails and be on look-out duty. 
Another idea is having hand lines for fishing with while at anchor. Ask your local fishing shop to put one together for you. All you really need is the reel, a line and a hook with some bread on it and the kids are bound to catch something. The ideal situation is that the kids are using the hand lines and fishing off the side of the boat and jumping overboard at every opportunity, which given the chance, they will do. 
10 Activities off the boat
The children will need to get off the boat at least once a day. Your chartered yacht will have a dinghy which will get you ashore. Excursions do not have to be big affairs, you can just check out the cove around the corner, or go ashore for some fresh bread and milk. 
While on your family sailing holiday, rent a stand up paddleboard (SUP) as these paddle-powered craft are amazing vehicles for exploring the coastline, going fishing or snorkelling or simply playing around in the water off the boat. 
Snorkelling is a wonderful activity the whole family can do together. If you have the budget you can also rent inflatable slides, swimming pools and boogie boards.
Come and find more inspiration about sailing over on our blog. For more information on bareboat, skippered charters, by the cabin and crewed vacations, get in touch with our team on 02380 455527 or email