One of the most exciting aspects of any Thailand vacation is the opportunity to try the delectable Thai street food, found on most street corners at any time of day or night. When taking to the streets of Bangkok, you'll quickly notice that feasting at outdoor food carts, stalls and markets is practically a way of life among the locals here.
Whether you travel for culture, authentic experiences or "out-of-this-world" eats, Thai street food markets are a treat for the senses — a dizzying array of aromas, vibrant colors and unexpected sights. In fact, the great variety of Thai street food on display can sometimes leave visitors at a loss. With menu options ranging from tame and familiar to truly bizarre (or blazing hot!), there are some that are best left to the Thai-experienced or daredevil adventurers.
The types of foods you can sample include noodles, curries, dumplings, spring rolls, roti, sticky rice and more! And it's likely to be some of the tastiest and cheapest food you've ever encountered. To kick off your mouthwatering trip plan, we've put together this handy guide to the best Thai street food that you need to try on your next visit to this first-rate foodie destination.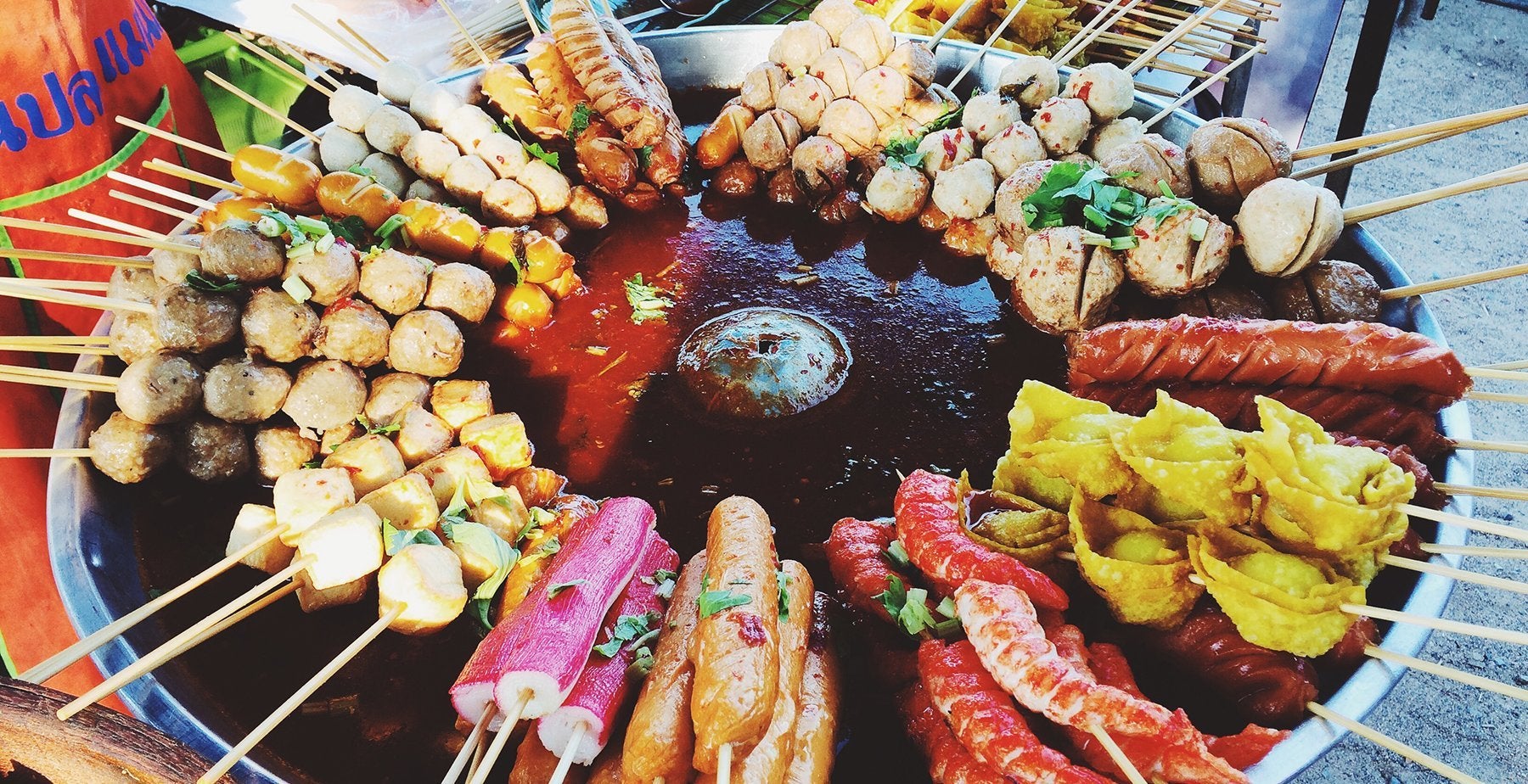 1 Charred-tasting Pad See Ew (Soy Sauce Noodles)
If you already love Pad Thai, pad see ew is an excellent "safe" choice — it's typically not very spicy. Many times, travelers can be seen ordering their more familiar pad thai, while locals sit nearby enjoying pad see ew. Both dishes incorporate rice noodles as a main ingredient, but the flavors are quite different. For pad see ew, noodles are stir-fried in garlic, egg and soy sauces, with the finished dish lending a slightly charred taste. If you choose to add meat, pork is the most traditional variation.
2 Deliciously smoky Moo Ping (Thai Grilled Pork Skewers)
Americans often know (and love) chicken satay, the tasty grilled meat on a stick that is lollipop-easy to eat. Satay can be great, but moo ping grilled pork skewers are an excellent addition to your Thai street food repertoire and a must-try for the carnivorous traveler. Moo ping is made with thinly sliced pork shoulder, tossed with a savory-sweet marinade and finished off over burning coals for an irresistible smoky flavor.
3 Lip-smacking Gai Tod (Thai Fried Chicken)
While fried chicken may not sound very exotic, Thailand's version is not of your average KFC variety. Wings or drumsticks are coated with rice flour and spices before frying, and a final dousing of chili paste and spicy dipping sauce secure this dish's place on our "best Thai street food" list. Enjoy your gai tod alongside a dish of sticky rice for a delightfully perfect pairing.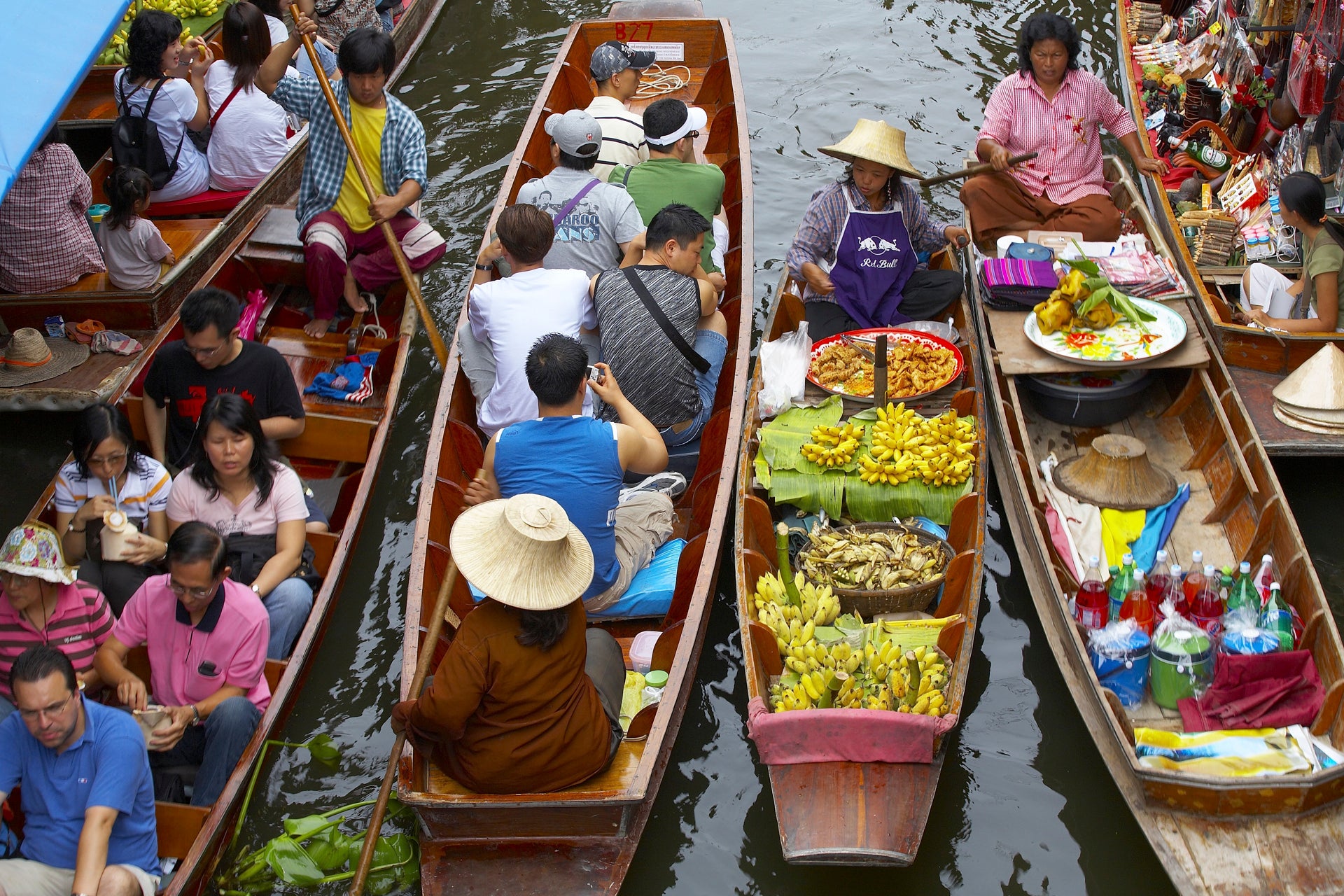 4 Tastebud exploding Som Tum (Green Papaya Salad)
This refreshing salad is another local favorite, and perfectly complements the savory dishes found at Thai street food markets. Green, not-quite-ripe papaya is shredded and combined with chilis, garlic, tomatoes, peanuts for a spicy, sweet and sour salad bursting with flavor.
5 Fresh and fruity Khao Niew Ma Muang (Mango Sticky Rice)
Don't think about leaving Thailand without tasting the country's most iconic dessert, mango sticky rice. Hot sticky rice is combined with coconut cream, sugar and sweet ripe mangoes. Yellow mung beans and sesame seeds add texture and crunch to this literally "sticky sweet" treat!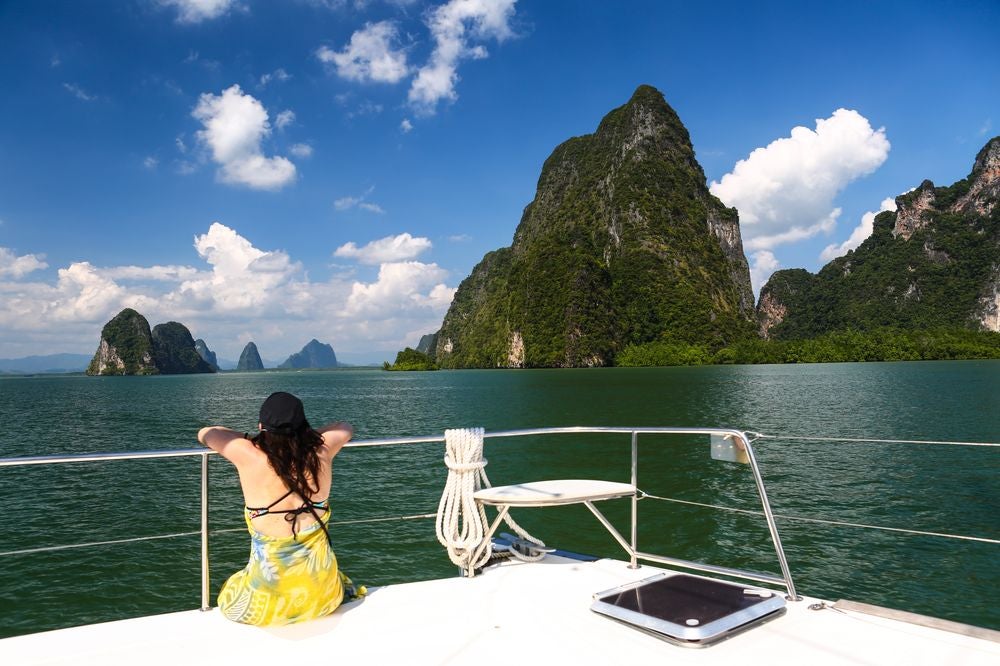 Find out more
Take your next vacation to the water for a unique way to discover the treasures of Thailand, far from crowded resorts and attractions. Dream Yachts has a charter vacation that's ideal for family and friends to experience the best of this friendly "Land of Smiles."
Choose a bareboat charter when you're ready to take the helm of your own sailing vessel. A skippered charter lets you sail Thailand with the added advantage of a local captain to show you the area's best-kept secrets. Ready for a little luxury? Climb aboard an all-inclusive crewed yacht with your family and friends and be pampered by your own private captain and chef.
If a full yacht is more than you need, choose a by the cabin charter and join like-minded travelers for a week on the water complete with your own private cabin and en suite bathroom.
Learn more about yacht charters in Thailand, or one of our many other destinations on our blog. Get in touch with our team today on 855.650.8902 or email [email protected] for more information.