Long-term Yacht Rentals
Do you wish you could work differently or even take a complete break but are unsure how? We have the answers and offer the opportunity to explore further, sail for longer and find your dream isolation among our 50+ destinations.
What's on this page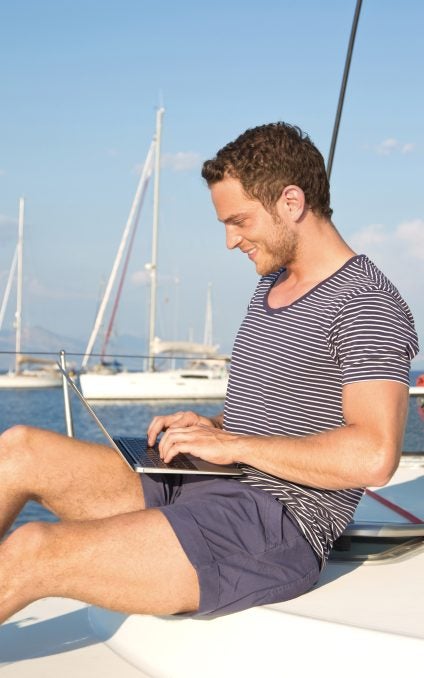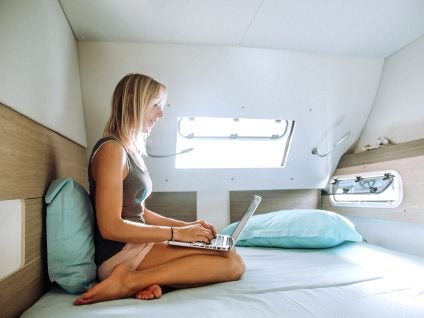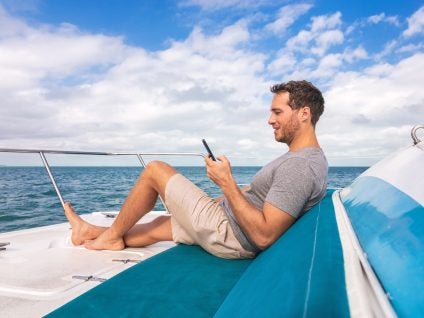 Redesign your life for adventure!
A long-term bareboat yacht charter means you can really experience a destination, local culture and cuisine and make new friends for life.
Get in touch for more information. Read our guide to long-term yacht charter destinations.
The world has changed and many businesses are offering remote working for their employees. Many are allowing flexibility with the words "work from home" and are happy for you to work anywhere there is internet access.
What's to stop you leaving your home desk behind and relocating to work onboard our comfortable yachts instead?
You can enjoy the amenities of a marina during your working week and the best of the ocean during your free time. What more could you want?
Talk to us about our long-term yacht rentals, available during peak and even off-season, in many of our destinations.
Want a life-changing adventure?
Unleash your inner explorer and sail parts of the world you want to get to know in greater depth. We are here for those dreaming of sailing the world too!

We can help if you want to immerse yourself in a destination with a long-term charter or if you want to sail one-way. We can help take the hassle out of the experience. Read about one person's story of sailing the Pacific Islands on a long-term yacht charter.

Make sure you are qualified to sail in your intended destination.
Working remotely onboard
The world of business is changing and becoming more flexible. If your company is relaxed about remote working, switch up your home for a boat with our long-term yacht rentals.
Discover the world of work and play while living onboard a yacht. Life can be tough and it's time to prioritize your wellbeing. There are so many benefits to being around blue water for your creativity, productivity and health.

Why work from a boat?
Flexibility – you can sail whenever you are free
Internet access – most of our marinas offer Wi-Fi
Freedom – explore where and when you like
Seclusion – find the most remote anchorages
Amenities – use the marina's facilities
Community – meet like-minded sailors

The benefits of being near water
Quietens busy minds
Resets tired bodies
Improves performance
Increases feelings of calm
Reduces anxiety

Things to consider
Destination – choose somewhere with a good local sailing ground so you do not have to rely on crossing borders to explore
Marina – choose according to your needs in terms of quite spots versus lively marina bars
Time of year – it can be cost-effective to take a long-term charter off-season
Weather – if your destination is cold off-season, keep in mind our yachts can be made nice and warm with heaters
Yacht – make sure it has enough room for you on board and also to accommodate friends and family who may visit at the weekends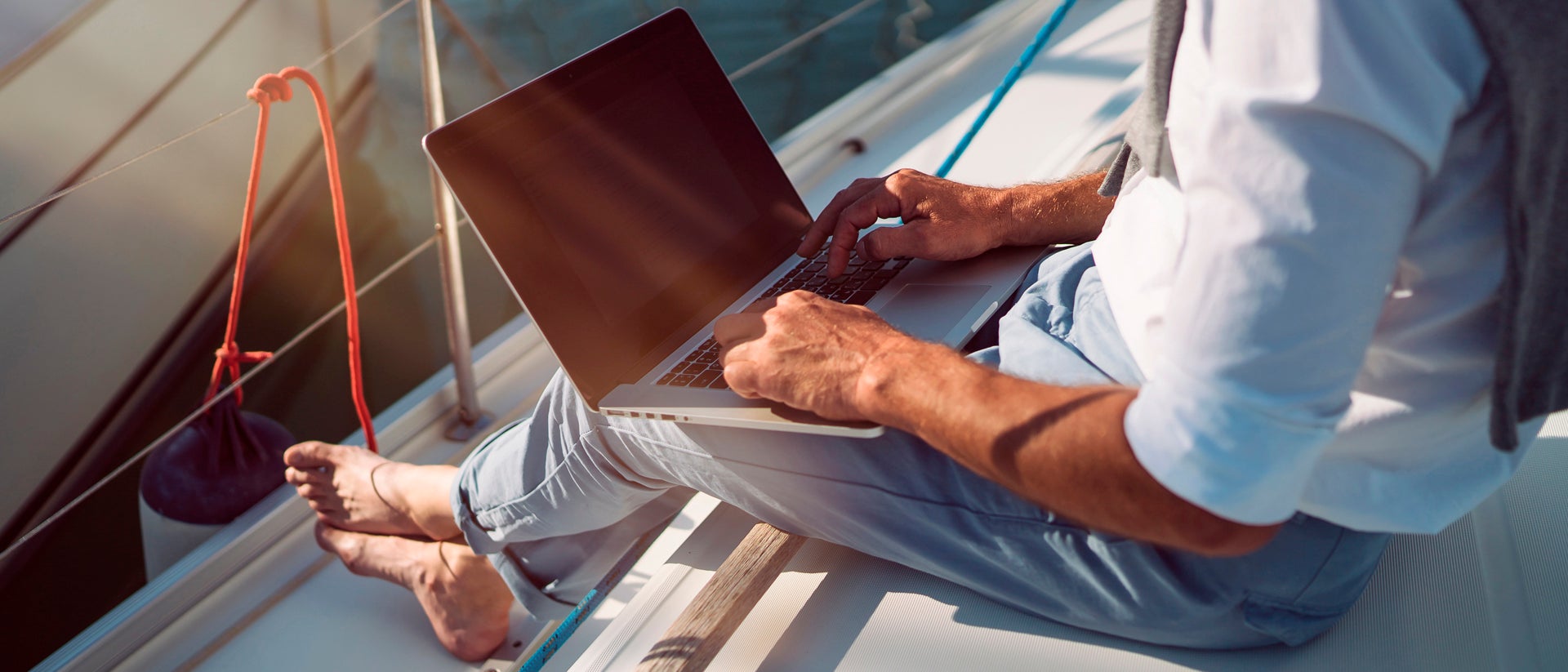 Immersive travel experiences
Take a break from a busy career, enjoy family time, or embrace your empty nest with our long-term yacht rentals. Our sabbatical fleet has well-maintained yachts for long-term charters, whether you want to sail for a month or longer. We offer help and advice to make your adventure ideas a reality.

Sail the world for longer
It has never been easier for you to join the increasing number of sailors heading off on a longer sailing adventure. With our long-term yacht rentals, you can plan your adventure with confidence knowing you will never be far from one of our bases in our extensive network. Each of our bases has a professional, experienced team to help you with any technical questions or issues.

Why sail long-term?
Discover the authentic destination as a local rather than a tourist
Soak up the local culture at leisure
Visit coves and islands too remote for shorter vacations
Go at your own pace with the flexibility to linger when you've made a new discovery
What is the cancellation policy for Sail Share?
We highly recommend you arrange travel insurance in case you need to cancel for an unexpected reason to cover non-refundable deposits.
Our Sail Share cabin cancellation fees are:
More than 90 days before original embarkation date: 25% of the charter fee
89 – 60 days before original embarkation date: 50% of the charter fee
59 – 30 days before original embarkation date: 75% of the charter fee
Fewer than 29 days before original embarkation date: 100% of the charter fee
How flexible is the itinerary for a Sail Share charter?
Our yacht itineraries are designed by our destination experts and are set to showcase the best of the destination's highlights. They are set and not flexible, even if you book all the cabins.
What happens if the weather changes during my Sail Share?
The skipper may decide to change the itinerary if there is bad weather.
Can I choose which cabin I want when I book a Sail Share?
Choose a double cabin with shared bath, or private bath for an additional fee.
Are there child or age restrictions on Sail Share?
Minimum Age : 16 years old
Get inspired
Follow our customer's journeys & share your own amazing experiences on Instagram
Simply wonderful! Fred + Isabelle were so accommodating and did so much for us. Isabelle's food was incredible. Thank you so much!
Laura
Exumas Cabin
Great class. Very professional and great service!
Thomas
Antigua Bareboat
Just what we needed to get out of a year of lockdown, see new places and connect with nature. Highly recommended for your next sailing adventure!
Johan
St. Martin Bareboat
Excellent cruise and wonderful stay on board. Skipper attentive, very pleasant and very professional.
Maxime
Guadeloupe Skippered
I have just returned from another fantastic week of sailing at your base in Pula and would like to thank everyone involved for making this possible at such short notice and without any problems.
Mathias
Guadeloupe Bareboat
The marina itself is a perfect base with super facilities! The Lagoon 42 was in good condition and the skipper was fantastic and knew the area very well.
Jonathan
Croatia Skippered
What an EXCELLENT experience. We just returned from a week long charter with skipper from Corfu, sailing around the beautiful islands of the Ionian Sea. Paxos, Antipaxos and the old town of Corfu were beautiful and the secluded bays we got to visit thanks to our local skipper Nicholas were simply stunning. Fly and Flops was yesterday – we will only charter with Dream Yacht for the foreseeable future.
David
Greece Skippered
Our group of 10 had a WONDERFUL time in French Polynesia from May 21-28, 2022! The food was fantastic: captain and cook, husband and wife: Henry and Mehee (sp) were amazing and the whole experience on board was a dream! We can't wait to book another trip through Dream Yacht
Katie
Tahiti Crewed Premium
Dream Yacht provided a great sailing experience for my extended family on 2 monohulls from Scrub Island. The boats were in very good condition and perfectly prepared, the staff friendly and helpful. I had worked for a number of charter companies over the years but Dream Yacht is one of the
Charlie
British Virgin Islands Bareboat
I am in the Maldives right now and having the time of my life. Captain Jack and the crew are professional, safe and fun! The boat is optimal and the food is delicious. The chef even bakes CAKE! The beds are surprisingly comfortable and we sleep 9 hours every night. If you like island hopping, there is no better option than Dream Yacht. We will be booking Tahiti next year.
Cynthia
Maldives Cabin
The new boat was in perfect condition and best condition for exploring bays and islands. I could never have imagined that this could be so much fun and enjoyable and we are already looking forward to the next upcoming trip in the Ionian Sea.er.
Vytautas
Scandinavia Bareboat
Baja is now my favorite place. There was something for everyone: sailing under northerly winds with mostly calm evenings, snorkeling, fishing, secluded sandy beaches, pelican feedings, being greeted by barking sea lions, and exploring the geology of Ispiritu Santo Island. Dream Yacht Base La Paz provided competent professional support with a well-equipped and maintained boat. We were wonderfully cooked by an on-board chef arranged with Dream Yacht, which meant more free time for all of us. An unforgettable vacation and adventure connected with nature.
Taiyoko
Mexico Crewed Premium
All the staff were fantastic and made our trip a memorable one. Incredibly friendly and welcoming, the food was fantastic. The service throughout the trip was always top notch!
Tommy
Thailand Cabin
Absolutely recommendable. Perfect service. Will charter again and recommend Dream Yacht Charter anytime.
Zahradnik
Turkey Bareboat
I just returned from 3 weeks of fantastic sailing with my family on one of your catamarans in Sardinia. My thanks to our skipper Simone and Daniela, our cook.
Giles
Sardinia Skippered
For a first cruise as a skipper, the Mediterranean is perfect. The service of Dream Yacht is too!
Thomas
France Bareboat
We had an incredible trip and got engaged on our very first night of sailing! We will surely come back one day. We were beginners, we were guided very well and that gave us a lot of confidence.
George
Australia Bareboat
The experience on board far exceeded our expectations. Isabelle provided exceptional three course meals. Her creativity and delicious meals were incredible. Thomas was an excellent skipper, he "felt" our needs. Thanks guys!" Spira, bareboat with crew in New Caledonia.
Spira
New Caledonia Crewed Premium
Once again a fantastic sail with a great crew. Thanks again to a great captain and cook. Was totally fantastic.
Connie
Seychelles Cabin
A very excellent sailing vacation – especially the crew was fantastic. I would sail with Dream Yacht again and highly recommend them.
Mark
Guadeloupe Bareboat
I loved the vacation and am not sure this trip can ever be topped. Everything about it was incredible. The captain and crew were great, helpful, friendly, attentive and knowledgeable. We loved it.
Trina
Greece Crewed Premium
We just returned from one of your Lagoon 52F's last week in St. Thomas! We had the trip of a lifetime sailing around St. Thomas and St. John!
Megan
US Virgin Islands Bareboat
What's new?
Stay up to date with news and events or get some inspiration for your next yacht charter and pick up useful tips by reading our latest blogs.
Go to Blog