She Captain founder, Anna Mourou, shares her favorite three sailing destinations and why she loves them…
If you're planning on going on a sailing vacation this year, you may be looking for inspiration. To help, I've shared my absolute favorite sailing destinations with you. Sailing can be so many different things, from a romantic getaway to a relaxing family vacation. Or a time to think and re-energize, a chance to party with your best friends or even join a flotilla by yourself. Sailing for me is all these things. Read on to find out my best destination tips to inspire you for sailing vacations to come.
What makes a great sailing destination?
A great sailing destination has to give me simplicity and that is the one thing I will never compromise on. Provisioning has to be easy and give me options for allergies, gluten intolerance and vegetarians, such a part of everyone's lives nowadays. Then the mooring options have to offer flexibility. I will never really know if I and my crew will be up for a long sailing leg or just a short one. It all depends on the wind and how much wine and dancing we did the previous night. Joking aside, it's important to make sure you have those options. After all, freedom is a key reason for going on a sailing vacation!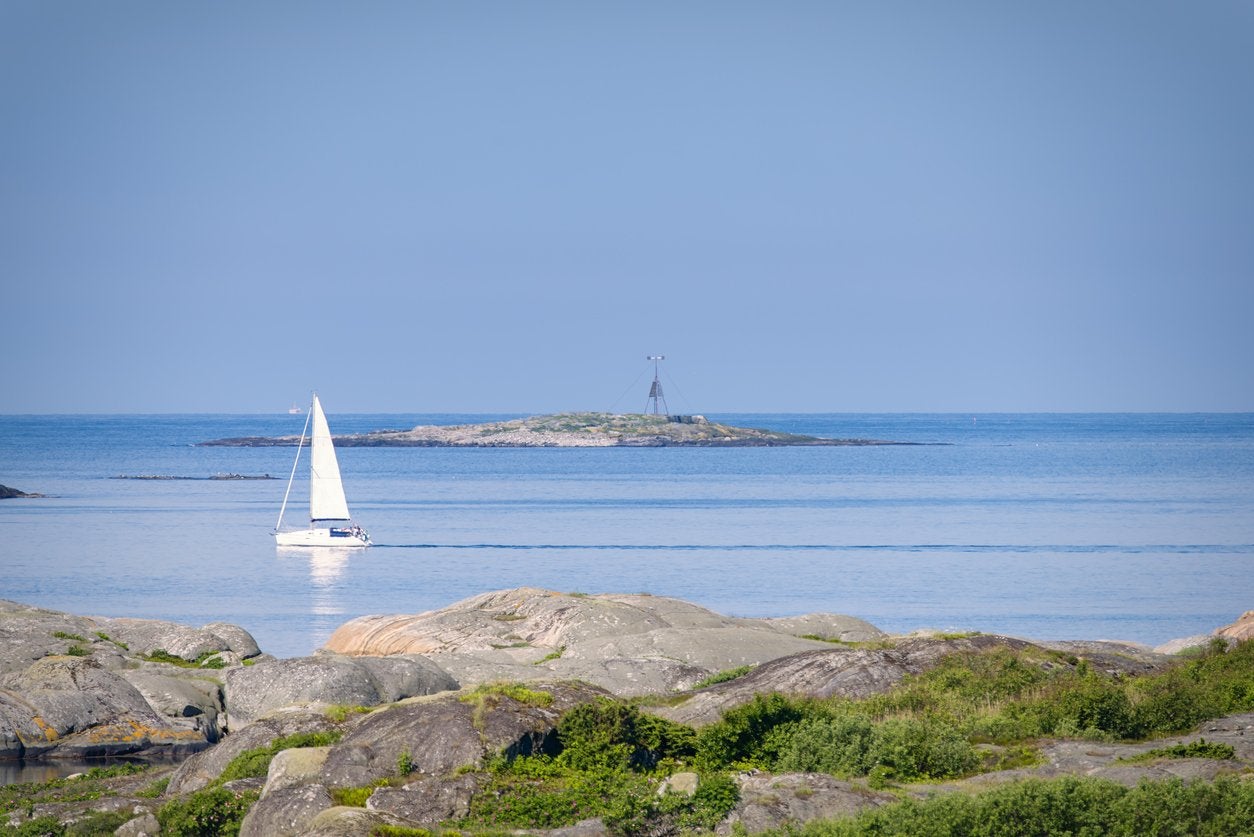 1. Sweden's archipelago of 30,000 islands
You just have to go. The archipelago outside Stockholm is the reason you rarely meet any Swedes anywhere else summertime. The region offers undisturbed nature, totally sheltered waters, islands to yourself, beaches and picturesque Swedish fishing villages and small vibrant party harbors.
The sailing season is from June through September and during this time the nights are very short, with only about 3 hours of darkness. You can continue sailing for weeks and literally never see the same island twice or have to deal with ocean swells. Visit the small islands like Grinda, Utö and Sandhamn if you want to find good restaurants, bars and adventure activities.
I love the fish casserole at Sandhamn Sailinghotel, Stockholm archipelago's most classical spot and a must-visit. During July and August, you can always find a good party here, with classy live music and general fun for everyone. The island is small and you can walk everywhere. In fact, there are no cars on most of these islands and only the local islanders have mopeds.
Sandhamn has different vegetation than the rest of the archipelago, which is known for beautiful granite cliffs and pine trees. It's here you will find sand everywhere, which is very unusual for Sweden, and pine tree forests that are magnificent to walk in.
Enjoy an authentic Swedish sauna
One important thing to do when sailing Sweden is visit one the saunas on the islands. Enjoying a beer in the sauna before diving into the fresh baltic sea is an experience in itself! My favorite one is on the island Ostholmen, just south-east of Möja. On family sailing vacations, we always stay there two days just to chill and play. It's a little island with no inhabitants so it's perfect for wild pine cone throwing games.
Most saunas are run by Skärgårdsstiftelsen, an amazing organisation that started preserving the archipelago in the 50s by buying as much land, islands and houses as possible to keep it open for everyone. They have their own infrastructure with waste bins placed everywhere, even on the most remote islands, and many other wonderful projects to preserve the region. The saunas are one of them and you can use them for a ridiculously low fee.
If you are sailing the paradise Sweden offers yourself, you better beware as you need to have your navigation game in check. Sweden has many underwater rocks so keep an eye on depth and the plotter at all times. That's a part of the fun while sailing in Sweden, and why you never see Swedish boats getting stuck on reefs in tropical waters. Don't forget you can always hire a skipper if you want to fully relax.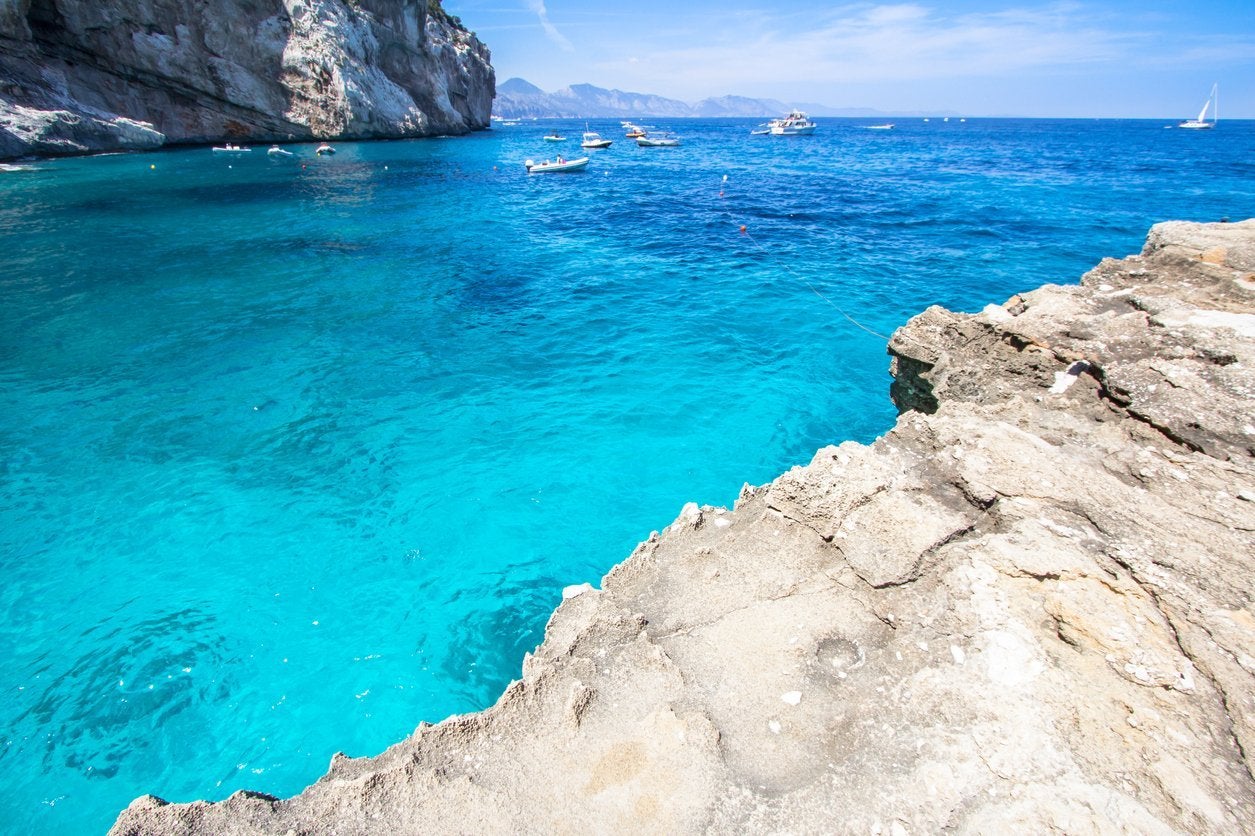 2. Sardinia's Maddalena archipelago
I have never sailed anywhere where every local boat I meet greets other passing sailors with such passion. That's Italy for you and it's an atmosphere I love. It's not the charter boats and us tourists that dominate the waters, its the Italian's boats. And those boats, oh my, what boats! Yes, the nature may be amazing but so are their boats!
My top experience is from the Maddalena archipelago on Sardinia's Emerald Coast. Just east of the main island you will find Isola Caprera, the second largest island in this mini archipelago. On the southern peak, there is a large beautiful bay with wonderful mooring possibilities. It's also quite popular, but most boats are only there for daytime enjoyment so when the time for an aperitif is closing in most boats leave and you can enjoy the tranquillity of this natural park. Since I sail a catamaran, I can get in quite close to the shore and indulge in a swimming and land excursion with my children. Then, when the sun sets and the sky is lit up with stars, we just lay on the catamaran's net listening to the sounds of the Italian night.
For those looking for more adventurous sailing, I recommend doing the crossing over to Corsica in the north, or why not Rome or Naples on the mainland. I did that exact route on a 14-day sailing trip last summer. It was absolutely marvelous.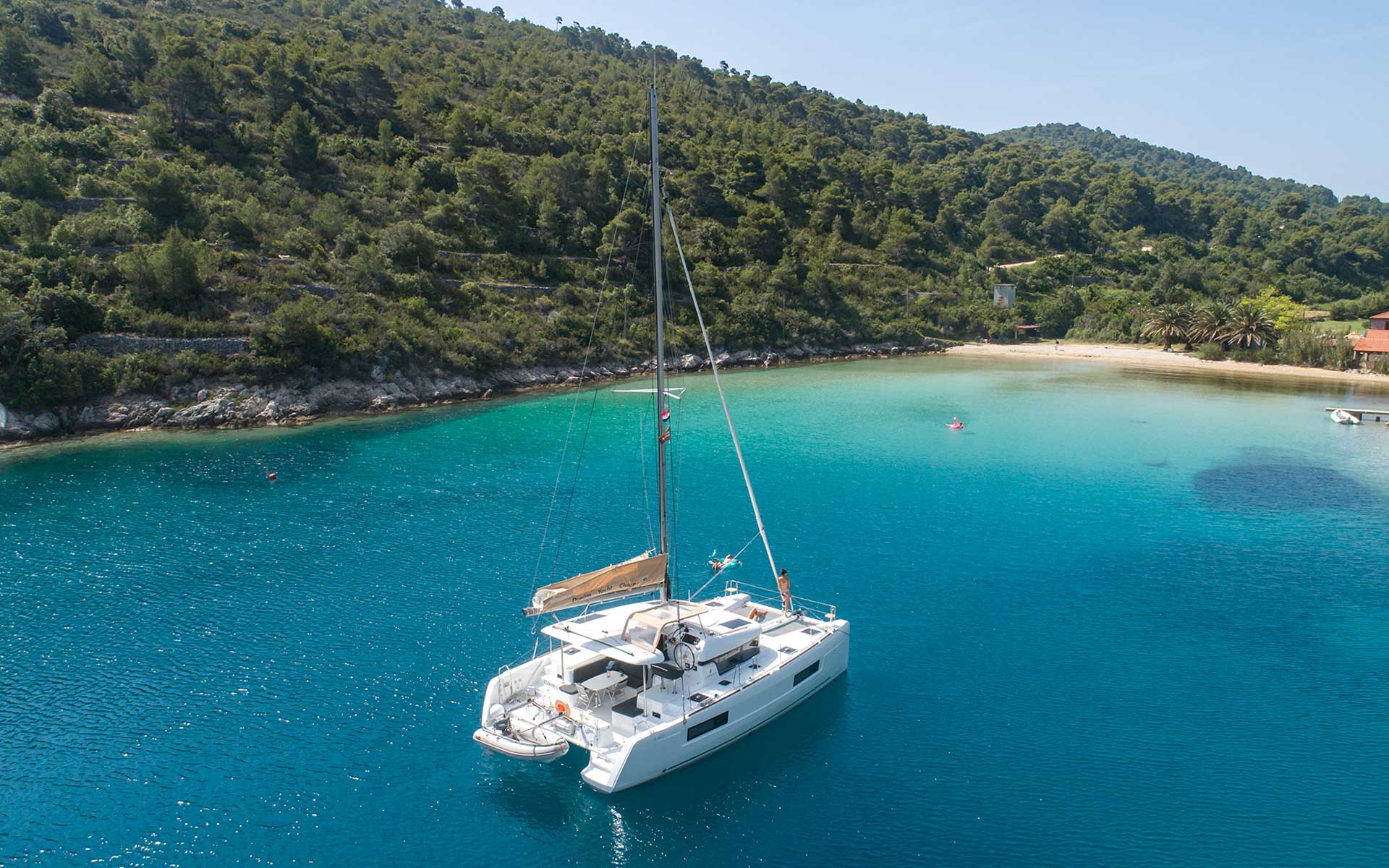 3. Croatia has it all
Croatia is just the best, easiest and overall loveliest sailing you will find in the Mediterranean. Navigation is easy, people are friendly and helpful, food is wonderful, nature beautiful and it's only the wind that is a bit, well, off or on. What makes me come back here time after time is the people and the harbors. Everything works and is well taken care of without issues. As a female skipper, I can get some comments and unnecessary attention in other Mediterranean countries, but never here.
Start your sailing in Trogir and then visit the islands of Vis and Hvar. Find nature, tranquillity, restaurants and interesting excursions all in one place. I will never forget the hiking I did to the top of the mountain on Vis. Looking down at our boat anchored in the bay of Komiža, I was filled with such a strong sense of freedom and joy. My husband wants to go back to his top fish restaurant experience in Maslinica, the whole family's favorite mini marina that offers free morning training sessions and amazing coffee.
Family fun at the blue cave, Bisevo
The magnificent Blue Cave on the island of Bisevo, just 5km south of Vis, was my children's favorite adventure two years ago and they still speak about it. The cave has to be visited at a certain time during the day for the tide and light to be perfect for roof reflections. This is a bit different depending on what season you are there.
Moor your boat in a bay just around the corner from the cave and a mini motorboat run by local Croatians will offer a cave tour, for a fee of course. It's the only way to get into the cave, so you just pay and smile. When we did it, there were about 10 in the excursion boat including us, driving fast with water splashing – my kids were totally in love with the start of this adventure. All of a sudden, we slowed down and the driver told us to be ready to get very low.
I couldn't even see an opening but then I realized it was a very little hole in the cliff. I was amazed at how our driver maneuvered the boat in the waves and through an extremely little opening that just fit the boat. We all scrunched down, giggling and then the mountain room just opened. It was really blue. Due to an underwater opening where the sun gets into the cave, it creates the bluest, coolest light ever. I'm a former singer and I asked everyone if it would be ok to try out the acoustic so we turned off the engine and went silent. I then sang a classical Swedish folk song that matched the scenery. None of us wanted to leave. When we came back out into the real world, those 10 minutes in that cave had felt like hours.
Find out More
Find more #MoreWomanAtSea stories on our blog. To discover an adventure of your own, explore our sailing vacations or get in touch with our team today on 855.650.8902 or email [email protected] for more information.