Sailors, snorkelers and divers wanting to sail Belize in Central America, this one's for you! Here's our complete guide to visiting the Belize Barrier Reef and it will tell you all you need to know to plan an unmatched underwater reef adventure.
Why visit the Belize Barrier Reef?
The Belize Barrier Reef is considered one of the world's best snorkeling and diving destinations – both PADI and SCUBA Travel websites list Belize near, or at, the top! It's for good reason too as Belize's reef runs 190 miles along the country's entire Caribbean coastline, second only to Australia's Great Barrier Reef in size. If you are planning a vacation, our guide to vising Belize Barrier Reef will help you put together your itinerary if you love watersports.
The Belize Barrier Reef ecosystem is home to 70 types of coral, and over 500 species of fish, not to mention the shellfish, turtles and innumerable other sea creatures. It serves as a shelter, food source and spawning ground all at the same time. Snorkelers and divers have long known about the wonders to be found along the Belize Barrier Reef and, in 1996, the reef was befittingly designated a UNESCO World Heritage site.
Our base is in Placencia, which is less crowded and touristy than other destinations in Belize. It's a renowned place to go if you want to see whale sharks and offers so much choice when it comes to snorkeling and dive sites.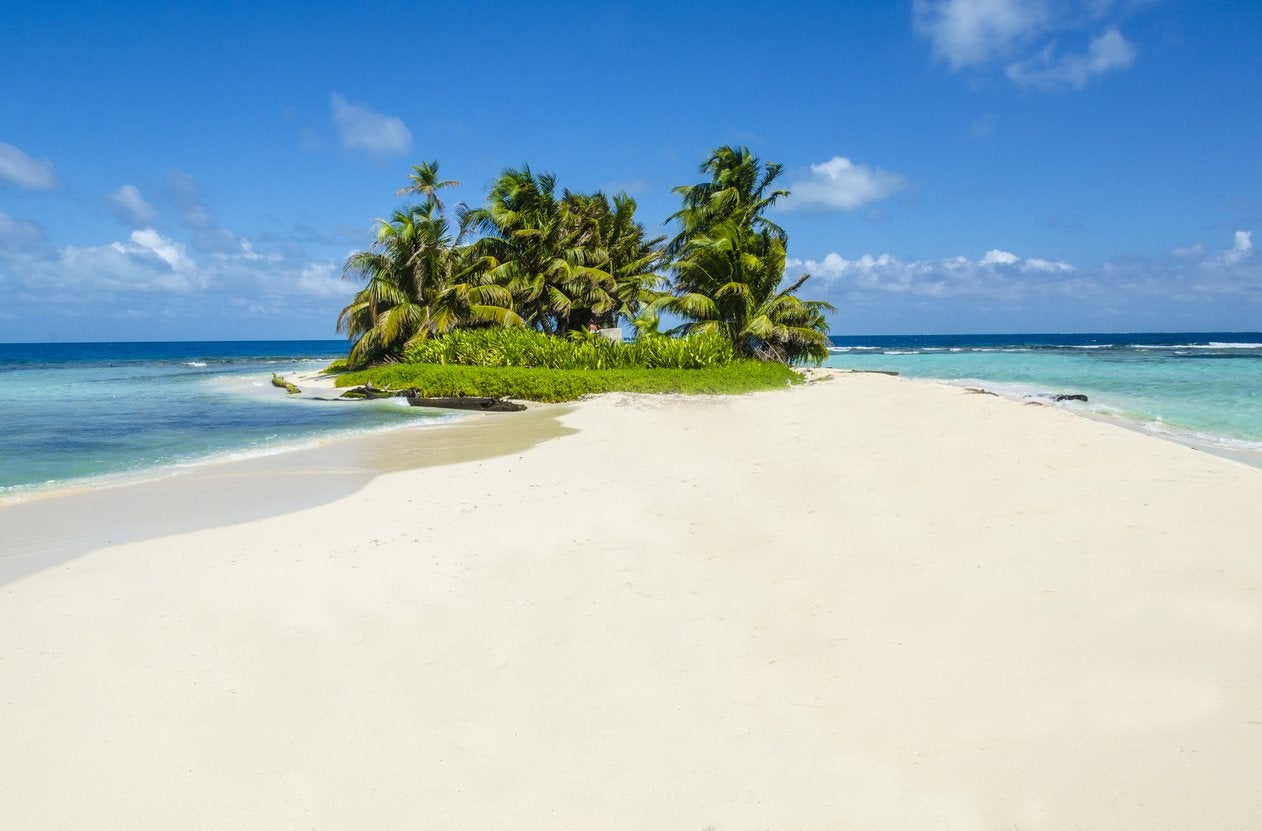 Where to go on the Belize Barrier Reef?
Even for the most avid diver, exploring the entire 190-mile stretch of reef would be nearly impossible. So, where do you start when visiting the Belize Barrier Reef? There are a large number of popular spots to be found, and where you choose to go depends primarily on your chosen activities and where in Belize you plan to stay:
Placencia Reef – Quieter than Caye Caulker, the Placencia peninsula offers some of the best diving and snorkeling in Belize and without the crowds. Just offshore Placencia is a network of coral channels, some as deep as 80ft, with canyons, atolls and cayes. The shallows around the islands are perfect for snorkeling and diving beginners and the experienced can head to the dive walls. It deserves to be at the top of our guide to visiting Belize Barrier Reef.
Caye Caulker Marine Reserve – Among Belize Barrier Reef snorkeling

spots, this caye ranks highly as one of the best. Within Caye Caulker's reserve, visit Coral Gardens for amazing snorkeling filled with breathtaking, colorful coral formations.

Hol Chan Marine Reserve

– Another of Belize's best snorkeling spots is found within this reserve at Shark Ray Alley. As the name implies, nurse sharks and stingrays are the stars of this show and swimming with them is an exhilarating experience. Coral Reefs is another popular spot in the reserve, with beautiful coral and a rainbow-variety of fishes and turtles that visitors often compare to swimming in an aquarium.

The Blue Hole

– This is the most well-known dive spot on the reef, likely because it stands out strikingly in aerial pictures of the Belize Barrier Reef. At nearly 1,000ft across and 400ft deep, this naturally formed "underwater sinkhole" is known for exceptional visibility, otherworldly cave formations and reef shark sightings. This bucket-list dive experience is best for experienced divers, and an experienced guide is recommended. Please note, if you want to sail you will need a local, experienced skipper for the lagoon and the return journey takes four days.

The Outer Atolls

– Outside the barrier reef, you'll find three coral atolls: Turneffe, Lighthouse and Glover's. The visibility is spectacular, especially in the early summer months. Their comparatively remote location also makes for more pristine reefs with fewer people. Many consider Half Moon Caye Wall, located at Lighthouse Reef, to be one of the most gentle and beautiful dive sites to be found in Belize.
Top Belize Barrier Reef snorkel spots
Laughing Bird Caye North, Laughing Bird Caye National Park – Named after the noise of the squawking gulls that inhabit the island, this is a snorkeling paradise with coral heads bursting with colorful marine life, such as trumpet fish and angelfish, plus much more. This shelf atoll is one of the best spots to snorkel in Belize and a World Heritage Site.
Silk Caye, Silk Caye and Gladden Spit Marine Reserve – Known for Turtle Alley where you are highly likely to see loggerhead turtles
Southwest Caye – Glover's Reef Atoll – The most southerly atoll. It's a stunning lagoon full of coral heads and awesome biodiversity
Billy Hawk Caye, Southwater Caye Marine Reserve – A quiet anchorage where you can get your fill of reef snorkeling here or get out the SUP to explore the mangroves
Carrie Bow Caye, Southwater Caye Marine Reserve – Get ready for a vibrant technicolor experience, as the marine life and coral here is out of this world!
When is the best time to snorkel the Belize Barrier Reef?
The best visibility for snorkeling Belize is between November and May, the dry season.
What's the best time of day to snorkel?
Get up early and get out there in the morning before the afternoon winds whip up the water and stir up visibility. You will find fewer people too, so a great way to avoid crowds.
Top diving spots, Belize Barrier Reef
Laughing Bird Caye North, Laughing Bird Caye National Park – An impressive underwater 25ft-90ft slope for experienced divers
Long Coco Spit, Laughing Bird Caye National Park – Keep watch for shy moray eels
Coral Garden, Laughing Bird Caye National Park – Dive with a huge variety of fish, lobsters, shrimp and crab
Miss Panda, Laughing Bird Caye National Park – Explore this local tug wreck, which is now a fish nursery
Gladden Spit – This protected marine reserve features some of the region's healthiest coral and is a feeding ground for whale sharks
Turtle Canyons – A favorite hangout for the turtle population
North Wall – Near Silk Caye, this is one of the best dive sites in Placencia and you might see manta rays here
White Hole – Visit for the rays and nurse sharks
Pompion Wall, Pompion Caye – Descend 30ft-80ft down a sheer wall, where you can see the invasive lionfish
Silk Caye – See the Spotted Frogfish, which is only found in Belize
When is the best time to dive the Belize Barrier Reef?
Belize, a subtropical destination, offers warm water year-round that is perfect for diving. The best time to dive Belize is between March and December, peaking between April and June when the whale sharks are around. If you want to see the grouper season, dive between October and November.
The low season is between August and October, but even the rain doesn't interfere much with the diving. Peak season can be busy, so shoulder seasons are also a great option.
What marine life can you see on the Belize Barrier Reef?
West Indian Manatees
Stingrays, spotted eagle rays and manta rays
Green turtles, hawksbill turtles and loggerhead turtles
Whale sharks up to 40ft long at Gladden Spit between March and June
Parrotfish, groupers and barracudas
Dolphin
Moray eels
Seahorse
Brain coral
Conch
Best places to stay while visiting the Belize Barrier Reef
Belize is a relatively small country, but there are hundreds of accommodation options available to those visiting Belize Barrier Reef. On the mainland, Placencia is fast becoming a popular place for visitors to begin their reef exploration adventures. There are a number of resorts, hotels and marinas located in this quaint village. It's less touristy than the coast in the north and has a laid-back vibe and fewer crowds.
Other options include stays on the cayes located near the most popular snorkeling and dive sites, including Ambergris Caye, Caye Caulker and Thatch Caye. While this can be an appealing option for some, there can be limited dining and transportation options while staying on some of the smaller cayes.
Offering the best of both worlds, a liveaboard sailing charter is an especially appealing option for watersports enthusiasts. You'll have the convenience of moving to a new dive or snorkel site at whim, and the flexibility of having no set itinerary. It also offers the very best of dive experiences, allowing you to hit the most popular spots long after the tourist-packed dive boats have left for shore. Get plenty of time out on the water, and explore ashore from the marina before or after your charter.
Find out more
Take your next vacation to the water and skip the crowded snorkeling day tours and dive boats. Choose a bareboat charter when you're ready to take the helm of your own sailing vessel. We also have a sailing vacation option that's perfect for groups of family and friends traveling together, no sailing experience required! A skippered charter is an excellent option in Belize, with the added advantage of a local captain to show you the area's best fishing, snorkel and dive spots.
Learn more about yacht charters in Belize, or one of our many other destinations on our blog. Get in touch with our team today on 855.650.8902 or email [email protected] for more information.