As a somewhat frequent yacht charterer, the idea of vacationing on a yacht wasn't new for me. But a Dream Yacht Tahiti cabin charter was going to bring some exciting new "firsts". This would be my first visit to the South Pacific and more specifically, the Society Islands of French Polynesia. This would also be my first experience on a Cabin charter. As a solo traveler, I would have a single cabin aboard a 62-foot Lagoon 620 catamaran shared with other vacationers – with the benefit of a professional captain and hostess with all meals included!
Dream Yacht offers 14 unique itineraries in some of the most desirable destinations around the world. 3 of those amazing itineraries are in French Polynesia: Bora Bora Dream Premium, Polynesia Dream Premium, and Rangiroa Dream Premium.
I booked the Bora Bora Dream Premium 8-day/7-night cabin cruise. And, while I was certain that I would love French Polynesia, I did have questions about whether a cabin charter would be right for me.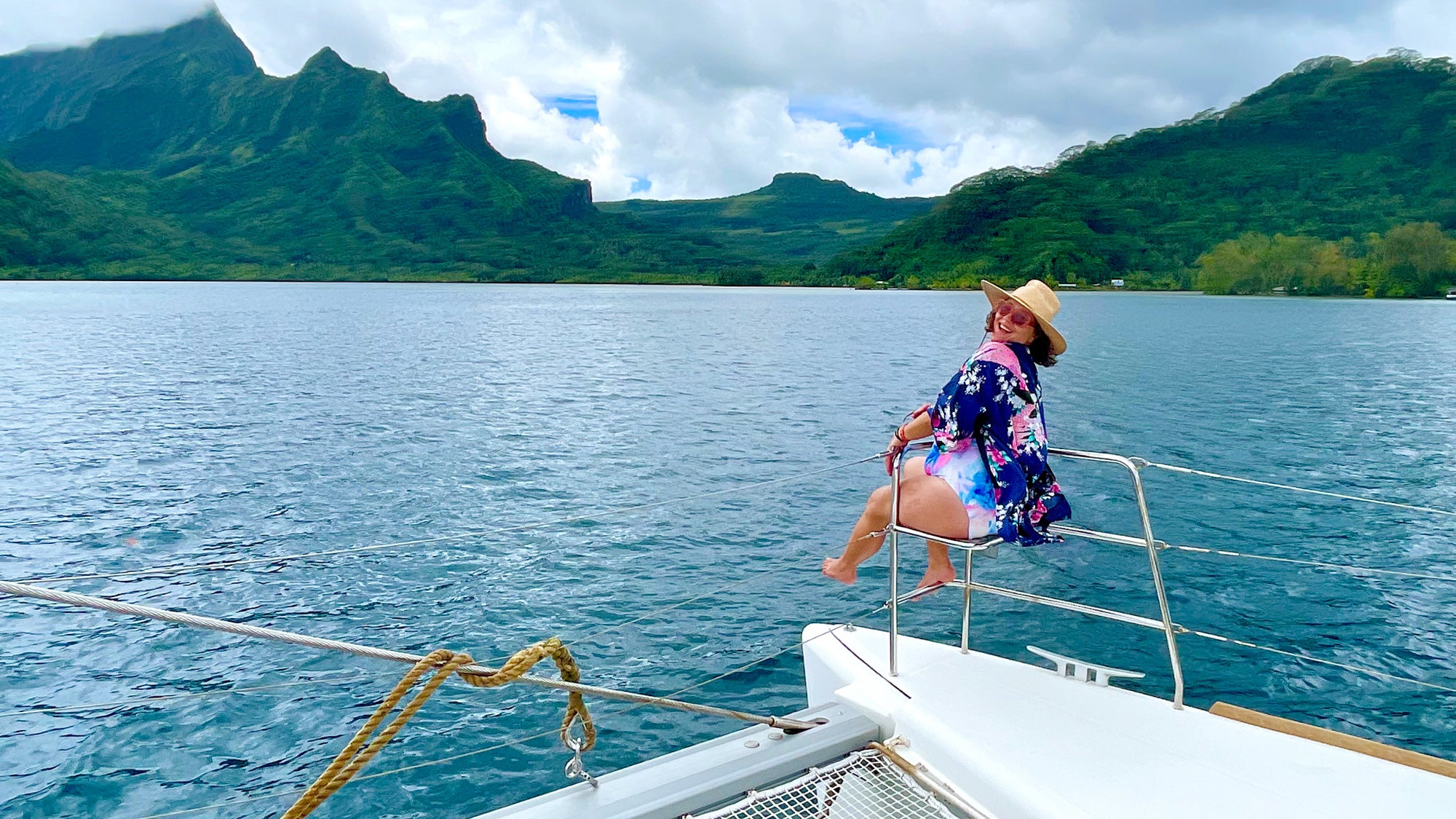 Spoiler alert – it's honestly the trip of a lifetime! Here are some reasons why:
So easy to plan
A "by the cabin" charter is a packaged yacht vacation that's nearly all-inclusive. It includes a comfortable air-conditioned double cabin with private bathroom, designated itinerary, professional skipper and hostess/cook, all meals and snacks, and even water toys to use for your week aboard. So It's very easy to plan and book, with meals, daily itinerary and excursions and more already planned out.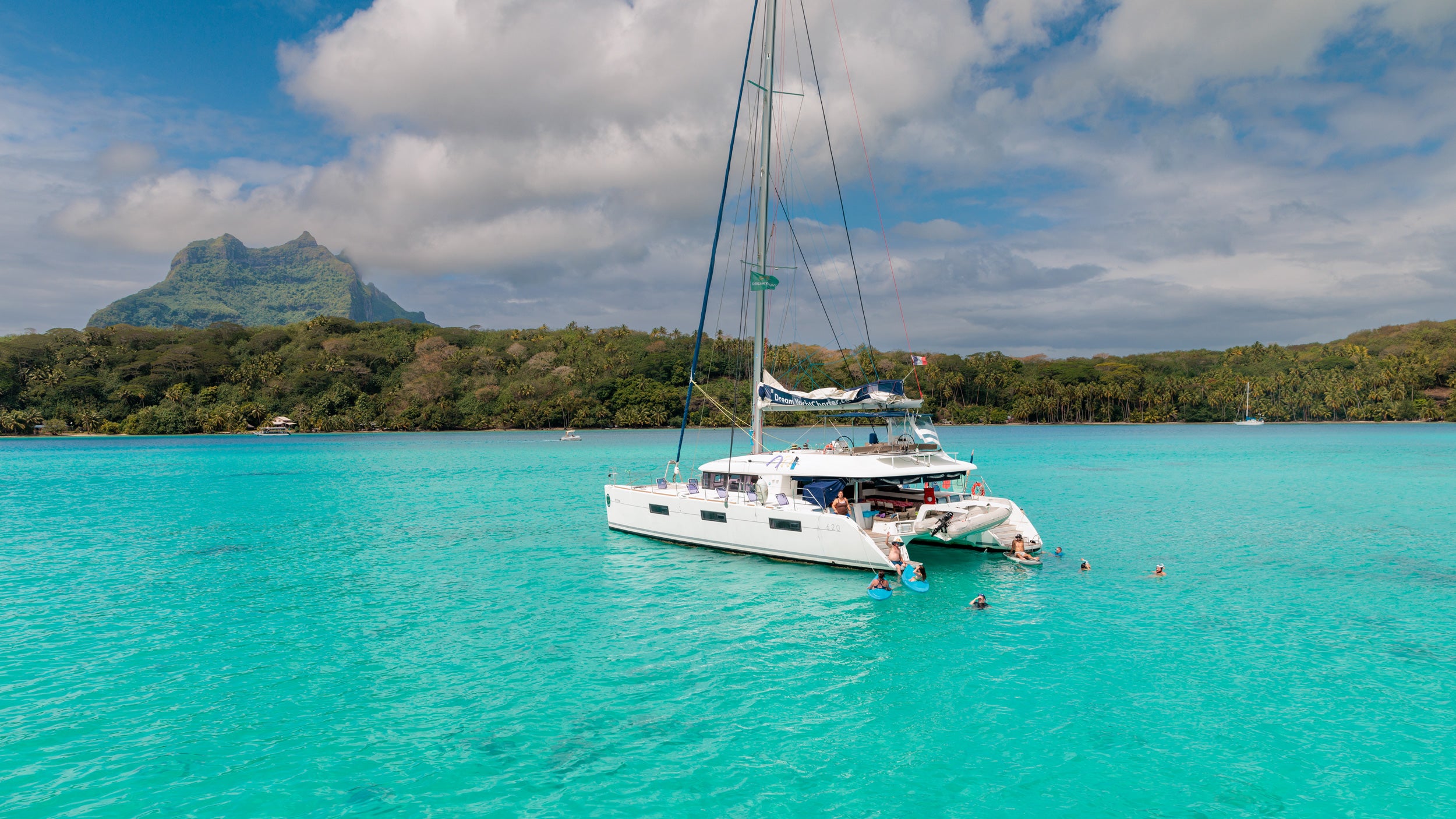 Discover more islands
I'm convinced that a yacht charter is the absolute best way to see more of the French Polynesian Islands. The Bora Bora Dream cabin cruise visits 4 of the main islands within the Society Islands region. While there are flights available between these islands, a yacht offers a more leisurely, up-close, and authentic way to visit – without tight schedules, packing, unpacking, airports and crowds.
My week-long cruise delivered us to some of the most beautiful parts of French Polynesia, with visits to the islands of Raiatea, Taha'a, Huahine and Bora Bora with its towering 2,385-foot jagged mountain peak of Mount Otemanu. Bora Bora was a big attraction for me, and anchoring in the lagoon below is a breathtaking sight!
While resorts can be relaxing and beautiful, they can't deliver you to a new stunning and secluded lagoon each day.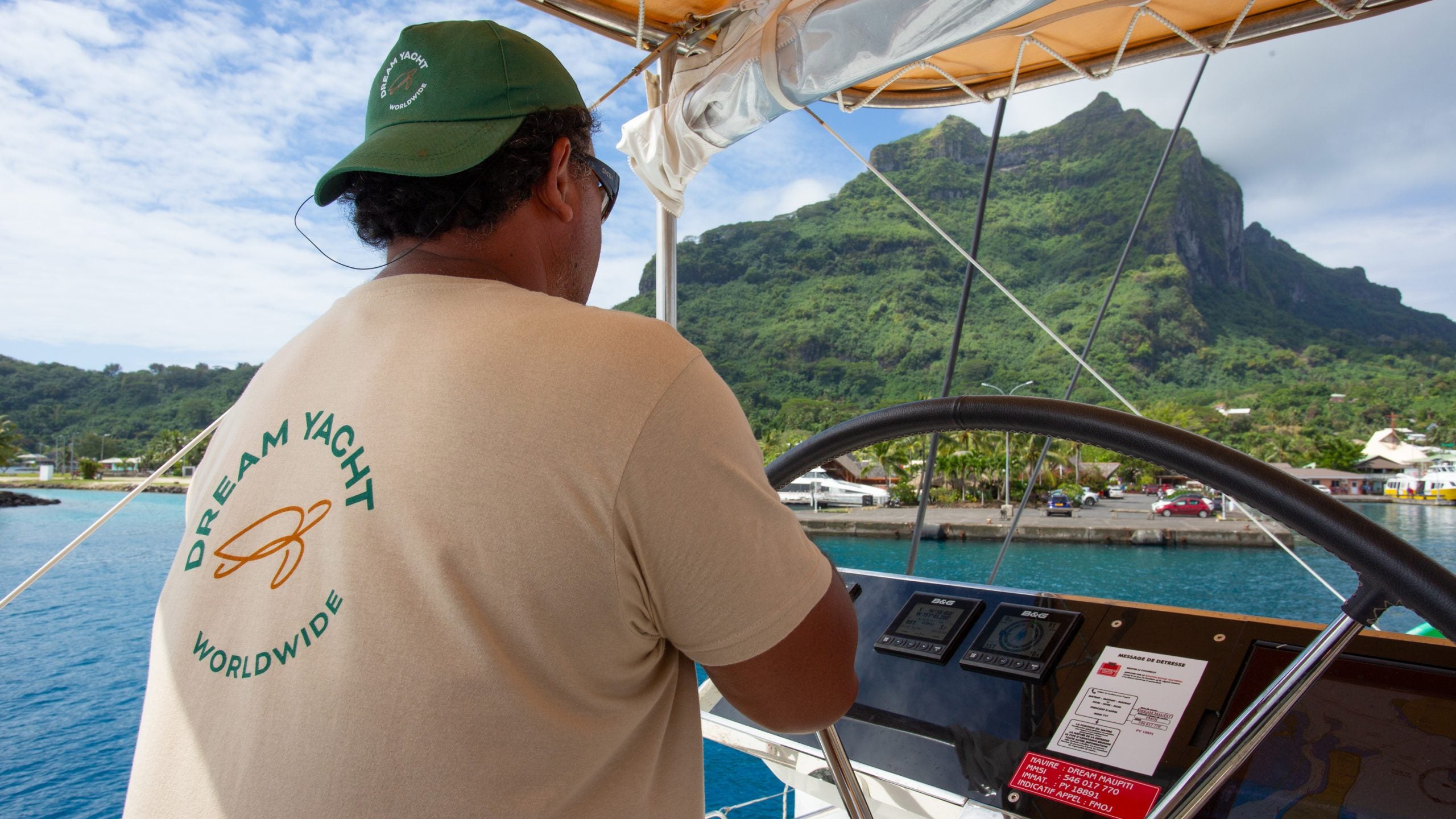 Access to the secret best spots on each island
Wen, our professional captain, handled the navigation while simultaneously providing extensive local knowledge, always with a helping hand and a watchful eye to keep our group safe and comfortable.
His advice was invaluable, from the best secluded beach, the most extraordinary snorkeling, and where to dine out. There's nothing like the feeling of freedom while snorkeling from the back of your yacht in some of the most pristine coral reefs with no other boats or tour groups for miles around. One of these spots was at the southern tip of Raiatea, off Motu Nao Nao, where we were the only yacht anchored for a blissful day of underwater exploring in seemingly unending coral gardens.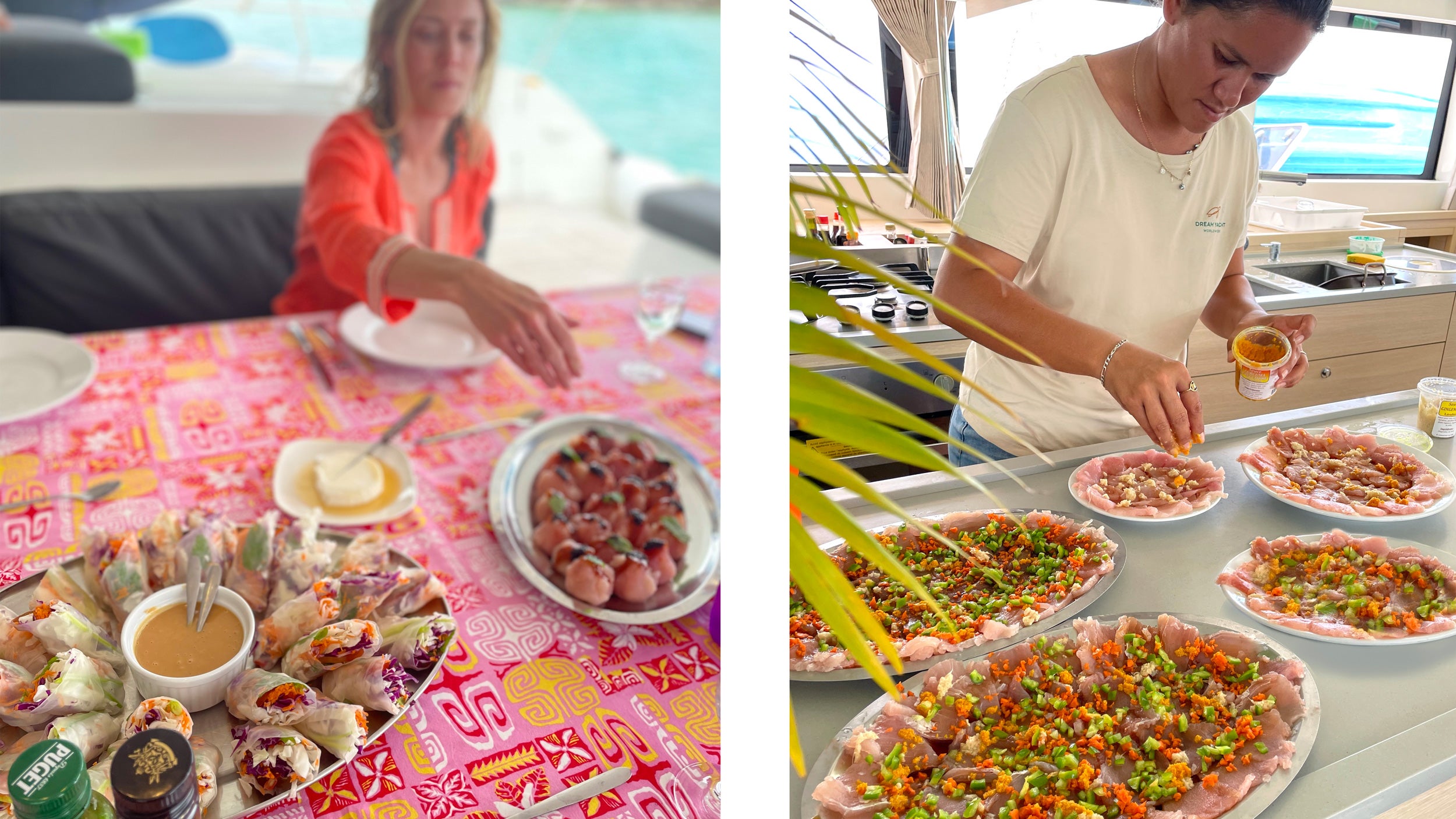 Unmatched meal experience
Even while surrounded by some of the world's most stunning natural beauty, our group agreed that the onboard meals were an absolute highlight of our trip. Our hostess Heina planned an amazing menu for us day after day, not once disappointing our hungry crew mates. Breakfast, lunch and dinner, desserts and daily cocktail hour are all included and the quality was beyond our expectations. Fresh ahi tuna is widely available in Tahiti, and a very welcome part of our meals.
We awakened daily to fresh coffee and a hearty breakfast, returned from snorkeling to awaiting appetizers and cocktails, and enjoyed a family-style dinner each evening at the open air dining table, amid laughter and stories from the day.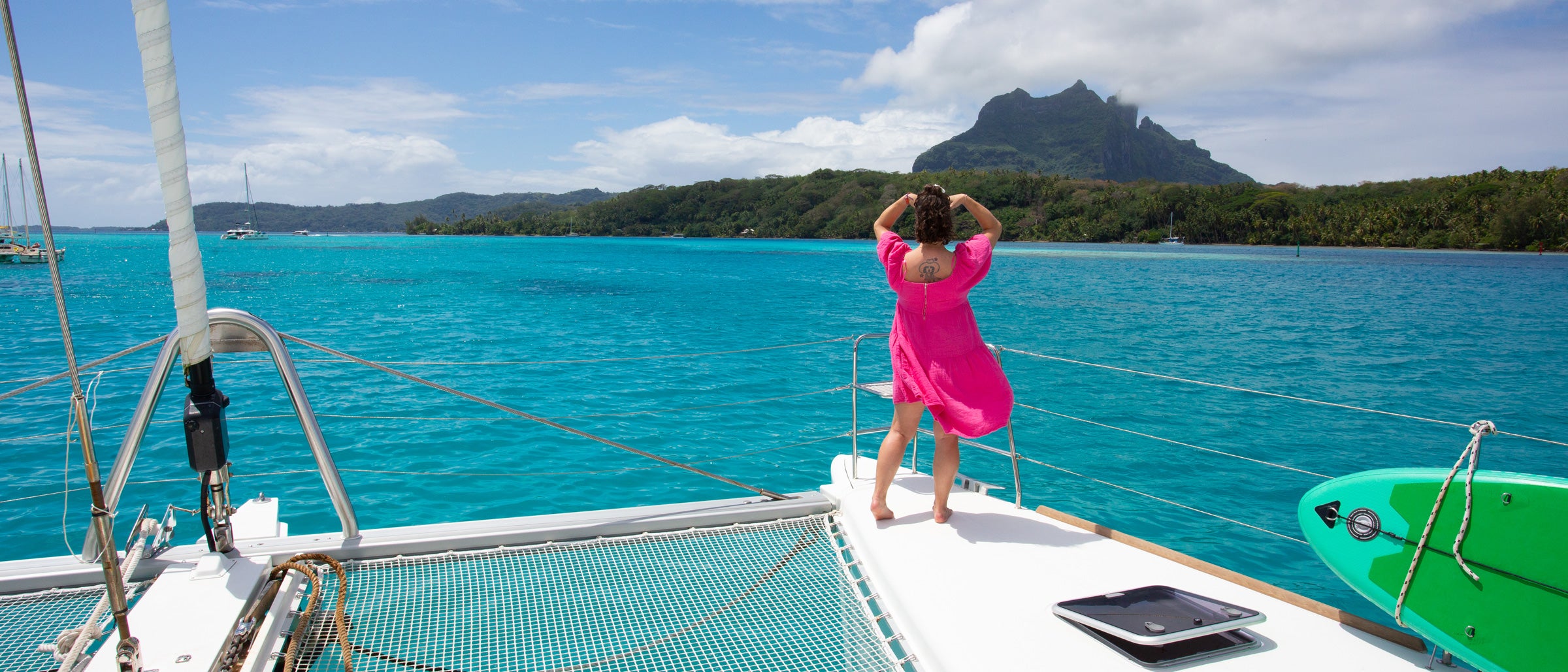 The best snorkeling and sea life
For water lovers, this cabin cruise is a can't-miss experience. I have snorkeled in some well-known places throughout the Caribbean, Bahamas and Mexico, and the water clarity, reefs and sea life of French Polynesia are the best I've seen. Some of our favorite spots were experienced directly from our yacht, while others were just a short dinghy ride away.
One of these is the coral garden off the island of Taha'a, a renowned snorkeling spot where a shallow channel of crystal clear water between two motu (islets) creates a current that allows you to glide over the most dazzling display of coral and fish. The advantage of visiting here while on a yacht charter is the lack of crowds. We visited in the afternoon, long after the day excursions had departed.
It's a magical place, and we didn't want to leave!
Choose your own pace
The itinerary and structure of the Bora Bora Dream cabin cruise made it easy to take each day at my own pace. Simply relaxing on your yacht under the warm Tahitian sun with a good book is always an option. As is a refreshing swim in the sparkling ocean.
On the other hand, a fantastic adventure is never far away, whether you prefer kayaking to a nearby beach, a land excursion to learn about the fascinating local culture, or being picked up from your yacht by a power canoe to be whisked away for swimming with sharks.
Want to enjoy a local dinner out? The open air Bora Bora Yacht Club is just a short dinghy ride away. Polynesian dinner and show? It's included in the Bora Bora Dream cabin cruise – the perfect final evening to our adventure.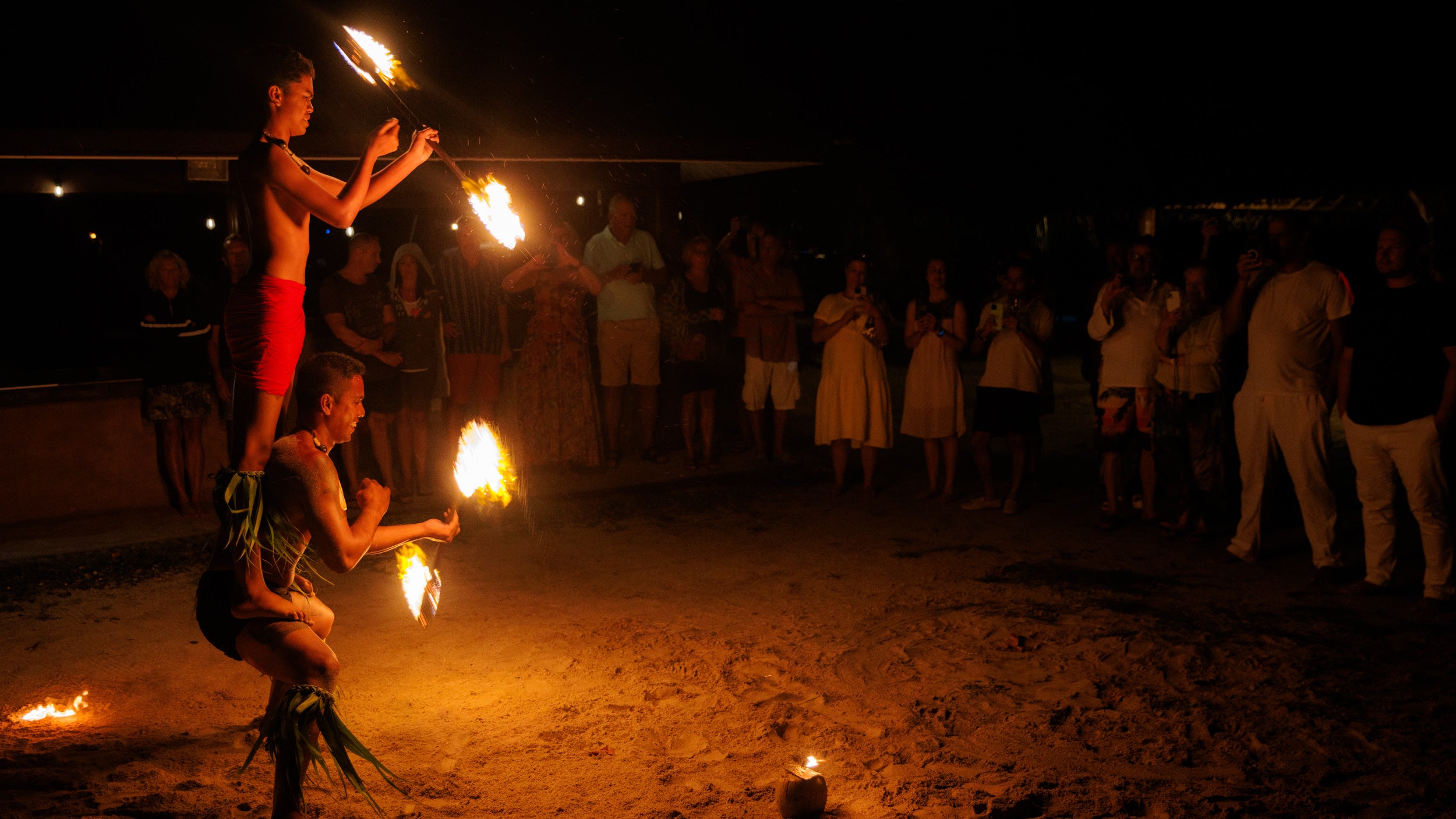 For me, it is truly a vacation that's hard to match, and by far the best way to see French Polynesia. Up close and personal.
___________________________________
How to get to French Polynesia
Dream Yacht's base is located on the island of Raiatea, just an 8 minute ride via taxi from the Raiatea Airport (RFP). To travel here, there are some flight options from Seattle and San Francisco, but most visitors connect through the Los Angeles Airport (LAX) with a 7-hour flight on Air Tahiti Nui to the Faa'a International Airport (PPT) on the main island of Tahiti.
From Tahiti, a short and incredibly scenic 45-minute flight will bring you to Raiatea. There are several inter-island flights to Raiatea each day, making getting to Raiatea very easy.
My flight arrived on Raiatea at 9am local time, and with 3 hours until boarding time I chose to join a land tour of the ancient sacred site of Taputapuatea Marae. Raiatea holds a special place as the "cradle" of civilization in Polynesia and learning some of the history from our local guide, Tara, was a very fitting beginning for my journey through these islands.
____________________________________
Learn more about cabin cruises, or one of our many other charter vacation options. Get in touch with our team today on 855.650.8902 or email [email protected] for more information.