A by the cabin sailing adventure might just be the most perfect vacation option there is. You and a partner or friend can experience ease and relaxation in some of the world's most stunning seaside destinations – without the hassles of itinerary planning, meal decisions, and unexpected costs. Just choose your destination and book a double cabin to begin your dream yachting journey, with a professional captain and hostess at your service! No sailing experience needed and nearly everything is included in the Cabin cruise package!
Your yacht awaits
A by the cabin sailing vacation package includes everything you'll need for your rejuvenating week at sea, beginning with a private comfortable double cabin for 1 or 2 people, each with its own ensuite bath. 
Your sailing yacht is a catamaran, which is both spacious and stable, featuring multiple common areas for dining indoors or out, socializing and lounging. Take in the sun and ocean breezes on the front deck or enjoy the lounging area and views from the upstairs flybridge. And a refreshing swim in impossibly clear waters is only steps away. 
Unlike cruise ships, our catamarans can anchor very close to shore – so you can take in the views of beautiful beaches and seaside villages, swim to the beach, or have your captain whisk you to shore aboard the dinghy. Enjoy excursions ashore without the crowds and feel the privilege of vacationing aboard a yacht.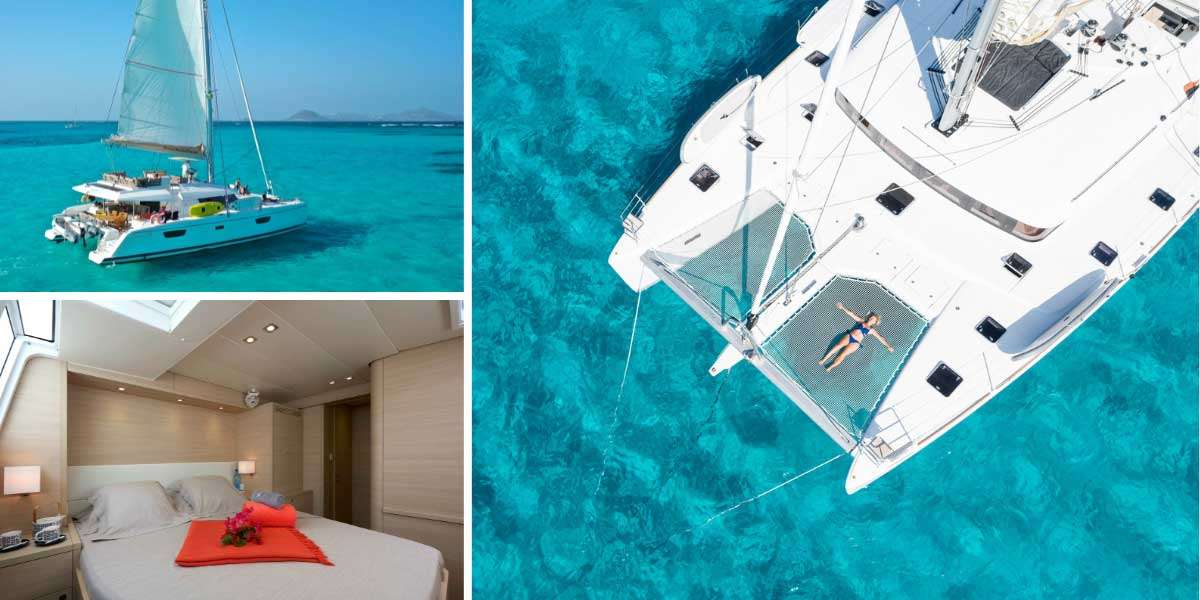 A new view each day
When you arrive at your base destination, you're greeted by your captain and hostess and escorted to your cabin to get settled in. And here's the amazing part – you'll enjoy a new stunning seascape view each day of your vacation without ever having to pack up and move to a new lodging or hotel. The itineraries are expertly curated to allow you to enjoy the best of your chosen destination. No research and planning required! 
Each day is a new sailing adventure with varied activities to choose from. Whether it's shopping at quaint settlements in the Abaco Islands of the Bahamas or snorkeling below the famed mountain peaks of Bora Bora. 
Dining at its best
Our by the cabin sailing vacation packages include all onboard meals, and are customized to your preferences, so forget the worries of buying groceries, meal prep or restaurant decisions. Awaken to the smell of coffee brewing and start your day with a full breakfast on the outdoor deck, including fresh local fruits and more. And there's nothing more satisfying than coming aboard following a morning of dazzling snorkeling to find a fully prepared lunch awaits. Perhaps today it's a Caesar salad with grilled shrimp. Your chef will delight and surprise you with scrumptious meals and snacks over and over again during your week on board!
As the day winds down, your chef prepares another mouthwatering dinner – sometimes even serving the captain's fresh catch of the day – and guests reminisce on the day's sailing adventures while taking in a breathtaking sunset. Later, take to the flybridge to toast to a perfect day with a glass of wine under the stars.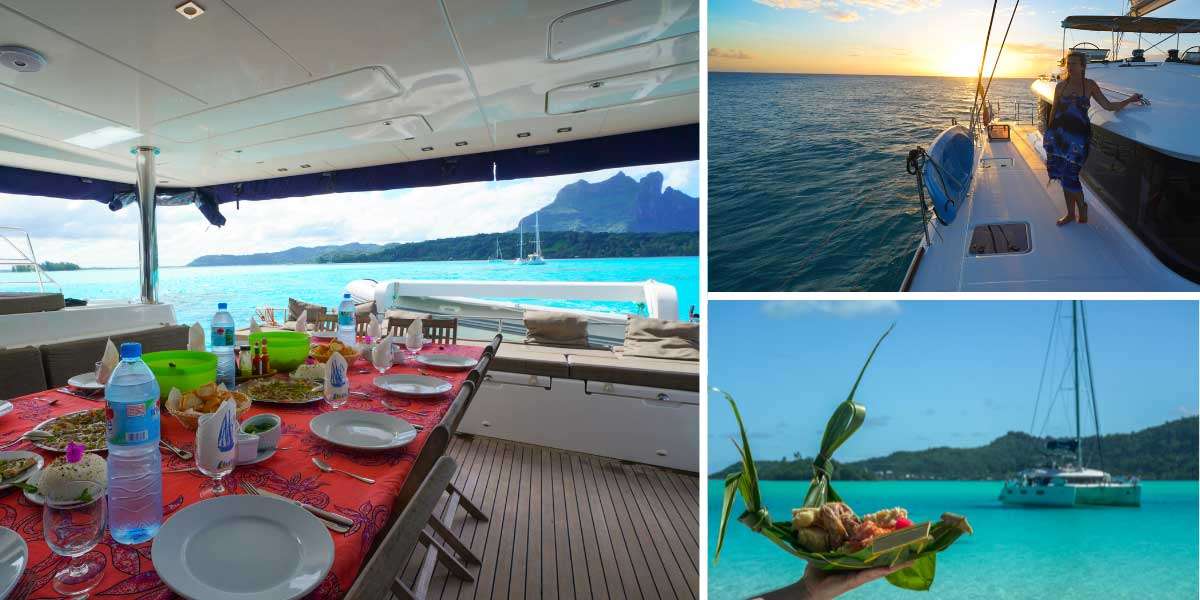 Activities and options
With our sailing vacation packages, you'll have daily activities readily available to enjoy. Swim directly from the back of your yacht or jump aboard the included kayak or paddle board and explore nearby beaches and coves. Or snorkel some of the most colorful reefs, long after the crowds of cruise ship snorkeling tours have departed. It's all included and waiting for you on board. 
Looking for more options for exploring ashore? Take to land to hike, explore, shop, or dine. Perhaps a nightcap at the Bitter End Yacht Club in the BVI. Or a casual lunch ashore in St. Barth's at Le Select, where Jimmy Buffet wrote the song Cheeseburger in Paradise. Your captain can offer the best local "insider secret" places to visit, as well as optional excursions for land-based exploration. 
Social sailing
One of the joys of our sailing vacation packages is meeting new people from all over the world. Enjoy lively conversation around the dining table, or quiet moments on the flybridge with new friends as the sun sets on yet another perfect day. Indeed, there are many reports of lifelong friends made while vacationing on a by the cabin charter – and returning together year after year to recapture the amazing sailing adventures on the water.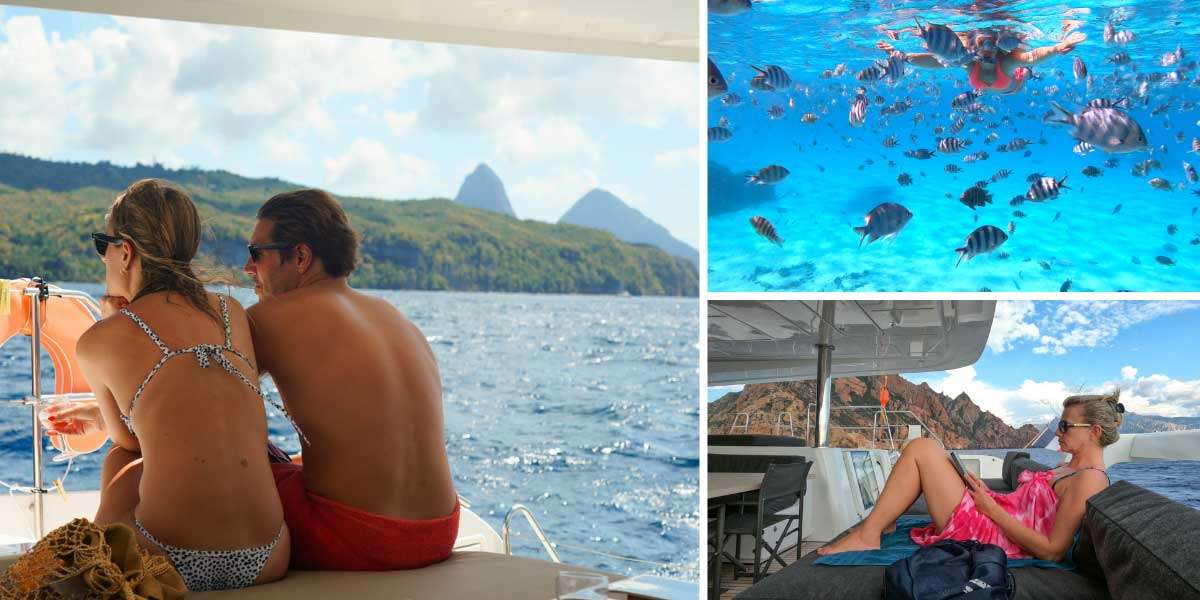 World-class destination options
At Dream Yacht Charter there's a by the cabin destination to fulfill anyone's bucket list vacation.  If the Caribbean is calling, you can experience just about any region from the smooth sailing and beaches of the British Virgin Islands to the French cuisine and culture of Martinique, to the lively seas and lush landscapes of the Grenadines. 
Sample our Mediterranean destinations to discover Italy, Spain, or the beautiful French island of Corsica off the coast of Italy. It's one of the easiest ways to get to know Mediterranean cruising and experience the true beauty and culture of the regions – without the crowded cruise ships. 
Experience our exotic destinations in the remote Indian Ocean in Seychelles or the Maldives for some of the most spectacular beaches and snorkeling on earth. Or visit unique and captivating cultures that are exceptionally warm and welcoming in Tahiti and Thailand. 
For a sailing adventure that's close to home, yet every bit as breathtaking, discover cruising in the Bahamas with our Exumas or Abacos out islands by the cabin charters.
Affordable & easy
Contact us now to live the amazing experience of a week aboard a yacht in the stunning destination of your choice, with the complete relaxation of knowing your captain and chef have taken care of every detail. All without the expense of chartering a full private yacht!
It's more affordable than you might imagine, and you just might find yourself returning for another Dream by the cabin charter again and again.  So…where to?
Watch our Seychelles Dream Premium Cabin Cruise video
Find out more
Everyone should treat themselves to a bit of luxury on occasion, and a by the cabin sailing vacation package is the perfect place to indulge. Escape the crowded cruise ships, and get a taste of the yachtie lifestyle aboard a yacht in your dream destination.
Learn more about by the cabin charters, or one of our many other vacation options on our blog. Get in touch with our team today on 855.650.8902 or email [email protected] for more information.