Have you ever been on vacation and not wanted to go home? A sailing vacation can make you feel so free that you can't wait to keep the adventure going. Sailors Marjorie Fillet and her husband, Thibault, felt that way and began to plan their long-term charter in the Pacific with their two young children, Ulysses and Titouan. Find out how they enjoyed six months of sailing the Pacific.
Finding the right moment for adventure
After living and working for eight years in the yachting sector in Asia, Marjorie decided that it was time they had their own long-term charter adventure at sea. The family regularly sailed aboard their First 20 in Hong Kong and on sailboats during vacation in Asia.
The couple had decided to return to Europe and wanted to take a sabbatical before returning to their respective jobs. This sabbatical period was the perfect time to go on a sailing adventure with their kids who were aged 5 and 6, big enough to make unforgettable memories.
Aside from the cultural experience, it was also important for Marjorie and Thibault to be able to make their children aware of the beauty and fragility of the marine environment, as they grew up in a very urban environment in China. What better way to do that than live at sea.
Choosing your long-term charter route
As keen divers and surfers, they chose the Coral Sea for their long family cruise. The sea is in the western part of the South Pacific, between New Caledonia and Vanuatu in the east, Papua in the north, Australia in the west and New Zealand in the south. It's a beautiful part of the world.
They began their adventure in after traveling to Nouméa to settle comfortably aboard Ganesha, their Lagoon 380. The excitement soon gave way to an immense joy that they would not have to leave their sailboat after one or two weeks as they usually did.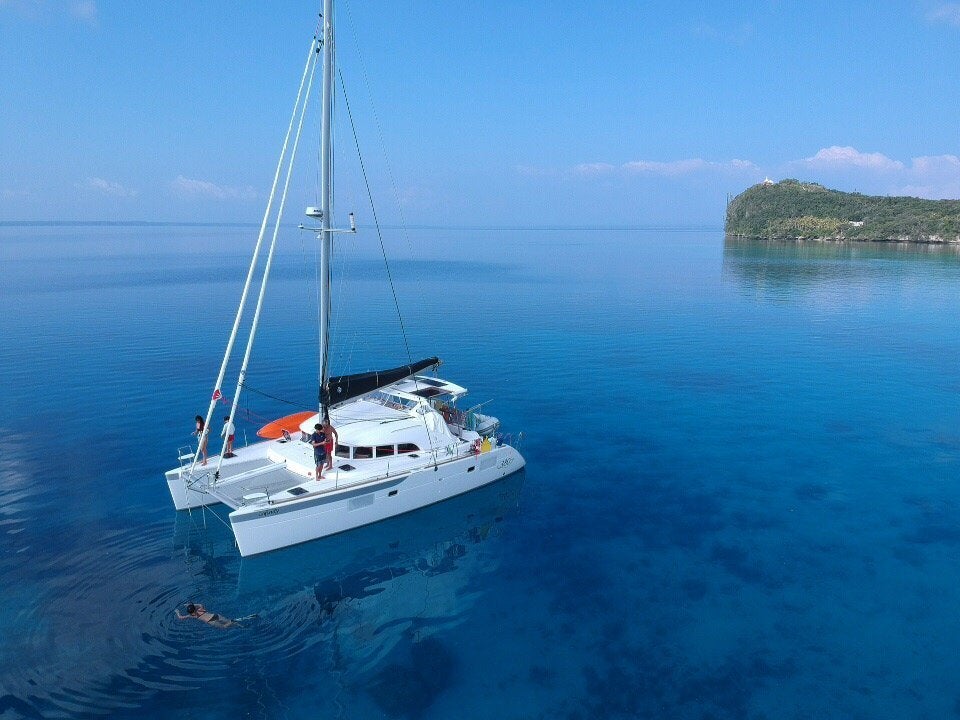 Adjusting to the lifestyle change of living aboard
As the date of departure arrived, many kept asking them how they would adjust from the frenetic, hectic pace of family life to a slower lifestyle where the sun and wind determine the schedule.
Marjorie said: "After a few weeks of living aboard, you learned the new rhythm and how to go with the flow as each new mooring delivered fresh adventures. You could take your time to discover an island, meet the locals, maintain the boat, fish, cook and sail.
"The children adapted and got up early and went to bed early too, perfectly tracking sunrise and sundown. We quickly adopted a lifestyle based on nature. If we had a quiet day, we'd advance the school curriculum, but easily forgetting what day of the week has just begun! This was punctuated with many breaks for swimming, reading, cooking, board games, drawing, football on the beach or trampoline (thank you catamaran!)."
Learning and growing together
Marjorie and her husband jumped on every opportunity to bring their lessons to life, incorporating exploration of the marine world, discovery of new plants during their stopovers and even stargazing. The children quickly saw themselves as "explorers of the seas" and their parents told them the story of the first European sailors who used the same routes as they were sailing, such as James Cook and Bougainville.
For these parents, it was a blessing to see their two boys growing up in such a unique environment. Marjorie said: "They went from noisy and agitated during the first weeks on board to quickly becoming true sailors, learning to be agile, resourceful, independent, always curious and playful!"
Marjorie was able to see their skills develop to become completely independent. In this isolated area, without marina or shipyard, they had to be able to solve all kinds of technical problems on their catamaran. They quickly realized that they could adapt in an extraordinary way to any situation thanks to their long-term charter sailing the Pacific islands.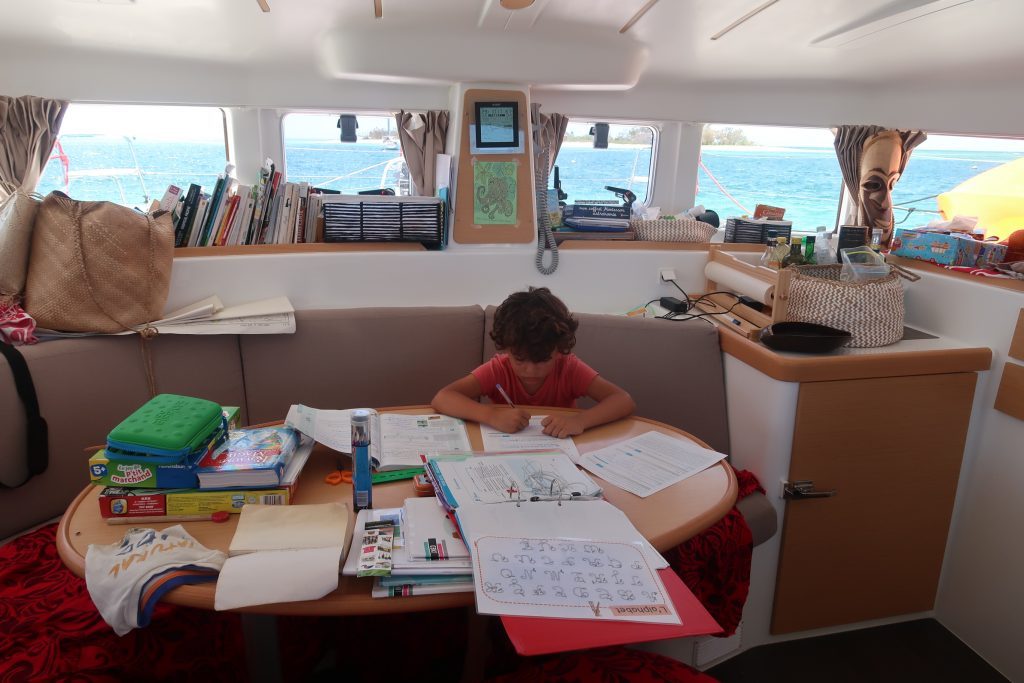 Planning an itinerary for a family long-term charter
During their long family cruise, Marjorie, Thibault, Ulysse and Titouan explored idyllic sites along the New Caledonian coast, before venturing further to the Isle of Pines and Loyalty Islands (Lifou). They sailed onwards to the magical archipelago of Vanuatu and sailed from island to island, from Tanna to Malekula and finally back to Nouméa.
Marjorie said: "In Vanuatu, we headed to south east Tanna, Port Resolution Bay and volcano eruptions turned the sky red and it was really impressive. It was one of the most amazing places we went to during our charter."
"We watched a traditional ceremony with costumes and dancing at the Island of Pines. The children loved seeing the whales, dolphins and turtles and dugongs."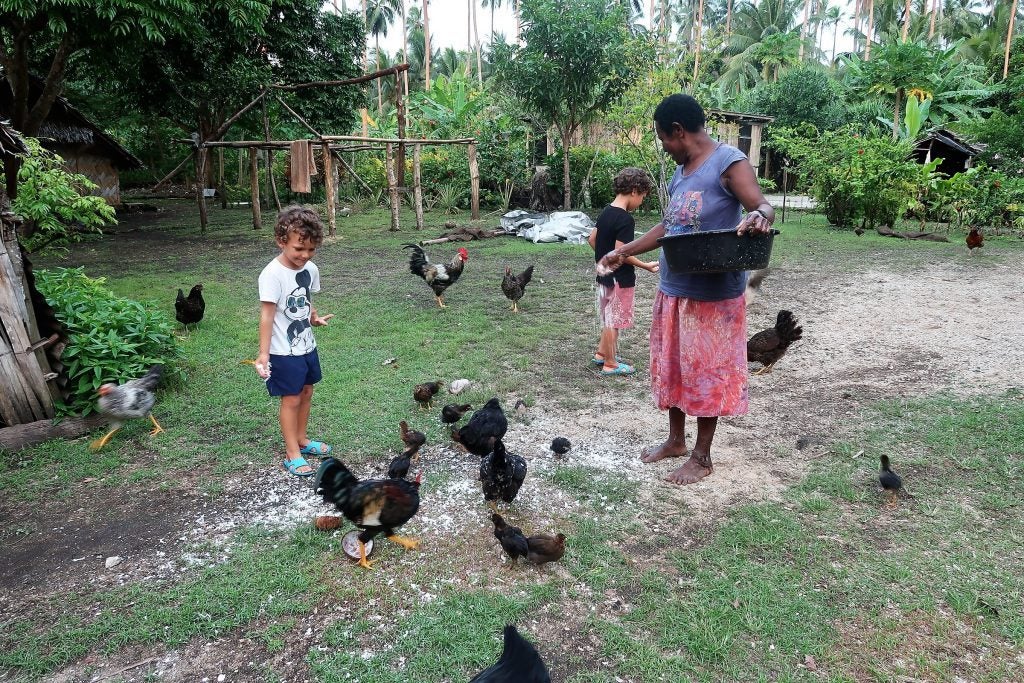 Share your experience with family and friends
The family didn't just have the 10 beds on their Lagoon 380 to themselves. They chose a boat large enough to allow them to welcome family and friends on board during their adventure and to share the fun. There is something magical about sharing the atmosphere of a long-term charter with the people closest to you.
Spending several months together strengthens family ties. They have created common memories that they will share throughout their lives. It's more than just a great adventure and a long-term charter is a wonderful gift for life.
One thing is certain, if you've dreamed of this adventure for many years, it's time to make your dream a reality!
Learn more about our long-term yacht charters
Our team can help you create the adventure of a lifetime. Spend one to 12 months at sea in the Mediterranean, Caribbean, South Pacific, Asia or even cross the Atlantic. With more than 50 bases around the world, you are never far from our experienced technical teams. Go with peace of mind and enjoy the nautical adventure of your life!
Find out more
Want more inspiration? Head on over to our blog. Alternatively, for more information on long-term charters or other sailing vacations, get in touch with our team at 1.866.469.0912 or email [email protected]