If you're always on the lookout for a best-kept-secret tropical vacation destination, you'll want to read our interesting facts about New Caledonia. While many have heard of the islands of New Caledonia, many more know very little about them – or even where in the world they are. Read on, and you just may find yourself planning a secluded sun-filled sailing escape!
New Caledonia is a French territory, but it's located in the South Pacific
The country was discovered by James Cook, a British naval captain and explorer, on September 4, 1774 while on a three-year voyage aboard HMS Resolution. He named it New Caledonia, as it reminded him of Scotland.
New Caledonia is an archipelago off the coast of Australia in the South Pacific and New Caledonians speak French as the main language. It's surrounded by the well-known paradise islands of Fiji and Tonga to the east, Solomon Islands and Vanuatu in the north, while New Zealand is to the south and Australia to the west. Lying 750 miles east of mainland Australia, it takes less than three hours to reach New Caledonia from Sydney, Australia.
The land area of New Caledonia is bigger than Hawaii
The country has a land area of 7,172 square miles – rather small, but bigger than Hawaii and about the size of New Jersey. It offers visitors mountains, rainforests, coral reefs and islands. The territory consists of four archipelagos, including the main island of Grande Terre, the Loyalty Islands and many smaller islands.
The Loyalty Islands include Lifou, Maré and Ouvéa and can be found off Grands Terre. If you love vanilla then head to Lifou, which is a key producer of the Madagascan variety. Maré is known for its avocados and Ouvéa for its coconut oil. You can extend your stay in New Caledonia by catching a connecting flight from our base in Noumea to the Loyalty Islands.
New Caledonia is a stunning tropical island paradise
The coast of New Caledonia is blessed with some of the world's most idyllic beaches, and crystal clear waters. One example for you to explore is Kuto Bay, Isle of Pines, where you will find sheltered sweeping white sands and azure waters, as well as beachside dining spots.
Beyond the palm-fringed beaches, the diverse geography boasts hidden coves, misty mountains, towering cliffs and abundant bushlands and forests – all set within a sunny tropical climate. Over 100,000 tourists flock here each year to take in the famed beaches, warmth and beauty.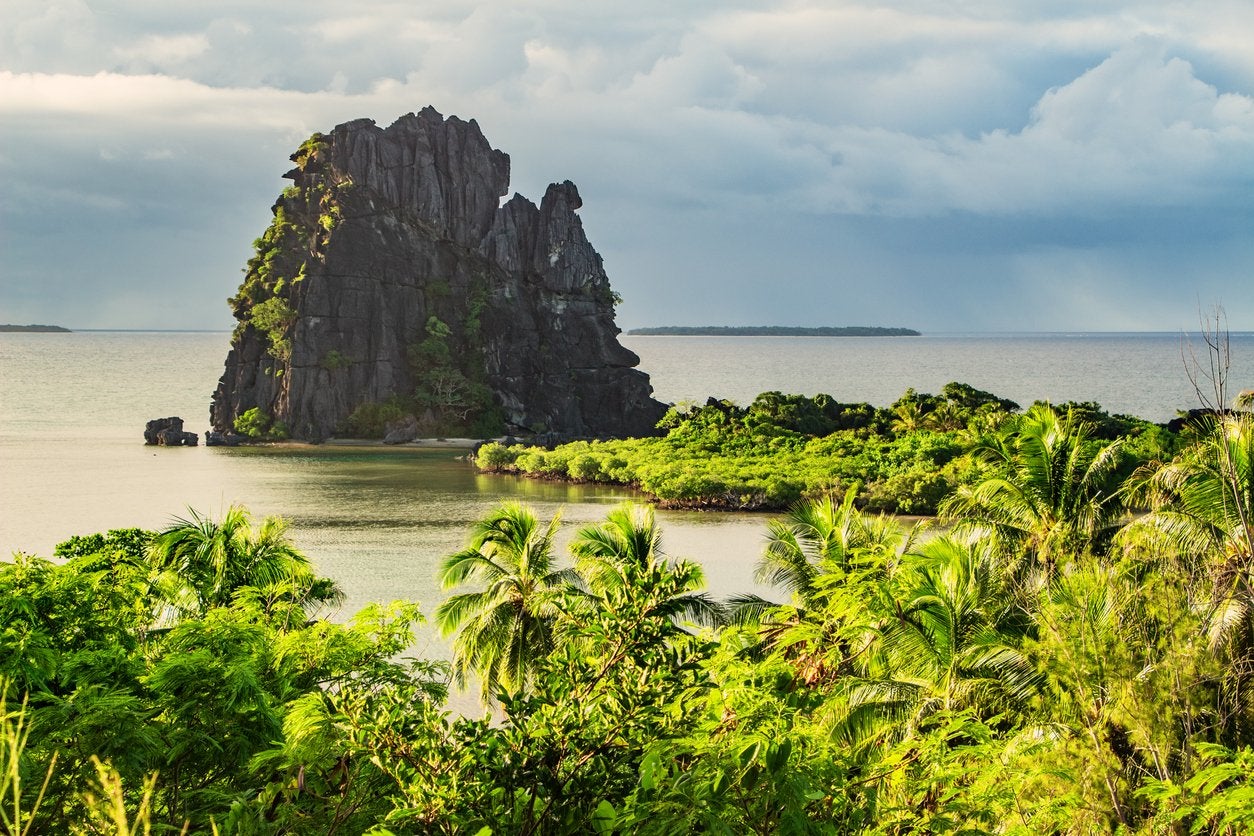 The indigenous people of New Caledonia make up 42% of the population
The country was settled by the Kanak people over 3,000 years ago and it's an interesting fact about New Caledonia that the Melanesians are still the largest segment of the population. The Kanak people live in tribes, led by a chief, mostly on Grande Terre, Isle of Pines and the Loyalty Islands. You can stay on their land but must respect their traditions and customs, such as giving a gift and introducing yourself to the tribe.
The remaining population is a melting pot of people and cultures, including European, Tahitian, Indonesian, Vietnamese, and more. The diversity of influences has created a rich, exciting culture of traditions, languages and gastronomy.
New Caledonia is rich in nickel and minerals
Another interesting fact about New Caledonia is that nickel is the island's primary export, and the country is estimated to hold about 10% of the entire world's nickel reserves. An engineer named Jules Garnier began mining nickel on New Caledonia in 1894. From 1960 onwards, nickel mining and production operations played a major role in the country's economic development. Today New Caledonia is the third largest Pacific nation by GDP, following its considerably larger neighbours, Australia and New Zealand.
The world's largest lagoon surrounds the entire island
The lagoon encircling New Caledonia is the world's largest at over 9,000 square miles. It was designated a UNESCO World Heritage Site in 2008. The surrounding barrier reef is one of world's largest and the marine biodiversity found here is known to be exceptional. It's home to green, hawksbill, loggerhead and leatherback turtles, tropical bird, rare crabs and, for part of the year, humpback whales.
New Caledonia is a world-class scuba diving destination
The massive barrier reef and beautiful "natural aquariums" of New Caledonia make it a sought-after dive destination. An extensive network of more than 30 protected marine reserves has assisted in making sure that the reefs and marine life are protected and thriving. Some say that snorkelling and scuba diving in New Caledonia is so pristine that it must resemble what coral reefs looked like a century ago. Plus, superb dive spots are so plentiful that they are rarely crowded, and it's entirely possible that you won't see another boat during your dives.
New Caledonia is known as a whale watching destination
Every year, hundreds of southern hemisphere humpback whales migrate north to warm up in the tropical waters of New Caledonia. Once they arrive, they mate and keep newborns close to shore in the safe waters of the southern lagoon. July to September is the best time to observe the whale pods before they depart for deeper waters.
You can charter a private yacht to sail and explore beautiful New Caledonia
If our interesting facts about New Caledonia have you ready to plan a visit, you should also know that one of the best ways to see this unspoiled tropical paradise is from aboard a yacht. With no set itinerary, sailors can explore inside the southern mainland's extensive lagoons and atolls, stopping at will to enjoy the nearly endless selection of beautiful coves, reefs and inlets.
Find out more
Ready for an Instagram-worthy South Pacific adventure? Experience New Caledonia the way it was meant to be appreciated – from aboard your own private yacht. Seasoned sailors can be their own captain on a bareboat charter, while a skippered charter is a wonderful way to relax and enjoy the extensive knowledge of a local professional.
Learn more about yacht charters in New Caledonia, or one of our many other exciting destinations on our blog. Get in touch with our team today on 02380 455527 or email [email protected] for more information.