A skippered yacht charter can be the perfect way to enjoy a sailing holiday without needing any previous knowledge or experience. Discover more about them from UK client Aimee, who has recently returned from her very first sailing holiday and here, shares a first timer's guide to a skippered yacht charter.
Having worked in the travel Industry for nearly 20 years, I've had the pleasure of visiting some of the world's most amazing destinations, but when it came to arranging something special for my 40th birthday, a yacht charter in Greece with my husband and eight of our closest friends seemed liked the perfect option.
No experience required!
Beautiful turquoise waters, secluded bays and island hopping around Corfu sounded so appealing, so when I asked my friends if they'd be interested in joining me they all jumped at the chance. Just one problem – none of us can actually sail! Thankfully, Dream Yacht offer skippered yacht charters, and so that issue quickly became irrelevant!
In addition to that, a couple of the group expressed their concerns about whether it would actually be feasible from a financial point of view. After all, a week sailing around Corfu and the nearest Ionian Islands on a private catamaran which needed a skipper, might be considered too 'luxury' for a group of average people who's bank balances were more aligned to that of your average Joe Public than individuals appearing on Made in Chelsea!
Our concerns were immediately alleviated when we realised that, on paper, the cost of the charter and the skipper may have looked a little high, but when divided by 10 of us, was far less than the cost of a normal fly and flop holiday. Even after we added the flights on. We also created a kitty between the 10 of us with the intention of having enough money to split mandatory costs such as provisionings, fuel, berthing and meals out. And it turned out we actually had spare cash when we came home.
Easy peasy!
The booking process was simple – we spoke to Sue in the UK sales team and requested the dates we wanted to sail and advised how many of us there would be so she could offer us a suitably sized catamaran. Our quote was sent over almost immediately and after all agreeing, we paid our deposit and started counting down the days.
As June approached, news of flight disruptions kept more than one of us awake at night, but thankfully we experienced no delays at all. Having booked early embarkation for 1pm, we decided to fly out a day before our charter was due to start on Saturday, so that no time was wasted and we could join our catamaran promptly and head off. Check in at Gatwick was relatively painless with minimal queues and we departed on time, arriving in Corfu as scheduled. After an afternoon of pool swimming and cocktails at a nearby hotel, we said goodnight and made our way to bed, eagerly awaiting the next day's adventures.
Our Corfu Skippered Charter itinerary
Day One – Gouvia Marina – Agni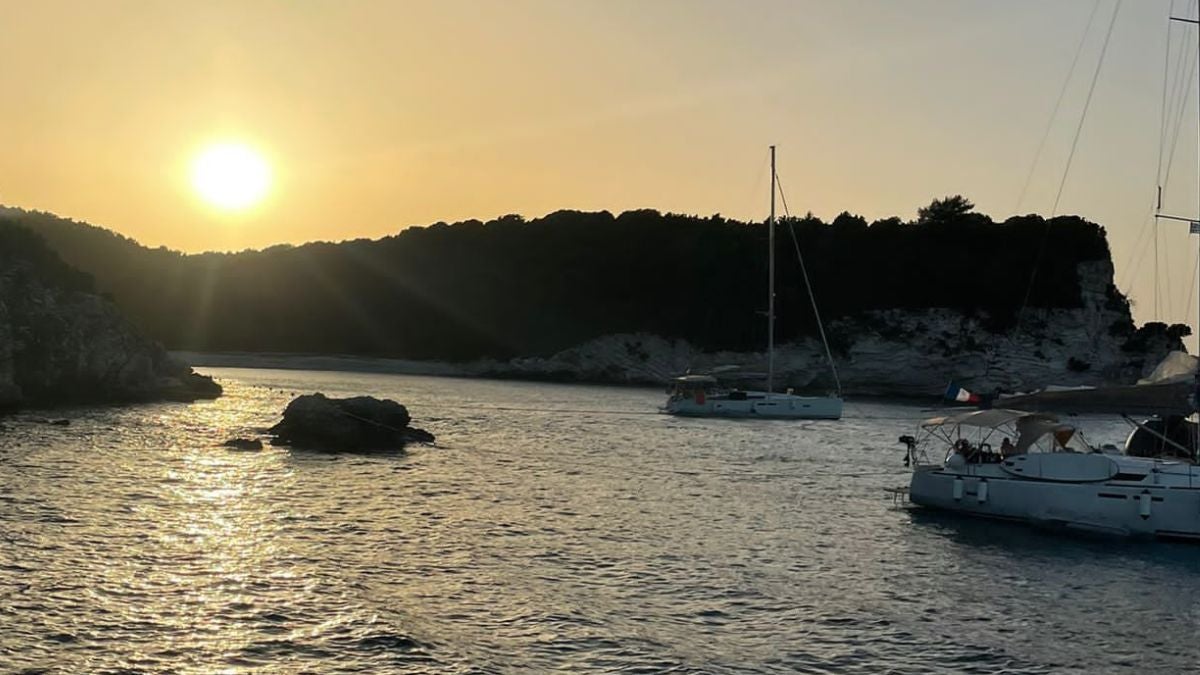 Following a trip to the local supermarket to purchase our provisionings, we arrived at Dream Yacht's base in D-Marin Gouvia around 12pm. While we had been sent the base guide and encouraged to read it prior to arrival, none of us, including myself, had, which resulted in us advising the taxi driver to 'drop us at the main office' which was in fact around half a mile away from Dream's. As you can imagine, 10 people carrying a lot of luggage and €160 worth of bottled water, mixers and staple foods in 35 degree heat resulted in some rather sweaty encounters with a few expletives thrown in!! But, once we arrived at the office, we were warmly greeted by the base manager, Angela, and one of her team, Sandra, who quickly helped us fill out the necessary paperwork and introduced us to our skipper for the week, a wonderful mainland Greek national, Nikolas, who accompanied us to our home for the week – a stunning Bali 4.3 catamaran named "Meaban".
After our safety brief and nomination of our "Captain B" and anchor man, we started to plan the week's itinerary. Our only requests were to visit Paxos, Antipaxos and the Blue Caves. Based on wind streams that the skipper had checked in advance, he suggested we aim to visit them on Monday, avoiding the forecasted winds on the Sunday which would have meant we weren't able to get as close to the stunning natural formations as we'd have liked.
As a group of 40 something's desperately trying to hold on to our youth, we had initially suggested we may like to go to Kavos for my birthday, which just so happened to coincide with our first day and night on board. However, on joining the catamaran and meeting our skipper, it was instantly apparent that Nikolas, later referred to lovingly as "Patrice" thanks to Captain B's inability to grasp his actual name, was an expert in sailing the islands of the Ionian Sea and had detailed knowledge about the best places to visit. So with that in mind we put all of our confidence in him, and allowed him to choose the first night's location for us based on the fact that we wanted delicious food, flowing alcohol and great laughs. And we were not disappointed!
We set off towards the open seas and after enjoying a couple of hours sailing, arrived in the most gorgeous secluded bay, Agni. With us the only large catamaran in, we were able to berth off the bay's jetty free of charge, and were advised by Nikolas that he had booked a table for us for 8:30pm at the Agni Taverna. We invited him to join us and after an hour or so of swimming in the most spectacular turquoise waters, all returned to the cat to get ready for the evening. Our meal was fantastic and a few of the group headed next door to an aptly named restaurant and cocktail bar, "Nikolas Taverna" (no connection to our skipper) for a nightcap, before heading back to the cat for our first night's sleep on board.
Day 2 – Agni – Petriti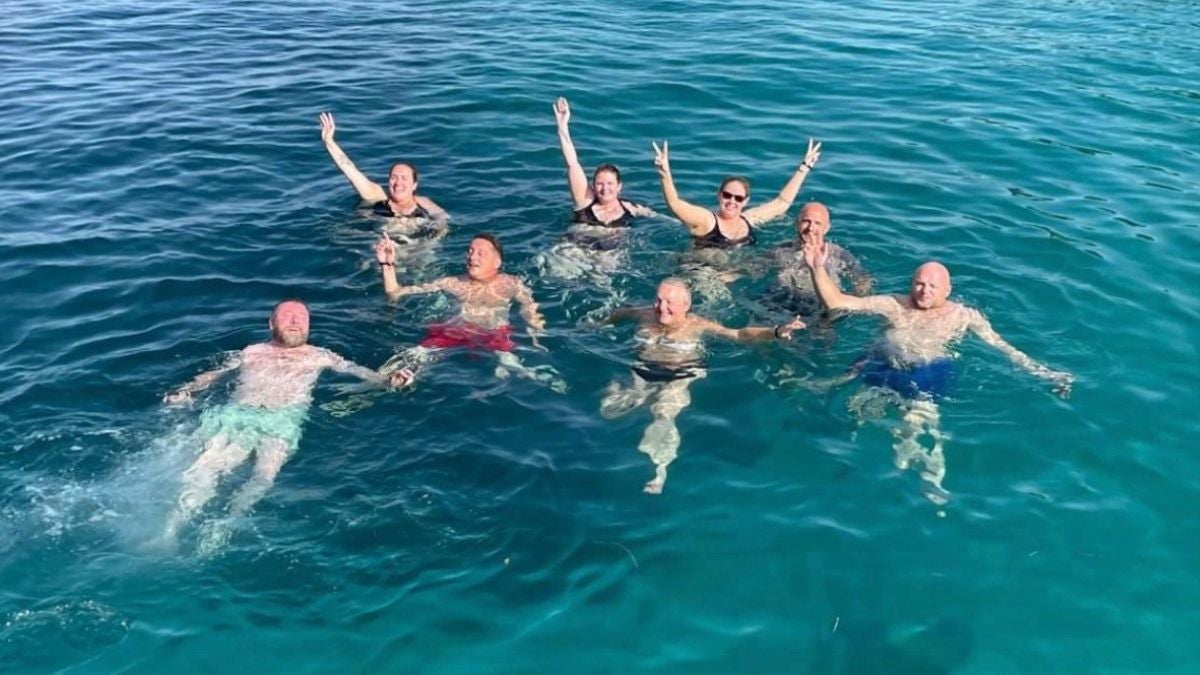 Our first morning waking up on board was surreal. Being able to sit and drink a coffee on a 43ft catamaran while watching the sun come up over the horizon is a special moment that will stay with me forever! The tranquility of watching Mother Nature at her best while listening to gentle waves lapping against the side of the cat is an experience like no other and set the scene for most of the week.
Once we were all up we ventured back ashore to Nikolas' for a quick spot or brekkie before heading back on board and setting sail. Today's agenda – swimming, sunbathing and shade hunting followed by a meal ashore in the little fishing village of Petriti on the the south east coast of Corfu.
Nikolas sailed us to the most beautiful stretch of coastline where the cobalt seas kissed the shore of a long sand spit just east of where we would be spending the night. We all spent hours just bobbing around, swimming and searching for underwater marine life before heading back to sail to Petriti Marina.
After a few pre -dinner drinks and waiting for the boys to get ready (yep – you read that right!) we head ashore and enjoyed a waterside meal before wandering back for another warm night on board! Thank the Lord for air con!
Day 3 – Petriti – Paxos – Antipaxos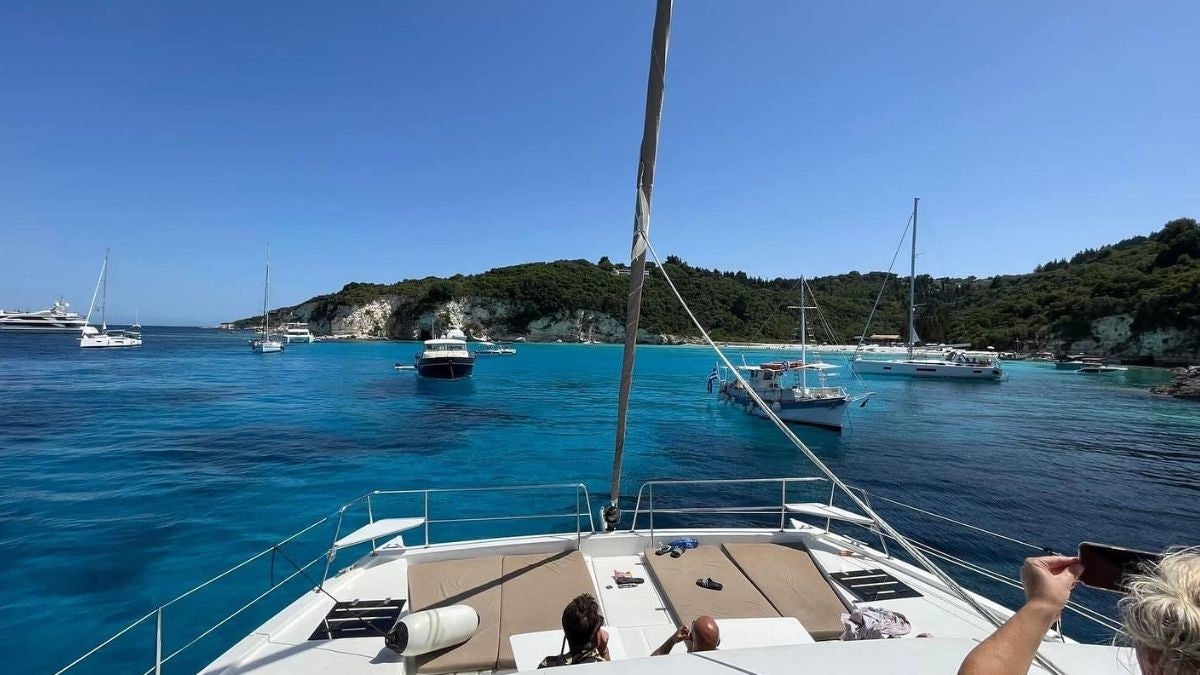 After a peaceful night's sleep on board, we set sail from Petriti to Paxos' famous Blue Caves. I'd anticipated them being spectacular but nothing prepared me for the sheer beauty that awaited us. Being on the catamaran meant we could get far closer to the caves than if we'd have picked up an excursion boat from Corfu or the mainland, allowing us to swim into the very heart of them.
The water was the clearest sparkling azure colour I have ever seen and was as warm as a bath. Their sheer magnitude enabled an echo that seemed to carry for minutes. We were all completely in awe, and so thankful to Nikolas for ensuring our visit was wind free so we could really enjoy the experience. After an hour or so of swimming and snorkelling, we headed back on board for a light lunch of salad, pasta and halloumi before setting sail again – this time to Antipaxos where we would drop anchor for the night.
It was on this day that the cocktail of the holiday was created, "The Dirty Bilge ", a fruit juice based drink, consisting of a variety of spirits, a can of sprite and a fruit Calypso. An acquired taste, but one that I suspect the 10 of us will continue to refer to and occasionally make in the future. This, combined with rather a lot of tequila, a decent playlist and a disco ball, saw each of us let our hair down until midnight where, as the clock struck, we all sang happy birthday to my husband before heading to bed ready for another day of adventures tomorrow.
Day 4 – Antipaxos – Gaios, Paxos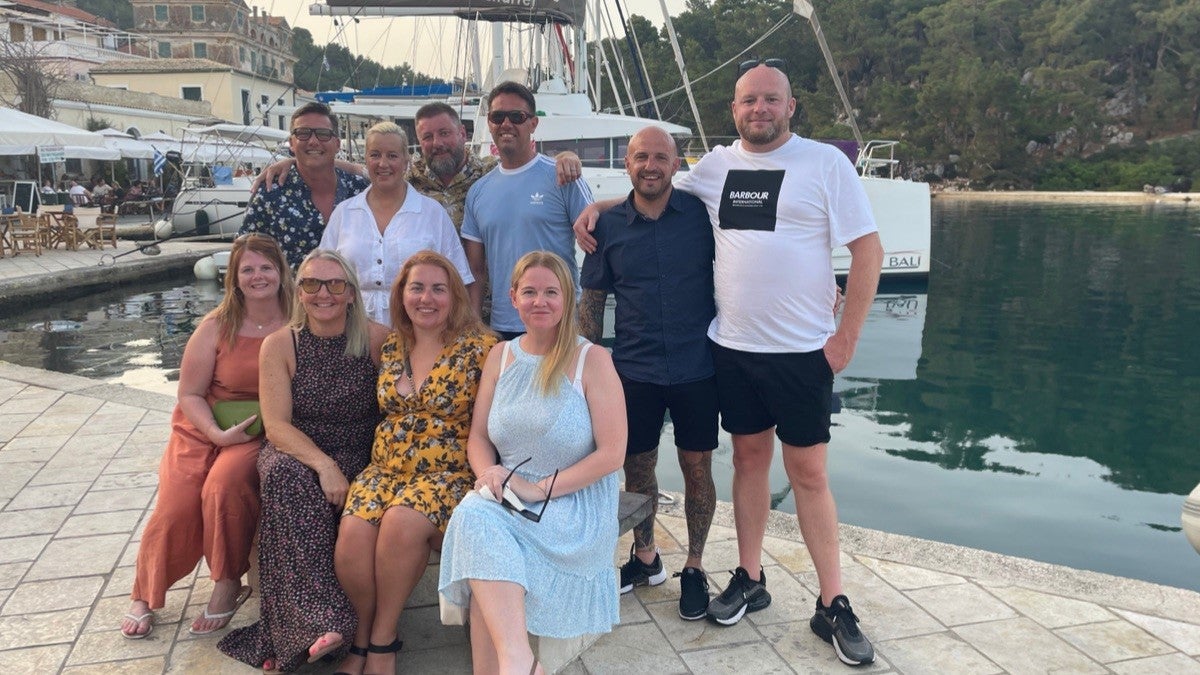 We we're up bright and early for day four of sailing. The phrase "it's five o'clock somewhere" was mentioned more than once by more than a few of us who were keen to help my beloved celebrate his birthday in style! We set off from our beautiful secluded bay that had been home for the night and headed north towards Gaios, the capital of Paxos!
We arrived around 1pm, berthing in Gaios Marina where we would stop for the night, and headed ashore to find somewhere to grab a spot of lunch. The area is littered with quaint little bars and restaurants, each serving a selection of delicious fresh fish and seafood caught that very morning not far from where we sat. We enjoyed an afternoon sipping ice cold cocktails in 35 degree heat and wandering around the maze like cobbled streets lined with delicate boutiques before heading back on board to get changed for the evening.
After a meze style dinner in the main square (and copious Pina Coladas and Long Island Ice Teas), Nikolas lead us to a small but lively cocktail bar just 300 yards from our catamaran. We would stay here until the early hours, dancing on the promenade and laughing so hard our stomach muscles hurt, before heading back…via a kebab house! It seems you can take the girl out of England, but you can't take England out of the girl!
Day 5 – Gaios, Paxos – Syvota – Perdika, mainland Greece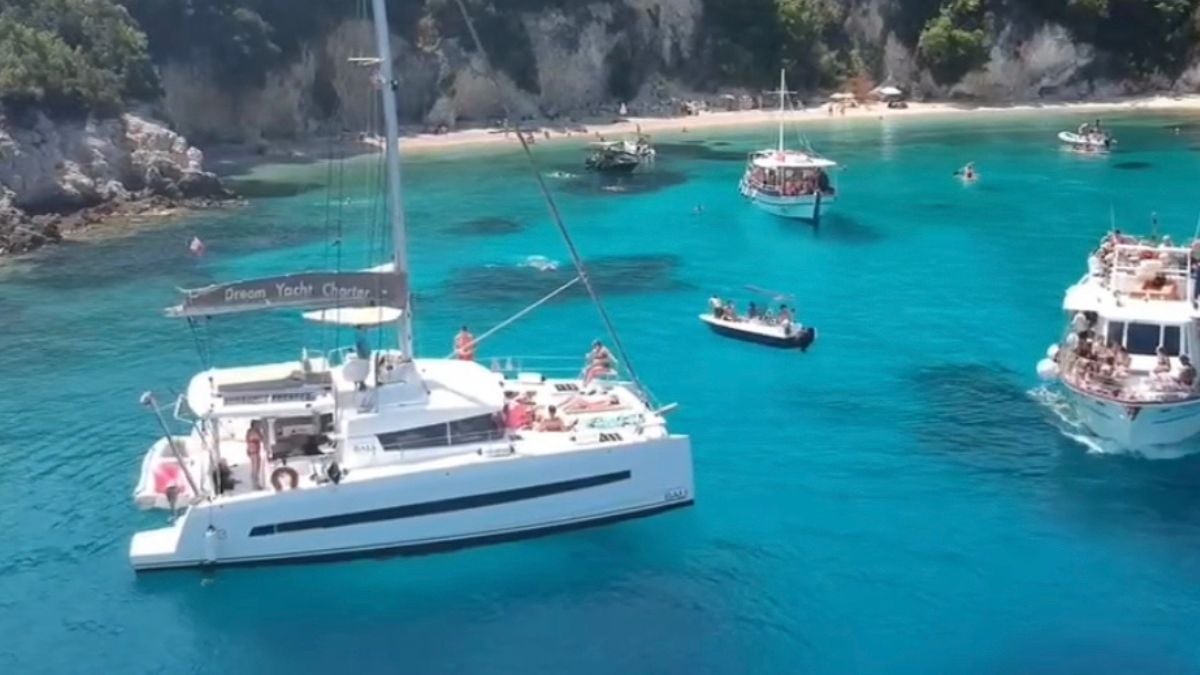 Before embarking on this holiday, myself and one of my friends had 'allowed' ourselves just two hangovers while on board! Today was one of those days! Luckily, the sea air and refreshing waters were enough to knock it away quite rapidly and normal service resumed shortly after lunch!
We headed out of the Marina around 10am and set sail for the mainland where we would have the opportunity to swim in Syvota's busy but beautiful Blue Lagoon. After an hour or so, we hopped back on board and headed down to Perdika, a small fishing village with a secluded volcanic black sand beach lined with wicker sun shades and loungers, where we spent a few hours swimming, sunbathing and sipping cocktails from the waterfront bar.
After a lazy afternoon, we got showered and changed and headed back ashore to the Arilla Fishbone restaurant where we witnessed the most amazing sunset over the paradisal backdrop of the horizon. While the earlier hangovers had now dispersed, each one of us were pleased to head off to bed where we would look forward to visiting Corfu Old Town the following day.
Day 6 – Perdika, mainland Greece – Corfu Old Town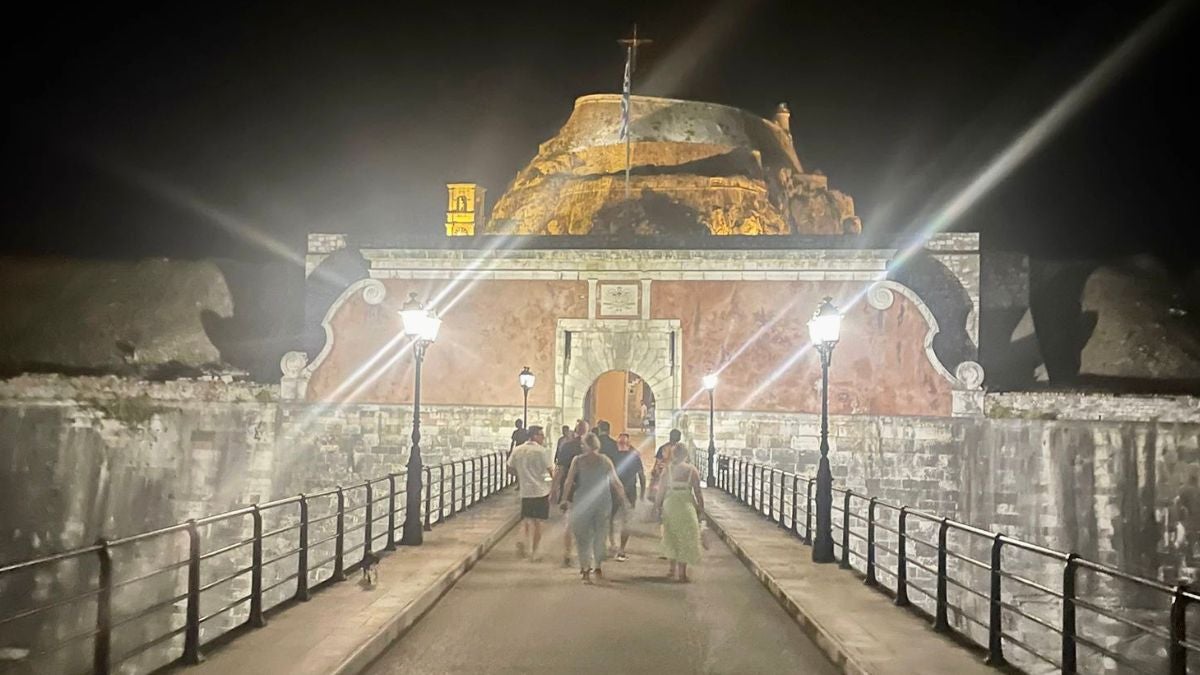 Initially, we had no plans to visit Corfu Old Town, but while sailing past the medieval Old Fort on the way to Petriti, we asked Nikolas if he would recommend a stop off there on the way back to Gouvia later in the week, to which he very quickly responded, 'YES'! And so, on our penultimate day on board we set sail from the cute secluded bay in Perdika and headed back towards bustling Corfu via an empty little pebble lined beach. We swam and paddle boarded from the yacht to the shore where we stopped for lunch before returning back to the cat. It was at this point I realised how necessary my investment of a £18.99 dry bag from Amazon had been! We're talking 10l of waterproof amazingness, big enough to fit a towel, bank card, phone and sliders!
Once we were all accounted for back on board, Nikolas asked if we were ready and off we went. The Dirty Bilge was flowing now, spirits much higher than yesterday where the threat of a recurring hangover was far too strong to even go near a jug of anything alcoholic, let alone this tastebud tingler! We were given two options for the night's berthing – the standard marina or the VIP one. The difference in price was negligible between the ten of us and as the VIP marina was located directly underneath the Old Fort, affording us stunning views both inland and out to sea, we opted for that.
We had asked Nikolas to book us a table for dinner where we could watch the sun set. Once more, our amazing skipper pulled it out of the bag and after walking from the marina, through the Old Fort and its grounds, we arrived at a lovely restaurant with the most amazing view of the setting sun. After the sun went down and we had finished filling our bellies, we headed out into the town itself, visiting the largest square in Europe and learning from Nikolas about the island's most important monument, the Church of Saint Spyridonas, a popular tourist attraction but also a place of worship for many within the Greek Orthodox community. A cocktail or two later, we all decided it was time to admit defeat and head to bed. While some of us were still clinging onto our youth for dear life, we couldn't escape the fact that we were all ready for a good night's sleep.
Day 7 – Corfu Old Town – Albania – Gouvia Marina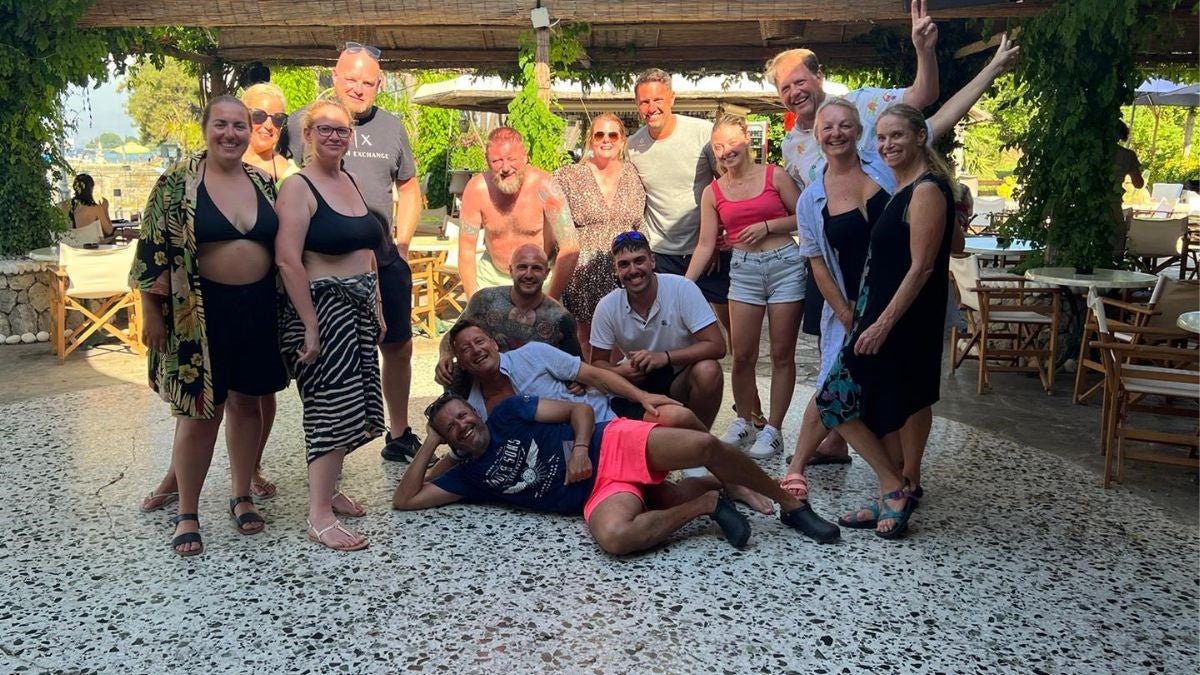 We awoke early on what would be our final full day on board and headed off into Corfu Old Town again, this time for some breakfast, a visit to the Church of Saint Spyridonas and a spot of last minute souvenir shopping in the tiny cobbled lanes, the smell of fresh coffee mixed with olive wood strong on the nose. We queued at the 15th centuray Church to see the tomb of Saint Spyridonas, the Patron Saint of Corfu and were impressed with the ornate decoration within the building itself. Michaelangelo style paintings covered the domed ceiling while candles flickered underneath. Local Corfiots there to receive a blessing patiently waited in line to see the relics of the Saint, who we later learned from Nikolas is paraded around Corfu Old Town four times a year to celebrate his miraculous actions in saving the inhabitants of the island way back when.
Around midday we headed back to the cat to make our final passage back to Gouvia, via Albania so one of the group could 'tick it off her list'. Here we would say goodbye to Nikolas and spend our last night on board before heading home. The mood fairly sombre, we asked Nikolas if he would make us an afternoon reservation at a nearby taverna, which he did, and once we had refuelled and moored in our berth, we headed out to enjoy our final taste of Greek food, washed down with one or two farewell cocktails.
Once Nikolas had checked the catamaran back in with the base team, he made his way over to the restaurant where we would say our goodbyes. Now, my friends will all tell you that I'm the crier of the group, so it was no surprise that as I hugged our amazing skipper goodbye and thanked him for everything he had done, tears had started to flow. But as I watched each of my nine companions respond in the same way, including the one who has no soul, I knew that what I had experienced had also been experienced by my closest friends.
The bitter sweet reality of leaving this beautiful island to go home and see the kids and the dogs was emotional for all of us. How could we possibly go back to normal having been counting down the days until this amazing adventure for over two years? What would fill our Facebook feed now that there was no more countdown? How would we ever go on another holiday that would be anywhere near as amazing as this one had been? The answer was simple really…we just booked another!
Final thoughts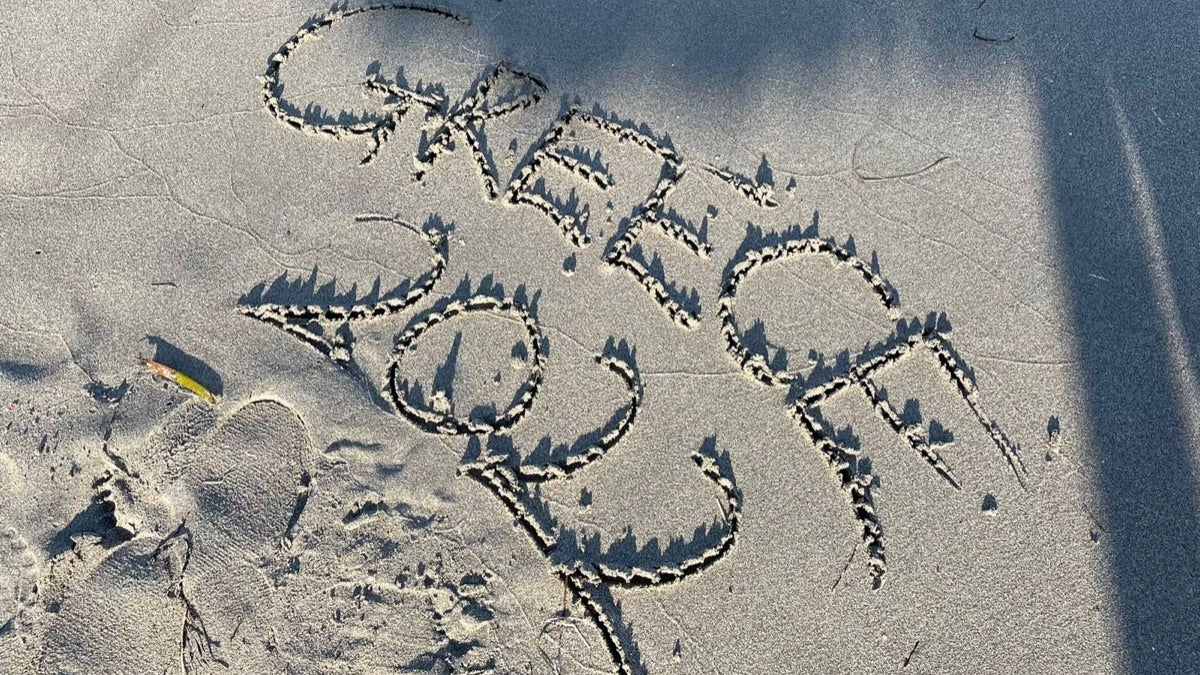 I don't think I have ever experienced such an amazing holiday and with that in mind, am already planning a few more adventures over the coming years. The most important thing I've learnt while being on this holiday is that yacht charters are suitable for everyone. Not just suitable, but often cheaper than your bog standard all-inclusive resort style holiday, even if you can't sail!
While having a skipper eliminates the need for you to have to do any leg work while on a charter, a couple of the group were keen to get involved, from learning knots and throwing ropes and fenders when berthing to actually sitting with the skipper and finding out more about the cat's navigation systems and general basics of sailing. But even if you can sail, hiring a skipper means you can literally just sit back and relax without the need to plan, research and stay on the ball – heck, you can even have a little siesta while moving between locations.
Equally important – don't be put off by mandatory extras such as berthing and fuel. Over the course of the week we spent a grand total of €110 on berthing and €640 on fuel. When you consider how far we sailed and then divided the costs equally between the 10 of us, it was still over 50% cheaper than a return train ticket from Folkestone to Plymouth!!
It's also not necessary to eat ashore every day. We provisioned enough food on day one to last pretty much all week, with additional trips to supermarkets when moored ashore to grab essentials such as bottled water (around €2.50 for six two litre bottles), fruit juices (€0.80 a carton), fizzy mixers (€1 for a 2l bottle of coke/7up/Fanta) and bread (€0.50 a loaf). In total, over the course of seven days, we spent approximately €350 on provisions, only €35 per person for around five breakfasts, three lunches and one enormous dinner. There was always beer and cocktails in the fridge and our food and drink costs included the skipper too, who you are responsible for keeping alive for the week!
To sum up – if you're planning a special holiday or simply fancy trying something new, do not disregard the idea of a yacht charter, even if you can't sail! They really are the perfect solution for a group of family and friends to enjoy a magical holiday together, surrounded by the world's largest swimming pool. What more could you want?
Top tips for first time skippered charter guests
Read the base guide before you travel – You'll find everything you need to know, including where to find the base
Beware of overpacking – Space is limited, so make sure you don't take more items with you than you'll actually use. My hairdryer, hair curlers and additional three pairs of shoes were totally unnecessary!
Provision in advance – You might save money provisioning further inland, but ordering in advance will save you a lot of stress and keep heat exhaustion at bay!
Be prepared to visit places you normally wouldn't – This isn't your usual type of holiday. There are no crowded coach or ferry trips ready to take you to see the most popular landmarks! This is your chance to visit parts of the world that are only accessible by boat. Take full advantage of it!
Remain flexible – Prepare to change plans – while you might have an itinerary in mind, you may find the wind streams are not quite right or perhaps decide to visit alternative places altogether. The beauty of a charter means nothing's off limits (within reason!), so take advantage
Enjoy yourselves – This surely goes without saying! You're on holiday, so sit back, relax and enjoy!
Find out more
To find out more about our skippered charters, or our bareboat, By the Cabin and luxury crewed charters, call 02380 455527 or email [email protected]