The British Virgin Islands are without question one of the most popular sailing destinations with us and our customers and there's very good reason that so many people choose sailing in the BVI over other destinations, year after year.
Made up of four 'main', larger islands, including Tortola, Virgin Gorda, Jost Van Dyke and Anegada, and 32 smaller islands including Norman Island, Copper Island, Beef Island and Scrub Island, the BVI offer a wonderful variety of peaceful anchors and party locations – making it ideal for whatever type of Caribbean sailing holiday you are looking for.
Why choose the British Virgin Islands for a sailing holiday
Steady trade winds and near perfect line of sight navigation, coupled with paradisaical beaches, heaps of history and some of the nicest people you'll ever meet, all complement each other in making this a firm favourite with experienced sailors and novices alike.

The British Virgin Islands are blessed with a year round warm climate, and the cobalt coloured seas are welcomingly temperate, giving guests the opportunity to enjoy hours of snorkelling, swimming and exploring in the calm currents that surround the many islands that make up this glorious sailing destination.
"Best charter experience to date (8th charter)! Staff was very helpful, great to work with, and a super boat. Best bareboat charter ever! Thanks DYC for a fantastic experience." – Matt, Bareboat charter customer, BVI
As well as the sun, sea and sand that ooze across the islands, the BVI have an incredible historical relevance that will transport guests back in time, with multiple sites and landmarks that tell a story of the island's rise to importance during some of history's most significant periods.
If you are looking for a winter sailing destination that offers it all, a sailing holiday in the BVI will satisfy your desire and leave you wanting to go back time and again. Our team has a vast knowledge of the things you simply shouldn't miss while visiting this beautiful location, and to help you plan your next sailing adventure, we have pulled together the ultimate guide to sailing in the BVI. Enjoy!
What is the weather like in the British Virgin Islands?
Weather in the BVI is warm all year round, with the dry season between January and July offering temperatures of up to 31°C. Average temperatures during the wet season (August-December) remain warm at around 23°C.
Due to the trade winds and temperate climate, sailing is good all year round, but if you are a novice and looking to avoid the crowds, May, October and November are good times to visit.
What are the sailing conditions like in the British Virgin Islands?
The calm trade winds that engulf the BVI are what make it a popular choice with us here at Dream Yacht Charter. From November through to May, winds blow north easterly reaching speeds of around 15 to 20 knots, providing exhilarating sailing.
The trade winds are at their weakest between September and October, so those looking for a calmer, relaxing sail may opt to travel during these periods. While no particular qualifications are required to sail in BVI, you will be asked to provide a sailing resume.
What are the best Anchorage's in the British Virgin Islands?
Cooper Island – One of our favourites, Manchioneel Bay on Cooper Island is a popular mooring spot, where palm trees line the shores and provisioning options are plentiful
White Bay, Jost Van Dyke – The home of the Soggy Dollar Bar, White Bay offers calm waters excellent for swimming, multiple eateries and powdery soft, sandy beaches
Salt Island – While there are no island amenities, anchoring off Salt Island will reward you with spectacular views, calm moorings and a number of exciting hiking opportunities
For a full list of moorings and anchorages in the BVI, take a look at the BVI Welcome Anchorage Guide.
What yacht charters are available in the BVI?
Dream Yacht Charter offers a large fleet of over 70 yachts in the BVI all available for a range of charters. For bareboat sailors, choose from smaller monohull yachts, such as the Sun Odyssey 349, perfect for smaller parties of up to six, or for larger parties of up to 12, opt for a catamaran such as the Bali 5.4.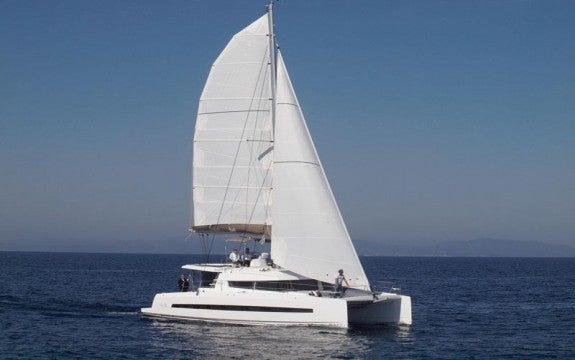 In addition, we offer our innovative by the cabin charter, Tortola Dream, where you can join other guests on board a Lagoon 620 or Ipanema 58, accompanied by a professional skipper and chef who will take you on a journey around all of the BVIs most popular locations.
"Gorgeous yacht! Very comfortable, great sound system. Extraordinary cuisine! Great itinerary & excursions." – Sue, By the Cabin charter customer, BVI
All of our yachts in the BVI are also available on a skippered charter basis, so even if you can't sail yourself, you can still experience this wonderful location on your own, private yacht with the help of a professional skipper, who will work with you to arrange the perfect itinerary.
How to get to the BVI
To start your British Virgin Islands sailing trip, fly into Lettsome International Airport (EIS) on Beef Island in Tortola. Our base at Hodges Creek Marina is 15 minutes by taxi from the Beef Island airport.
Or fly into Cyril E. King Airport (STT) on St. Thomas, and take a 45-minute ferry transfer into Road Town, Tortola, which is 15 minutes by taxi to our Hodges Creek Marina. Customers coming from St. Thomas, can also choose to take a private Water Taxi to Hodges Creek.
There are international flights via the US, St. Martin, Antigua and other local connections.
Find out more
To find out more about bareboat, by the cabin, skippered or crewed charters with us in the BVI, contact our team of specialists today on 02380 455 527 or email [email protected].

Read next article: Part two – The top places to visit in the British Virgin Islands