Holly Scott started sailing as a toddler on her parents' 16' day sailer. Today she is the owner of Mahalo Sailing, a small tour business offering sailing adventures and often working closely with Dream Yacht Charters. As part of our #MoreWomenAtSea campaign, find out more about how Holly got into sailing.
How did you get into sailing?
I first took the helm at three years old. Over the years, we got bigger boats and had a Cal 36 for over 20 years, cruising local waters. I got my first boat at age nine. It was an 8' Sabot and I learned to race as well as cruise our local bay.
I worked my way through bigger boats, developing my experience and currently own a Cal 40 in California and a Bristol Channel Cutter in Tahiti. We are a family of sailors! My daughter Katie grew up sailing as well and now owns my former Cal 30. Both Katie and I are licensed captains.
I have always been in the marine industry, teaching sailing, owning a yacht maintenance business, selling boats, skippering a local schooner for charters, doing deliveries and in the last 10 years or so, chartering boats all over the world.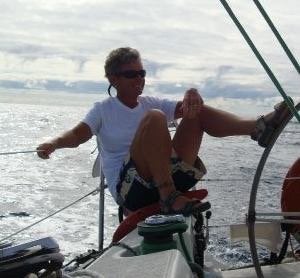 What are you doing at the moment?
My business, Mahalo Sailing in California, puts together several trips every year for mainly groups of women, including the Annual Rendezvous for Women Who Sail, which is exclusively women only. Our 2020 trip will be our sixth, headed this time to the Grenadines between April 18-25. Our annual trip is interactive with group activities and offers the chance for women to learn more about sailing, from beginning skills to taking the helm as Skipper for the day.
Back in April, for our 5th Annual Rendezvous, we took eight charter boats with 68 women, crews and guests, to the Sea of Cortez in Mexico. We were helping a small village with donations to refurbish their school, which had suffered some damage.
Our go-to charter company is Dream Yacht Charter because the company is easy to work with and have boats in so many great locations.
What challenges do women face in the industry?
Over the years I have seen many changes in the sailing world, but sadly women are still often seen as galley workers. It's much more difficult for women to be hired as boat captains, even with decades of experience. My daughter has the same struggles I did. It's easy to be hired as a stewardess on a charter yacht, but not as a captain. The struggle continues.
Imagine a group of 65 women in matching shirts, donating cash and items to a local animal shelter in Belize during our 4th Annual Rendezvous. The spokesman for the animal shelter was thanking us for our huge amount of donations, and said, looking at our crowd, "Wow! You're just a bunch of women!"
We were stunned, to say the least, and I was proud that none of us tried to strangle him. That phrase became our theme that year. Yep, 65 women sailing in Belize for a week all by ourselves! Just a bunch of women!
Find out more
Visit our blog for more inspiration on sailing vacations. Alternatively, for more information on our sailing vacations, get in touch with our team on 1-866-469-0912 or email [email protected]