The experience of sailing the Mediterranean one way from La Rochelle to Sardinia
Our #MoreWomenAtSea brand ambassador, Anna Mourou, founder of the successful woman sailor network, She Captain, is sharing her experiences in the run-up to her three-year circumnavigation, which starts next year. We caught up with Anna to find out about her recent long-distance sail, transporting one of our new catamarans in the Mediterranean. She explains why everything is better out at sea.
I have a tendency to say yes to adventure even if it's out of my comfort zone. To do things that you are afraid of is a part of being a sailor. You can never just give up when things go wrong – it's all about coming up with the solution, and then the reward is so much greater.
I said yes when Dream Yacht Charter asked if I could deliver a brand new Lucia 40 catamaran from the factory in La Rochelle, France, to Dream Yacht Charter's base in Sardinia, Italy. Have I sailed those waters before? No, not really and a couple of times vacation sailing in the Mediterranean doesn't really count. But I am preparing for a circumnavigation starting next year and I have sailed the Baltic all my life, so I figured, how hard can it be?
Introducing my crew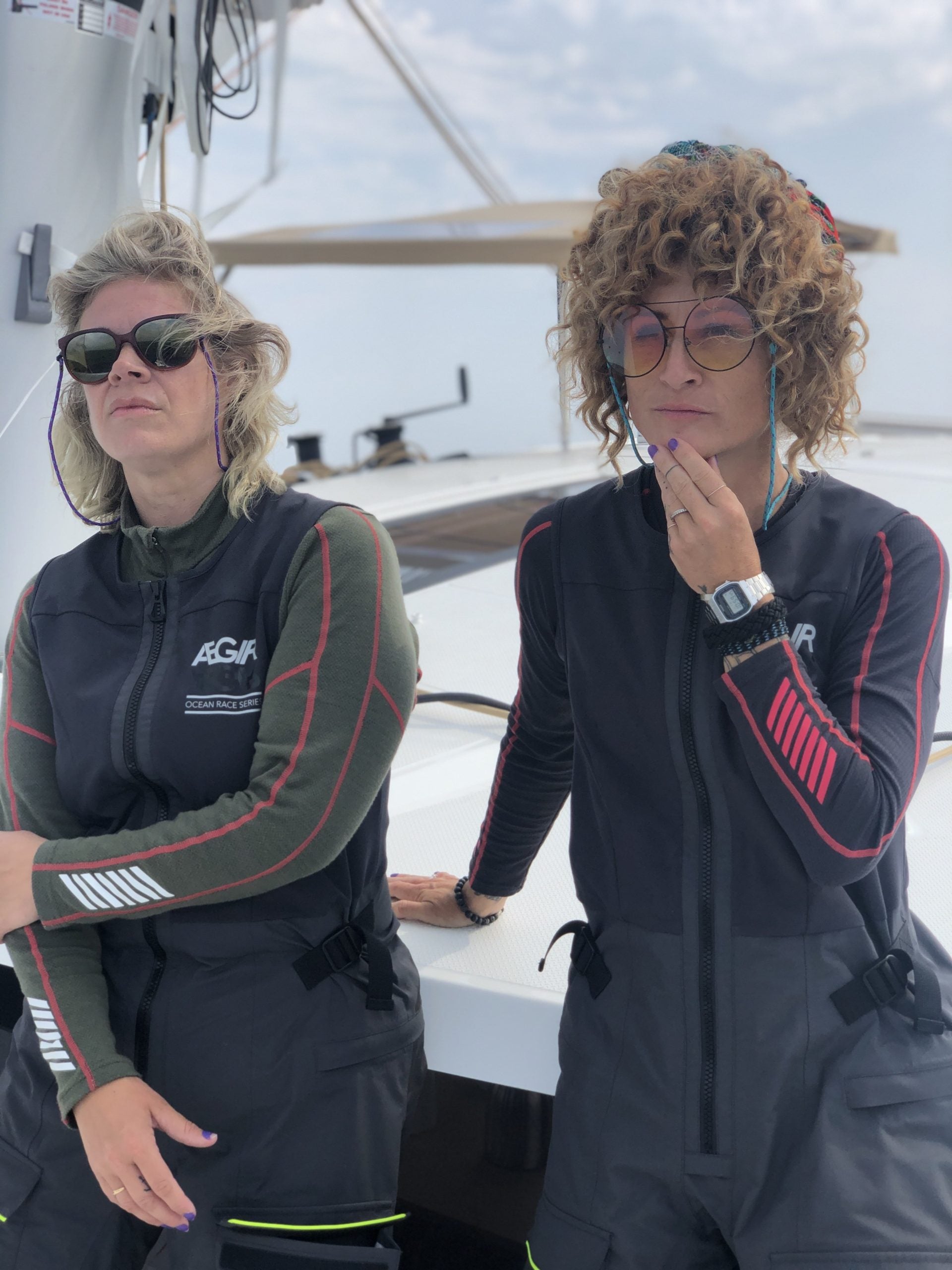 My crew was handpicked, Swedish sailors I knew through She Captain. Some were experienced sailors like my co-skipper Jeanette Johansson, who had made most of the planning for this journey. But I also had some sailors on board that would contribute to a happy ship and no dull moments. Jessica Carlsson and Mia Ingelström were two of those – stable, knowledgeable and always ready to say yes. I also had my mini skipper on board, my six year old son, Olof with a passion for sailing and volcanos.
My takeaway from the experience is that I was reminded that everything is better out at sea. Food tastes better, the cheap wine is the best you've ever had, a sundowner tastes like a little piece of heaven, the scenery is always mesmerizing and, on top of that, you feel empowered after having handled your boat all day. Read more to find out how I got on…
La Rochelle to Cascais, Lisbon, via the Bay of Biscay
We set out early for six days non-stop sailing to Lisbon. The Bay of Biscay gave us its best with good winds and reasonable swells. But the nights were pitch black and I have never experienced night time sailing when the moon is so new that you can't see it.
After almost three days of sailing, we crossed into the Atlantic and did three-hour shifts during the night in teams of two. With six crew onboard that gave us decent sleep. We had to watch the fishing nets outside the Portuguese coast. Our research said to sail outside the 200m depth curve, and that worked perfectly staying away from nets. But all rules comes with an exception!
During the night shift, we felt something in the propeller and immediately put both engines in neutral. It was three o'clock in the morning and in the dark we could just see something aft of the boat. I put on the lifeline, put my arms into the pitch-black Atlantic water and felt strong nylon rope. I took the boathook to push it off the propeller and it freed! We pulled a piece of a thick rope fishing net on to the deck. I have never seen nets like that and I could only imagine what could have happened if we hadn't put the engine in neutral so fast.
Arriving at Cascais, Lisbon, I am reminded how amazing land can feel. Stepping ashore with sealegs is the weirdest feeling ever. Your legs are prepared for the surface you walk on to move, so when it doesn't, you walk like you are treading water.
Cascais is a modern marina with all the facilities you need, so it's a perfect stop on the European coast. When we moored, we got spectators, as having a woman at the helm on a catamaran and female crew is not that common. I get so nervous – if I mess up, it's going to spread the false image that women can't drive boats. Yet mooring is still my favorite thing to do!
We spent our 36 hours in Cascais doing laundry, boat cleaning, engine service and enjoying a nice dinner and drinks. Cascais is beautiful with narrow shopping streets and Portuguese architecture. It has a historic vibe while at the same time being a modern town. We connected to some other sailors and socialized on a beautiful 65ft wooden yawl.
Sailing Cascais, Lisbon to Gibraltar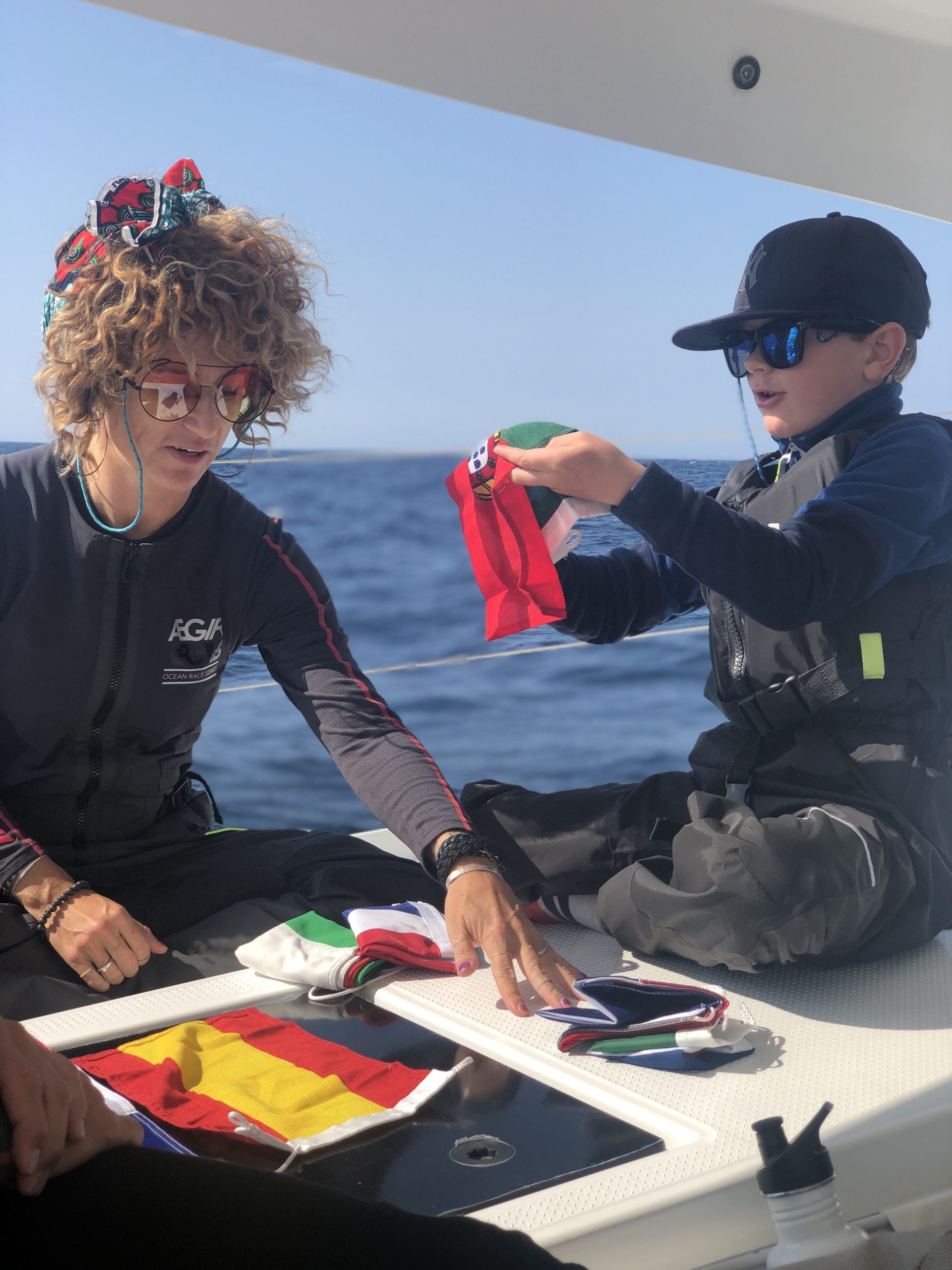 The big difference between transportation sailing and normal cruising is the time schedule. We kept at 5-6kt and never more than 36 hours to rest at each stop. We set out from Lisbon for what looked like an easy passage to Gibraltar, only three days.
Closing into the Strait of Gibraltar, winds were blowing from the east a 25kt direct nose wind. Waves were high and we went from 6kt to 1kt in each wave. We decided to change course and rest a couple of hours in Barbate, where all the boats were recharging their crews after sailing hard winds. We filled up on water, batteries and sleep and left at 3am the next morning.
The ocean was absolutely still when we went into the Gibraltar bay. We filled up on diesel (cheaper than Portugal) and went to Queensway Quay Marina, having pre-booked. It's a couple of minutes walk to the cable car for the top of the Rock. The view from the Rock was magnificent and the monkeys were at their best.
Sailing Gibraltar to Palma, Mallorca
The first morning after leaving Gibraltar we woke up covered in Sahara sand with an orange glow in the air. We sailed along the Spanish coast and got to enjoy the scenery and the mountains (without fishing nets!).
We had reserved a berth at La Lonja Marina in Palma, close to the center and the cathedral. True sailor style, we started off getting Sahara sand and salt off the boat with a good rinse. We strolled the beautiful streets around the cathedral, eating ice cream and adjusting to life on steady land. The shopping for women's fashion is amazing in Palma.
We had dinner at Restaurante Azabache, recommended to us by the harbour captain, which had delicious tapas. A must visit is Bar Abaco with lavish decor and amazing drinks. Later I danced salsa non-stop at Malecon 27, a small bar filled with really good dancers.
Sailing Palma, Mallorca, to Olbia, Sardinia, via Maddalena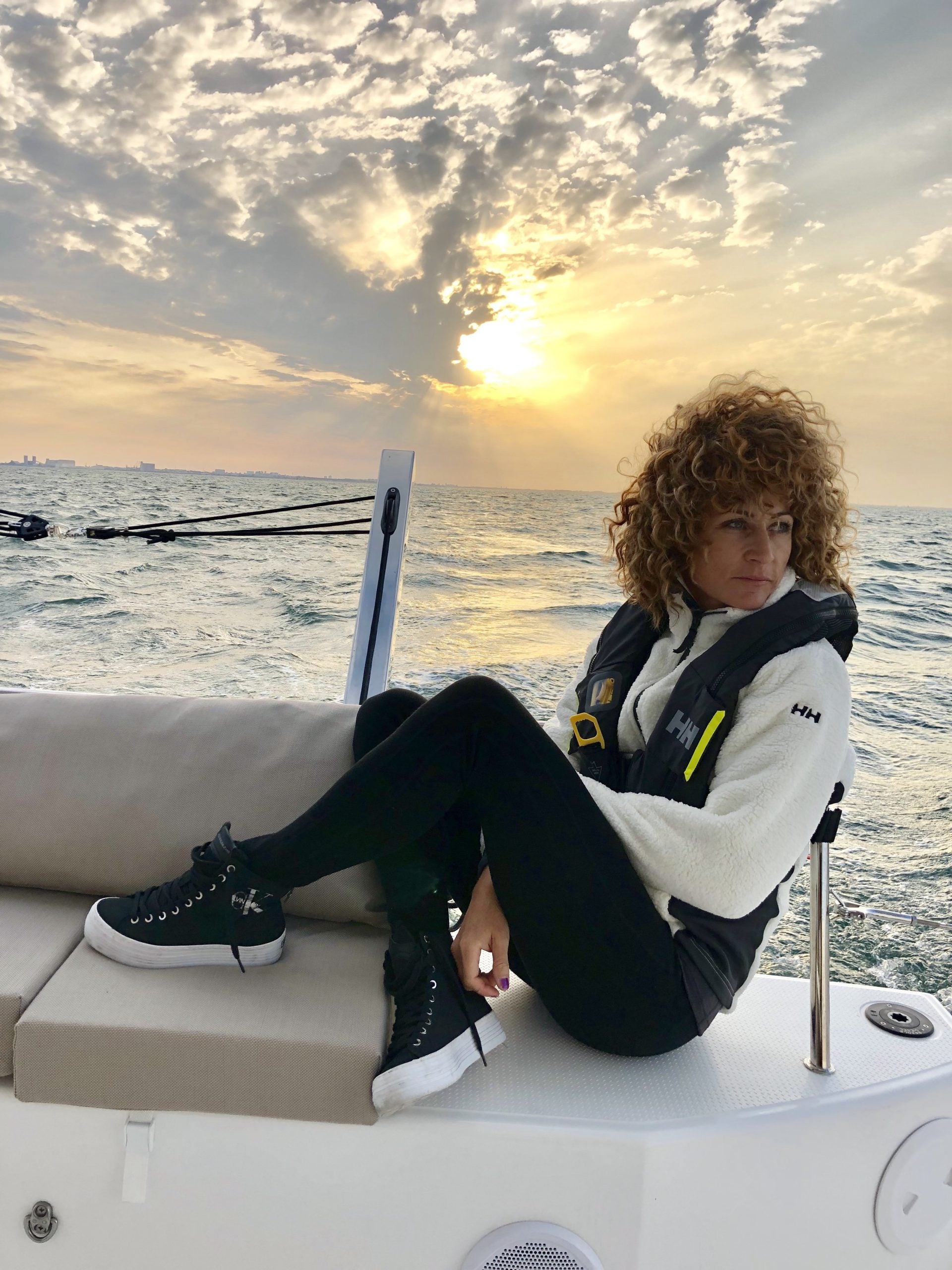 We left Palma early morning for a three day passage to Sardinia. The winds were calm and the view stunning with high mountains sloping down to the water. We stopped at Port Soller, one of the only sheltered bays on the north coast of Mallorca, before ending the night seeing dolphins in the moonlit Mediterranean.
Approaching Sardinia we were aiming for one night at an anchorage at the Maddalena Islands, an archipelago of turquoise lagoons, deserted islands and the most heavenly beaches of Sardinia. We headed to Porto Palma, one of the larger more well-protected bays on the island, passing
many local Italian boats waving as we went by. We spent a lovely last evening onboard, swimming in the sunset, eating an amazing dinner, talking and dancing.
Our last leg was only a couple of hours and we set out early to see Olbia. We had calm sailing as we went south along the dramatic coastline and through the Gulf of Olbia, well known for its mussel and oysters farms.
We arrived at Dream Yacht Charter's base in Olbia, a journey that had taken us 1870 nautical miles in 18 days was now over. It felt so strange and sad to say goodbye to this amazing catamaran, Akialoa, that was our home. I am so grateful for the experience this transportation gave me. The whole Dream Yacht Charter team is truly dedicated to bringing #MoreWomenAtSea and I am so proud to be a driving force in this movement.
Find out more
Take a look at our bareboat, luxury crewed yacht or by the cabin charters, or contact our team. Alternatively, for more vacation inspiration, head on over to our blog.