In 1989, the late Don Backe was paralyzed after a car accident and learned to relive his life from a wheelchair. He had been an avid sailor and he was encouraged by friends to carry on sailing to lift his spirits.
How CRAB began
A few years later, he founded Chesapeake Region Accessible Boating (CRAB) to help people with disabilities, wounded service personnel and disadvantaged children enjoy the therapeutic value of sailing and being on the water while feeling the wind.
His legacy has seen more than 1,000 people each year participate in CRAB sailing experiences at Sandy Point State Park, Annapolis, between April and October. The fleet includes and around 100 volunteer skippers, crew and support team members make this possible. The organization is funded by donors, grants and sponsors.
How we are helping
We're excited this year to sponsor the CRAB Cup for accessible boating, formerly known as the Boatyard Bar & Grill Regatta benefiting CRAB. It is being held at Eastport Yacht Club on Saturday August 17. This is the organization's biggest fundraiser of the year and they need your support.
How you can help
Skippers can register boats for $75 or, if you don't want to race, you can buy event tickets to watch, enjoy dinner, three drinks and a $10 donation with no line, all for $50. Everyone competes fiercely to win the All-Star Trophy, which awards the team or person who raises the most funds. To join in the fundraising, visit CRAB's Crowdrise 2019 CRAB Skippers challenge page.
CRAB Cup 2018
Paul "Bo" Bollinger, Executive Director of CRAB says: "We have been bringing the thrill, freedom, and therapeutic value of sailing to persons with disabilities, recovering warriors, and local children from at-risk communities for the past 27 years. I report to a board of directors and ensure a safe sailing program and successful operation for the long-term benefit of our organization and the special guests we serve.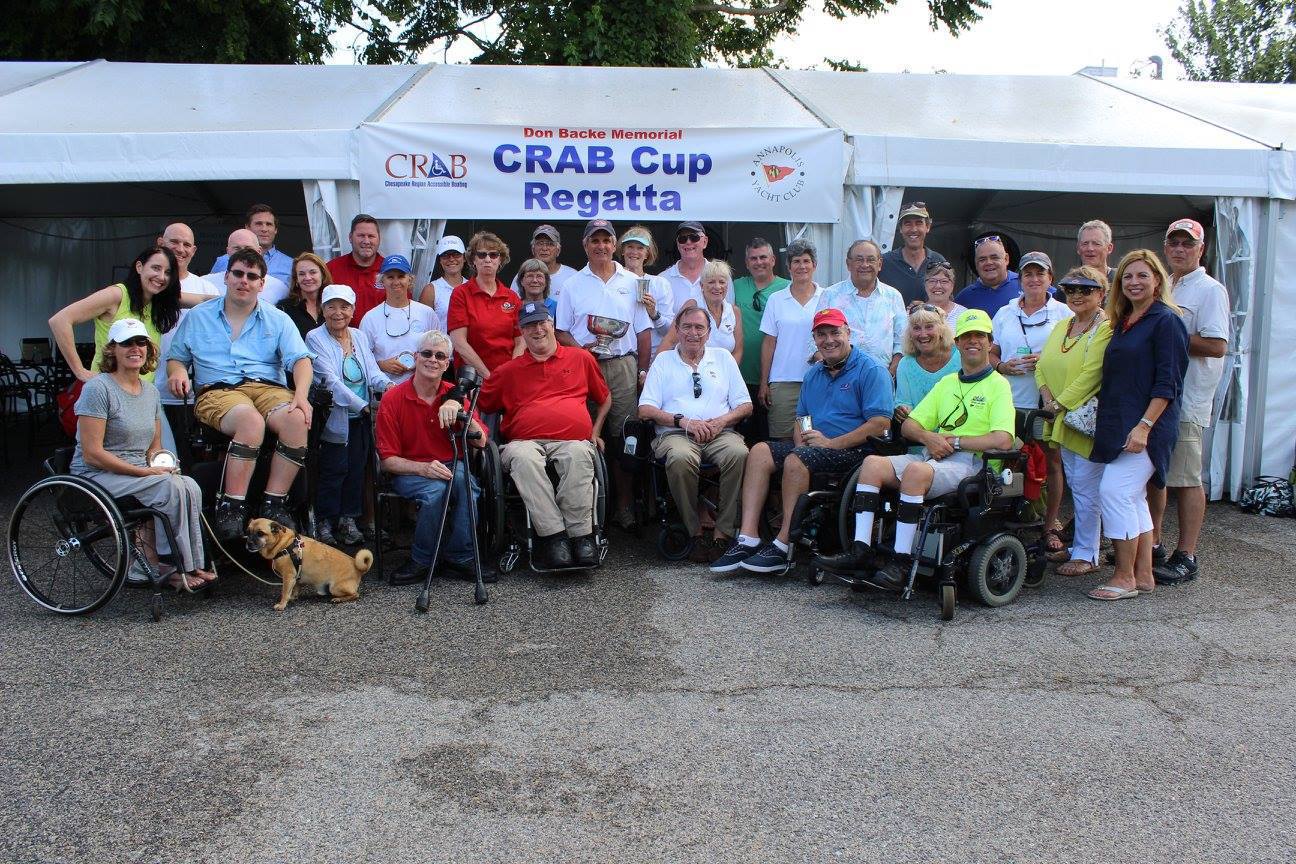 "Dream Yacht Charter's donation of a fantastic cruise on a 62′ powercat in the BVIs or Bahamas with captain and chef will be the best package ever offered in the auction at the CRAB Cup. We have been promoting the cruise on our website and on CRAB's Facebook page to get everyone excited and ready to bid on the package. We think it will be the highlight of the party."
Paul adds: "The CRAB Cup is a pursuit race attracting over 90 boats, 320 skippers and crew, plus 650 people to the post race band party at the Eastport Yacht Club. Mount Gay hats will be going to the skippers and crew, plus Jamaican Red Stripe and Heineken beer will be flowing freely. It is one of the largest parties in Annapolis and a heck of a lot of fun! We are very pleased to have Dream Yacht Charter as a major sponsor of CRAB's largest FUNdraiser of the year!"
CRAB's sailing programs
Sailors can choose from SailFree Sundays, group sails, regattas, sailing clinics and sailing camps for young people from at-risk neighborhoods. Two sailors with disabilities can manage all aspects of sailing the boats and CRAB always provides a skipper, as well as additional crew if needed.
CRAB's fleet of specially adaptive boats, six Beneteau First 22As, have seating that accommodates guests using wheelchairs and this means they can sit in the boat's cockpit. The fleet also includes a Martin 16 with a "sip and puff" steering system. The crew use a Hoyer hydraulic lift or transfer box slide and support team to help transfer sailors to and from the boat.
SailFree should be listed like this. Also seats are not specialist, they are race car seats that easily accommodate guests using wheelchairs.
Keep watching as we'll be sharing pictures from the CRAB Cup later this summer …