The wild, uninhabited islets and reefs of the fabled Tobago Cays have long been known among yachtsmen and sailors as some of the most spectacular in the Caribbean. Seasoned cruisers often list this idyllic anchorage as their most treasured, citing dreamy crowdless beaches, dazzling reefs and vivid aquamarine seas.
Located in the southern Grenadines islands, the Tobago Cays are an archipelago comprised of five small uninhabited islands: Petit Rameau, Petit Bateau, Baradal, Petit Tobac and Jamesby. Together, these islands are the main attraction at the Tobago Cays Marine Park, a national park and wildlife reserve.
Much of the park consists of a massive 1,400-acre lagoon, surrounded by the famed horseshoe reef. Just imagine shallow, sand-bottomed, crystal clear lagoons teeming with green turtles and colorful fish, all surrounded by vivid coral reefs and secluded white-sand beaches.
Nature lovers and water sports enthusiasts will find no match for the heavenly beauty found here. Tobago Cays diving and snorkeling are second to none, and the sounds of nature provide a profoundly serene backdrop for birdwatching, beachcombing, swimming and picnics on the sand.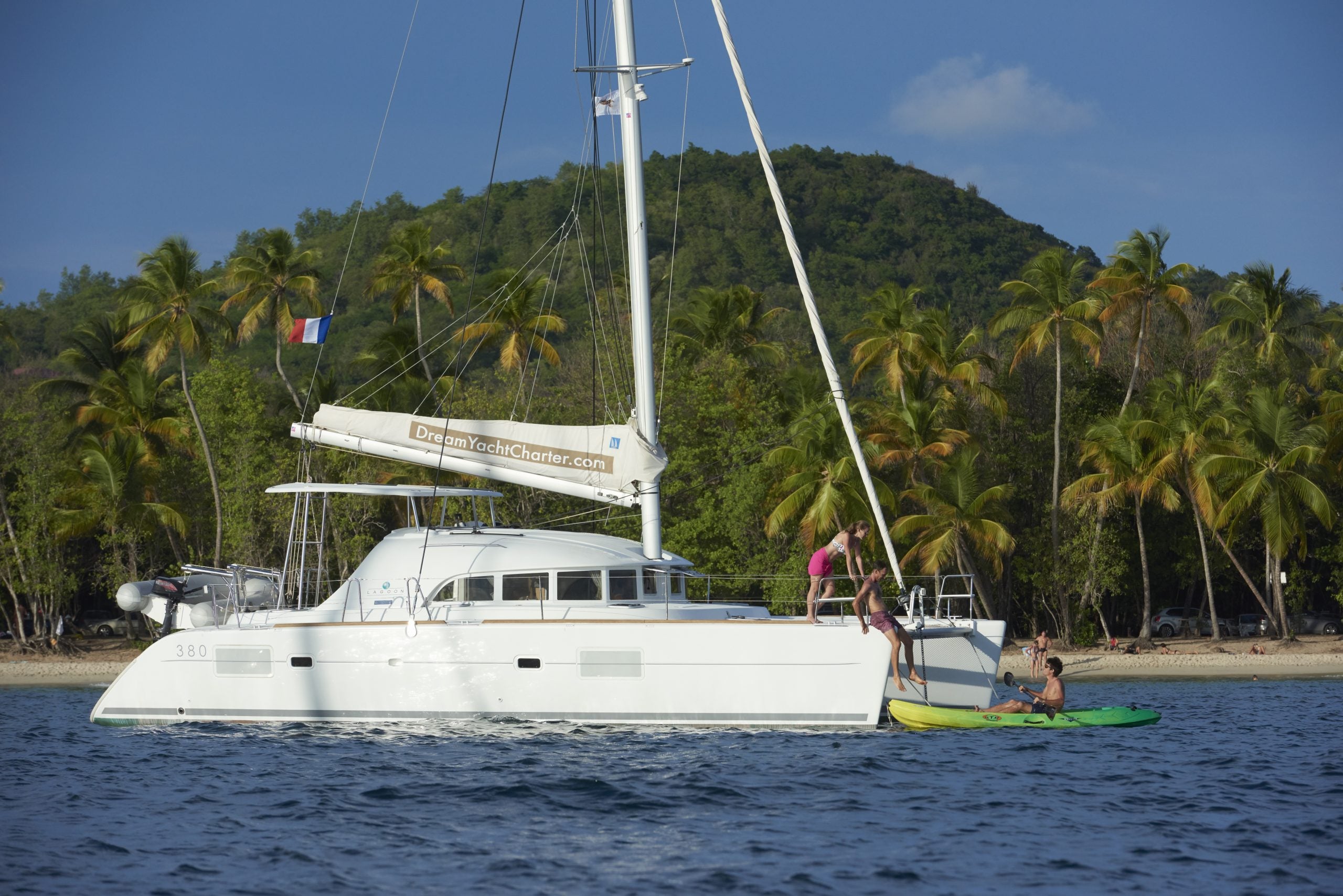 Tobago Cays diving
Scuba divers will not want to miss a legendary Tobago Cays diving experience, with amazing options for every skill level. Diving within the horseshoe lagoon area offers shallow, easier dives with a variety of vibrant, healthy hard and soft corals. Gentle nurse sharks and eagle rays are also common sightings in the area.
Stingray fans will want to visit World's End Reef, where at 70ft you can find numerous rays burrowed in the sand and squadrons of spotted eagle rays gliding in formation.
For advanced divers, Tobago Cays diving is not complete without exploring the underwater world at Sail Rock. This dream diving experience comes complete with colorful coral, a cave, stingrays and an old weathered canon.
Tobago Cays snorkeling
Tobago Cays snorkeling within the shallow lagoon around the islands is superb. Swimming with green turtles is a highlight and is practically guaranteed in the protected waters surrounding Baradal. The inshore-side of Horseshoe Reef is also excellent for snorkeling, where the abundance of fish and coral is impressive.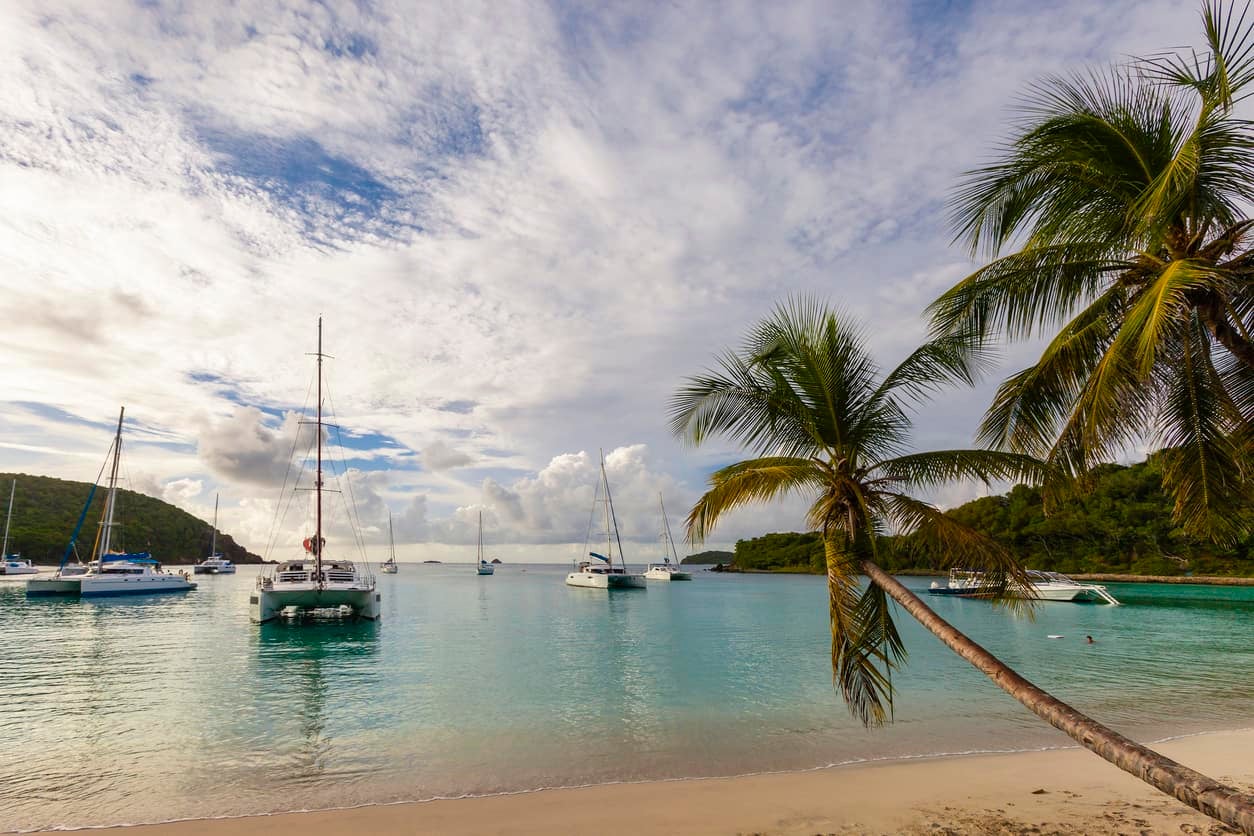 More Tobago Cays adventures
After you've had your fill of the amazing Tobago Cays snorkeling, there are plenty of other adventures to enjoy. Catholic Rock Bird Sanctuary is a protected area for nesting seabirds and roosting colonies. Many tour boats will have binoculars you can borrow for observing the winged beauties in their natural habitat.
Hiking trails criss-cross the islands of Petit Rameau and Petit Bateau, where you can walk among an abundance of tropical flora and fauna including iguanas. Bring your camera for stunning panoramic shots of the Grenadines.
There are no restaurants on these uninhabited islands, but those that frequent the Tobago Cays will tell of an even more enticing dining option, a fully prepared barbecue dinners on the beach! This much beloved outdoor feast is offered up by "boat boys" that go from boat to boat taking dinner reservations. Expect the freshest lobster, snapper and conch you've ever tasted, with all the traditional Caribbean sides. Dinner is accompanied by cool breezes, gently lapping waves, and sometimes even a bit of steel drum music, an experience nothing short of magical.
How to get to the Tobago Cays
With so much to see and do in these unspoiled isles, you may be wondering how to get to the Tobago Cays. Since the Tobago Cays can only be accessed by water, the first step is a flight to one of the many beautiful Caribbean islands nearby.
The closest airports are located on Union Island, Canouan, St. Vincent and Grenada. There are a very limited number of direct flights from the US, so most flights to these small islands will require a connection somewhere in the Caribbean. The primary connecting airlines that service the Grenadines are SVG Air, Grenadines Air and LIAT.
Once in the islands of the Grenadines, you can hire a water taxi or join a day tour to access the Tobago Cays Marine Park. Although, the best option by far for an authentic Tobago Cays experience is by yacht charter, and there are many affordable charter options for both sailors and non-sailors alike. Aboard a charter yacht, you can linger in these protected islands and take your time.Charter guests are witnessing stunning sunsets and stargazing that may never be matched in a lifetime of travel, long after day trip visitors have returned to hotel rooms.
Dream Yacht Charter offers sailing vacations from several southern Caribbean islands including Grenada for those that enjoy a longer sail. For the easiest access to the Tobago Cays, choose to sail from St. Vincent, just a short 25 mile sail away.
Find out more
Experienced sailors might choose to take the helm with a bareboat charter for a hands-on sailing adventure. With a skippered charter, a skipper will take care of navigating and can escort guests all the best local spots. For a thoroughly indulgent private charter experience, an all-inclusive crewed yacht provides a captain and chef to pamper your friends and family with endless adventure and mouth watering cuisine while cruising the gorgeous islands of the Grenadines.
If a full private yacht is more than you need, try an all-inclusive by the cabin charter departing from Grenada, complete with your own double cabin and private bath.
Learn more about yacht charters in the Tobago Cays, or one of our many other destinations on our blog. Get in touch with our team today on 855.650.8902 or email [email protected] for more information.