If you haven't cruised the best of the British Virgin Islands, it's time to put it at the top of your wanderlust list. The secret is out, and this gorgeous chain of islands located just a short ferry-hop from the USVI is more popular than ever. From old salty sailors to the newly indoctrinated, everyone can agree that it's a cruising paradise – and much more.
One thing becomes very clear after you've visited the BVI. It's best discovered by boat, and definitely not aboard a cruise ship that docks on Tortola. There are many unique islands that make up the BVI – 4 larger islands (Tortola, Anegada, Virgin Gorda, and Jost Van Dyke) and over 30 smaller islands, some of which are uninhabited. And to truly see the best of the British Virgin Islands, a yacht charter vacation can not be beat. It's a freeing and romantic way to experience these stunning islands – from a boat like the merchants and pirates of Robert Louis Stevenson's famed novel Treasure Island. (perhaps the perfect read for your upcoming sailing vacation!)
But don't be concerned if you aren't a sailor, because there's a BVI sailing vacation option for everyone. Dream Yacht Charter offers boats that you sail yourself (bareboat), and also options to hire a skipper to take the helm for you. This is perfect for groups of family and friends vacationing together. If traveling alone or with a partner, you can choose to take a cabin aboard a large comfortable sailing catamaran where most everything is included and pre-planned – so all you need to do is relax and enjoy!
So go ahead – sail, sun, dine and snorkel your way through the best of the British Virgin Islands. You will not find a more exciting way for a group of friends to travel together, see the world in a new way and reconnect. Read on to learn more!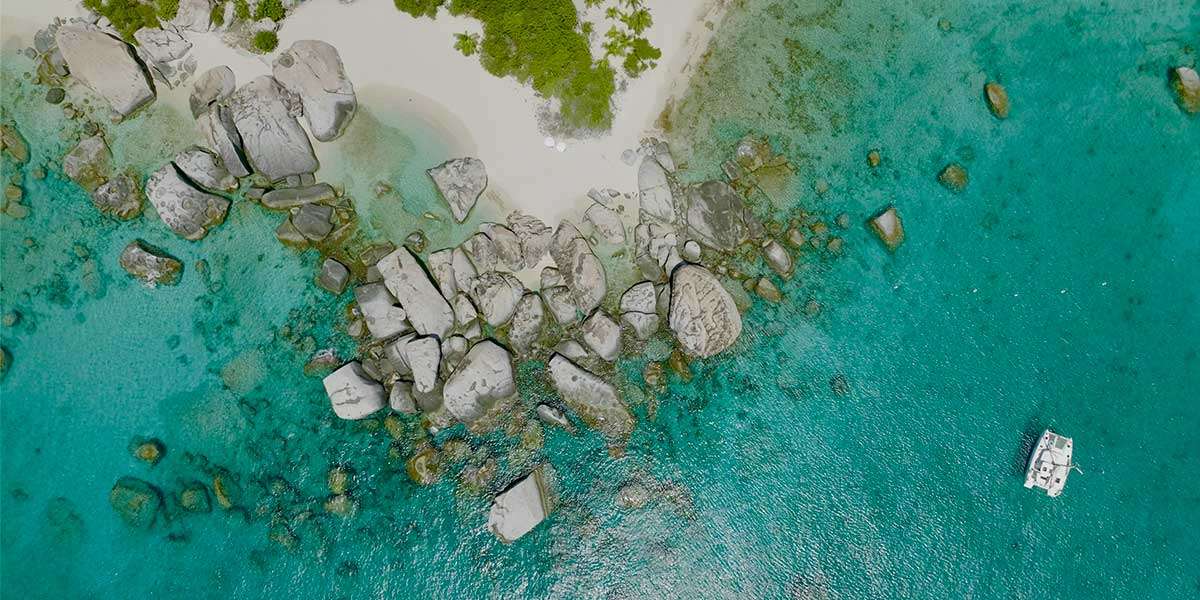 Play among the boulders of the Baths, Virgin Gorda
The Baths on Virgin Gorda are a must-do for any best of the British Virgin Islands adventure. Arrive early, grab a national parks mooring ball, and swim in, or take a dinghy to the tether line located off the main beach. Don't dinghy to shore here, it's not permitted due to rough surf and swimmers in the water.
Take your time to meander and climb your way through the enormous partially submerged boulders scattered along the shoreline creating an otherworldly playground of caverns and beautiful hidden pools. Bring your camera along in a dry bag or you'll certainly regret the missed Instagram-worthy photo opps.
When you need a rest from climbing, jumping and swimming, sample the cocktails and spectacular views at Top of the Baths restaurant and bar.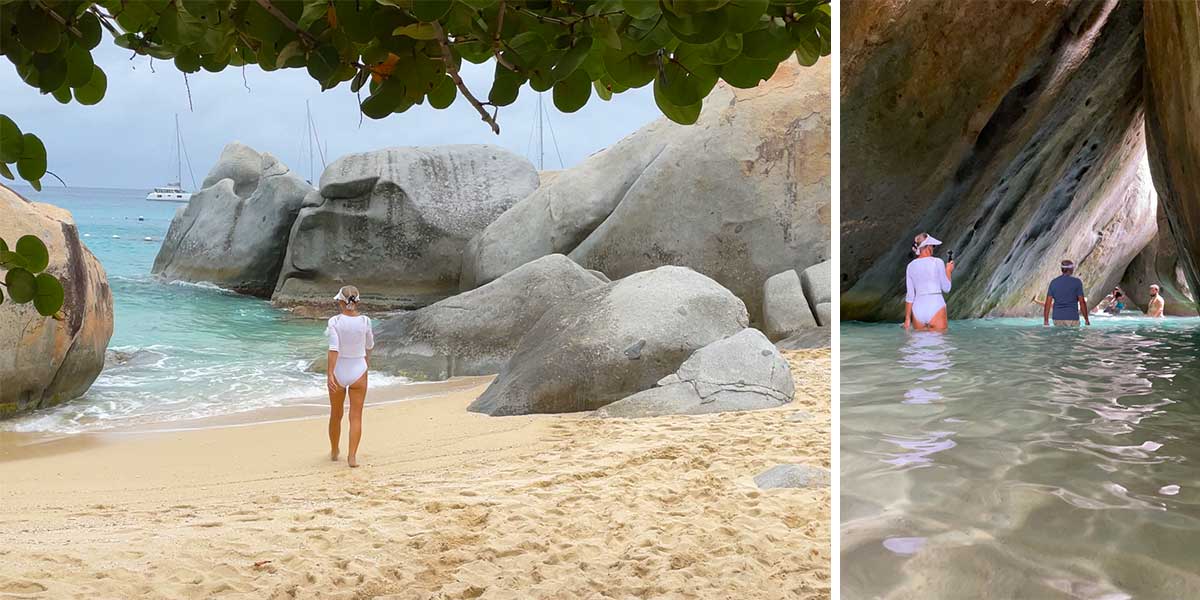 Newly reopened yacht club & resort favorites
A couple of the most beloved yachtie haunts have reopened and are eager to welcome new and returning cruisers alike. Sailors everywhere were crushed to learn of the shocking devastation to the Bitter End Yacht Club and Saba Rock following Hurricane Irma in 2017, and it's wonderful to see them reopening.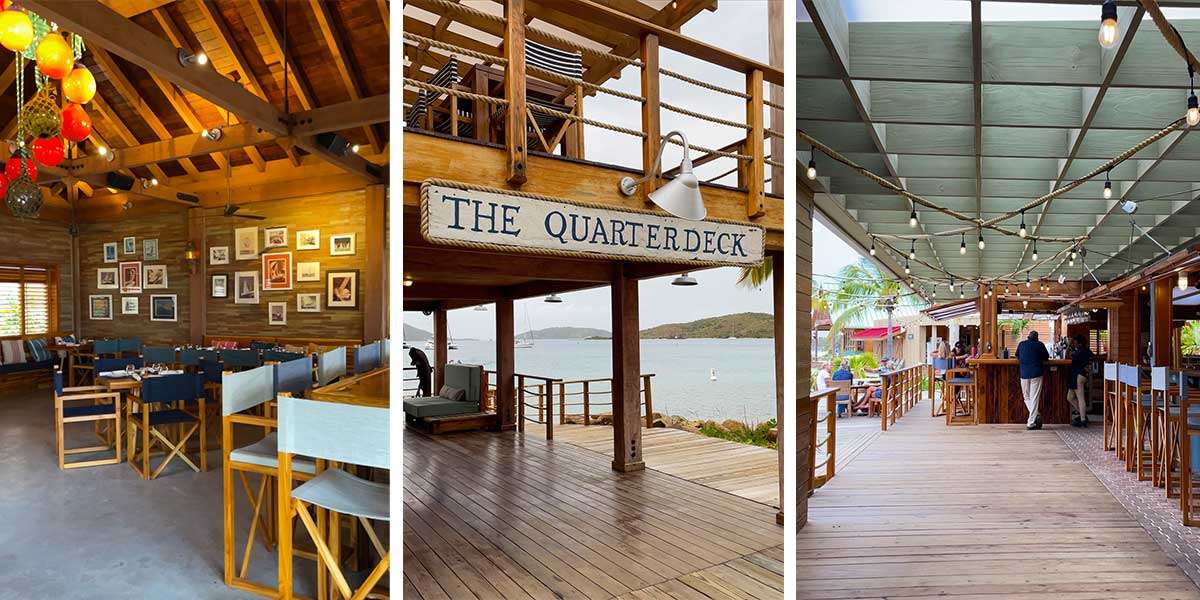 The Bitter End Yacht Club has been very busy indeed, opening the Quarterdeck Marina, Reef Sampler Beach Bar, Buoy Room restaurant, gourmet market, and a watersports center – all for 2022! Choose to grab a mooring ball in the mooring field, or for a real treat stay on the dock for the evening and enjoy all they have on offer while supporting the return of this iconic property. Stroll the beautiful grounds and take notice of the finer details, where care has been taken to integrate pieces, parts and concepts from BEYC's past, helping to carry on the legacy.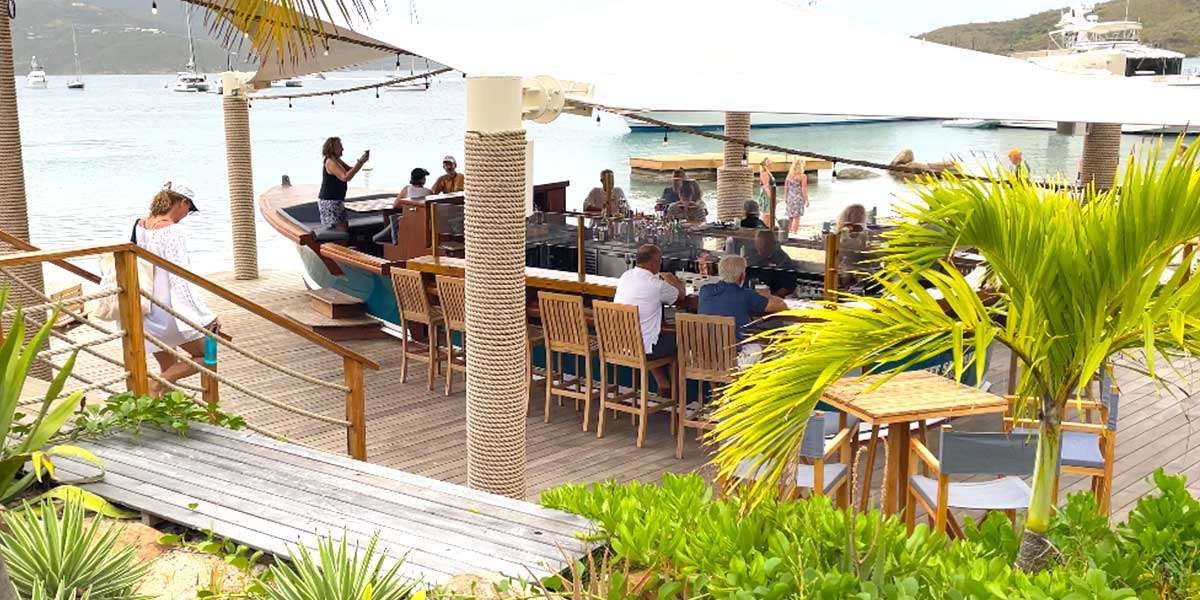 One notable detail is the hull of the vessel Reef Sampler sitting prominently near the beach. At the heart of Bitter End operations from its founding, she was raised from the depths of the North Sound seabed, and most fittingly fashioned into the Reef Sampler Beach Bar – now buzzing with activity. Be sure to top off your yacht's provisions at the beautifully outfitted gourmet market and pick up your souvenirs from the Reef Boutique, stocked with gorgeous, perfectly-curated and as always, irresistible, selections.
Across the channel from the Bitter End Yacht Club, another mainstay of North Sound awaits with a familiar silhouette that's a sight for sore eyes. Saba Rock Resort is open complete with restaurant, bar and hotel rooms, having rebuilt without losing the beautiful unique lines of the original structure. Sitting on a small rock of an island, just over an acre in size, Saba Rock feels like a self-sustaining little paradise – and very often rimmed with the dinghies of visiting yachters. The vibe has changed from pirate bar, to chic and modern, but it's still a casual hangout perfect for a breezy dinner al fresco, or evening aperitif at the upstairs bar.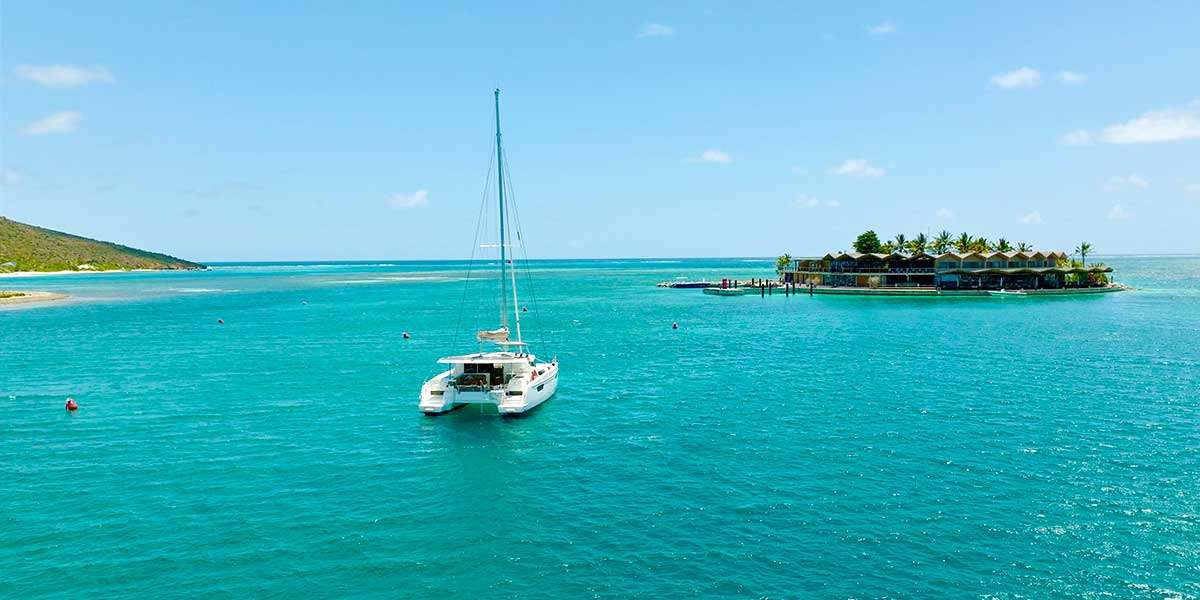 Both resort offerings should be on your must-visit list to fully experience the best of the British Virgin Islands. If you plan to dine, reservations are highly recommended.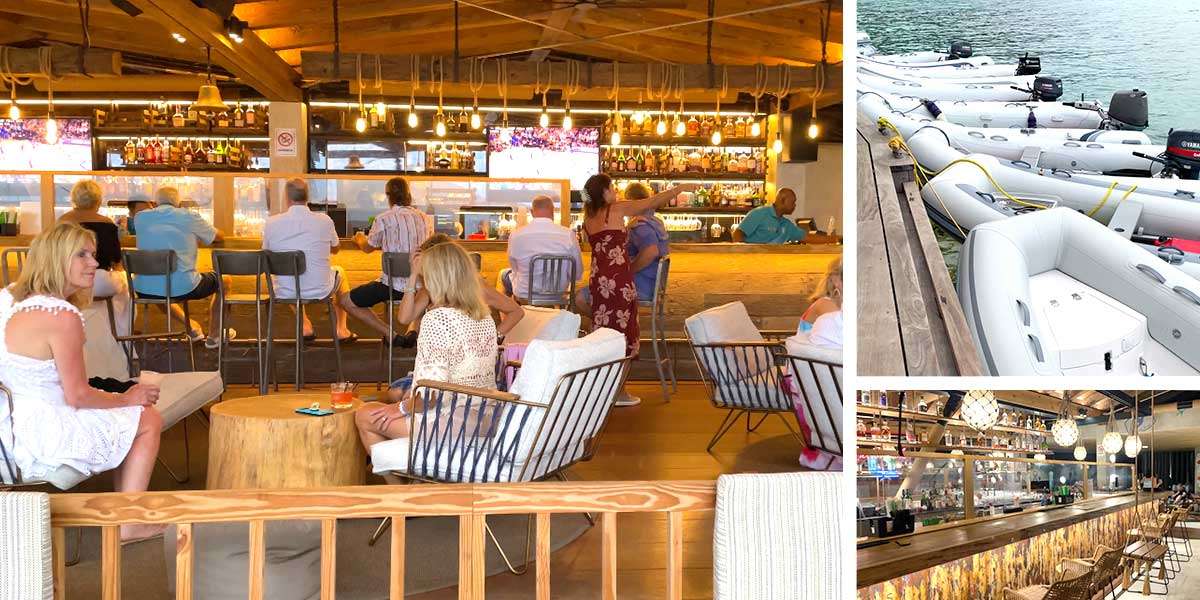 Virgin Gorda by Jeep
Virgin Gorda may be known for the Baths, beaches and resorts but head ashore for a day of exploration and you will not be disappointed. Rent a Jeep or hire a fun open air taxi for a spin around the island. If you enjoy hiking, wear your good walking shoes – there are so many amazing hikes on Virgin Gorda, including the 45-minute walk up to Gorda Peak, in Gorda Peak National Park. The path is a bit steep and rocky at the outset, but is overall a moderate hike and leads to a viewing platform at the peak's highest point. After you hike, plan to stop at Hog Heaven for local barbecue and cocktails with an unmatched view and ocean breezes.
To wind down another best of the British Virgin Islands day, treat yourself and your crew to dinner at Coco Maya. The waterfront atmosphere is unbeatable, with thatched roof and tiki torch lighting for an intoxicating island vibe. After dinner take to the dance floor for DJ tunes that last late into the evening.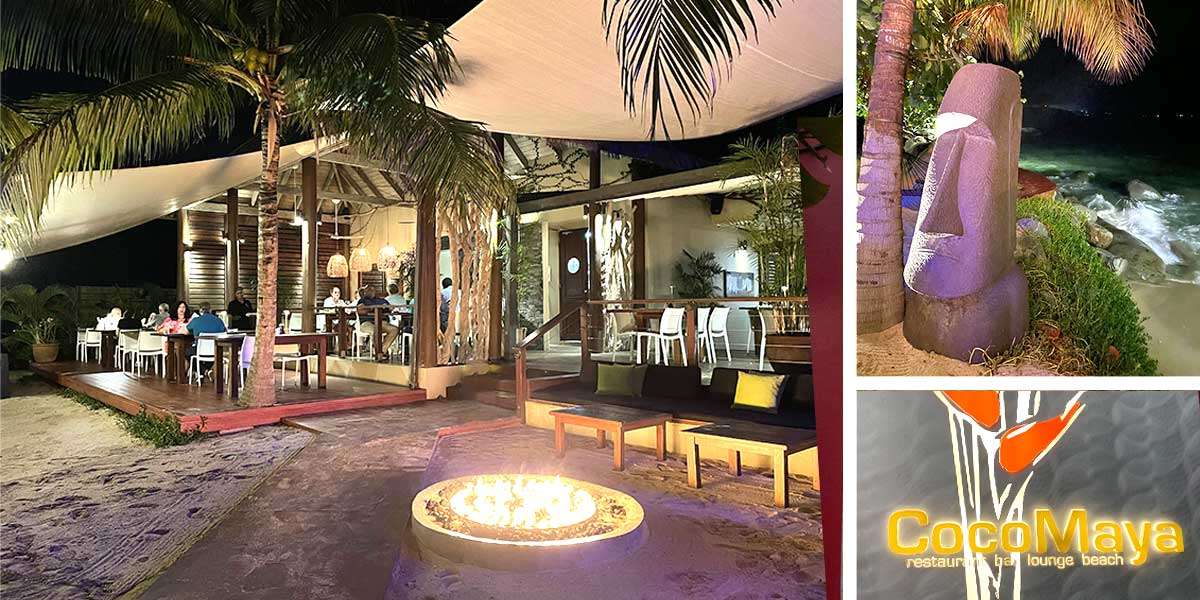 Anegada adventures
Anegada can be considered the outlier for its placement farther away from the other Virgin islands (14 miles), and also for its decidedly different topography – flat and barely above sea level! Plan to spend a full day exploring on shore with your choice of taxi, jeep or scooter rental. Pack up your snorkeling gear and sunscreen to head for Loblolly Bay. This secluded beach feels like standing alone at the ends of the earth where endless white sand beaches meet striking blue waters – most certainly the prettiest water colors to be found in the BVI. And there's great snorkeling just a few yards from shore. Follow up your snorkeling with lunch at Cow Wreck Beach Bar, where the conch fritters are some of the best to be found anywhere.
And don't miss your chance at the famous fresh Anegada lobster dinner. It's unlike any lobster you've tasted, and more sweet and tender than any Maine lobster! Be sure to place your dinner order early, before you head off for your day of adventure. Wonky Dog, Lobster Trap and Potter's by the Sea are all close by and excellent choices for lobster dinner on Anegada.
Snorkeling the best of the British Virgin Islands
With the multitude of excellent dive sites and snorkeling reefs, you can easily find a place to discover vibrant underwater worlds at almost every anchorage in the BVI.
The Caves and the Indians at Norman Islands are favorites, and it's helpful to be on a private yacht where you can linger and enjoy these places long after the snorkeling tour boats depart. The Indians are easy to find, with their three jagged rock formations jutting up from the water and surrounded by mooring balls. The Indians offer two very different snorkeling experiences with the east side more shallow with soft coral, sea fans and tons of tropical fish. The other side is a steep wall that goes to about forty-feet deep where you're likely to see the larger snappers, barracuda, or moray eels. Take your time – there's so much to see, and sometimes the most wondrous sights are found in the tiniest sea creatures!
The Caves are nearby, so you can experience both spots on the same day. Here, you can snorkel in the dark shallow caves, as well as along the shoreline where small brightly-colored tropical fish are everywhere!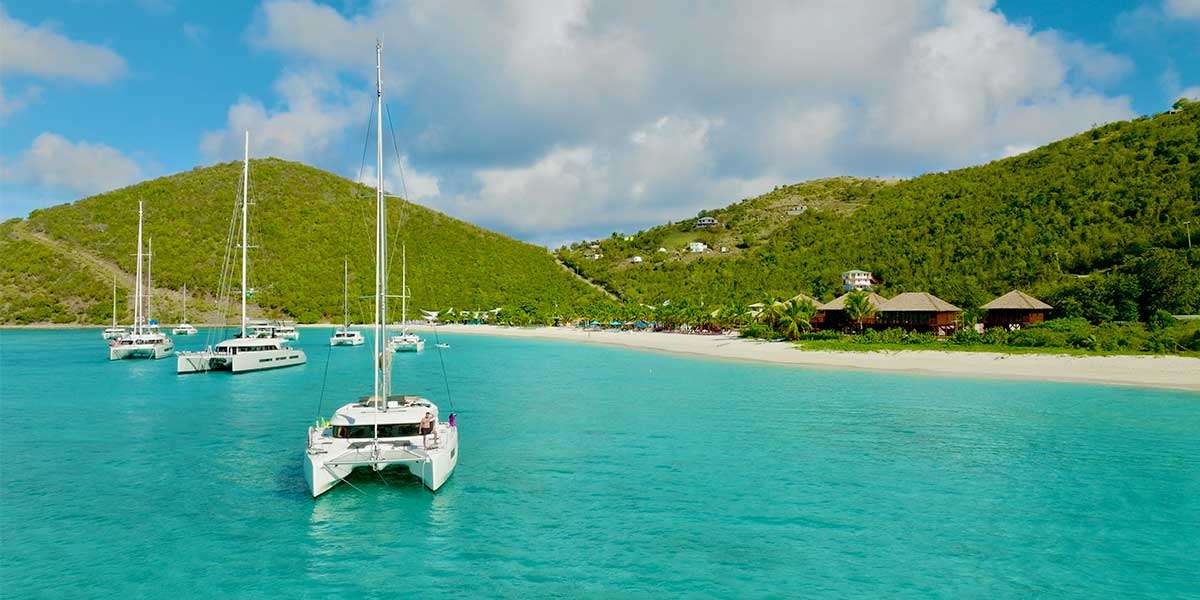 Painkillers on Jost Van Dyke
Following your days of adventuring, hiking and snorkeling, perhaps you're ready for a day of frolicking on the beach without a care in the world. Jost Van Dyke is your place. With a population of only around 500, Jost Van Dyke has abundant natural beauty and boasts a world-famous stretch of gorgeous beach at White Bay where boaters converge to spend the day. Most visitors moor close in and swim to shore – hence the name of the famous beach bar Soggy Dollar Bar. Stop in for a Painkiller and relax and socialize on the beach. Then bar-hop your way down the beach where there are plenty of other notable places to visit including One Love, Ivan's Stress Free, and Hendo's Hideout.
The Bubbly Pool
While on Jost Van Dyke, hop over to the east end at Long Bay near Diamond Cay for a fun excursion to discover the Bubbly Pool. It's just a short hike past Foxy's Taboo restaurant and you're likely to see a few friendly free roaming goats along the way. If you're lucky enough to visit while the waves on the north side of the islands are up, the small pool here makes for an uplifting and invigorating swim in a "natural Jacuzzi" created by the wave action crashing through the rock formations. Bring a towel and stay for a picnic, or stop at Foxy's on your way back to the boat.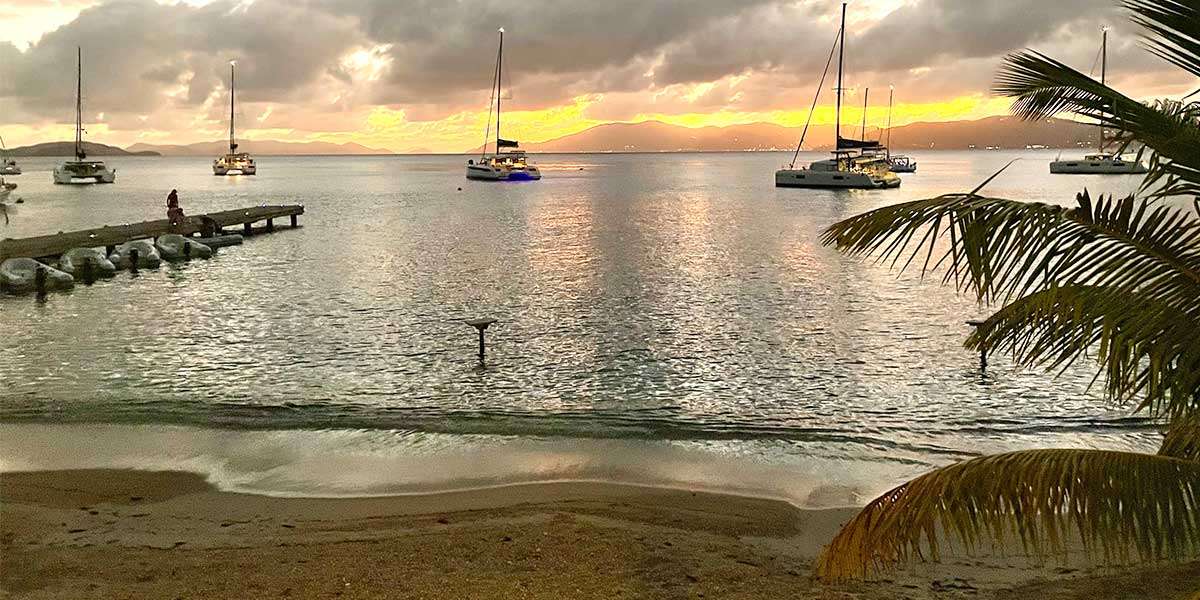 Chill at Cooper Island Beach Club
For the perfect end to your best of the British Virgin Islands adventure, the stylish and chill atmosphere at Cooper Island Beach Club is a yacht charterer favorite. Arrive early to be sure you get a mooring ball for the night, as there is no anchoring allowed here. There's plenty to do here during the day, from water sports, to lounging at the beach, to shopping at the small Seagrape Boutique.
The snorkeling nearby at Cistern Point is some of the best around, and one of the places where you're very likely to see sea turtles. Later, swim or dinghy ashore and enjoy the lovely beach or deck lounge area. Rum lovers will soon discover that here on this tiny island hideaway is Cooper Island's Rum Bar – with one of the largest and most impressive selections of rum in the Caribbean. Try a rum sampler board and some locally made rum-infused chocolates, before heading to dinner.
That final slow stroll down the Cooper Island dock to take the dinghy back to your yacht for a final evening aboard is bittersweet, indeed. The memories created in this tropical sailing wonderland will last a lifetime, but still are never enough. You may find yourself booking a return trip to introduce more friends and family to a life-changing BVI adventure.
And there's always so much more to see. When it comes to discovering the best of the British Virgin Islands, the amazing sights and adventures listed here are just the beginning.
Find out more
Choose a bareboat charter in the BVI for adventurous hands-on sailing, or select a skippered charter and leave the sailing to a local expert. For a more pampered, personalized charter experience, a crewed yacht provides a captain and hostess to take care of your every need while cruising the scenic waters of the British Virgin Islands.
Learn more about yacht charters in the BVI, or one of our many other destinations on our blog. Get in touch with our team today on 855.650.8902 or email [email protected] for more information.