There's no other way to put it: Australia is another planet. A sailing vacation to this Pacific outback will no doubt include exotic native wildlife, burgers made from bizarre (but delicious) meat, and 20,000 year old rock art that will make you feel like you've stepped back to a different era.
Google founders Larry Page and Sergey Brin were so inspired by Australia's powerful allure that they both have yachts in the South Pacific. Chartering a yacht in Australia and sailing its special Whitsunday Islands is a relaxed, learning experience, a friendly surprise and the closest you will probably get to exploration.
[embedyt] https://www.youtube.com/watch?v=62nwccQSlPA[/embedyt]
1. Get to know the indigenous land
How does croc-spotting and swimming under frothy waterfalls sound to you? At Kakadu National Park this is just a taste of where your day will go. Stroll to Sydney Harbour where the Eora Nation traded for centuries. At both the parks and harbors, you are on indigenous land taking in Aboriginal culture.
The Cairns region is the land of the Yirrganydji and Yidinji peoples. Historically, both a rainforest-dwelling and seafaring people, the many Yirrganydji descendants maintain their spiritual connection with the land of their ancestors today, and continue to teach new generations and visitors about their rich and ancient culture.
2. Immerse yourself in wild cities
In Sydney, a bustling city merges with wild jungle. National parks dot the urban landscape, which sees native critters appear in the most unexpected places. Expect to see a flying fox and cockatoos squawking down at you from city balconies.
Darwin is a cosmopolitan mix of more than 50 nationalities. Locals come for the waterfront and stay for the tropical vibrance of the city. Hobart's summer festival season sees throngs of travelers, foodies, musicians and sailors stomping all over town.
As wild as it is, Australia offers high-end cuisine complemented by indigenous flavors. You can buy a kangaroo steak or take a tour outside Alice Springs and discover which local plants to taste. Don't forget to sample the acclaimed wineries the region has to offer on a Barossa Valley taste tour, ranked #1 on TripAdvisor.
3. Meet the extraterrestrial wildlife
Many of the animals in Australia are unique. Respect their habitats and keep your distance but enjoy photographing these marvelous creatures.
Look out for the thorny devil and its dinosaur-like features and cute marsupials like koalas, kangaroos, wombats and many others that can't be found anywhere else in the world. These animals always come to mind when Australia is mentioned.
While on your sailing vacation, the Great Barrier Reef is the jewel in the crown. It's the largest marine park in the world, home to more than 1,500 species of fish and hundreds of types of hard coral, sharks,rays and more than 30 species of marine mammals. This rich ocean habitat is so vast that it can be seen from space. A sailing vacation in Australia would not be complete without taking a peek at this legendary underwater world.
4. Speak like a local
If you don't already feel like Australia is different, it is known for its quirky colloquialisms. In order to get in with the locals, here are some basic words you can expect to hear while vacationing in Australia:
A Cold One – Beer.

Accadacca – How Aussies refer to Australian band ACDC.

Ankle Biter – Child.

Arvo – Afternoon (S'Arvo – this afternoon!)

Aussie Salute – Wave to scare the flies.

Avo – Avocado.

Bail – To cancel plans.
In addition to the charming lingo, aboriginal language is prevalent across the Australian continent with 13 traditional indigenous dialects still used today.

5. Photograph jaw-dropping landscapes
You will feel like you've stepped into an alien landscape when you head to 'the Rock' at Uluru-Kata Tjuta National Park. With its scorched-orange, fire-red color and flat top, this otherworldly monolith will make you believe you're not in Kansas anymore.
The Daintree Rainforest is the oldest rainforest on the planet. It features 460 square miles of lush, untouched nature and can be explored either through a 2-hour or 4-hour tour. Decompress after a long day of stunning views by enjoying yoga on your catamaran, or sipping local wine as you watch the sun go down over epic Australia.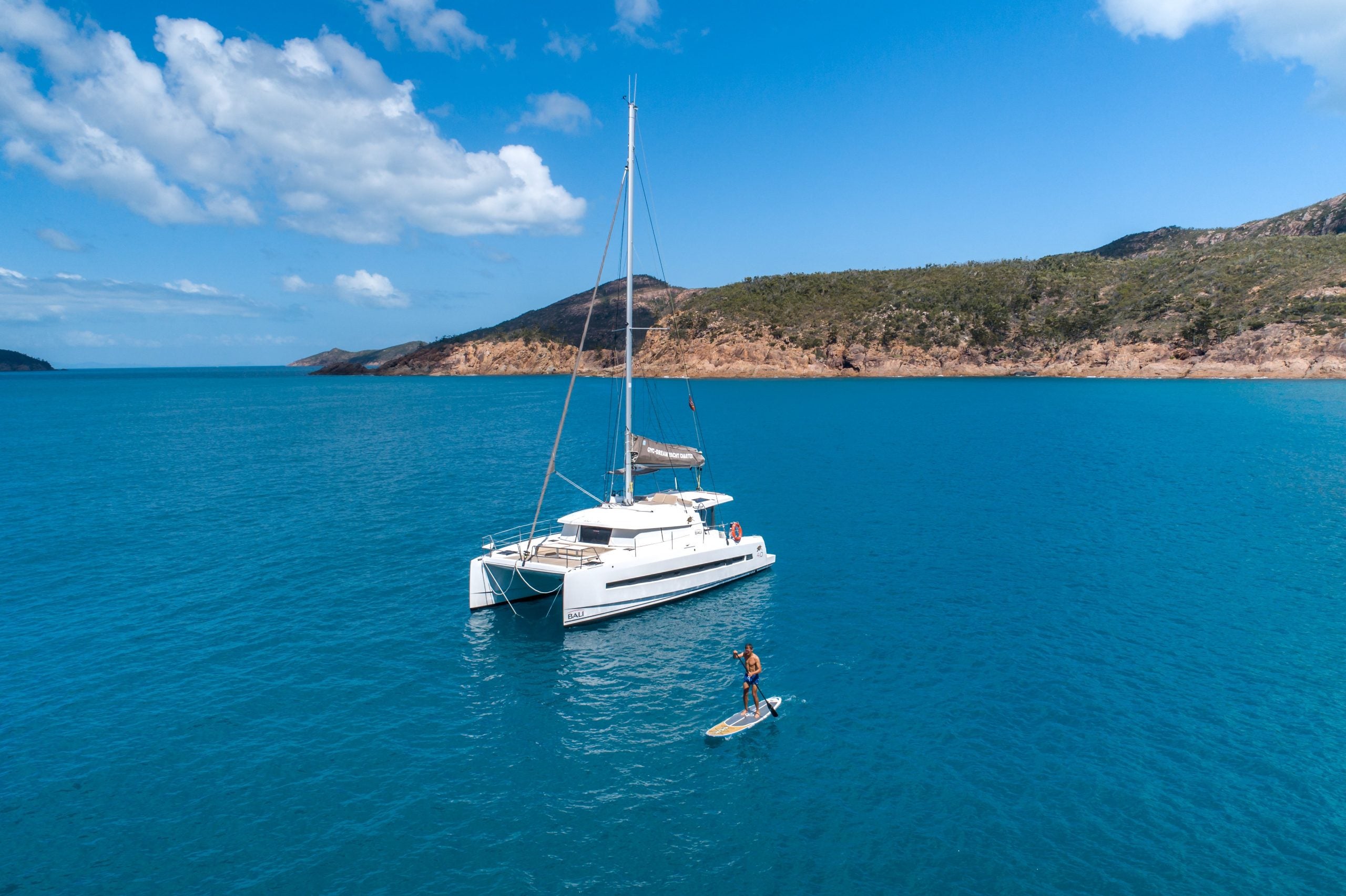 Find out more
The best times to visit Australia are from September to November and from March to May. These months offer comfortable temperatures and manageable tourist crowds.
Our base in the Whitsunday Islands is the perfect launching point for a sailing trip around whimsical Australia. We have 8, 11, or 15-day itineraries to help you plan.
We offer bareboat and skippered charters for a sailing adventure around Australia. Check out our Australia fleet to choose the perfect boat for you.
For more information about sailing Australia, email us at [email protected] or give us a call at 855.650.8902.