In Swedish, there is the saying "sjön sugar", which means that sailing really gives you an appetite! Our base team in Stockholm has put together their top 10 foods to enjoy while discovering one of the world's best archipelagos! These inspirational food suggestions are quite easy to make if you provision cleverly…
1 Classic Skagen sandwich on levain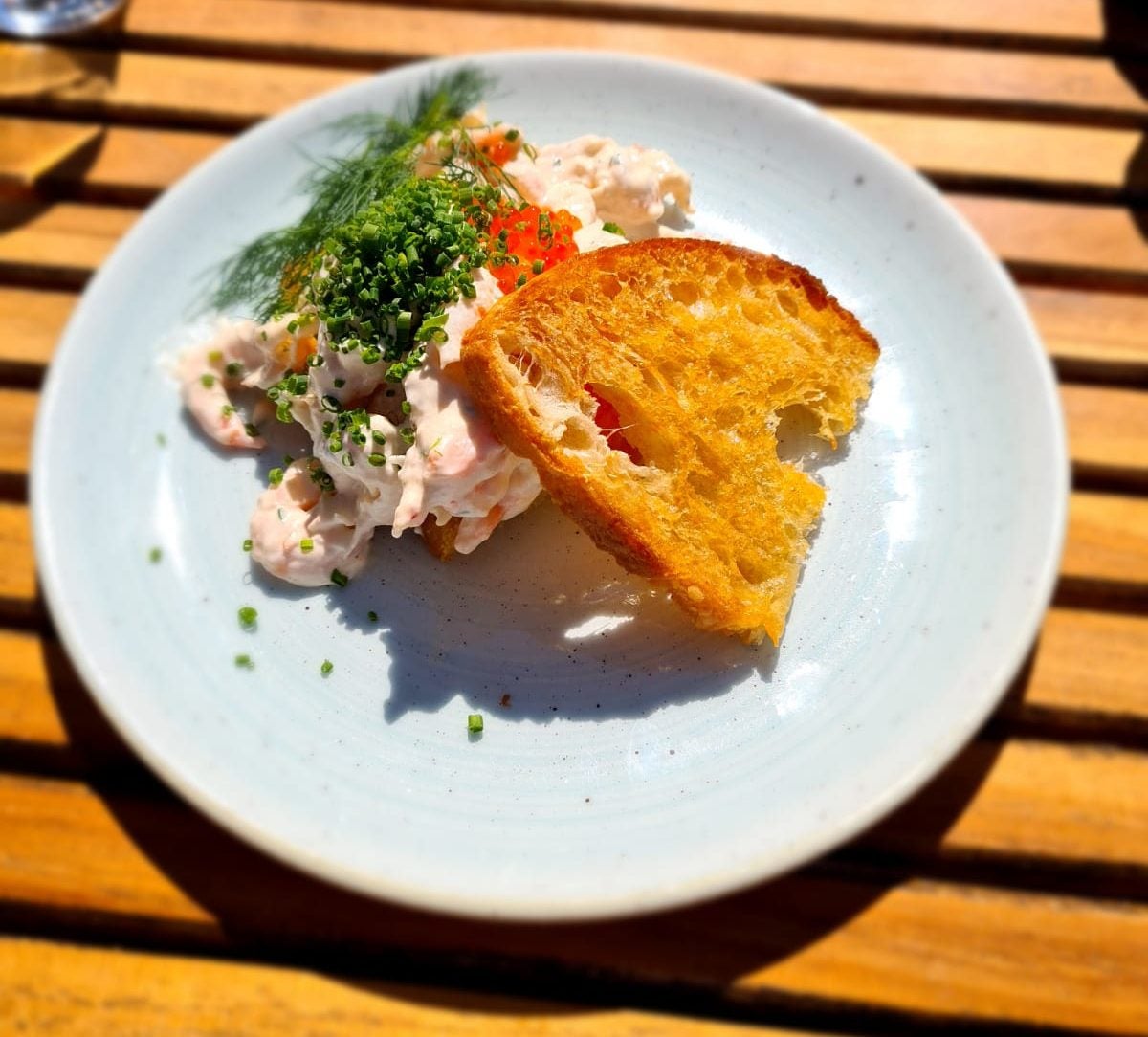 Enjoy a mix of shrimps, mayonnaise, crème´fraiche (or sour cream), fish roe, dill, lemon, and the secret ingredient that really makes it pop? A little bit of grounded horseradish! Serve this classical Swedish starter on toast for a great lunch. Or serve the mix on a baked potato to make it more of a meal.
You can buy the shrimps in a glass jar instead of fresh and it will keep in the boat fridge until the day you want to eat them. If you want fresh, you can buy fresh or smoked shrimps locally. For instance, in Nynäshamn and Utö. Make sure to visit the local bakery Kringelgården to pick up the best levain in Stockholm, the perfect choice of bread for this Skagen sandwich. While you are there, pick up a loaf of their Danish bread with apricots for your breakfast and it will remain fresh during your whole week.
2 Gravlax (Cured salmon), fresh potatoes on Swedish crispbread
Buy crispbread, such as Spisbröd or Vikabröd. Slice yesterday's potatoes and spread over the piece of bread together with a few slices of cured (or cold smoked) salmon and top it off with Gravlaxsås. Enjoy with a beer.
3 SOS (Smör, Ost, Sill) butter, cheese and herring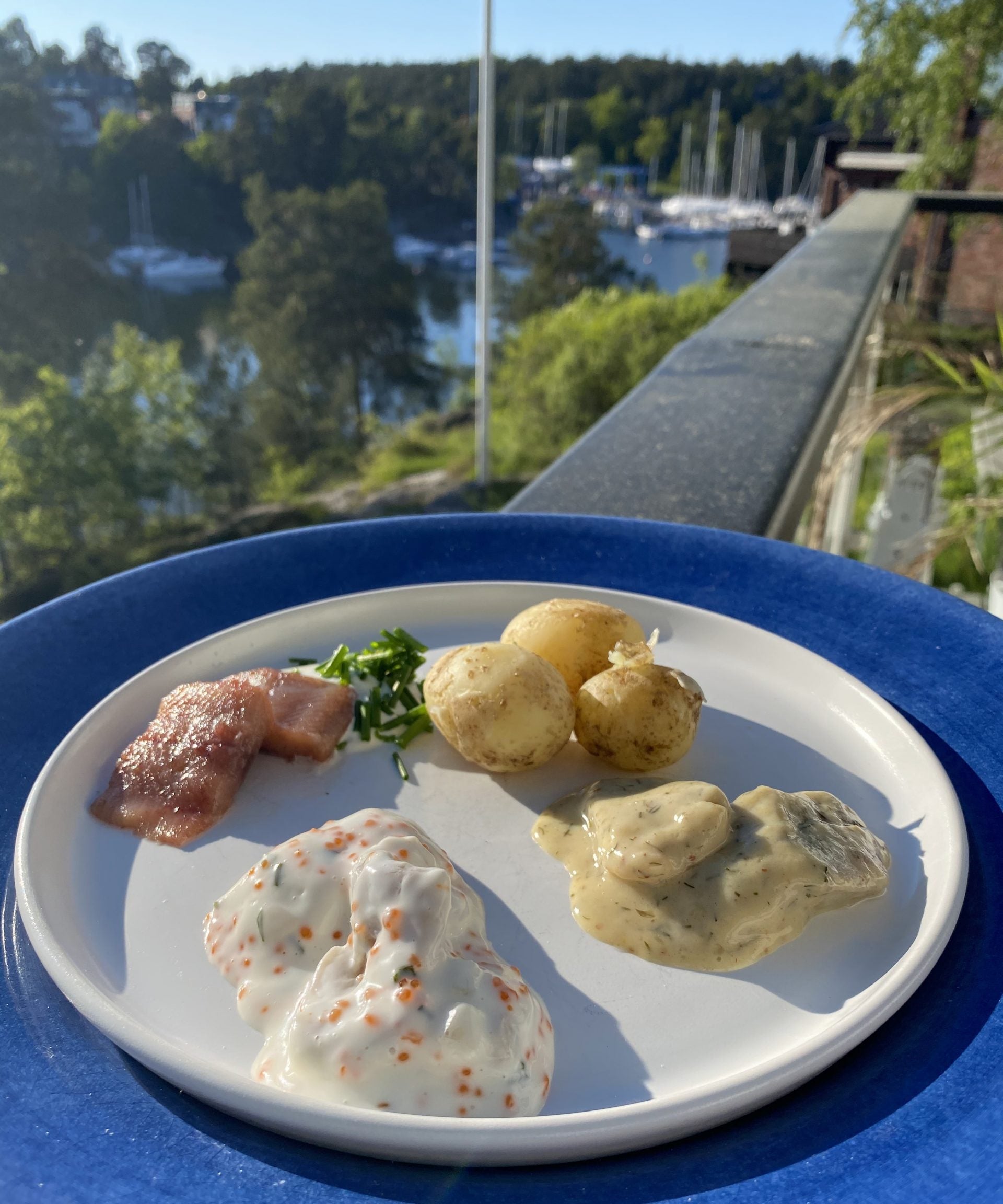 This is typically Swedish but not a top choice for all, as herring has a special flavor! It can take a while to get used to it. Try herring in mustard sauce (Senapssill), fish roe and seafood-flavored (Skärgårdssill) or natural (Matjessill), which you serve with sour cream and freshly chopped chives.
To make it more of a meal, serve it with the season's wonderful new potatoes which you boil with dill and salt. Drink with schnapps (if you are not sailing, of course) and a cold beer.
4 Cold thinly sliced roast beef with creamy potato salad
This is an easy lunch for warm summer days. You can buy the roast beef already cooked to perfection and sliced in the food store, together with creamy potato salad. Serve together with roasted onions and pickled gherkin. You can also serve this on a piece Danish rye bread and you have a perfect Danish smørrebrød.
5 Flatbread with Philadelphia chive-flavor and cold smoked salmon
This is an easy starter! Spread the Philadelphia on the flatbread, put slices of salmon on top, roll and chop into two-finger-sized slices.
6 Meatballs
No visit to Sweden is complete without eating this typical Swedish dish. Eat them with boiled potatoes, mashed potatoes, pasta, or on sandwiches. This is great boat food and you can buy them ready-made from the supermarket – the most popular brand is Mamma Scans meatballs. Just put in a salad with yesterday's dinner leftovers, no matter what you had the day before.
Meatballs can be turned into a pasta or potato salad or just put on a piece of bread with creamy beetroot salad. It's often served with boiled potatoes, a brown creamy sauce, and pickled gherkin. If you really want to have it Swedish style, make your own picked gherkin! Mix 3 parts of water, 2 parts sugar, 1 part 12% ättika (like vinegar) which you bring to a boil and let it cool while you slice cucumber fine and then let it soak in the mix for a couple of hours.
7 Sailor toast – rib eye on levain with freshly grounded horseradish and sauce bearnaise
Now you need the levain you bought at Kringelgården again, as well as the horseradish. Fry or BBQ the meat, serve on toasted levain, serve with salad and potatoes/fries.
8 Strawberry bonanza
Stock up on local strawberries before you start your cruise. Swedish strawberries that have grown slowly in the cool climate have so much flavor, especially with vanilla ice cream. It also gives your breakfast a little extra something!
9 Swedish pancakes
On many islands, you will find blueberries and wild strawberries which you can enjoy with some fresh milk or serve with Swedish pancakes (leave out the baking powder).
10 Meringue cake with strawberries
In the food stores, you can buy ready-made meringue cake bases. Make a quick and luxurious dessert with lemon curd and whipped cream, topped with strawberries. This is a Swedish classic summer cake.
For more inspiration sailing Sweden or other fantastic destinations worldwide, head on over to our blog.