We catch up with Captain Suzy Acevedo, who joined us in 2017 – she works as a skipper who has become rather popular with our customers. As part of our More Women At Sea series, we caught up with her to find out how she began sailing…
What inspired you to take up sailing?
I was inspired to learn how to sail when one day while playing paddle ball with my brother Miguel at the beach in Isla Verde, Puerto Rico, I saw a windsurfing regatta for the first time. To me, the windsurfers looked like free birds. I wanted to fly with these birds.
When/where did you learn how to sail?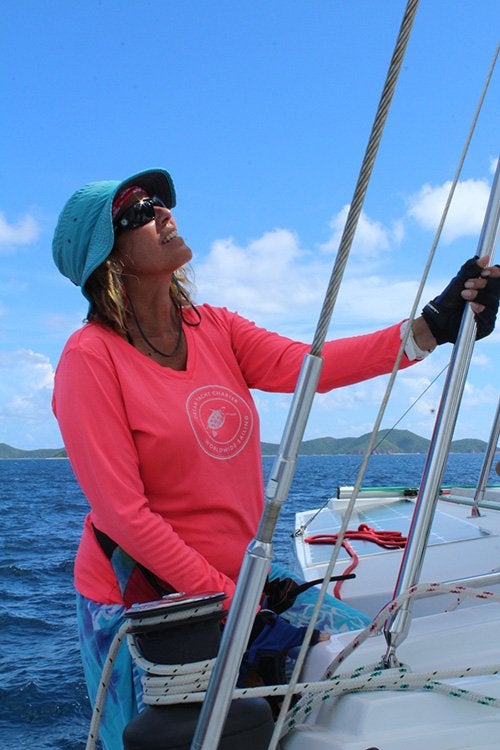 Back in 1980, I bought an old windsurfing board and I went to the Laguna of Condado to practice and learn by myself.
What boats did you sail when you were starting out?
I sailed a Mistral Equipe windsurfer.
What made you want to become a skipper?
In 1986, I became the first female scuba diving instructor in Puerto Rico. I wanted to become a skipper so I could take my students scuba diving.
What's been the highlight of your sailing career to date?
The highlight of my sailing career was representing Puerto Rico as a member of the female windsurfing Olympic team at the 1993 Central American Games, held in Ponce. It was a big accomplishment for me since I was diagnosed with severe scoliosis and underwent surgery in 1977 when I was 13. I still have several metal rods inside my spine.
Where have you sailed, and which is your favorite and why?
I have sailed and raced in Puerto Rico, the US Virgin Islands, the British Virgin Islands and most of the Leeward Islands of the Caribbean. Outside of the Caribbean, I've sailed the Turks and Caicos, Chesapeake Bay in Maryland and the Adriatic Sea from Dubrovnik in Croatia. I have participated in many boat deliveries between the Caribbean and eastern part of the USA, and captained scores of charters in the Caribbean and the Chesapeake Bay.
My favorite destination is Culebrita in Puerto Rico. It is stunningly beautiful and pristine, and it is not crowded.
When did you start working as a Dream Yacht Charter skipper?
I started as a volunteer skipper to bring food and supplies to the Dream Yacht Charter base in the BVI after it was damaged during Hurricane Irma in 2017. I am proud to say that I was part of the Puerto Rican Navy that served as first responders after the disaster, providing humanitarian assistance to the BVI after the hurricane.
What's your typical day as a skipper look like?
I currently work as a charter skipper and I teach ASA courses. My typical day starts with a thorough inspection of the boat that I will be working on. I welcome the clients, or students, and start with a safety briefing and review expectations. Then we go island-hopping to beautifully exotic beaches in the area that we are sailing. We are typically safely moored before sunset, but I am on duty 24/7.
What are your responsibilities on the boat?
I am responsible for the life and safety of each passenger, as well as the operation of all the systems on the boat. I must also ensure that the boat is properly provisioned, and always maintain customer satisfaction. Sometimes that means I officiate weddings, and at other times I am the designated dinghy driver after celebrations. At all times, however, the safety of our guests comes first.
What's your biggest challenge as a skipper?
My biggest challenge is to find time for continuing education and to learn more. I would love to learn celestial navigation but have not yet been able to fit it into my schedule.
Where do you want to sail that you haven't already, and why?
I would love to sail in the Islands of Greece, as I am fascinated by ancient history.
Find out more
Learn more about skippered charters, which are perfect for those who love being on the water but have no sailing experience or find destination inspiration on our blog.
To discover an adventure of your own, let us help you plan your perfect sailing vacation. Get in touch with our team today on 855.681.5176 or email [email protected] for more information.