You don't need to be a sailor to experience a vacation on a sailboat. It's our mission to help everyone feel the joy of seeing destinations from the water, island hopping and feeling the wind in your hair with sails at full mast.
This is why we made sailing vacations easy with our organized by the cabin charters, where you can reserve a cabin. You can leave everything to us, from the itinerary to the sailing and cooking by our professional staff. All you need to do is just pick the destination where you want to go, book your flights and leave the rest to us. Need inspiration? We've got five exciting destinations to get your started…
1. Hop between the British Virgin Islands
The BVIs are a group of impressive islands that separate the Atlantic Ocean from the Caribbean Sea and is known for its Caribbean atmosphere and beautiful beaches. This location is perfect for anyone who loves snorkeling, swimming and stand-up paddle boarding. You'll be amazed by colors of the BVIs, the water is a shade of blue you have probably never seen before and the sunsets, with streaks of gold and magenta, will dazzle you. There is so much to see, from Jost van Dyke, Norman Island, Peter Island, Anegada, Virgin Gorda and Guana Island, plus many more. Find out more about our Tortola Dream 8 Days/7 Nights charter from our base in Scrub Island >
2. Spice up your vacations with a tour of Grenada
Grenada's chain of islands includes Grenada, Carriacou and Petite Martinique. Grenada is known as the "spice island" for a reason – it produces the aromatic spices such as ginger and cinnamon. Yet it's also the spice of life of this country's unique French and English culture that will engulf you the minute you arrive for your Tobago Cays Dream 8 Days/7 Nights cruise. The people of Grenada are warm and inviting and the beaches are world renowned. You will also be able to snorkel coral reefs among the five islands of the awe-inspiring Tobago Cays or pick up some gifts at St George's markets.
Your cruise itinerary includes:
Boarding at Port Louis Marina

Carriacou-Sandy Island

Union-Mayreau

Tobago Cays

Petit St Vincent

Prickly Bay
3. Enter the gateway to the Grenadines from Martinique
Our Grenadines cruises start from Martinique and take you on an exciting adventure around these special Caribbean islands. Experience the many cultures, sounds and textures of Bequia, Mayreau, Tobago Cays, St Vincent, St. Lucia and Sainte-Anne in one vacation. Enjoy the coral barrier reef at Tobago Cays, optional lobster BBQs on the beach, visiting local markets and boutiques, listening to authentic steel bands or go on an excursion to swim at the foot of a waterfall. Discover everything you can do with a Dream Grenadines Premium 8 Days/7 Nights charter >
4. Vacation in Tahiti's Society Islands
The South Pacific island of Tahiti is famous for its exotic beauty, friendly local welcome and the charms of its traditional dances and drums. Kick back and enjoy islands with lagoons, lush landscapes and clearwater, home to a vast array of marine life, including vibrant coral, sea turtles, dolphins and rays. Kayak and paddleboard with Bora Bora, Raiatea, Tahaa, Huahine and Moorea as your backdrop for the perfect photo moment. A vacation in this special place is easy to organize with our by the cabin charter in Tahiti. Learn more about our Bora Bora Dream Cruise 8 Days/7 Nights >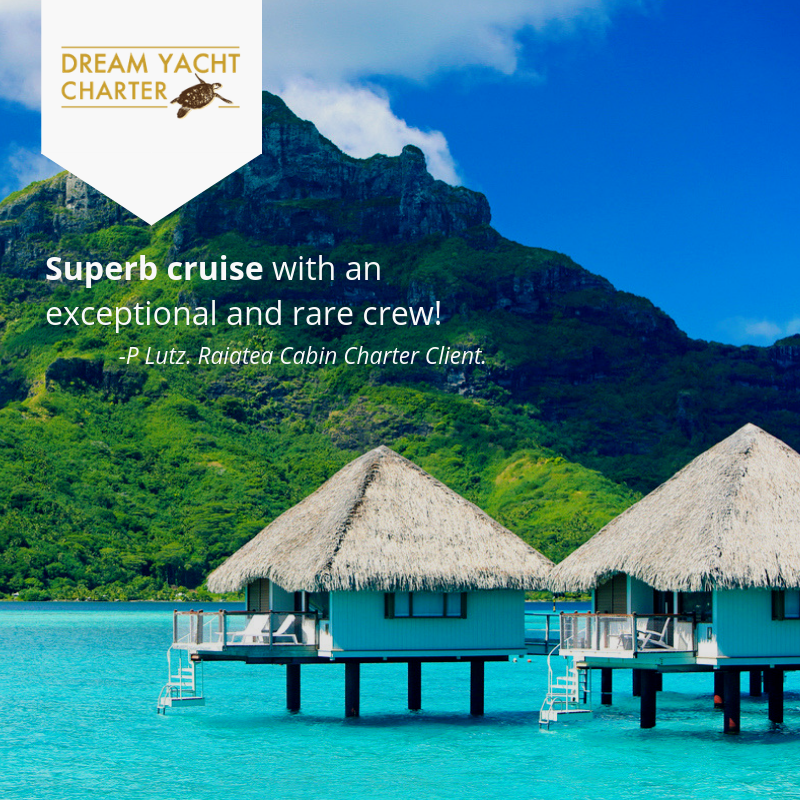 5. Enjoy Thailand's hongs and delicious food
For the more adventurous travel lovers, Thailand is yours to discover. Get to know the country's limestone landscapes in Phang Nga Bay and explore this Asian gem with our Phuket Dream Premium 8 Days/7 Nights charter. Let us transport you to a world of secluded anchorages, ancient ruins and Buddhist temples. Visit Koh Nakha Noii, Ao Thalin, Koh Hong, Koh Phi Phi Don, Koh Phi Phi Leg and many more. You might even see an elephant or two with a land excursion.
What are by the cabin charters?
Our all-inclusive by the cabin charters allow you to explore your destination of choice with like minded individuals on our comfortable, modern yachts. Our boats have between four and six cabins, accommodating up to 12 people. Each cabin, all en-suite, are suitable for single travelers or couples.
Our itineraries are set, and the boat's departure is guaranteed, whether all the cabins are occupied or not. Our by the cabin charters are organized similar to cruise ships, only on a more intimate boat at a size that can access anchorages and local sites that large cruise ships can't. On your charter you will be able to experience watersports, fine dining and land excursions as an adventurer and not one of the anonymous cruise ship masses. You'll be treated as an individual, as someone who is valued by us. We will take care of you.
Read our by the cabin charter FAQs >
Learn more
Discover all of Dream Yacht Charter's all-inclusive by the cabin cruises, or contact our team for more information. Email us at [email protected] or give us a call at 855.650.8902.