The Mediterranean is a treasure trove of some of the best beaches in the world. With nearly 30,000 miles of coastline spread across 22 different countries, there's a reason the Med is one of the most popular tourism destinations on the planet.
From vast sandy beaches to secluded bays and pebbled shores, there's endless choice when it comes to picking the perfect Mediterranean vacation spot. In this post, we round up some of the very best Mediterranean beaches in this European paradise, including a few truly special locations, only accessible by boat.
Get ready to experience some serious wanderlust as we take you through the 16 best Mediterranean beaches to visit.
What are the Best Beaches in Croatia?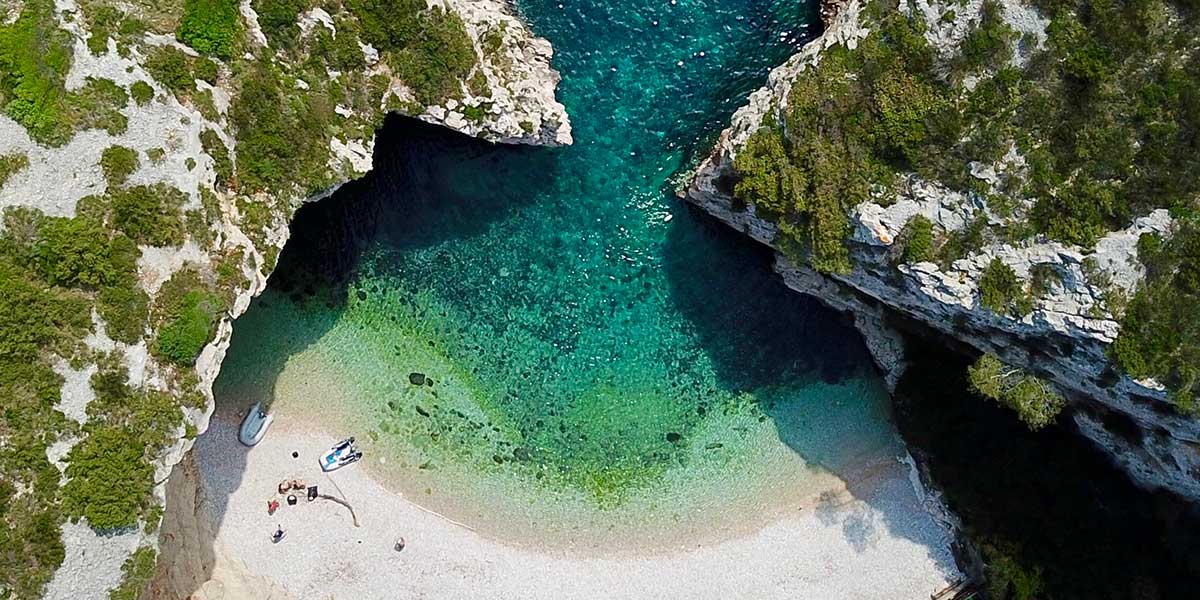 Stiniva Beach, Vis
This beautifully secluded beach on the island of Vis has previously been voted the best in Europe, and it isn't hard to see why.
Located in the balmy waters of the Adriatic (the northernmost arm of the Mediterranean), Vis is an island paradise of hidden caves and ancient ruins. Stiniva Beach lies on its southern coast and is only accessible by boat or on foot.
Like most Croatian beaches, Stiniva's shoreline is pebbled rather than sandy – but don't let that put you off. With nothing to cloud the waters, the seas here are crystal clear, and there are some seriously impressive cliffs to dive off if you're of the thrill-seeking persuasion.
Zlatni Rat, Brač
One of Croatia's most recognisable locations, Zlatni Rat is a stunning expanse of fine-pebble beach on the island of Brač.
It's the country's top windsurfing spot, and with scuba diving and snorkelling available too, Zlatni Rat is one of the best Mediterranean beaches for sports watersports enthusiast. The village of Bol, home to some exceptional restaurants and cafes, is also nearby for a pre or post beach pitstop.
Explore the best beaches in Croatia by yacht >
What are the Best Beaches in France?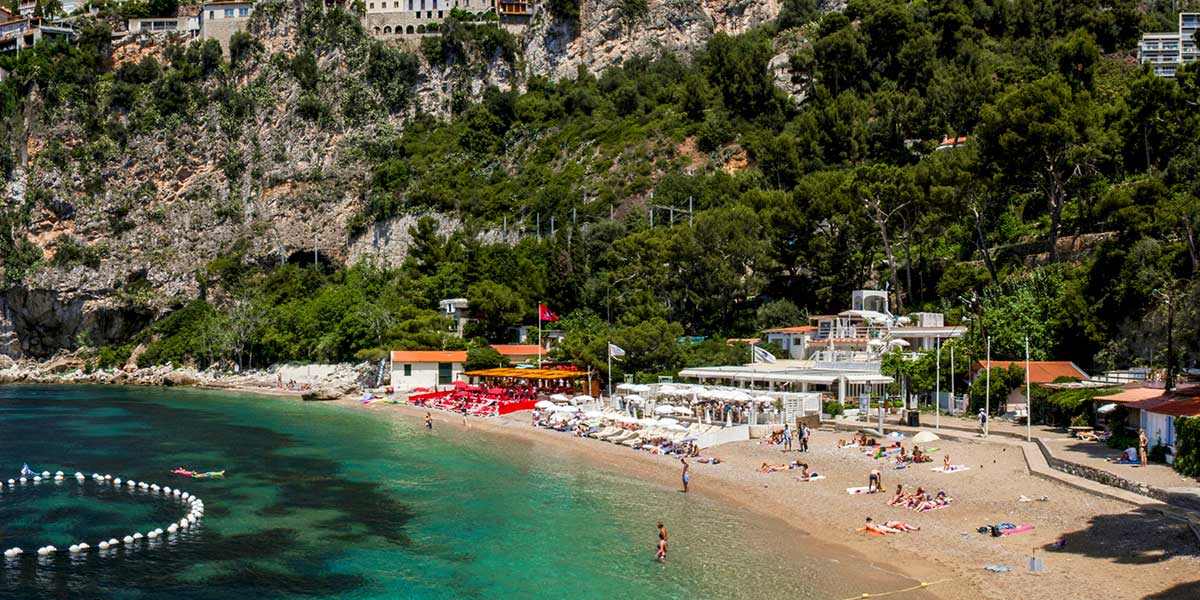 Mala Plage, Cap d'Ail
Known as one of the most beautiful beaches on the French Riviera, Mala Plage is located in the seaside commune of Cap-d'Ail. It's a spectacular stretch of white sand and pebbles, surrounded by breathtaking cliffs (not to mention some excellent bars and restaurants).
The azure waters are perfect for a leisurely swim, or you can rent a lounger to lay back and soak up the Mediterranean sun. The beach is accessible by boat or on foot from the nearby train station, but bear in mind there's a long flight of stairs to factor in if you're planning to walk!
Île Sainte Marguerite, Cannes
Together with its neighbor Saint-Honorat, Sainte Marguerite makes up one half of the îles de Lérins off the coast of Cannes. It's easily reached by a short ferry, or you can enjoy its unspoilt beaches from the privacy of your own yacht.
The majority of the island is covered in protected forest, and there are countless secluded coves to explore, making it one of the beach Mediterranean beaches for nature lovers. For a day of sunbathing though, there's one long stretch of sandy beach that's perfect for families and sun worshippers alike.
There are no cars on the island and only a few spots to eat, so don't expect an all-inclusive resort experience. But when it comes to unspoilt nature and breathtaking views, Île Saint Marguerite is one of the true jewels of the Mediterranean.
Explore the best beaches in France by yacht >
What are the Best Beaches in Greece?
Elafonissi Beach, Crete
Made up of literally thousands of islands and islets, Greece is one of the world's most popular destinations for sailing and yachting excursions. For many people, its sandy shorelines are the epitome of Mediterranean beauty and charm.
And while there's stiff competition, Elafonissi beach on the island of Crete has a serious claim to be one of the very best beaches in the Mediterranean. Its stunning pink sands and turquoise waters mean it could be mistaken for a Caribbean island.
With its warm, shallow waters, Elafonissi is great for paddling with young children. And for the grownups, there are a few canteens scattered around the beach that will whip you up a refreshing signature cocktail!
If you're keen for an adventure, the beach faces the island of Elafonisi (which gives it its name). You can walk across a sandbar from the beach to visit this island paradise of pink and white sands.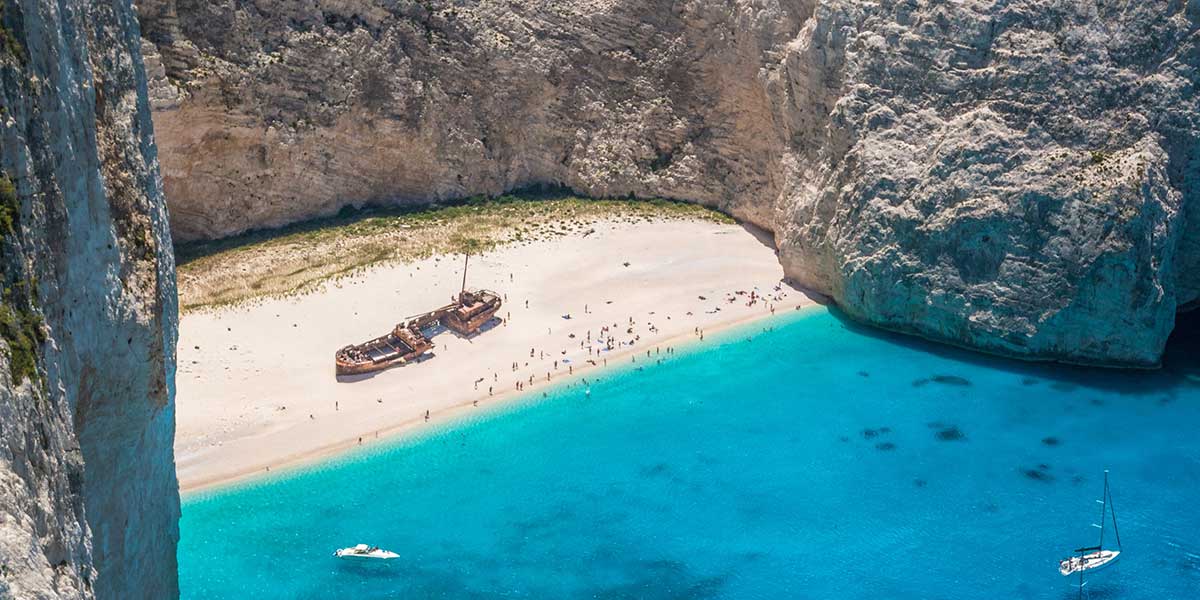 Navagio Beach, Zakynthos
This beautiful spot is also known as Shipwreck Beach and Smugglers Cove, thanks to the abandoned coaster that lies imposingly on its sands. But don't let the names put you off – this stunning cove has consistently been named one of the world's best beaches.
Navagio Beach is only accessible by boat, and it's seriously worth the trip. The waters are crystal clear, and the imposing cliffs that surround the beach make it feel utterly otherworldly.
Now internationally-renowned as one of the best Mediterranean beaches, the hotspot is fast-growing in popularity, so be prepared to share its pristine sands. Or, try traveling during the off-season to get this memorable spot all to yourself.
Explore the best beaches in Greece by yacht >
What are the Best Beaches in Italy?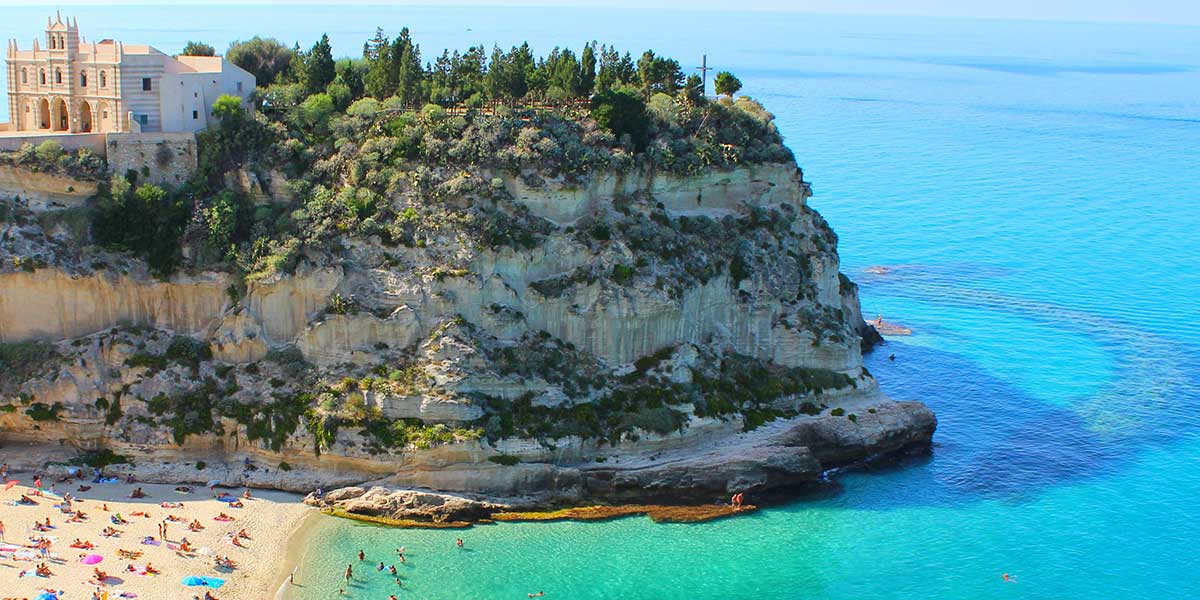 Tropea, Calabria
Known locally as la Costa degli Dei, or the Coast of the Gods, this stretch of white sand and sparkling azure seas is a highlight of Southern Italy, and one of the best beaches in the Mediterranean.
The beaches of Tropea are popular holiday destinations for Italians themselves, but are a well-kept secret among foreign travelers. The town itself sits atop dramatic cliffs that sweep down to glittering white sands – perfect for lazy sunbathing or a snorkeling trip.
If you're traveling by yacht, it's just a short hop across the sea to Sicily and the gorgeous beaches of the port city of Messina.
Explore the best beaches in Italy by yacht >
What are the Best Beaches in Montenegro?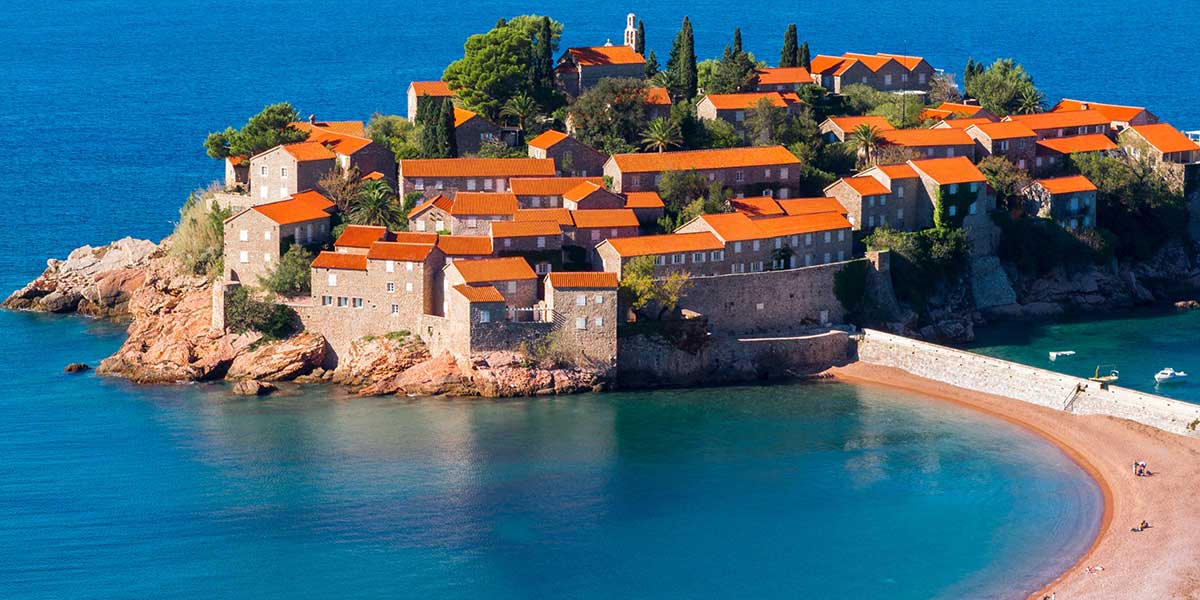 Sveti Stefan, near Budva
While perhaps not as well-known worldwide as their Italian and Croatian neighbors, the shorelines of Montenegro quietly offer some of the best beaches in the Mediterranean.
The island of Sveti Stefan is actually connected to the mainland by a stone walkway. And while the island itself is only accessible to paying guests – the entire 15th-century village has been converted into a hotel! – and one of its beautiful beaches is free to access.
It's not hard to see why the rich and famous have long chosen this spot for their vacations. The red-roofed village itself is a beautiful backdrop to the azure Adriatic waters at Sveti Stefan, and the beach's fine pebbles glow pink in the sunlight.
Sveti Stefan is a popular spot on sailing excursions, and nearby Budva is well worth a visit too. Its sandy beaches and exciting nightlife are a lively contrast to the idyllic scenery of this famous island.
Jaz Beach, near Kotor
A true favorite among locals, Jaz Beach offers the best of both worlds: lively attractions and busy beach bars at one end of the boardwalk, and serene sands at the other. The water is clear and blue, and the beach is surrounded by beautifully lush green hills.
Jaz Beach is one of the largest beaches in Montenegro. Its shoreline is a mix of pebbles and sandy shingle, and its seas are teeming with interesting wildlife for snorkeling enthusiasts to take a look at. You can catch live music events here in summer, and there are plenty of facilities if you're interested in hiring kayaks or even jet skis.
Jaz is accessible by car or on foot, or you can anchor your yacht nearby and dive straight into this Adriatic paradise. It's easy accessibility and bounty of activities makes it one of the best Mediterranean beaches for all kinds of travelers.
Explore the best beaches in Montenegro by yacht >
What are the Best Beaches in Spain?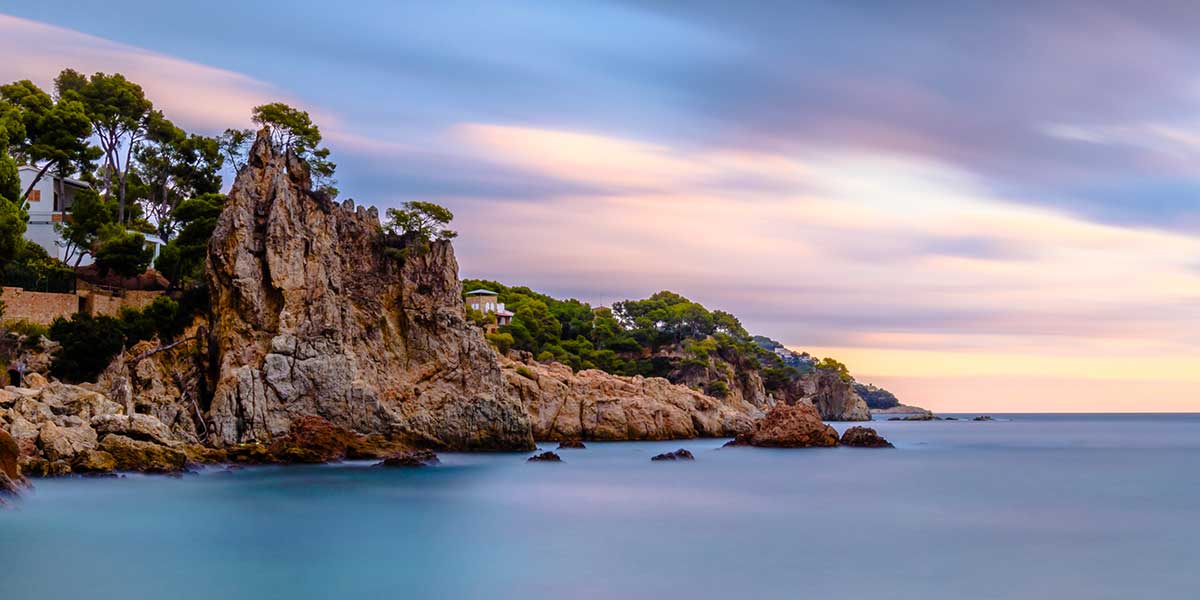 Cala El Golfet, Costa Brava
Spain is world-renowned for having some of the best Mediterranean beaches, and it isn't hard to see why. Its expansive coastline and collection of different island groups mean that there's truly something for every type of beachgoer.
If you're looking for something a little off the beaten track, it's well worth seeking out Cala del Golfet on the Costa Brava (Spain's northeastern coast). Surrounded by lush vegetation, Cala del Golfet is a golden sandy beach with rugged scenery and beautifully clear waters.
While it doesn't have any amenities on-site, Cala El Golfet more than makes up for this with its wild beauty and breathtaking views.
Be prepared – getting to the beach requires walking down a flight of stairs (and of course, walking back up at the end of your visit!). But this little paradise is certainly worth the effort, especially if you want to escape the crowds.
Ses Illetes, Formentera
Formentera is the smallest of Spain's Balearic Islands, and is known as the quieter sibling of its hedonistic neighbor, Ibiza.
Ses Illetes is located at the north of the island, and this seemingly infinite sandy beach offers an unforgettable experience to any tourist. With so much space, you're sure to find a spot to yourself among the soft sands and tumbling dunes.
Make sure to get to Ses Illetes to avoid the queues to enter (as it's located in a nature reserve, the council charges a small fee for visitors to the beach). The entrance fee is a small price to pay for the pristine condition of this beautiful beach, regularly voted one of the best beaches in the Mediterranean (and the world).
If sunbathing isn't your thing, try your hand at one of the many water sports available at Ses Illetes. There's windsurfing and paddle boarding, and you can even rent a canoe to paddle your way across to the nearby island of Espalmador.
Explore the best beaches in Spain by yacht >
What are the Best Beaches in Turkey?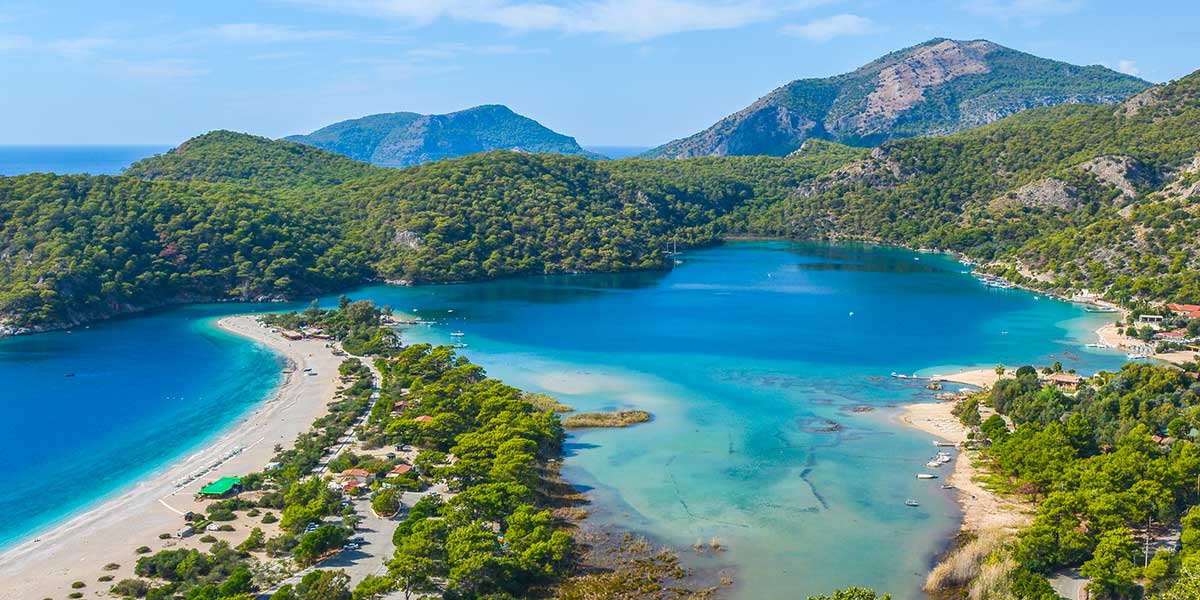 Blue Lagoon, Ölüdeniz
The beautiful beach at Ölüdeniz is one of the most photographed spots in Turkey (officially known as Türkiye). There's a stretch of pebbled shore that's free to visit, but the famous lagoon is only accessible via the protected national park, which charges a small fee.
The Blue Lagoon is a Blue Flag beach, and its warm turquoise waters make it an amazing spot for swimming. There are plenty of facilities and places to explore, including a famed paragliding hotspot nearby for the daredevils among us!
The Blue Lagoon is renowned as one of the best Mediterranean beaches and is highly popular with tourists, so don't expect to have the beach here all to yourself. Nonetheless, it's still well worth a visit, and there are plenty of quieter spots nearby to enjoy. Butterfly Valley is just one of them – an untouched paradise, home to over 100 species of its butterfly namesake.
Içmeler Beach, Marmaris
The town of Içmeler is the smaller neighbor of Türkiye's famed tourist hotspot, Marmaris. Içmeler beach runs along one side of the town center, meaning you're never far from some of the region's best bars and restaurants. But despite its proximity to the town, Içmeler offers peaceful views and clean sands to enjoy.
There's a wide range of watersports to get stuck into, from parasailing to pedalos. The sand is coarse and golden, with views of lush hills and the sparkling waters of the Mediterranean to enjoy while you swim or sunbathe. While the beachfront hotels might have the best spots for soaking up the sun, Içmeler is full of things to do and activities to enjoy – making it one of the best Mediterranean beaches for families.
Explore the best beaches in Turkey by yacht >
Best Beaches Only Accessible by Boat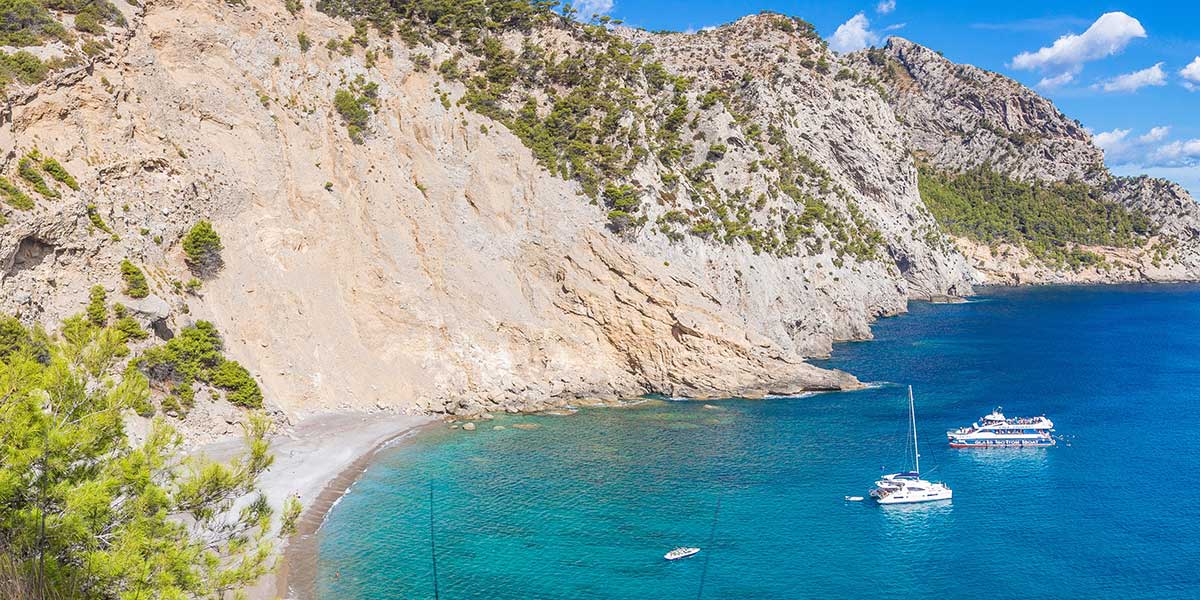 Platja des Coll Baix, Mallorca
One of the true joys of traveling around the Mediterranean by boat is the opportunity to discover hidden coves and beaches away from the tourist centers.
The stunning Platja des Coll Baix on the Spanish island of Mallorca is a great example. This quietly pristine cove is only accessible by boat or on foot, making it a peaceful haven for sailing and yachting excursions.
Framed by striking cliffs and dramatic scenery, Platja des Coll Baix is an unforgettable stop on any boat tour, and one of the best beaches in the Mediterranean.
Plage de Saleccia, Corsica
This untouched strip of white sand on France's 'isle of beauty' is only accessible by boat, making it one of the best Mediterranean beaches for travelers who seek luxury exclusivity. With pine forests behind you and mountains in the distance, this beautiful beach will bring you close to nature and away from the crowds.
Cala Luna, Sardinia
Finally, there's Cala Luna on Sardinia's eastern coast – a beach of breathtaking beauty at the mouth of the Illune River. As it meets the sea, the river forms a small lagoon that's only accessible by boat.
Its exclusivity and turquoise waters make it one of the best Mediterranean beaches for those who can sail in on their own yacht.
Spend a day enjoying Cala Luna's golden sands and sparkling waters, or exploring the caves scattered among the cliffs nearby.
Visit the Best Mediterranean Beaches by Yacht
If you'd like to see more of the region's pristine beauty, explore the best Mediterranean beaches by boat with our Mediterranean yacht charters. Whatever your level of yachting experience, we can help you take the trip of a lifetime to your dream coastal paradise.
Choose a bareboat charter in one of our Mediterranean destinations for adventurous hands-on sailing, or select a skippered charter and leave the sailing to a local expert. For a convenient packaged trip with skipper, cook, breakfast and lunch included, try our Easy Crewed charters and experience the local dining options each evening!