New Year's Eve in the Caribbean
A special way to welcome 2024
Spending New Year's Eve in the Caribbean is a truly magical experience. The islands come alive with a contagious energy, as both locals and tourists gather to ring in the new year in a tropical paradise. The celebrations often feature beach parties, lively music, and spectacular fireworks displays that illuminate the night sky over the crystal-clear waters. With the backdrop of palm-fringed beaches and the soothing sound of the ocean, celebrating New Year's in the Caribbean is a unique and unforgettable way to welcome the year ahead.
Choose your cruising grounds
Start planning your Caribbean New Year's escape: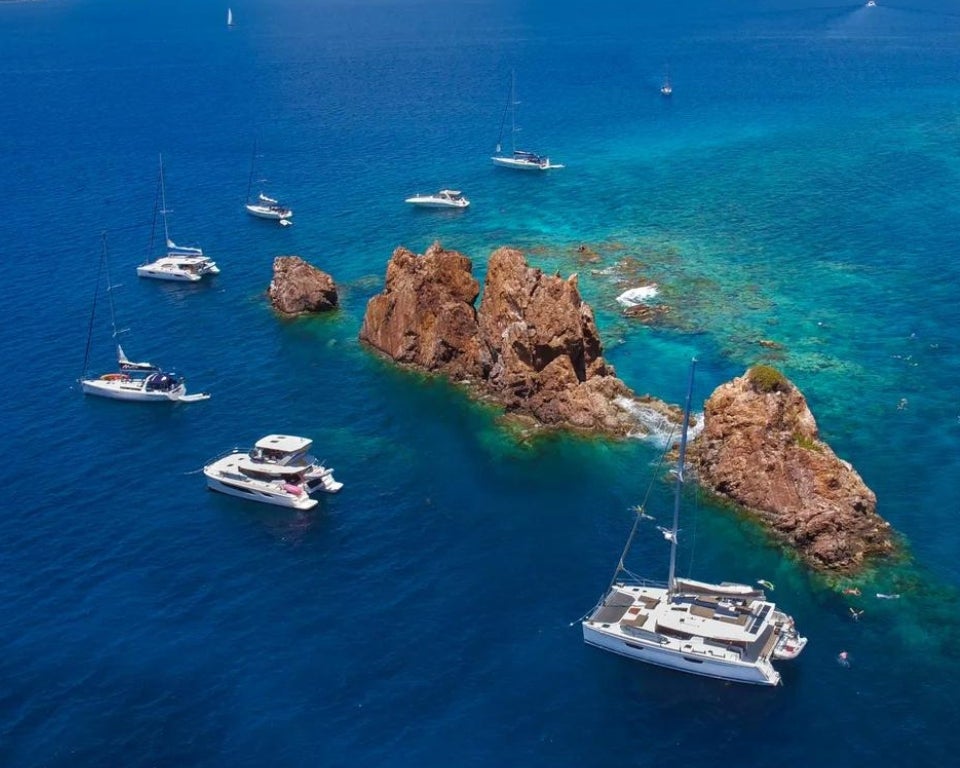 British Virgin Islands
Sailing the British Virgin Islands for New Year's is a nautical dream come true. Picture yourself joining a beach party under the stars. An exceptional way to welcome the new year in true Caribbean style.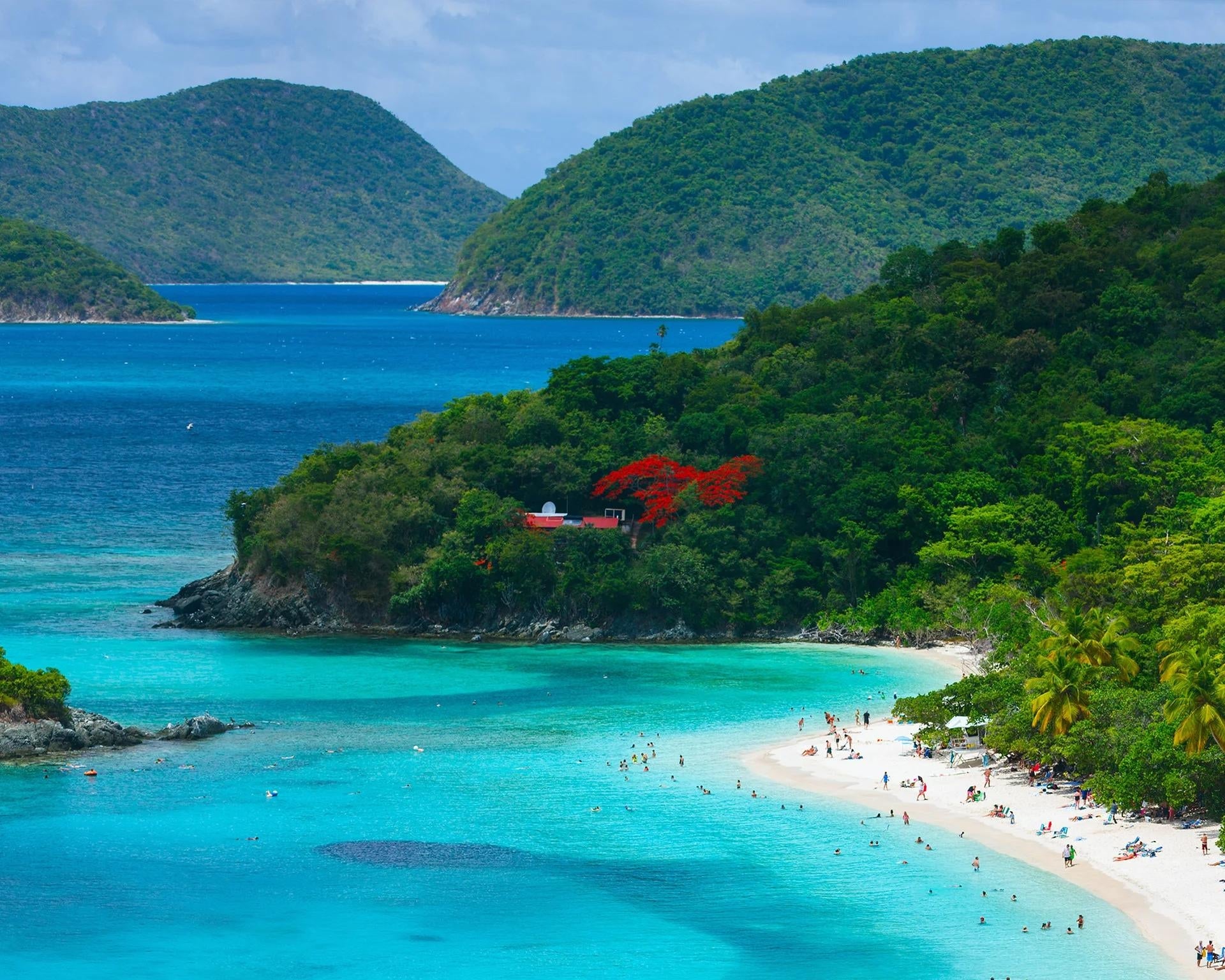 U.S. Virgin Islands
No matter whether you're on St. Thomas, St. John, or St. Croix, you can expect a festive atmosphere, delicious Caribbean cuisine, and a warm, welcoming spirit for New Year's.
How much does a bareboat charter cost?
You can tailor your yacht charter to make the most of your budget. We've listed some considerations that will make a difference to your bareboat charter cost.
Choose an older yacht – Our newest yachts are more expensive to charter than others in our fleet. As yachts get older they move to our economy fleet and offer the best value. You can sail wonderful older yachts and that will lower your charter price.
Sail in low season – Peak seasons are popular for good reason, yet the shoulder seasons can also provide pleasant climates and fewer crowds. Low season also has the advantage of being less expensive with more yachts available and cheaper flights.
Charter for longer – Most charters are for one or two weeks, but it is possible to secure additional discounts if you sail for more than three weeks.
Combine discounts – You can combine discounts to get up to 20% off if you book 180 days before departure, have booked with us before and book during a boat show. Take a look at our bareboat yacht charter special offers.
Mooring and marina fees – Your choice of destination makes a big difference to your overall bareboat charter cost. Some locations offer free or very low mooring fees if you buy a meal at the local restaurant. In others, you may need to pay marina fees, as well as fees for landing on islands, entering national parks or marine reserves.
Add-ons for your charter – Water toys enable you to explore mangrove creeks, blue caves and lagoons, or to simply exercise and have fun. It is easy to add kayaks or paddle boards to your charter.
Early boarding – Check in and depart on the same day.
Delivery sailing – Experienced sailors can help us get our fleet ready for the season by sailing boats to our network of bases. If you're flexible and have the right resume, this could suit you.
When do I need to pay the balance?
You will need to pay a 30% deposit to confirm the booking and the balance is due 45 days prior to embarkation.
What payment is required?
You will need to pay a 30% deposit to confirm the reservation and the balance is due 60 days before boarding. Once a booking has been confirmed, offers and discounts cannot be applied retroactively.
Are there any limitations of where I can charter ?
There may be restrictions as a result of:
Insurance coverage
Crew licensing requirements
Civil unrest or war
Hazardous navigation conditions
Please discuss your plans with us and let us know if they change.
Get inspired #mydreamyacht
Follow our customer's journeys & then get ready to share your own amazing experiences
Simply wonderful! Fred + Isabelle were so accommodating and did so much for us. Isabelle's food was incredible. Thank you so much!
Laura
Exumas Cabin
Great class. Very professional and great service!
Thomas
Antigua Bareboat
Just what we needed to get out of a year of lockdown, see new places and connect with nature. Highly recommended for your next sailing adventure!
Johan
St. Martin Bareboat
Excellent cruise and wonderful stay on board. Skipper attentive, very pleasant and very professional.
Maxime
Guadeloupe Skippered
I have just returned from another fantastic week of sailing at your base in Pula and would like to thank everyone involved for making this possible at such short notice and without any problems.
Mathias
Guadeloupe Bareboat
The marina itself is a perfect base with super facilities! The Lagoon 42 was in good condition and the skipper was fantastic and knew the area very well.
Jonathan
Croatia Skippered
What an EXCELLENT experience. We just returned from a week long charter with skipper from Corfu, sailing around the beautiful islands of the Ionian Sea. Paxos, Antipaxos and the old town of Corfu were beautiful and the secluded bays we got to visit thanks to our local skipper Nicholas were simply stunning. Fly and Flops was yesterday – we will only charter with Dream Yacht for the foreseeable future.
David
Greece Skippered
Our group of 10 had a WONDERFUL time in French Polynesia from May 21-28, 2022! The food was fantastic: captain and cook, husband and wife: Henry and Mehee (sp) were amazing and the whole experience on board was a dream! We can't wait to book another trip through Dream Yacht
Katie
Tahiti Crewed Premium
Dream Yacht provided a great sailing experience for my extended family on 2 monohulls from Scrub Island. The boats were in very good condition and perfectly prepared, the staff friendly and helpful. I had worked for a number of charter companies over the years but Dream Yacht is one of the
Charlie
British Virgin Islands Bareboat
I am in the Maldives right now and having the time of my life. Captain Jack and the crew are professional, safe and fun! The boat is optimal and the food is delicious. The chef even bakes CAKE! The beds are surprisingly comfortable and we sleep 9 hours every night. If you like island hopping, there is no better option than Dream Yacht. We will be booking Tahiti next year.
Cynthia
Maldives Cabin
The new boat was in perfect condition and best condition for exploring bays and islands. I could never have imagined that this could be so much fun and enjoyable and we are already looking forward to the next upcoming trip in the Ionian Sea.er.
Vytautas
Scandinavia Bareboat
Baja is now my favorite place. There was something for everyone: sailing under northerly winds with mostly calm evenings, snorkeling, fishing, secluded sandy beaches, pelican feedings, being greeted by barking sea lions, and exploring the geology of Ispiritu Santo Island. Dream Yacht Base La Paz provided competent professional support with a well-equipped and maintained boat. We were wonderfully cooked by an on-board chef arranged with Dream Yacht, which meant more free time for all of us. An unforgettable vacation and adventure connected with nature.
Taiyoko
Mexico Crewed Premium
All the staff were fantastic and made our trip a memorable one. Incredibly friendly and welcoming, the food was fantastic. The service throughout the trip was always top notch!
Tommy
Thailand Cabin
Absolutely recommendable. Perfect service. Will charter again and recommend Dream Yacht Charter anytime.
Zahradnik
Turkey Bareboat
I just returned from 3 weeks of fantastic sailing with my family on one of your catamarans in Sardinia. My thanks to our skipper Simone and Daniela, our cook.
Giles
Sardinia Skippered
For a first cruise as a skipper, the Mediterranean is perfect. The service of Dream Yacht is too!
Thomas
France Bareboat
We had an incredible trip and got engaged on our very first night of sailing! We will surely come back one day. We were beginners, we were guided very well and that gave us a lot of confidence.
George
Australia Bareboat
The experience on board far exceeded our expectations. Isabelle provided exceptional three course meals. Her creativity and delicious meals were incredible. Thomas was an excellent skipper, he "felt" our needs. Thanks guys!" Spira, bareboat with crew in New Caledonia.
Spira
New Caledonia Crewed Premium
Once again a fantastic sail with a great crew. Thanks again to a great captain and cook. Was totally fantastic.
Connie
Seychelles Cabin
A very excellent sailing vacation – especially the crew was fantastic. I would sail with Dream Yacht again and highly recommend them.
Mark
Guadeloupe Bareboat
I loved the vacation and am not sure this trip can ever be topped. Everything about it was incredible. The captain and crew were great, helpful, friendly, attentive and knowledgeable. We loved it.
Trina
Greece Crewed Premium
We just returned from one of your Lagoon 52F's last week in St. Thomas! We had the trip of a lifetime sailing around St. Thomas and St. John!
Megan
US Virgin Islands Bareboat
What's new?
Stay up to date with news and events or get some inspiration for your next yacht charter and pick up useful tips by reading our latest blogs.
Go to Blog