Sailing vacations allow you to get closer to nature by diving off the boat to make the most of the marine life and surroundings. In many destinations worldwide, the biodiversity in and around coral reefs is important to your vacation experience. Sadly the world's coral is under threat but read on to find out how the Seychelles is fighting back to preserve and restore the health of its reefs.
What is coral bleaching?
Most coral polyps harness chemical energy generated by the sun through symbiotic algae living in their tissues. Photosynthesis, the same energy that plants use to grow into huge trees, is also what corals use to build atolls. Thanks to this relationship, during the day the polyps remain safely retracted inside their skeletons, emerging at night to catch plankton and other organic particles in the water.
This perfect balance remains, until the environment changes. For reasons which are still unclear, coral polyps respond negatively to elevated water temperatures by expelling the algae that nourish them. The loss of this colorful algae leaves the corals transparent, exposing the white calcium skeleton.
This process, known as coral bleaching, came to the world's attention in 1998, when El Nino caused massive worldwide bleaching events.
Can coral recover from bleaching?
Corals can recover from bleaching. If the water cools down quickly, the coral will take their symbionts back in, but if the water stays too hot and for too long then they will die.
Large-scale coral bleaching events used to occur approximately every 27 years. The current rate is once every six years. By 2050, most of the world's reefs will be exposed to bleaching conditions annually, says a report by the US National Academies of Sciences, Engineering, and Medicine.
How is Seychelles restoring coral?
Many coral colonies died in the Seychelles during 1998 and suffered again in the 2004 Tsunami. Motivated by slow recovery rates, Nature Seychelles, a non-government organisation dedicated to environment conversation, launched and successfully implemented the largest and most bio-diverse coral restoration project in the world.
The Reef Rescuers project received financial support from the United States Agency for International Development (USAID). Known as coral gardening, the harvesting, nursing, growth and replanting of coral fragments, is one of the most successful means of restoration. First, small fragments of coral (preferably already broken) must be collected from healthy sites. These fragments are then tended to in rope nurseries that need to be in clear water at the correct light and depth levels. The coral is then transplanted onto damaged reefs. It's hard work as the algae grows like weeds and must be cleaned from ropes on a regular basis.
The project's team of highly skilled staff and scientific divers built nine rope nurseries holding 40,801 initial coral fragments off the island of Praslin, as well as three net nurseries holding another 1,024 coral fragments. From that pool, 27,431 nursery-grown corals were transplanted to the degraded reef, with a 70% survival rate after two tropical storms.
The return of Seychelles' reefs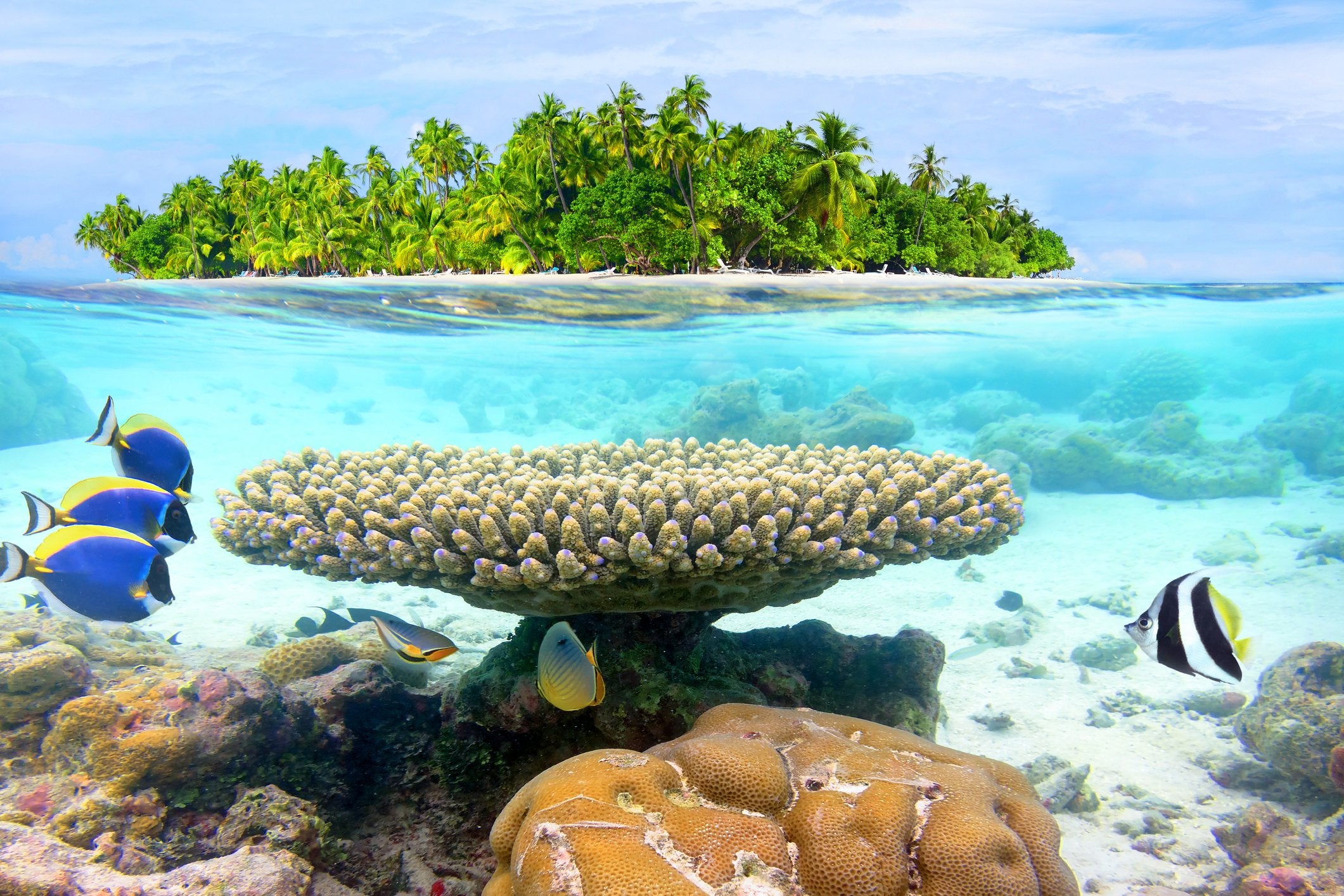 Between 2010 and 2013, 5,225sq ms of coral reef was restored with 34 coral species. Post project impact assessments show an increase in both coral recruit and fish densities on the site.
The coral reef restoration project also had a very positive knowledge-building impact, with over 40 scientific divers and volunteers trained on reef restoration techniques. To share knowledge, a Reef Restoration Toolkit was published to highlight lessons learned and restoration best practices. You can visit Cousin Island, which is managed by Nature Seychelles.
How can you get involved?
In 2016, the oceans experienced another very warm year and the coral health around the Seychelles' inner islands deteriorated again. Octopus Diver, a dive centre based on Praslin, launched their own reef rescuers project in early 2018. The project plans to restore areas of degraded/damaged reef around the small island of St Pierre, off Praslin Island, by constructing roped coral nurseries on the south-west area where the reef slope meets the sand flat.
This coral reef restoration project will enable interested divers visiting Seychelles to learn new skills and develop a better understanding of coral reef ecology. When planning your Seychelles yacht charter, include a stop-over on Praslin to visit the Octopus Diver dive centre and be a part of this groundbreaking project.
The Seychelles is full of conservation projects you can get involved in during your vacation, including sea turtle conservation. To discover more inspiration about sailing, head on over to our blog. For more information on Seychelles crewed, by the cabin, bareboat or skippered charters, get in touch with our team on 855.650.8902 or email [email protected].